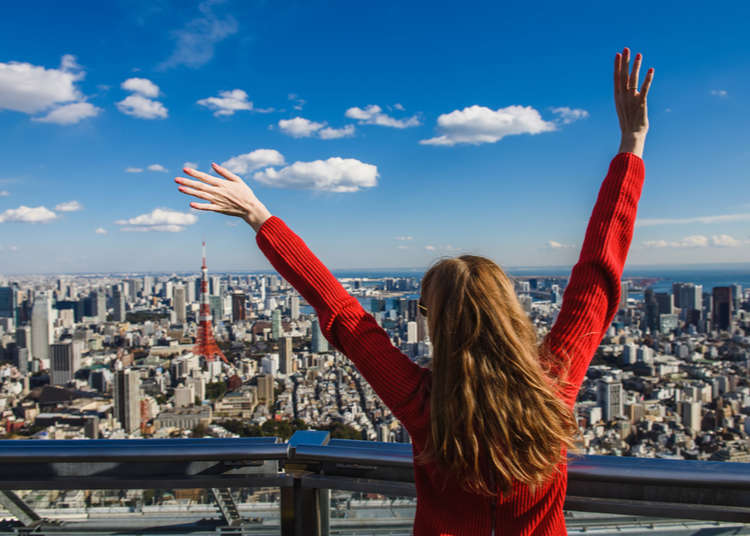 Japan is the dream trip of a lifetime for many, but the last thing you want is for reality to come crashing down around you when you're back home and an insane credit card bill arrives. It's super important to get an idea of your budget ahead of time, and to prepare accordingly.

We've broken down how tourists from several different countries spent their hard-earned cash while in Japan, so you can get a clear idea of how much you're likely to need. You'll also find some different tips on how to save money while you're here!
1. How much do tourists spend in Japan? (Overall spending)
So what are tourists really spending their money on? The chart below shows the total amount of money spent by tourists from over 20 countries from April to June, 2019. Note that it only includes the amount of money they spent in Japan, and therefore doesn't include things like their airfare or package tour costs.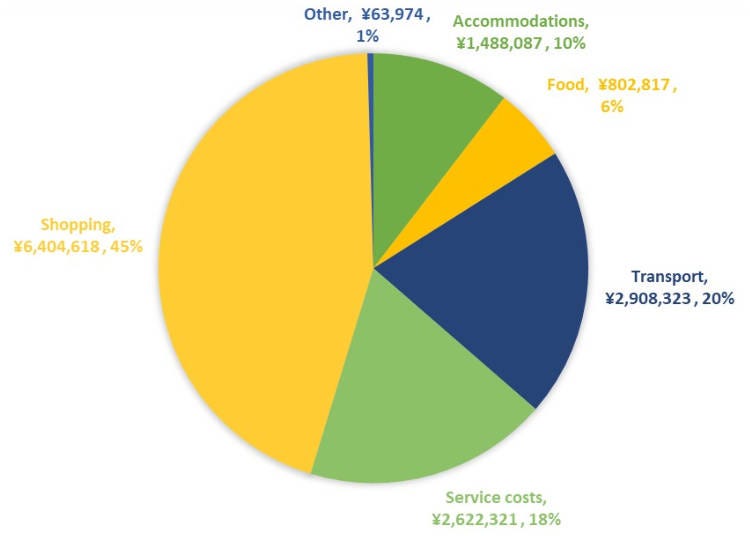 Total of how much tourists spent in Japan over 3 months. Source: http://www.mlit.go.jp/kankocho/
Shopping rakes in the most!
Japan is an unbeatable place to go shopping. From quirky thrift stores to glamorous high-end shops, and from massive department stores and shopping malls to quiet traditional workshops; there is something for every taste under the sun.

It's no surprise that the numbers reflect this, and that shopping makes up almost half of all total spending, at 6,404,618 yen (57,537 USD). Throw in services, which included things like theme parks, sports matches, massages, and ski trips, and a whopping 9,026,939 yen (81,095 USD) was well spent having a good time.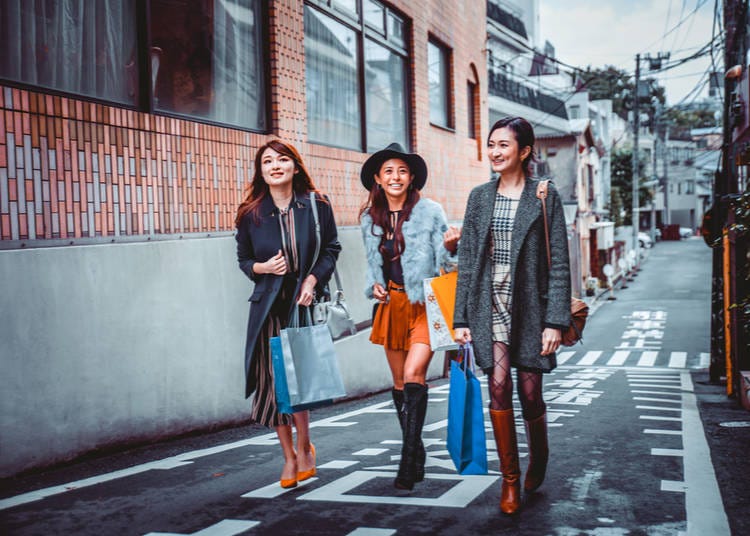 One potential reason that people spent so much on shopping is that Japan loves a bit of exclusivity; a plethora of souvenirs, foods, drinks, and clothes are only available here, are seasonal, or come in a lot of unusal styles and flavours. Limited availability can create a sense of urgency that encourages people to grab as much as possible while they're here, and we really can't blame them. That seems to be particularly true of snacks, with distinctly Japanese flavors like matcha green tea, sake, and even wasabi!
However, some people worry about going shopping in Japan due to disparities in size, language barriers, and cultural differences. Clothes shopping in particular can be a source of anxiety and concern. Not to worry; there are more than enough options to choose from, tand there is plenty of advice to get you started.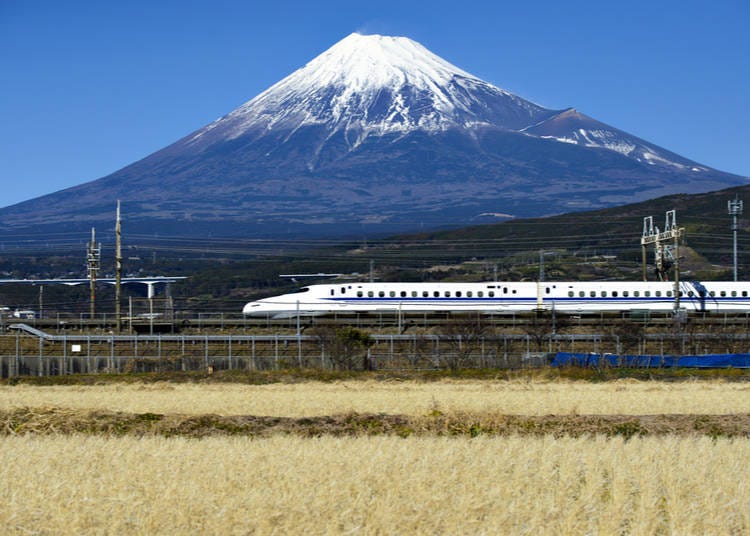 2 million yen on transport?!
Coming in third place is transportation, which isn't too surprising; Japan is much bigger than people often expect. Tokyo, for example, is so massive that it's nigh on impossible to get around without hopping on a few trains. Buses also come into play in quieter places like Kyoto. Of course, if you're planning to go on day trips or travel to different cities, you'll also probably need to hop on a train, plane, or night bus. But don't be put off, we'll have a look at some tips for budgeting transport, too!

Comparatively low: Food and accommodation
People didn't spend that much overall on accommodations or food, which suggests that a lot of people value both experiences and shopping in Japan. Although there are tons of great options for food and accommodation, it's good to know that you obviously have the option to eat and sleep on the cheap, and focus on having fun while you're here!
2. Is everything expensive? Truth and tips (Spending by country)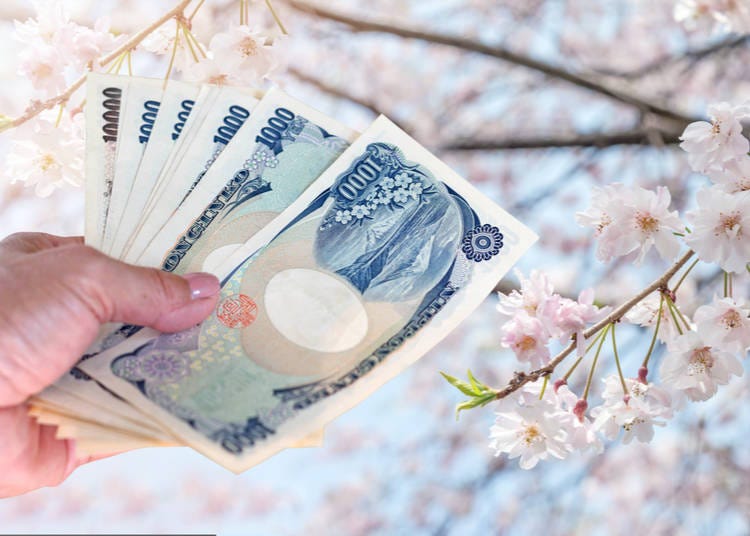 Here is a breakdown of how much people from four different countries (The USA, the UK, Singapore, and the Philippines) spent in Japan in 2018, and specifically what they spent on: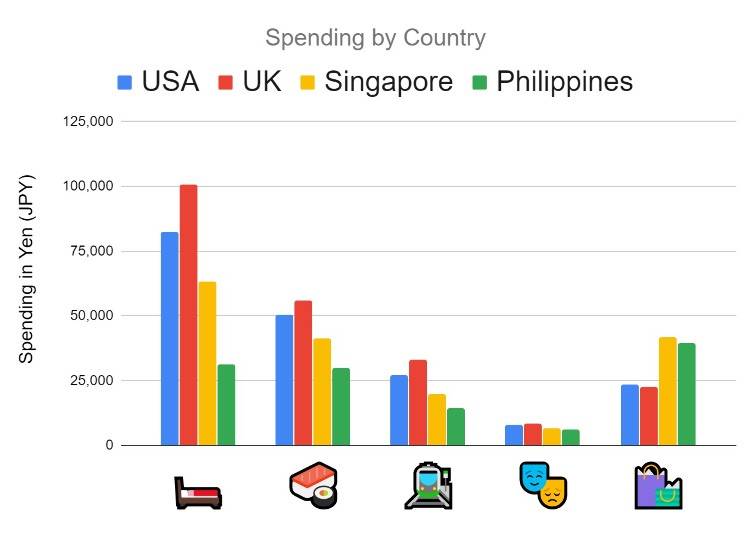 Source: https://statistics.jnto.go.jp/en/
Accommodation
It's immediately pretty obvious that people are spending a lot on where they're staying. For example, the UK's 100,692 yen (about 904 USD) is nothing to sneeze at. This makes sense; it's nice to have a quiet, comfortable place to come back to in the evening, and a safe place to store your bags and shopping. It's hard to put a price on peace of mind!

Tips
If staying at a beautiful ryokan, a Japanese style inn, or having a gorgeous view in a prime location is important to you, then spending a bit more can be a good idea, but that's not the case for everyone.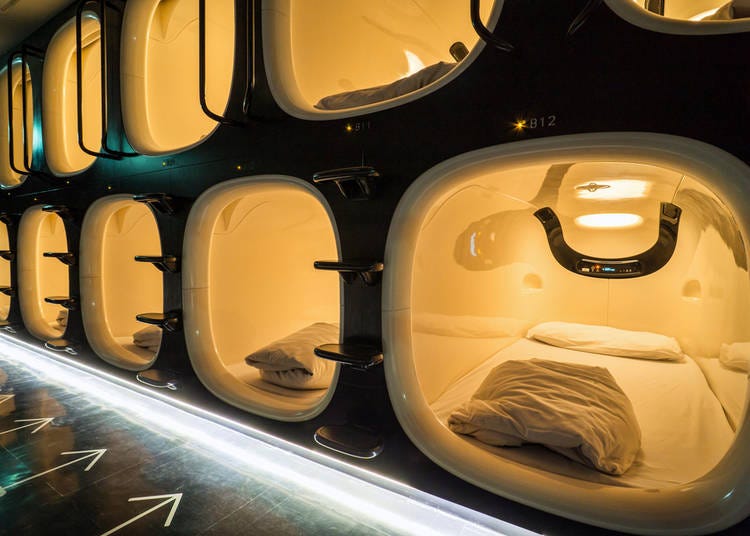 For example, if you're a traveler on a budget, never fear; even in Tokyo, there are tons of options that won't break the bank. Love hotels, business hotels, and capsule hotels are all generally on the cheap side, and both love hotels and capsule hotels are an experience in themselves!

Despite the negative images the word 'hostel' may conjure up for you, Japanese cleanliness extends to accommodations, and they're great for meeting fellow travelers, too! There are lots of reasonable options, especially in East Tokyo, but really just about anywhere in the city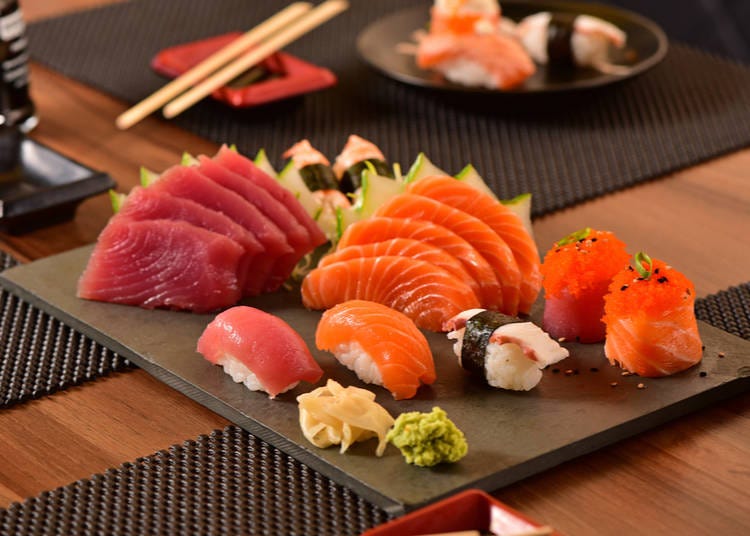 Food and Drink
Coming in at number two for these countries is food and drink. Here's another area where you can truly go as frugal or as extravagant as you'd like, but none of these four nationalities (with the overall exception of Filipinos) show any sign of holding back on eating out!

This is pretty unsurprising, really, with Japan being the foodie paradise and culinary cultural hub that it is, and with cheap and delicious food available all over the country. For example, check out the range of delicious dishes available in Kanto alone!
Plus, drinking and being drunk in public are both perfectly legal in Japan, and izakaya, Japanese-style pubs, are a fun cultural experience you don't want to miss out on.
Image: Wuttisit Somtui / Shutterstock.com
Tips
However, maybe seeing as many gorgeous temples as possible or going all out on shopping is more important to you than chowing down. In that case, convenience stores, supermarkets, conveyor belt sushi restaurants, and donburi rice bowl restaurants offer plenty of inexpensive options. Of course, if you're all about trying every sort of food Japan has to offer, then go crazy!

Luckily, you don't necessarily have to choose between two extremes. If you're looking to enjoy wagyu, sushi, and more without spending a fortune, then we particularly recommend bustling Shinjuku for some fantastic options.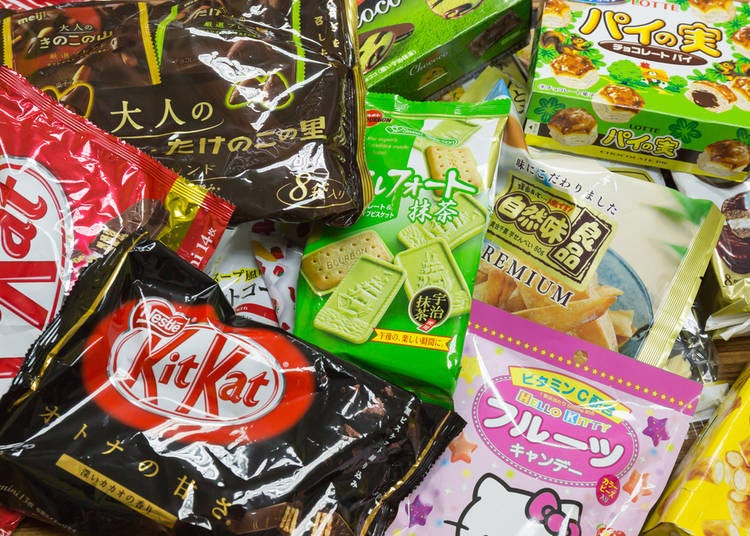 Image: Pakpoom Phummee / Shutterstock.com
Interestingly, the amount spent on shopping by people from the Philippines and Singapore is almost double the amount spent by British and American visitors.

Given the proximity of the two Asian countries to Japan, some people may be coming explicitly in order to shop for things not available back home. However, Asian countries also have a well-developed culture of bringing back 'souvenirs', often in the form of local snacks, for their friends, families, and coworkers. While it's always nice to bring some presents back to the USA and the UK, it's not expected of you to the same extent.

Tips
A trend that is pretty evident is that Brits tend to spend quite a lot, but Filipinos don't spend nearly as much! This proves that there are plenty of ways to have fun on a tight budget.

Everybody loves a bargain, and there are lots of places to shop 'til you drop without the guilt of overspending. Outlet shops and 100-yen stores are perfect for getting souvenirs and gifts, especially if you have a lot of people to shop for! 100-yen stores in particular have a good variety of items that vary in style, so whether you want something quirky and unusual or elegant and timeless, they've got you covered!
3. Saving on dining: Average food prices
So now we have an idea of how much people are spending, but how much do things actually cost? Using the popular website Gurunavi, we looked at the price range for the top 20 restaurants in Tokyo for each category at 12:00 and 19:00 respectively.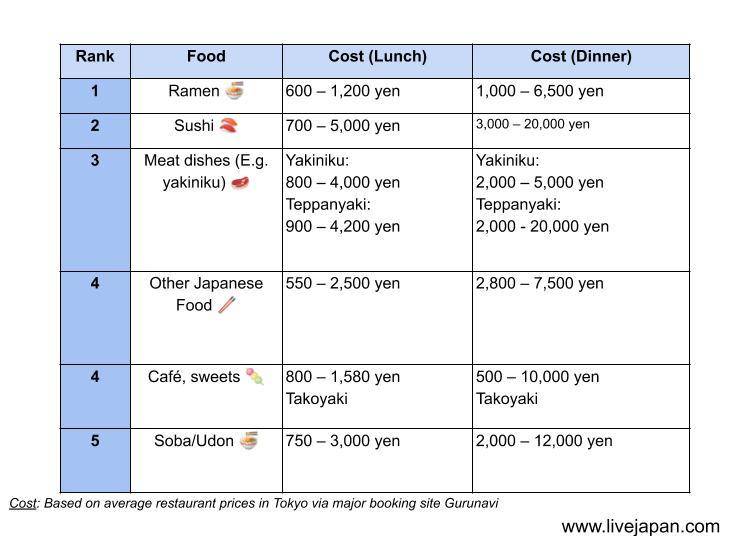 Cost: Based on average restaurant prices in Tokyo via major booking site Gurunavi (www.gnavi.co.jp).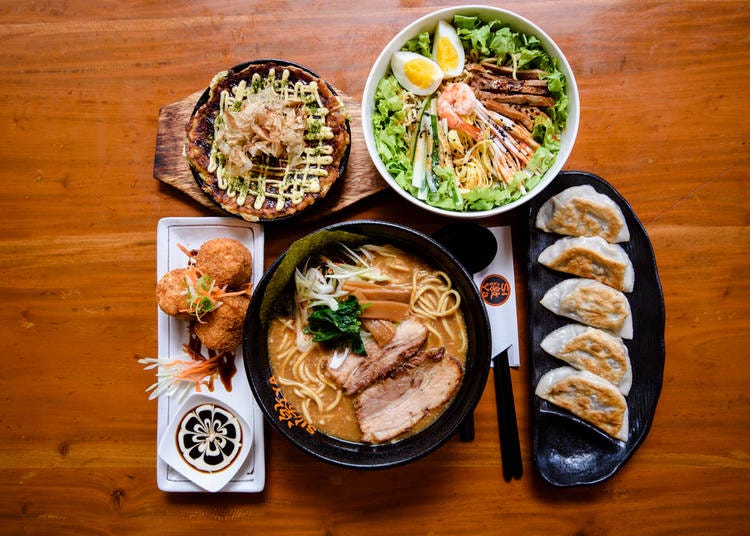 With incredible ranges like 500 – 10,000 yen (4.49 – 89.81 USD) in a single category, it's evident that there really is a huge amount of good food at any given price point. The lower prices for just about every category should give you a pretty clear idea of that fact that it is possible to eat very cheaply even in Tokyo! Conveyor belt sushi and standard ramen restaurants are your friends.
The top floor or two of department stores are also usually home to a few restaurants. If you're not sure what to get, wandering around these areas gives you the same kind of range and close proximity of a food court, but generally with a little more of a restaurant feel. Another good idea is to save eating out for lunchtime, and getting something more low-key for dinner. It's probably healthier, too!

While some of us may instantly turn away when faced with a long line to get into a restaurant, Japanese people will take it as a sign that the food is so delicious and/or affordable that it's well worth the wait. Keep an eye out for queues that snake around the block, and remember that good things come to those who wait!
4. Saving money with transport passes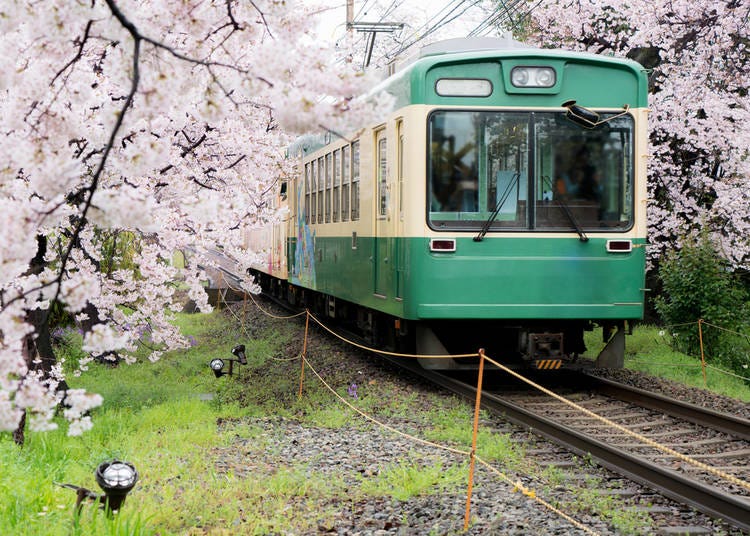 There are a few different railcards in Japan. In Kanto, there are SUICA (JR East) and PASMO (used on many non-JR lines), and in Kansai there is ICOCA (JR West). These cards cost a small initial fee, and then you can top them up at stations and use them to get around smoothly by train. You can also use them at some convenience stores, shops, and vending machines! One of these can be a good investment for the sake of convenience, and you can also reduce the amount of cash you need to carry on you. Topping up your IC card is also cheaper in the long run and less time-consuming than buying a ticket for every train you board.

There are also a number of rail passes, some of which are only available to visitors, that offer unlimited travel on certain train lines for a flat rate and within a certain time frame. This is usually something like a single day, three days, a week, or even two or three weeks. If you're not planning on slowing down while you're here, a pass like this could save you lots of money and hassle! You can click here for an in-depth look at how to get around by train and the different kinds of train passes available.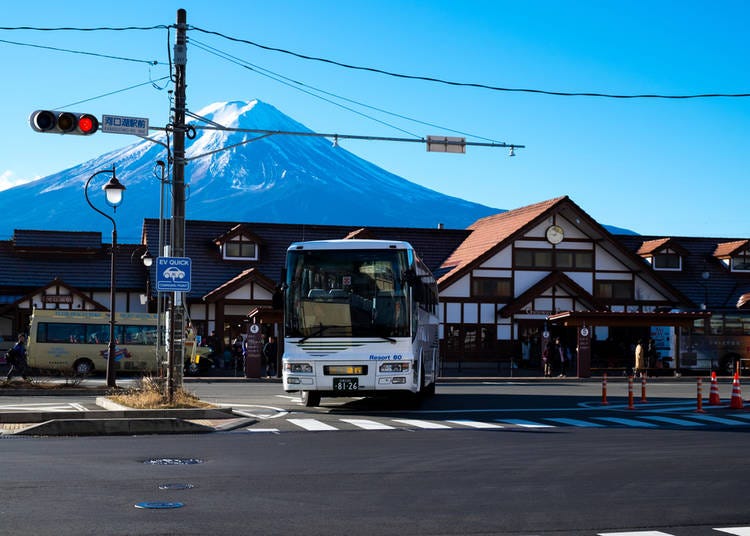 Image: Piyawan Charoenlimkul / Shutterstock.com
Buses are all but unavoidable in certain parts of the country, and luckily they are also covered by a few different prepaid passes. In fact, some rail passes also cover buses. If you're heading to Kansai, there are some great deals available, too!
And now for the most frugal option of all: there are even free sightseeing buses!

The table below is only a sample of the passes available to give you an idea of what's out there. Remember: every ticket covers a different area for a different length of time, so prices will vary a lot! Child fares are also available in some cases.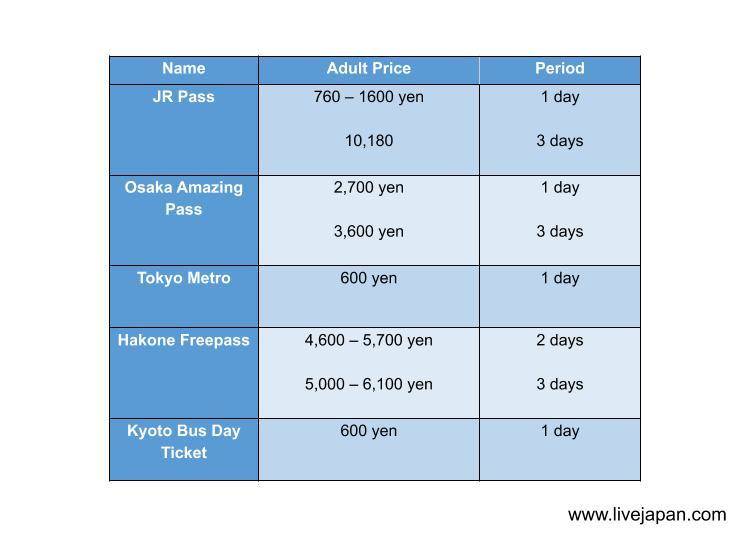 Having had a look at the actual numbers involved in going to Japan, you may be feeling either relieved or overwhelmed. It can be a lot for many people, but don't worry; you have options! While saving up in advance and going wild can be totally worth it, you don't necessarily have to postpone your dream trip to Japan for financial reasons. You can really go as extravagant or as cheap as suits your financial constraints.

Options such as 100-yen stores, day passes, and (surprisingly clean!) hostels and capsule hotels, can keep you fed and rested while you trek across the country. Of course, you can also splurge on fancy ryokan and wagyu! Japan is the perfect destination for a wide range of budgets, with fun to be had at every price point!
Written by: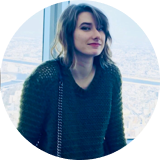 *This information is from the time of this article's publication.
*Prices and options mentioned are subject to change.
*Unless stated otherwise, all prices include tax.