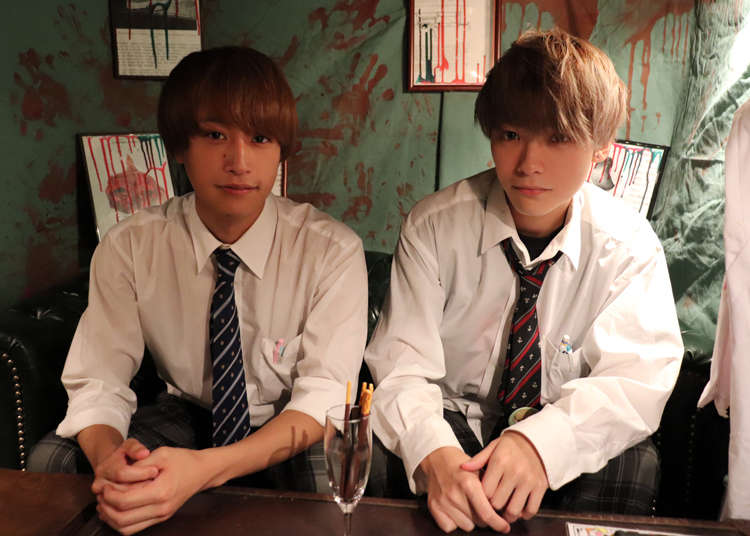 Boy's Love (BL) is a variety of manga starring homoerotic relationships marketed at women. Ikebukuro might just be one of the best places to find this expressed in real life. Like Akihabara's twin but for women, Ikebukuro is one of Tokyo's most popular tourist destinations. It's well-known for its subculture-centric areas, such as the Otome Road west of the iconic Sunshine 60 skyscraper.

Otome Road is where female fans of anime, manga, and other suchlike hobbies gather together to indulge in their interests. And the dynamics between these fans and the area have given birth to a new type of attraction that has been steadily gaining visibility and popularity in recent years!

To be specific, we're talking about the countless concept cafes in Ikebukuro that tickle the fancies of a maiden's heart. We've narrowed down the list to three must-visit cafes featuring good-looking guys and BL fan service that will appeal to fans of 2D art, good-looking guys, and the idol celebrity subculture of Japan! Let's jump right in and see what Ikebukuro has to offer!
1. Ikebukuro Boys BL Gakuen (IkeGaku): Indulge in your BL cafe fantasies in an academy setting!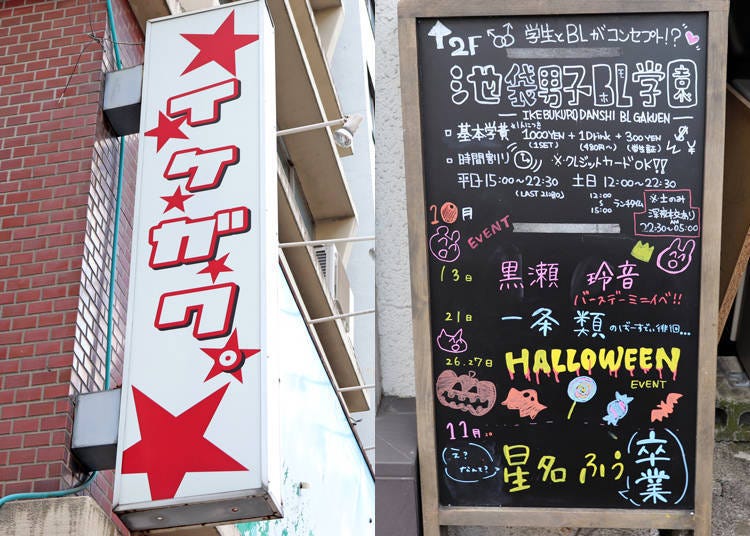 The first cafe on our recommendation list is Ikebukuro Boys BL Gakuen (Ikebukuro Boys BL Academy), also known as IkeGaku.

It's a 10-minutes walk from the east exit of Ikebukuro Station on the JR Yamanote Line, located directly opposite Teikyo Heisei University.

As the cafe's name suggests, BL, or Boys' Love, is the theme on display here. This refers to works or fan works depicting romantic relationships between boys or men, marketed primarily for a female audience. IkeGaku is so well-known among the subculture's circles that virtually anyone claiming to be a BL fan knows of its existence.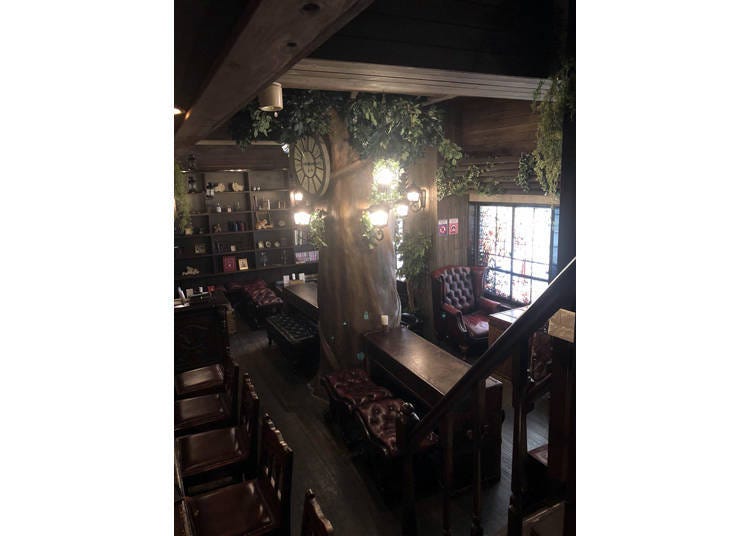 The concept of the shop is "break time at school." Visitors to the cafe take on the roles of 16-year-old first-year high school students who attend a mixed-gender school that had been boys-only until 2011.

Customers are known as tōkōsei, or day students. As you're taking a break between lessons and chatting with the zaikōsei, or permanent students (played by staff members), you get to catch glimpses of tantalizing BL scenarios in a school setting.

These little scenes are what visitors look forward to and expect to see, and you can be sure the shop certainly delivers them in spades!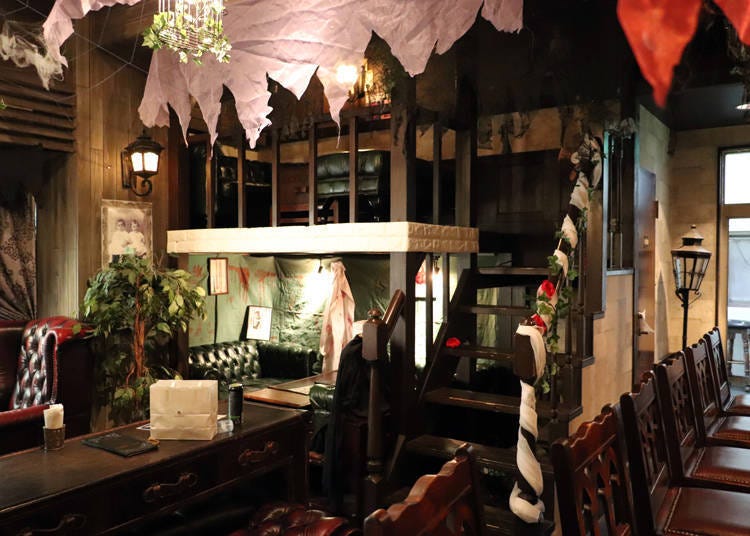 On the day we visited, Halloween was just around the corner, so the shop interior was adorned with creepy decorations, as if this was a school preparing for a spooky festival, and this subtle touch made it even easier for guests to get into the mood!

The zaikōsei here come in all sorts of flavors, too. From the innocent and naive younger brother figure type to the harsh and exacting older brother figure type - there's bound to be a personality that appeals to you!

The color of the student's neckties reflects their grade. Students wearing neckties with red lines are freshmen, blue lines are sophomores, and green lines are seniors.

You may even bump into the school director, vice-principal, teachers, and other admin staff too while you're wandering around the premises!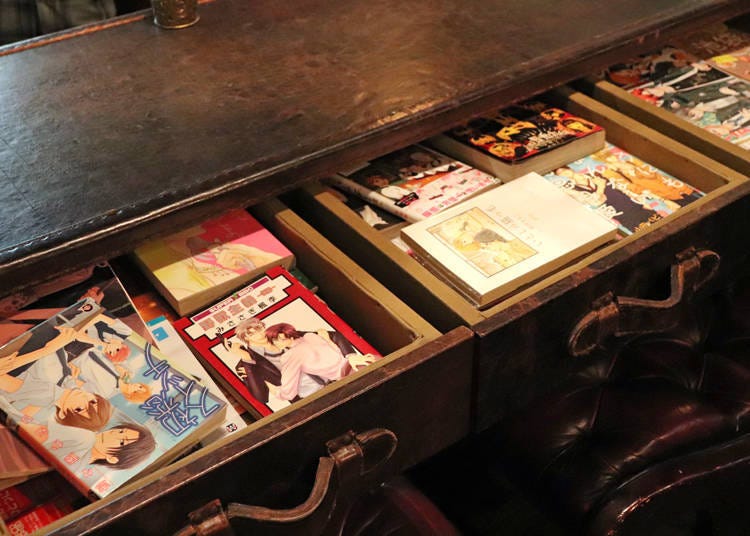 School fees start at 1,000 yen (tax excluded) per hour for basic education, and one compulsory drink is to be bought separately.

For extended lessons, you'll pay an extra 500 yen (tax excluded) per 30-minutes block. When you're ready to go, just say, "Gekō shimasu (I'm leaving school)!" to a zaikōsei, and you'll be on your way in no time at all.

There are BL genre novels and manga (Japanese comics) available on the shelves in the shop as well, known as "textbooks," and you're free to browse through and read any of them.

Enjoy the delicious food and drinks the shop has to offer, chat with your zaikōsei schoolmates, and be awestruck by their top-notch BL performances tailored specially for you.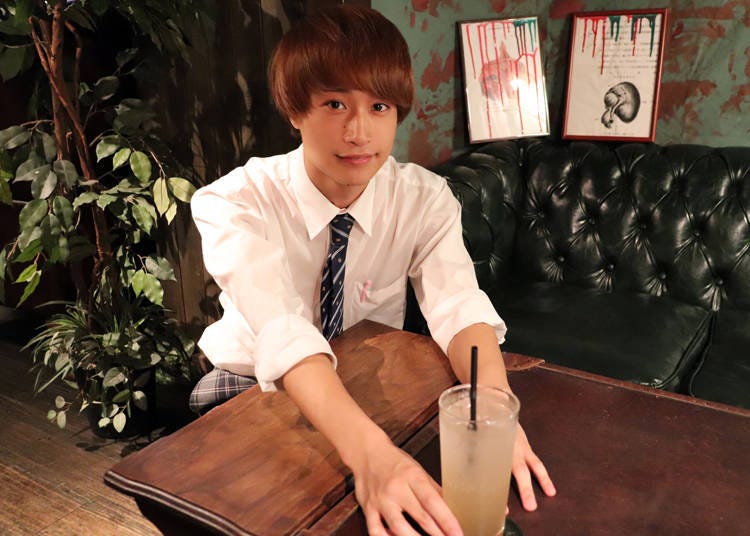 One of the most popular menu items of the shop is the "Zaikōsei Original Cocktail (830 yen, tax excluded)". This allows you to get your favorite zaikōsei to mix up a cocktail, and you can choose between an alcoholic or non-alcoholic beverage.

Since minors are not allowed to drink alcohol, however, alcoholic beverages are called "Magic Water" on the menu for easy identification. Such subtle details contribute to the setting of the shop and add to the immersive experience it offers.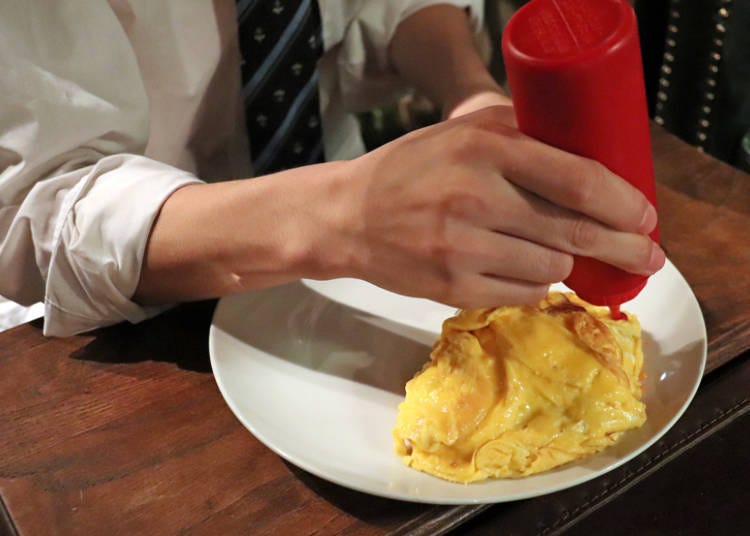 As for food, the "Hoshigariya na Kimi no Fuwatoro Omuraisu (900 yen, tax excluded)" is an omelet rice dish that's very popular. This is a familiar food item also found in maid cafes, except here in this shop, instead of cute girls, male zaikōsei students will be the ones doodling something specially for you on the omelet rice!
This can be anything from your favorite anime character, his favorite illustration, or the date of your visit. While he's doing all that, you can continue conversing with him, making the experience fun and entertaining for all involved. You can't help but feel memories of your own time in high school welling up from within, and all the exciting feelings that come with them!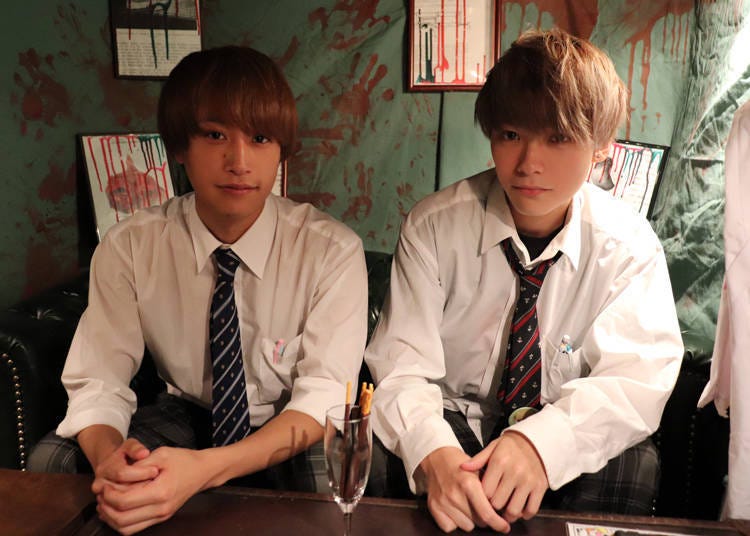 The most frequently bought menu item by far is the "Boso Coupling Pocky (900 yen, tax excluded)", which entitles you to a pocky-game BL skit between two zaikōsei of your choice - performed right before your very eyes! The eye-popping impromptu live shows given by the zaikōsei have blown the minds and slew the hearts of many a BL fan.

The biggest draw of this item is that guests customize the scene to their desired setting and storyline. Let the tōkōsei know about your BL fantasy preferences, like who you want to be the seme (the pursuer) or uke (the pursued) in the relationship, whether the couple are an official item or not, and other details like that. Once the cue is given, the BL scene of your dreams comes to life before you.
The setting we chose for the characters this time is a sophomore student president who's dating a freshman. When the latter sees the former being friendly with another boy during lunch break, he gets jealous, and they fight about it.

Eventually, they make up with each other with a sweet, sweet Pocky game, a game where they have to share a single stick of Pocky (a chocolate-coated biscuit stick). The thrill of getting to see these preciously dramatic scenes performed live in front of you is an experience that's unique to IkeGaku.

The shop's main language is Japanese, but if an international tōkōsei requests for something, the zaikōsei will try to weave as much English as they can into their conversations, putting in that extra effort to enhance the foreign fan's BL experience.

One of IkeGaku's school rules is that no one is allowed to take photos of the shop interior or zaikōsei (except for food and drinks), so open the shutter of your eyes wide and take as many memorable mind pictures as you can to savor at leisure later!
Ikebukuro Danshi BL Gakuen (IkeGaku)

池袋男子BL学園(イケガク)

Address

Iwashita Bldg. 2F, 3-9-13 Higashi Ikebukuro, Toshima-ku

Nearest Station

10 minute walk from Ikebukuro Station east exit


Phone Number

03-5985-4157

Weekdays (including public holidays) 3:00 p.m. – 10:30 p.m.
Weekends 12:00 p.m. – 10:30 p.m.
Closed: Open daily
*English / Chinese menu available
2. St. Giuliano Music Academy: An interchange of artistic skills in the cafe space of a prestigious music academy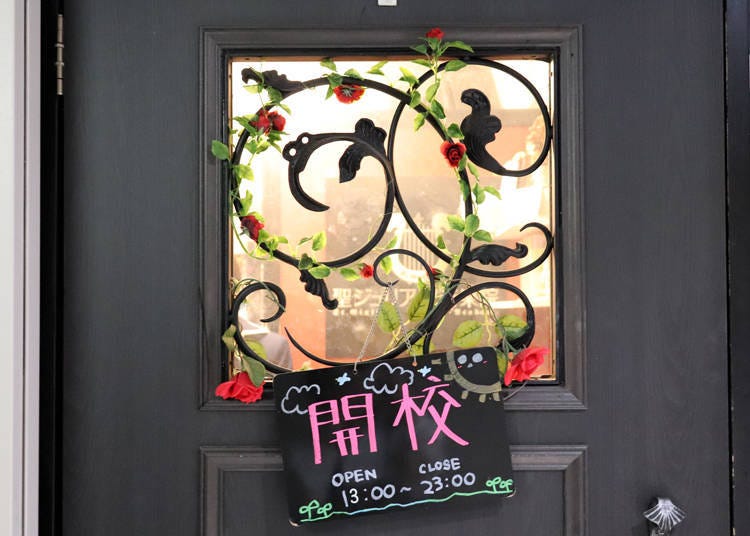 The next recommendation on our list is St. Giuliano Music Academy, a 2-minute walk from the East Exit of Ikebukuro Station on the JR Lines. Located in the third building on the right side of the entrance to Sunshine 60 Street, the cafe is designed after the concept of a prestigious music academy.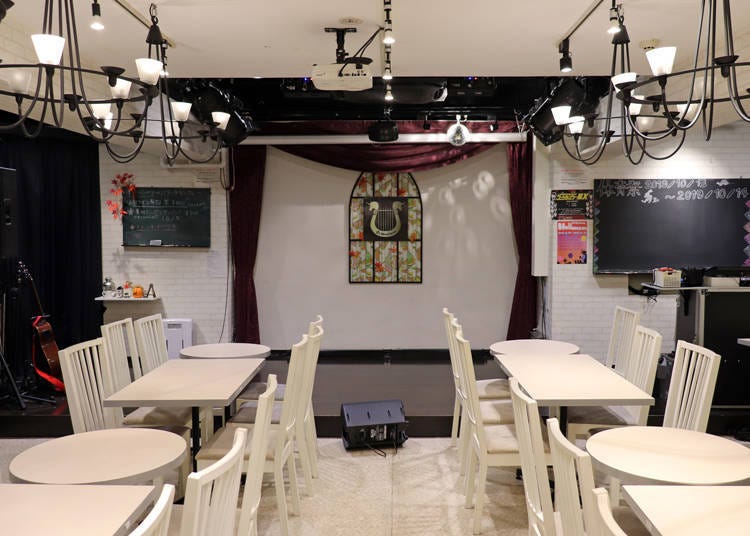 In the middle of the cafe's large and spacious premises is a stage, where male students enrolled in the school carry out irregular performances throughout the day.

The academy is a distinguished and traditional music school established 350 years ago, and more than 1,000 students have to vie for a single spot during annual entrance exams!

Of course, the school isn't an actual school, and this is just the shop's concept, but you'll have to admit it's so well-thought-out, it almost seems real!

Step inside and enjoy life as a one-in-a-thousand student in this reputable and distinguished academy.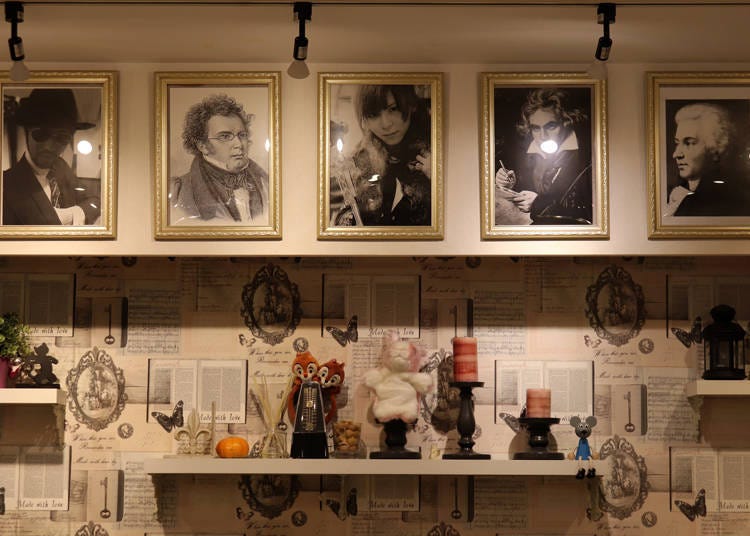 Since students attending this school are known for their excellent talent in music or dancing, you'll find that the shop's interior is adorned with portraits of musicians from all eras. The shop is supposed to portray the cafe space of this academy, so you'll be able to order food and drinks throughout your stay here.

School fees for the first hour are 700 yen (tax excluded) plus one compulsory drink or food item bought separately. The more industrious students may choose to stay longer than an hour by paying the overtime lesson fee (extension fee) of 650 yen (tax excluded) per 30-minutes block after the first hour or buy another item from the menu.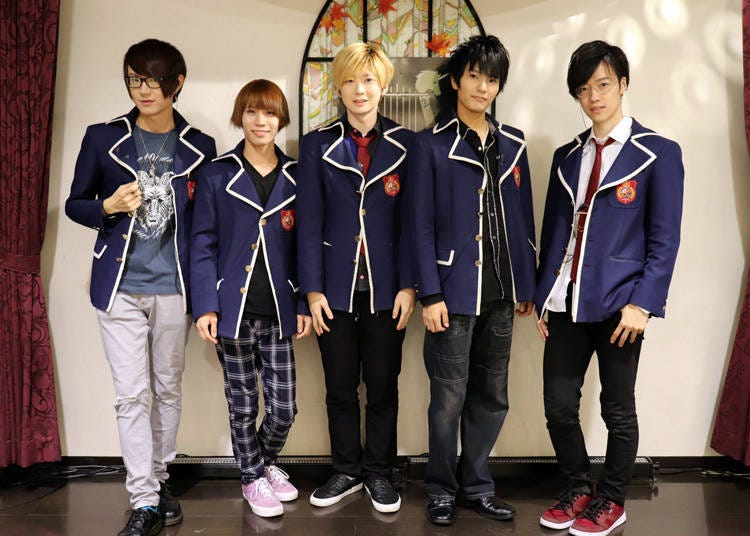 How should you spend your time in this interesting cafe? You can either chat with your male schoolmates, interact with them by playing games together, or sit back and watch the shows that are put on spontaneously a few times each day.

If you have a favorite academy student, you can cheer him on too! All male students belong to the Dance and Vocal Faculty, so when it's their turn to perform, your eyes and ears will be in for a treat for sure!

The "Request Chocolate (2,000 yen, tax excluded)" menu item allows female students to choose one song from a male student's repertoire for him to perform, just for her! This customizable service is the main reason why this item is so popular among visitors.

Many of the male students are also actors, bandsmen, underground celebrities, or entertainers of other genres. In fact, a Japanese boy band known as PLUS ONE WISH had their beginnings right here in St. Giuliano!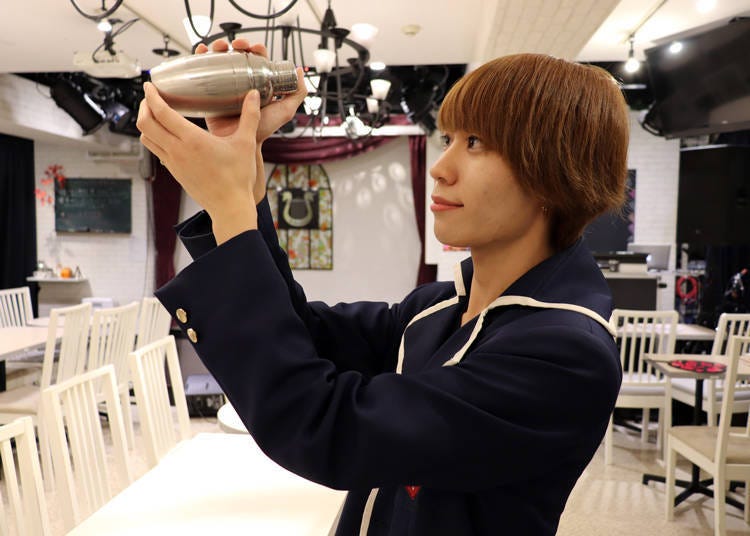 "Request Original Cocktail (1,200 yen, tax excluded)" is another popular cafe item that gives you the chance to see your favorite male student mix up a cocktail before your very eyes before serving it. Both alcoholic and non-alcoholic options are available.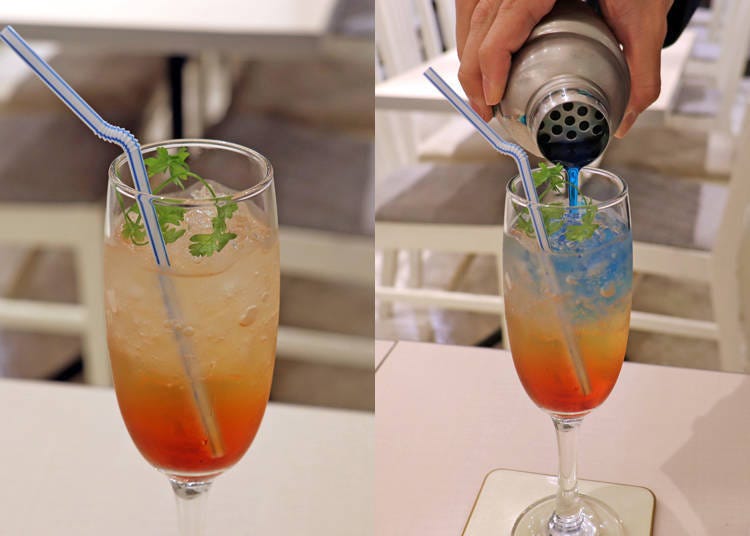 The drinks are made based on your preferences and requests, with an emphasis on offering something that both looks and tastes good!

Male students who belong to idol units and have been assigned a certain color will make a drink with that particular color as well. While they're doing all that, you're allowed and encouraged to continue interacting with them to make the activity more fun and entertaining for all!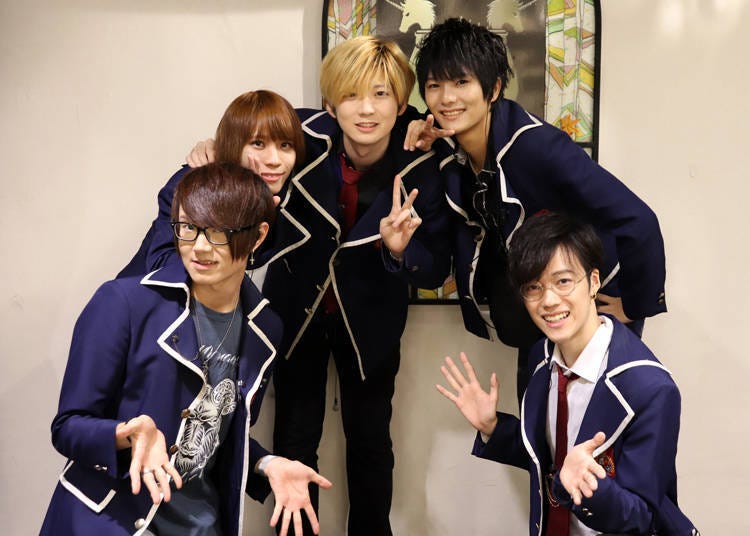 To commemorate your visit, we also recommend ordering the "Commemorative Photograph" item from the optional menu that allows you to take an Instax film photo with your favorite student. This will cost 800 yen if you don't get it autographed and 1,000 yen autographed (both prices exclude tax).

The cost is for each student included in the photograph, so if you have more than one favorite student, the price will be multiplied accordingly, depending on how many you request.

However, if this is your first time here, you get one free shot complementary of the shop, so don't miss out on this chance to create a memory you can bring home with you!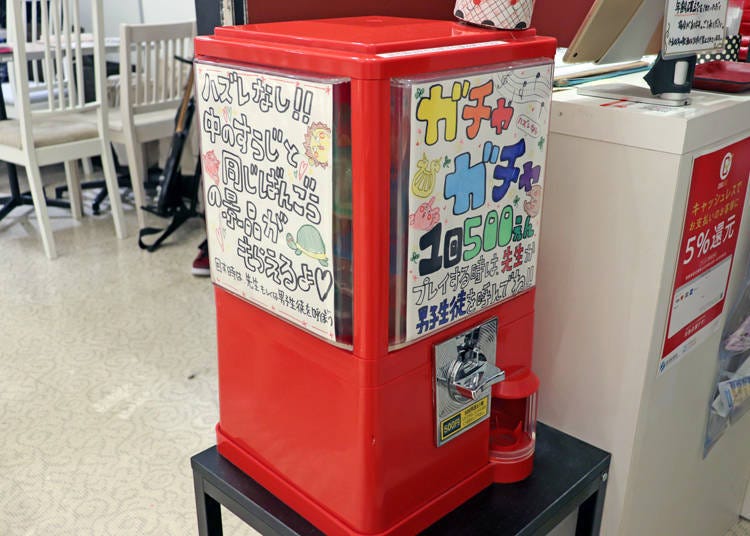 There's another item that we really think you should consider, on top of what we've already highlighted: The "Gashapon" spin machine that will set you back 500 yen per try.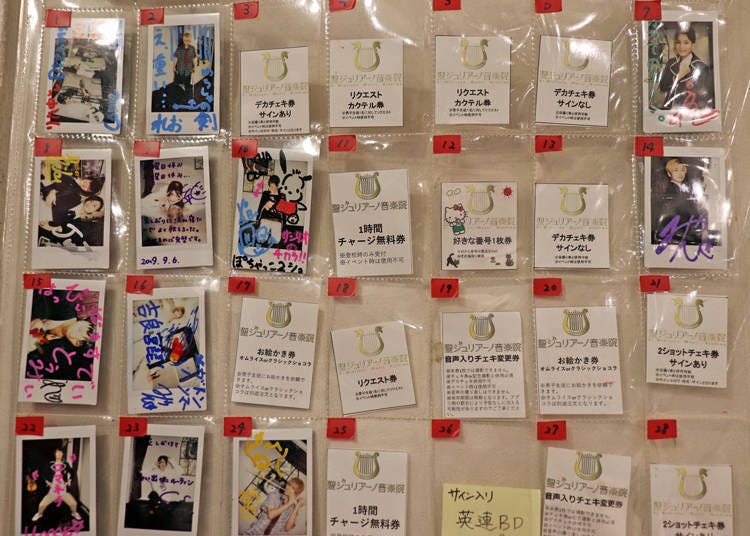 Why is this on our recommendation list? Well, because it's basically a lottery system where you can win tickets for service packages not available on the regular menu!

Of course, some of the prizes also include standard items like the "Omelet Rice" or "Classic Chocolate" cake where staff-students will doodle on your food using ketchup or chocolate sauce, the chance to see male students display their fun side on an Instax film photo, and others. And just like a real lottery, you'll also have to deal with the unfortunate dud tickets once in a while.
St Giuliano Music Academy

聖ジュリアーノ音楽院

Address

Asahi Kaikan Bldg. 7F, 1-12-11 Higashi Ikebukuro, Toshima-ku, Tokyo

Nearest Station

2 minutes on foot from JR Ikebukuro Station (East Exit), 4 minutes on foot from Higashi Ikebukuro Station on the Tokyo Metro Yurakucho Line


Phone Number

03-6914-2812

Hours: Weekdays 3:00 p.m. – 11:00 p.m.; Weekends and public holidays 1:00 p.m. – 11:00 p.m.
Closed: Not fixed (check the official website or Twitter for updates)
Official website: http://www.st-giuliano.com/
3. Butler Cafe Swallowtail: Be pampered like an elegant lady in a stylish space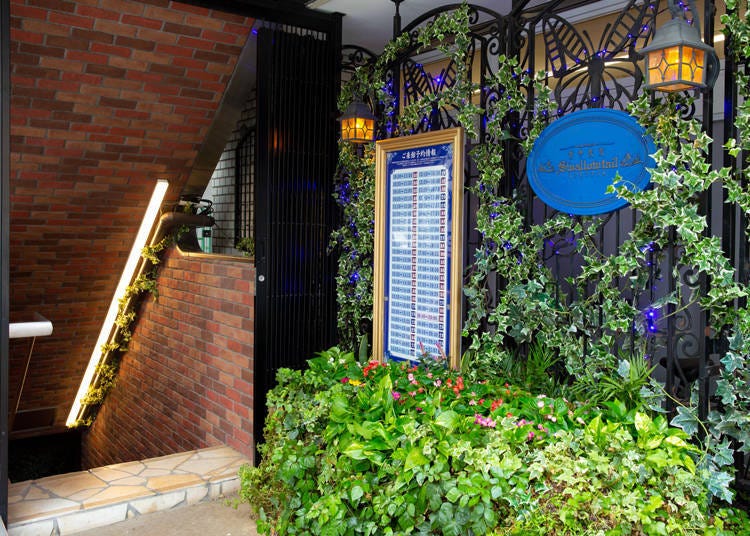 The last recommendation on our list is Butler Cafe Swallowtail, which is about a 10-minute walk from Ikebukuro Station on the JR Lines. The cafe is designed after the interior of a gorgeous and stylish mansion house.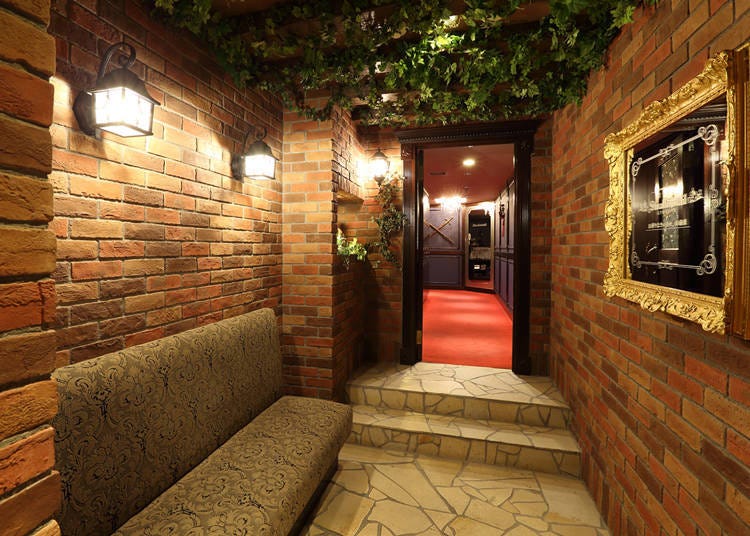 Staff of the cafe play the role of servants working in the mansion and will greet guests with the titles of "Lady," "Young Master," "Master," or "Mistress" when they walk into the shop.

The cafe itself is designed to resemble a tea salon built by the master of the mansion that will allow the ladies of the house to enjoy a spot of tea and rest between their busy schedules.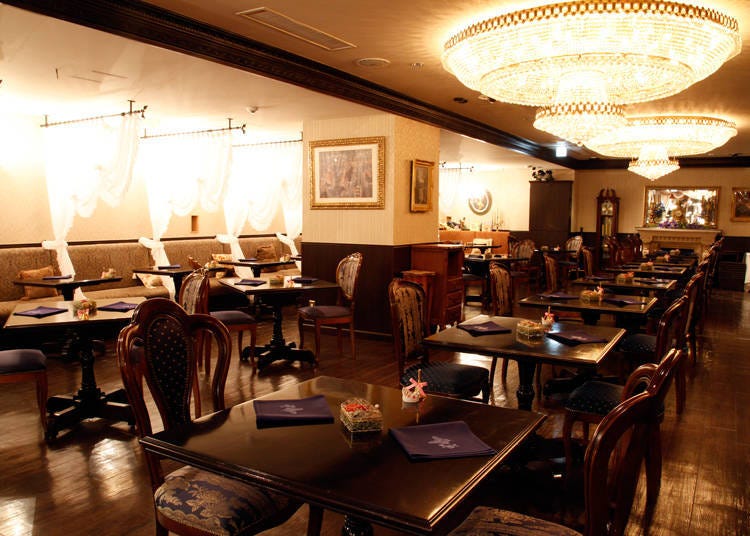 The cafe entrance is lined with red bricks, and once you pass through them, you'll find that you've been transported to a most stylish and elegant space. This cafe is reservations-only, and reservations can be easily made online via their website. Walk-in customers will only be entertained if there are any cancellations on the day itself, or if empty seats are available.
Once you step inside the shop's classy and gorgeous premises, you'll undoubtedly start feeling like a real lady of the house. The well-designed interior certainly makes you want to sit up straight and walk as elegantly as possible!

In the 80 minutes (90 minutes for dinner) that you'll spend here, from being welcomed by the butler into the house until you leave for your next activity, you'll be able to relax among the appealing aroma of tea, snacks, and other light foods.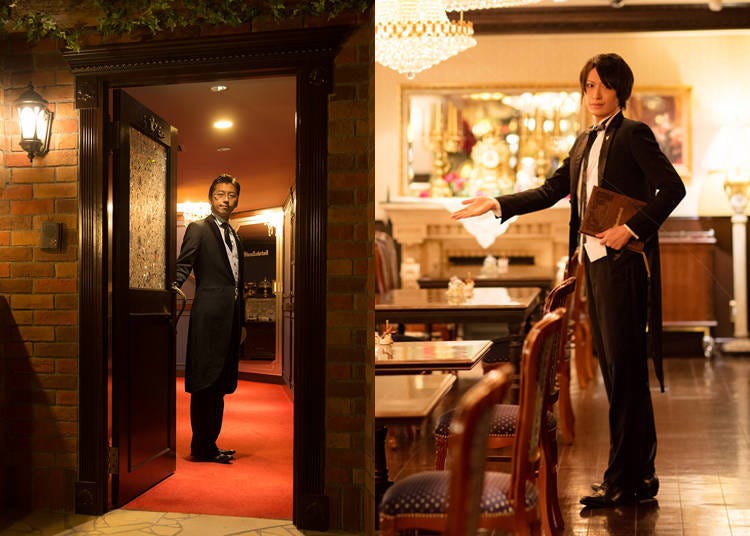 At any given time, when you walk through the cafe doors, you'll be greeted by quite a number of butlers and footmen of a wide age range - between 20 to 80-years-old!

And these are men of many talents as well. Some are intimately familiar with tea culture, like tea leaves and ceramics selection. Others have deep knowledge in music, art, wine-tasting, and other cultural curiosities.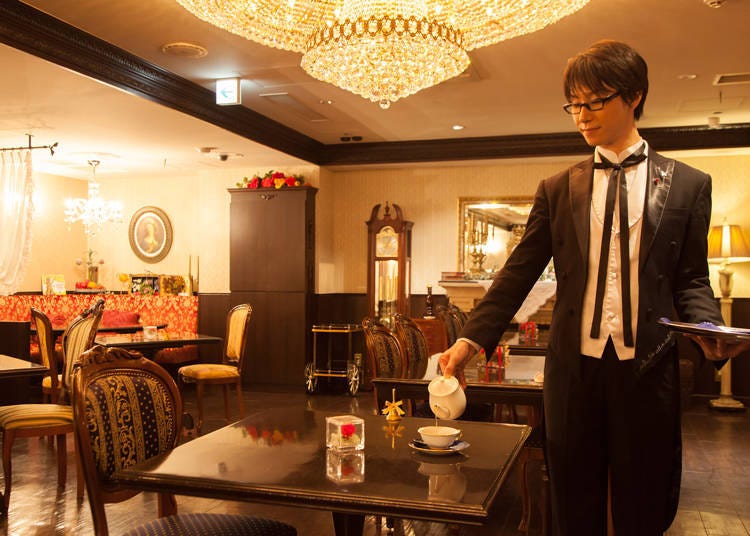 To ensure that everyone present gets the full experience of the carefully crafted worldview here, mobile phone usage and photography are not allowed inside the shop as a rule of thumb. Forget about what goes on outside these doors and just melt into the mood during your time here. It's really the best way to enjoy the experience!

Meal sessions in Swallowtail are split into Tea Time and Dinner Time. The basic course fee is 3,500 yen (tax included) for a selection of snacks, light foods, and dinner food. Each person is required to order at least one set menu, but if you've already had your meal somewhere else and find it difficult to stomach another full course, go for the lighter Gift Box Set, which allows you to simply have a drink during your visit.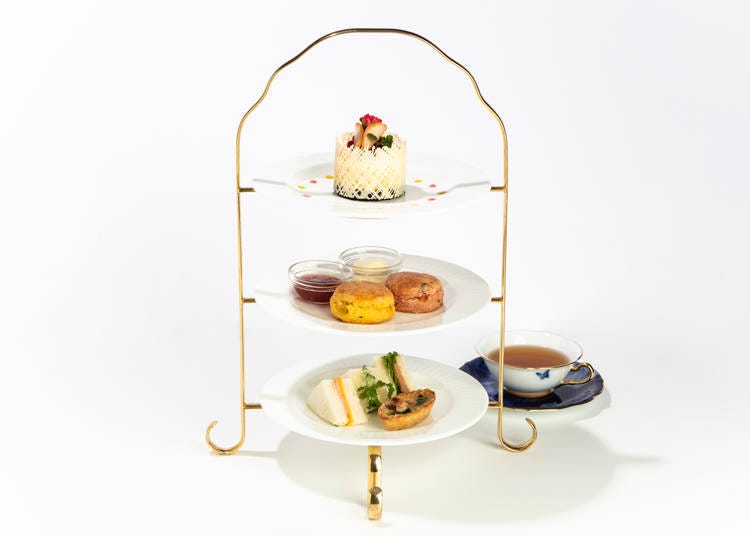 One of the most popular food items is the traditional afternoon tea set called "Anna Maria (3,700 yen, tax included)". This elegant gem of a menu comes with sandwiches, quiche, mini scones with fruit preserves, petit dessert, and black tea - all specially crafted to please the lady of the house.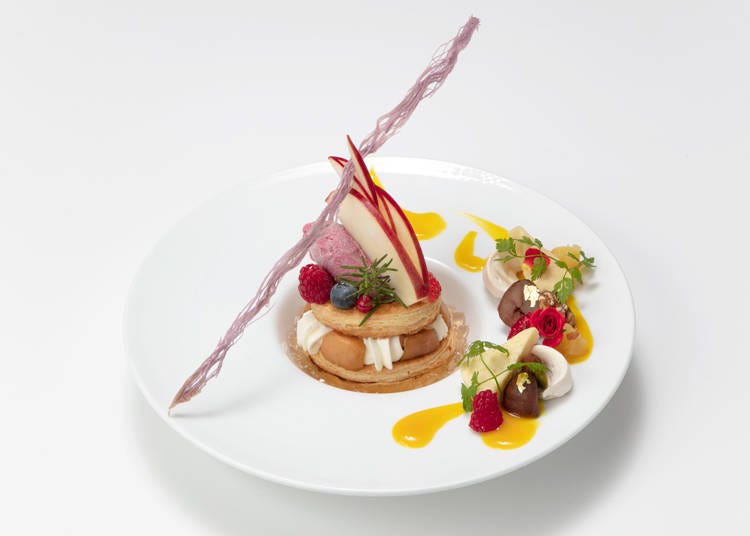 The "Seasonal Dessert Plate (3,500 yen, tax included)" is another popular item that's on our recommendation list. This beautiful dessert platter has been meticulously planned and designed according to the image of the current season by the cafe's patissier. It is bound to captivate both your heart and tummy!
執事喫茶スワロウテイル

Address

Showa Bldg. B1F, 3-1-1 Higashi Ikebukuro, Toshima-ku, Tokyo-to

Hours: 10:30 a.m. – 9:00 p.m. (reservation-only)
Closed: Not fixed
Official website: https://www.butlers-cafe.jp/
Ikebukuro is quickly becoming a popular destination for Japanese cultural immersion alongside big names like Akihabara, and it's not difficult to see why, with its variety of commercial facilities that cater to a wide range of interests!

Besides the shops we've featured in the article this time, you'll find that there are plenty of other concept cafes waiting to be discovered as well, so if you're planning a trip to Ikebukuro, stop by one or two of the concept cafes located there to truly experience Japan at its cultural quirkiest!

English translation by: Huimin Pan
Written by: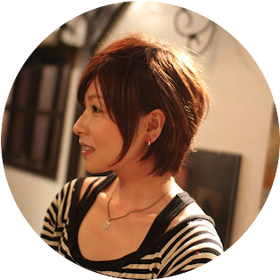 *This information is from the time of this article's publication.
*Prices and options mentioned are subject to change.
*Unless stated otherwise, all prices include tax.