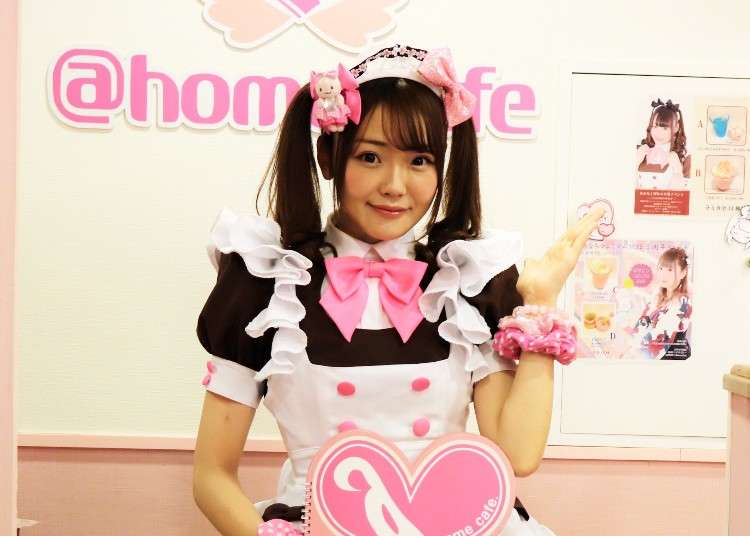 Going to a place you know nothing about can offer an exciting sense of mystery. The same is true for Japan's maid cafes, which often pique interest from foreign tourists.

What kind of place is a maid cafe? What should you talk about with the maid? So many questions! So, at this time, we'd like to show you how to enjoy a basic maid cafe.

We visited Akihabara's popular @Home Cafe and legendary maid Hitomi, who attracts attention from around the world, who also shared how to enjoy maid cafes in Japan. We'll tell you all about it from start to finish!
■Enjoy the Greeting When Entering the Maid Cafe:
"Okaerinasaimase, Goshujinsama, Ojōsama" (Welcome home Master, Princess!)
@Home Cafe has six branches in Akihabara. We visited the @Home Cafe main store's 6th floor. On the day of our visit, we met several foreign tourists and were reminded once again how popular Japan's maid cafes are with overseas visitors.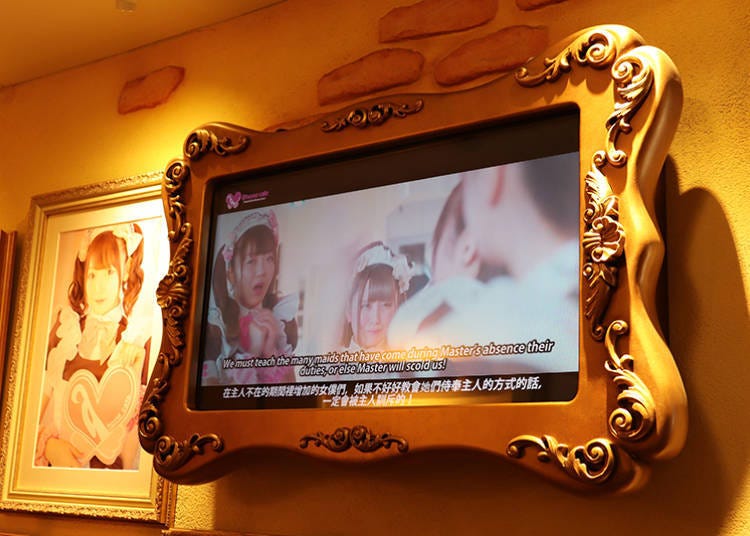 The 1st floor has a monitor featuring videos of maids from @Home Cafe. The video has English and Chinese subtitles so you can learn more about the store before entering.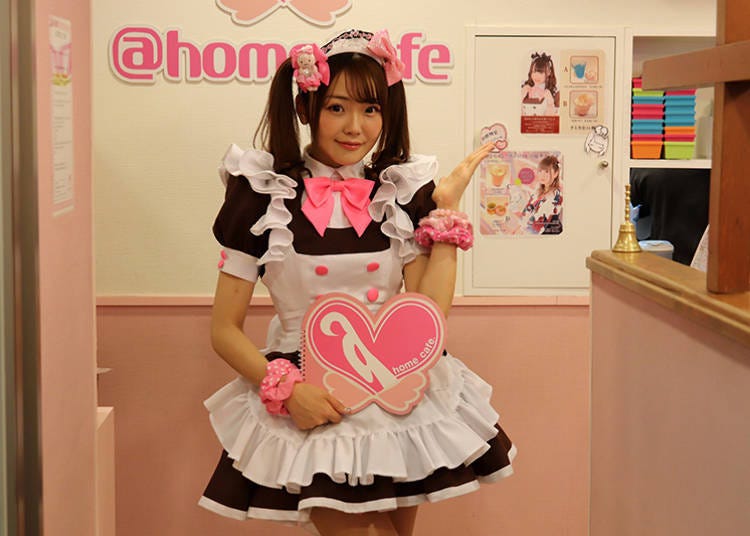 As soon as you enter the shop, a maid will welcome you with a cheerful "Welcome home, Master (or Princess)." @Home Café Guests are referred to as "Master" or "Princess," and the same is true at other maid cafe chains.

"Masters" and "Ladies" are often busy people and the titles are one of the elements that make the experience. Which is more fun for guests: "going to the maid cafe," or "going back home"?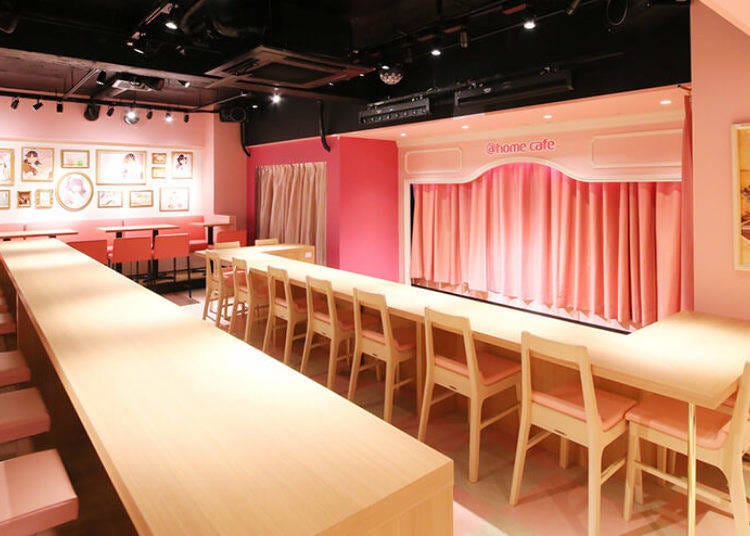 Inside the store, counter and sable seats are lined up around a stage. Live performances by maids and commemorative photos with maids can be take on the stage.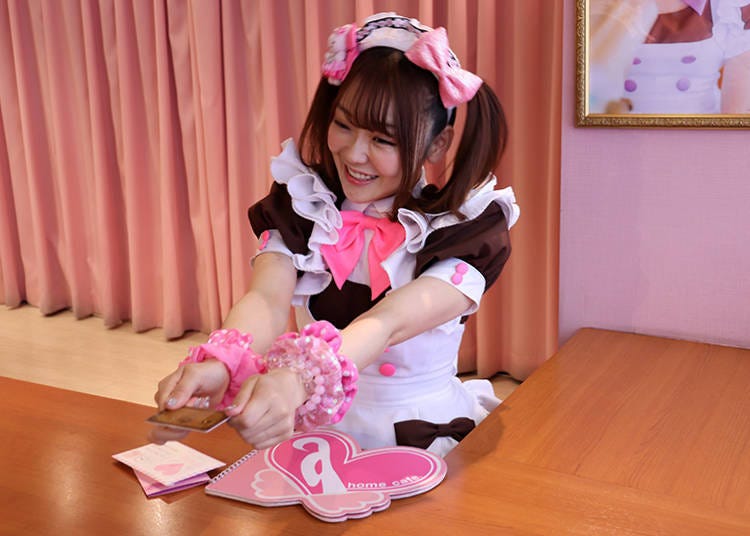 When I was seated, the first thing I received was a "License of your Majesty." When visiting for the first time, you'll be presented with this card that proves that you are the Master/Princess of @Home Cafe.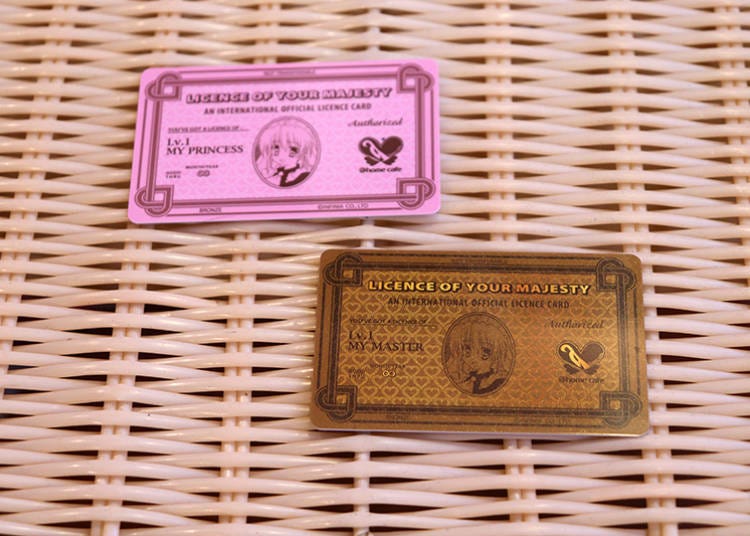 The right is for the Master and the left is for the Princess. The certificates are upgraded to silver and gold depending on the number of visits.
■Be sure to check out the rate system and menu as well!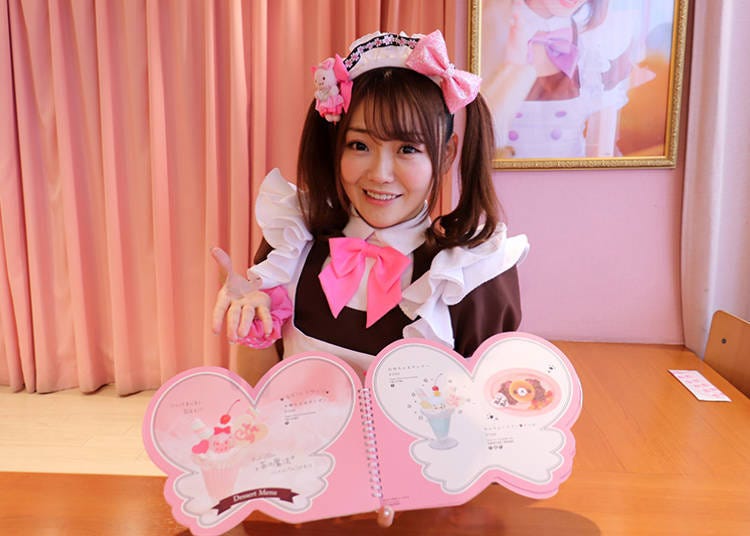 The menu offers a wide variety food, drinks, as well as amusements to enjoy with the maid. It's important to listen carefully to the fee system and the menu.

The fee system and menu vary by shop. We confirmed that @Home Cafe doesn't use a time charge system, but at shops that require a time charge, it's easy to lose track of time and go over budget before you realize it. Be sure to check because you often hear stories of mistakes like that!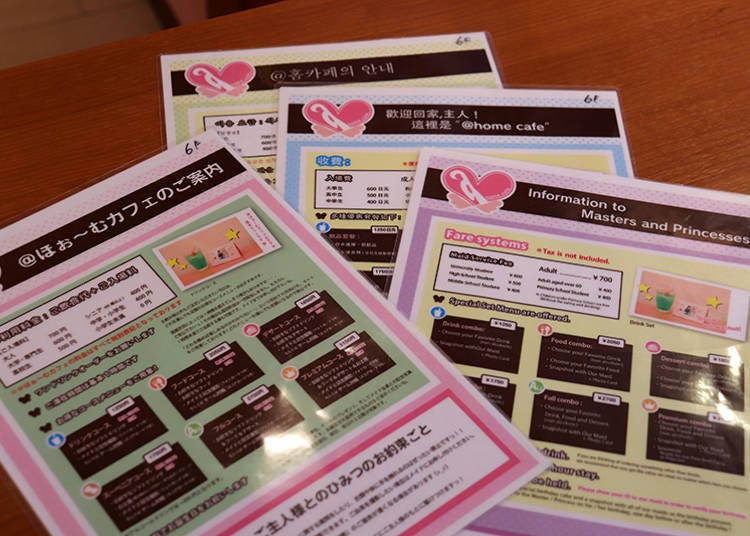 You'll receive a price list, course menu, and a comment sheet that includes notes from maids, Masters, and Ladies. Guide sheets are available in Japanese, English, Chinese, and Korean.

We chose the "Full course" (2,700 yen, tax excluded). It offers a favorite drink, food, a dessert, and a photo or game with a maid. It's scheduled as a 60-minute session, but might take a bit longer if food orders are delayed.
■Enjoy 'Omajinai' with Maids: "Make it delicious - Moe, Moe, Kyun!"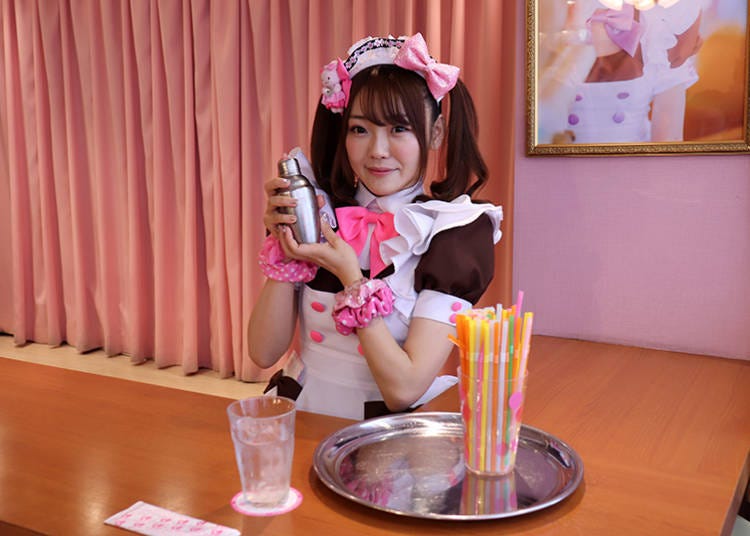 When you order food, drinks, the performance the maid puts on and "good luck chants" (omajinai) are part the entertainment value of Japan's maid cafes. Phrases like "Oishikuna-re" ("Be delicious!" ) or "Moe, Moe, Kyun!" have been heard even by those who haven't visited a maid café, right?

Depending on the menu selection, guests may be called to enjoy them together. The drink I ordered this time was "Furifuri-shakashaka♪Mikkusu Jyu-chu" ("Frilly-frilly, shaken-shaken mixed juice"). As the maid shook the shaker, she asked guests "furifuri," "shakashaka," and "moe moe" in response to her instructions.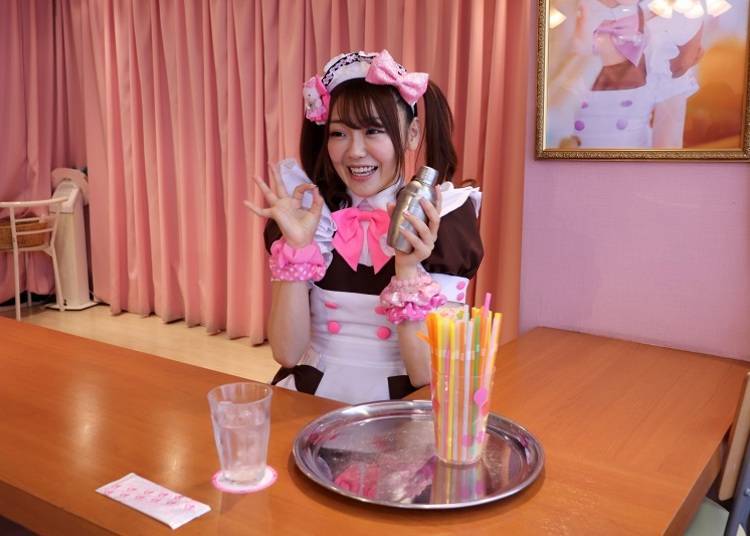 At first I tended to feel embarrassed, but the wordplay brought joy, and I was grateful! Hitomi-san, a maid, flashed a big smile, and said "It's perfect!"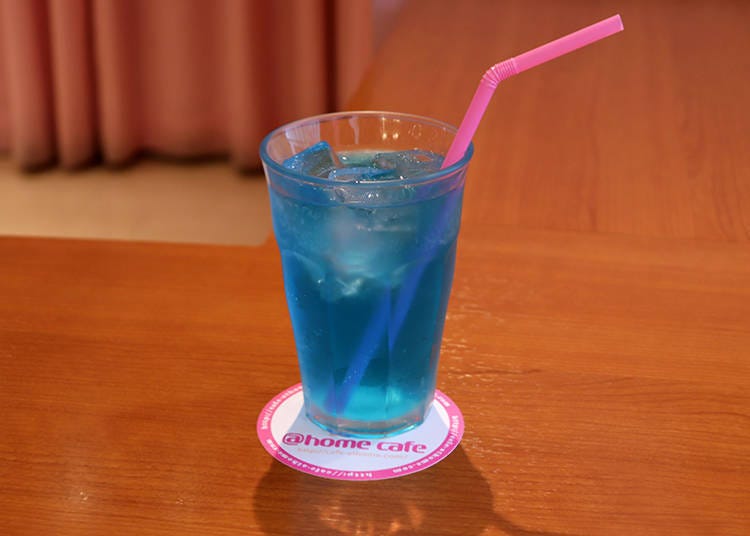 When your drink arrives, you can choose the color of your straw. As the drink poured from the shaker, you might wonder "What color will it become?" and strike up a conversation with the maid.
To make your order "even more delicious," the maid will say "Moe, Moe, Kyun!" and she and the guest will make a heart symbol with both hands towards the drink.

One tip for Japan's maid cafes is the more you participate, the more you'll enjoy your time with the maid!
■Very Popular: Omurice Ketchup Art!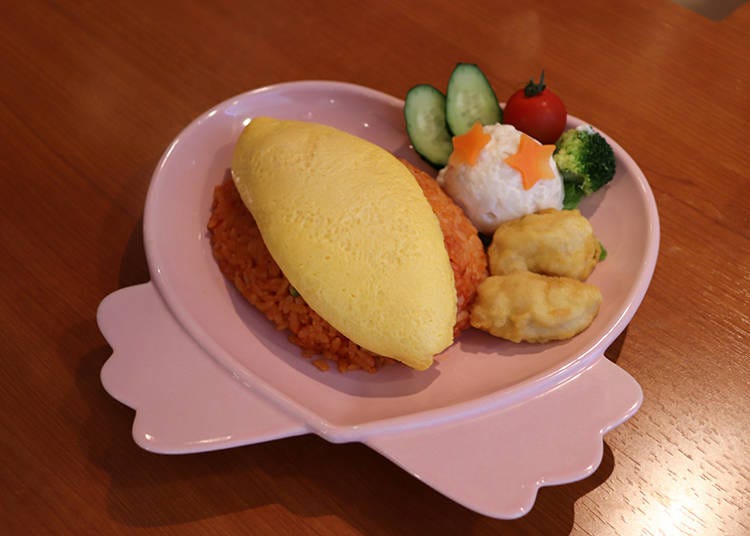 One trademark maid cafe dish is omurice (omelette rice). Maids draw cute pictures on the omelette, making it a fun menu item.

Illustrations vary by maids, and often cute animals such as rabbits, cats, or dogs. This time, I ordered "Pipiyo-Piyopiyo♪Hiyokosan Rice."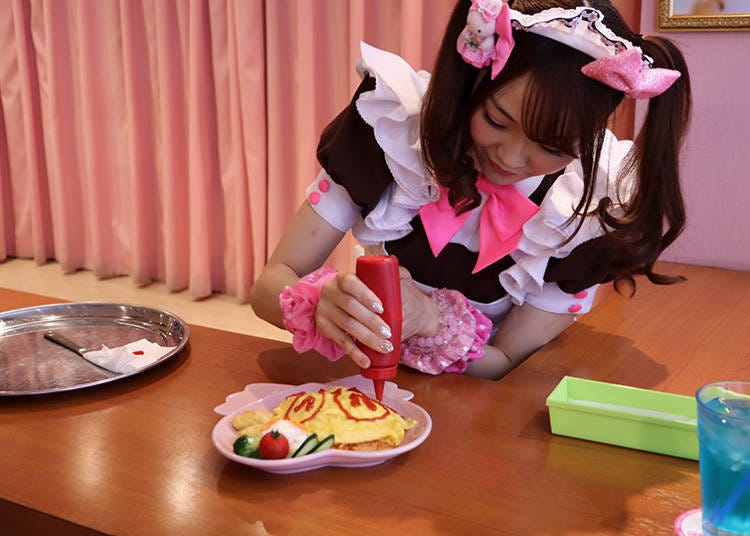 Here too, when the ketchup drawing is completed, we'll give it an "Oishikuna-re" and infuse it with our 'magical' happy powers!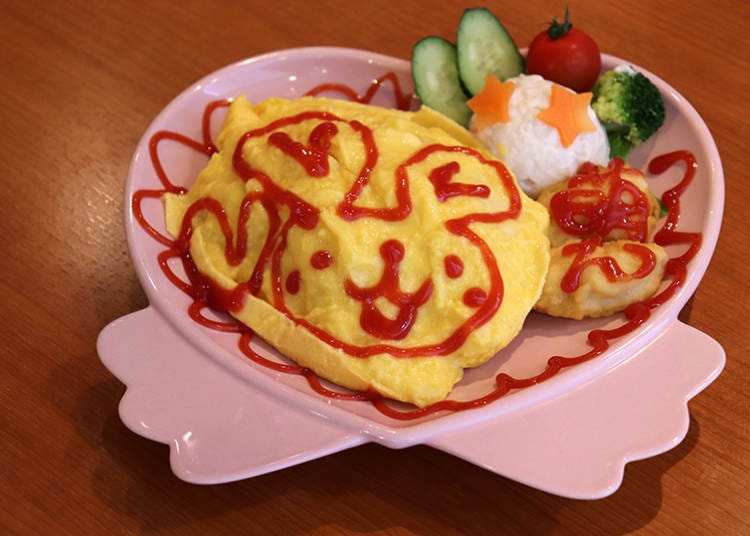 The dishes are also decorated with ketchup, and make for a fun photo! If you have extra requests, be sure to ask. Chatting with the maid is the best way to enjoy a maid cafe.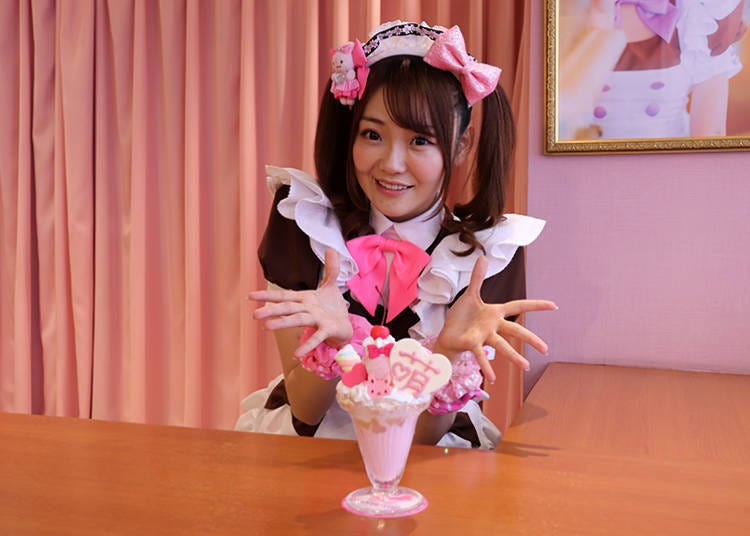 The "Full Course" menu also includes dessert. I ordered the "Mademoiselle Sunday" which also has a "magical spell" placed on it.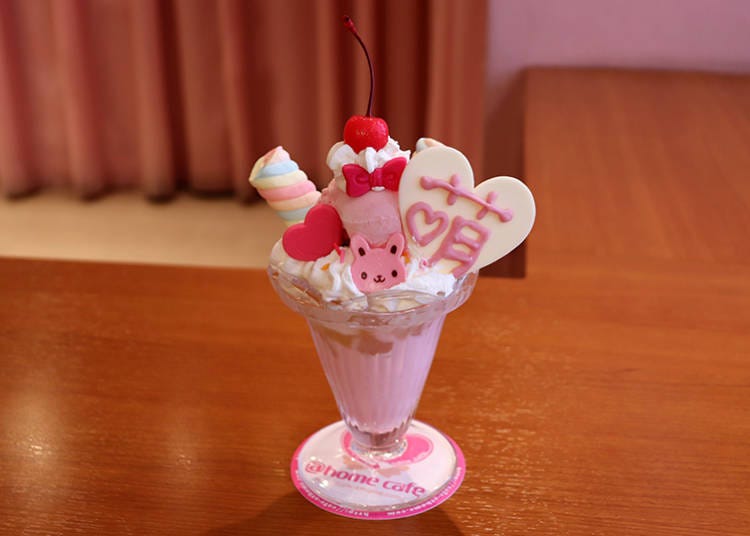 The parfait with a pastel pink "萌" ("Moe") character is just fun to look at. It's almost a shame to put a spoon in it!
■Japanese maid cafe rules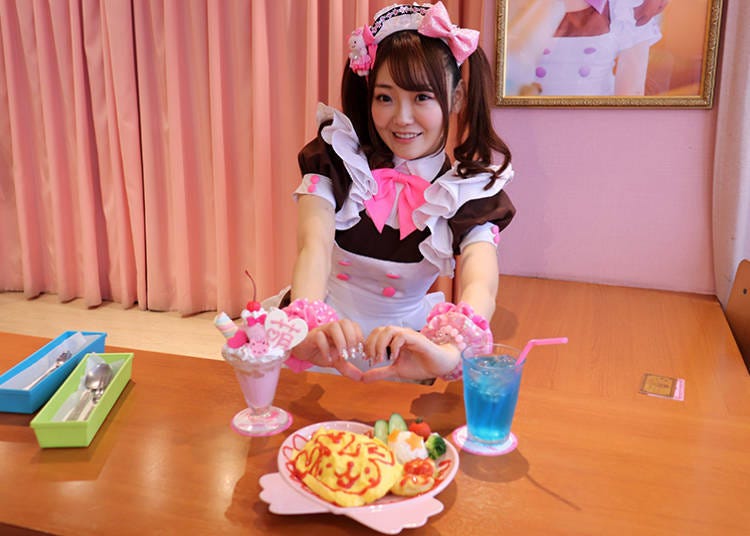 Talking with maids is a lot of fun, but there are also rules that must be kept in mind. It is absolutely forbidden to give maids your contact info, ask personal questions, or touch them or their clothing!

In addition, you can't take photos of the maids with your personal camera or cell phone. Be sure to limit photos to the dishes or yourself.
■Making Memories with the Maid and Commemorative Photos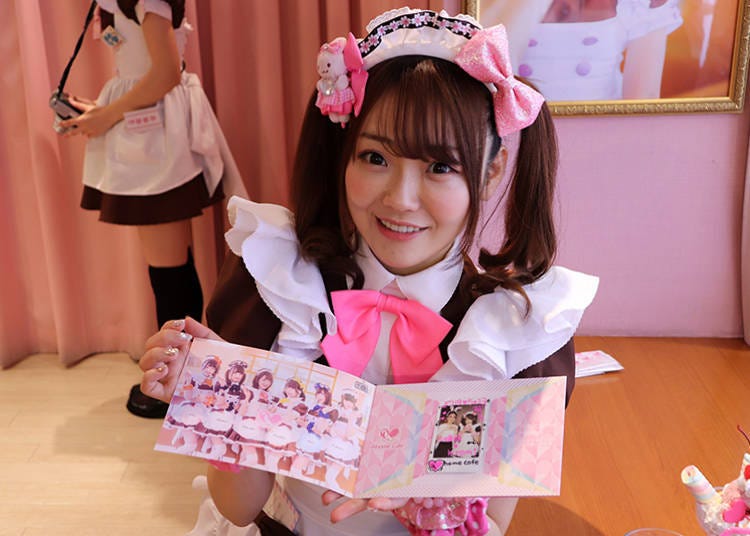 However, you can get a photo with a maid by choosing the "Maid and Memorial Photo" from the amusement menu. You can choose your favorite of the maids serving during your visit for your photo.

After moving to the stage, you can select props like cat ear headbands, and decide what pose to make.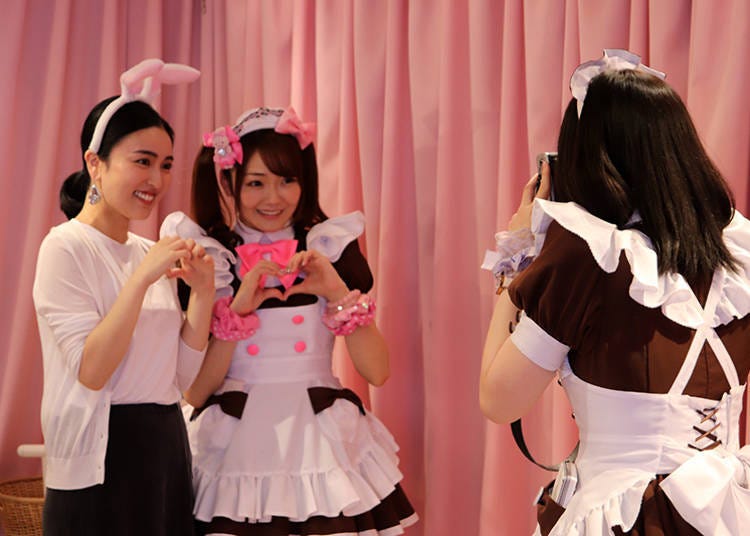 Taking the photo when you pay the check is the standard method practiced at many of Japan's maid cafes. When the photo is developed, you get a pretty picture including the date and the name of the maid.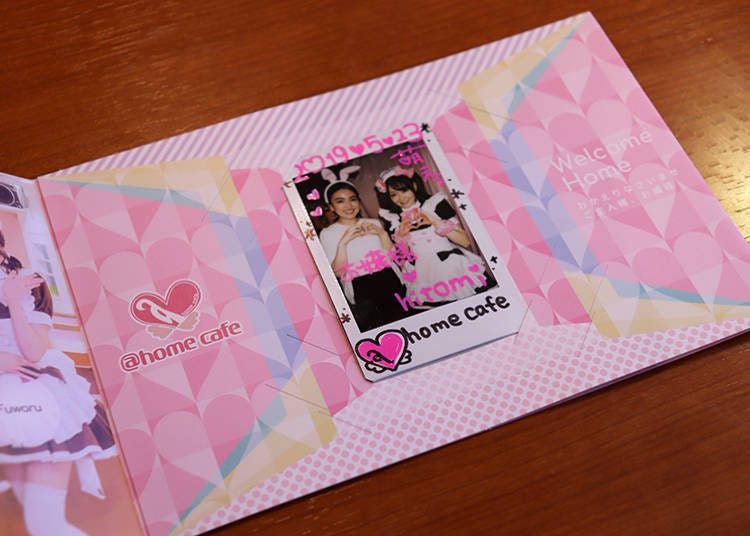 When you hour is almost up, the maid will let you know and you can start gathering your belongings.
■Omiokuri (Send-off) Time:
"Master and Princess are leaving! Itterasshai - be safe, Master, Princess!"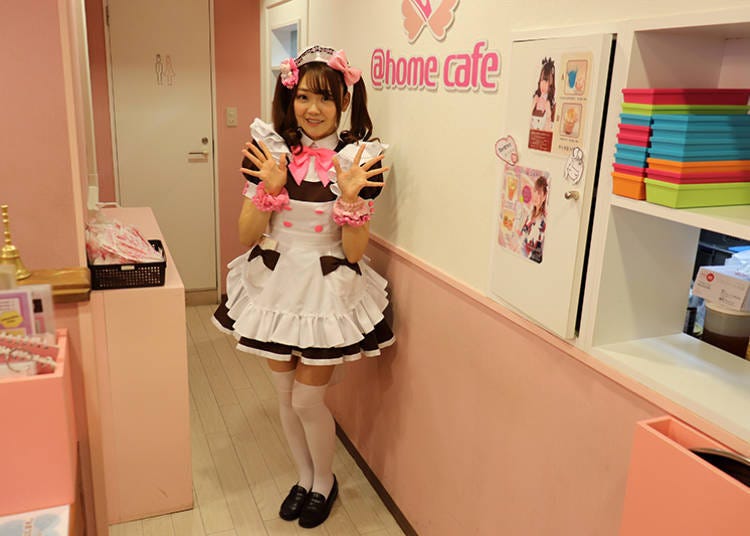 After paying your check, the maid will see you off to the exit with a "Welcome, Master/Princess!" Just as when you enter, all the maids will call out together.

Japanese maid cafes are an entertaining way for guests to enjoy the feeling like a "Master" or "Princess."

When you're in Japan, don't miss the curious chance to step into the unique world of a maid cafe!

Written by: Naho Jishikyu. English by Gabriel Wilkinson
@Home Cafe Akihabara Main Store

@ほぉ~むカフェ秋葉原本店

Address

Tokyo, Chiyoda-ku, Sotokanda 1-11-4 Mitsuwa Building 3F-7F

Homepage: https://www.cafe-athome.com/
Hours: Mon. - Fri. 11:00 - 22:00 (L.O. 21:20); Sat., Sun. & holidays 10:00 - 22:00 (L.O. 21:20)
*This information is from the time of this article's publication.
*Prices and options mentioned are subject to change.
*Unless stated otherwise, all prices include tax.