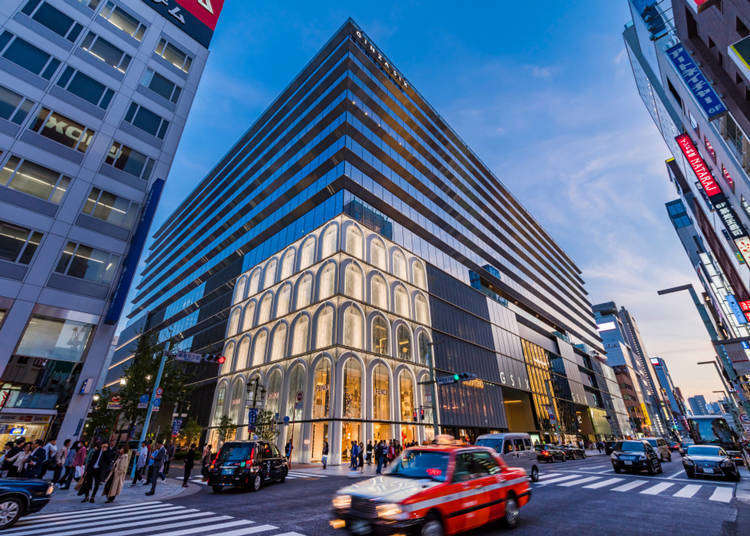 Ginza is the absolute first point of call for luxury in Tokyo. But you might be wondering, what are the best things to do in Ginza? And how can you experience this luxury first-hand? With shopping facilities, high-brand boutiques, exclusive Japanese-style and Western-style restaurants, this area has a strong, solid appeal to both tourists and residents alike!

Here we will introduce places to see, eat, and shop in Ginza in each of its main areas. We have selected not only luxury shops but casual ones as well to provide first-time visitors with a wide selection of places they can visit without hesitation! We hope that you will find our recommendations helpful.
What sort of place is Ginza?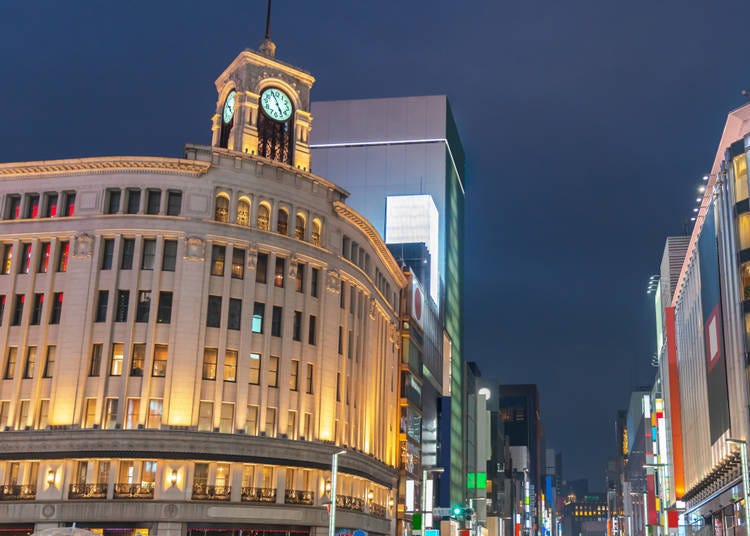 Ginza, located in the Chuo City section of Tokyo is an area noted for its many high-end and sophisticated shops and restaurants.

During the Edo era, Ginza was where the Bakufu government set up its mint for striking silver and gold coins. Tokugawa Ieyasu created the "Ginza Foundry" in what is today Ginza 2-chome, having moved it from Sunpu, his former government headquarters, and that is how the area came to be called Ginza.

Shortly thereafter, Nihonbashi, where Mitsui Echigoya was located, became the hub for maritime commerce and as it prospered, business establishments began to spring up along the street connecting it to Ginza enabling it to evolve into a major commercial district.

Ginza extends from 1-chome to 8-chome, and many commercial facilities, department stores, luxury boutiques, specialty stores, restaurants, and the like are concentrated around the 4-chome intersection where the Wako Main Building, with its landmark clock tower, is located. Ginza-dori, the main street, is closed to traffic on weekends making it a pedestrian paradise for those wishing to leisurely shop in the area.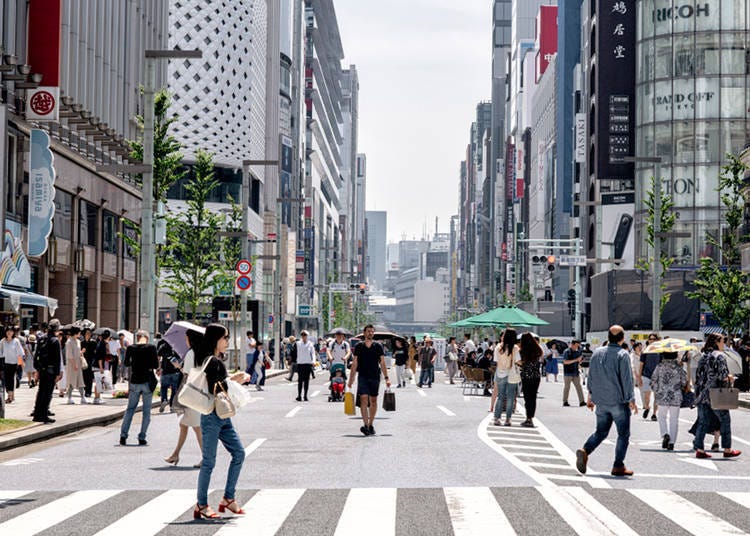 LCRP / Shutterstock.com
There are many facilities where you can see traditional Japanese performing arts and contemporary art, such as at the Kabukiza, Shiseido Art Gallery, and Ginza Maison Hermes Forum. One of the things that makes Ginza so attractive is its abundance of art and culture.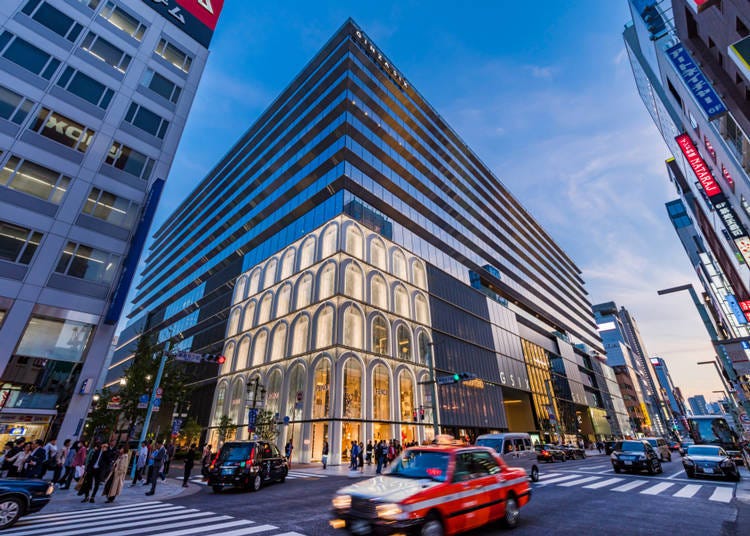 picture cells / Shutterstock.com
Redevelopment has continued in recent years further enhancing the image of the Ginza as being an area at the forefront of fashion and culture.

The creation in recent years of complex facilities, such as Ginza Six, Tokyu Plaza Ginza, Ginza Place, and Ginza Sony Park, has further increased the vibrancy of the area.
Shopping Paradise! What do tourists think?
The 2016 Foreign Tourist Behavior Survey by Country showed Ginza to be the third most popular area for foreign tourists in 2016 after Shinjuku / Shin-Okubo and Asakusa. It was also ranked third by foreign tourists as being "the most satisfying area".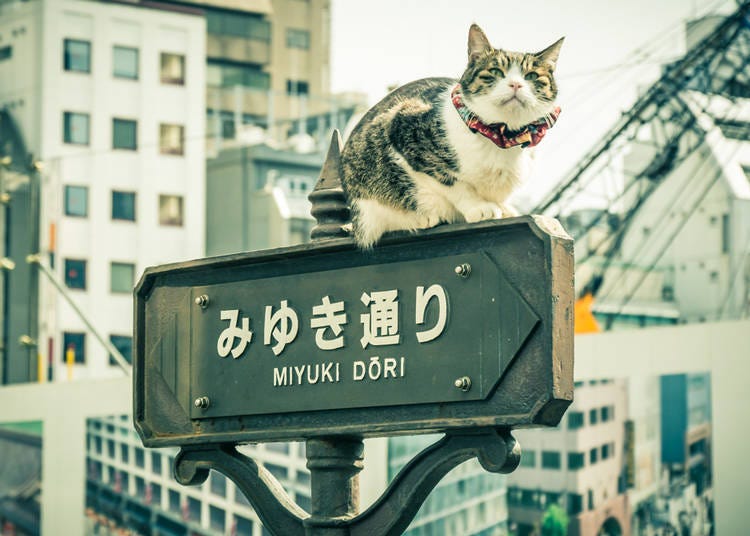 There was an overwhelming response among foreign visitors indicating that their purpose for visiting Ginza was "shopping for clothes and accessories" (32.0%), "shopping for daily necessities, cosmetics, food, and sweets" (29.2%), and "enjoying Japanese food" (16.2%) underscoring the strong image of Ginza as being an enjoyable place to shop.

More recently the number of duty-free shops has been increasing making it even easier for foreign tourists to shop.
Things to Do in Ginza: Food and Shopping Spots by Area
Shopping in Ginza is also hugely popular with foreigners. Fashion and daily necessities are of course popular, but equally popular are traditional Japanese crafts and specialty shops. While shopping in the Ginza for these items visitors can also enjoy sampling Japanese cuisine and visiting sightseeing spots.

Here are some good spots we recommend in each of the five main areas of Ginza. There are lots of stylish shops and places to visit in addition to the more famous ones, so be sure to check them out, too.

(1) Area around the Sukiyabashi intersection
Sukiyabashi is where Harumi-dori and Sotobori-dori intersect. This is one area that has a renewed vibrancy due to recent redevelopment resulting in the creation of Ginza Sony Park and Tokyu Plaza Ginza.

In 2016 the nearby Sukiyabashi Park was renovated and is famous for the clock tower built by the famous Japanese artist Taro Okamoto. This spacious park is a popular spot where urbanites can stop and relax.
(2) Area around the Ginza 4-chome intersection
The Ginza 4-chome intersection is the center of Ginza, where Harumi-dori and Ginza-dori, the main street, intersect. There are many shops representative of the area in addition to Ginza landmarks that include the Wako Main Building, Sanai Dream Center and Ginza Mitsukoshi, as well as Ginza Place, which opened in 2016 after redevelopment.
(3) Area around the Ginza 3-chome intersection
From the Ginza 4-chome intersection, proceed along Chuo-dori toward the northeast and the Ginza 3-chome intersection is where it crosses Matsuya-dori. This is the shopping area where the Matsuya Ginza and Apple Store Ginza are located.

A number of famous overseas luxury brands, such as Louis Vuitton and Chanel, are located near 2-chome and in 2016 Okura House, a landmark commercial facility, opened. Here, too, are other stores such as the Cartier flagship store and "bills" that is famous for offering "the best breakfast in the world".
(4) Area around the Ginza 1-chome intersection
The Tokyo Metro Yurakucho Line passes under the Ginza 1-chome intersection. Here you will find commercial facilities such as Ginza Melsa and a number of high-end stores such as Harry Winston. This is a good area for walking and shopping and is conveniently located close to Yurakucho Station.
(5) Area around the Kabukiza
Directly connected to Higashi Ginza Station, Kabukiza is a theater dedicated to Kabuki, a traditional Japanese performing art. This is a popular spot that attracts visitors from both home and abroad. In 2013 it reopened after having been transformed into a high-rise building called Kabukiza Tower.

In addition to enjoying Kabuki performances, you can also shop for Kabuki goods and enjoy Japanese cuisine in this complex facility that also houses a gallery.
In this area there are also long-established restaurants which are said to be frequented by Kabuki actors and having lunch or dinner at them after taking in a Kabuki performance is recommended.
Access Guide: Getting to Ginza
Ginza Station, in the heart of Ginza, is serviced by three lines: Tokyo Metro Ginza Line, Yurakucho Line and Hibiya Line. It is also close to the Higashi Ginza Station on the Toei Asakusa Line, Yurakucho Station on the JR Yamanote Line and Keihin Tohoku Line, and Shimbashi Station. You can walk to Ginza from any of these stations.

There are also many bus stops with regular buses running from the Marunouchi South Exit of Tokyo Station, as well as limousine buses that run from Haneda Airport and Narita Airport to Ginza, which are ideal for domestic and foreign arriving visitors.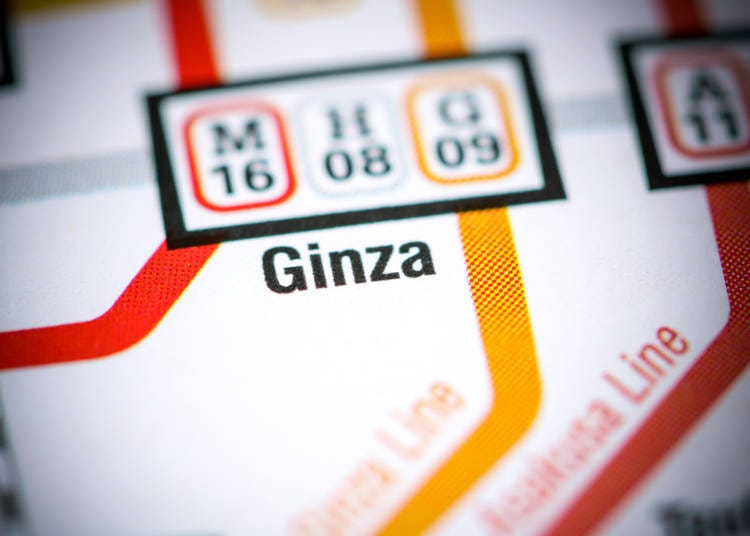 Ginza is an area where you can enjoy not only shopping, but also gourmet dishes and art making it the perfect place for tourists seeking a more sophisticated side of Tokyo.

The redevelopment of the area is ongoing so we can expect to see even more new attractions each time we visit. For those who have visited Ginza in the past, they will be delighted by all the changes and by all means should make it a point to visit the area again.
*This information is from the time of this article's publication.
*Prices and options mentioned are subject to change.
*Unless stated otherwise, all prices include tax.