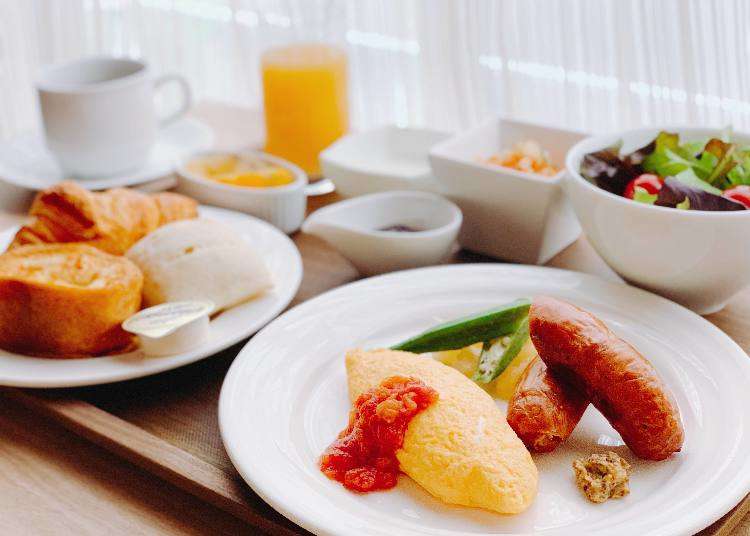 Ginza. A shopping paradise of massive department stores and branded boutiques, where traditional establishments coexist harmoniously with fashionable facilities, and this eclectic mix of old and new certainly gives the classy town a unique charm of its own!

It's therefore no surprise that visitors can find plenty of equally stylish and trendy hotels located all around town as well, each offering their own lavish spread of tasty meals. In this article, you'll find our recommendations for a few hotels known in town for their appetizing breakfast goodies. Some can only be enjoyed by hotel guests, while others are open to the public.

Experience Tokyo's hallmark opulence by giving yourself a luxurious start to your day with a Ginza hotel breakfast.
1. AC Hotel by Marriott Tokyo Ginza: Non-hotel guests welcome! Relish a gourmet breakfast made from the finest ingredients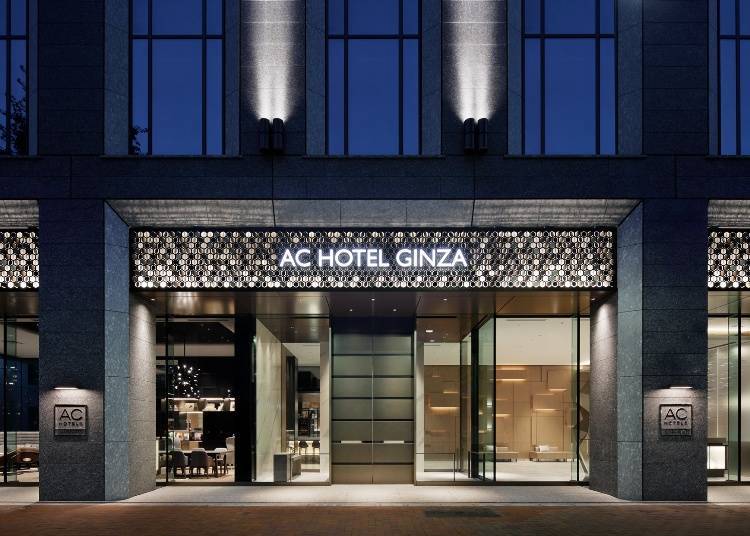 The first breakfast spot on our list is AC Hotel by Marriott Tokyo Ginza, a spanking new hotel that just opened in July 2020. This is a lifestyle hotel brand that originated from Spain, and it focuses on presenting the charming European spirit to its guests with a modern yet classic decor. Because this hotel is the brand's first foray onto Japanese shores, it's generated quite a lot of buzz in the area!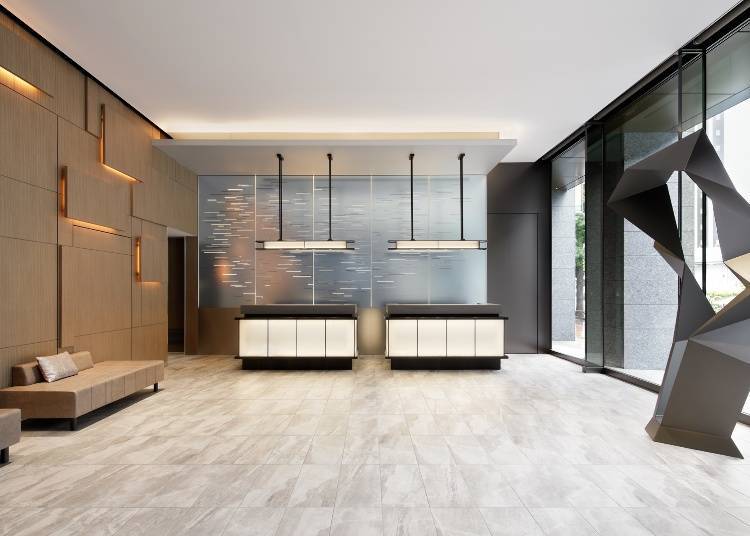 Welcoming pieces of contemporary art greet visitors at the hotel entrance. Further inside the first floor is a brightly-lit and clean space that functions as a lobby, bar, and library all at once.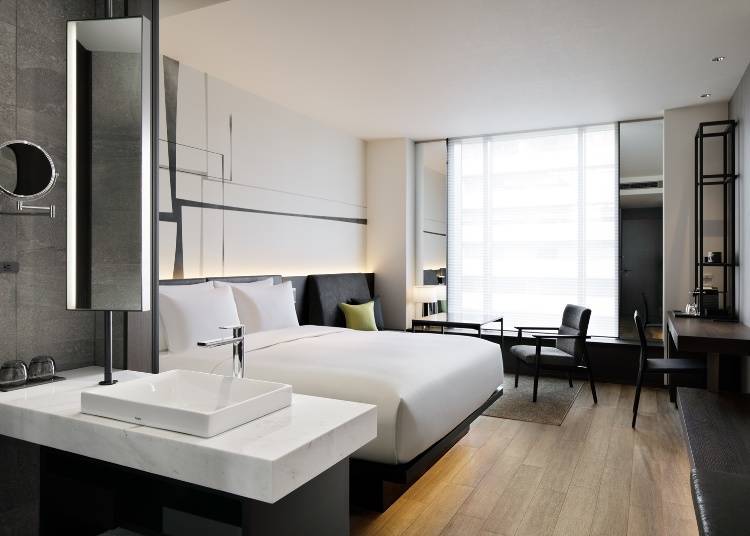 The 296 guest rooms have been carefully designed to make visitors feel at home away from home.

You can expect but the highest quality of service here, too. Here are some unique little touches the hotel provides to ensure guests always feel relaxed and welcome during their stay.

- Lavender Turndown: A little lavender sachet for guests, to ensure their peaceful sleep at night.
- European Arrival: When guests check into the hotel, they are shown European-style hospitality with some pâte de fruits candy and apéritif or digestif.
- Porron Experience: Have a traditional Spanish Porron experience by drinking wine from a special decanter designed to not let your lips touch anything!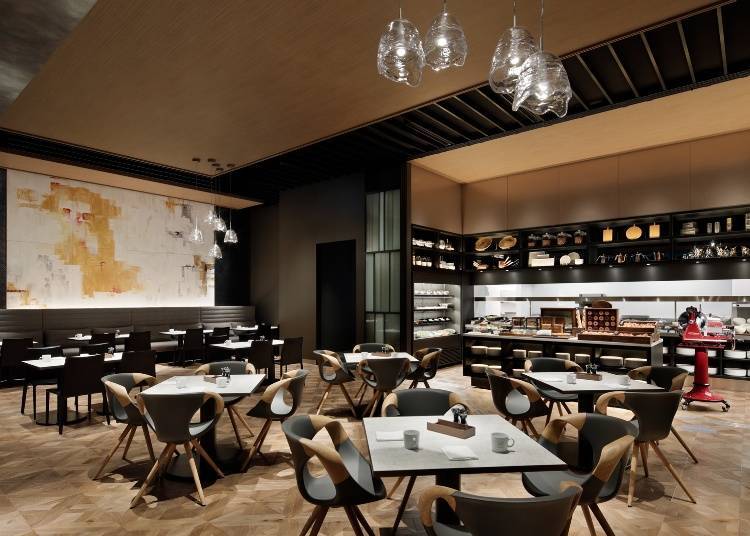 You're looking at AC Kitchen, an eatery located within the hotel's public space that serves food during breakfast, lunch, and dinner times. Non-hotel guests are welcome! The restaurant's open concept design features large windows where natural light comes flooding in from, making it a very comfortable place to enjoy a good meal indeed.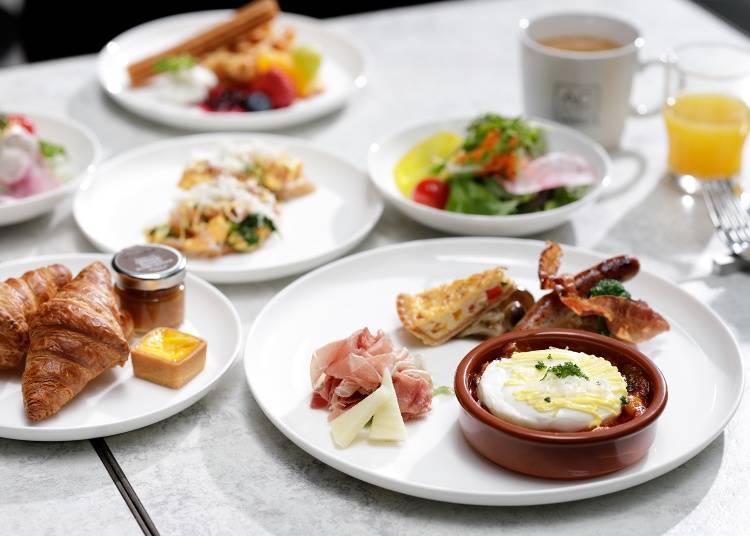 The current breakfast menu is a buffet of plated herbs paired with other morning regulars. The hotel has enhanced safety measures against infectious diseases in view of the current COVID-19 pandemic, so guests can rest assured that their dining experience is both safe and enjoyable.

Choose from Western or Japanese cuisine for your main dish. Eggs and bread-related food items are prepared on-the-spot in the restaurant's kitchen for maximum freshness. You can also expect to find other premium ingredients on your plate, such as artistically arranged sliced ham, butter croissants, crunchy cucumbers, and special coffee brews.

If you really liked the breakfast here, you can also come back again for lunch and dinner!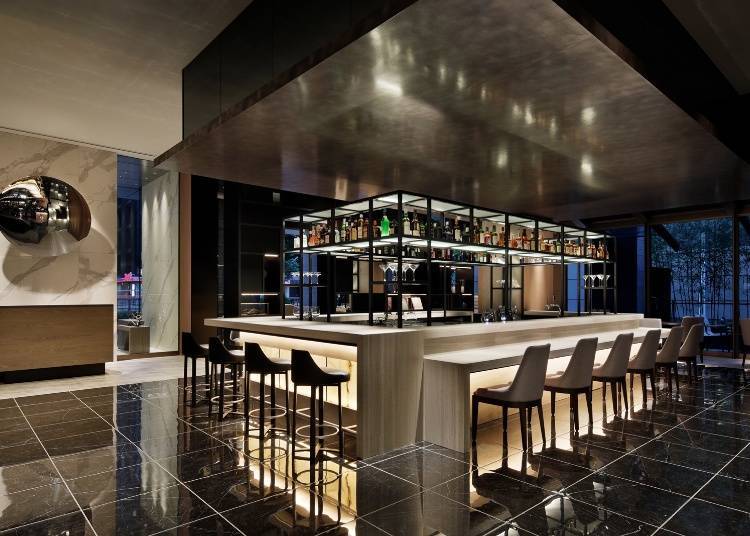 Right next to AC Kitchen is the stylish bar, AC Lounge®️, which offers fragrant drinks such as rosemary or cloves gin and tonic, Spanish tapas, and other irresistible alcoholic beverages.

Come here for a top-notch experience conveniently located right in the heart of downtown Ginza!
AC Hotel by Marriott Ginza

ACホテル・バイ・マリオット東京銀座

Address

6-14-7, Ginza, Chuo-ku, Tokyo-to 104-0061

Nearest Station

3-minute walk from Higashi-Ginza Station on the Tokyo Metro Hibiya Line or Toei Asakusa Line


Phone Number

03-5550-0102

Breakfast hours: 6:30 a.m. – 10:30 a.m. (last order 10:00 a.m.)
Breakfast fee: 3,500 yen (15% service fee and consumption tax excluded)

Vacancy search, reservation

from

20,790JPY

1room, 2adults

Check with our partner site as the latest rates, rate details, and guest room requirements may vary.
2. Hotel Monterey: A colorful American breakfast of unbeatable value!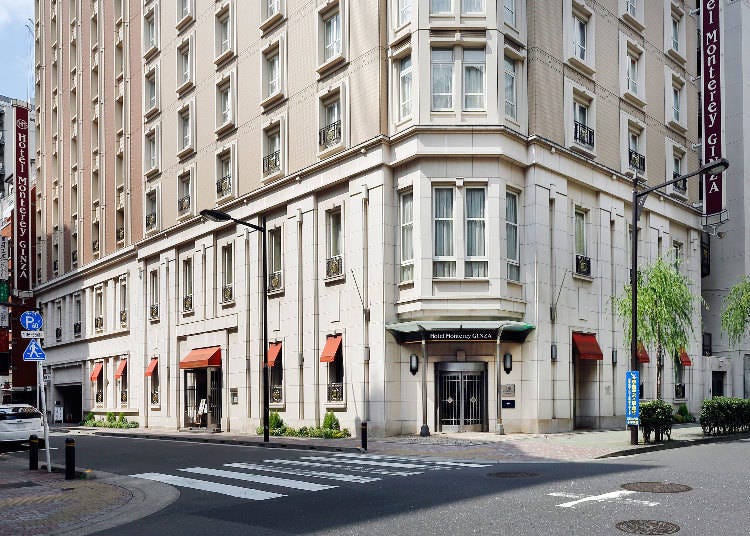 This grand hotel stands majestically in a quiet corner along the main street and is strategically located close to a number of stations plied by various train routes.

One of the first things that catch people's attention about the hotel is its classic architecture, designed to look like a posh Paris apartment block. This makes it especially photogenic even among the many other stylish buildings that can be found along Ginza's streets. An elegantly decorated lobby greets visitors once they step through the doors of the hotel.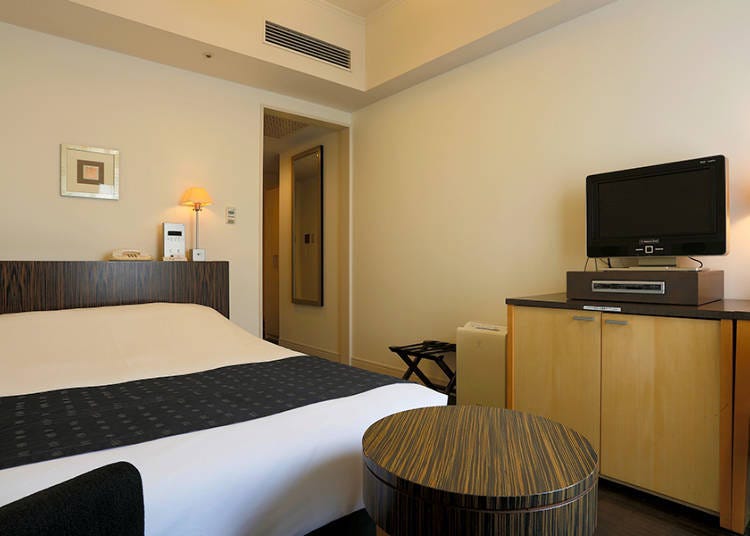 Hotel rooms here feature natural and warm hues that quickly make guests feel right at home, and the wide variety of room types and packages available means there's something for every travel group, no matter the number of people or purpose!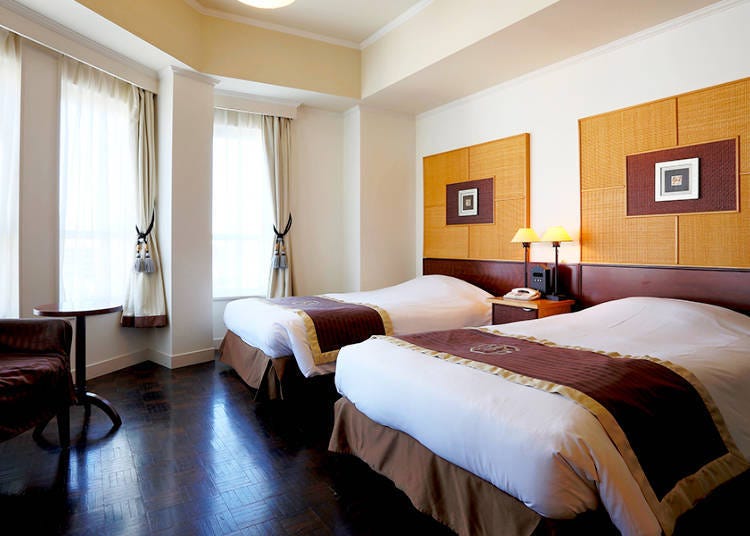 Corner rooms on each floor have been turned into spacious and comfortable deluxe suite rooms offering extra peace and quiet.

As part of their measures against the spread of COVID-19, the hotel will distribute one packet of alcohol-based anti-bacterial wet tissues and one heat-resistant paper cup to each hotel guest who requests for them during check-in, while stocks last.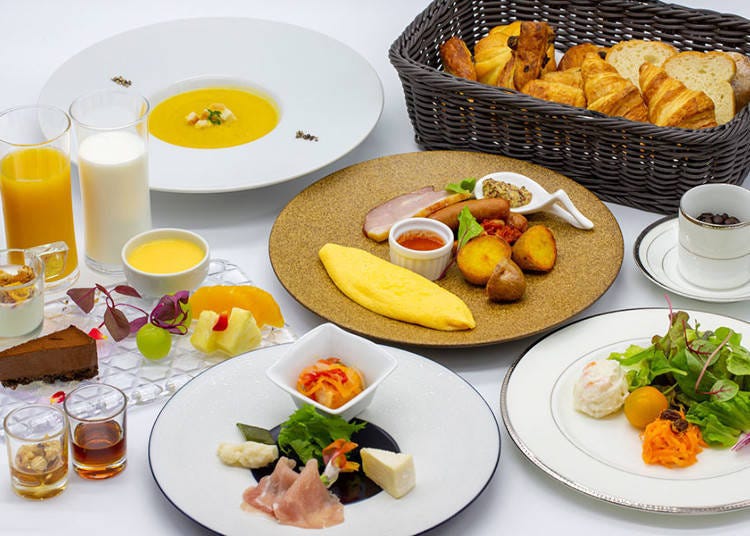 The breakfast spread Hotel Monterey Ginza has been serving up since July 2020 is the American breakfast set. Currently, this meal is only available to hotel guests.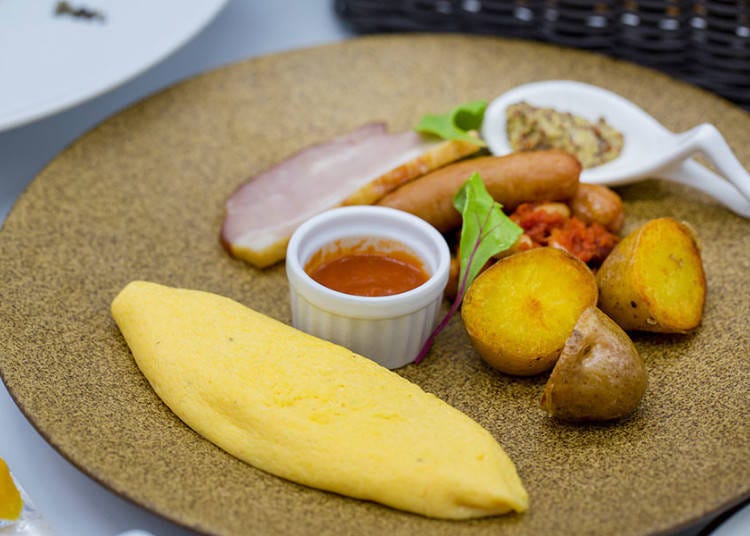 Once ordered, the salad, appetizer, soup, mains plate, and dessert plate will arrive at your table before long, along with individually wrapped bread and drinks for your choosing. On the mains plate, you'll find a perfectly cooked fluffy omelet that is the mainstay of the hotel's breakfast sets. If you're more of a sunny-side-up person, simply make the request for a switch and it will be done.

The food here takes the season into consideration, and ingredients are thus rotated according to the time of the year. This adds even more variety to the restaurant's already diverse range of cuisine and makes mealtime very exciting for guests dining in! You're allowed to ask for seconds, so be sure to leave the hotel fully satisfied and charged up for a vigorous day of activity in Ginza!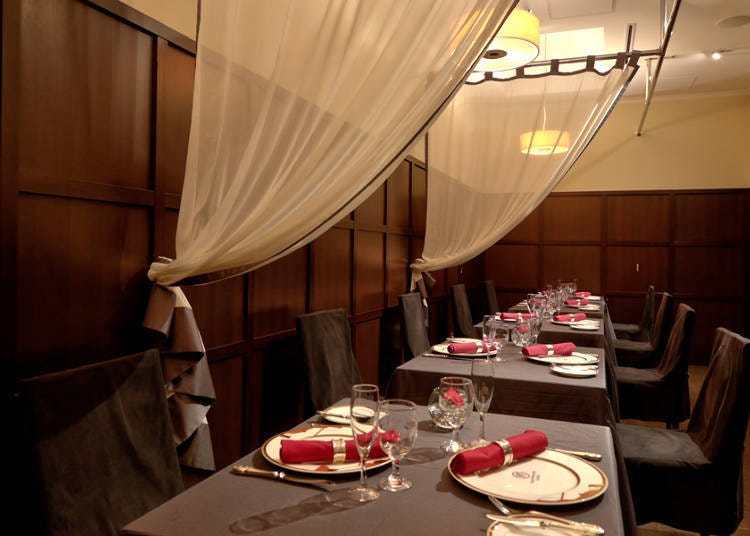 On the first floor of the hotel is a French restaurant by the name of Escale, where you can enjoy lunch and dinner in a calm and soothing environment.

Inside, a range of seating plans caters to almost every preference imaginable. Table seats have been designed with privacy in mind. The bar counter is made of marble for that extra premium dining experience. Private rooms are also available for groups that want to chat the day away without disturbing other diners. This is a great place to experience a different dining experience and especially suitable for special days like birthdays or anniversaries.
ホテルモントレ銀座

Address

2-10-2, Ginza, Chuo-ku, Tokyo-to, 104-0061

Nearest Station

6-minute walk from Yurakucho Station on the JR Lines
3-minute walk from Ginza-Itchome Station on the Tokyo Metro Yurakucho Line
4-minute walk from Higashi Ginza Station on the Tokyo Metro Hibiya Line, Toei Asakusa Line


Phone Number

03-3544-7111

Breakfast hours: 7:00 a.m. – 10:00 a.m.
Breakfast price: Adults - 2,400 yen (tax included); Minors 12 and younger - 1,300 yen (tax included)

Vacancy search, reservation

from

9,200JPY

1room, 2adults

Check with our partner site as the latest rates, rate details, and guest room requirements may vary.
3. Hotel Gracery Ginza: A personalized breakfast experience with handmade jams and pickled food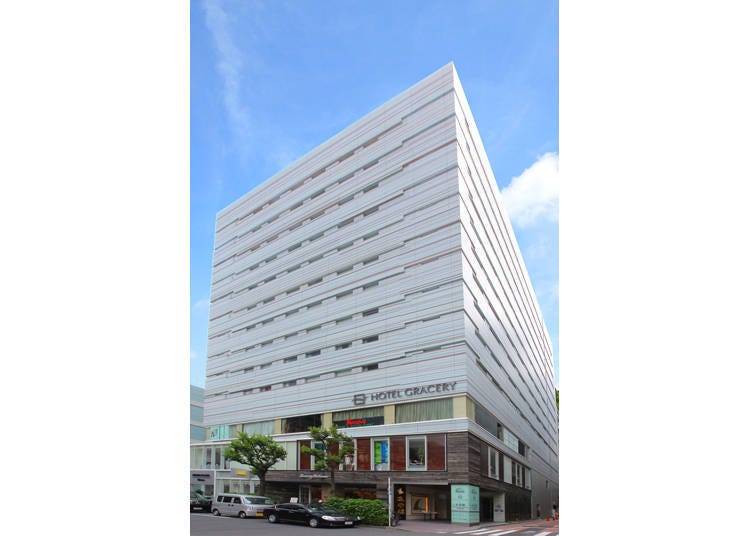 *Breakfast service has been suspended since September 2020. Service reopening date and period to be advised.

Standing tall and grand at a prime spot just a 3-minute walk from Ginza Station is Hotel Gracery Ginza. This versatile hotel provides excellent service to meet the needs of different groups of travelers, whether they may be here for business, sightseeing, or celebrating a special day.

Many find it a challenge to make themselves at home in a Ginza hotel, since the town and its buildings are usually portrayed as glamorously glitzy. However, when you do step inside this hotel, you'll understand just how cozy and comfortable it actually is. This is an ideal spot to turn into your third place away from home and work!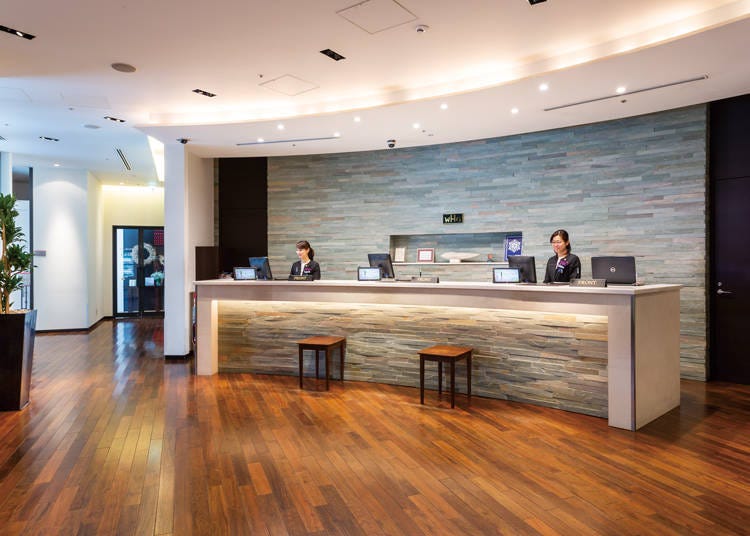 The hotel reception, lounge, cafe, and spa rooms can be found on the third floor, accessible by taking a lift after coming through the entrance. The 270 guest rooms are located on the 4th to 13th floors.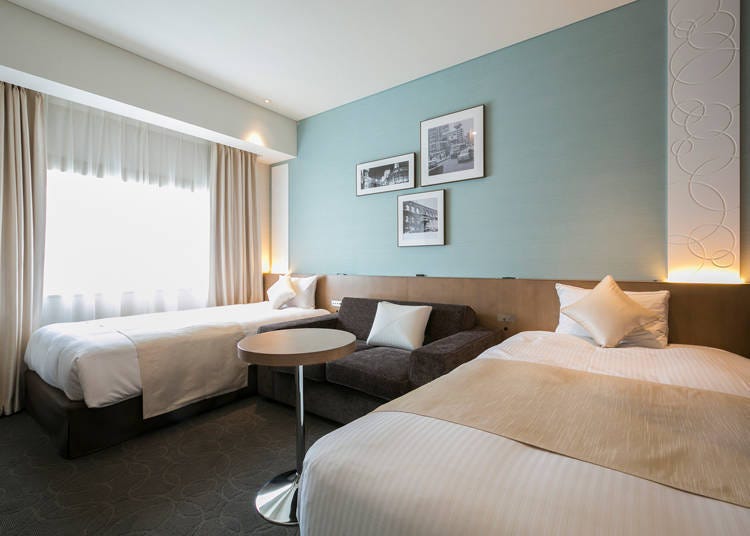 Guests can pick a room type that suits their needs and preferences best from the range of available options such as spacious rooms, rooms with large beds, and even ladies-only rooms. The hotel has implemented strict measures against the spread of infectious diseases for the safety and peace of mind of all guests.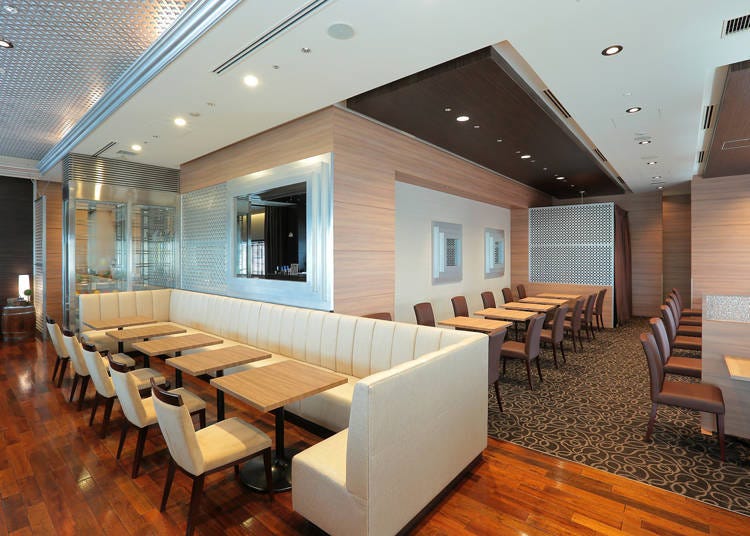 Breakfast is served in the hotel's restaurant, Bonsalute, and the chef has taken great pains to ensure that it's as healthy as can be for the most reasonable price possible.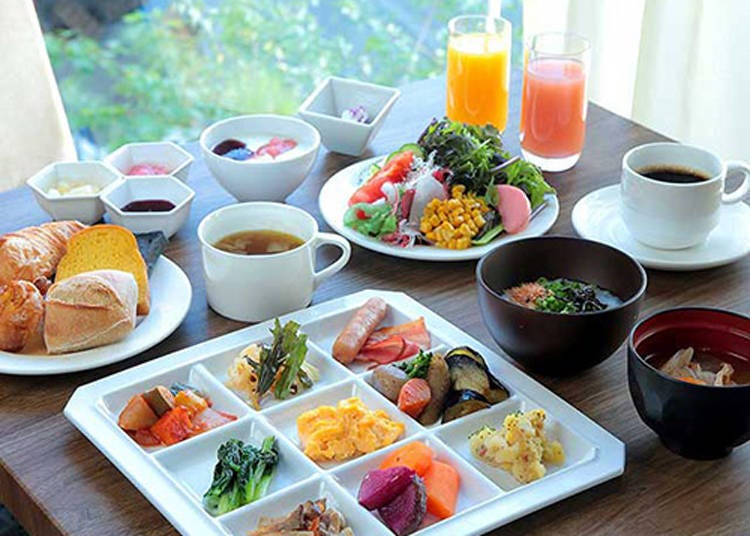 Some of the more popular breakfast buffet items here are the handmade Western food set and original drinks. In addition to hotel guests, the restaurant is open to the public as well! Simply buy a breakfast voucher from the reception on the third floor and bring it to the restaurant to be allowed entry.

*The buffet is currently suspended as part of the hotel's measures against the spread of COVID-19.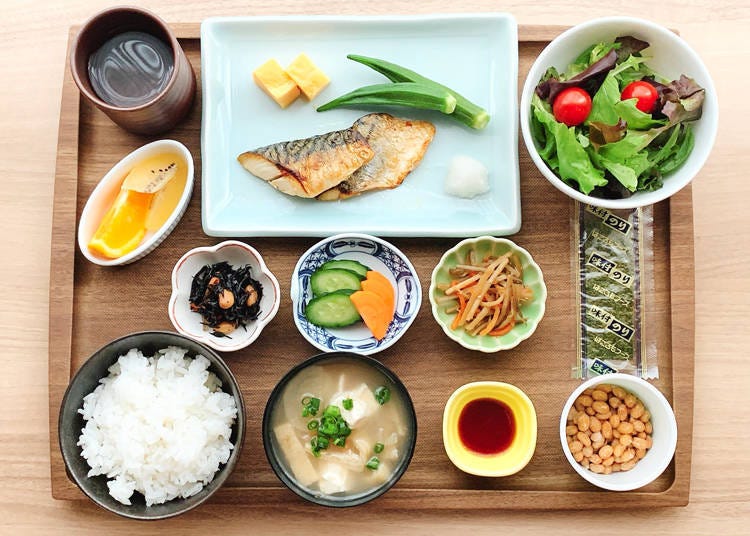 Whether you prefer a Western or Japanese breakfast, the restaurant has got you covered! For guests, they can pick their preferred meal during check-in. For 1,650 yen including tax, you can enjoy an exquisite breakfast packed with handmade items like pickled food in the Japanese meal or jam in the Western meal. Talk about a personal touch! The hotel's insistence on providing top quality to its guests means you'll always be getting one of the best breakfasts available in town here.

The Japanese breakfast contains grilled fish, white rice, miso soup, rolled omelet, salad, two side dishes, seaweed, natto, pickled food, and fruits (or dessert). Guests are welcome to ask for more rice or miso soup as desired.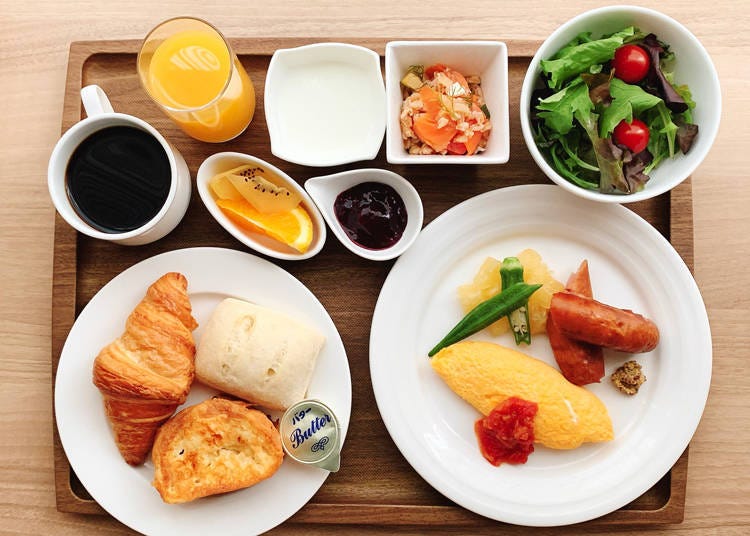 The Western meal contains sausages (or bacon), bread, French toast, steamed vegetables, salad, scrambled eggs (or omelet), yogurt, and fruits (or dessert). Guests are welcome to ask for more bread as desired. Eggs are only cooked when an order is received to ensure that all guests receive their food when it's at its tastiest - hot and fresh!

(*Content of the Japanese and Western meals may be changed without prior notification.)

The hotel's distinct vibe makes it unique enough to be a different experience even for local residents, which means having a meal here will make for a great day-trip when long-distance trips aren't possible for some reason!
ホテルグレイスリー銀座

Address

7-10-1, Ginza, Chuo Ku, Tokyo To, 104-0061, Japan

Nearest Station

東京メトロ銀座線・日比谷線・丸の内線「銀座」駅 A3出口から徒歩3分
JR「新橋」駅銀座口から徒歩7分
都営浅草線、東京メトロ日比谷線「東銀座」駅 A1出口から徒歩5分


Phone: (Room reservations) 03-6858-1011, (main line) 03-6686-1000
Breakfast hours: 7:00 a.m. – 10:00 a.m.
Breakfast price: 1,650 yen (tax included)
3-minute walk from Exit A3 of Ginza Station on the Tokyo Metro Marunouchi Line, Hibiya Line, and Ginza Line
7-minute walk from the Ginza Exit of Shimbashi Station on the JR Lines
5-minute walk from Exit A1 of Higashi-Ginza Station on the Tokyo Metro Hibiya Line

Vacancy search, reservation

from

7,600JPY

1room, 2adults

Check with our partner site as the latest rates, rate details, and guest room requirements may vary.
Start your day off on the right foot with the right breakfast in the luxurious environment of some of the most elegant and classy hotels Ginza has to offer. That exceptional feeling will trail you for the rest of the day and make everything else sparkle with a special glow!

Written by: Miyuki Saitoh, Dali Corporation
*This information is from the time of this article's publication.
*Prices and options mentioned are subject to change.
*Unless stated otherwise, all prices include tax.