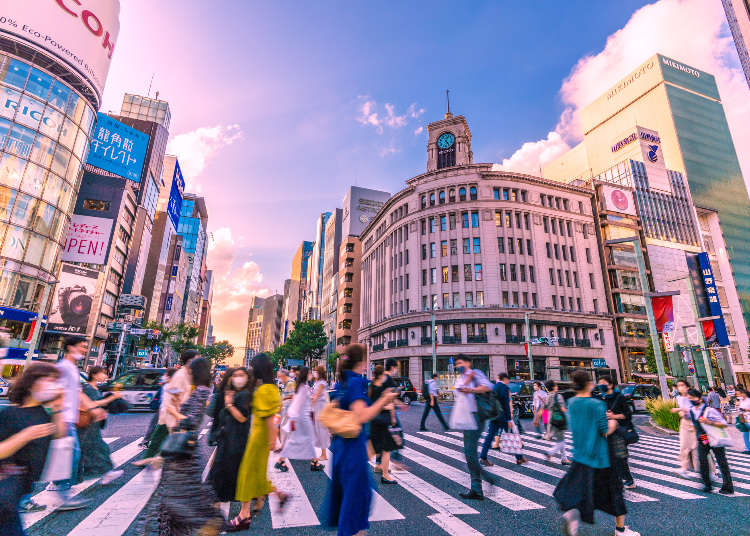 Ginza is the most exclusive and upmarket area in Tokyo. The elegant streets are lined with Michelin-starred restaurants and the flagship stores of some of the world's most famous fashion brands. The area's supremely stylish architecture has a strong Western influence, as seen at the WAKO department store, Ginza's most famous landmark.

As one of Tokyo's cultural hotspots, Ginza is also home to numerous contemporary art galleries as well as Kabuki-za, one of Japan's most famous kabuki theaters. Located right in the heart of Tokyo, Ginza is a perfect base from which to see the rest of the city.

Main image: PIXTA
How to choose where to stay in Ginza
Photo: PIXTA
There are a few things to consider when thinking about where to stay in Ginza. While there is plenty to see in Ginza, the area is relatively compact, and you will no doubt also be exploring the rest of Tokyo during your trip. Here are a few things to keep in mind when choosing your accommodation in Ginza.

a. Access to and from Tokyo's airports
Ginza is conveniently located immediately south of Tokyo Station, which means access to and from both Narita and Haneda Airport is relatively straightforward. Both Ginza Station and nearby Yurakucho Station are just one stop from Tokyo Station. You can take direct trains from Tokyo Station to Narita Airport on the Narita Express train or the JR Narita Line. The journey on the Narita Express takes around 55 minutes and costs 3270 yen each way. Alternatively the Narita Line takes around 1 hour 30 minutes, costing 1340 yen each way.

Ginza is also well located if you are arriving or departing Tokyo via Haneda Airport. There are direct trains between Haneda Airport and Higashi-Ginza Station on the Keikyu Airport Line. The journey takes around 25 minutes and costs 470 yen each way. You could also take the Yamanote Line from Yurakucho Station two stops to Hamamatsucho Station and change for the Tokyo Monorail, which terminates at Haneda Airport. This will take 35 minutes in total and cost 640 yen one way.

b. Getting around Tokyo
Being so centrally located makes Ginza a great place to stay for exploring Tokyo. As well as being close to Tokyo Station, five metro lines pass through several stations within Ginza. As well as the Ginza metro station, Higashi-Ginza Station, Ginza-Itchome Station, Kyobashi Station and Takaracho station are all located within the Ginza area. Two overground train lines, the Yamanote Line and the Keihin-Tohoku Line also stop at Yurakucho Station. With so many options for getting around the city, you can see why Ginza is one of the best places to stay in Tokyo.

c. Proximity to the Ginza's main sights
As Ginza is relatively small it's unlikely that any of its hotels will be too far away from the area's many highlights. As the most luxurious shopping district in Tokyo, Ginza is meant to be explored on foot. Window shopping is a big part of the Ginza experience and there are many streets to wander. Ginza's streets are quite densely packed together, largely laid out in a grid system. This means that most hotels in Ginza will be within easy reach of the area's main landmarks and many chic shopping streets.

d. Price
As one of the most exclusive and upmarket regions in Tokyo, Ginza is not the cheapest place to stay. The area has plenty of incredibly luxurious and high-end hotels. If you want to stay in one of the very best hotels in Ginza you will need a pretty big budget. However, there is also a good range of more wallet-friendly hotels in Ginza too. If you book at the right time then it is possible to find good hotels in Ginza for somewhere between 6,000 to 10,000 yen per night. Truly budget hotels in Ginza are a little thin on the ground however.
The best areas to stay in Ginza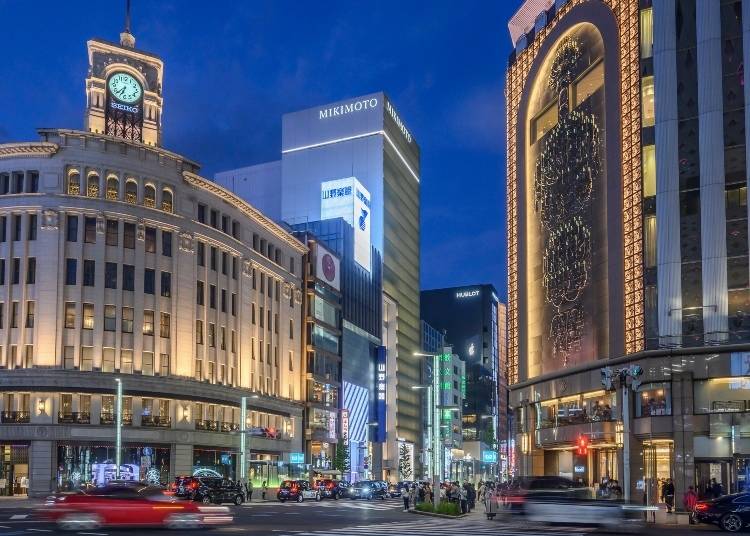 Ginza Station area. Photo: PIXTA
Unsurprisingly Ginza Station is located right in the center of the district. If you need to be in the heart of the action then this is where you'll want to stay. Ginza Station is well connected to all of the area's main shopping streets, such as Chuo Dori Street and super stylish Namiki Dori Street. The famous grand department stores such as Ginza WAKO, GINZA SIX, and Ginza Mitsukoshi are just a stone's throw away too. Ginza Station is also conveniently located for venturing further afield. The station sits on three metro lines, and popular tourist spots such as Shinjuku, Shibuya and Akihabara are all only 15 minutes away.

・Recommended hotels near Ginza Station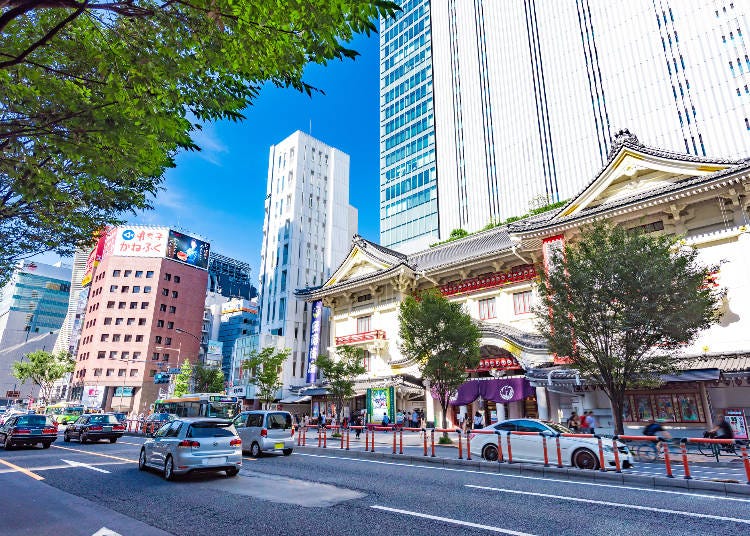 Photo: PIXTA
Higashi Ginza is on the eastern side of the Ginza area. The main attraction in Higashi Ginza is the famous Kabuki-za theater. First built in 1889, the current Kabuki-za was rebuilt in the traditional architectural style in 2013 and hosts a variety of traditional performances of Japanese plays. Higashi Ginza is also just a few minutes' walk away from Tsukiji's Outer Market, where you can find some of the very best seafood in Tokyo. As Higashi Ginza is slightly away from Ginza's main shopping streets, this is where you can find some of the more reasonably priced hotels in the area.

・Recommended hotels near Higashi Ginza: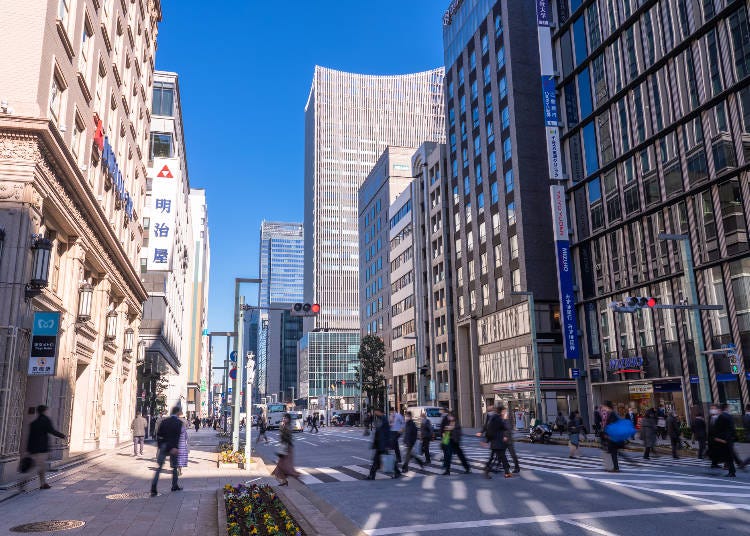 Photo: PIXTA
Kyobashi sits on the north side of Ginza and is the area that's closest to Tokyo Station. As well as all of the train services that run from Tokyo Station, Kyobashi also has two metro stations, Kyobashi Station and Takaracho Station. If you plan on getting around town and exploring Tokyo and beyond, then this could be the right part of Ginza for you. Being close to Tokyo Station means that there is a good choice of accommodation in Kyobashi in the area, including some of the more affordable hotels in Ginza.

・Recommended hotels near Kyobashi: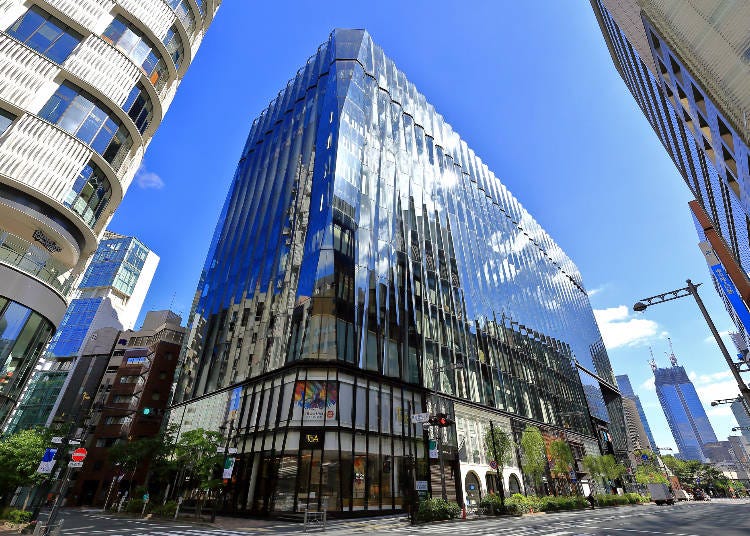 Photo: PIXTA
Yurakucho straddles Ginza and the area immediately to the south of Tokyo Station. As such Yurakucho has a foot in both camps. The parts of Yurakucho closest to central Ginza are home to several high end fashion stores and shopping malls. Meanwhile in the areas nearer to Tokyo Station you'll find plenty of rowdy izakayas and ramen restaurants. The Yamanote Line and Keihin-Tohoku lines both pass through Yurakucho Station, and the area is also well located for access to Ginza Station.

・Recommended hotels near Yurakucho: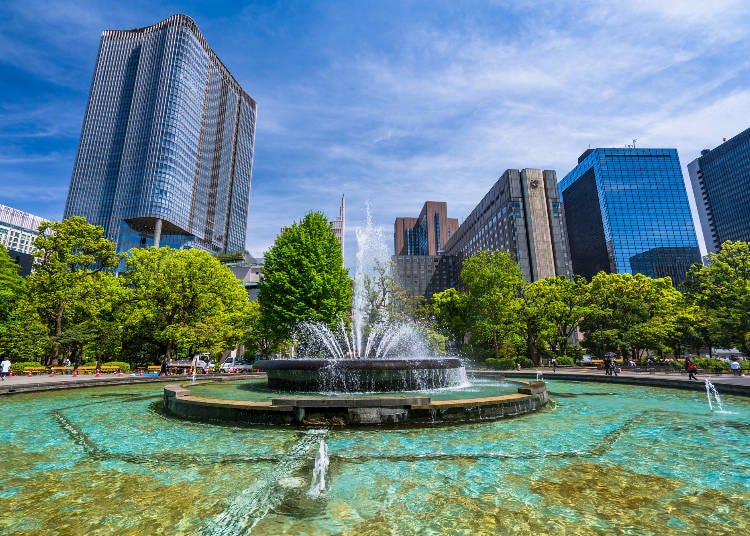 Photo: PIXTA
Just next to Yurakucho is Hibiya, slightly to the west of Ginza. Hibiya's main selling point is Hibiya Park, a beautiful green space that features numerous well-tended flower gardens, two ponds, a fountain and even an open air concert hall. Hibiya Park also sits opposite the Imperial Palace, the residence of the Emperor of Japan. As well as its proximity to Ginza, three Tokyo Metro lines pass through Hibiya Station, giving great access to the rest of Tokyo. Only a few stops south from Hibiya is one of Tokyo's most famous landmarks, the Tokyo Tower.

・Recommended hotels near Hibiya: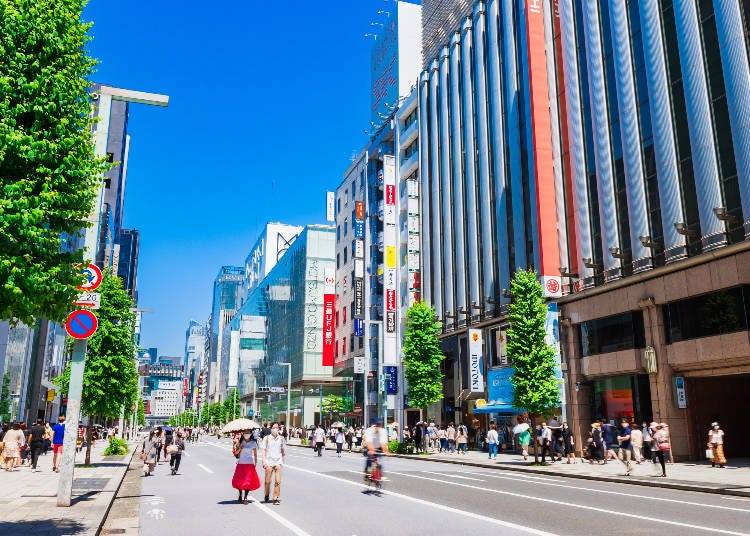 Photo: PIXTA
a. Top-of-the-range hotels
As the most upmarket area of Tokyo by a distance it's no surprise that some of the city's most exclusive hotels are located in Ginza. There are a number of extremely grand 5 star hotels in Ginza befitting of the area's reputation as a place to enjoy the finer things in life. If you have very deep pockets and are looking to stay in style then you're bound to find a hotel in Ginza here that will keep you in the lap of luxury. A room in one of Ginza's most expensive hotels can cost anywhere between 50,000 to well over 100,000 yen per night.
Despite the grandeur of the area there are plenty of more affordable mid-range hotels in Ginza that will provide a great place to stay without breaking the bank. Good mid-range hotels will usually come with decent sized and extremely comfortable rooms as well as featuring amenities such as on-site restaurants, a pool or a gym. A room in one of Ginza's mid-range hotels will typically cost between 10,000 to 30,000 yen per night.
Business hotels are common throughout Japan and offer a basic yet comfortable and affordable option for travelers. There are several large business hotel chains in Japan and several of these have hotels in Ginza. Rooms in business hotels are usually very small but they are extremely functional, usually well stocked with all of the essentials, including a fridge, a kettle, a hairdryer, a TV, and more. There may be a restaurant on site, but this isn't always the case. A basic buffet breakfast is often included in the price of the room. Expect to pay between 6,000 to 10,000 yen per night for a room in a business hotel in Ginza.
Peak season for visiting Ginza
The peak season for visiting Ginza is the spring, thanks largely to the cherry blossom season that brings visitors to Japan in their droves. This is when hotels in Ginza will be at their busiest.

Springtime sees some of the best weather in Tokyo, with temperatures typically warm but not too hot and days often nice and sunny. These are the perfect conditions for strolling along Ginza's beautiful streets, stopping for a coffee in one of the area's cafes, and picking up a souvenir or two.
Where to check out if Ginza hotels are booked up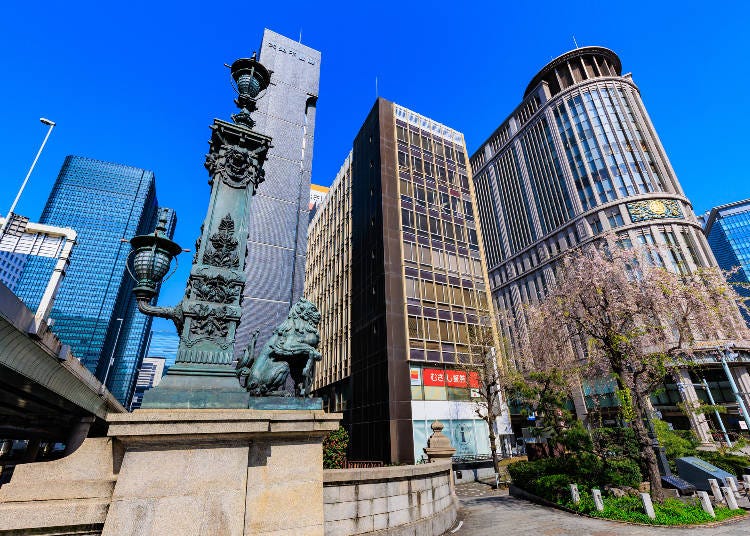 Photo: PIXTA
If you can't find the suitable accommodation in Ginza, then take a look at the available hotels in the Nihonbashi area instead. Nihonbashi is another of Tokyo's historic upmarket shopping districts just north of Ginza and Tokyo Station.

Like Ginza, Nihonbashi features several upmarket department stores and streets lined with long-established shops specializing in traditional Japanese crafts. Nihonbashi is also packed with countless cafes, restaurants and bars.

The area is served by a number of metro lines from Nihonbashi and Kayabacho stations, making it a great place to stay whilst also looking to explore the rest of Tokyo.
*This information is from the time of this article's publication.
*Prices and options mentioned are subject to change.
*Unless stated otherwise, all prices include tax.