While fall is known for its gorgeous foliage, leaves aren't the only highlight of the season! Beautiful autumn flowers also bloom, transforming Tokyo's parks and gardens into a sea of colors!

We've scouted both the Tokyo metropolitan area and its surroundings for the best viewing spots for vivid roses, bright red kochia, and elegant cosmos blossoms. Let's take a look at when and where you can see these gorgeous blooms!
1. Hibiya Park: An Oasis of Roses in the Middle of a Business District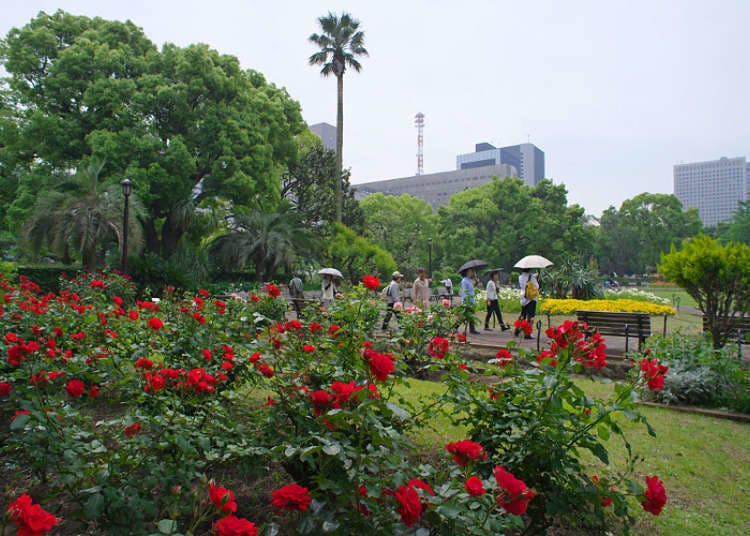 The spacious Hibiya Park was opened in 1903 as Japan's very first modern, Western-style park. Bordering on both Ginza and Kasumigaseki, it has become an oasis of relaxation in the middle of the busy business districts.

The first and second flowerbeds are dedicated to roses and are a beautiful sight, particularly in autumn. Around 500 kinds of different roses are planted throughout the park, such as the "Dancing Girl of Izu" tribute rose shining in a vivid yellow, as well as the bright red "Mister Lincoln" rose. Pink, orange, and other vivid roses dot the entire park and can best be enjoyed in October and November.
Address

1-6, Hibiyakouen, Chiyoda-ku, Tokyo, 100-0012
View Map

Nearest Station

Hibiya Station (Tokyo Metro Hibiya Line / Tokyo Metro Chiyoda Line / Toei Mita Line)
3 minutes on foot


Phone Number

03-3501-6428
2. Shinjuku Gyoen National Garden: A Sea of 500 Roses from about 110 Species
Shinjuku Gyoen National Garden, opened in 1906, encompasses a vast space of around 583,000 square meters and is divided into three areas: the French Garden, The English Garden, and the Japanese Garden featuring a pond to stroll around.

For stunningly beautiful autumn flowers, the French Garden is the place to go. Around 500 individual flowers from 100 species of roses bloom in the entire area, making for a gorgeous sea of roses. Among them are especially popular blossoms such as Double Delight or Freesia.

*Alcoholic drinks and play equipment (such as balls or toys) are forbidden within the park.
Address

11 Naito-cho, Shinjuku-ku, Tokyo, 160-0014
View Map

Nearest Station

Shinjuku-Gyoemmae Station (Tokyo Metro Marunouchi Line)
5 minutes on foot


Phone Number

03-3350-0151
3. Kinuta Park: Over 200 Roses, Pastel and Vivid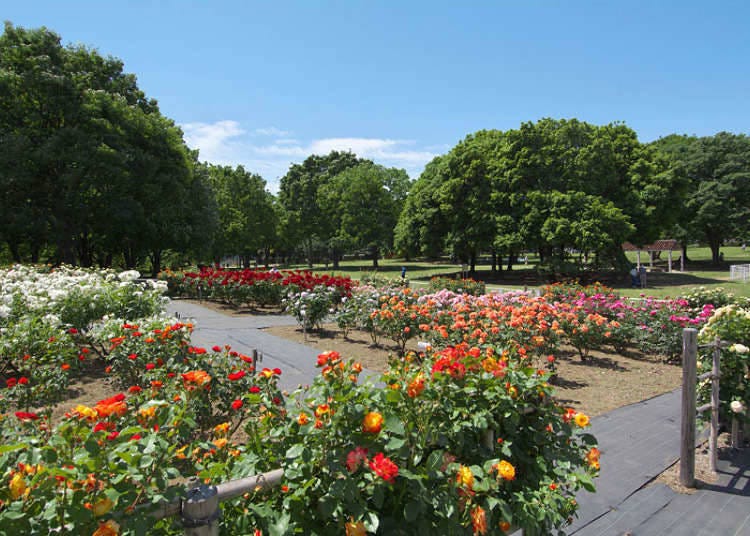 Photo courtesy of Tokyo Metropolitan Park Association
Setagaya's Kinuta Park spreads over roughly 400,000 square meters and features a large open-spaced lawn, a bird sanctuary, an art museum, and many other facilities. On the eastern side of the athletic plaza is also a beautiful rose garden, home to around 290 roses of 27 different species, such as Princess Aiko blossoming in a lovely pink or the calm Blue Bayou.

Mid-October is the best time to visit as the flowers are in full bloom during that time, and around that time, a rose guidance tour is offered on a Saturday and Sunday. Why not learn more about the park's beautiful roses while enjoying the magnificent sight? The rose garden is usually not accessible so this is really a rare and unique opportunity.
Address

1-1, Kinutakouen, Setagaya-ku, Tokyo, 157-0075
View Map

Nearest Station

Yoga Station (Tokyu Den-en-toshi Line)

4. Kyu-Furukawa Gardens: Scenery from a Fairy-tale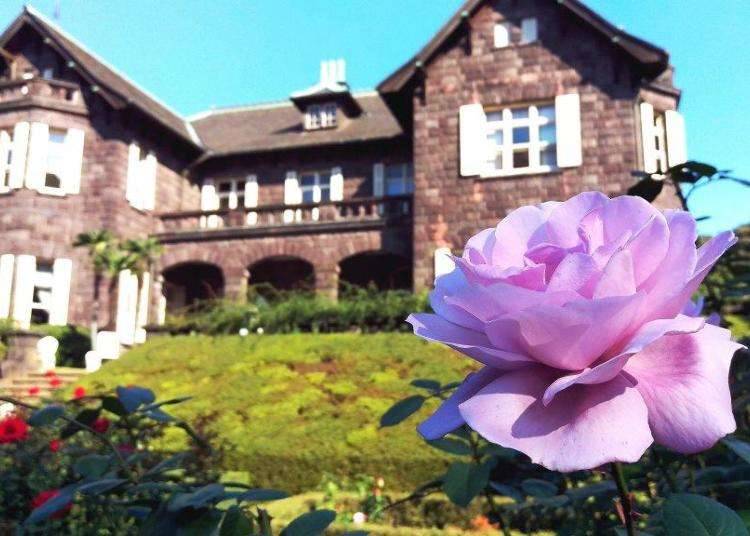 Western-style buildings that seem to have sprung right out of a fairy-tale stand on a small hill of the Musashino Plateau - this beautiful scenery is the Kyu-Furukawa Gardens. In the past, this stunning place served as the residence of Mutsumune Mitsu, a Foreign Minister during the Meiji era. A Western-style garden graces the slopes of the hill while a beautiful Japanese garden spreads over the lowland.

Around the mansion blossom all kinds of different roses such as First Love, Princess Michiko, and Inca - 199 roses of one-hundred different species.

Every year in mid-October, various events are taking place, such as the "Autumn Rose Festival" or the "Autumn Rose Concert."
Address

1-27-39, Nishigahara, Kita-ku, Tokyo, 114-0024
View Map

Nearest Station

Kami-Nakazato Station (JR Keihin-Tohoku Line)
7 minutes on foot


Phone Number

03-3910-0394
5. Jindai Botanical Gardens: One of Tokyo's Most Beloved Flower Viewing Spots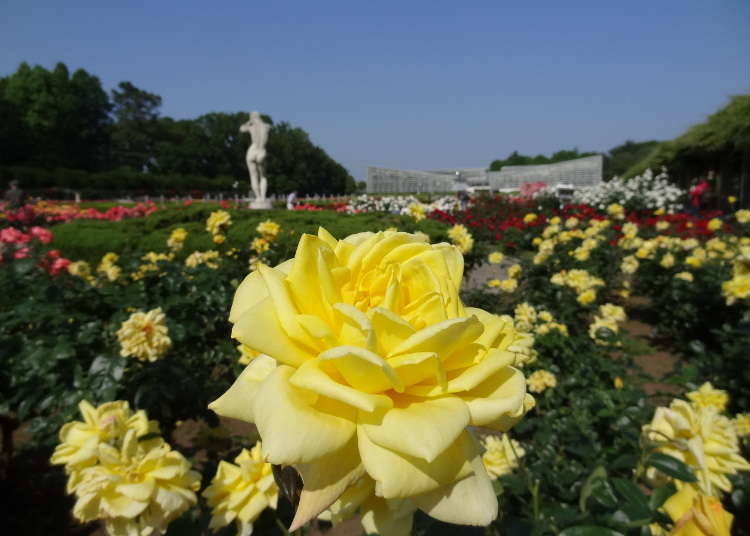 Originally, the Jindai Botanical Gardens were a nursery for trees that were supposed to line Tokyo's many streets but in 1961, it was reopened as the metropolitan area's only botanical garden. The place is actually one of Kanto's most famous and popular rose gardens and was even awarded the WFRS Award of Garden Excellence in 2009.

Inside the symmetrical sunken garden, you'll find a total of 5,000 individual roses from about 300 different species, letting the garden shine in all variations of colors, vivid and pale alike. The best period to see the flowers in full bloom is mid-October and during that time, the entire garden is beautifully lit up and various events and guided tours are being held throughout the entire month of October.
Address

5-31-10, Jindaijimotomachi, Chofu-shi, Tokyo, 182-0017
View Map

Nearest Station

Chofu Station (Keio Line / Keio Sagamihara Line)


Phone Number

042-483-2300
6. Hitachi Seaside Park: A Contest Between Kochia and Cosmos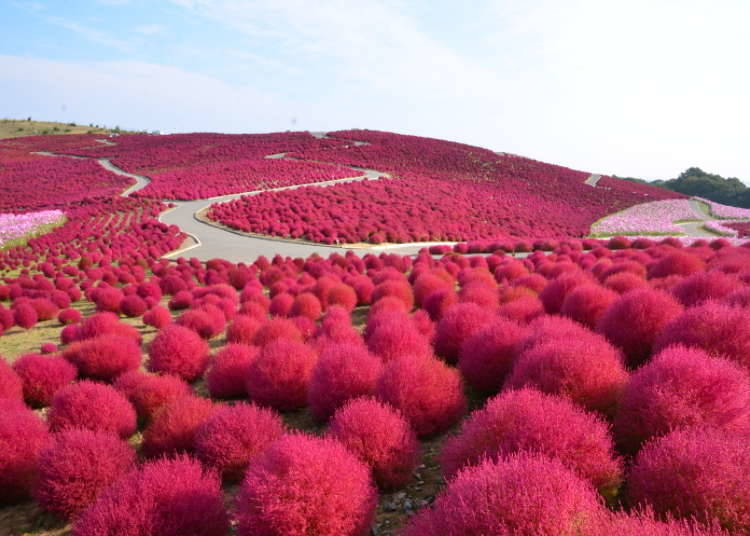 The vast Hitachi Seaside Park in Ibaraki Prefecture, about two hours away from Tokyo by public transport, spreads over a total of around 200 hectares of land, filled with millions of different flowers. Every season, the park is dyed in a different color with seasonal flowers such as tulips, daffodils, and nemophilas.

Out of all the seasons, autumn might just be the most beautiful one, when about two million cosmos flowers are in full bloom. Besides this colorful carpet, another highlight of the park is the bright red kochia that covers the entire part of the park called Miharashi Hill with about 32,000 plants.

In summer, the kochia shine in a lush green and gradually start to change their color from late September until the entire hill is dipped in a deep, vivid red in mid-October.

In the "Pleasure Garden Area", visitors also get to enjoy various attractions, such as a giant Ferris wheel and even a roller coaster.

Best time to see Kochia in autumn: About 10 days in mid-October.
Address

605-4, Onuma, Mawatari, Hitachinaka-shi, Ibaraki, 312-0012
View Map

Nearest Station

Katsuta Station (JR Joban Line / Hitachinaka Seaside Railway Minato Line)

7. Kinchakuda Manjushage Park: Enjoy a Spectacular Spider Lily Display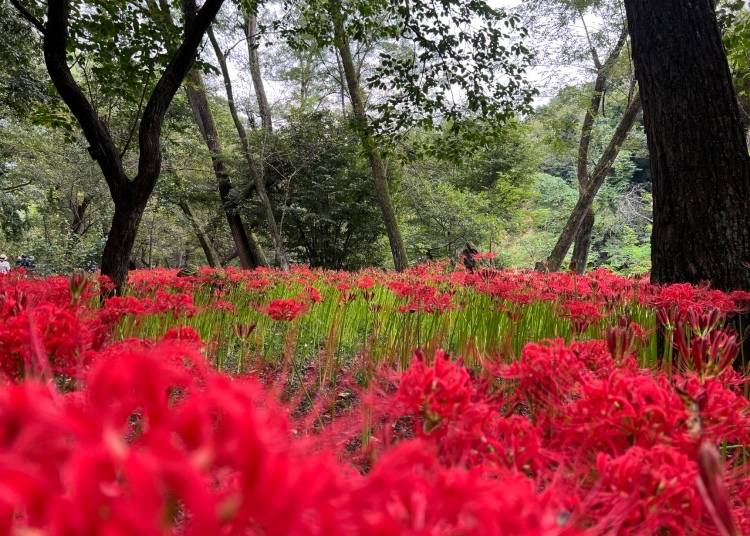 Step into a realm of natural wonder at Kinchakuda Manjushage Park, where from September 16 to October 1, an enchanting spectacle of spider lilies unfolds. The vibrant crimson hues of these flowers create an awe-inspiring sight, capturing the essence of autumn's beauty. As you traverse the park's winding pathways, you'll be immersed in a sea of 5 million delicate petals that stretch as far as the eye can see.
Kinchakuda Manjushage Park

巾着田曼珠沙華公園

Address

125-2 Komahongo, Hidaka, Saitama 350-1251

Nearest Station

About a 15-minute walk from Koma Station (Seibu-Chichibu Line)


・Hours: Open daily 8 AM - 5 PM
・Admission: 500 yen
・This information was originally published in 2016 and updated in August 2023. Please check official websites for the latest information.
・The best time to see the autumn leaves may change depending on weather and climate conditions.
*This information is from the time of this article's publication.
*Prices and options mentioned are subject to change.
*Unless stated otherwise, all prices include tax.
Limited time offer: 10% discount coupons available now!