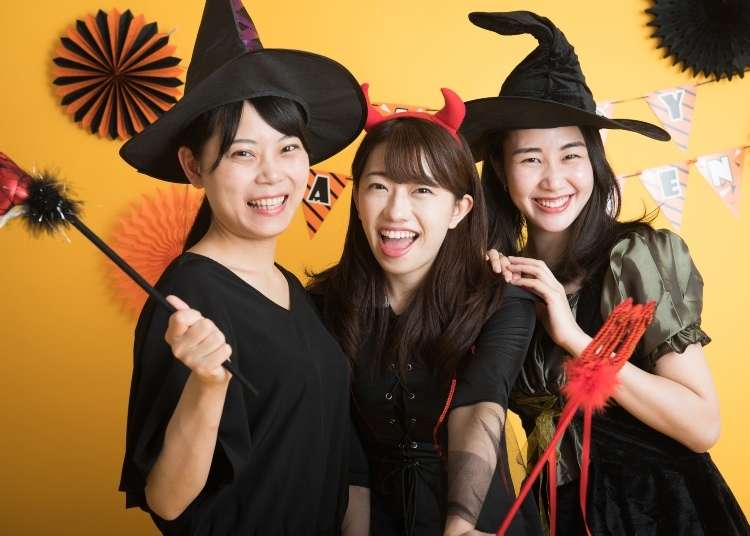 Halloween in Japan is super fun time of year! Originally a holiday celebrated more by expats has become something of an autumn festival in many areas around Japan.

On the weekend nearest Halloween, in Tokyo alone, Ningyocho and several other neighborhoods hold trick-or-treating events for children, drawing small crowds of excited kids. Meanwhile, Japan's largest Halloween parade takes place in Kawasaki – a massive event with over 2,000 participants and some 120,000 spectators.

But these organized events pale in comparison to Shibuya Halloween, which is expecting close to a million people gathering this year. So what to do and how to get your ghoul on in Tokyo's iconic cosplay city? Read on!
Changes for Halloween 2021
The huge Halloween celebration in Shibuya will be canceled in 2021 due to Covid-19. Instead, the party will be moved online and take place at the Au 5G Halloween Fes. The exact dates have yet to be announced.

The information below is from 2019 and can be used as a reference for when the festivities start up again.
Image credit: NORHAFIS MOHD AMIN / Shutterstock.com
For many young adults, Halloween is a lot about having fun dressing up before meeting friends for drinks, clubbing, and snapping photos of everyone else in costume. Each year, Shibuya becomes a magnet drawing huge crowds of giddy, costume-wearing people, many of who are looking to take part in unofficial street parties and roam the area's streets in search of fun.

Recent years have seen a variety of problems arise in the wake of Halloween, with huge amounts of trash generated, noise complaints, vandalism - and even overturning of a car in 2018. Some international visitors have even mentioned that they thought it wouldn't be much of a problem to get drunk and go crazy in Shibuya during Halloween.

This prompted the Shibuya City government to announce a ban on drinking within certain areas in Shibuya (shown below), which traditionally see a large number of partygoers.
Image © Shibuya City Office
For Halloween, the drinking ban will be in place from 6PM on Saturday, October 26 to midnight on Sunday, October 27, and from 6PM on October 31 until 5AM on November 1.

In Japan, convenience stores readily sell alcohol to those aged 20 and above, and drinking in public areas is generally acceptable, provided there is no nuisance to others. This year however, 41 shops in the Shibuya area, including convenience stores, were also asked to not sell alcohol on Halloween.

While this ban is aimed to prevent drinking in public, bars, nightclubs, restaurants and other shops within the outlined area are not prohibited from selling alcohol.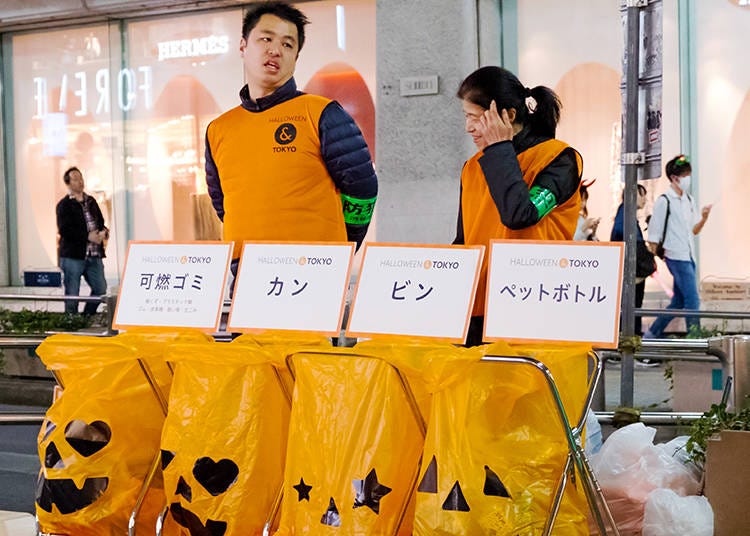 Shibuya and other cities remind partygoers to enjoy Halloween responsibly. Image credit: MAHATHIR MOHD YASIN / Shutterstock.com
Shibuya City specifically is also reminding that people observe a variety of other laws and manners, including no: littering; public drinking; smoking on the streets; urinating in public; vandalism; picking people up; using loud voices; fighting or violence; illegal parking; shoplifting; graffiti.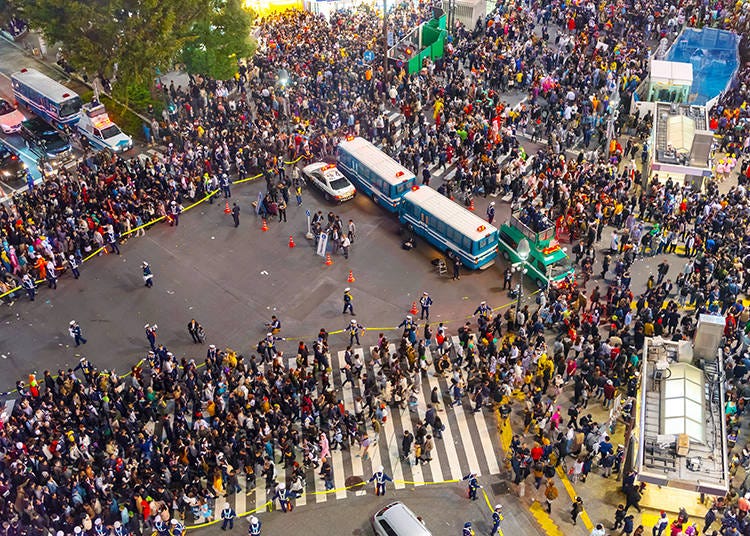 Police presence intensifies in Shibuya around Halloween. Image credit: Shawn.ccf / Shutterstock.com
Shibuya is also expected to increase the presence of security and police on foot patrol, with an eye to cracking down on potential issues before they arise.
2. Halloween Costumes in Japan
Image credit: Opasbbb / Shutterstock.com
In nightclubs, bars and theme parks in larger cities around Japan, people will be dressing up in all kinds of Halloween outfits.

Classics such as witches, ghouls, vampires, devils, and nurses will be joined by a variety of colorful characters from video games, anime, and movies.

While some of the costumes are handmade, many people will get their outfit from places like Disney Store, Don Quijote, and Daiso.

Wearing costumes on trains is not prohibited, however locals will tend to bring their costume and change into it somewhere around their destination, so as not to cause nuisance to others.
Where can I change into my costume in Shibuya?
Shibuya 109

・Cost: Free
・Hours: 5pm-10pm on October 31
・Location: Near station exits 1 and 2
ism campus (women only)

・Cost: 1,000 yen
・Hours: 6pm-11pm on October 31
・Location: 1-22-12 Nagashima Dai-ichi Building 3F, Dogenzaka, Shibuya-ku, Tokyo
As changing areas tend not to store personal property, you will want to locate the nearest coin locker nearby. Tokyo Metro's "Coin Concierge" lets you quickly locate available coin lockers near major train stations.
3. Halloween Events in Tokyo
Image credit: modchan / Shutterstock.com
If you're looking to enjoy a fun Halloween in Japan, theme parks are especially exciting places to visit!

・Characters at Tokyo Disneyland and Tokyo Disney Sea will be changing in fun, Halloween-themed ways, with a huge parade in the evening.
・At Sanrio Puroland, Hello Kitty and friends will be dressing up in adorable Halloween-themed outfits, while in the evening there will be frightful experiences to entertain young and old alike.
・Universal Studios Japan also runs special Halloween-themed rides, plus a haunted house and other ghostly attractions.

In addition, many nightclubs around Japan will be holding Halloween-themed parties and cosplay competitions.
4. What do Japanese think about Halloween?
As Shibuya is such a popular Halloween destination, you might wonder how Japanese think about celebrating there. The Japan DJ Association conducted a survey of 138 Japanese men and women over age 18 to see what their attitudes were toward Halloween, and how people plan to celebrate. Some of the results were very interesting!

First, of the 138 respondents, 51% said they were interested in Halloween. But when asked whether they would do anything for Halloween, 26% mentioned they would do "something" while 18% said they would do something but that they "haven't decided on a specific thing."

When asked where they would spend Halloween, most (over 70%) responded they would spend at their or a friend's home, while around 20% said they would be at a restaurant. Other popular answers were that they would be going out, either to a club, theme park, or elsewhere.

But when asked why they answered this way, the top 3 were that they didn't want to get involved in some kind of trouble due to poor security; that it was crowded, and didn't want to be bothered; and that they were concerned it would be difficult to get home.

Many said that they wanted to join in the Shibuya Halloween scene they see on TV because it seems fun, but that year by year it seems to be more of a troublesome occasion.
Main image credit: NORHAFIS MOHD AMIN / Shutterstock.com
Halloween Parties & Events: Book an unforgettable experience!
*This information is from the time of this article's publication.
*Prices and options mentioned are subject to change.
*Unless stated otherwise, all prices include tax.