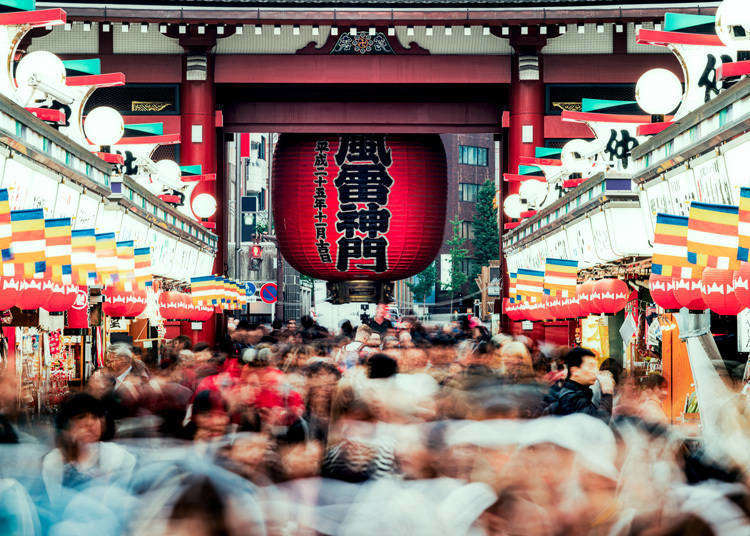 If you've ever thought about visiting Japan before, you've probably heard of Asakusa. After all, this tourist hotspot is a popular destination even among local travelers for its traditional Japanese looks, making it stand out amidst Tokyo's ultramodern veneer.

Asakusa's uniquely Japanese appearance isn't the only thing that leaves a deep impression, too. International tourists also have expressed surprise at some of the many things to do in Asakusa as well!

Specifically what sort of activities? That's what we're here to find out today! We sat down with visitors from Canada, the United States, and the United Kingdom to find out what are some things that shocked and touched them alike during their trip to the amazing Asakusa - things that a local resident like myself could have been taking for granted all this time.

Let's take a look right away and see what cultural curiosities our foreign friends have been made keenly aware of! (All comments are personal opinions)
1. Enjoy exploring on your own - don't just follow the crowds!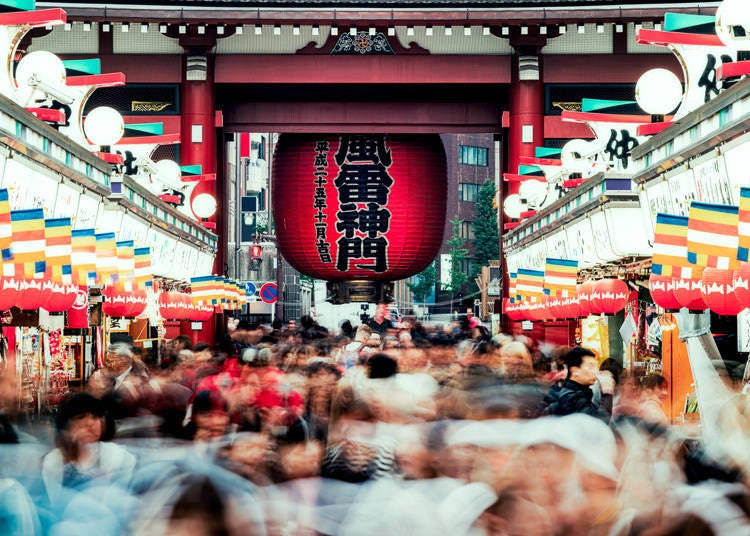 Asakusa is on par with Tokyo Skytree as a popular tourist destination, because of attractions like Asakusa Shrine, street booths featuring local handicraft and food, the Asakusa Hanayashiki amusement park, and the trendiest cafes in town. There are so many things to do in Asakusa, it's little wonder that the place is always packed with people! Many foreign tourists remark that the sheer volume of people was the first shocking thing they noticed upon their arrival at this lively town.

"After getting off at the station in Asakusa," said a Canadian man, "there were so many people around that I completely lost my bearings. Imagine my shock when I suddenly saw the Kaminarimon gate in front of me as I was wandering around lost! Now I understand why there are so many rickshaws loitering around. It's probably too difficult for tourists to walk to all the Asakusa attractions by themselves."

Following the crowd is conventional wisdom for tourists wanting the easiest way to the most popular attractions, but this usually effective method falls flat in the face of perpetually packed Asakusa. Kaminarimon is a destination easily reached by following prominent signage in and around the train station for local Japanese residents like myself, but this proved to be quite the challenging task for our Canadian friend.

On the flip side, Asakusa is a perfect example of what Japan has in store. Just off the main drag are smaller side streets teeming with smaller shops, which tend to be a bit quieter. Here you are likely to discover a lot of new foods and souvenirs - or you can simply enjoy the wonderful atmosphere and snap photos of the unique buildings, signage, and more. While following the crowds may let you get in the major sights, setting time aside for exploring is a fun way to take in the sights and sounds of Asakusa's old-town vibe without needing to constantly wonder if you're on the right track!
2. Be sure to go 'smoke bathing'!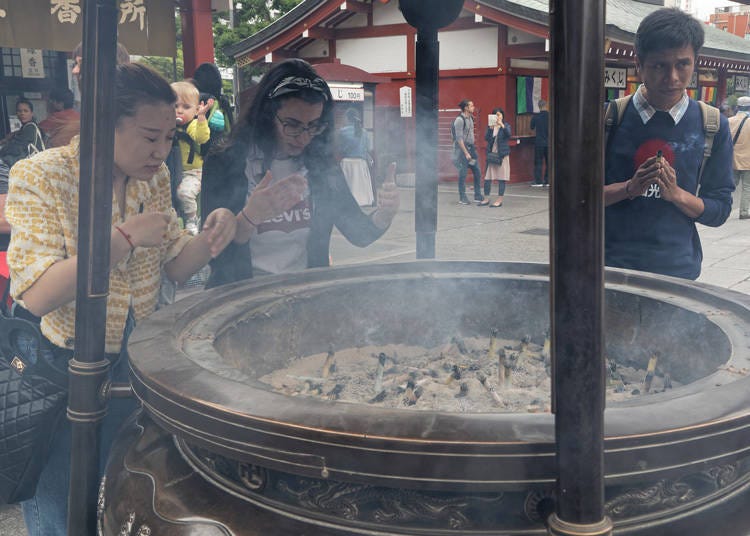 Pierre Jean Durieu / Shutterstock.com
"Ah, the Asakusa incense smoke bathing culture!" said a British woman. "I saw this practice for the first time while visiting the shrines and temples of Japan. What a surprise that was!"

What she's talking about is smoke from an incense burner called the jōkōro, or "constant incense burner." According to ancient tradition, bathing in the smoke of this incense burner would cure all sorts of maladies. This is actually a Buddhist ritual that's quite commonly seen in the shrines and temples all around Japan.

Understandably, of course, foreign visitors who are unfamiliar with this practice would find the sight of throngs of people gathering around an incense burner trying to pass their heads through the smoke a most curious experience indeed. Since the ritual is meant to bring positive benefits to the practitioner, foreigners of all faiths are most welcome to give it a try as well!
3. Stand in line to get incredible street food!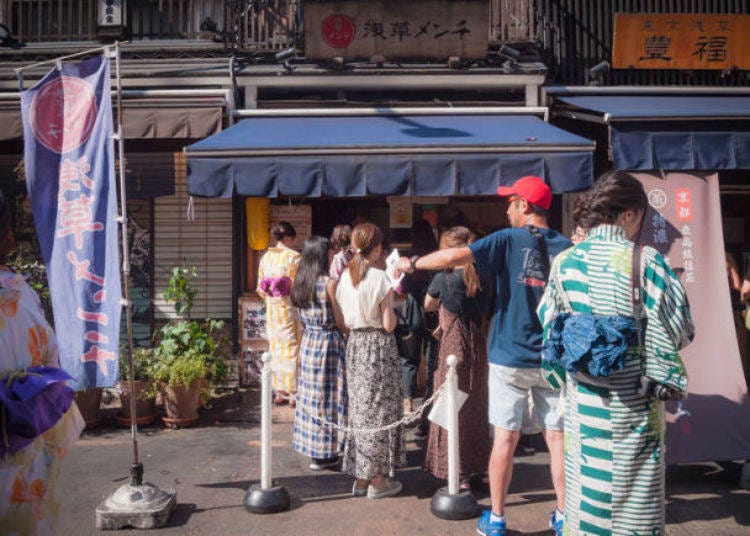 Besides fresh new experiences, the town itself and the people within can be fun to watch, but don't miss the incredible street food that Asakusa has to offer! Many of these shops have long queues.

"There were a lot of people along Nakamise Street... what surprised me was how orderly they were when queuing up," a German man remarked. "I went ahead and got myself some dango (sticky rice dumpling snack) as well. The staff at the store were so friendly, I couldn't help buying more than what I had originally had in mind!"

In Japan, sticking to the order of a queue is an unwritten social norm deeply ingrained into our cultural identity, and many foreign visitors are surprised by how seriously we take our queues. But another aspect is that long lines are synonymous with popularity. Trendy shops or stores selling the latest treat are bound to have longer queues; the same goes for established restaurants that have some fame surrounding their fare. Fortunately though, lines tend to move fairly smoothly. If you can stand waiting a little longer, it's usually worth your while!
4. Don't be afraid to peek inside the many tiny entrances!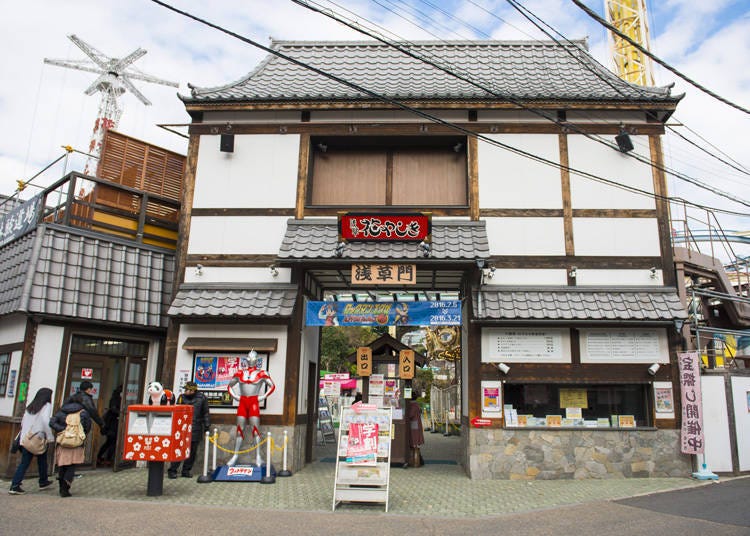 MosayMay / Shutterstock.com
Another surprise for our visitors came in the form of something that's a part of the town itself.

"I went to Hanayashiki amusement park, but the entrance was so small I almost went past without noticing it at first!" said a Canadian man. "Having an amusement park suddenly appear right in the middle of town was a surprise to me as well."

"Although Asakusa has many visitors, shops close surprisingly early, and there's hardly any night life to be had here because of that," commented a British woman. "I didn't find too many cafes suitable for lounging in as well, so I basically had to keep walking almost all the time."

Like our international friends, many tourists also agree that most shops are difficult to spot and not designed to allow guests to take their time. This is a problem that doesn't just affect shops in Asakusa. All over Japan, due to our population density, the floor areas of most shops are usually cramped, and multiple signboards are crammed together into small spaces. Since sightseeing is mostly done on foot, it would definitely be nice to have somewhere to relax in after a long day or in between destinations.

Additionally, the signboards are usually written using deformed or unconventional Japanese fonts for flair. Although this is not a problem for local residents, this makes it virtually impossible for foreigners - who may already be unfamiliar with the Japanese script to begin with - to find the shop or cafe they're looking for, especially if the place isn't quickly recognizable from the outside, especially when the shop isn't on the ground floor. So when you explore around the area, be sure to keep to keep an eye out for signage and appealing shops that aren't just on the ground level - and check out some of the smaller entrances to shops as well. You be in for a fun surprise!
5. Be sure to ask about the products!
Hospitality that touches the hearts of our foreign friends is something we Japanese take for granted every day.

"I was so touched when shop staff tried to explain their products to me with a lot of gestures. The Japanese are so polite that I sometimes worry if I could be doing anything rude without realizing it," stated a German man.

In many countries, courteous and respectful service is a trademark of expensive stores, and even then, not all expensive stores provide the same level of service. In Japan, shopkeepers are very proud of the products they offer, and they take equal pride in sharing about a product with customers. Both foods and products in Japan tend to have a particular way of enjoying them or a story behind them, and staff tend to be thrilled to share it with curious guests.

It might be said there are few countries like Japan, where customer service in all shops, whether a general store or classy boutique, is generally excellent across the board. Even our German friend was pleasantly surprised by the top-notch service provided in the shops he visited! The service was so good, he started wondering if he was conducting himself in an appropriate way as well. Service that touches the heart indeed!
6. Enjoy the eclectic mix of traditional and modern architecture!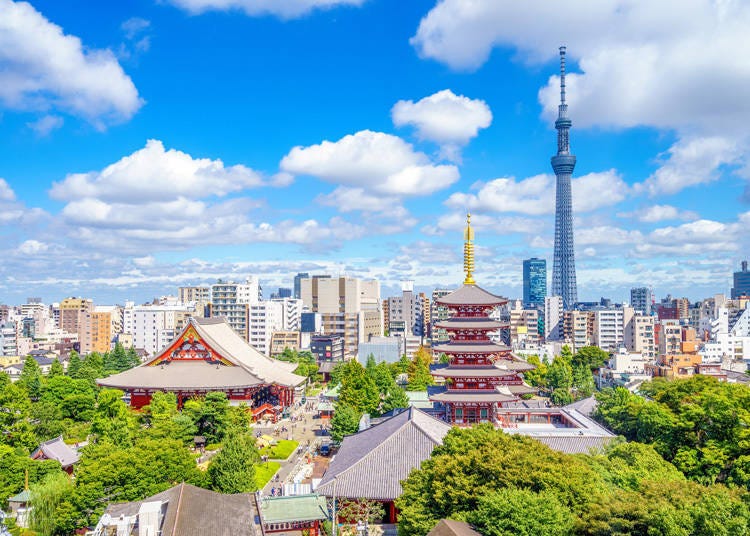 There are certainly many other things to do in Asakusa that touch the hearts of its visitors as well.

A Canadian man explains, "I was moved when I saw the Tokyo Skytree. It looks stunning even from street level. I couldn't help but try to take pictures, but because it was so tall, I just couldn't get a good shot. Still, I'm glad I managed to take interesting pictures of Asakusa's old-style Japanese streets with a modernistic Skytree in the background!"

The contrasting scenery in Asakusa made up of the old and new is clearly a highlight of the town that many international friends enjoy, as evidenced by our Canadian friend's remark. In fact, the photographs taken here will be quite representative of Japan as a whole, so don't hold back on those pictures! Not to mention how easy it'll be to use them as topics for conversations when you get back home!
7. Enjoy the many fun-filled things to do in Asakusa available for all ages!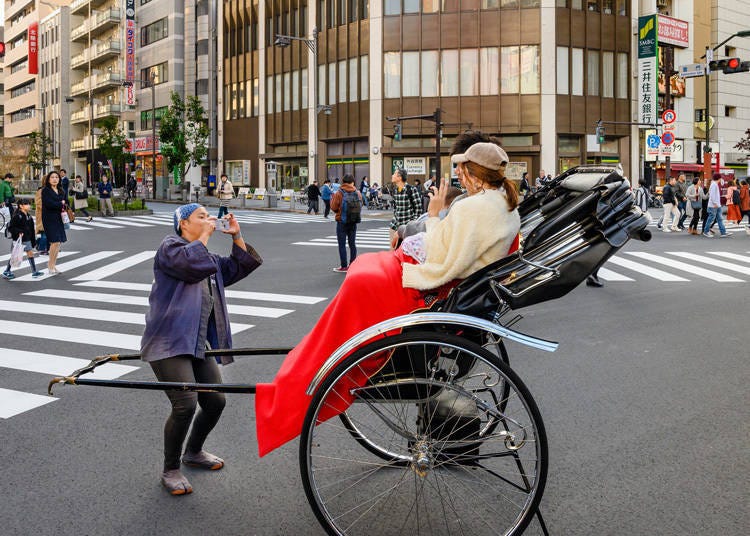 Boris-B / Shutterstock.com
"Though Hanayashiki was kind of cozy, I was surprised to find full roller coasters in the park that both adults and children could enjoy. Since it's a small amusement park, we were able to take our time to cover every attraction it has to offer," said a Canadian man.

Asakusa Hanayashiki, which opened in 1853, is the oldest amusement park in Japan. One roller coaster in Hanayashiki dates back to 1953 and is the oldest scream machine in the country. With a large variety of other rides and attractions, such as those that even newborns can ride or spine-tingling haunted houses, this is an amusement park that you can enjoy with your kids.

"As for me, the rickshaws left a deep impression," said a British woman. "I hopped on one with a friend and was frankly blown away by the rickshaw driver's power as he pulled us along all by himself! The ride was also quieter than I expected, and the gentle breeze sure helped to uplift the mood during our Asakusa sightseeing. All in all, we had a lot of fun!"

Hiring a rickshaw guide is a great way of seeing the locals' side of Asakusa. Guides offer insight and fun stories about the many sightseeing points, plus tips on other things to do in Asakusa, like where and what to snack on during your stay. These are exactly the sorts of experiences that you will cherish forever.

Many other visitors have shared positive comments about similar attractions and activities as well. Perhaps Asakusa's family-friendliness is the real reason behind its unbelievable popularity among travelers from all walks of life!
Asakusa's Enduring Popularity Shows No Sign of Waning!
Asakusa is famously popular among foreign visitors, and for reasons that are quite unexpected for a local resident like myself. The cultural immersion that ends up surprising or touching visitors in a good way appears to be part of what makes Asakusa click with our international friends. I do hope more and more people will get to experience the many things to do in Asakusa, from the historical to the futuristic!
Written by Takaaki Miyashita, Dali Corporation
Writer and professional photographer with a serious case of wanderlust. Taking trips on his motorbike is his favorite way to travel. He has been to 40 countries overseas. His writing motto is "to combine text and photographs in a simple yet enjoyable way", and he applies this liberally on his writings, whether they be articles on PR or science.

English translation by: Huimin Pan

*The above article is based on information from June 2020
*This information is from the time of this article's publication.
*Prices and options mentioned are subject to change.
*Unless stated otherwise, all prices include tax.