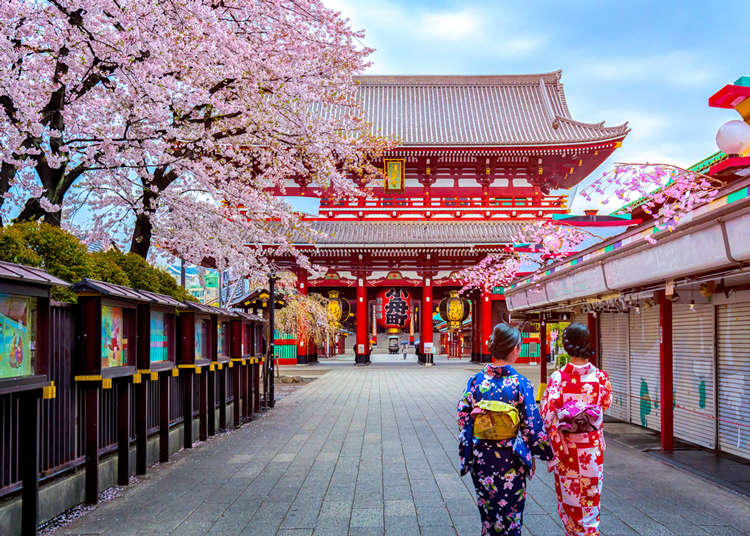 Asakusa is a major sightseeing spot in Tokyo. Asakusa exudes a "downtown" atmosphere and offers a wide array of culinary treats and shopping opportunities while visiting such famous spots as the Kaminarimon Gate and Sensoji Temple. Here you can really experience Japan.

Equally popular are traditional events held here. There are lively events held throughout the year such the famous Sanja Matsuri and Sumida River fireworks display. In this article we will introduce some of these popular annual events held in Asakusa. When you are planning the itinerary for your Japan visit, check the list to see if any of these events will be held during your visit.
Great fun throughout the year! What kind of events and festivals are held in Asakusa?
In the long history of Asakusa, populated by merchants and samurai since the Edo Period, many types of Shitamachi [downtown] culture evolved. Traditional events are those that have taken root in the area. These traditions have continued up through the current age and are occasions for local residents to get together.

Events such as the Sumida River fireworks, Sanja Matsuri, and Asakusa Samba Carnival also draw spectators not only from across the country but from abroad as well.
January Festivals in Asakusa
■ Hatsumode [first Shinto shrine or Buddhist temple visit of the Japanese New Year] 
Event date: January 1; venue: Sensoji Temple
Hatsumode is a traditional event held in Japan at the beginning of the New Year when people pay their first visit to a shrine or temple. Sensoji Temple is so popular that from the middle of the night on December 31 Nakamise, the arcade leading up to the temple, is packed with throngs of worshipers.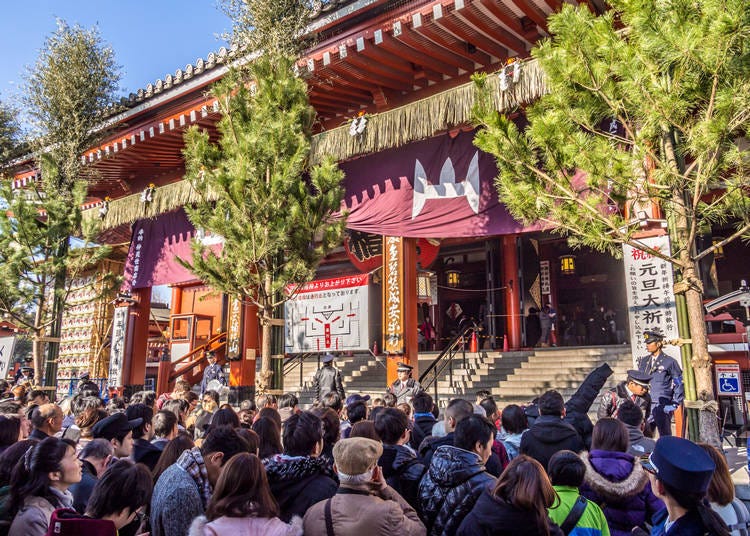 Takashi Images / Shutterstock.com
■ Shichifukujinmode [Visiting the 7 Lucky Gods]
Event dates: January 1 ~ early January; Venues: Sensoji Temple, Asakusa Shrine, Tainyusanshoten, Imado Shrine, Hashiba Fudoson, Ishihama Shrine, Otori Shrine, Yoshiwara Shrine, Yasaki Inari Shrine
Going around to the shrines and temples where the 7 Lucky Gods are enshrined is called Visiting the 7 Lucky Gods. In Asakusa there is a course that takes worshipers around to each of these famous spots.
February Festivals in Asakusa
■ Setsubun [day before the beginning of spring]
Event date: February 3; venue: Sensoji Temple
Setsubun is an event designed to ward off evil and misfortune marked by the throwing of beans while chanting, "Fuku wa uchi, Oni wa soto" meaning, "Good fortune in; Demons out". On February 3rd at Sensoji Temple there is a large-scale bean-throwing event. In recent years celebrities who were born in the zodiac sign of that year are invited to throw out lucky beans towards the large gathering of spectators.

■ Setsubunkai and Fukuju Dance (Seven Lucky Gods Dance)
Event date: February 3; venue: Sensoji Temple
After the bean-throwing event, the Fukuju no Mai [Seven Lucky Gods Dance] is performed. This is to honor the virtues of Kannon, the Goddess of Mercy, and is said to have originated with the Shichifukujin. This is an event worth seeing at least once as dancers dressed as the 7 Lucky Gods perform.
March Festivals in Asakusa
■ Tokyo Marathon Support Event 
Event date: March; venue: in front of Kaminari Gate
The Tokyo Marathon is an international marathon held every year in Tokyo. The course goes past Kaminari Gate where supporters gather to cheer on the runners. To heighten the festivities in conjunction with the Tokyo Marathon, dances, such as the Kinryu no Mai [Dance of the Golden Dragon], and performances by Asakusa geisha are held at Sensoji Temple.

■ Asakusa Kannon Shigenkai Kinryu no Mai
Event date: March 18; venue: Sensoji Temple
Legend has it that in the 36th year of Emperor Suiko (628) on March 18th a Buddhist statue of Kanzeon Bodhisattva [Avalokiteshvara], the principal deity of Sensoji Temple, appeared in the Miyatogawa (today called the Sumida River), so every year on that day this is commemorated in the Shigenkai [manifestation] event. Within the temple precincts the Kinryu no Mai is performed, taking its name from Mt. Kinryu, and is said to bring good luck to Sensoji Temple; the colorful Golden Dragon is 15 meters long and weighs 80 kilograms.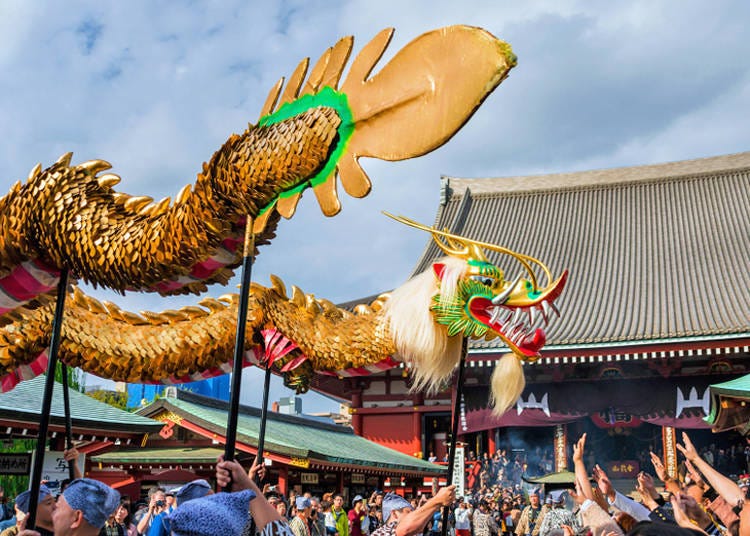 Cris Foto / Shutterstock.com
■ Sumida Park Cherry Blossom Festival
Event dates: mid-March to early April (depending on when the cherries are in bloom]; venue: Sumida Park
The Sumida Park Cherry Blossom Festival is held every year between Azumabashi and Sakurabashi along the Sumida River, a place famous for its cherry blossoms. The park boasts 510 cherry trees which make an impressive sight when they are in bloom. An excellent way to view them, as well as Tokyo Skytree, is from a yakatabune [houseboat] on the river. At night the trees lining both banks of the river are illuminated giving them a mystical aura.
April Festivals in Asakusa
■ Asakusa Kannon Ura and Ichiyozakura Festival
Event date: Second Saturday in April; venue: Ichiyozakura and Komatsubashi Street (Asakusa 5-chome), Yanagi Street (Asakusa 4-chome)
The Asakusa Kannon Ura and Ichiyozakura Festival is held on the north side of Sensoji Temple at Ichiyozakura and Komatsubashi-dori, a street lined with about 320 cherry trees, and when they are in full bloom, various events take place, such as a parade of elementary school students, stage shows on street corners, refreshment booths manned by local women's associations, and flea markets. The Edo Yoshiwara Oiran Dochu is a must-see: women dressed as Oiran [courtesan] perform a majestic walk noted for its unusual footwork, starting from Senzoku 3-chome beneath the row of cherry trees.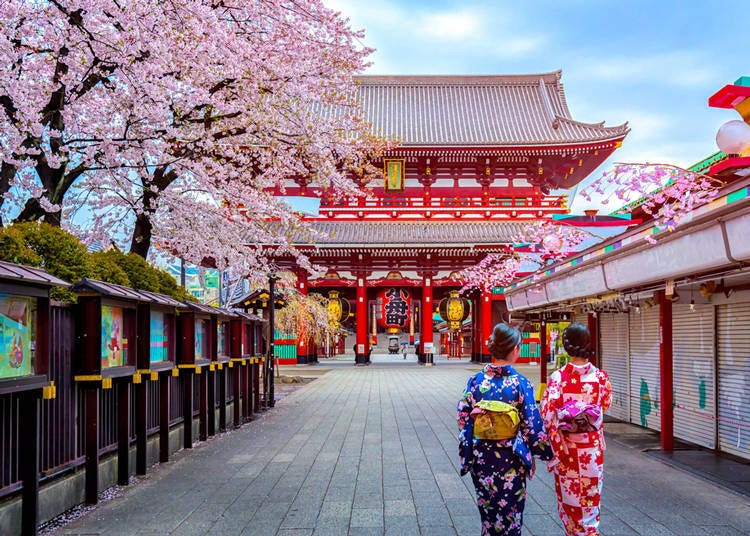 ■ Asakusa Bridge Red and White Maronie Festival
Event date: mid-May; venue: near the Hulic Asakusabashi Building
The Asakusabashi Red and White Maronie Festival is held every May in the vicinity of Asakusabashi when the beautiful Marronnier flowers are in bloom. Held every year, it includes many events such as lively parades, stalls selling food and other items, vaudeville and stage performances.

■ Sanja Matsuri
Event dates: 3rd Friday, Saturday, and Sunday in May; venue: Asakusa Shrine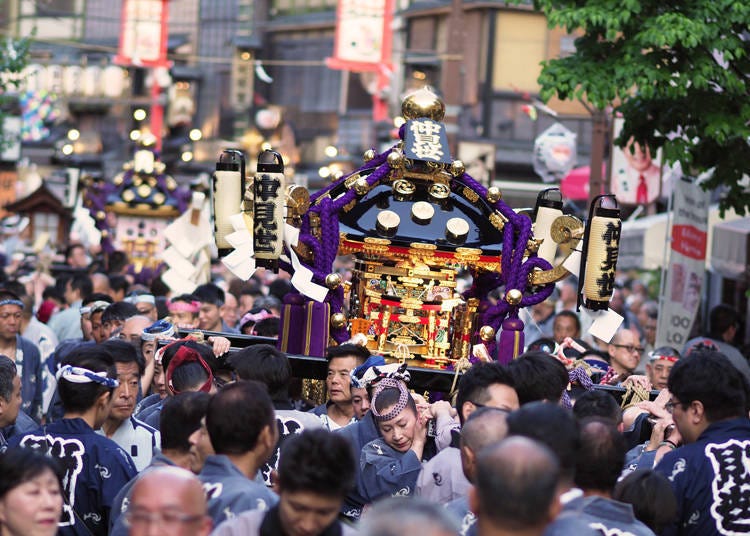 写真提供:台東区
The Sanja Matsuri is one of the Three Great Festivals of Edo and is representative of Japanese festivals. It is considered to be the liveliest event of the year in Asakusa and heralds the arrival of summer. This is a major event and undoubtedly the most lively marked by traditional Japanese music stalls, Kashira Kiyari, Binzasara dances, and the Shirasagi no Mai [dance of the heron] with shrine parishioners from every neighborhood carrying portable shrines of all sizes gathering in a single place; a spectacle definitely worth seeing. During this time vendors set up all sorts of stalls throughout the area turning the whole of Asakusa into one large festival.
June Festivals in Asakusa
■ Ofuji-san Ueki-ichi
Event dates: last Saturday and Sunday in May and June; venue: near Sengen Shrine
This is a large-scale potted plant fair where all kinds of plants are lined up along Yanagi-dori, the main venue of the event which is closed to traffic at that time. It coincides with the start of the rainy season, a time when many people rearrange their gardens, and it is said that plants purchased at this fair, also known as Ofuji-san Ueki-ichi, bloom especially well.
July Festivals in Asakusa
■ Sumida River Fireworks Festival
Event date: last Saturday in July; venue: Sumida River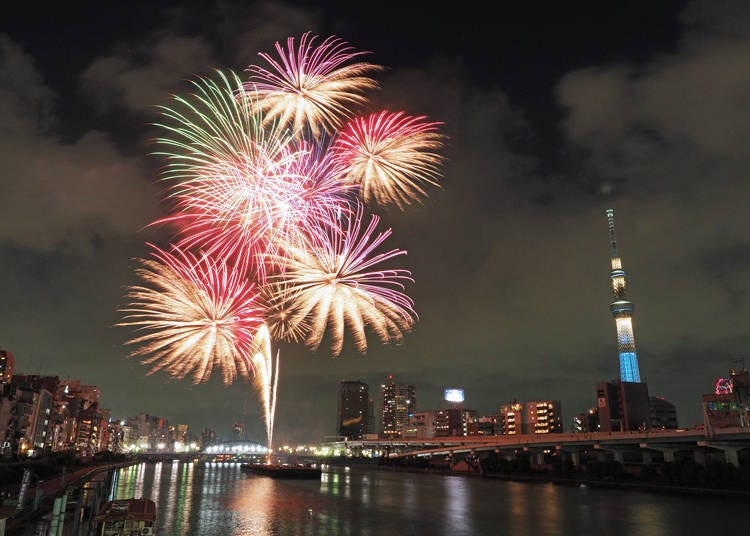 Photo provided by Taito Ku
This is a traditional fireworks display in the Ryogoku area that began in the 18th year of Kyoho (1733). It is one of the most famous fireworks displays in Tokyo and every year draws about one million spectators.

The venue consists of actually two sites from which approximately 20,000 fireworks are fired off lighting up the sky. At the first venue, there is a fireworks contest between suppliers of Ryogoku fireworks and other domestic suppliers who have achieved excellent results at representative fireworks displays within the country. Spectators are treated to a wide selection of impressive and original fireworks displays.
■ Shitamachi Tanabata Matsuri [Downtown Festival of the Weaver]
Event dates: early July; venue: Kappabashi Main Street (near 2~3 chome, Nishi Asakusa and 2~3 chome, Matsugaya, Taito Ward)
The Shitamachi Tanabata Festival is an annual Tanabata Festival held on the main street of Kappabashi Hondori, which connects Asakusa and Ueno. The street is crowded with street performances such as Awa Odori, Echinaka Owara-bushi, and Japanese drums. The shops in the area are all adorned with Tanabata decorations.
August Festivals in Asakusa
■ Asakusa Samba Carnival Parade Contest
Event date: late August; venue: Asakusa from Umamichi-dori to Kaminarimon-dori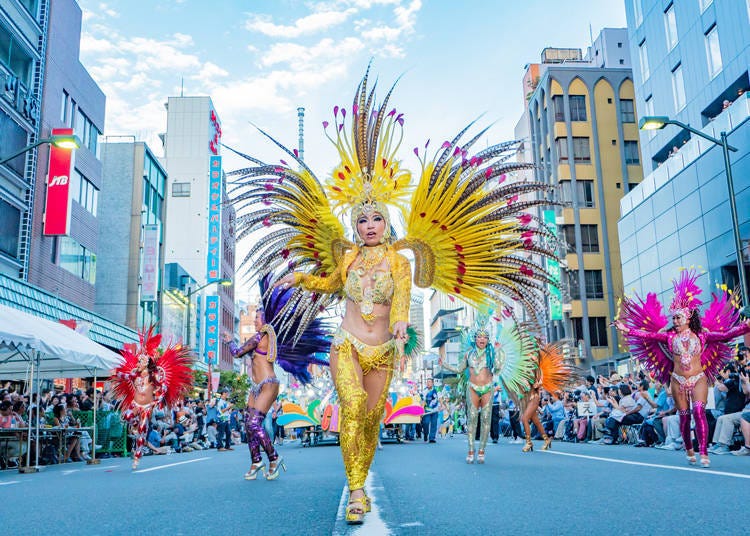 Photo provided by Asakusa Samba Carnival Executive Committee
The Asakusa Samba Carnival Parade Contest is a major event held towards the end of summer in Asakusa. Dancers dressed in vivid costumes, exactly like those worn at the Rio de Janeiro carnival, make their way along the street dancing to the samba rhythm. Teams avidly compete in this parade contest which is something you will not want to miss.
November Festivals in Asakusa
■ Shirasagi no Mai
Event dates: second Sunday in April and November 3; venue: Sensoji Temple precinct
The Shirasagi no Mai [Dance of the White Heron] is a procession depicted in the Sensoji Temple Keian Picture Scroll of 1652 and was recreated in 1968 to commemorate the 100th anniversary of Tokyo. Performers dressed up as white herons, warriors, baton twirlers, large parasol carriers, and musicians dance around the precincts of the temple while singing the White Heron Song.
December Festivals in Asakusa
■ Tori no Ichi (Hagoita Fair)
Event dates: December 17, 18, 19; venue: Sensoji Temple precinct
<@Tori no Ichi (Bird Market)|a=articlea0000687@> is a popular end-of-year traditional fair held in Asakusa. This is also called the Hagoita Fair because in addition to daily necessities and New Year's items, hagoita, large wooden paddles used to play Hanetsuki, an old traditional game of shuttlecock, elaborately decorated with various images, are also sold. A wide variety of images are depicted, ranging from classic Kabuki designs to battledores based on story-telling satire and popular celebrities.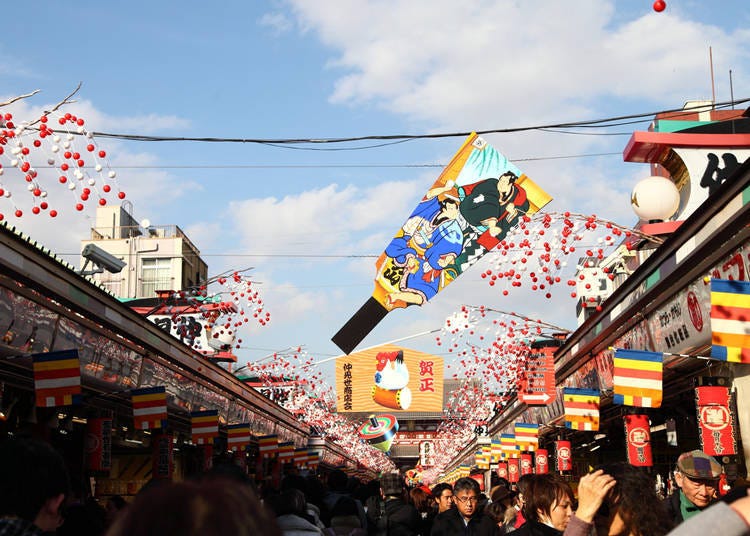 yukihipo / Shutterstock.com
■ Joyo no Kane
Event date: December 31; venue: Sensoji Temple
Joyo no Kane is the ringing of a temple's bell 108 times on New Year's Eve, symbolizing redemption from the 108 earthly desires, and is performed by all Buddhist temples throughout the land. Every year huge crowds of worshipers gather at Sensoji Temple on New Year's Eve to see out the old year and usher in the new one.
The above are the main events held throughout the year in Asakusa. Asakusa is always popular, but becomes even more lively and interesting during the events mentioned above. If you are planning a trip to Tokyo, see if it coincides with any of the dates mentioned above as it is possible you will be able to enjoy one of these events.
*This information is from the time of this article's publication.
*Prices and options mentioned are subject to change.
*Unless stated otherwise, all prices include tax.