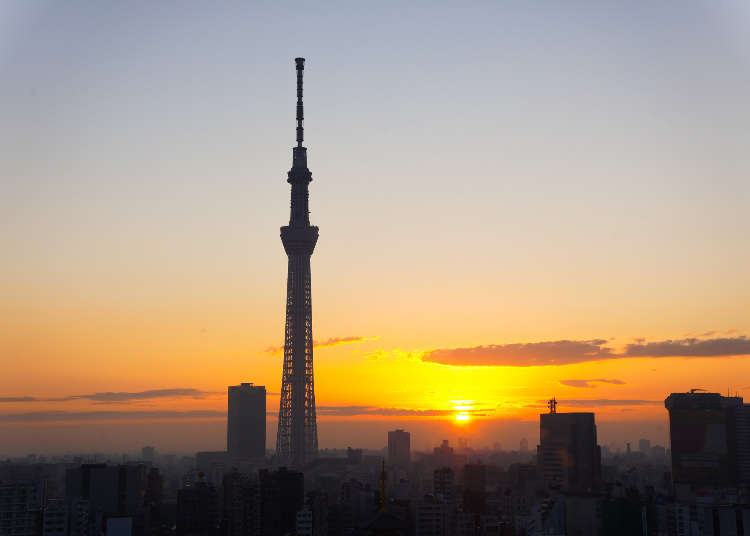 Time seems to pass way too quickly sometimes – it's already the end of the year again! Japan and particularly Tokyo is a great choice to visit for a New Year's trip. The culture surrounding New Year's is probably vastly different in Japan from what you're used to.

While it is celebrated on December 31st, unlike in the West, you won't find many people heading out for crazy partying. Instead, New Year's is a family festival where people have time off to go to their hometown, visit their family, and engage in a whole set of traditional customs and rites.

While many of Tokyo's shops will close early, there are still many fun shopping opportunities and in the evening, you'll want to get ready to greet the new year. We've compiled the best spots in Tokyo for experiencing New Year's customs, saturate your party craving, and get some shopping done!
Zojo-ji Temple New Year's Countdown: Celebrating under Tokyo Tower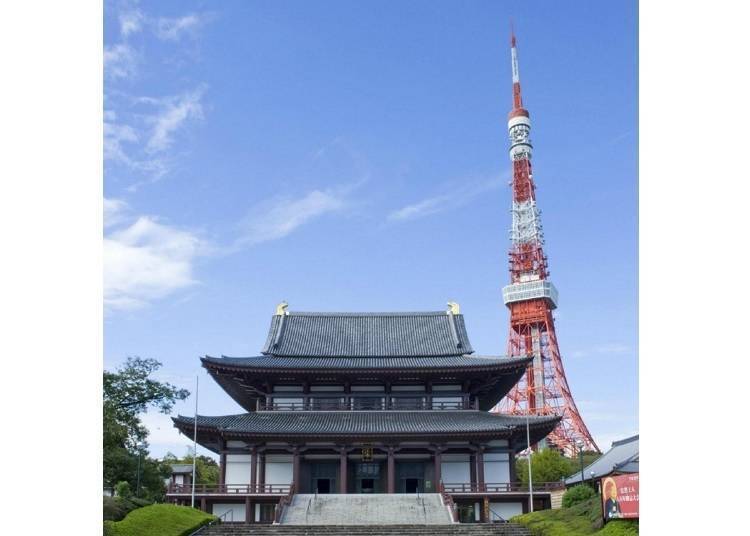 Zojo-ji is an ancient temple that dates back to 1393, situated right at the foot of the romantic Tokyo Tower. You're greeted by a giant, vermilion-lacquered gate called "Sangedatsumon." It has survived the war almost unscathed and still stands as the original gate of the time of construction in the early Edo period. The temple and its ground emit a wonderfully peaceful atmosphere, but most Japanese people know it for the mausoleum of the Tokugawa Shoguns.

On December 31 of every year, locals and tourists visit Zojo-ji Temple to do "hatsumode," the traditional first shrine or temple visit of the year. The grounds start to get crowded at around 10:00 p.m. in the evening and the arrival of the new year is then celebrated by a monk ringing a bell exactly 108 times. According to Buddhist belief, this custom is done to be cleansed of the 108 worldly desires. What may sound rather grim and formal is actually a rather joyous event and the temple is filled with a warm, lively atmosphere.
The lit-up Tokyo Tower in the background only adds to the experience. Along with the countdown for the new year, the number of the year displayed on the famous landmark changes, making for an exciting moment and breathtaking scenery. Japan's famous coexistence between modern and traditional can nowhere be as vividly felt as at Zojo-ji Temple.
Port of Yokohama Countdown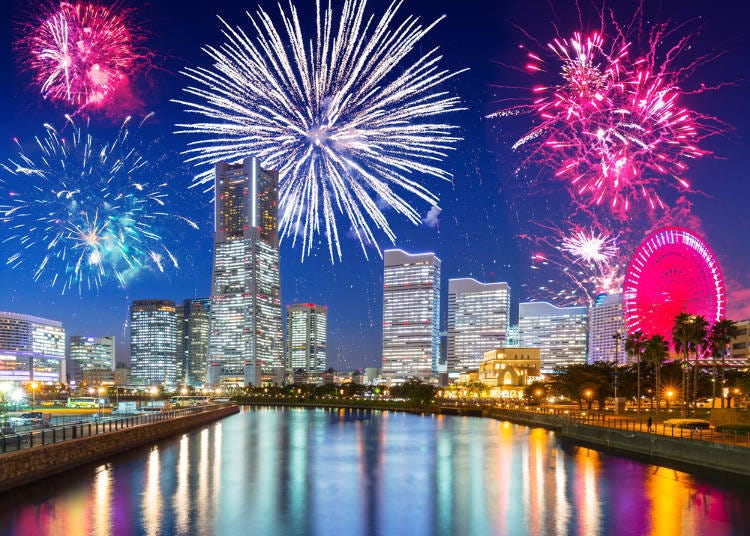 Yokohama's New Year's countdown is exceptionally fun and lively because it takes place right at the port. After Japan signed a treaty of commerce with the United States in 1858, following 200 years of seclusion, Yokohama has experienced an influx of Western culture. Although it's not necessarily a place for fireworks at midnight, a special light show and illumination will take place at Minato Mirai. Countdown cruises around the bay are also available.

We especially recommend Yokohama Hakkeijima Sea Paradise for a wonderful, Western-style New Year's experience. During the day, the place is both aquarium and amusement park in one, while illuminations light up the area after the sun has set. On top of that, look forward to a 10-minute long fireworks show (from midnight) that greets the New Year. The colorful spectacle reflected on the sea is a breathtaking sight.

After the fireworks, enjoy yourself the whole night – but definitely stay around! There's hardly a more beautiful scenery than the first sunrise of the year dipping the port in soft, orange light, the mountains of the Boso Peninsula in the background.

Event Information
[Date] December 31, 2019 - January 1, 2020
[Hours] All night: December 31 19:00 to January 1 8:00
*Countdown All Night Pass is available from 15:00 on December 31st
[Location] Yokohama / Hakkeijima Sea Paradise

Ticket Information
■ Countdown All Night Pass (advanced tickets sold until December 31 2019)
[Price]
(1) With dolphin show: 3,500 yen
(2) Without dolphin show: 3,000 yen
[Sales location] Sea Paradise Official Homepage; Lawson Tickets; Seven Eleven Tickets; Most Convenience Stores
(*Choice of Dolphin Show time must be specified at time of purchase from the following two options ①20: 30 ②21: 30)

■ Countdown all night pass (same day ticket)
[Price] 3,500 yen (no dolphin show)
Traditional New Year's at Shrines and Temples Throughout Tokyo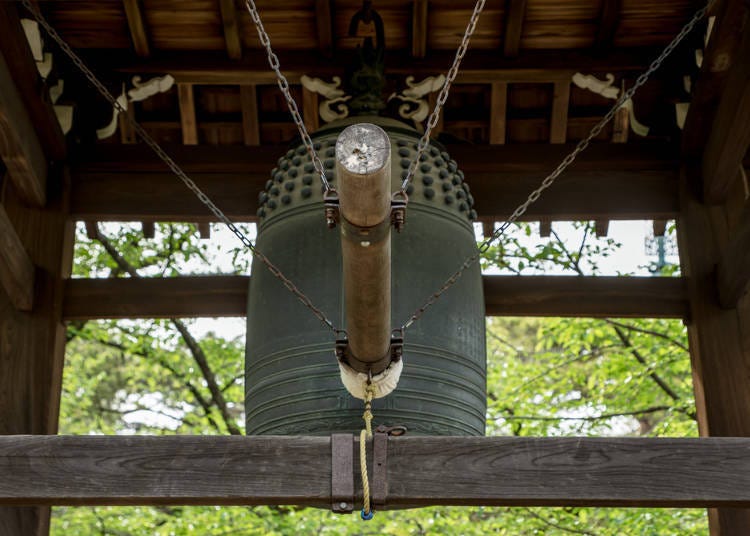 As already mentioned, the Japanese way of celebrating New Year's is to visit a shrine or temple with one's family. It is entirely different from the loud and lively fireworks and parties you might be used to. We named Zojo-ji as an example of that, but with its closeness to Tokyo Tower and its countdown, it fuses Japanese with Western traditions. If you want the full Only in Japan experience, we highly recommend finding a charming temple close to your accommodation – it doesn't have to be a big place at all.
There, you'll be able to experience the 108 rings of the bell in a quieter atmosphere and through an unfiltered, traditional lens.
Experiencing the First Sunrise of the New Year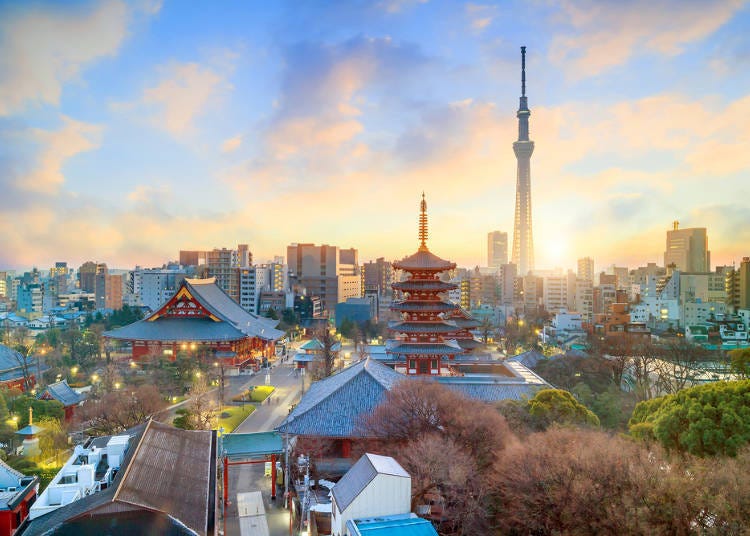 Countdown events are a popular New Year's pastime all over the world and also in Japan. However, there's one thing that is even more popular: watching the first sunrise of the new year. With its many skyscrapers and observation decks, Tokyo is the perfect place to do just that! As already mentioned, the Port of Yokohama is also a good choice and if you feel like venturing into nature, celebrating New Year's on a mountain is also a beautiful option.

When is sunrise for 2020 in Tokyo?
Sunrise for Tokyo will be around 6:50AM on January 1, 2020.

Two good spots to view the sunrise
SKY CIRCUS Sunshine 60 Observatory
[Date / Time] December 31, 2019, 20:00 to January 1, 2020, 01:00
[Tickets] Limited to 1,500 people (advance tickets 1,000 people, same day tickets 500 people)

Kasai Rinkai Park Diamond and Flower Ferris Wheel
[Date] December 31, 2019, 10:00 to January 1, 2020, 8:00 (open all night)
[Tickets] Event participation is free. Ferris wheel 700 yen (tax included)
The Wild Countdown Parties of Roppongi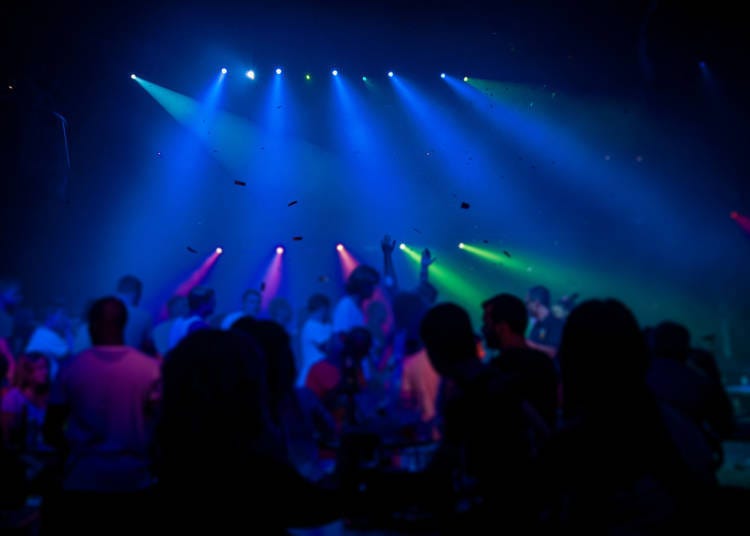 If you're looking for a classic New Year's party with a lot of drinks, dancing, and music, head to Roppongi. The area is known for its many clubs and a favorite nightlife hotspot especially for locals and tourists from the West. A lot of places in Roppongi celebrate New Year's with loud beats from DJs and bands, loads of drinks, and a proper party atmosphere. Don't be shy and hit the dance floor?
Public Transportation & Traffic on New Year's
In Tokyo, trains are the main means of transportation. During New Year's, a lot of companies offer special train schedules to accommodate to partygoers and people looking to do hatsumode, the first shrine or temple visit of the year. If you're prepared and check the schedules beforehand, getting around at night or in the early morning will be a breeze!
*Based on information for 2019
*Based on information for 2019
The Opening Hours of Department Stores and Shopping Malls during New Year's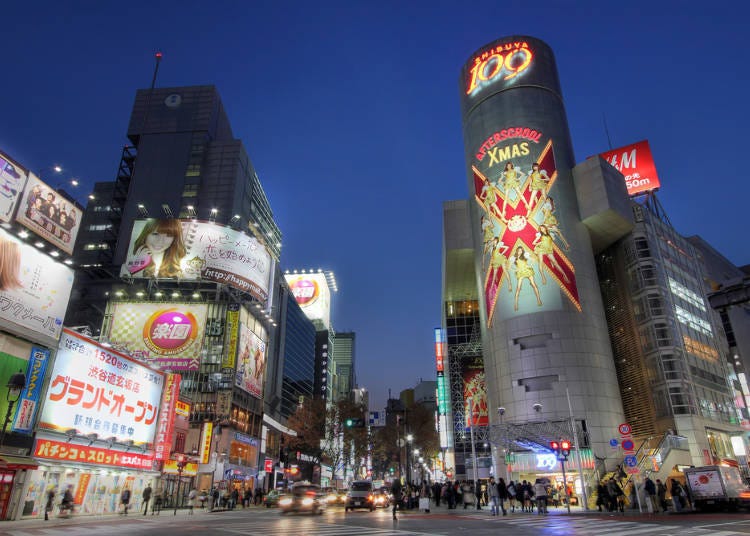 It may sound strange but New Year's is one of the best times to go on a shopping spree in Tokyo. While a lot of shops and restaurants are closed on New Year's Day, huge bargain and coupon campaigns start on New Year's Eve and often continue for a couple of days. One of the characteristics of Japanese New Year's shopping is lucky bags called "fukubukuro." All sorts of sops, from clothes to electronics, offer lucky bags at various prices, offering shoppers the chance to get goods worth double, triple, or sometimes tenfold the price of the lucky bag! The obvious downside is, of course, that you cannot see what you buy, so it's an especially exciting bargain gamble!
*Based on information for 2019
*Based on information for 2019
Last but not least, don't hesitate to explore Japan's gourmet pleasures during New Year's. While it's important to check the opening hours of restaurants beforehand, a lot of places, especially chain stores, operate all year round. Family restaurants, fast food chains, and ramen chains will recharge your energies after a long night of celebrating in no time!
Other Japan New Years Countdown Events
*This information is from the time of this article's publication.
*Prices and options mentioned are subject to change.
*Unless stated otherwise, all prices include tax.