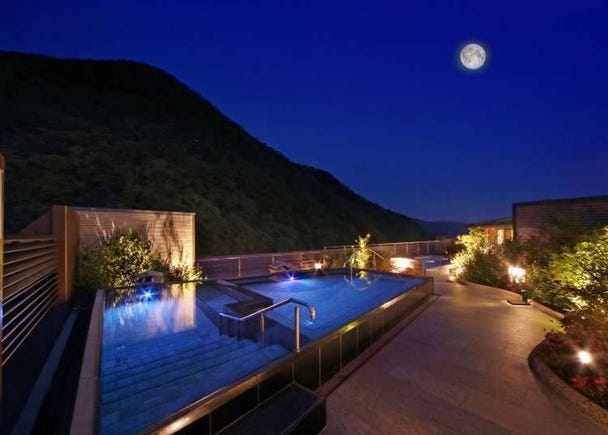 Just north of Tokyo, Nikko is a tourist haven with scenic sites. You'll want to stay at a traditional Nikko ryokan in order to get the full experience!

We're talking about places like Nikko Tōshō-gū and other famous shrines, historic sites, Kegon Waterfall, Lake Chūzenji, Senjōgahara, and other sites teeming with lush nature!

Since Nikko is also one of the best hot spring areas in Kanto, it would be a shame to simply stay the night without indulging in what the region has to offer! Wouldn't you like to enjoy some quality time in an accommodation that comes with quality hot spring facilities, delicious cuisine, and majestic views?

Here are three luxurious Nikko ryokan that can make those extravagant wishes of yours come true!
1. Asaya: Romantic hanging gardens, open-air baths, and impressive vistas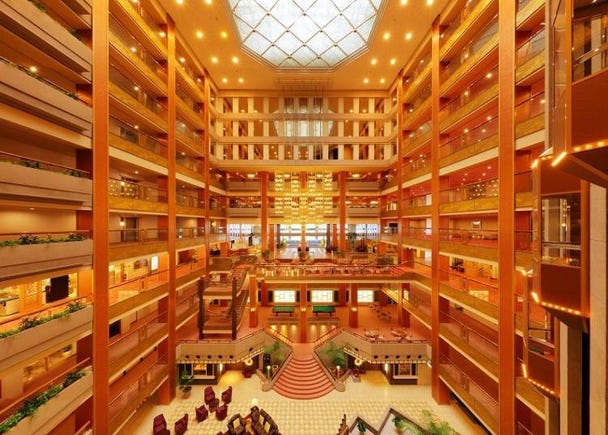 Asaya is a large Nikko ryokan, or traditional Japanese inn located in Nikko's Kinugawa hot spring town and has been in business since 1888!

The open design of the third to 12th stories of the building is absolutely worth a second look, especially when viewed along with the resplendently decorated lobby. You would be forgiven for thinking you've somehow wandered into a live-action setpiece for the fantastical Studio Ghibli film, "Spirited Away"!

In this Nikko ryokan, there are two wings with vastly different design schemes. The Hachibankan wing has a tranquil Japanese motif, whereas the Shūhōkan wing exudes a flamboyant flair.

All guest rooms are connected to hot spring waters, so you can basically have your own private hot spring without ever leaving your room! Some rooms even come with open-air baths or baths that overlook the beautiful landscape outdoors.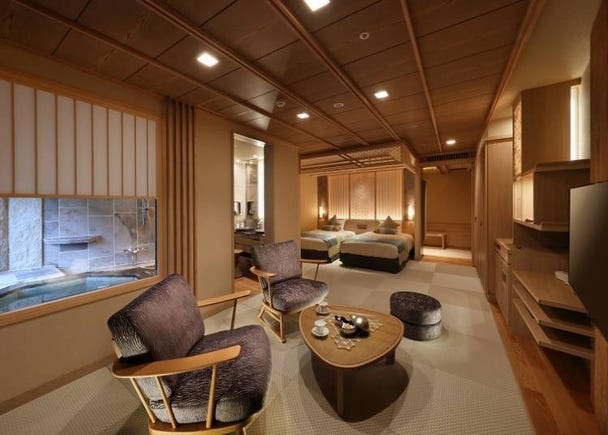 This is a Japanese and Western guest room with an attached landscape bath on the top floor of Shūhōkan wing. The room comes adorned with Tochigi's traditional woodcraft lattices known as Kanuma-Kumiko.
Hot spring facilities here make use natural spring waters from a private source, filling up four large pools. They also offer four types of baths that can be booked for exclusive use, like a jetted rub in the common bath area, a nano-mist sauna in Hachibankan's women-only common bath area, and a silky bath that produces ultrafine particle bubbles.
Aoba no Yu, the women-only common bath area in Shūhōkan
What we would really recommend you try is the Hanging Garden Open-Air Bath on the 13th floor. This is the highest hot spring bath you'll find in all of Kinugawa! There's even an interesting tub that's made from a repurposed boat usually used for Kinugawa river cruises.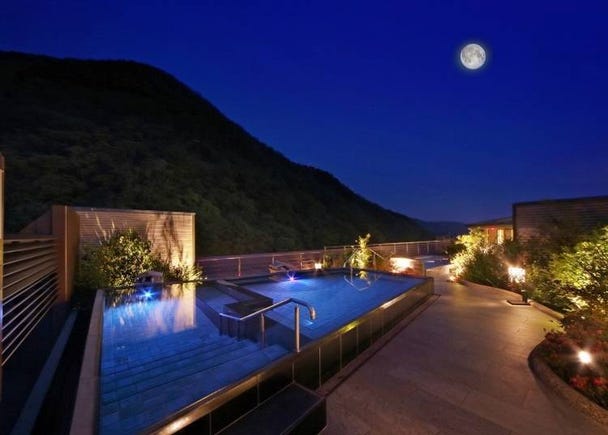 Bathe in pleasure surrounded by beautiful mountains and starry night skies
The buffet at this Nikko ryokan is a spread of more than 100 types of food from Japanese, Western, and Chinese cuisine. Some counters with items like pasta, steak, tempura, or something else also offer on-the-spot cooking, ensuring you always receive freshly cooked hot meals.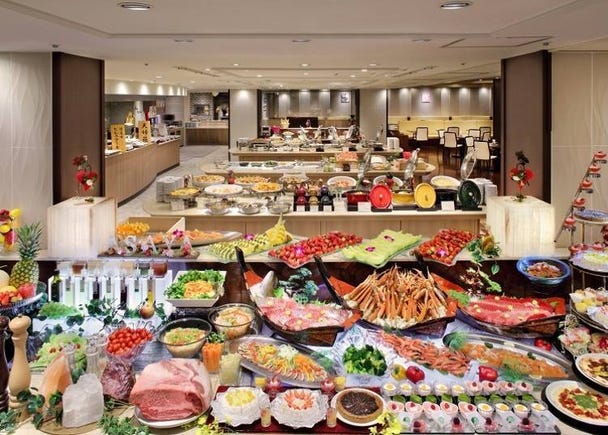 The dessert and salad corners are replete with colorful options
Why not try something new while you're here? Since the Nikko ryokan also has other facilities such as bedrock bathing, massage parlors, video games arcades, and karaoke booths, it's entirely possible to keep yourself entertained for an entire in the building itself and never feel bored!

All guest rooms have Wi-Fi access. Room rates start from 30,240 yen (tax included)
あさや

Address

813 Kinugawa Onsentaki, Nikko-shi, Tochigi-ken 321-2598

Phone Number

0120-02-1126

About 8 minutes by Dial Bus (190 yen) from Kinugawa Onsen Station on the Tobu Railway; About 1.5 hours by shuttle bus (fees apply, reservations only) from Utsunomiya Station on the JR Lines

Vacancy search, reservation

from

30,800JPY

1room, 2adults

Check with our partner site as the latest rates, rate details, and guest room requirements may vary.
2. Honke Bankyu: Refresh yourself with spring waters that has served a village for over 800 years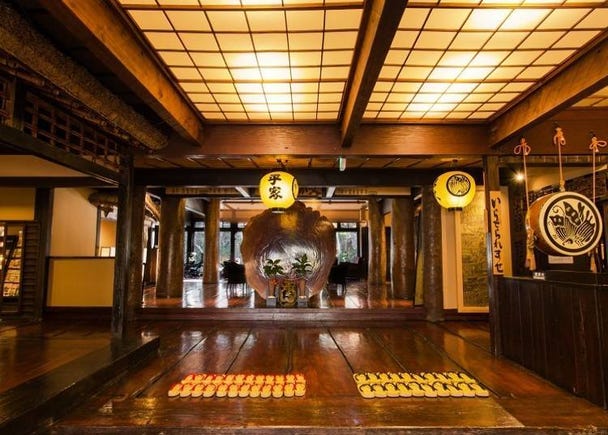 Yunishigawa is a hot spring zone located deep within the mountainous area in northwestern Nikko. This is the place the Taira clan, a prestigious house in feudal Japan was said to have fled to in the year 1185, after they were defeated at the Battle of Dan-no-Ura. Honke Bankyu is a hot spring travel lodge that was established in the year 1666 by a direct descendent of the clan.

When you check in, you'll be welcomed by the customary "Irasshaimase (Welcome)!" along with a resounding Japanese taiko drum beat. This is a longstanding tradition that has been kept since the lodge opened for business!

All guest rooms overlook the Yunishigawa mountain stream, and each room design is unique. Room interiors feature clay walls and furniture made of choice wood that reflect the Japanese touch and will no doubt add to the excitement of your trip!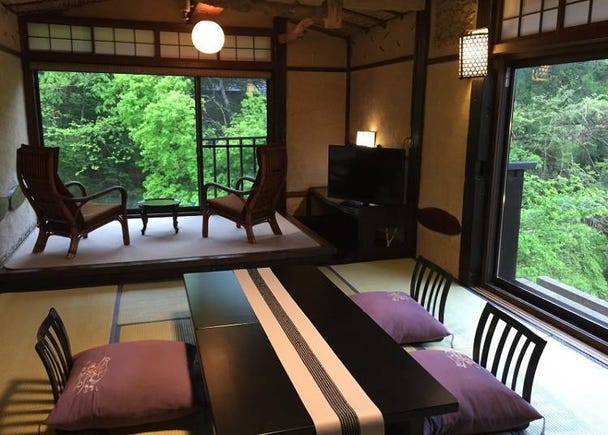 Guest rooms are cozy and bear a distinctively Japanese vibe
The men-only open-air common bath Fujikura no Yu makes use of the natural spring water of Yunishigawa Onsen that was discovered more than 820 years ago.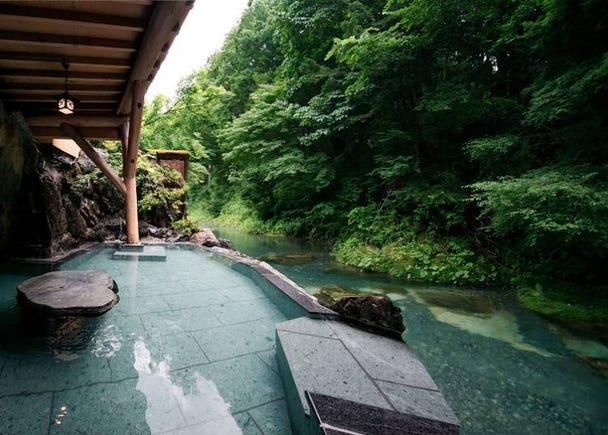 Fujikura no Yu, the inn's men-only open-air bath
The hot spring water is pure and mildly alkaline. Additionally, it contains metasilicic acid, a natural moisturizing factor that makes your skin more beautiful. The women-only inner bath area is called Kodakara no Yu, which means "bath of treasured children", a name it has kept from times past.

To go to the lodge's restaurant, called the Heike Hideout, you need to cross a suspended bridge by the name of Kazurabashi. The restaurant features the traditional Japanese irori, or sunken hearth that adds flavor to the land's produce being served to you!
Kazurabashi, the suspended bridge within inn grounds
Try the ryokan's charcoal-grilled irori full course meal for dinner!
There's also a treasury within the premises where mementos of the Taira clan are being displayed, and you can don a 12-layered ceremonial kimono for a commemorative photograph of your stay too! Until someone invents a time traveling machine, this is probably your next best bet for an authentic feudal experience.

Wi-Fi is available at the lobby and most guest rooms. Room rates start from 44,000 yen (tax included) per night per room that accommodates up to two guests.
本家伴久

Address

749 Yunishigawa, Nikko-shi, Tochigi-ken 321-2601

Nearest Station

About 20 minutes by Dial Bus from Yunishigawa Onsen Station on the Yagan Railway


Phone Number

0288-98-0011
3. Nikko Nishimachi Club à la touto: Chartered bath spaces and authentic French cuisine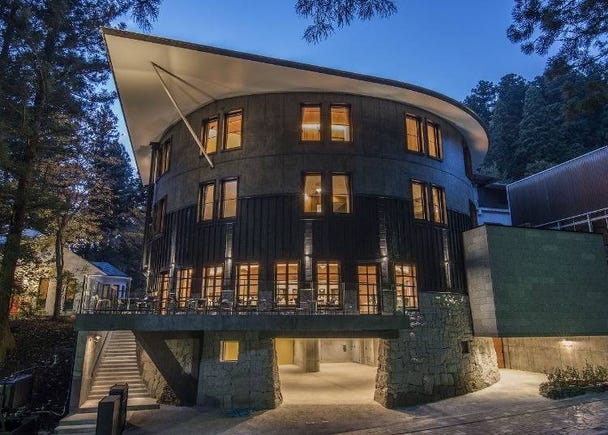 Located along the approach to Nikko Tōshō-gū, the building of this hotel, which is oriented towards the wealthier class, has a unique and classy rounded appearance. Designed around the concept of "Nikko modern luxury", you can find ōya stones, a Tochigi specialty product, and cedar boards being used as decor everywhere inside. These posh ornaments contribute to an air of refined elegance within the hotel.

All guest rooms are suite rooms. Each room has an unobstructed view of carefully planted rows of cedar trees that are more than 360 years old. Nothing says "luxury" quite like being able to surround yourself with Nikko's world-class nature in the comfort of your own hotel room.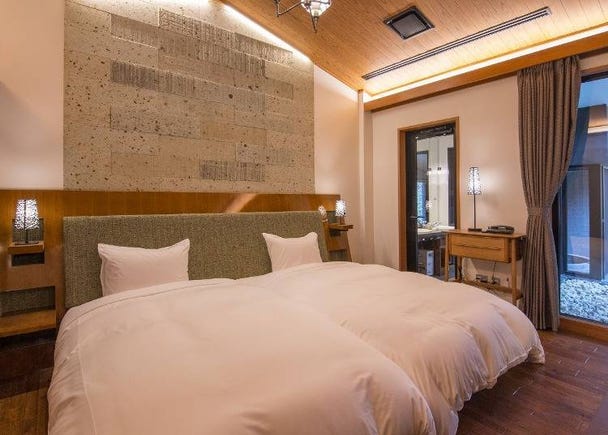 Guest rooms are beautified with ōya stones as well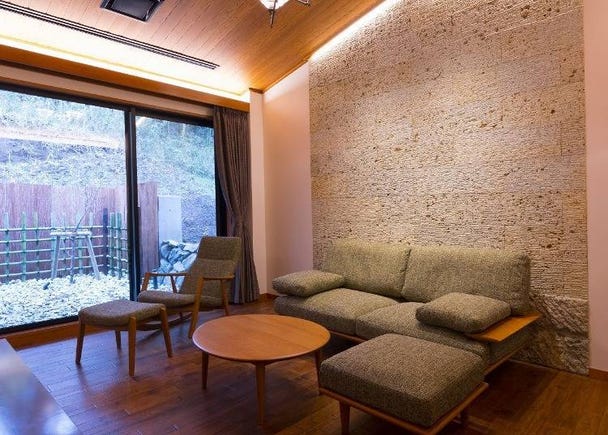 A villa with an attached semi-open-air bath and garden is available for reservation as well
Although suite bathrooms are not hot springs, the hotel does offer two hot spring bath spaces with free-flowing hot spring waters. These bath spaces can be chartered for your or your group's exclusive use. If you love hot springs but value your privacy, this is an option worthy of consideration.

Nikko's hot spring waters are clear and colorless. They refresh the body, relieve those pesky muscle aches, and give your skin a more beautiful glow.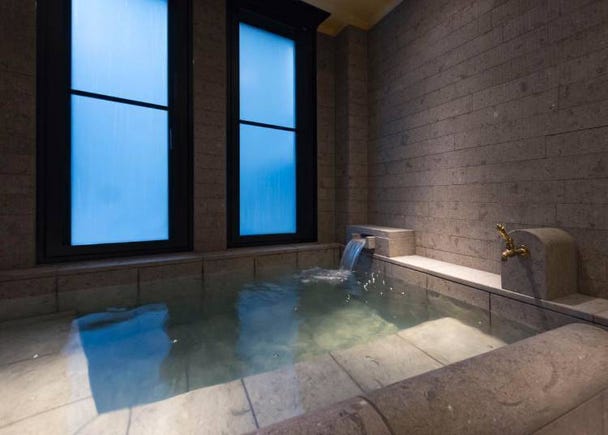 Soak blissfully in alkaline pure spring water
The standard dinner fare at this hotel is authentic French cuisine using local ingredients like Tochigi wagyu, Nikko yuba (tofu skin), and tochiotome strawberries. There's also a sommelier on duty who can recommend the best wine to go along with your meal.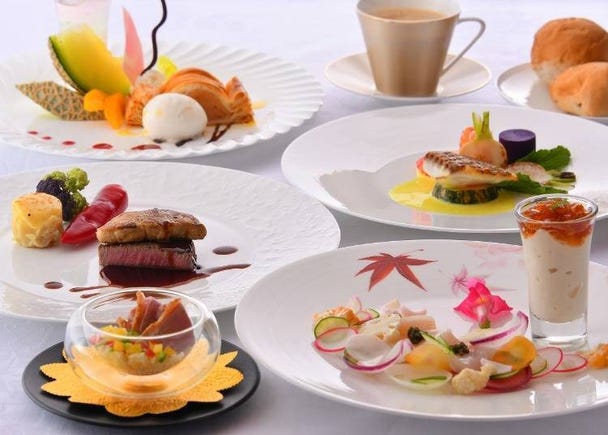 The Shrines and Temples of Nikko, a World Heritage site is within walking distance from the hotel, making it a perfectly serviceable base for your Nikko sightseeing. Even if you're not up for going outdoors, the attached bar or cafeteria makes it easy for you to simply relax indoors.

Wi-Fi is available throughout the hotel. Room rates start at 48,600 yen (tax included) per night per room that accommodates up to two guests.
日光西町倶楽部 あらとうと

Address

10-8 Yasukawacho, Nikko-shi, Tochigi-ken 321-1432

Nearest Station

10 minutes by bus from Tobu-Nikko Station on the Tobu Railway, next to Nishisando bus stop; 5 minutes by car from Nikko Station on the JR Lines
*Shuttle bus available from Nikko Station Hotel at Nikko Station (reservation required)


Phone Number

0288-53-3636

Vacancy search, reservation

from

61,600JPY

1room, 2adults

Check with our partner site as the latest rates, rate details, and guest room requirements may vary.
Nikko is well-known for its power spots, referring to places that contain an abundance spiritual energy. Combining that with luxury Nikko ryokan offering premium hot spring facilities boosts the energy and may even recharge you beyond capacity!

If you've got the budget for it, this is probably one of the best ways to blow away any fatigue you may have accumulated during your trip.

Written by: Medium KK. English translation by: Huimin Pan
*This information is from the time of this article's publication.
*Prices and options mentioned are subject to change.
*Unless stated otherwise, all prices include tax.