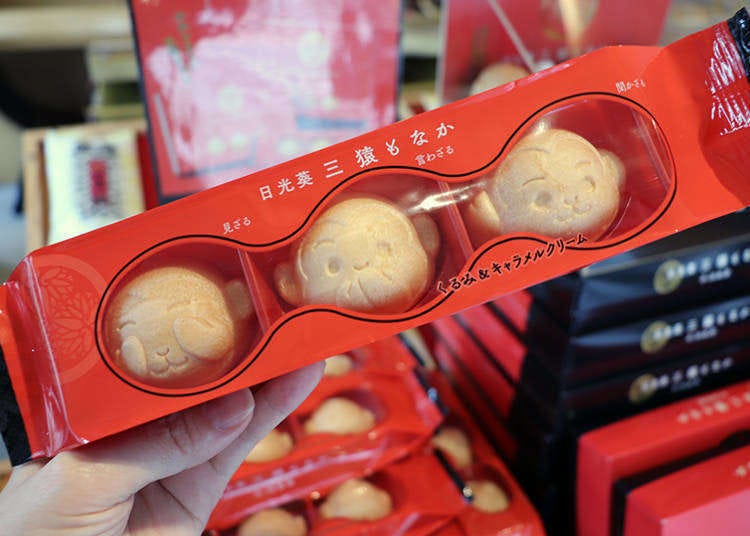 You've probably heard of Nikko, a popular area for local and international visitors located in Tochigi Prefecture, as well as its expansive natural landscapes that change appearances every season.

The area remains a top tourist favorite because of places of interest like World Heritage site Nikko Tōshō-gū, Shinkyo Bridge, the numerous waterfalls in the area collective known as the 48 Waterfalls of Nikko, and many other interesting spots with natural or historical value.

Eyes won't be the only things that get to feast in Nikko, too! The area is also known for its incredibly tasty gourmet food, like the local specialty known as yuba, or tofu skin. There's also a staggering amount of amazing souvenirs you can buy home to remind you of your visit.

As a service to our readers, we've gathered some of Live Japan's foreign editing staff and compiled a list of six souvenirs they've personally tried and would recommend!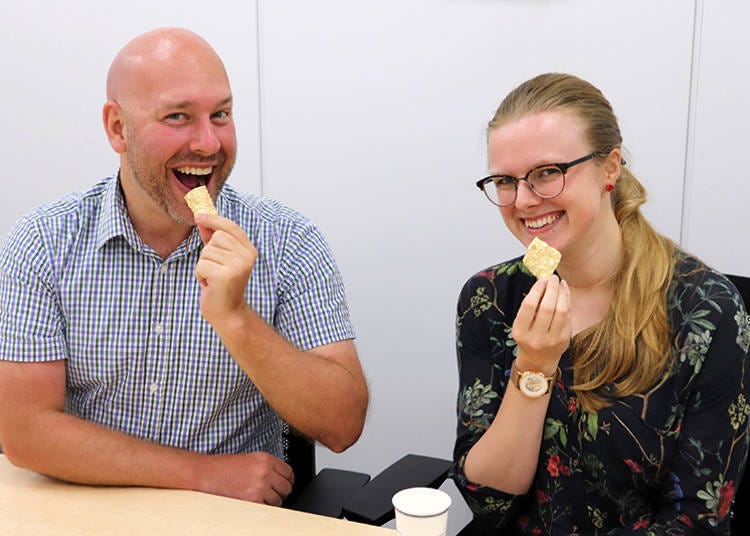 The four editors who will be taking us through their top souvenir selection are: Timothy from the United States, Cassandra from the United Kingdom, Park from South Korea, and Zhang from Taiwan. You might notice how they have distinct preferences and recommendations due to national or cultural differences! Without further ado, then, let's see what our editorial staff have to say about their personal experiences!
1. Yuba Kashi: Made with Nikko yuba from long-time snack shop Fujiya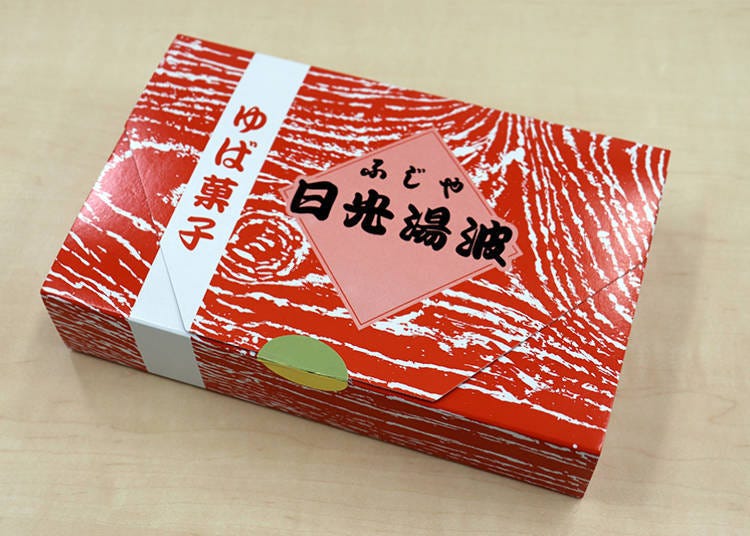 Yuba is one of Nikko's most recognizable souvenirs. Another region that is famous for their yuba is Kyoto, but the way the two souvenirs are written in Chinese characters is slightly different. Yuba refers to a snack that is made from the top layer of skin that forms on the surface of heated soy milk. In Kyoto, this layer is pulled up from the edges and shaped like a leaf, whereas Nikko's yuba is pulled up from the middle and then layered to form wave-like creases, which is why Nikko's yuba is written with the character for "wave"!

Fujiya is a Nikko yuba specialty shop with a long history. Needless to mention, they've accumulated a wide range of yuba-based products throughout these years. However, our top recommendation for international visitors is the "Yuba Kashi (670 yen, tax included)"! Compared with other yuba products, the expiry date for this item is about 10 days longer than usual, a subtle detail travelers are bound to appreciate. This item comes highly recommended by Park, who remarks: "You'll want something like this if you need a souvenir that showcases local specialty products!"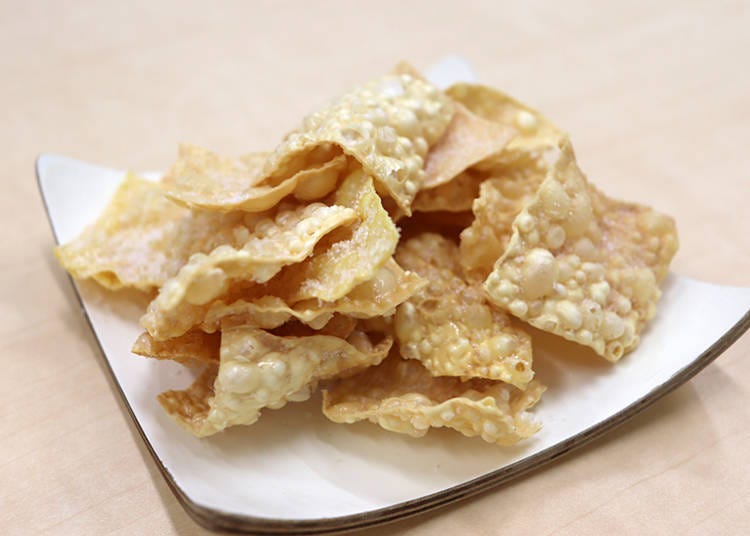 The aromatic fragrance is what hits you first when you open the package. As people pick up a piece of the tidbit and put it into their mouths, curious expressions often quickly turn into one of pleasant surprise. "It's so sweet for something that looks like a rice cracker!" is one of the most commonly heard comments about this snack. After all, the surface of the snack is seasoned not with salt, but sugar!

Timothy: "It's thin and as light as a piece of paper, with a soybean fragrance! From a Westerner point of view, this is a good item to consider when you feel like picking up a Japanese snack. These are neither potato chips nor rice crackers and will provide great satisfaction for something so light!"

Cassandra: "Westerners aren't used to the taste of rice crackers and tend to think they have a fishy taste, but this is kind of like between candy and rice crackers, so it'll be perfect for an introductory snack!"

Park and Zhang agree, adding, "They're crispy and great to eat while watching TV!" They just love the yuba's lovely soybean fragrance and how crunchy the snack feels in their mouth. This snack is also great with tea or as a treat for the kids!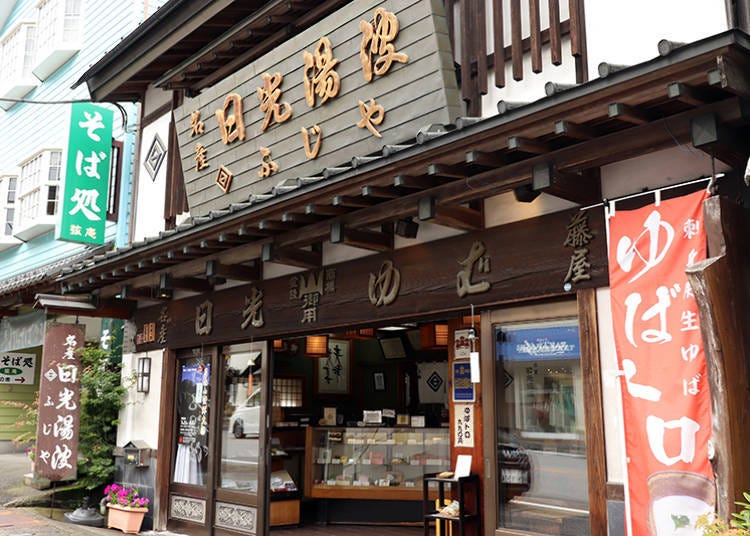 日光湯波ふじや

Address

809 Shimohatsuishi-machi, Nikko-shi, Tochigi-ken

Phone Number

0288-54-0097

Hours: 8:30 a.m. – 5:30 p.m.
Closed: Once a week on an unfixed day
2. Nikko Rusk: Featuring the cutest packaging this side of Nikko, presented by Ganso Nisshodo
Another recommended souvenir is the "Nikko Rusk", a snack that's wrapped in flamboyantly colorful packaging. It fully utilizes the snack-making technology of old-time traditional Japanese sweets shop, Ganso Nisshodo, and is an approved offering at Nikko Tōshō-gū shrine.

Boasting a total lifetime sales of more than one million pieces, this popular product is known for having a chocolatey taste that seems to have seeped into the bread itself. Flavors include strawberry chocolate, bitter chocolate, sugar, maple, matcha, and many others. You can buy them in sets that come with bags or boxes as well. The snacks can usually last about two months from the date of purchase.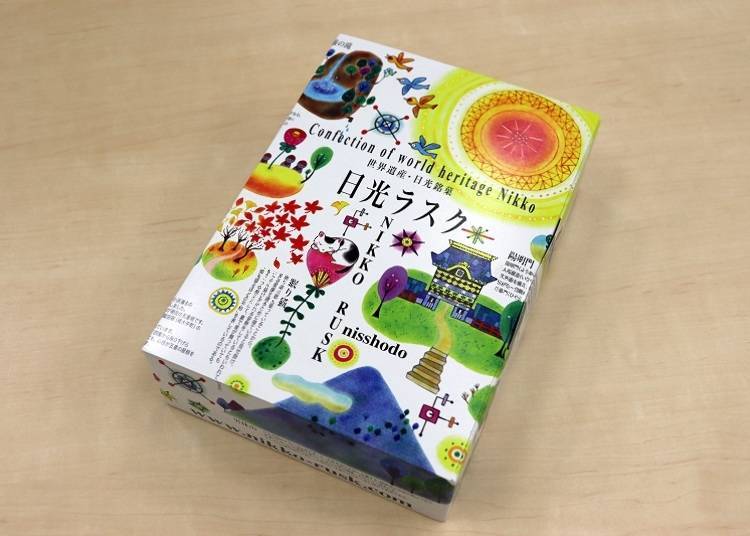 On this occasion, we bought a "3-Piece Nikko Rusk (680 yen, tax included)" set that comes with sugar, maple, and matcha flavors - flavors that are apparently very popular among foreign tourists! Inside the package, the rusks have been packed separately according to flavor. Artwork of Japanese icons such as the three wise monkeys and sleeping cats are featured on the cover, and this uniquely Japanese design along with the ease of distribution it offers are major reasons why it's one of our top picks!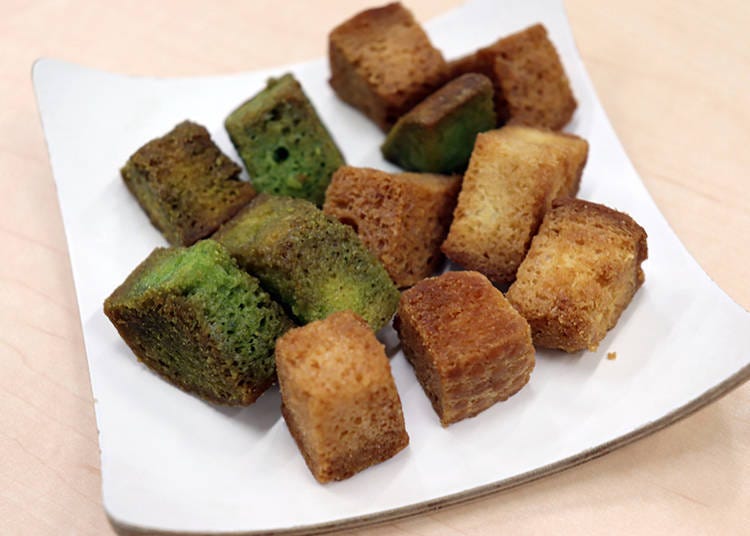 Timothy and Cassandra prefer the sugar flavor, Park is all about the matcha, and Zhang likes the maple flavor best of all, reflecting their individual preferences. On the whole, the moderate sweetness and pleasant aroma are well-received by all four editors.

Zhang comments, "This'll go well with milk! I can totally imagine having it for breakfast." Timothy also highly recommends the product, saying, "I don't think I've ever heard of anyone not liking or hating rusks. The simple flavor with a slight Japanese twist makes it an appropriate present for almost anyone you can think of!"
3. Nikko Aoi Three Wise Monkeys Monaka: An iconic Japanese mascot by Ganso Nisshodo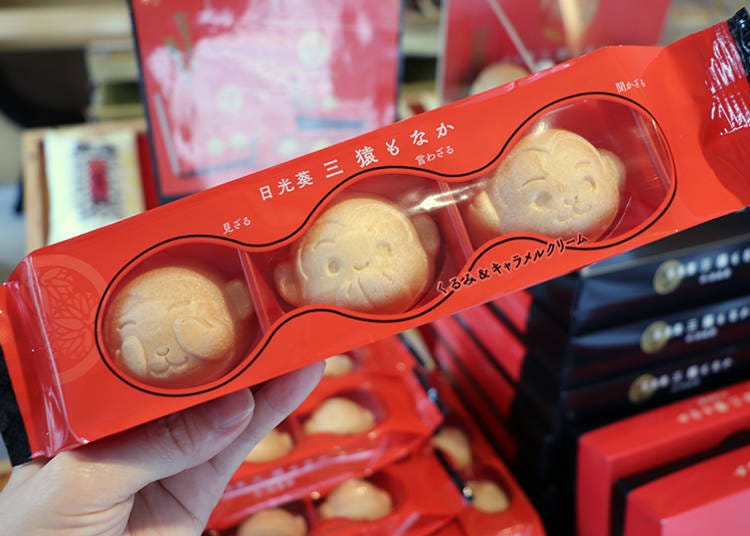 Here's another snack you can get from Ganso Nisshodo, the "Nikko Aoi Three Wise Monkeys Monaka (432 yen, tax included)" - a set of three. This snack is modeled after Nikko Tōshō-gū's famous three wise monkeys that embody the maxim, "see no evil, hear no evil, speak no evil"!

As you can see, each wise monkey here is hiding either their eyes, mouth, or ears! The message behind this mascot snack is that impressionable young children should not be made to see, hear, or say anything bad. They should be nurtured only with pure things, so as bring them up as honest and upright adults. The message for adults? Don't focus only on another person's bad points, don't pry unnecessarily, and don't talk bad about others!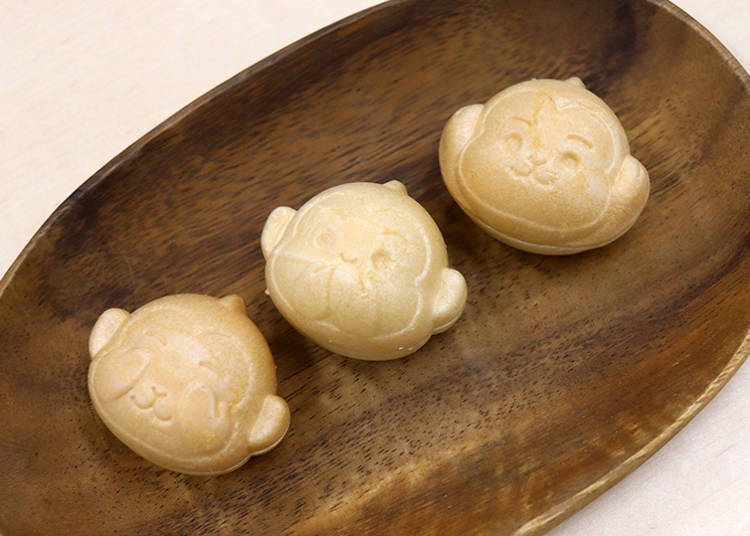 Monaka is a snack that features a thin outer skin and a hearty amount of red bean paste filling. Some people dislike the way the thin skin sticks to the teeth, and others may not like red bean paste, so you'll often find wildly divisive opinions about this snack. However, our editors believe this snack is an appropriate souvenir to bring home because of its unique three wise monkeys design. Also, the expiry date is often more than two months from date of purchase, which is definitely a reassuring buy for those wanting to bring them overseas at the end of their trip!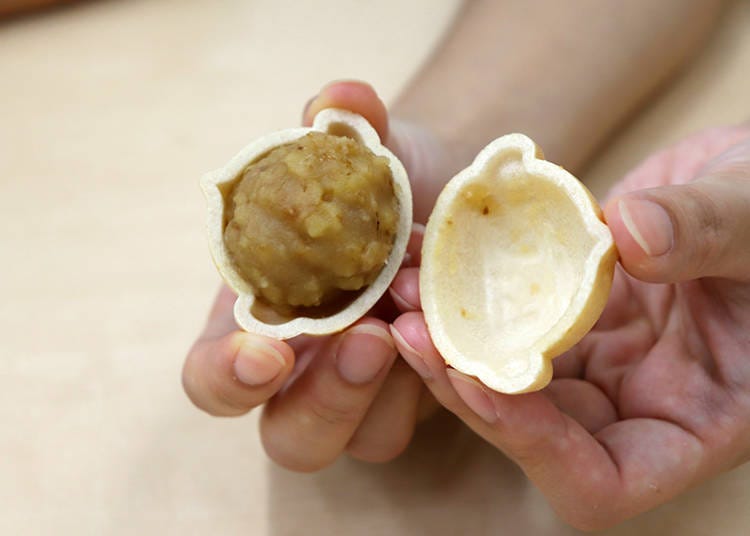 Red bean isn't the only filling being used for this set of snacks. You'll also find that it comes with walnut & caramel cream flavor. "It's so fragrant!" gushes Park. "The walnut filling has a great texture and the more you chew it, the better the aroma becomes! It's kind of interesting to bite into something different when you're expecting to taste red bean paste, too. And who can say no to such cute monkeys? Personally, I'd be overjoyed to receive something like this as a souvenir!"

Cassandra adds, "The filling is just delicious! Even one piece is enough to satisfy me." Looks like the generous fillings of walnut and rich caramel cream is a major selling point for this snack! Because each piece is generally good enough for one person, you can consider getting a few sets to distribute piecemeal among groups like workmates and such.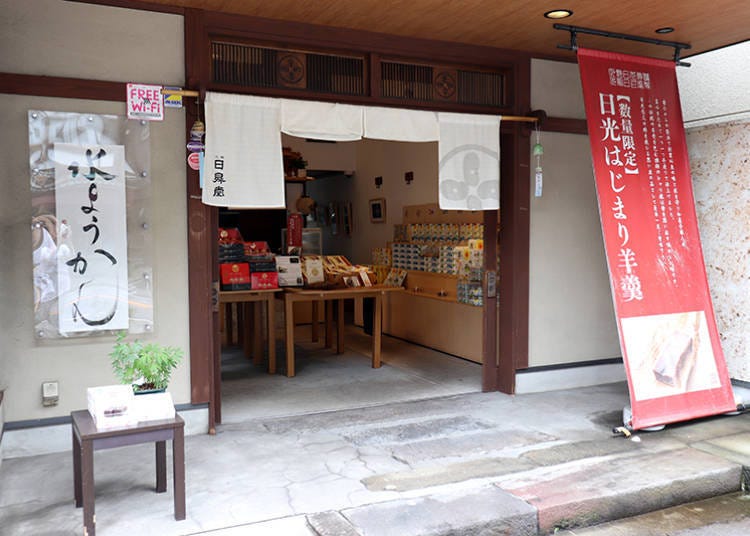 元祖日昇堂 日光本店

Address

1038-1, Kamihatsuishi-machi, Nikko-shi, Tochigi-ken

Phone Number

0288-53-0534

Hours: 11:00 a.m. – 4:00 p.m.
Closed: Wednesdays (Tuesdays and Wednesdays from December to February)
4. Ieyasuko no Hitokire Castella: Gorgeously gilded castella from Nikko Castella Honpo
Nikko Castella Honpo's gilded castella is yet another a popular Nikko souvenir. During the Edo period (1603 to 1868), as a token of gratitude for the Tokugawa government for granting more concessions to them than other countries, officials from the Netherlands would present castella cakes to the Shogun every time they visited Edo. It is believed these cakes were offered to the gods every time a lantern is dedicated to the Tōshō-gū shrine as well. Nikko Castella Honpo's famous castella cakes were created with the purpose of drawing attention to that interesting background.

The photograph depicts the "Ieyasuko no Hitokire Castella" honey/matcha flavors, each going for 230 yen including tax. These gilded cakes have been cut into portions suitable for single consumption and are popular souvenirs for colleagues and friends alike!
The golden flakes used to gild the cakes takes inspiration from Tōshō-gū's golden Yomeimon Gate, and the matcha castella is likewise designed after the Cedar Avenue of Nikkō. The best-before date of all castella cakes are about 10 to 14 days after being shipped from the factory.

Timothy: "They're so fancy and posh! Although soft, they've got more density than the cakes Westerners are generally used to. I like the chewy texture and how it's not too sweet as well!"
Cassandra: "It feels like something special even when I'm buying it for myself."
Park: "Japanese cakes have a reputation for tasting great. This one even comes gilded with gold flakes, making it a great choice for a gift to someone else."
Zhang: "The gold flakes make the cake feel so classy, and I love how soft and moist it is. This is my top recommendation for sure!"

Looks like the cakes are pretty high on everyone's recommendation list! Here's a special tip to make the matcha cake even more delectable: Slice it into half and then sandwich a scoop of vanilla ice-cream in between! This is, in fact, one of the ways to enjoy the cake that's recommended by the shop itself, so if you're giving this souvenir to someone as a present, don't forget to tell them about this tip as well!
5. Tsubutsubu Strawberry Baumkuchen: A strawberry-licious snack also available at Nikko Castella Honpo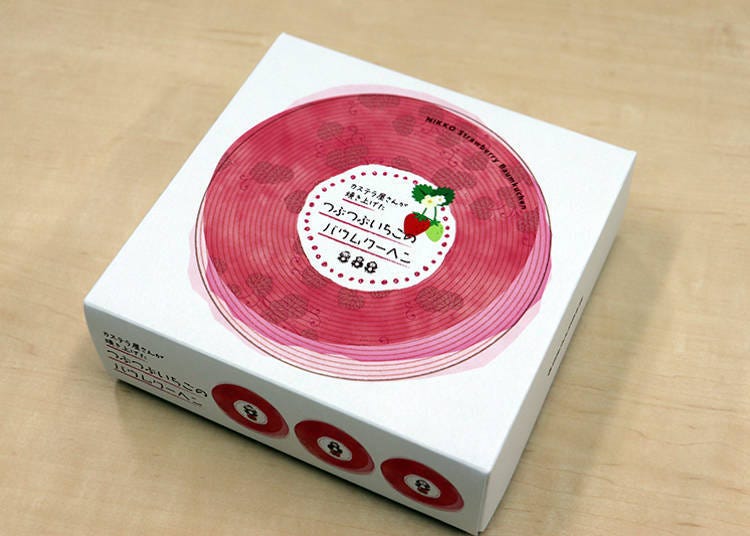 Another recommended souvenir from Nikko Castella Honpo is the "Castella Chef Creation - Tsubutsubu Strawberry Baumkuchen" going for 1,400 yen including tax. Made with Tochigi wheat and Tochigi Kanuma's branded premium Sanrokuran eggs, the baumkuchens are made with a special focus on food safety, which is why every single layer of the pastry has been carefully hand-baked by experts of the craft!

Tochigi is well-known as a producer of strawberries, and the baumkuchen has been making a comeback in popularity recently, so a souvenir that combines both elements is basically the best of both worlds. Its long best-before date of about 30 days after being shipped is a plus point as well. Definitely enough time for most travelers to return to their countries and start distributing souvenirs!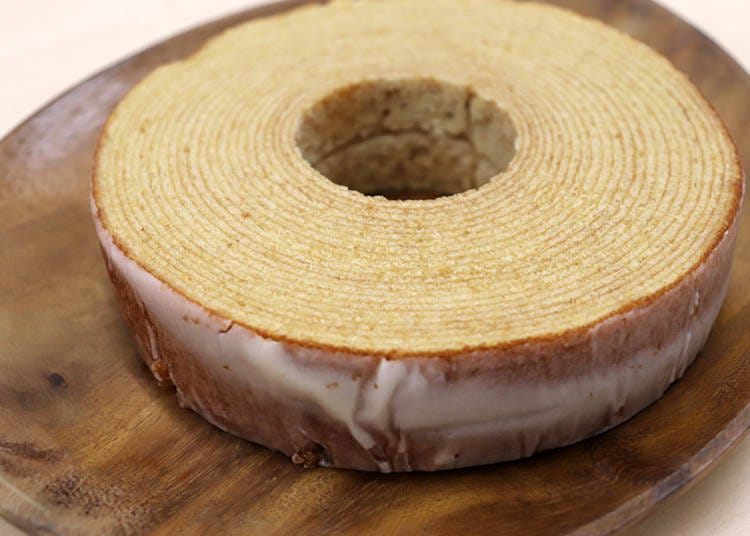 When you take the cake out from its box, the first thing you'll notice is the sweet and pleasant fragrance. "The strawberry fragrance is so strong!" Tim exclaims. "Tochigi is a strawberry production area, right? I would love to introduce that fact to my friends who don't know about Japan." Zhang is similarly enamored with the snack. "Taiwanese love Japanese strawberries, so this is definitely something I'd recommend to them!"

According to Cassandra, who is a big fan of baumkuchen, "Dryer snacks like rusk aren't very appealing to the English, because we tend to be more fond of moist cakes like baumkuchen. This will be my top recommendation for sure!"

The shop suggests heating up the baumkuchen in a microwave oven first before eating it with some vanilla ice-cream. When told about this, our editorial staff nod in understanding and agree with the suggestion. Show that you really care by letting your friends know about this excellent way to enjoy the pastry more when you present it to them!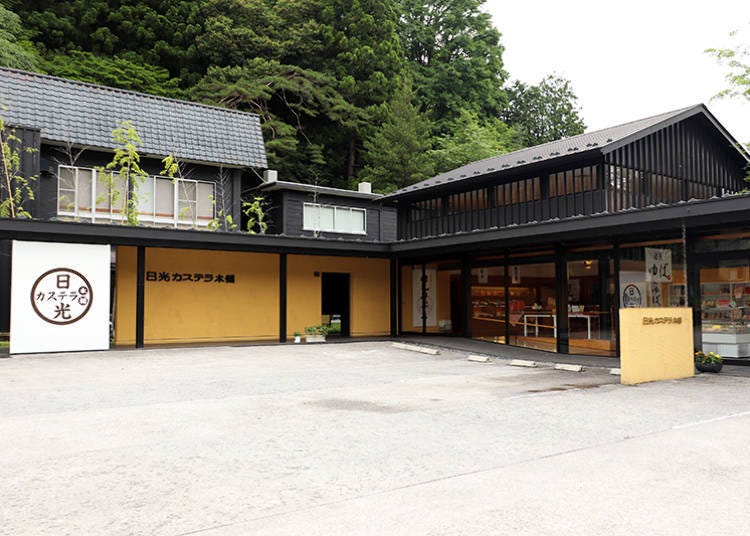 日光カステラ本舗 本店

Address

1-8 Hon-machi, Nikko-shi, Tochigi-ken

Phone Number

0288-53-6171

Hours: 9:00 a.m. – 5:00 p.m.
Closed: Open daily (*May have temporary rest days)
6. Three Wise Monkeys Charm: Absolute must-get when visiting the Tōshō-gū Shrine!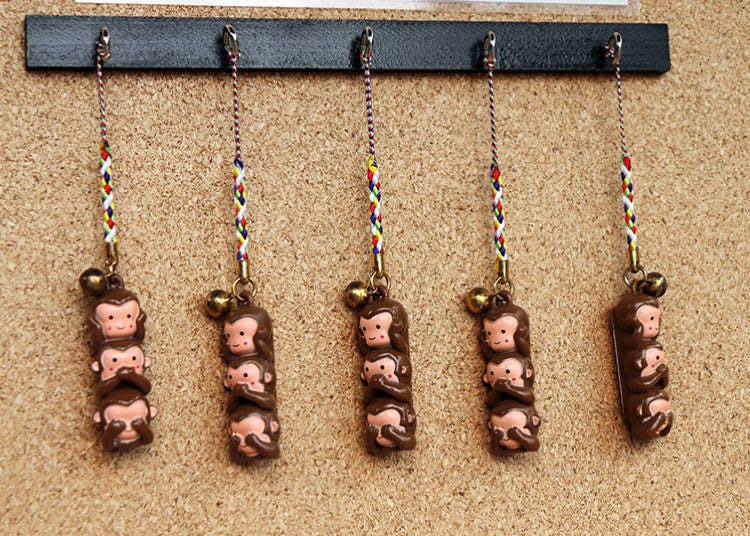 If you're visiting the Nikko Tōshō-gū, you have to check out the Three Wise Monkeys Charm, a unique souvenir that's basically a charm based on the three wise monkeys. There are a few different types available, but our recommendation is the Three Wise Monkeys Charm (Keychain) featured in the photograph. Each keychain will set you back 300 yen including tax and are being sold on temple grounds, so consider it a souvenir worth acquiring during a shrine visit! Even the chief priest of the temple highly recommends this popular item!

Regarding this Three Wise Monkeys charm that contains blessings for good health, Park says, "I often see them being featured on blogs and such. The Three Wise Monkeys are what comes to mind when people think of Nikko, so I'd recommend getting this as a souvenir." Zhang adds, "The Three Wise Monkeys are quite recognizable in Taiwan as well, so this'll be a perfect souvenir to buy for friends back home!" You can really tell why the keychain charm featuring the adorable Three Wise Monkeys is so popular among people everywhere!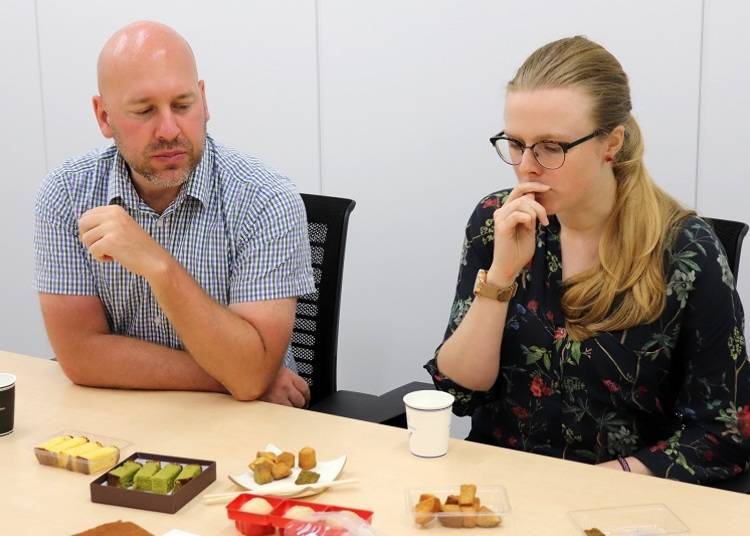 We hope these six recommendations from Live Japan's editorial staff gave you some ideas for your souvenir shopping. Our foreign editors have thoroughly brainstormed and contemplated about the matter to ensure that all items being highlighted show off the best of what Nikko has to offer. Of course, there's a wide range of other interesting souvenirs available as well, so why not make it your goal to go around hunting for what best suits your needs when you're visiting Nikko? Souvenir hunting can be an entire adventure by itself, after all!

Written by: Naho Jishikyu. English translation by: Huimin Pan.
*This information is from the time of this article's publication.
*Prices and options mentioned are subject to change.
*Unless stated otherwise, all prices include tax.