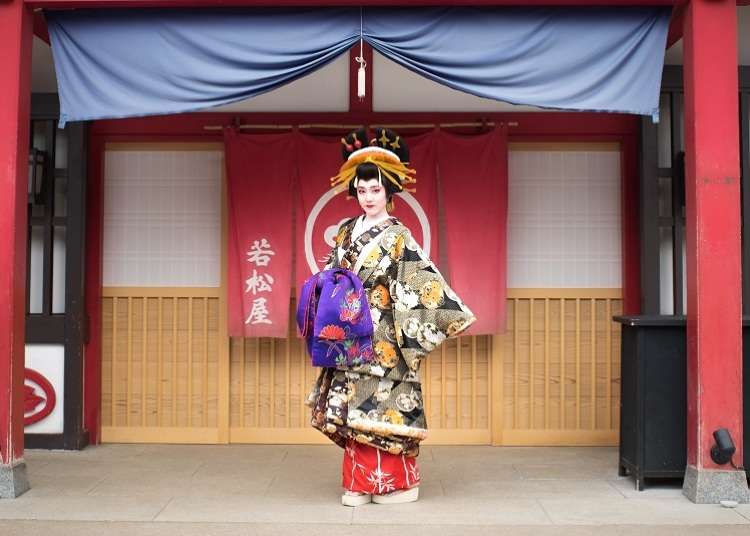 Edo Wonderland Nikko Edomura theme park is just north of Tokyo, located near the historic village of Nikko. Fun for the whole family, visitors can travel back in time to experience life in an Edo Era town.

Here are the top "experience spots" that you can't miss at Edo Wonderland!
What kind of place is Edo Wonderland Nikko Edomura?
Edo Wonderland Nikko Edomura is a theme park that realistically recreates an Edo Era townscape so visitors can experience the culture and lifestyle of the time.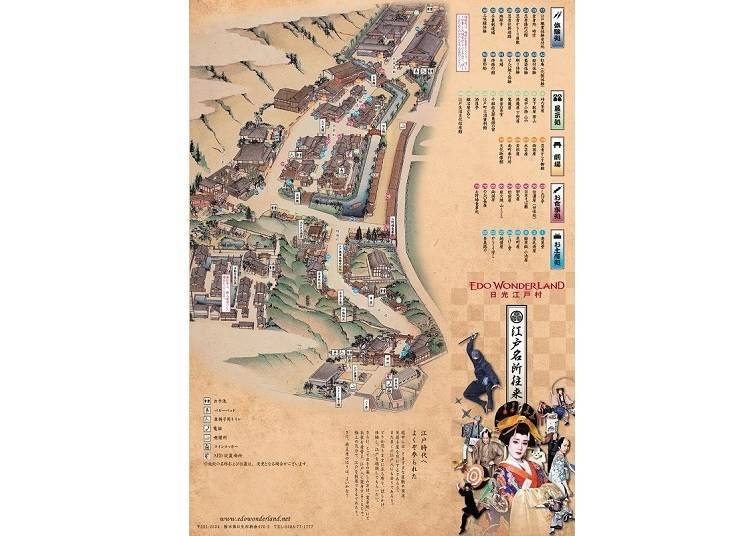 ⓒ江戸ワンダーランド
The park is divided into five areas: highways, post towns, commerce districts, samurai residences, and ninja villages, and each is full of character. You can enjoy a full day in the Edo town taking part in activities like transforming into a resident, practicing ninja skills and samurai training, watching theater, and eating foods of the era.

Visitor guides are available in Japanese, English, Chinese (Traditional / Simplified), Korean, Thai, Russian, Vietnamese, and many other languages.
Convenient free shuttle bus from JR Nikko Station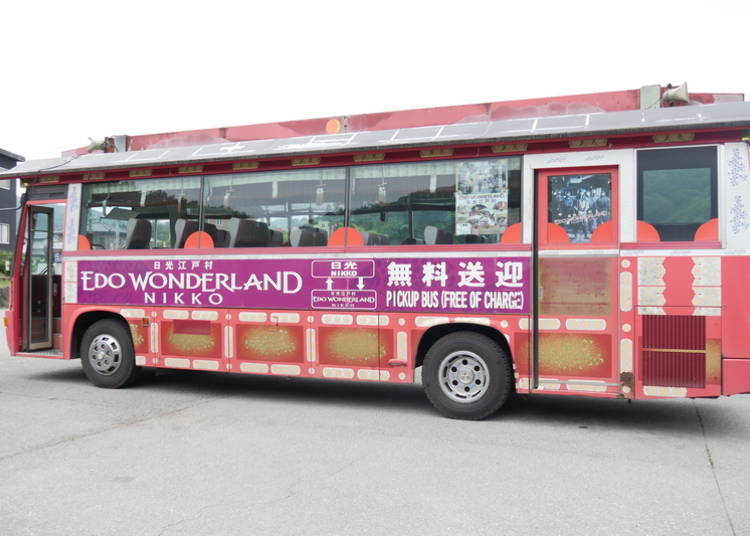 Taking the free shuttle bus from JR Nikko Station is highly recommended. It's about a 30-minute ride, and three buses depart from the station daily at 10:00, 11:40, and 13:25 (Please check the official website for details as the schedule may change.) The bus also goes to Nikko Toshogu Shrine, so you can easily move from one sightseeing spot to another.
Arriving at Edo Wonderland! First, buy tickets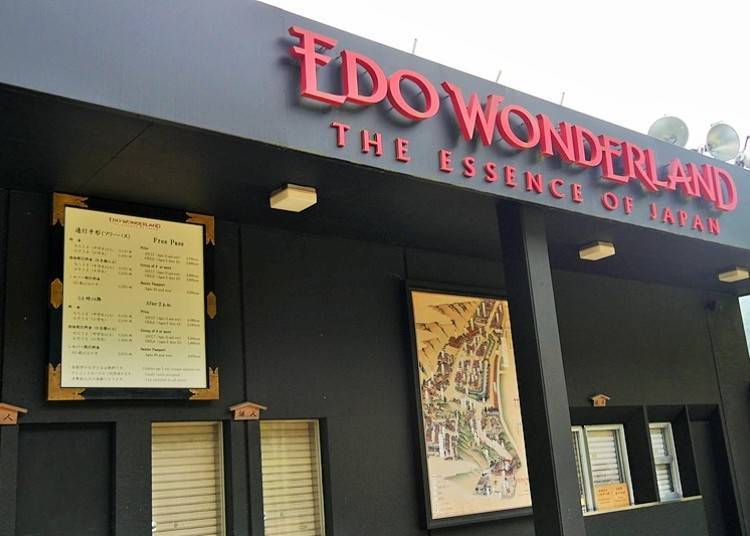 The ticket office is located to the right of the entrance. A "One-day Bill" is 4,700 yen for adults and 2,400 yen for children.

For those who just want to enjoy a leisurely afternoon (after 14:00, 13:00 in winter), "Half-day Bills" (4,100 yen for adults and 2,100 yen for children) may be purchased. Check the official website, as other 10% discount tickets are also available.

There are coin lockers next to the ticket office so you can safely and conveniently leave your luggage.
Foreign tourists using the "NIKKO PASS all area" get a discount on the entrance fee!
Tobu Railway offers two types of discount tickets for foreign tourists in the Nikko - Kinugawa Onsen area.

One, the "NIKKO PASS all area," allows transport on the Chuzenji Lake cruise boat and Akechidaira ropeway in the Oku Nikko area and free passage on the Kinugawa Onsen - Edo Wonderland circuit bus for 4 days.

With a "NIKKO PASS all area," the admission fee for Edo Wonderland is discounted to 4,230 yen for adults and 2,160 yen for children.

The pass costs 4,520 yen in summer (Apr. 20 – Nov. 30) and 4,150 yen in winter (Dec.1 to Apr.19). It's great for fully enjoying the Nikko area!
A townscape stright from the Edo period!
When you are ready, go through the entrance, called a "Sekisho."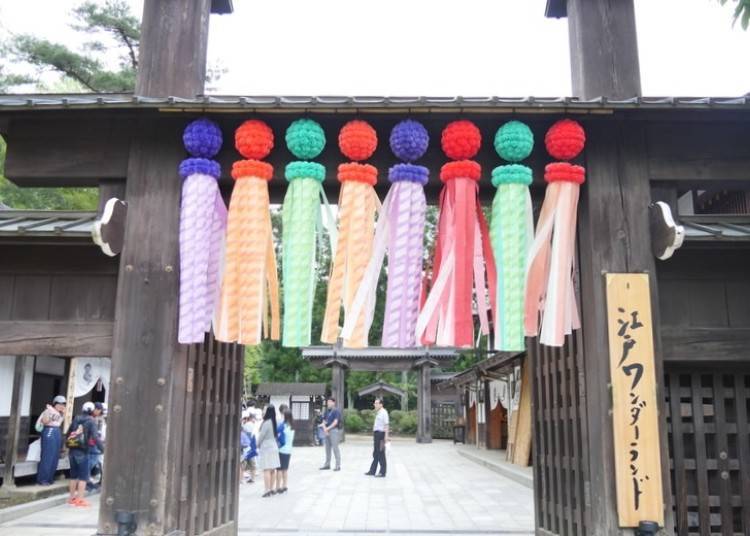 During our visit, the sekisho was decorated with bright, beautiful Tanabata decorations. Edo Wonderland celebrates various Japanese holidays throughout the year.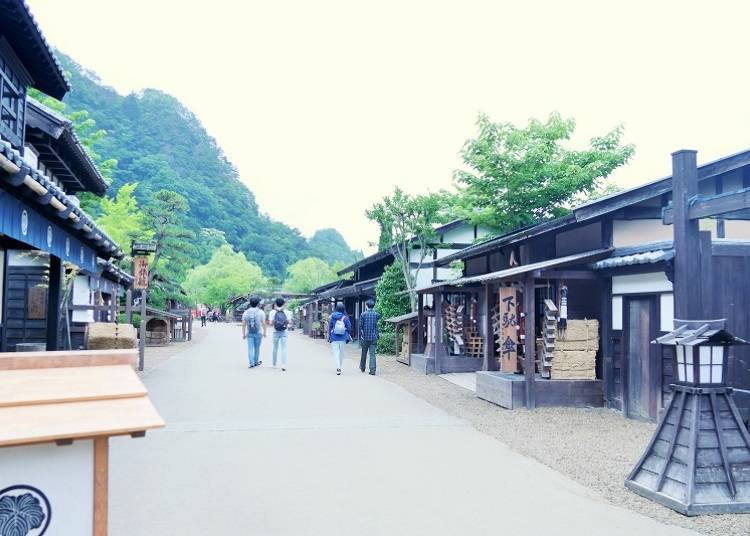 After walking through the gate, you'll be surrounded by amazing Edo Era buildings. They're so accurate you'll think you've actually been transported back to Edo times!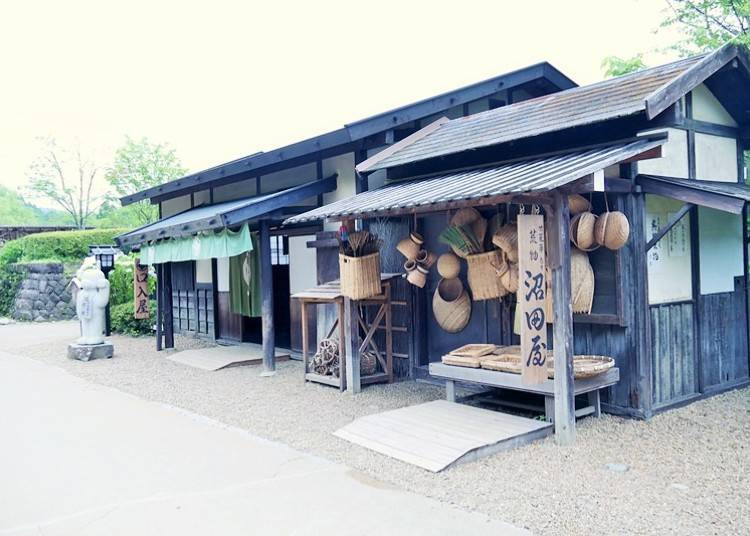 A full-scale shop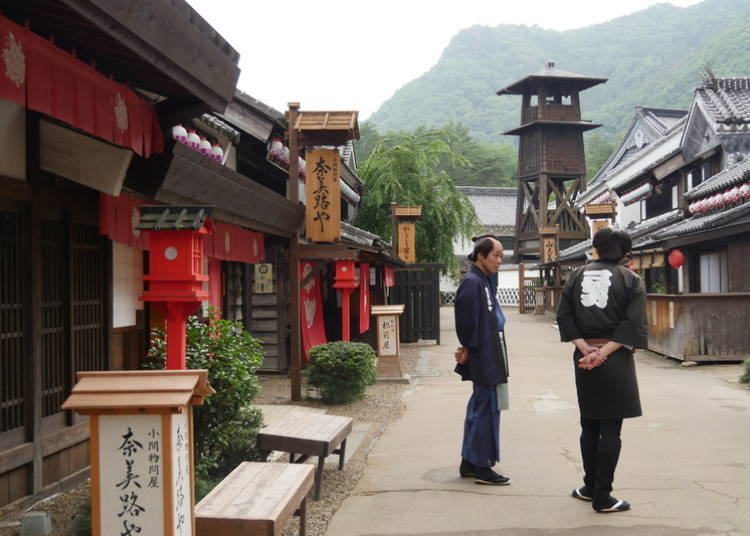 Authentically-dressed townsfolk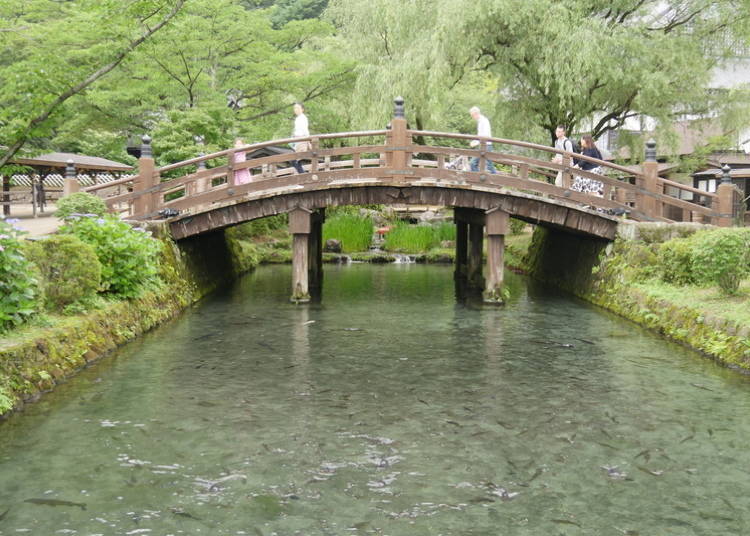 A bridge over the moat, and you can even feed the fish.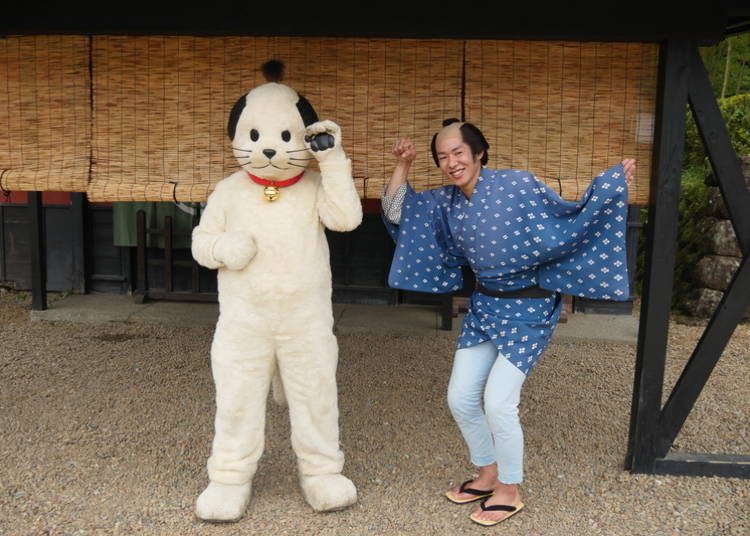 If you're lucky, you might bump into the mascot Nyanmage! Be sure to take a piture together.
Of course, you can enjoy Edo Wonderland by simply strolling around the park, but if you really want to experience Edo life, here are six excellent way to do so.

1. Jiku Kimono Rental (fee charged)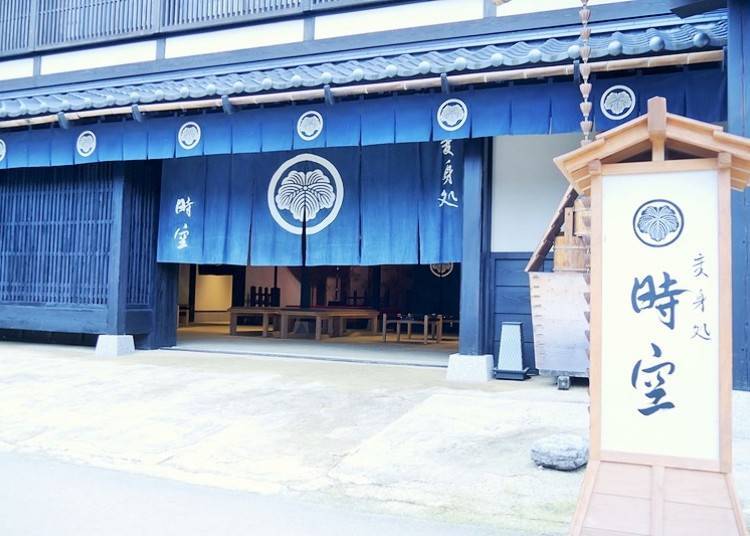 First, you need to visit the "Jiku Kimono Rental." Here you can pick your favorite costume from over 30 types and become an Edo denizen.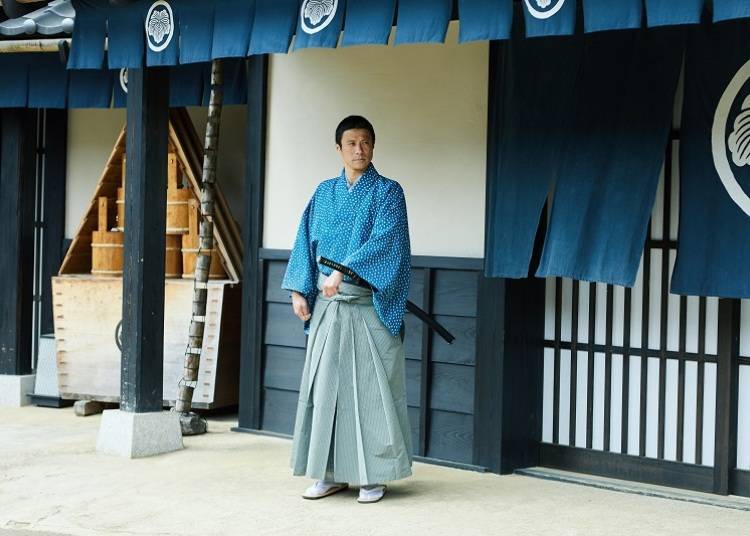 ⓒ江戸ワンダーランド
For men, you can become a Samurai (3,900 yen),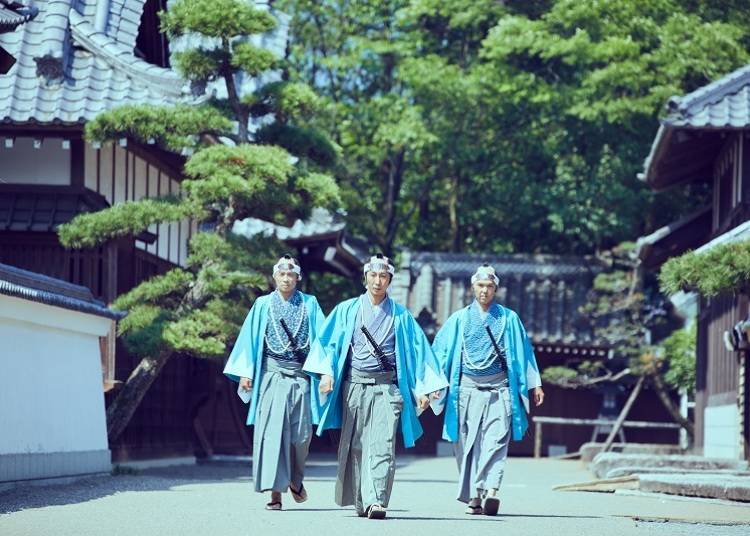 ⓒ江戸ワンダーランド
Shinsengumi (special police) (6,800 yen),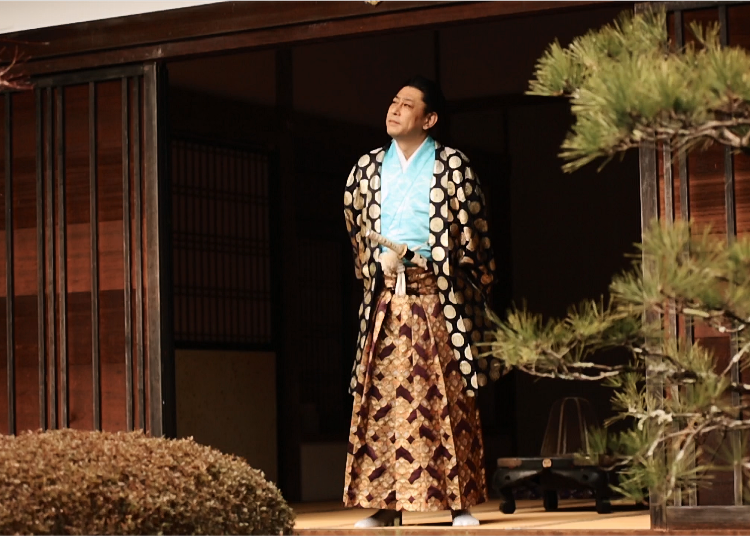 ⓒ江戸ワンダーランド
or a feudal lord ( 9,800 yen).

For women, you can become a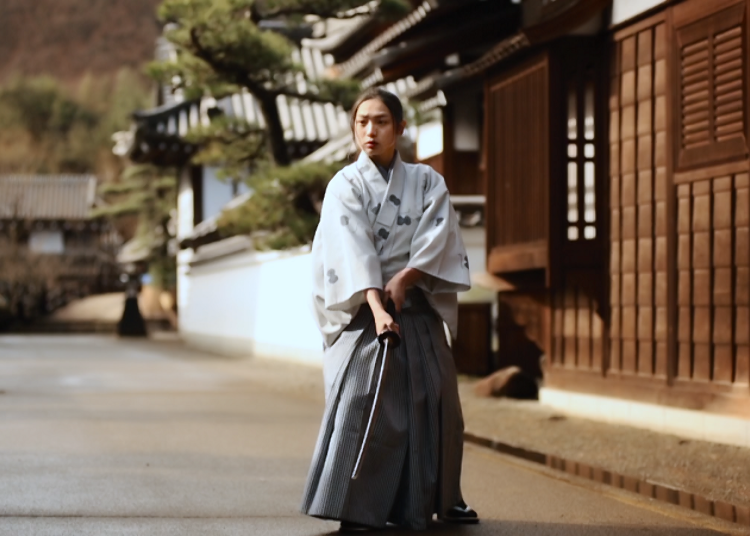 ⓒ江戸ワンダーランド
Swordswoman (3,900 yen),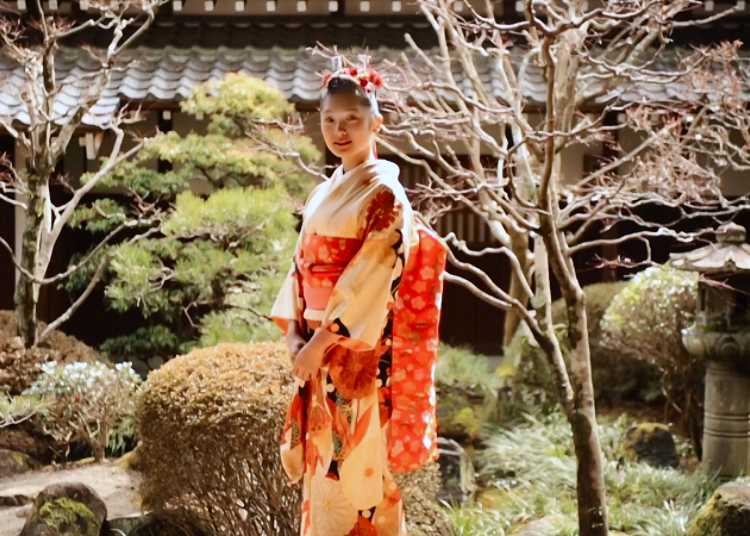 ⓒ江戸ワンダーランド
Princess (9,800 yen),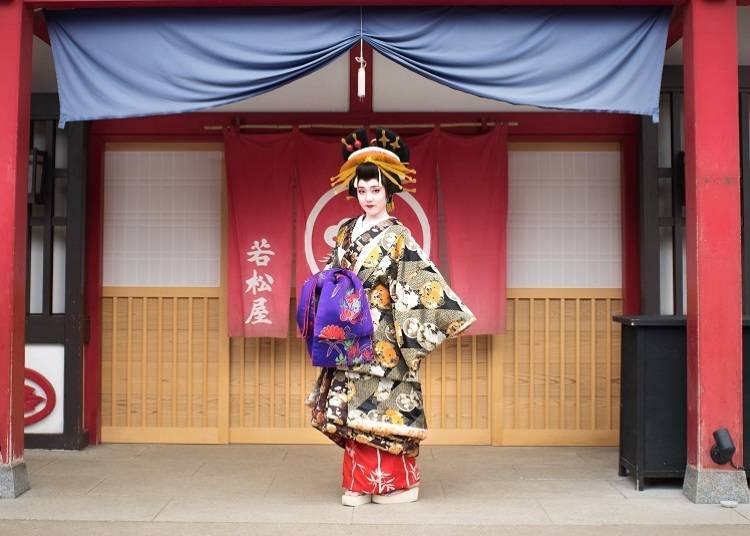 ⓒ江戸ワンダーランド
or for 30,000 yen, you can be transformed into an Oiran (courtesan). (One week advance reservation required, limited to one visitor per day, must be 18 years or older.)
Dressing up is easy. Select the costume of the profession you want to be, fill in the reception card, pay the fee, then change your clothes in the changing room.

Then, you can walk around the park freely. Why not make your visit and photos even more memorable!

2. Senbei Baking Experience (fee charged)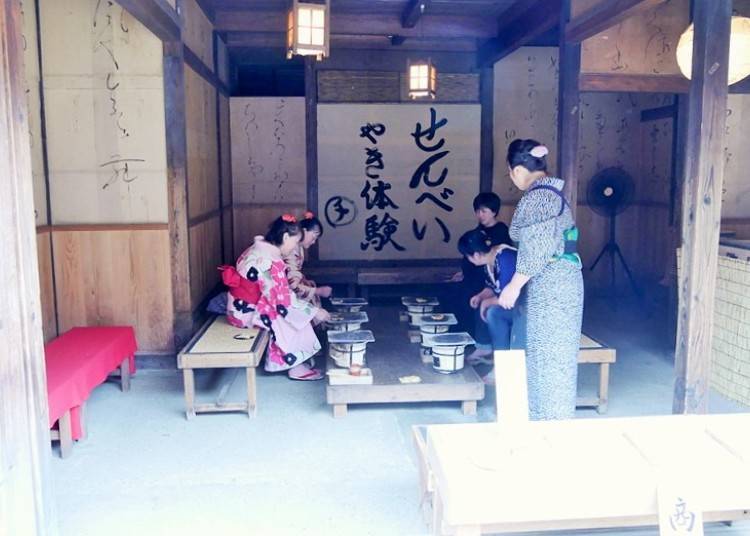 For only 200 yen per person, you can grill your very own Osenbei (Japanese rice crackers)!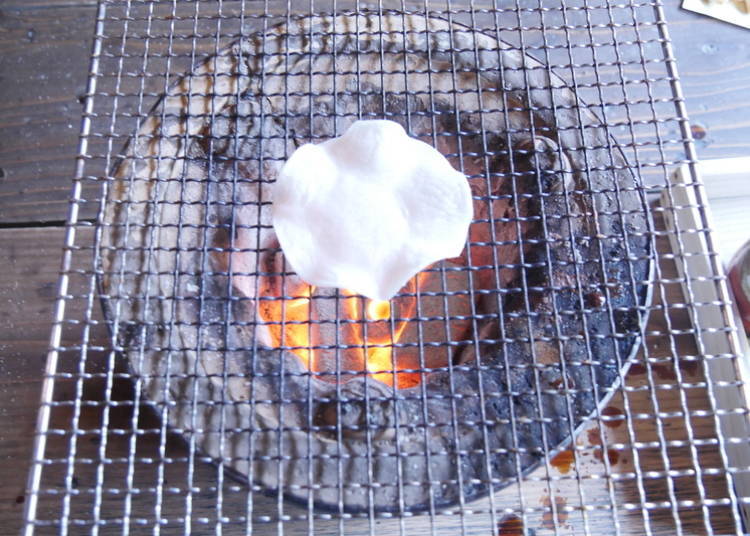 First, place the unbaked rice cracker on the grill and count to three before turning it over and baking the other side.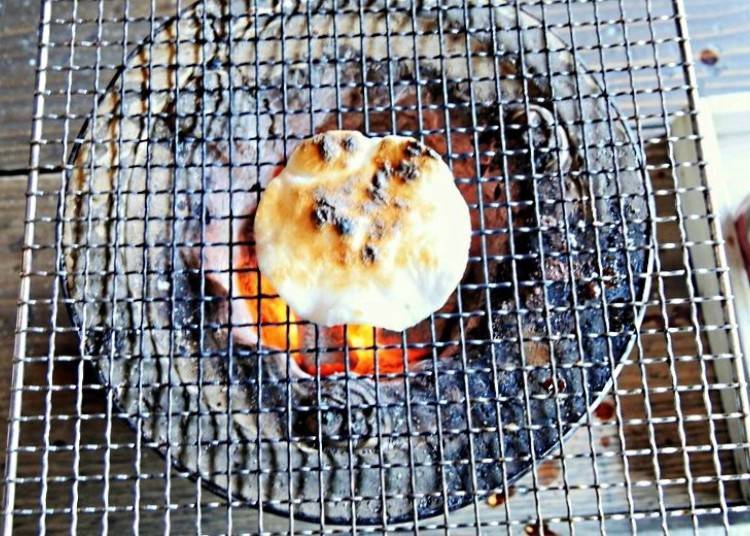 They burn easily, so be careful to turn it quickly. Sadly, the one pictured got a little bit burned...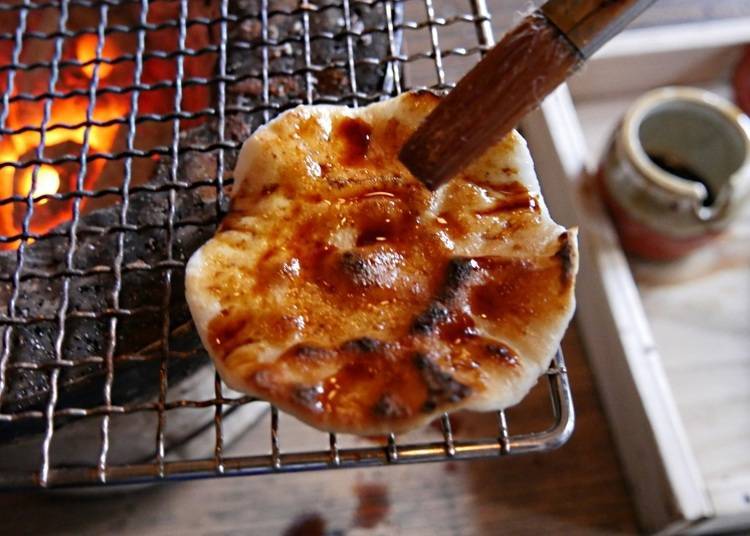 Repeat this two or three times, and when completed you have a suitably grilled rice cracker. Brush on soy sauce and it's done. Fresh rice crackers are fragrant, crispy, and delicious!

3. Ninja Training Hall (free of charge)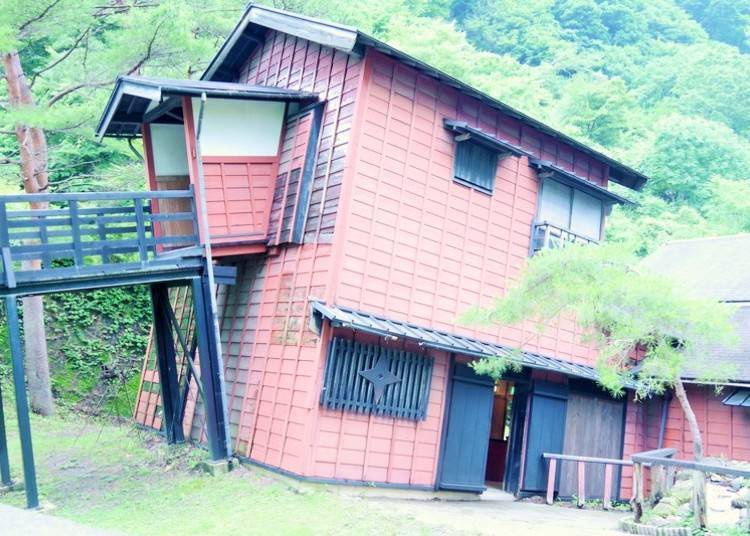 In the Ninja Training Hall. You can learn the arkane ways of the ninja.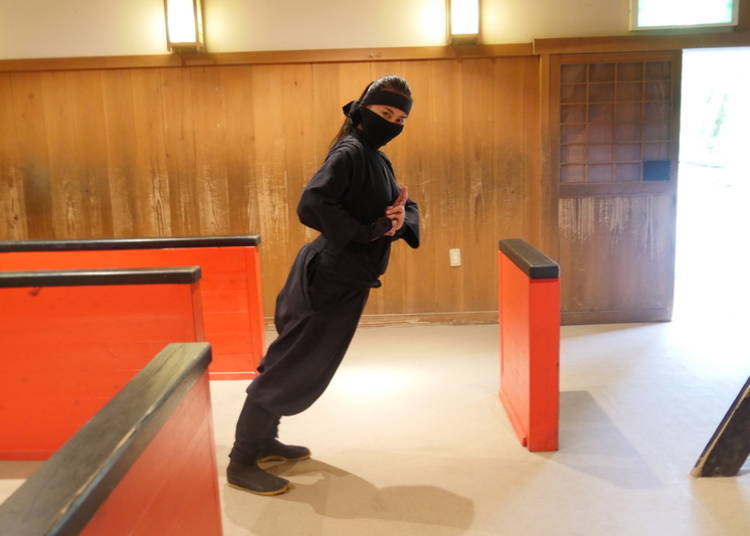 Once inside... a ninja stands diagonally! As a ninja in training, you'll wonder what kind of ninjitsu is being used! In reality, it's a clever optical illusion.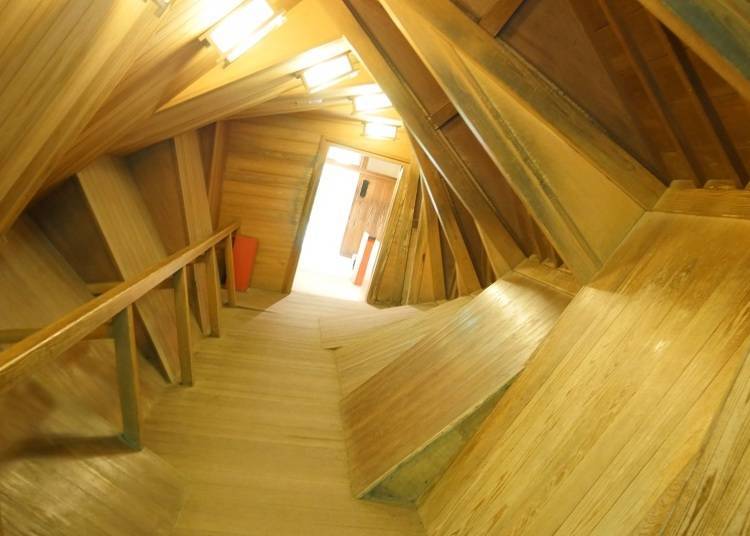 Ordinary people will lose their sense of balance and will hardly be able walk straight.... There's no doubt that the head and body will be confused by the sense of being pulled by gravity in a strange direction.

It may take some time to get used to it, but do your best to become a good ninja by training here!

4. Samurai Training Hall (free of charge)
The Samurai Shugyukan, located in the back of the park, is the place learn and train in the ways of the samurai.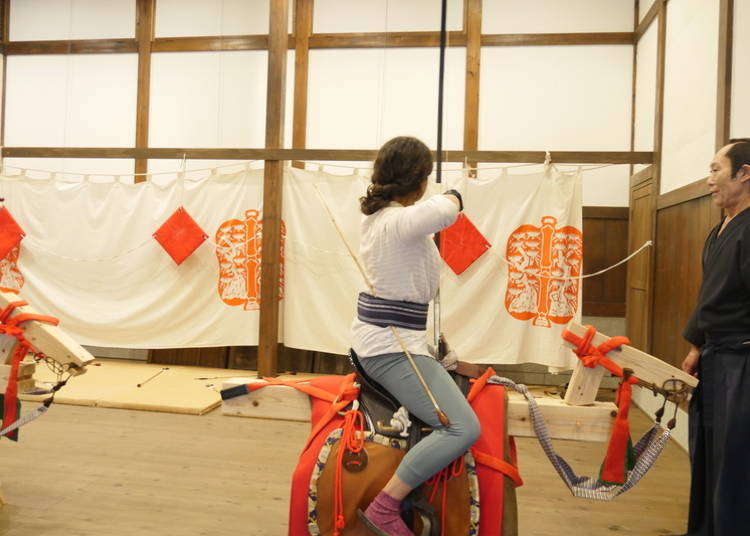 In the "Yabusame Experience," you can practice shooting arrows while riding a moving wooden "horse." Hitting the target is a more daunting task than you might imagine.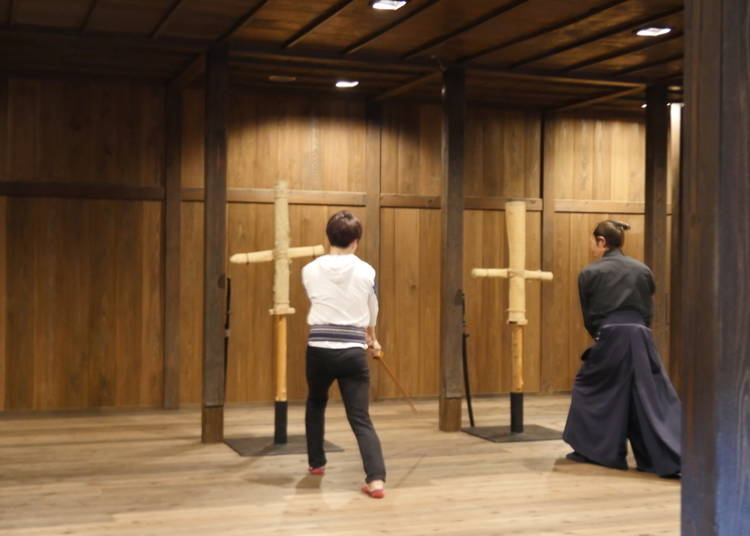 The "Swordsmanship Experience" give you the chance to learn about swordsmanship using a wooden sword. In addition to learning the proper technique for swinging the sword, you'll also learn how to wear it carefully and to have the correct posture and stance.

Here you will learn well the samurai way life.

5. (5) Edo Life Culture Hall (free of charge)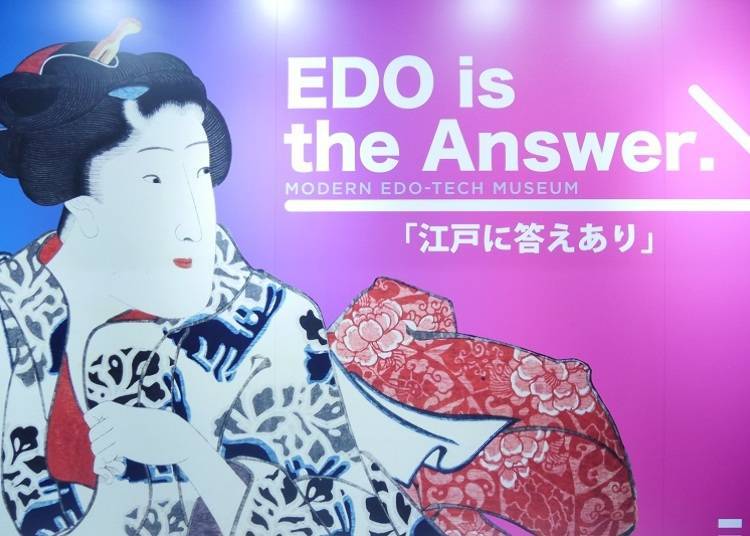 A museum displaying many items for daily living in the Edo Period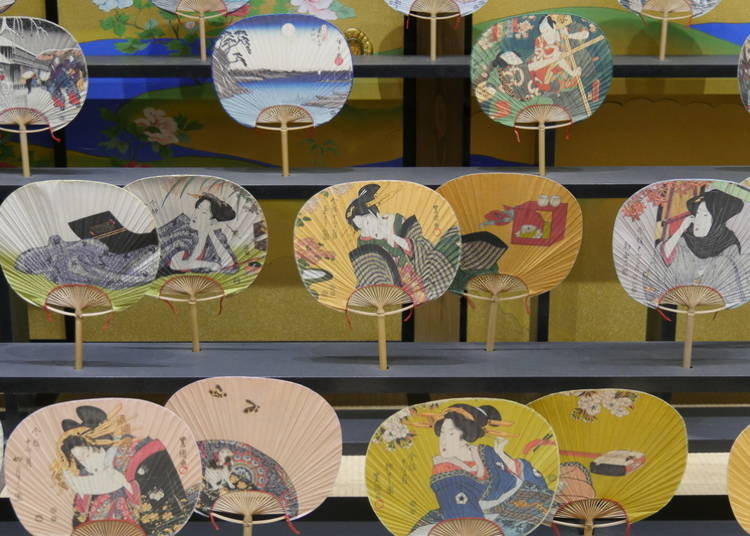 You can see amazingly delicate and artistic craftsmanship in cosmetics, cutlery, fans and Edo Kiriko (cut glassware).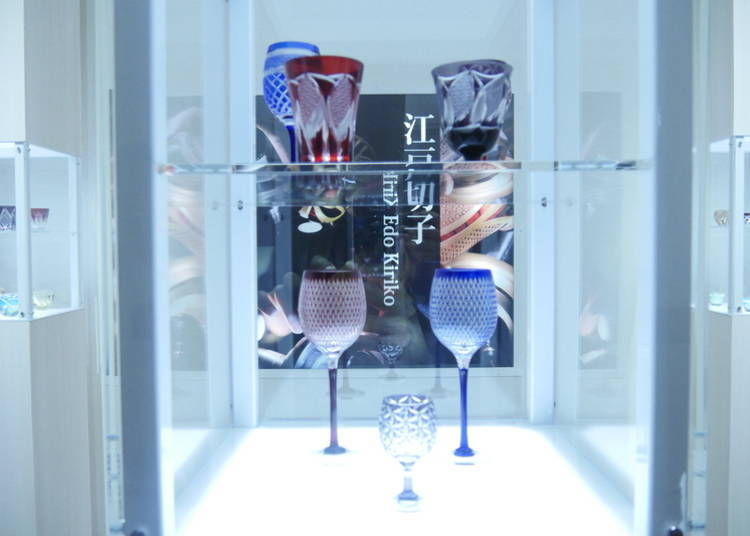 The presentation itself is a sight to behold, and the beautiful exhibits are even more striking and eye-catching.

6. Oiran Dochu (free of charge)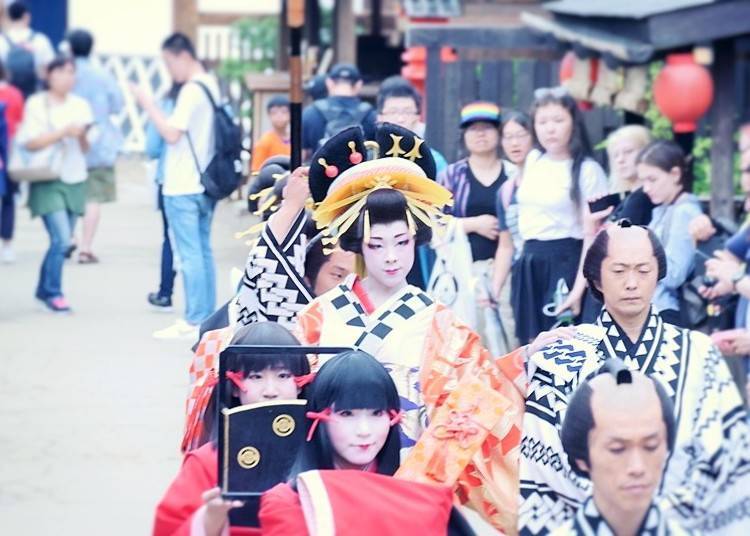 One of Edo Wonderland's highlights is the must-see Oiran Dochu parade. Attended by her groom, a high ranking courtesan walks through town to visit familiar customers. This spectacle only happens once per day in Edo Wonderland.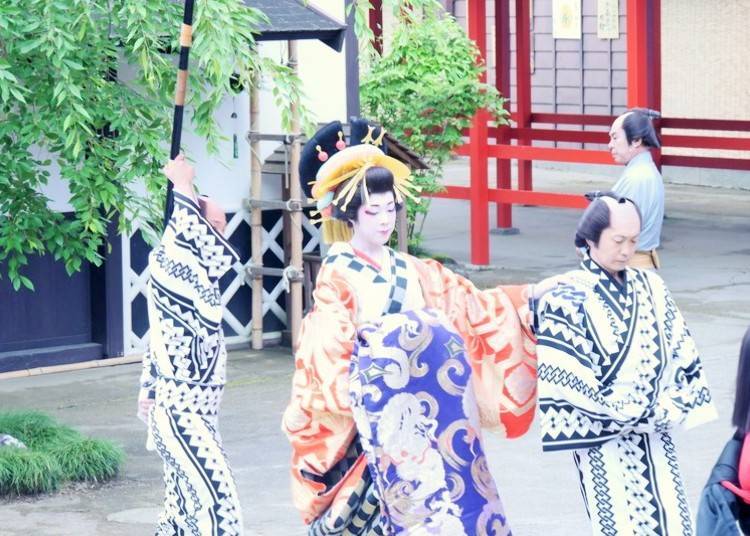 From the "Wakamatsuya," the oiran passes along the river in about about 20 minutes. Since the pathway is often crowded with onlookers, it's recommended to watch from the top of "Nipponbashi"!

You're certain to be fascinated by the demeanor and bearing of the oiran.
Another attractive aspect of Edo Wonderland is sampling Edo Era cuisine.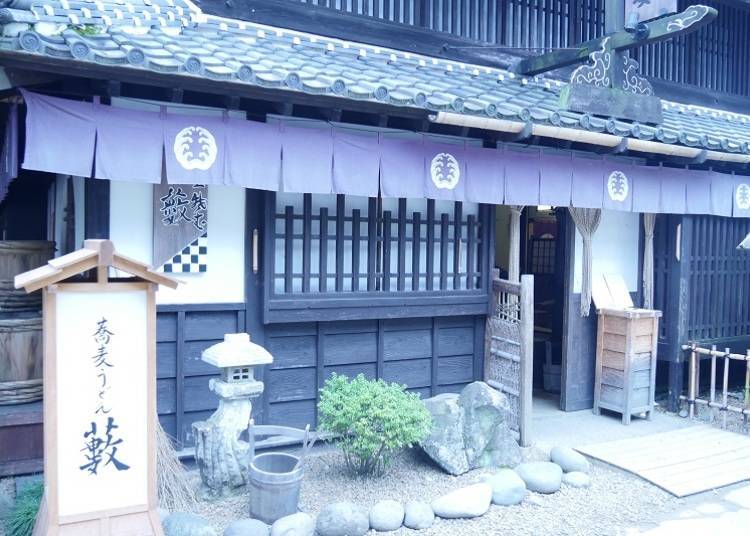 One popular restaurant is a Japanese-style soba noodle restaurant called "Yabu Soba." The noodle shop was a place for artisans to socialize.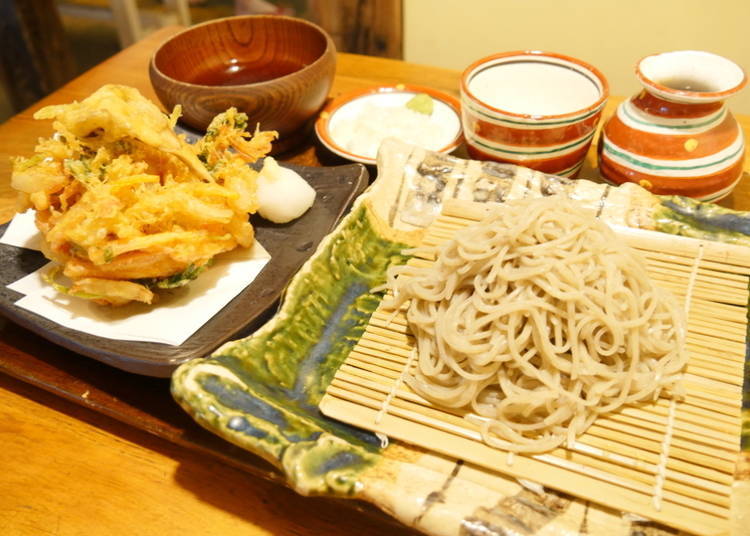 The specialty dish is "Edo Kakiage" (1,500 yen). Soba soup is made with miso and when soy sauce was not available, the miso was diluted and made into a soup.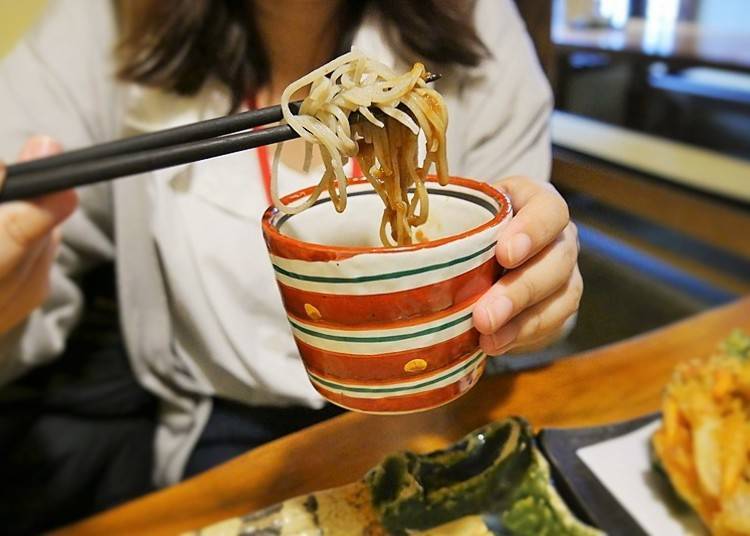 The miso and soba match exquisitely. The taste so delicious that you can even drink the soup on its own.

The kakiage is also crisp, hearty, and very satisfying.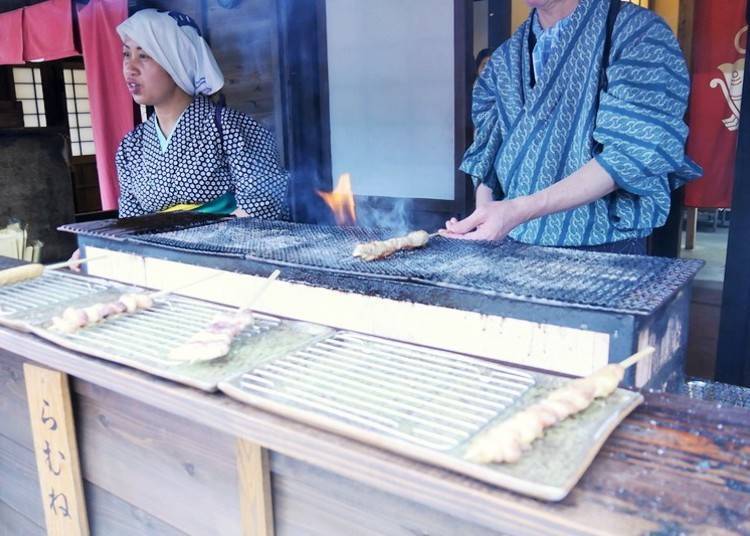 In Edo Wonderland, there are other restaurants and sweets to try, such as Ogushi Yakitori, which is popular for its photogenic three-color dumplings.
Interesting and cute! 3 popular souvenirs among foreigners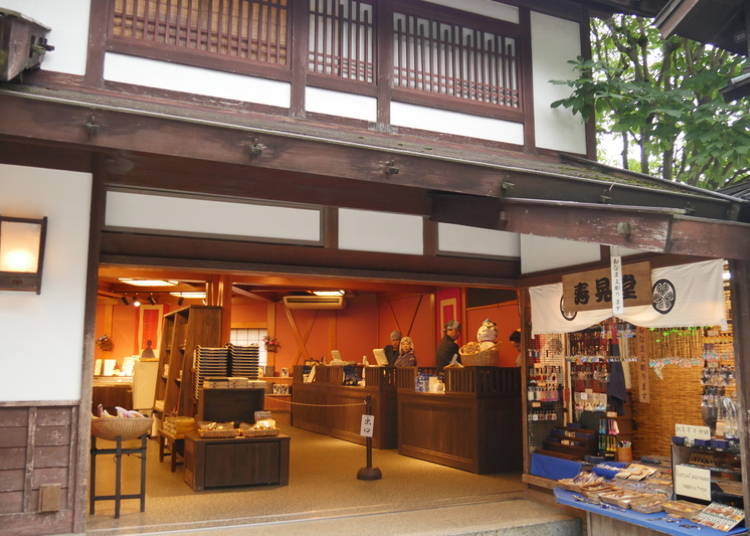 Souvenir selection is essential after enjoying the park to its fullest. There are souvenir shops located throughout the park. We researched souvenirs popular with foreign visitors.

1. Sodenshita Manju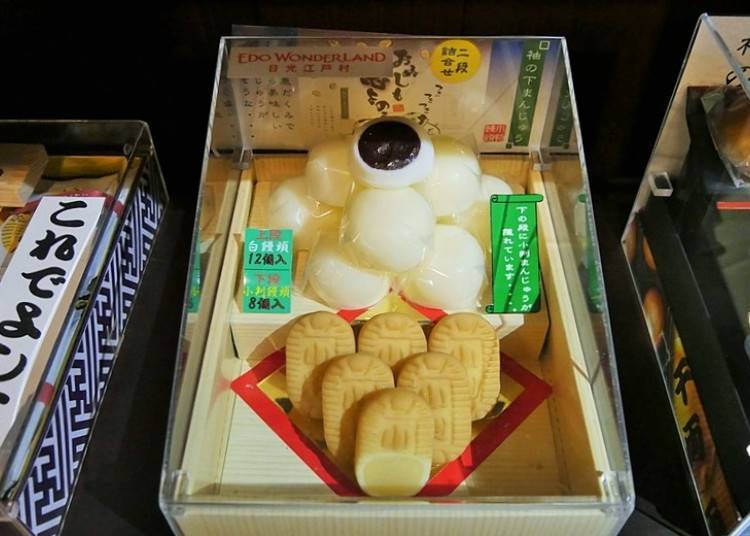 In a classic scene from historical Japanese drama, Echigoya gives a bribe to a bad official, made of coins hidden under manju cakes. "One thousand" cookies hidden under manju (700 yen).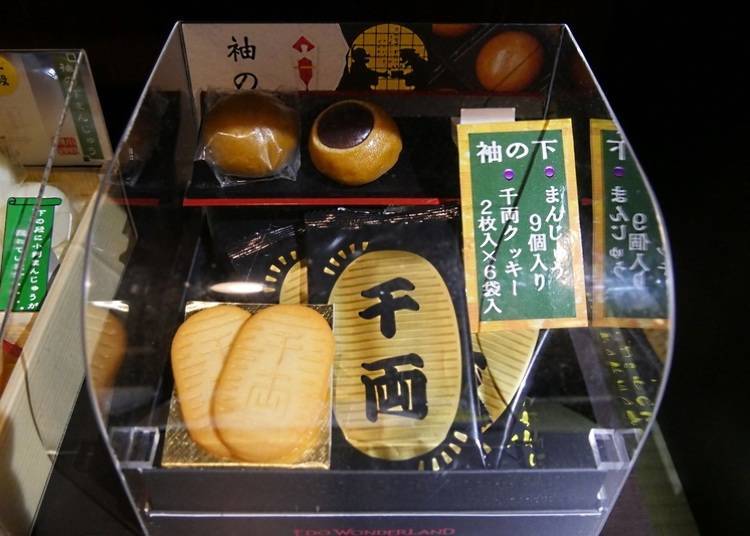 There's also a smaller version (600 yen). The receiving party may even proclaim, "Oh, you are evil!"

2. Oiran Face Pack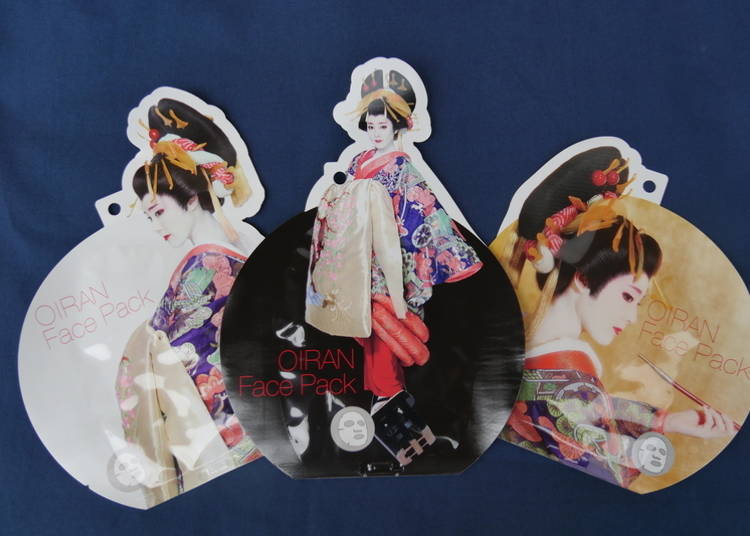 Recommended for women, the "Oiran Face Pack" (1 for 380 yen or a box of 10 for 3,800 yen) comes in three types: "Moist Skin" with hydrolysed collagen, "Beautiful Skin" with vitamin derivative, and "Glossy Skin" with a blend of placenta extract.

Every package has depicts a beautiful oiran, so it might be nice to buy one of each as a set.

3. Local sake from of the foot of Nikko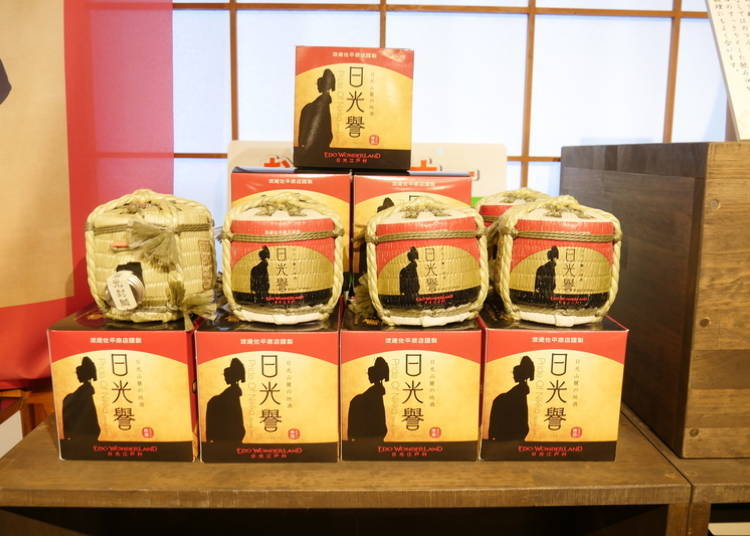 In Edo Wonderland, you can also buy local sake from Nikko. Nikko Homare (2,160 yen) is produced by the Watanabe Sahei brewery. It features a fruity, clean flavor, and comes in a delightful mini cask.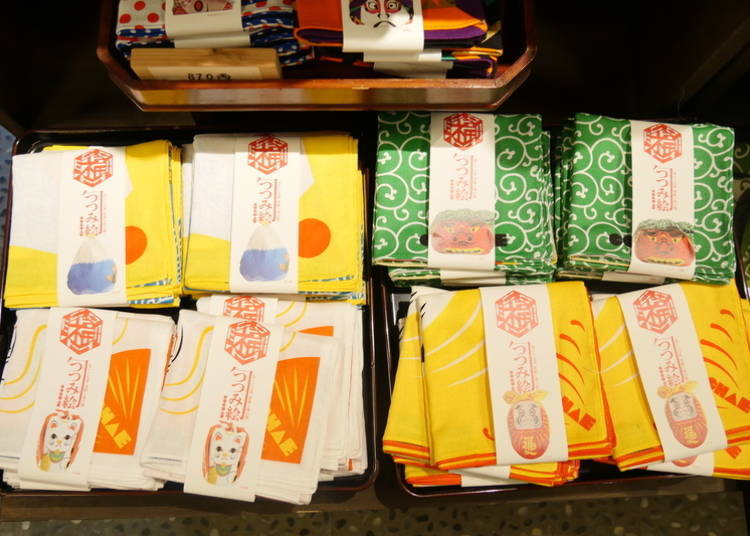 In addition, a wide variety of Tenugui (hand towels) are also popular among foreign tourists. There are plenty of items featuring Nyanmage, so be sure to check them out.

As mentioned above, we wanted to recommend some of the best experiences to be had Edo Wonderland. So, what do you think?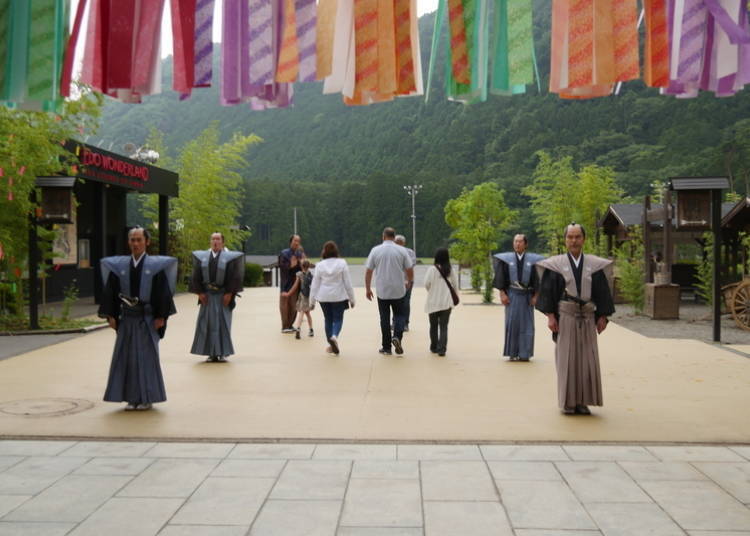 As you depart, the warriors will give you a respectful farewell.
There are so many more experiences and sights to see that we haven't introduced, so to make the most of your visit it's recommended that you make a day of it.

Also, the summer vacation in August and the Golden Week in May are particularly crowded, so it's advisable to avoid visiting during those times if you want a more relaxing experience.

Edo Wonderland is perfect for those who want an extraordinary experience with Japanese history and culture. With easy access from Tokyo, be sure to visit Edo Wonderland Nikko Edomura at least once!
Address

470-2, Karakura, Nikko-shi, Tochigi, 321-2524
View Map

Nearest Station

Kinugawa-Onsen Station (Tobu Kinugawa Line)


Phone Number

0288-77-1777
*This information is from the time of this article's publication.
*Prices and options mentioned are subject to change.
*Unless stated otherwise, all prices include tax.