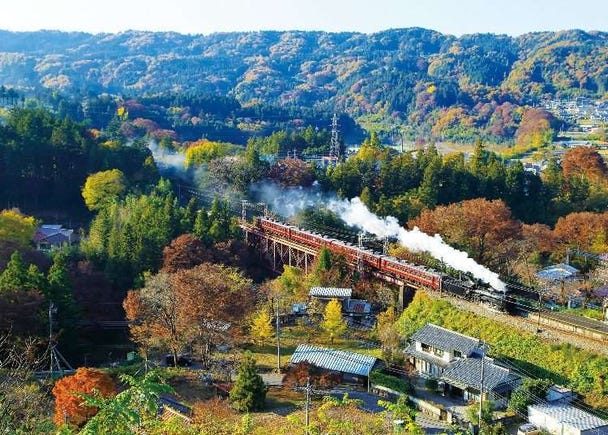 Located 80 minutes north of Tokyo by train, the area of Chichibu in Saitama Prefecture has an abundance of unspoiled nature that lies in the heart of the city. Chichibu also provides a wide array of activities such as mountain hiking and river rafting. Different attractions are present during each season, so in recent years, this place has been turning heads as an all-year-round tourist spot.

In this article, we will introduce carefully selected tourist spots in Chichibu that can be enjoyed each season. Each of these spots can be easily accessed on weekends, such as the moss phlox, and the well-established natural shaved ice to the retro appeal of the SL steam liner where you can enjoy the superb view of the autumn leaves!
Spring: The Colorful Moss Phlox in The Beautiful Hitsujiyama Park
Photo provided by: Saitama Prefecture Trade & Tourism Association
Speaking of Chichibu's spring spots, the moss phlox of Hitsujiyama Park is where you can enjoy colorful moss phlox in pink, white, and light purple. More than 400,000 plants of 9 varieties of moss phlox are planted on this vast site of about 17,600 square meters, and when it is in full bloom, it creates colorful gradations.

During the flowering period of moss phlox (April to early May), the Chichibuji Souvenir Market is held, where you can buy special products of Chichibu at stalls. In the park, there are also spots that parents and children can enjoy, such as the Fureai Farm where you can meet sheep and the lawn space where you can see flowers under the cherry blossoms.

Another famous spot in Chichibu during spring is the Hodosan Robai. It is in full bloom at the top of Mt. Hodosan at an elevation of 497m, where some 3,000 wintersweets bloom in this patch of land of about 1,500 square meters. Amidst the sweet scent of flowers on the summit, this scenic spot is where you can see the Mt. Bukozan, said to be the symbol of Chichibu, and the Mt. Ryokamisan, selected as one of the 100 most famous mountains of Japan.
Address

6267, Omiya, Chichibu-shi, Saitama, 368-0023
View Map

Nearest Station

Seibu-Chichibu Station (Seibu Chichibu Line)
15 minutes on foot


Phone Number

0494-25-5209
Summer: Immerse in The Dynamic Experience of Rough Waves in Nagatoro Line Kudari (River Boating)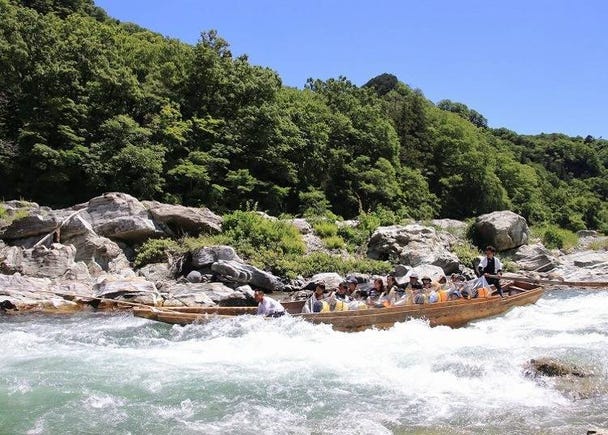 A popular activity in Chichibu during summer is the Nagatoro Line where you can enjoy going down a dynamic river aboard a Japanese-style boat called wabune. You can feel the cold clear stream spray while looking at the national monument Iwadatami. On the way down the river, there is also a calmer course where you can see wild animals such as wild boars.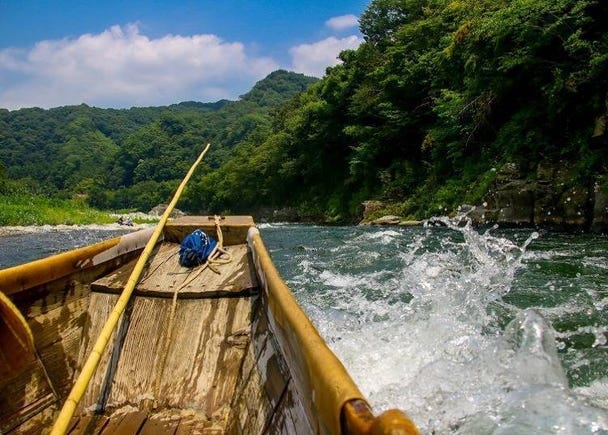 You can choose a speedy 3-km course that takes 20 minutes and a 6-km course that takes 40 minutes. Although it is limited on Saturdays and Sundays, you may also see the running SL (steam locomotive) if you are lucky.

In addition, Nagatoro, where you can go down a river, has "Asamu Reizo", a well-known store serving natural shaved ice. After enjoying the ride, why not try refreshing with a cold dessert representing Japan?
長瀞ラインくだり

Address

489-2 Nagatoro, Chichibu District, Saitama 369-1305

Nearest Station

Access: 1-minute on foot from Chichibu Railway Chichibu Honsen Chichibu Nagatoro Station


Phone Number

0494-66-0950

March 10, 2019 (Sunday) – December 4, 2019 (Wednesday)
Business hours: 9 to 16
Regular holiday: Open daily (May be affected by river and weather conditions)
Autumn: SL Paleo Express Where SL Shines on The Beauty of Autumn Leaves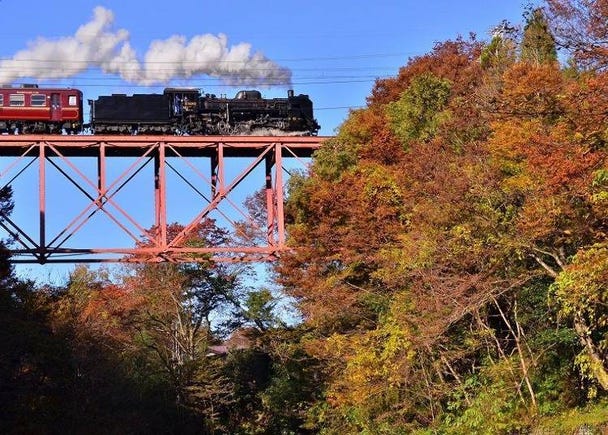 The SL Paleo Express is a steam locomotive based on the SL C58 363, which was formerly active in the Tohoku region of Japan. It connects Chichibu Station and Kumagaya Station in Saitama, where you can enjoy a full-blown trip on the rails.

The ride is open for passengers from March to December, but we recommend to give this a try during the autumn season when the town of Chichibu is adorned with autumn leaves. You can see the trees dyed red and yellow dynamically from within the slowly running SL car. Along the way, you can travel down the famous Arakawa River where you can enjoy the beautiful contrast between autumn leaves and the river.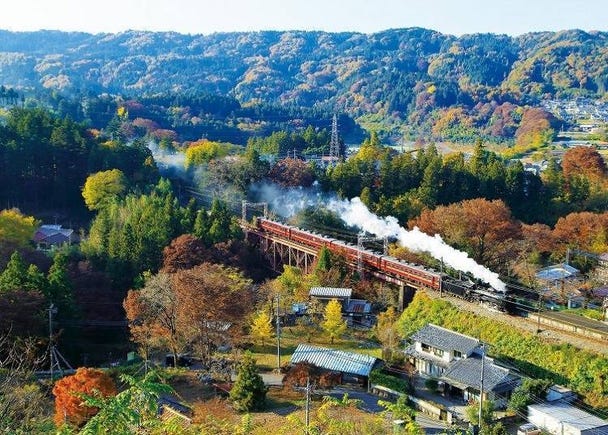 In addition to autumn leaves, there are many highlights, such as Mt. Bukozan, which is the symbol of Chichibu, the calm, emerald waters of Tamayodo Lake, and the cluster amaryllis blooming along the rails of Kami-Nagatoro. There are also steam locomotives for children which are perfect for the whole family. They also sell original merch on the train car, so be sure to check this out when you are aboard the train.
始発駅(熊谷駅)

Address

1-202-1 Sakuragichō, Kumagaya-shi, Saitama-ken 360-0036

Phone Number

048-523-3317

Fee: SL reserved seat ticket 720 yen, SL numbered ticket (free seating) 510 yen (same price for both adults and children) *Normal ticket for boarding section is necessary aside from SL ticket
Winter: The Majestic Ice World of Ashigakubo-no-Hyochu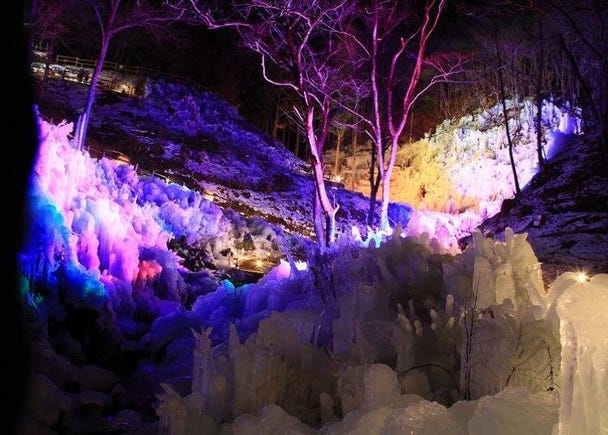 Photo provided by: Saitama Prefecture Trade & Tourism Association
Ashigakubo-no-Hyochu, one of the three major spots for icicles in Chichibuji, is a huge group of icicles created by the sprinkling of the stream on mountain slopes. Its size is a marvel to behold, with a width of about 200 meters and a height of about 30 meters. You can also visit during the day, we recommend going here at night when the icicles are lit up. The fantastic scenery created by the colorful lights is definitely a must-see!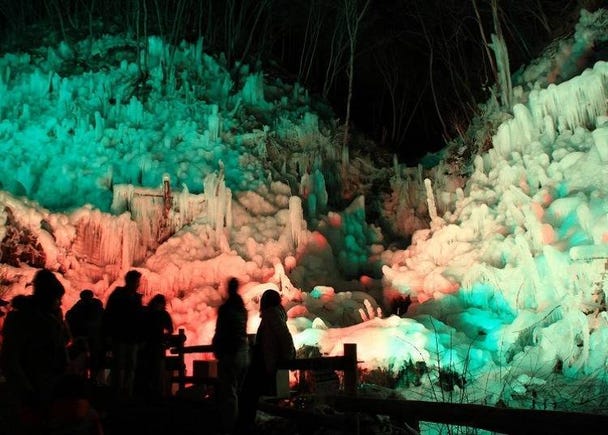 Photo provided by: Saitama Prefecture Trade & Tourism Association
The color of the lights changes with time, and the transition is straight out of a picture book. The Seibu Railway also runs right next to it, and you can also snap the train and icicles together in one photo if the timing is good. The rest area also sells oden or various ingredients stewed in soy soup, suiton or flour dumplings, amashu or sweet sake etc. Please enjoy the sight of the icicles while taking a rest.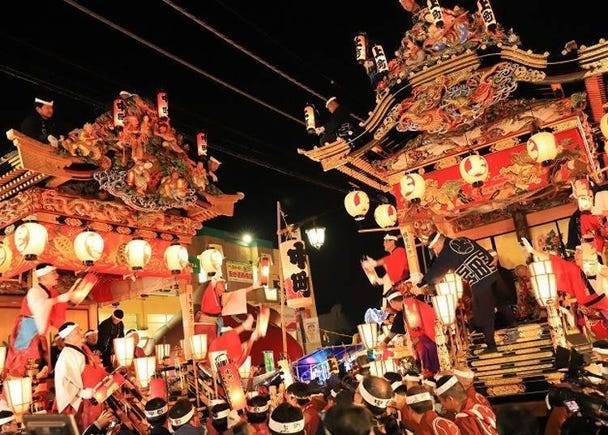 Photo provided by: Saitama Prefecture Trade & Tourism Association
In addition, the Chichibu Night Festival is an iconic event in Chichibu during winter. It is held in December. There will also be a yatai bayashi or a traditional performance around the town and a winter fireworks display. Registered as a UNESCO Intangible Cultural Heritage in 2016, this traditional festival has been selected as one of Japan's top three float festivals.
Also, from January to February, the "Hodosan wintersweet" (or Japanese allspice flowers) will be at their best. It is in full bloom at the top of the 497m elevation of Mount Hodosan, and 3,000 of the flowers in bloom in the site of about 15,000 square meters.

It is a scenic spot where you can see the Mt. Buko, which is said to be the symbol of Chichibu from the summit, and as well as Mt. Ryokami, which has been selected as one of the 100 most famous mountains of Japan, while being surrounded by the sweet smell of flowers.
あしがくぼの氷柱

Address

Ashigakubo, Yokoze, Chichibu District, Saitama 368-0071

Nearest Station

Access: 10-minute walk from the Seibu Railway Chichibu Line Ashigakubo Station


Phone Number

0494-25-0450

Hours: Every January to late February (9 am to 4 pm), lit up every Friday, Saturday, Sunday, and public holidays (Sunset to 8 pm)
Address

Nagatoro-machi, Chichibu-gun, Saitama, 369-1300
View Map

Nearest Station

Oyahana Station (Chichibu Railway)


Phone Number

0494-66-0307
Chichibu is best known for the variety of its activities that change depending on the season. Since it can be easily accessed from Tokyo, you can enjoy sightseeing in different ways like a day-trips or staying overnight. We hope to see you in Chichibu, a place full of attractions, every season.

Written by Medium KK
*This information is from the time of this article's publication.
*Prices and options mentioned are subject to change.
*Unless stated otherwise, all prices include tax.