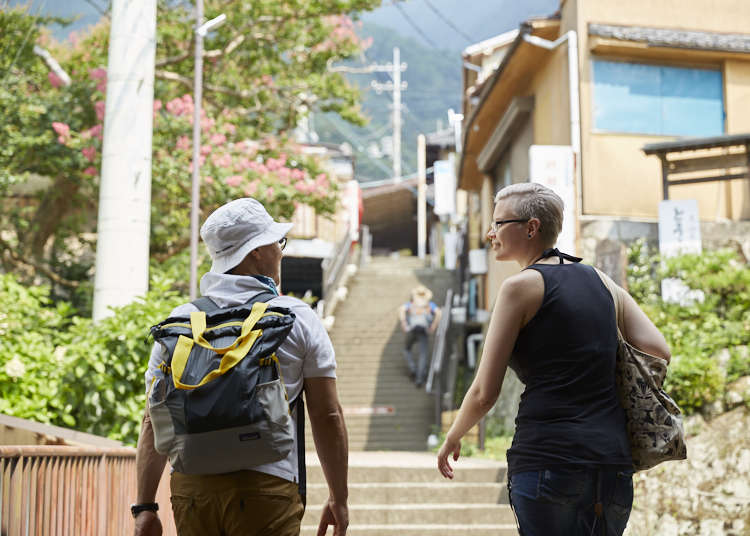 This Tokyo day trip to Mount Oyama was planned by Mr. Tetsu Morita, who was actively involved in the production of the Michelin Green Guide Japan. With his familiarity of Westerners' tastes, he provides a view of Japan that even Japanese people themselves might not be aware of.

Here we'll enjoy a brief hike on Mount Oyama in Kanagawa Prefecture's Isehara City, then head to Buaisō in Machida City, a traditional Japanese house that was once the home of the famous bureaucrat Jirō Shirasu and now is a fascinating museum.

Today, Morita-san is joined by Pamela from Germany, one of LIVE JAPAN's editorial staff members.
To Mount Oyama from Isehara Station: Exploring the Rich History of the Area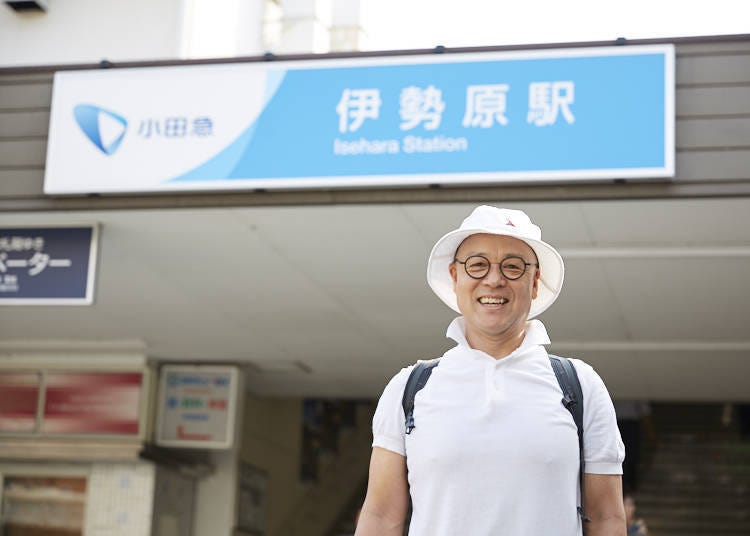 Starting off at Isehara Station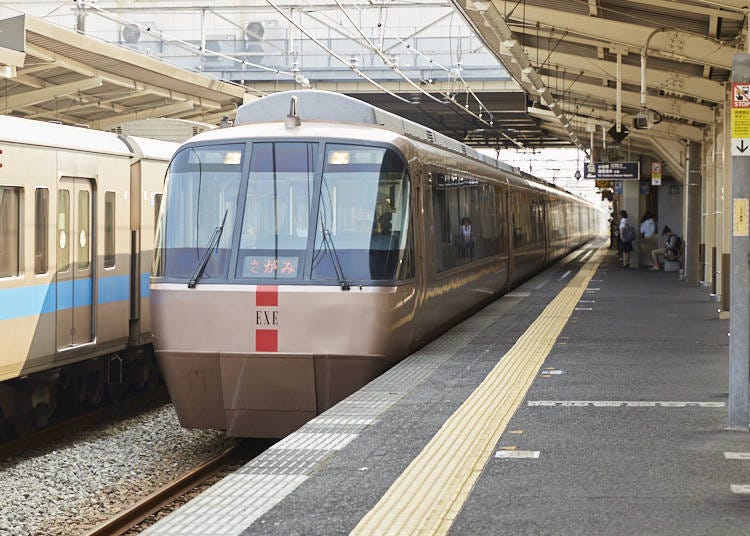 Isehara Station is on the Odakyu Odawara Line and about one hour away from Shinjuku Station via Romancecar (1,210 yen). Morita-san meets Pamela right in front of the station's North Exit.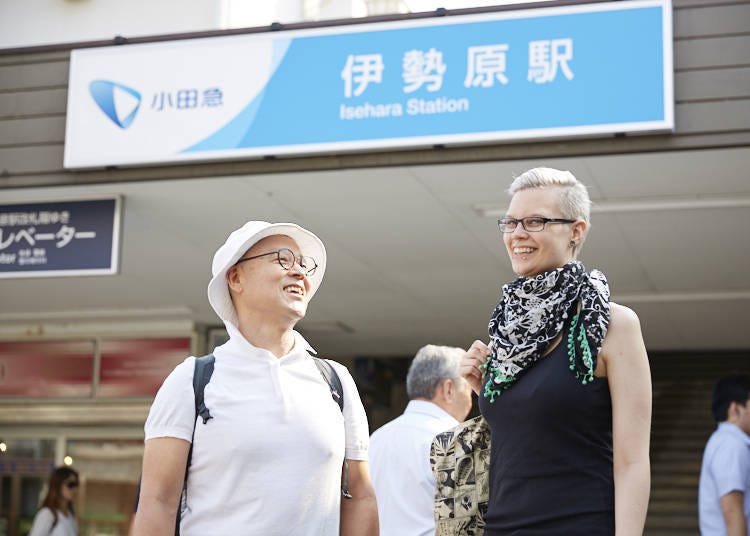 Morita-san: "Good to see you, Pamela! We're going to Oyama today. The most popular sightseeing spot on the Odakyu Odawara Line might be Hakone, but the Oyama area is just as fascinating, for both Japanese and international tourists. Let's take a bus to the foot of the mountain."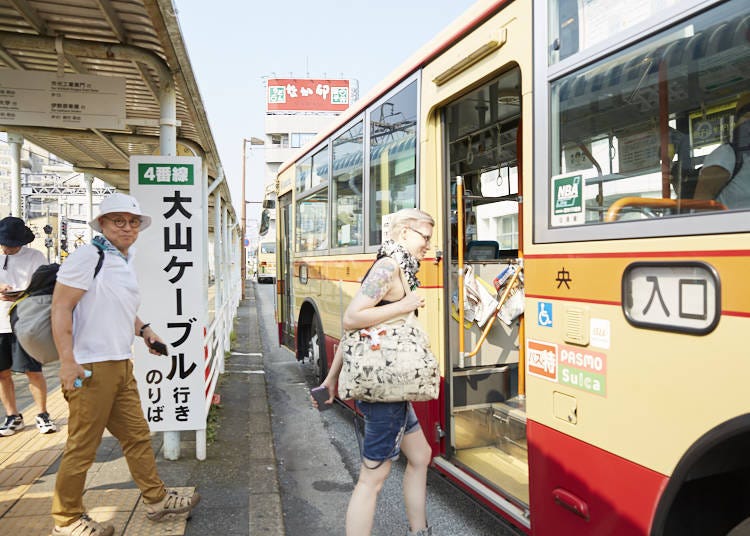 Morita-san: "Let me tell you a bit about the mountain's history, first of all. Mount Oyama is dear to Japanese people since ancient times. Because there are always rain clouds gathering at the top, it is also known as Amefuriyama or Afuriyama, basically meaning 'rainy mountain.' The Japanese of old felt the existence of a kami, a Shinto deity, existing in this majestic mountain. Rain can be a blessing or a disaster, so people cherished and worshiped the kami of the mountain since long ago, as early as the Jōmon period."

Pamela: "So Oyama really has been important since ancient times."

Morita-san: "Indeed. Mount Oyama became an important site for nature belief, Shinto, and Buddhism, with the mountain faith of Shinto and Buddhism being united to one here. The megalith at the summit was worshiped as a Buddhist deity named Sekison Daigongen. It is said that mountain priests gathered here to train as well. Even the government of the time could not ignore the force of this mountain, so Minamoto no Yoritomo, the founder of the Kamakura shogunate, became a patron of the Oyama mountain faith when he donated a long sword called ōdachi. On the other hand, Tokugawa Ieyasu who founded the Edo shogunate drove out all the rebellious mountain priests and replaced them with monks of the Shingon sect."

Pamela: "Nowadays, there's the Buddhist Ōyamadera Temple and the Shinto Ōyama Afuri Shrine, correct?"

Morita-san: "Exactly. The shrine and temple were separated in the Meiji period and nowadays, they exist as two independent sites.
Komasando: Where the Oyama Shrine and Temple Visit Begins
The Kanachu Bus takes us right to the Oyama Cable Station from Isehara Station's North Exit. From here, we walk up the "Komadanso" approach and its 27 landings and 362 steps.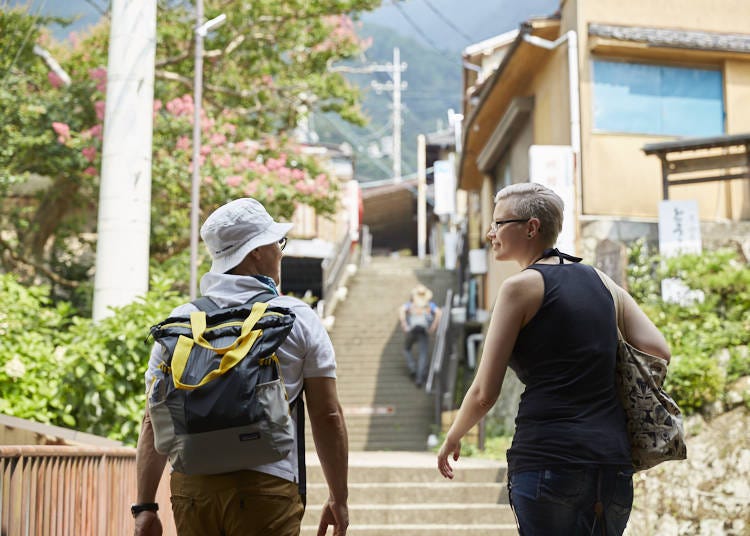 Pamela: "I like that there are so many inns and shops lining the road. There are also a lot of signs written by priests."

Morita-san: "Mount Oyama became something of a religious sightseeing spot for regular people in the Edo period. People used a system called 'kō' to gather money and go on an Oyama pilgrimage. That has been quite the trend back then. It took about two to three days to get to Mount Oyama on foot and it wasn't necessary to cross the Hakone checkpoint, so it was a bit like a holiday resort for the people of Edo. The Japan National Route 246 from Akasaka via Shibuya and towards Futagotamagawa was originally called "Oyama Road" and lead right to the mountain."

Pamela: "So the people of Edo walked to Mount Oyama via today's Route 246?"

Morita-san: "Yes. Many of the inn owners where those common travelers stayed were called sendōshi. When Tokugawa Ieyasu forced the mountain priests from the mountain, as I explained earlier, these priests started to work as what you could call tour guides as sendōshi. They were still priests, they were also advertising these pilgrimages, acting as guides to the temple, and even organized amusement and merrymaking."

Pamela: "So you could call them the travel agents of these pilgrimages?"

Morita-san: "Pretty much. Accepting both Shinto and Buddhist deities while the holy and the worldly coexisting in harmony, I guess that is part of the Japanese way of thinking, too."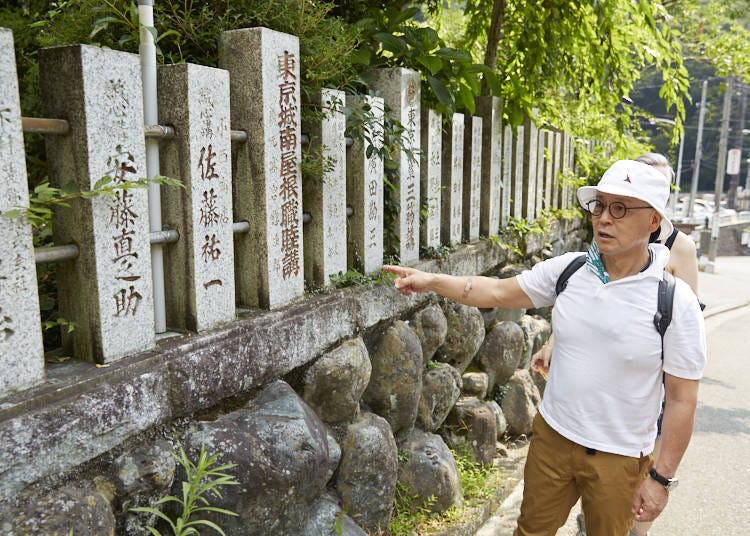 Pamela: "By the way, can you explain more about this 'kō' system you spoke of?"

Morita-san: "That was originally a word to refer to a group of friends coming together in a temple, but it gradually came to be used for a group of people collecting money and helping each other out. These groups gathered money to go to Oyama together, and it seems that especially groups with a connection to water and stone did these pilgrimages, such as firefighters, swordsmiths, and so on. They formed these kō and went to Mount Oyama together."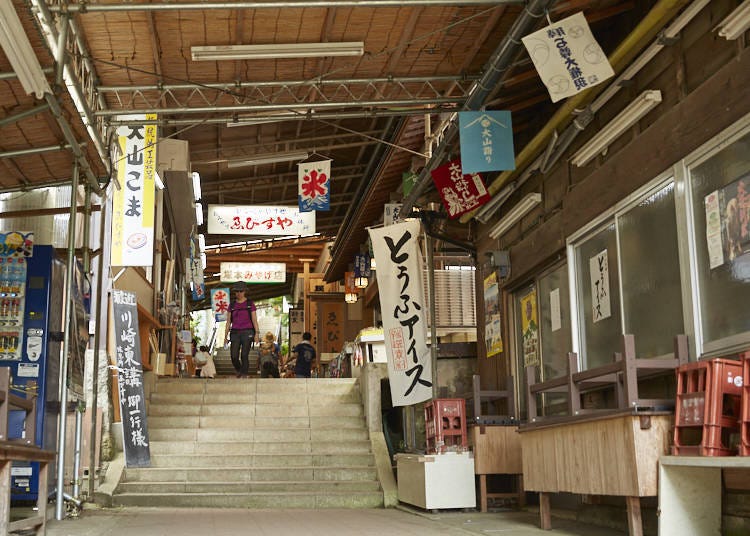 Ōyamadera Temple: Learning About Anti-Buddhism and Warding off Evil by Throwing Pottery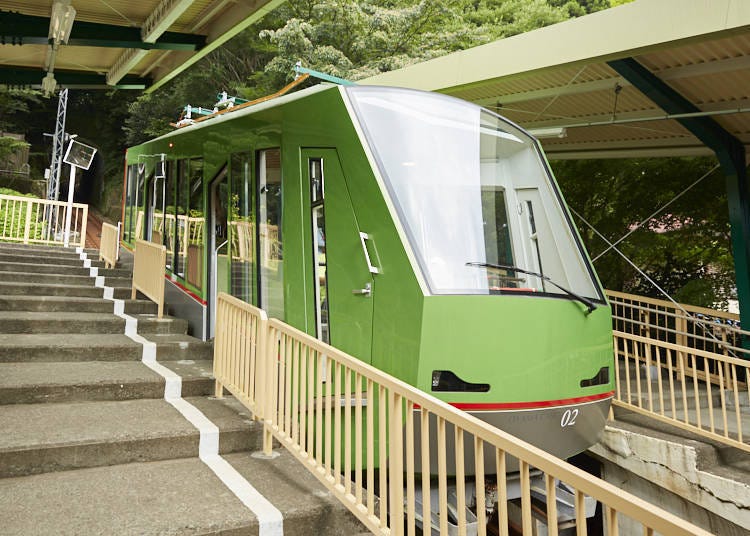 That's Oyama Cable Station and the cable car can take you all the way to the top approach. Morita-san and Pamela get off at Oyamadera Station, however, to visit the mountain's Buddhist temple.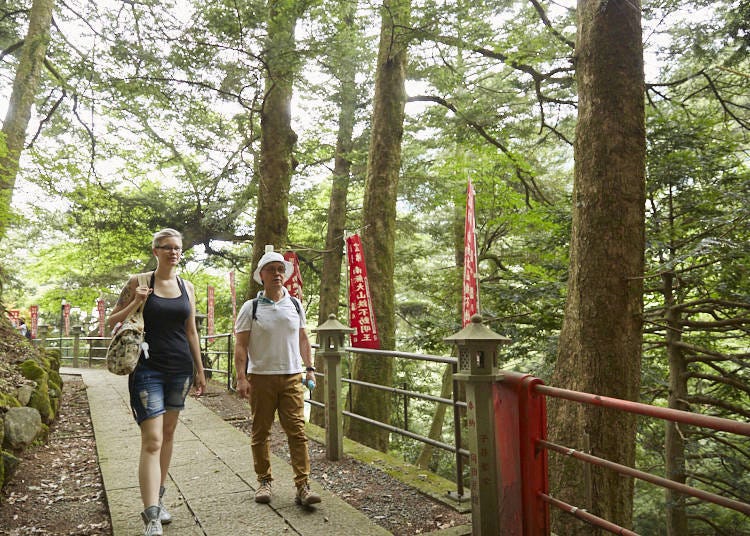 Morita-san: "Ōyamadera Temple is a historic temple founded in 755 during the Nara period. It was originally located where the 'Lower Shrine' of Ōyama Afuri Shrine is now, which we're going to visit later, but during the Anti-Buddhism called haibutsu kishakurei of 1868, the early Meiji period, it was relocated to this side of the mountain in 1873. The in 1915, it was revived as the Ōyamadera Temple."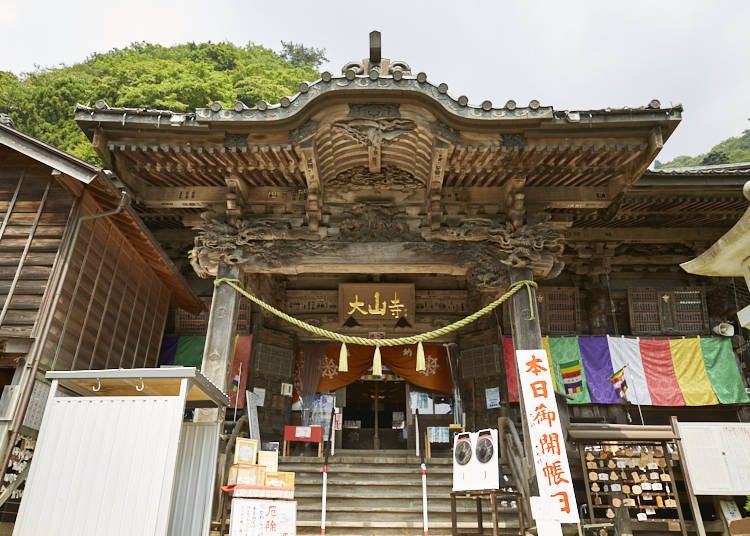 Pamela: "Can you tell me more about the Anti-Buddhism?"

Morita-san: "Before the Meiji period, many shrines and temples throughout Japan were pretty much one. However, the new government of the Meiji era was centered on the Emperor, who was believed to be a direct descendant of Japan's indigenous Shinto deities, so Shinto became extremely important. In order to establish it as the one religion of Japan, some people were taken over by fanaticism and ended up destroying temples and Buddha statues. Ōyamadera Temple was also destroyed back then. However, it was also tied to a strong belief that dated all the way back to the Edo period, so the Fudo statue inside the main hall and various other treasures of the temple were spared. Thanks to the devoted followers, the temple's main hall and other buildings were restored at the present location."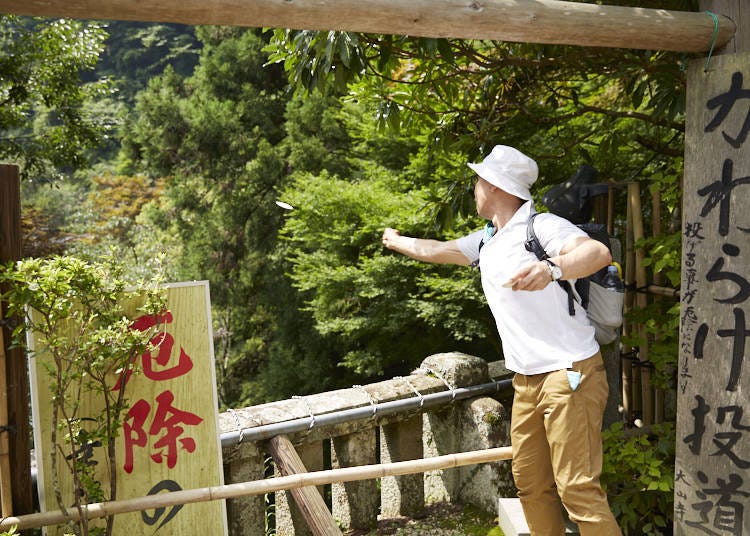 After exploring the temple grounds, Morita-san and Pamela tried the nawarake nage, a custom of throwing pottery to ward off misfortune, disaster, and evil. Unfortunately, neither of them managed to throw the little plates through the ring for an extra boost of good luck, but they seemed to have enjoyed the experience nonetheless.

Ōyamadera Temple
724 Ōyama, Isehara-shi, Kanagawa-ken 259-1107
Nearest Station: Oyama Cable Station (Oyama Cable Car)
Phone: 0463-95-2011
Address

667, Oyama, Isehara-shi, Kanagawa, 259-1107
View Map

Nearest Station

Isehara Station (Odakyu Odawara Line)

Ōyama Afuri Shrine: Encountering the History of Oyama Pilgrimages First-hand
We continued on back to the cable car and rode to the top where Ōyama Afuri Shrine sits since centuries. Just as we were about to make our way up to the shrine, we encountered a group of travelers in matching traditional clothes called gyōyu, resting at the tea house. The Japanese word megumi was written on their collars, which is what the fire brigade was called in Edo. Even their backs were adorned with a dyed pattern featuring the character me.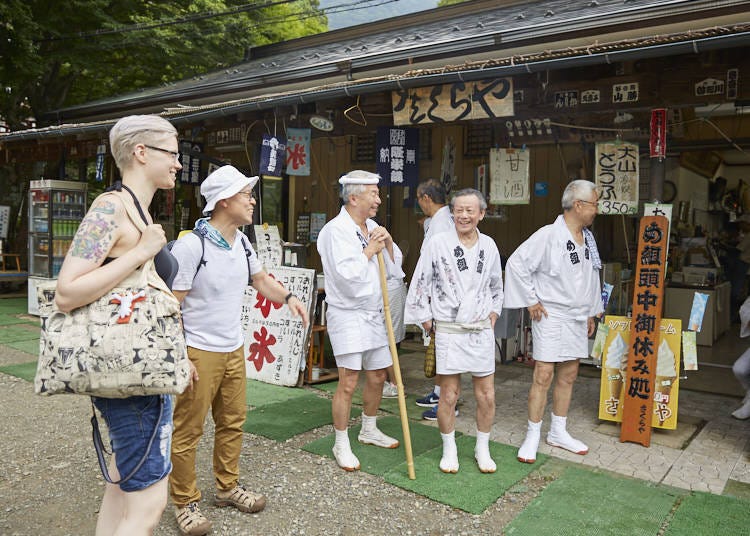 Pamela: "That's an interesting outfit. What does 'megumi' mean?"

Japanese man: "That was one of the fire brigades of Edo. There were 48 such brigades in total called iroha yonjūhachi-gumi, and megumi was in charge between Shiba and the Hamamatsuchō area. Even nowadays, megumi is quite famous among Japanese people."

Morita-san: "And megumi is still around nowadays, right? Did you come to Mount Oyama for a pilgrimage?"

Japanese man: "Well, nowadays it's the Edo Fire Brigade Memorial Committee. However, every year on August 3, all of us in the megumi come together to do a pilgrimage to Oyama, a tradition that has been around for 300 years now, since the Edo period."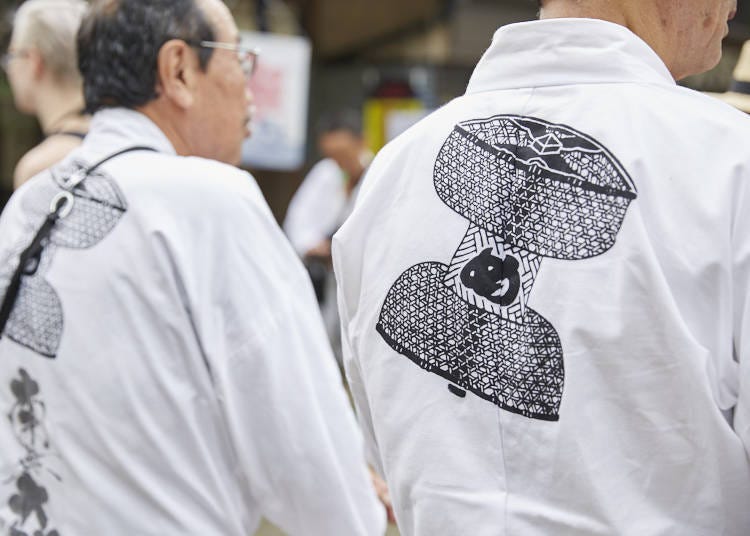 Incidentally, we had our culture walk on August 3, so we got to meet the megumi group from Tokyo as they were visiting Mount Oyama, taking a break in the tea house near the shrine.

Morita-san: "Pamela, these people and their group is exactly one of the kō that I explained earlier."

We were quite excited to be able to meet a group carrying on such an old tradition first-hand and after intriguing conversations, we proceeded to the Ōyama Afuri Shrine. It is said to have been founded around 97 B.C., and the current "Lower Shrine" was newly built in the early Meiji era.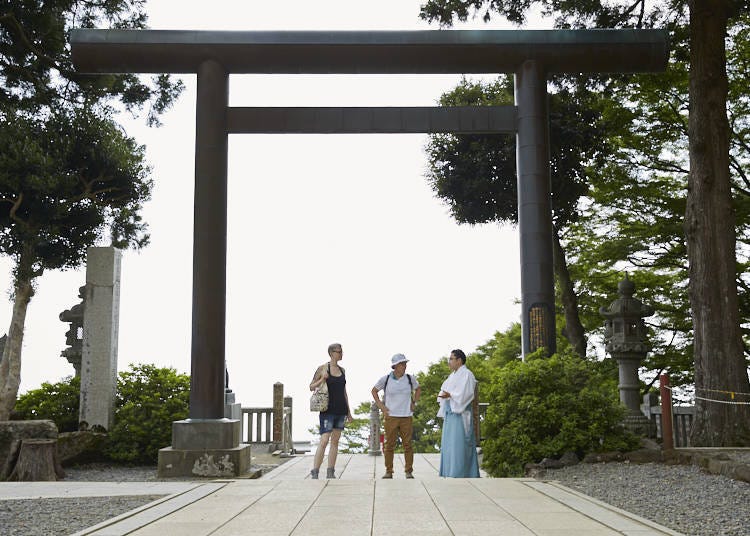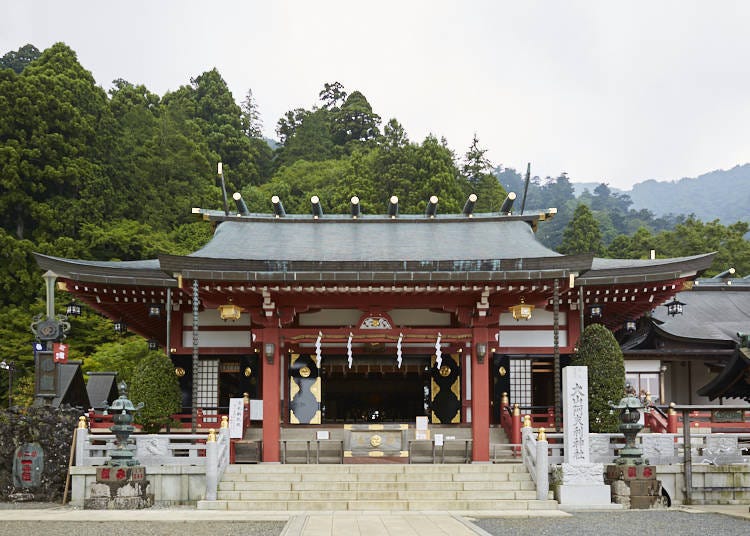 Morita-san: "The modern Ōyama Afuri Shrine enshrines Ōyamatsumi, a deity of the mountain and water, a deity of thunder called Ōikatsuchi, and Takaokami, another deity of water. Mountain, thunder, and water is the fitting combination of gods for a mountain that is known for its rain clouds, isn't it."

The Ōyama Afuri Shrine is also the shrine that Minamoto no Yoritomo donated his ōdachi sword, which lead to a lot of people donating long swords made of wood called osamedachi.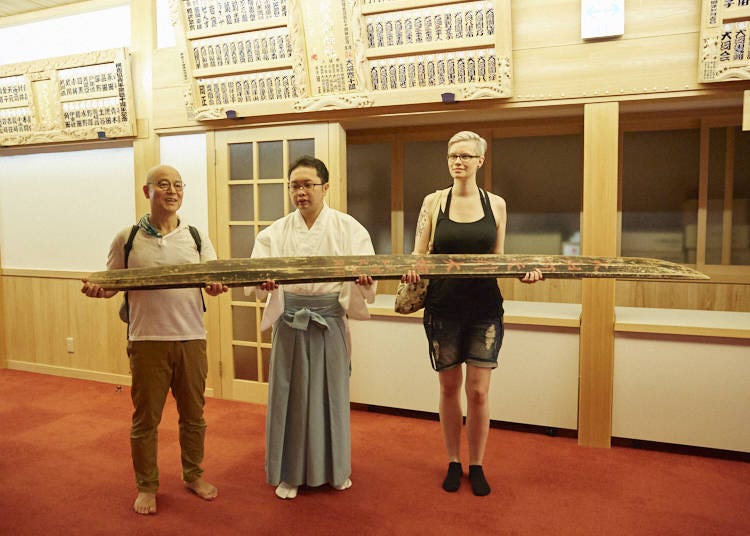 Pamela: "This wood sword lighter than I thought, but still, carrying this to Oyama all the way from Edo sounds rather exhausting."

Morita-san: "Scenes of people carrying swords like this can be found in ukiyo-e artworks as well and it seemed to have been a popular trend among the people of Edo. They walked to Mount Oyama with swords 6, 7 meters long!"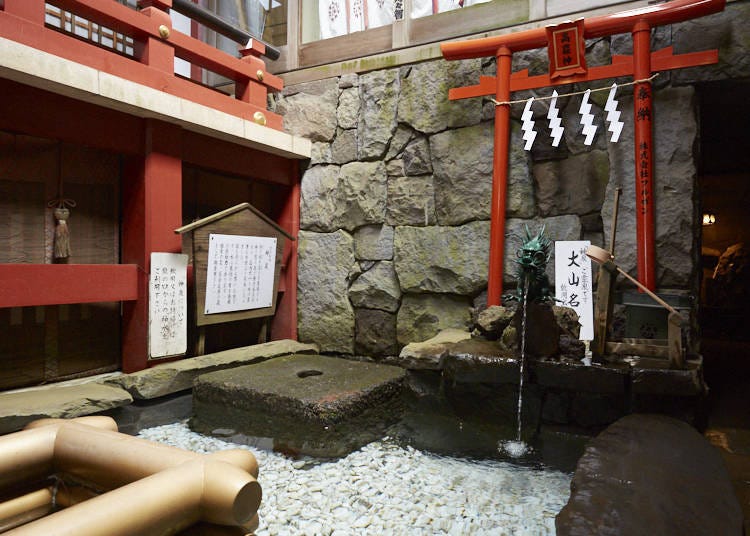 Morita-san: "In the basement of the shrine's main hall is another underground shrine with a spring. The water gushing out here is drinkable and has enjoyed a reputation for longevity and good fortune."

Pamela: "It tastes delicious. I can feel the blessing of Mount Oyama!"
Address

355, Oyama, Isehara-shi, Kanagawa, 259-1107
View Map

Nearest Station

Isehara Station (Odakyu Odawara Line)


Phone Number

0463-95-2006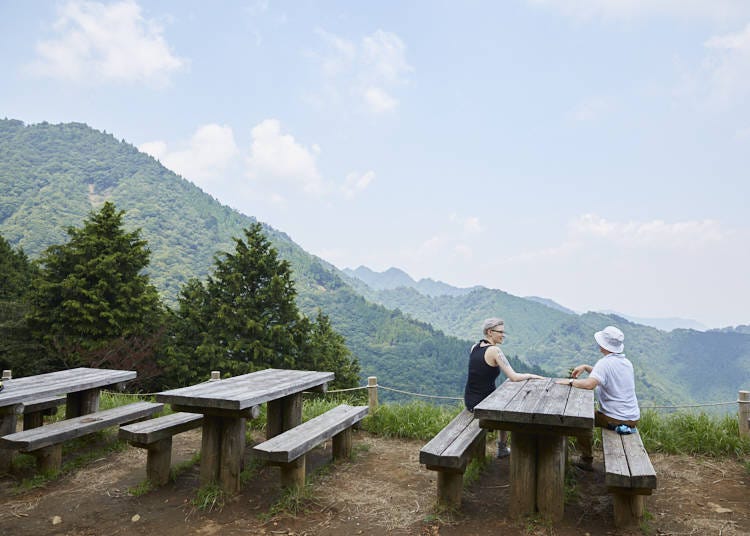 After a calm walk through the forest for about 30 minutes, we arrived at the observation deck. It overlooks Sagami Bay, Enoshima, and the Miura Peninsula, so it's a perfect spot to take a break and bathe in the beautiful view.

Ōyama Afuri Shrine
355 Ōyama, Isehara-shi, Kanagawa-ken 259-1107
Nearest Station: Oyama Cable Station (Oyama Cable Car)
Phone: 0463-95-2006
Kurumi: Taking a Refreshing Break with Healthy Pancakes
After our little hike, we decided to recharge our energies at the café called Kurumi, just down the stairs from Ōyama Afuri Shrine.

The café was born by renovating an old tea shop and it is filled with the soft breeze of nature. Calming and comfortable, it matches our Oyama trip perfectly.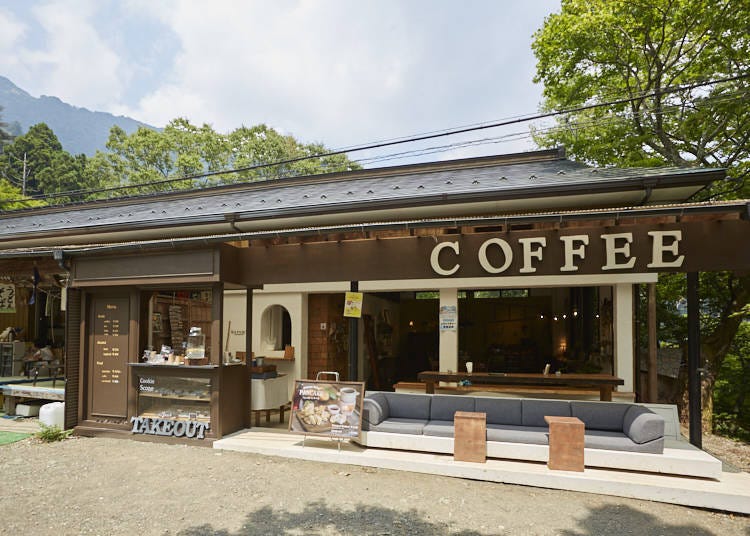 "The specialty of this café is pancakes made from Oyama tofu, right? Why tofu?"

Morita-san: "There was a custom that the people of Oyama paid the sendōshi with soybeans instead of money because the area was so rich in soybeans. Oyama tofu was then made with these soybeans and the spring water of Mount Oyama."

Of course, we had to try the café's most popular dish: Oyama tofu pancakes with caramel fondue (1,100 yen, tax included). Dipping the fresh pancakes in piping hot caramel sauce is heavenly delicious!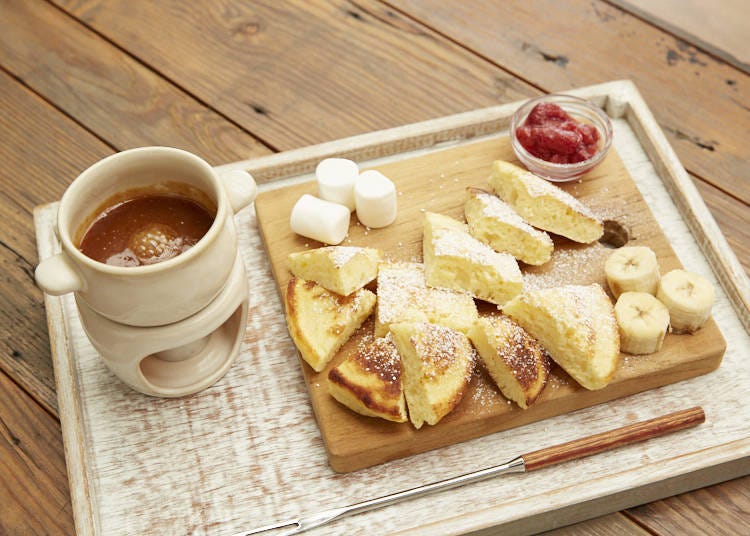 Pamela: "Oh, this is good! The sweet caramel really recharges my energies."

The tofu that goes into the pancakes is strained through a silk cloth. With 70% moisture, the tofu replaces the milk and gives the pancakes a particularly moist and juicy mouthfeel while being low in calories. It's quite a healthy pancake variety! Another must-try at café Kurumi is the drip coffee made with Mount Oyama's soft spring water.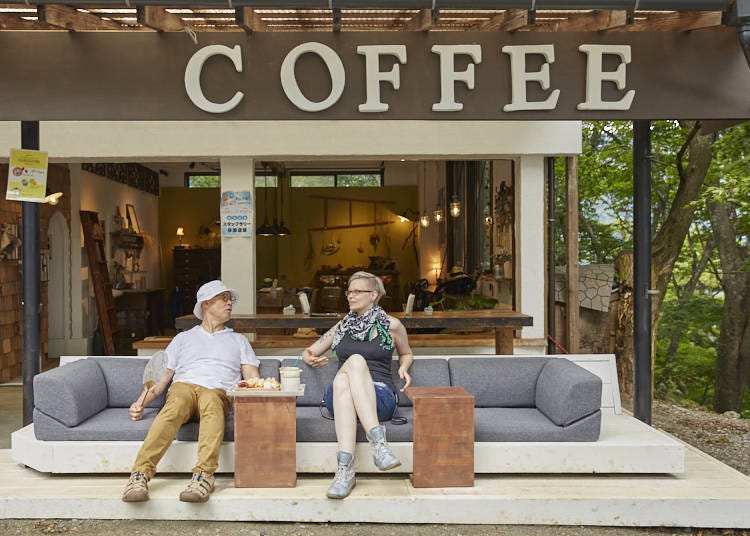 With sweets and coffee, the two seem to have shaken off any exhaustion from the previous hike entirely. Refreshed and invigorated, we return to Isehara Station via cable car and Kanachu Bus.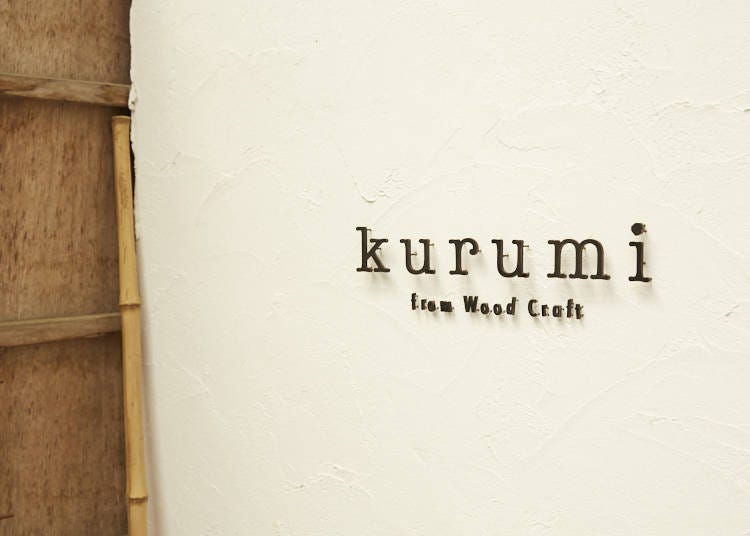 Kurumi. from Wood Craft Cafe

Kurumi. from Wood Craft Cafe

Address

12 Oyama, Isehara, Kanagawa 259-1107

Phone Number

0463-73-8239

Hours
Monday to Friday: 9:00 a.m. – 4:00 p.m.
Saturdays, Sundays, national holidays: 9:00 a.m. – 4:30 p.m.
Closed: open every day
Access: Isehara Station (Odakyu Odawara Line), 20 minutes by bus, then Oyama Cable Car to Afuri-Jinja Station
Buaisō: Discovering the Lifestyle and Aesthetic of Jiro and Masako Shirasu
After exploring the many charms of Oyama, we got on the Odakyu Odawara Line again at Isehara Station and headed to Tsurugawa Station.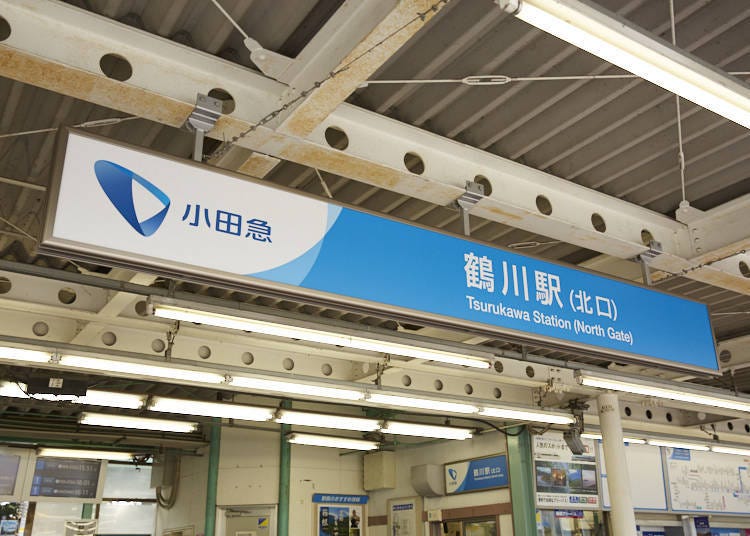 Pamela: "What's there to explore in Tsurugawa?"

Morita-san: "Nowadays, Tsurugawa is part of Machida City which belongs to the Tokyo metropolitan area, but in the past, it was the border between two areas called Musashi and Sagami. Just after the start of the Pacific War, a couple called Jiro and Masako Shirasu moved into an old house called Buaisō here in the Tsurukawa area. The name is a combination of the characters for Musashi and Sagami, while buaisō can also mean 'unfriendly' in Japanese, referencing the relationship between the two areas. It's not exactly next to Mount Oyama but well worth the visit."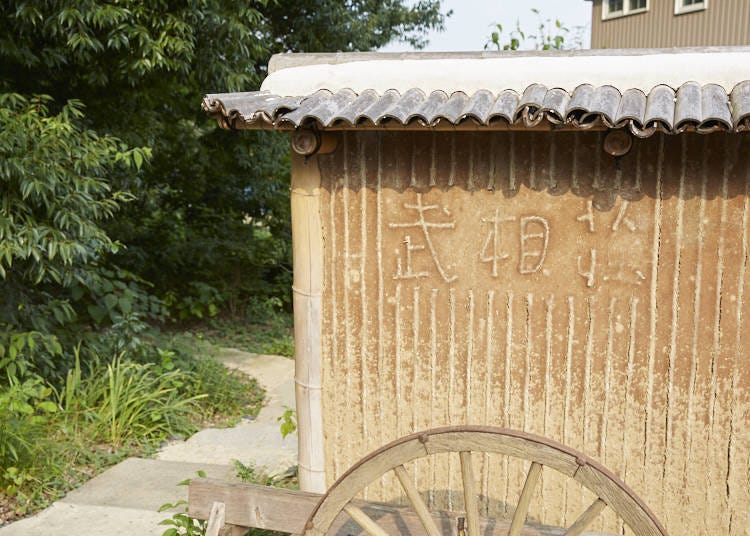 Pamela: "So what kind of people were Jiro and Masako Shirasu?"

Morita-san: "Let's talk about Jiro first. He lived from 1902 to 1985, so he was a man who lived in three periods: Meiji, Taisho, and Showa. He was born into a rich family that had a profitable cotton trade business and he studied at Cambridge University in the United Kingdom at the age of 19. He spent 9 years in Europe, from 1921 to 1928, and had many contacts to people of the upper class. After returning to Japan he married Masako, the second daughter of Count Sukenori Kabayama.
Masako studied at the Hartridge School for Girls in the United States. Because she was the daughter of a count, she grew up surrounded by exquisite furniture and said to have been fascinated by Noh theater since her childhood. Trained by the Japanese art critic Jirō Aoyama who is said to have been a genius with a very critical eye, she herself developed a sophisticated taste for antiques."

Pamela: "So a highly educated couple with international experience."

Morita-san: "After they got married, Jiro worked in the international trade business and is said to have spent fifty percent of his time abroad. During that time, he made the acquaintance of Shigeru Yoshida, who wasn't only 24 years older than him but also the ambassador to the United Kingdom. As the Pacific War began, Jiro and Masako lived at Buaisō and after the war is when Jiro's skills could really shine. The Shigeru Yoshida that I just mentioned was a Japanese Prime Minister, as well as the Foreign Minister directly after the war. He decided to appoint Jiro Shirasu as a member of the Central Liaison Office, a special group that was in charge of negotiating with MacArthur's GHQ. Jiro was well familiar with Western culture and it seems that the GHQ valued him as "a Japanese who is not just obedient."
During the time of Shigeru Yoshida's cabinet in 1949, he was appointed as the director general of the Ministry of International Trade and Industry. In 1951, he attended the San Francisco Peace Conference as a full-fledged advisor at the request of Prime Minister Yoshida."

As Morita-san talks about the life of Jiro and Masako Shirasu, we're walking down the path leading to Buaisō and buy tickets for the house where the couple lived. We were greeted by the son-in-law of Jiro and Masako, Mr. Yoshio Makiyama, who is also the director of the museum. Incredibly knowledgeable, he is showing us around Buaisō.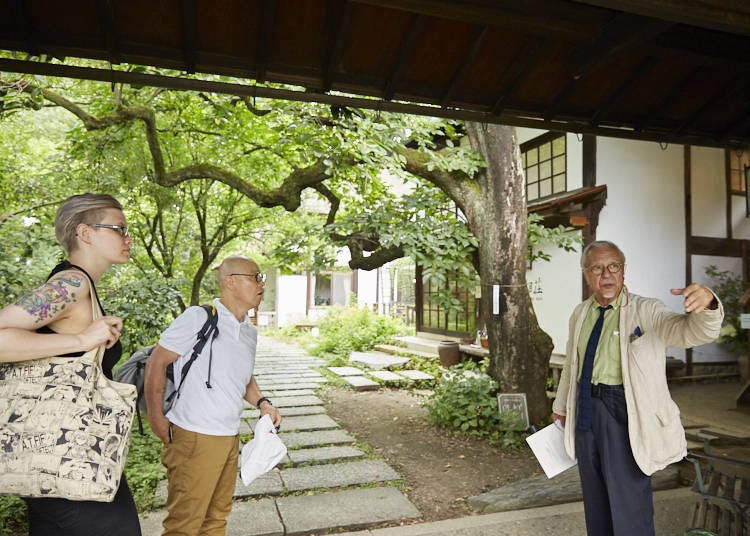 We enter the premises through a tiled-roof gate and Mr. Makiyama leads us to a building that was once a grain storage. Now, the second floor is home to a bar that carefully reproduces the world of Jiro, called "Bar & Gallery Play Fast."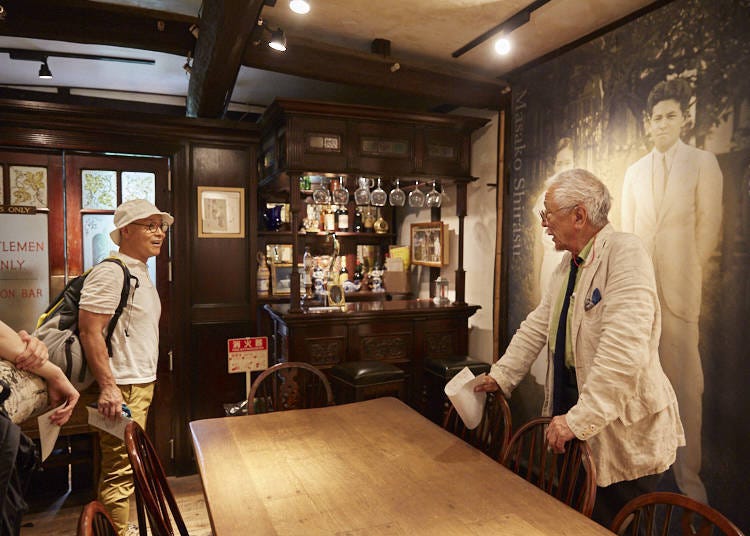 Morita-san: "Did Jiro drink his whisky in this English pub?"

Mr. Makiyama: "This pub was renovated after Jiro's death to authentically reproduce his worldview. The name 'Play Fast' is something that Jiro would often say while he was playing golf, a beloved sport of his."

Morita-san: "As in 'let's play already,' right?" (laughs)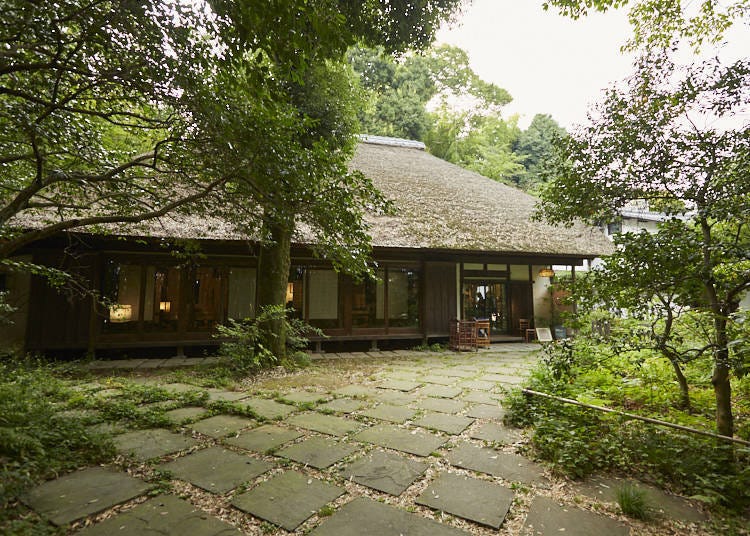 This is the main building of Buaisō, located in the back of the premises. The thatched roof, a rarity in modern Japan, gives it a tasteful atmosphere. This main building is a museum and home to various items from Jiro and Masako's real life, all of them dear to the couple and actually in use once, from books to clothes.
Morita-san: "Jiro was a fascinating man who left behind an important legacy, but I am also very impressed with Masako's refined eye for beauty, especially looking at this museum."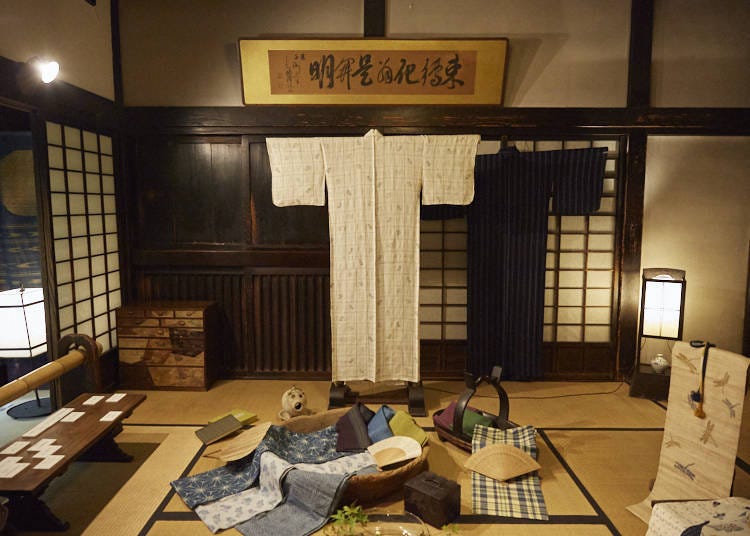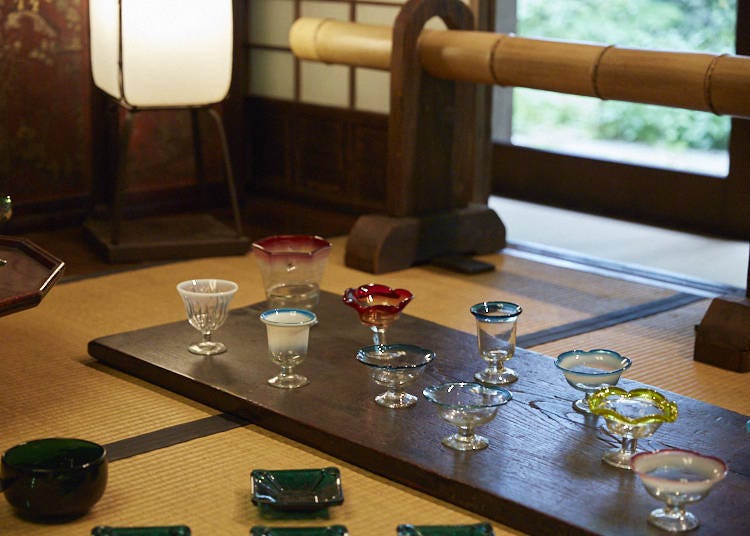 Pamela: "There are no family photos at all..."

Mr. Makiyama: "They were both strong individualists, so they did not do family photos. Maybe Masako appears on one, at the wedding of my wife and me. But that's about it. They also barely spoke about the past."

Morita-san: "What kind of education did their daughter receive?"

Mr. Makiyama: "It seems that Jiro taught her to, first of all, say 'no' when talking to people from the West. 'Principles' were very important to him and his lifestyle. He said that negotiating with the West is not possible without principles."

Morita-san: "Jiro said that 'even if the war is over, the Japanese people still cannot say from the bottom of their heart that they are their own people.' I feel like we really have to cherish these important words. And if you think like that, it may be that Japan is still not independent."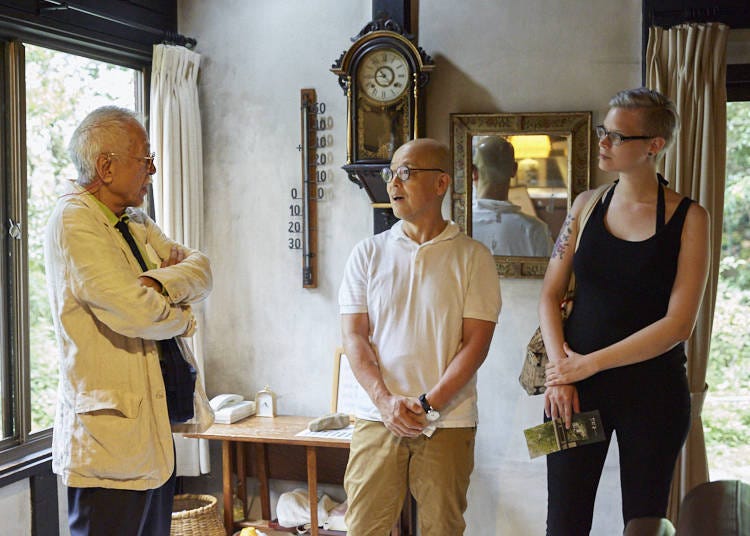 After getting a glimpse into the world of Jiro and Masako Shirasu, we headed to Buaisō's restaurant and got to enjoy a special menu.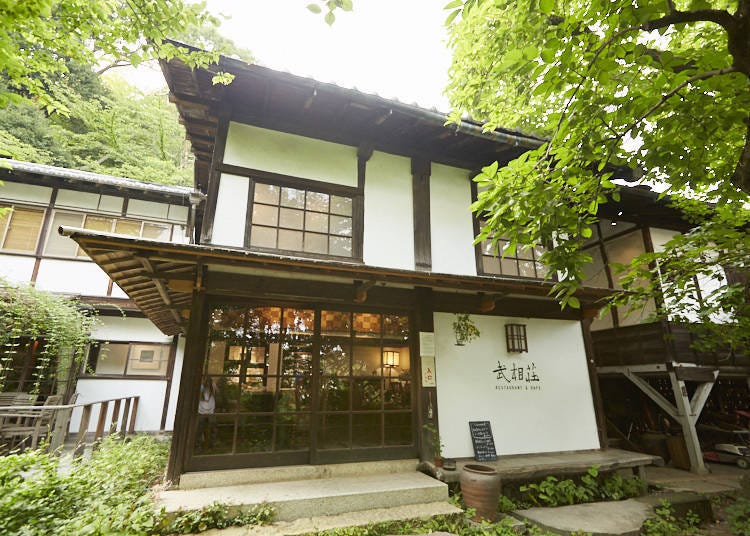 Morita-san ordered the "Buaisō's Shrimp Curry" (2,100 yen, tax excluded) and it comes in a set with shredded cabbage. Jiro, however, disliked vegetables so he only ate the cabbage if it was covered in curry roux. That's why serving cabbage with the curry is a must at the Shirasu household.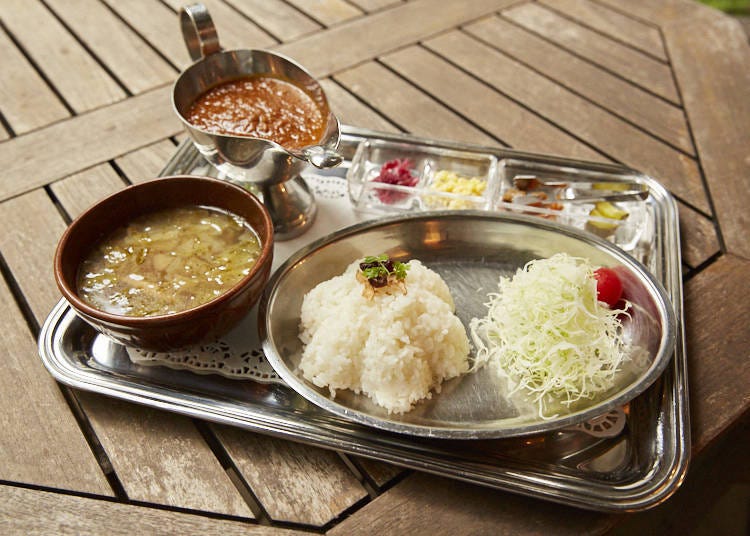 Pamela ordered "Jiro's Oyakodon" (2,100 yen, tax excluded). It's a rice bowl with chicken and egg and apparently one of Jiro's favorite dishes.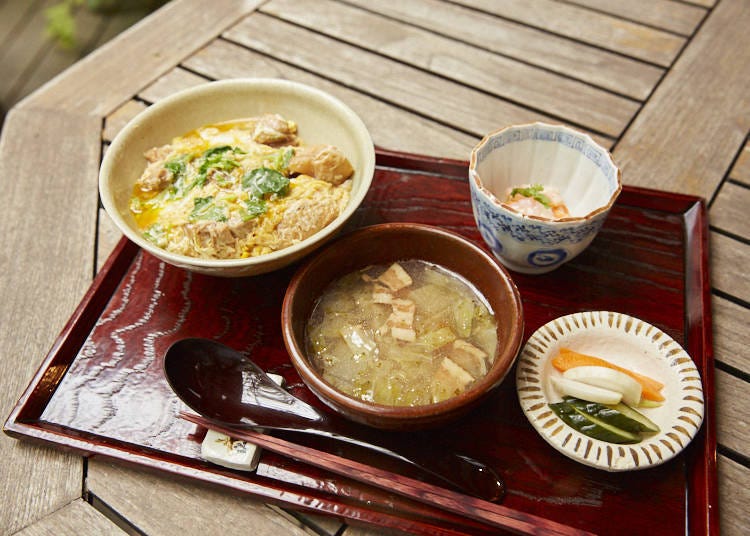 *The photos are images only, usually the sets come with miso soup.
(This lunch menu is served from 1:00 a.m. to 3:00 p.m. The café is open from 11:00 a.m. to 4:30 p.m. Dinner is available from 6:00 p.m. to 8:00 p.m. and is a course meal that requires prior reservation. Please visit the homepage of Buaisō for further details.)

Morita-san: "It is really palpable how much passion and effort the couple poured into Buaisō, filling it with things that are dear to them."

Pamela: "There have been Japanese people with these beliefs and aesthetics that many years ago as well. Their commitment and lifestyle is quite Western, I think, and their house is beautiful."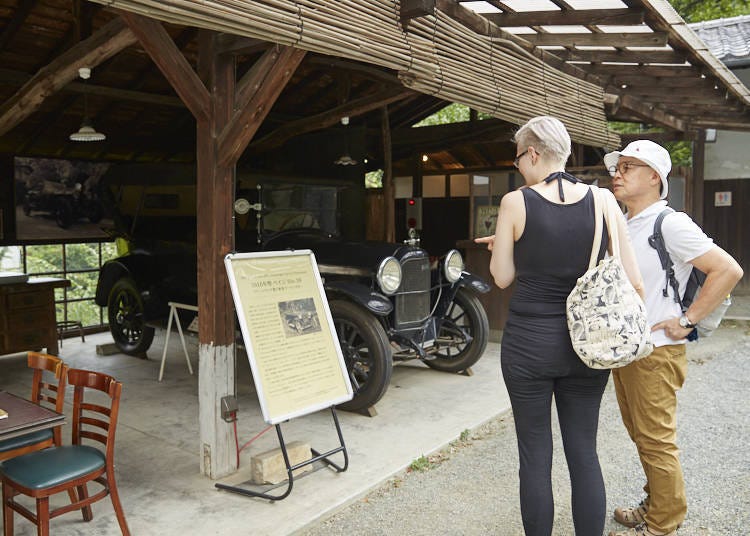 Address

Nou, Machida-shi, Tokyo ka valley 7-3-2, 195-0053
View Map

Nearest Station

Tsurukawa Station (Odakyu Odawara Line)
15 minutes on foot


Phone Number

042-735-5732
The Sagami area has a rich history of nature faith since the Jomon period and we got to see some of that first-hand at Mount Oyama and its many charms. This faith has managed to capture the hearts of the common people of the Edo period, and exploring the modern lifestyle of Jiro and Masako Shirasu right after watching tradition come to life has felt like a unique trip through time. From the openness and broad-mindedness to accepting various different deities and faiths in harmony to a couple pouring all of their passion into a beautiful lifestyle and principles, the trip to Mount Oyama and its surroundings gave us an intriguing glimpse into the many aspects of Japan's spirituality. Mount Oyama offers a meaningful journey with a plethora of amazing discoveries.
About Tetsu Morita
Tetsu Morita has worked several years for the French tire company Michelin before combing every nook and cranny of Japan to create the Michelin Green Guide Japan. He knows the country like the back of his hand – and all of its many secret spots that are incredibly fascinating, yet often overlooked by sightseers. Come with us in the "Tokyo Day Trips with Morita-san," a series that explores little-known sightseeing spots all around Japan!
*This information is from the time of this article's publication.
*Prices and options mentioned are subject to change.
*Unless stated otherwise, all prices include tax.
Limited time offer: 10% discount coupons available now!