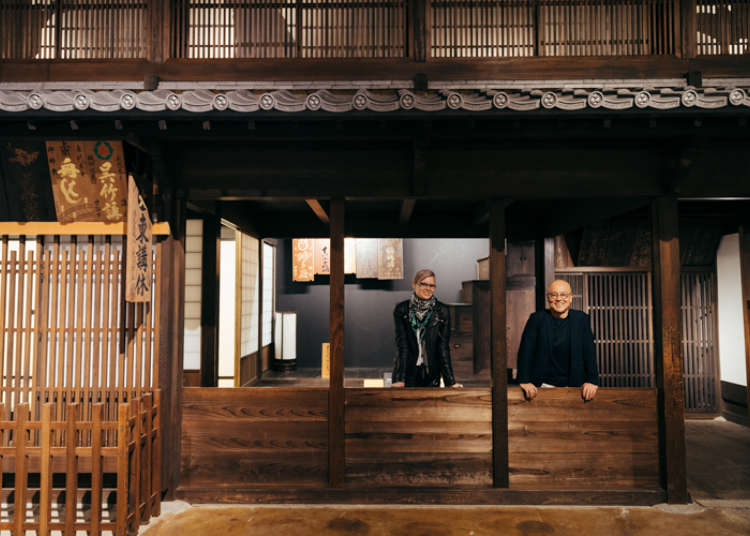 This Tokyo day trip itinerary to Jokamachi and Sakura was planned by Mr. Tetsu Morita, who was actively involved in the production of the Michelin Green Guide Japan. With his familiarity of Westerners' tastes, he provides a view of Japan that even Japanese people themselves might not be aware of.

Today, this seasoned globetrotter will take us along to show us one of his favorite places not far from Tokyo, yet often overlooked by both locals and tourists.

Here we will introduce Sakura City in Chiba Prefecture. It is close to Japan's gateway, Narita Airport, and about an hour from Ueno via local express, it is a familiar area to foreigners who have visited Japan.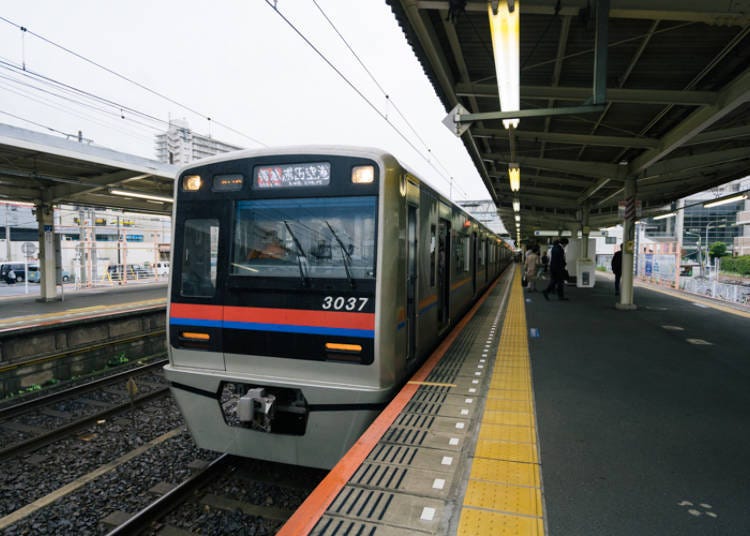 Starting at Keisei Sakura Station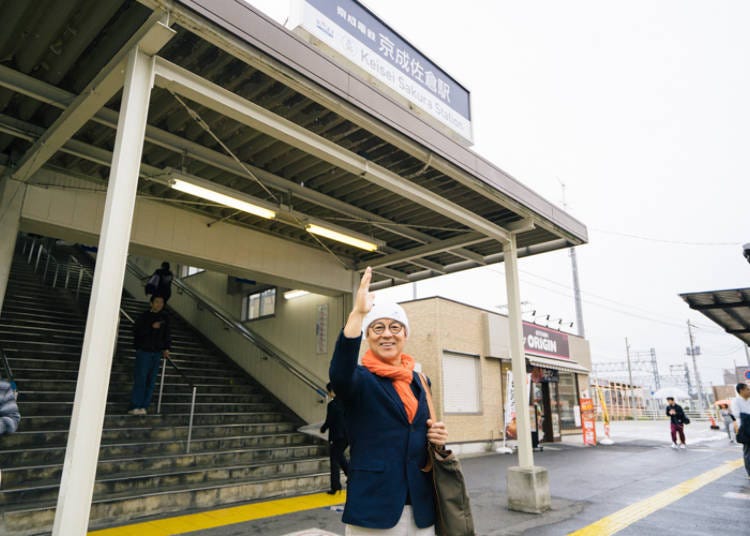 Today's attendant is a staff member of LIVE JAPAN, Pamela from Germany.

We meet at Keisei Sakura Station on the Keisei Denki Main Line, and head towards Sakura on foot.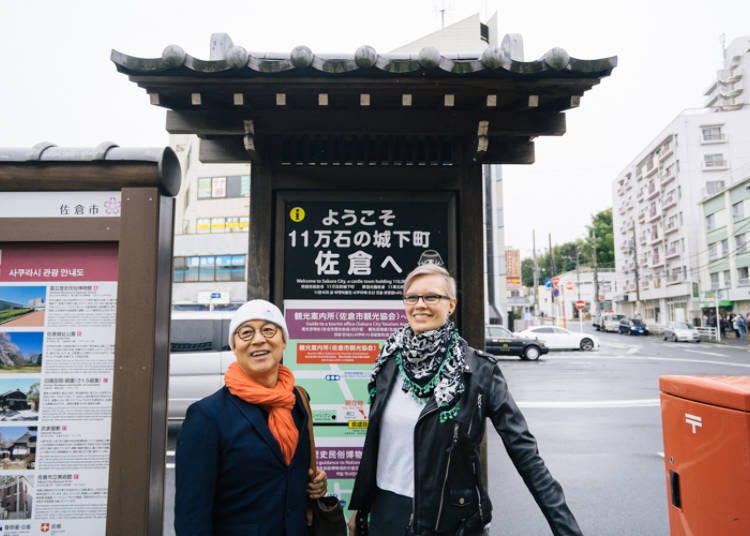 National Museum of Japanese History: Learn the History of Japan through Folkloristics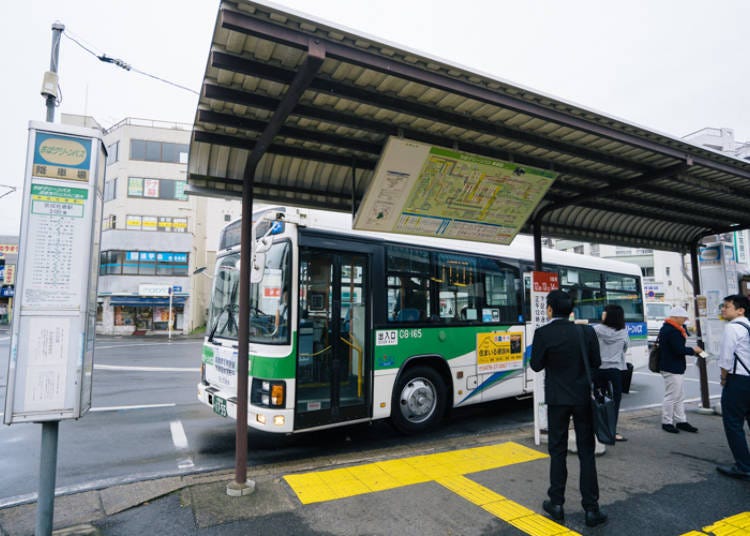 The first destination is the National Museum of Japanese History.

Take the South Exit of Keisei Sakura Station and from there board the Chiba Green Bus bound for Tamachi-shako, and get off at Kokuritsu-Hakubutsukan-Iriguchi station (the National Museum Entrance).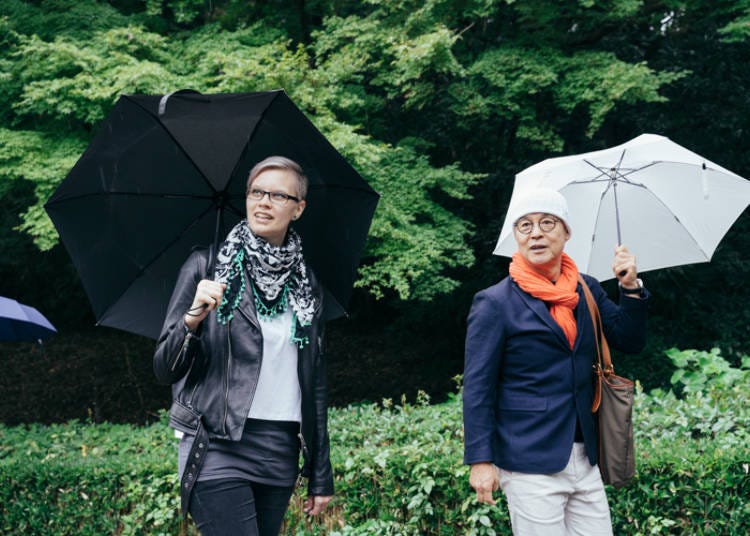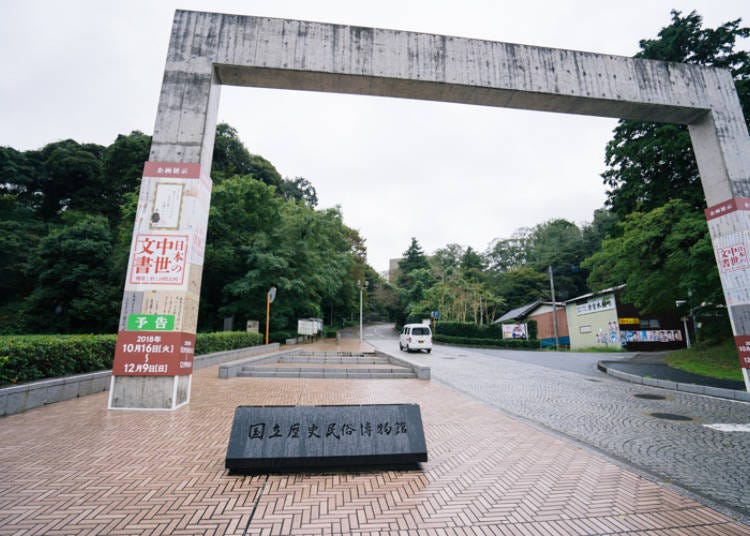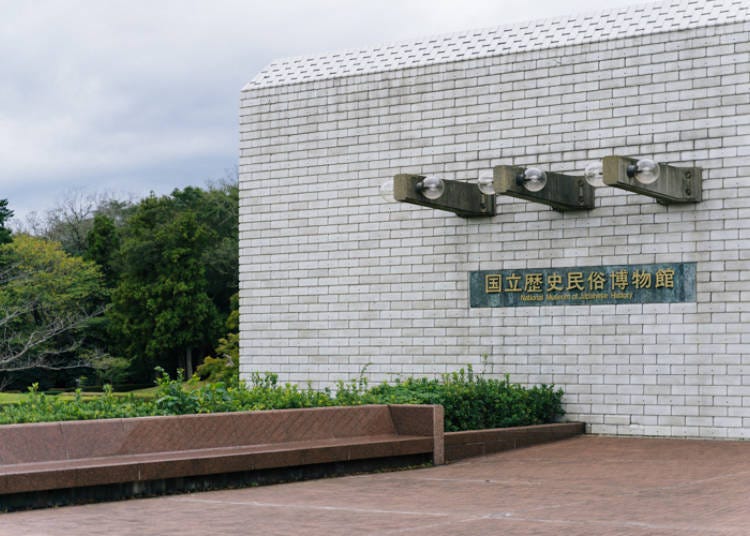 Morita: "Pamela, this National Historic Folk Museum is a one of the places I absolutely must recommend to visitors to Japan from abroad. This museum shows us the history of daily Japanese life and culture from ancient and prehistoric times to the present, through various aspects such as traditions, beliefs, manners and customs. I think these museums are one of the greatest pleasures of traveling to visitors from Europe. It's one of the best places for travelers who want to know more deeply about Japan."

Pamela: "It's a really great place for tourists who want to learn more about the history of Japan, isn't it?"
Audio guides are lent out in the information section right near the entrance. They are available in English, Chinese, and Korean. Pamela is fluent in Japanese, but in order to fully grasp the meaning of each exhibit, she decides to rent an English one.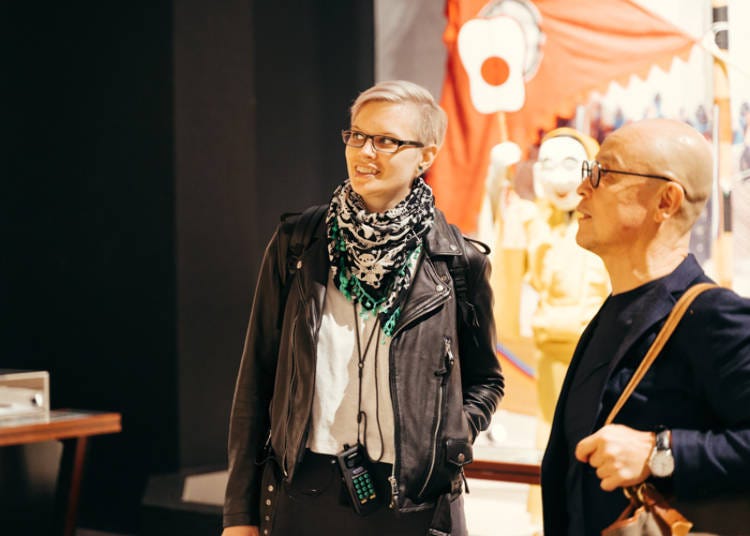 Morita: "There are six exhibition rooms in total. However, because the first exhibition room about prehistoric and ancient times is closed until March 2019, let's take a look at the other five today. The first thing I want you to see is the fourth exhibition room, with folk culture displays about festivals, religious beliefs, and customs."
(*The first exhibition room will reopen Tuesday, March 19, 2019.)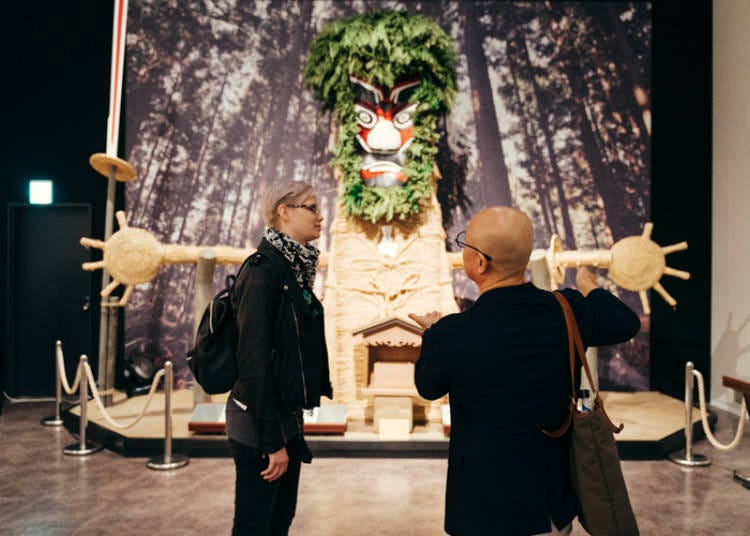 Morita: "The underlying theme of Japanese festivals is animism, the belief that there is a spirit that lives in all things. When rice cultivation entered the culture, people recognized the necessity of collective work, and the importance of water distribution and management. So as a group, they gathered to give thanks to the rain god, and held events called matsuri, or festivals. These festivals also helped to revitalize the local communities."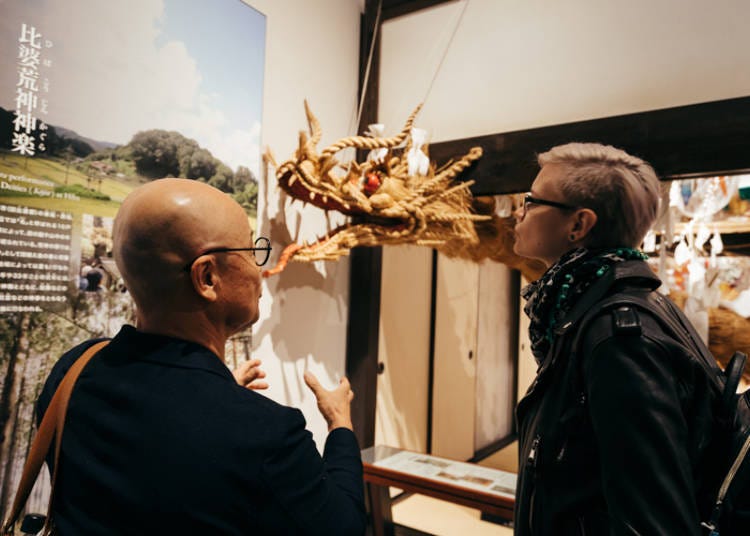 Pamela: "There seems to be a deep connection between rice cultivation and the lives of Japanese people."

Morita: "Some Japanese festivals may appear somewhat violent at first, but this is said to be as an expression of anger towards evil spirits who bring about misfortunes such as epidemic, famine, and crop failure. Such animistic beliefs probably existed in Europe as well, but with Christianity as a monotheistic religion, people probably chose not to recognize that culture."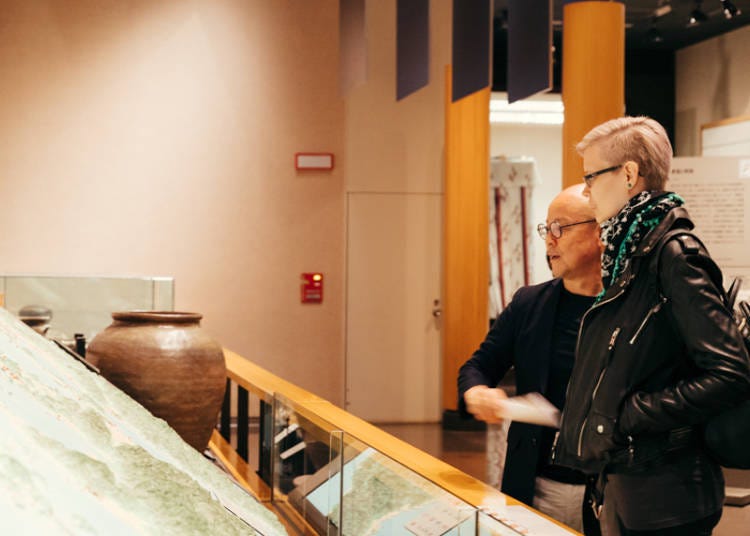 Pamela: "What time period is the Middle Ages theme of the second exhibition room?"

Morita: "From the Heian Period to the Azuchi–Momoyama Period. Looking at the diorama of the common people's townscape of this time, you can see that it is not so different from the rural landscape of Satoyama in current-day Japan."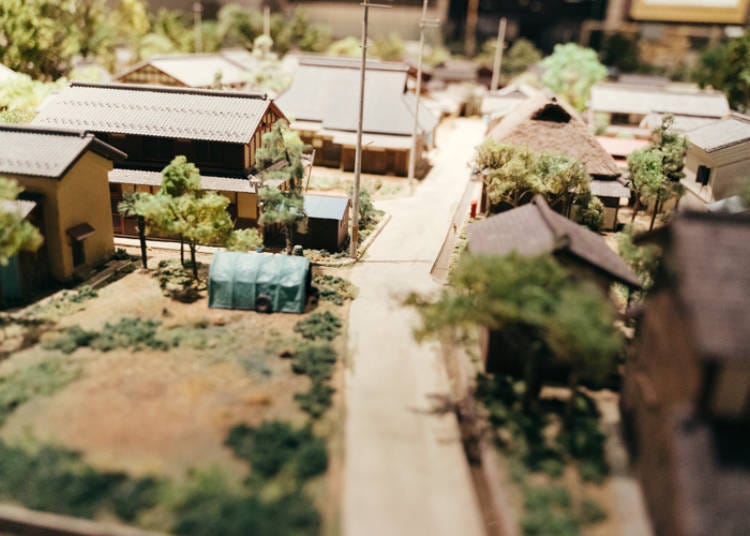 Morita: "The third exhibition room shows the lifestyle of Japanese people in the Edo Period. The dioramas of 18th century Edo and Nihonbashi are very interesting. Japan being a country that is surrounded by water on all sides, ships such as kitamaebune, or cargo ships, were important for distribution. This cargo ship carried products from Hokkaido such as kelp, herring, and dried scallops, through the Sea of Japan, then from the Seto Inland Sea to Osaka. Daily necessities such as rice, salt, miso, soy sauce, alcohol, and cloth were also transported by ship, which is why rivers and canals were so important to the development of the city."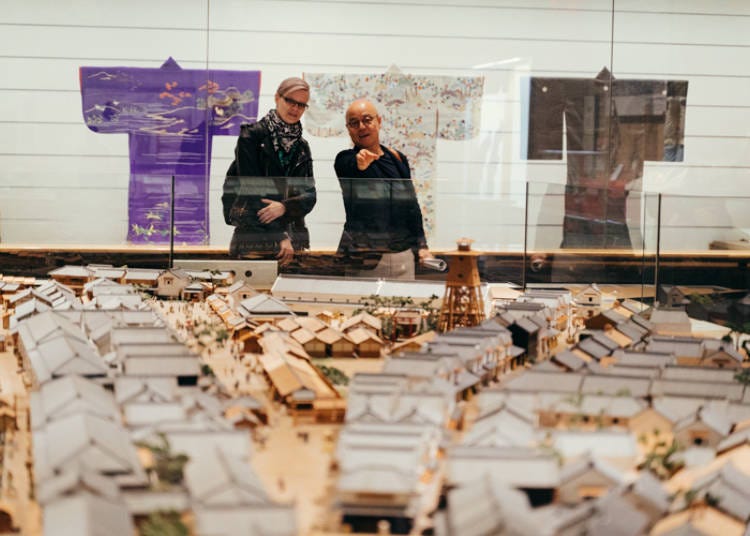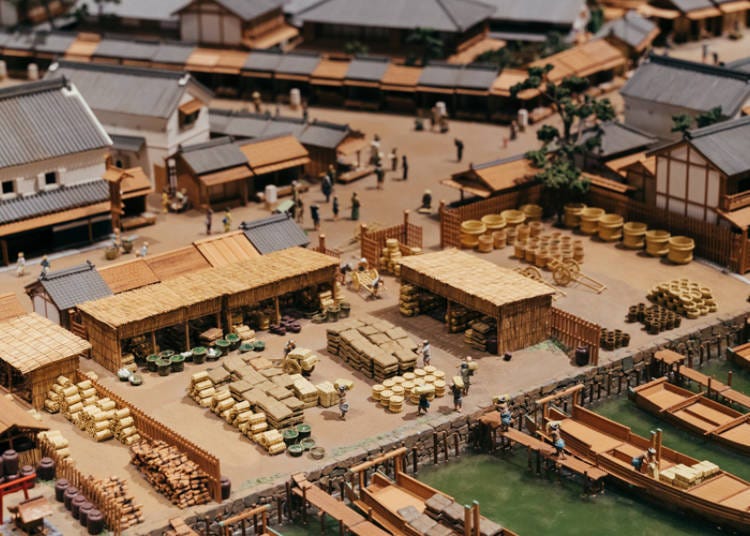 Also, in the city of Edo where the houses were made of wood and paper, fire prevention measures were extremely important, and so many wide streets and plazas were built to keep fires from spreading.

Pamela: "There are even some cool firefighters like the people from the fire brigade I met in Oyama, Kanagawa."

Morita: "Not just the fire fighters from Oyama, but the groups from Ise and Konpira as well tell us that in this culture, even the common people traveled. In Europe around the same time, people could not travel as much. But in Japan during the Edo Period it was peaceful, so it was possible for ordinary people to travel."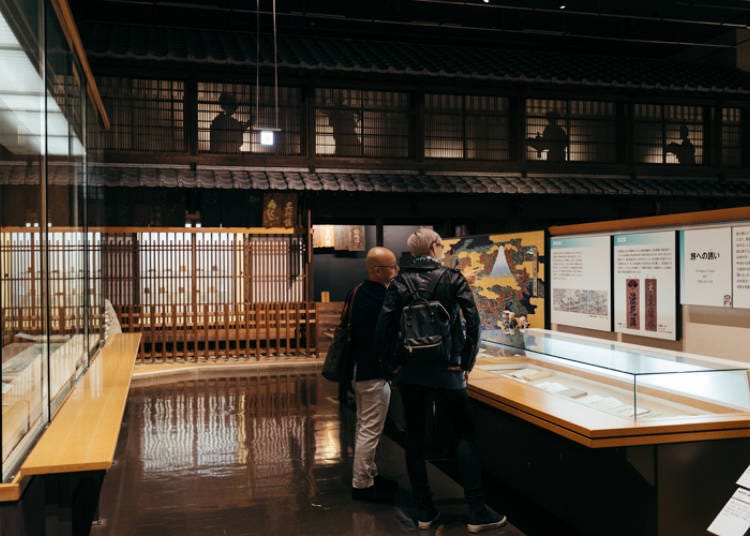 Morita: "In the fifth exhibition room, you can learn about modern Japan from the late 19th century to the 1920s. You can see how much civilization changed once the Edo Period ended and the Meiji Period began and Western civilization started to come in."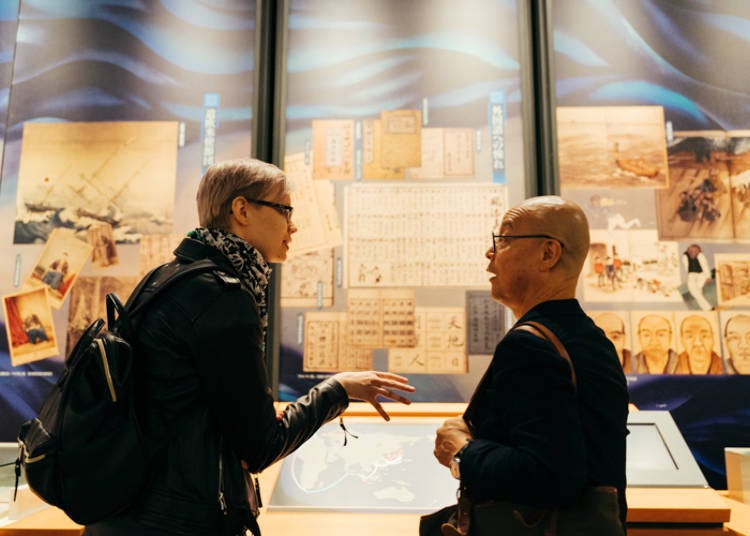 Pamela: "Actually, I don't really like terms like 'cultural enlightenment' or 'civilized,' because I'm sure that even before the Meiji Period Japan had a wonderful civilization. I think it's strange to not acknowledge the civilizations that had existed thus far and make everything about Westernization."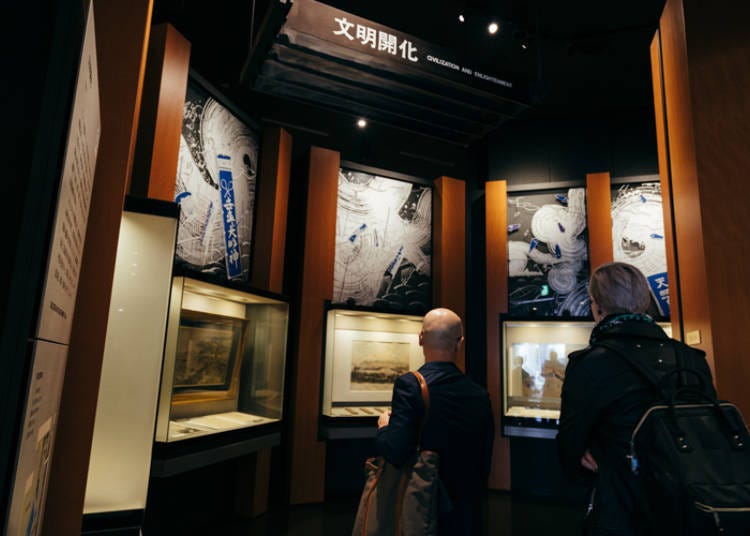 Morita: "That's right. It's important for modern-day people to know about the cultures and civilizations that have taken root in Japan since so long ago. This museum is a wonderful place to learn about those Japanese civilizations."
Morita: "This museum has about 250,000 items displayed on a site of about 130,000 square meters. Amongst those, some exhibition contents change, and there are always about 10,000 items on display, so it's always an enjoyable experience no matter how many times you come."

Pamela: "I wish I had more time to look at all these interesting exhibits. One day is not enough. I think everything I wanted to know about Japan is exhibited here."

Morita: "It's a really wonderful facility, so I hope more foreign residents of Japan besides travelers can visit. You can even enjoy it with your family. It is close to Narita Airport, too, so if you visit as soon as you arrive, even if you're going to Kyoto, Hokkaido, or Kyushu, your understanding of Japan will deepen. I hope you can come again before returning home."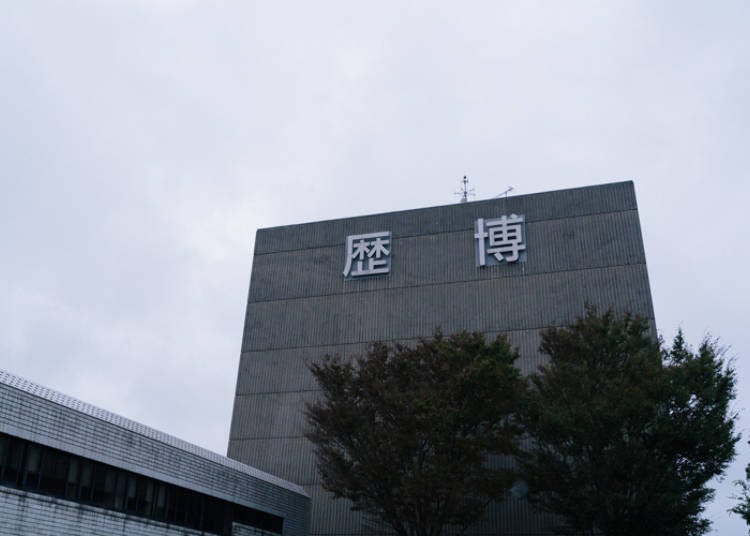 Address

117, Jonaichou, Sakura-shi, Chiba, 285-8502
View Map

Nearest Station

Keisei Sakura Station (Keisei Main Line)
15 minutes on foot


Phone Number

03-5777-8600
Omotenashi LAB Guesthouse: Interact with Others in an Edo Period Style Lodging!
Next, Mr. Morita and Pamela headed for the guesthouse, Omotenashi LAB.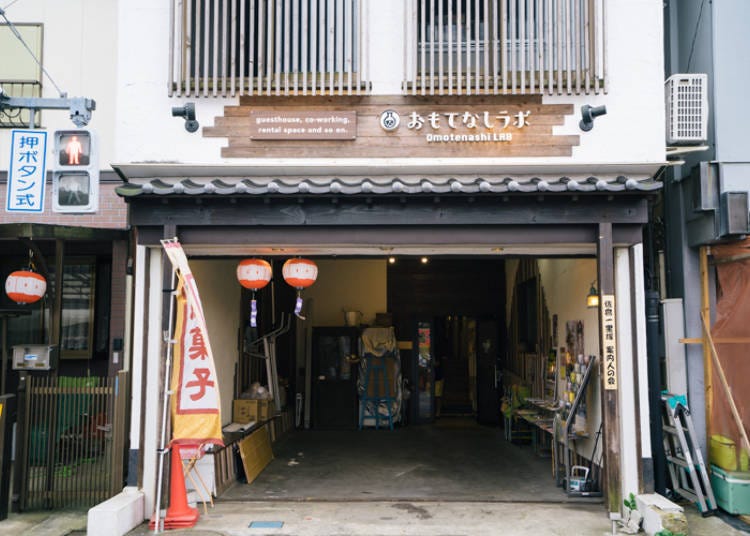 Omotenashi Lab is a guesthouse built from a real home in 1951. With a community space, coworking space, rental space, and more, you can enjoy your stay in Sakura with an Edo period traveler's lodge atmosphere.
The owner, Mr. Toriumi, said he lived in New Zealand for about 8 years, and traveled the country as a backpacker at the time. He wanted to start a guesthouse similar to the ones he used at that time, so he started Omotenashi LAB right here in Sakura near the Narita Airport.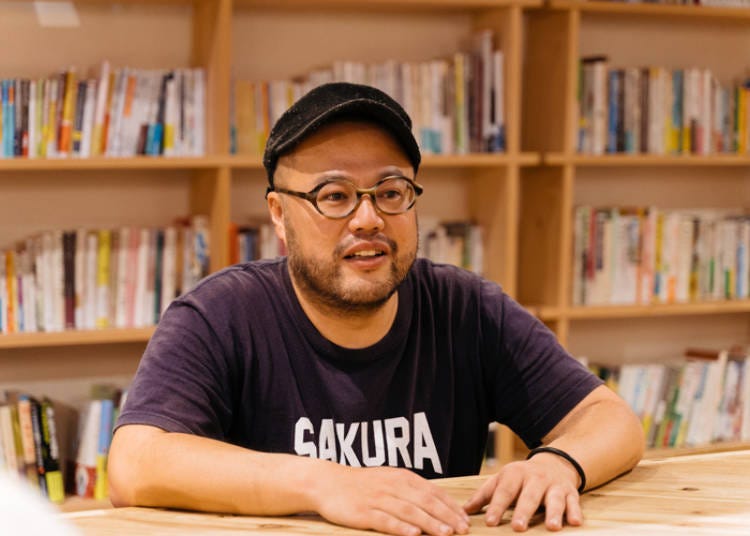 Owner: "Half of our customers are from overseas, and many come from the U.S., Australia, and Europe. Elementary students use the community space to do homework, so sometimes the local kids and guests from abroad get to interact with each other."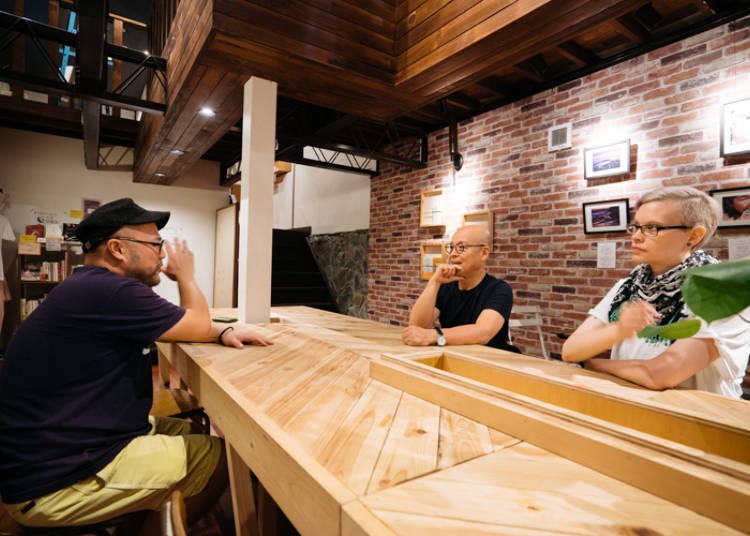 There are five bunk beds available in the lodging space. To the back of the bedroom is a living room, a spot where guests can interact with each other as well.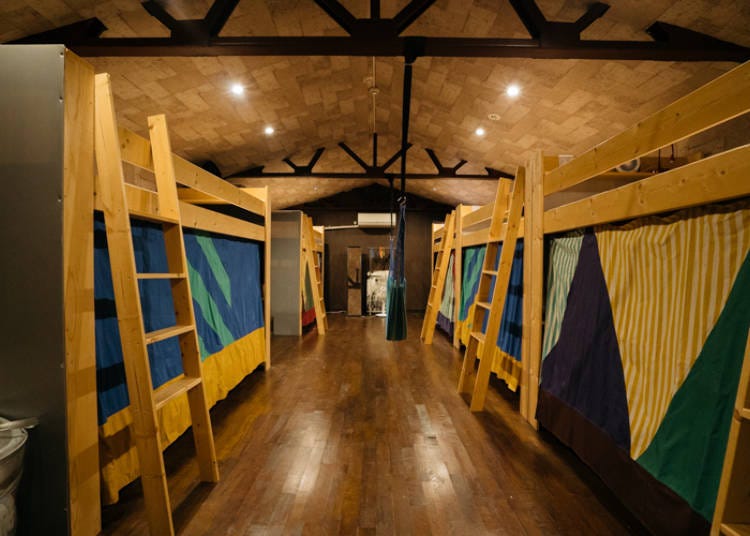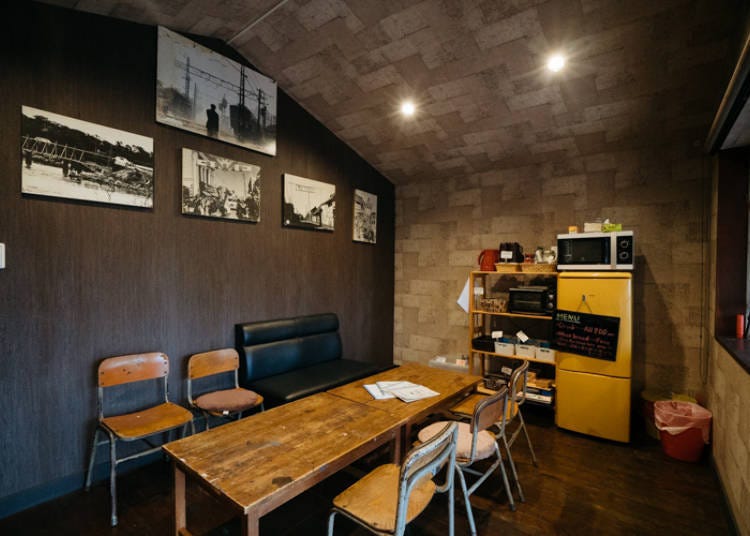 Owner: "This building is old-fashioned. The part facing the road is 4.4 meters long, and the depth of 35 meters, so it is narrow."

Morita: "It's probably a remnant of a fraudulent tax scheme from the Edo Period. There used to be a tax imposition that was based on the size of a house as seen from the front of the road, so narrow fronts meant less taxes. So many buildings were built like this, narrow in the front and wide in the back, like a bed of eels. Even some buildings from the Showa Period still show how people used the land in the Edo Period."

Pamela: "How interesting. A guesthouse for students and young people. It would also be nice to stay here and spend more time learning history such as in the place we went to before."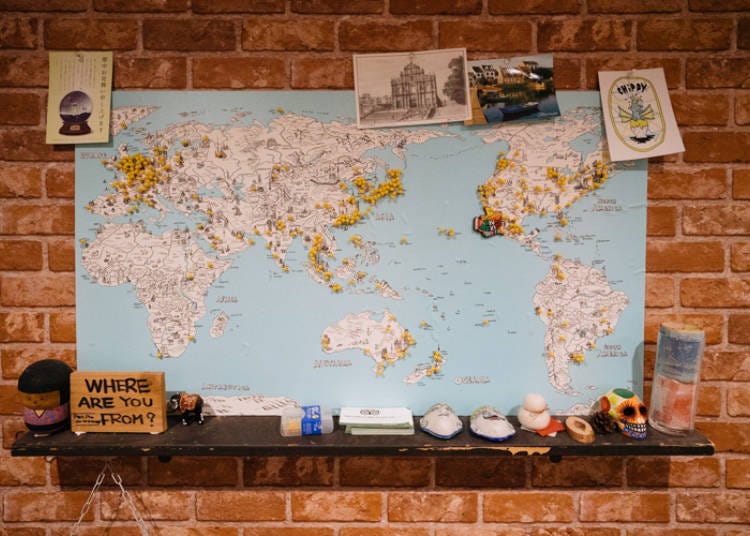 おもてなしラボ

Address

168 Shinmachi, Sakura, Chiba 285-0023

Phone Number

043-310-7595

Phone: 043-310-7595 (Reception: 10:00AM~9:00PM)
Closed: Mondays
Tsukamoto Art Museum: Enjoy Japan's Prominent Japanese Sword Collection for Free!
Next they visited the Tsukamoto Art Museum, located 10 minutes on foot from Omotenashi LAB.
The Tsukamoto Art Museum displays the Japanese sword collection of Tsukamoto Sozan, a businessman from Sakura. It boasts one of the most popular collections in Japan, with about 400 swords and 250 sheaths. Exhibits change every 3 months.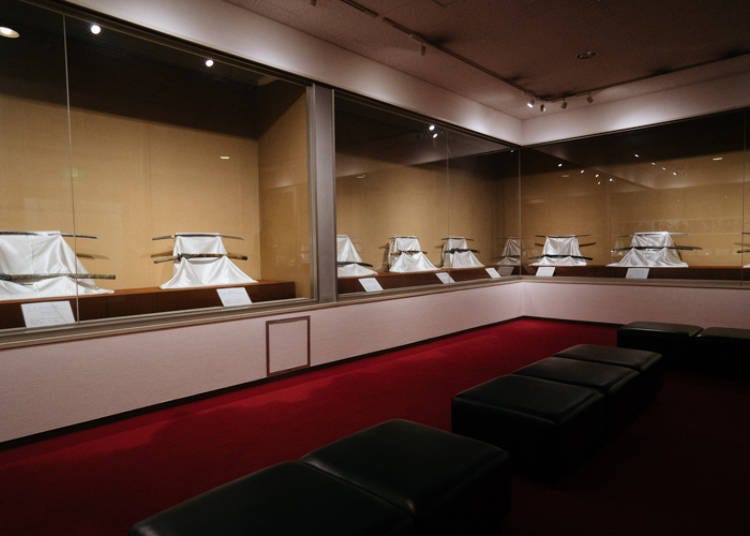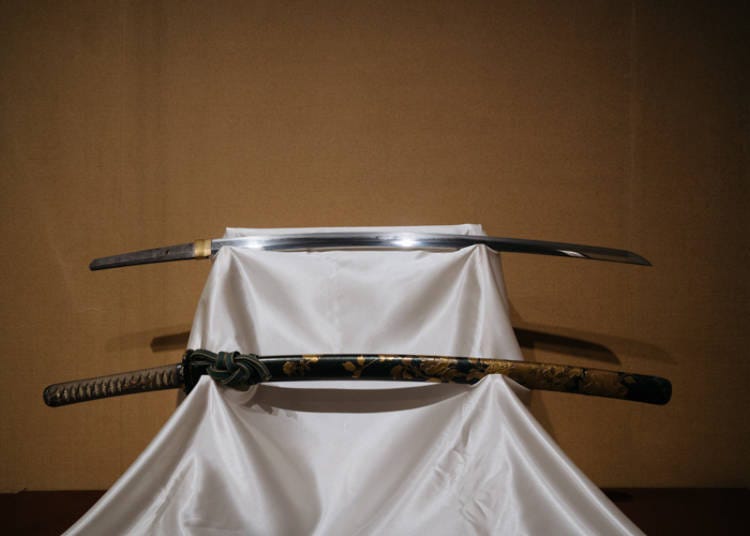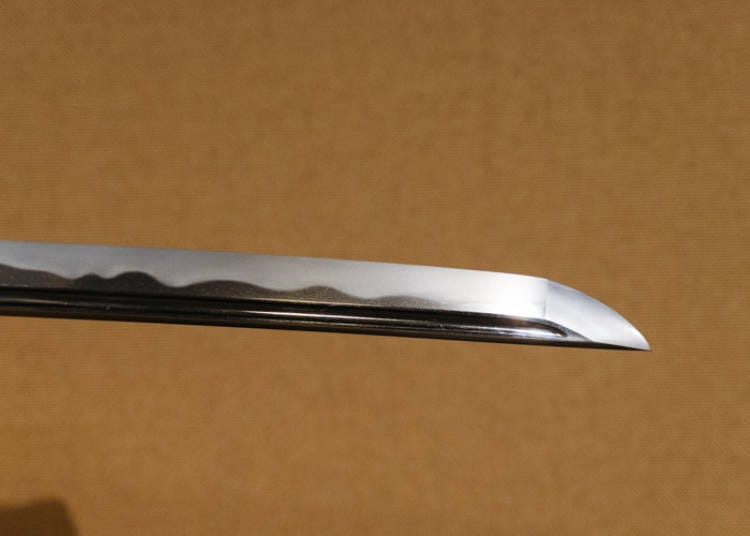 Morita: "A museum that exhibits a private collection of this many Japanese swords is rare."

Pamela: "I can't explain it in English, but just looking at it has such a Japanese atmosphere, it's really fun."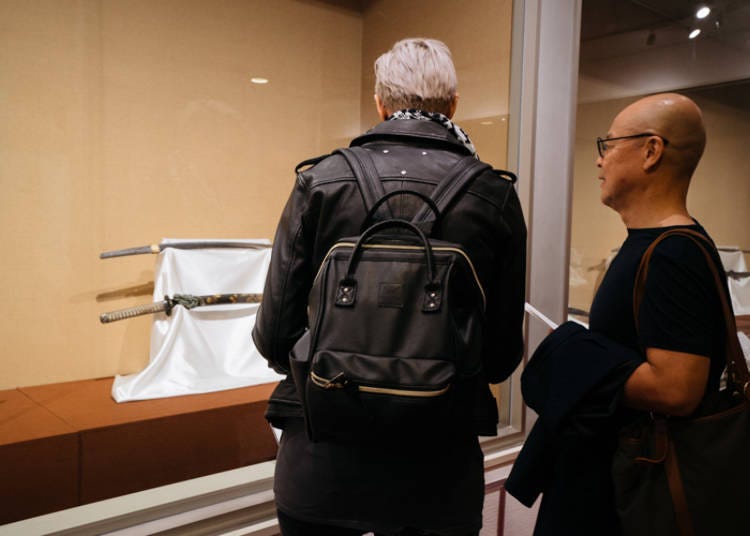 Morita: "The raw material used to make Japanese swords is called 'tamahagane,' or 'jewel steel.' The sword smith tempers this, and makes a sword. How interesting to have a display on sword making."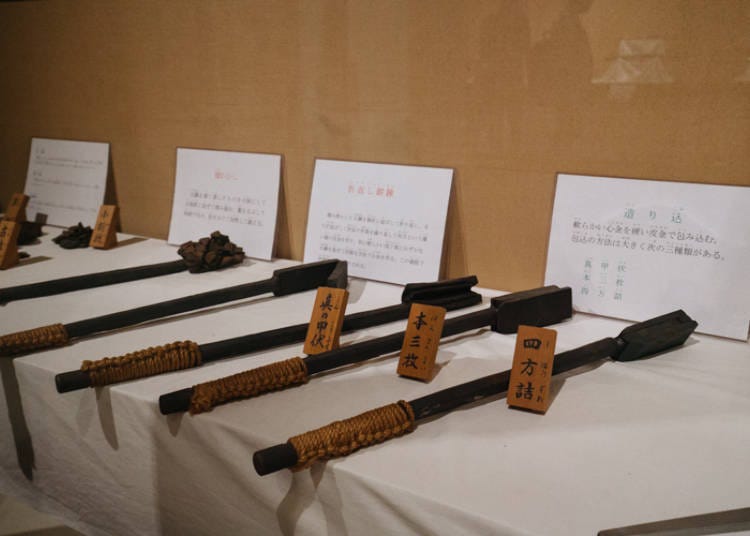 Pamela: "So this is how Japanese swords are made. I wish I could test them out on some wood or bamboo!"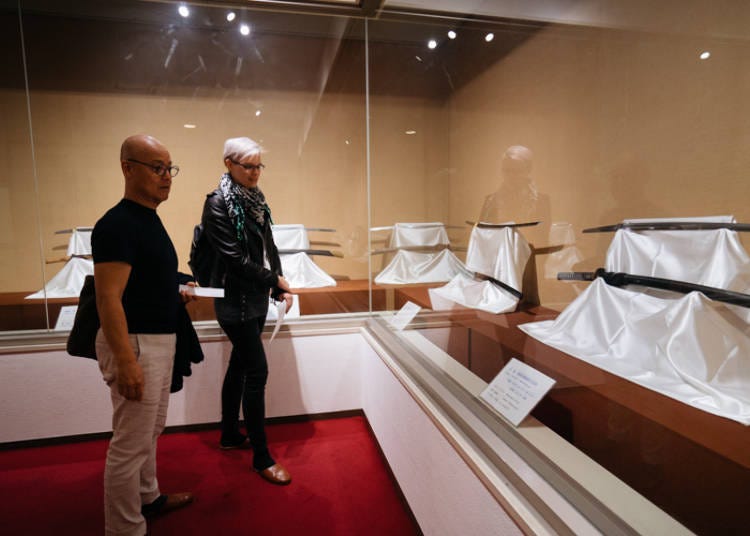 塚本美術館

Address

1-4 Urashinmachi, Sakura, Chiba 285-0024

Phone Number

043-486-7097

Closed: Saturday, Sunday, Monday, Public Holidays, New Year's Holiday
*Excluding 3rd Saturday
Restaurant Belvedere: Enjoy Local Dishes by the Green Garden
After taking in the beauty of the Japanese swords at the Tsukamoto Art Museum, Mr. Morita and Pamela head back to Keisei Sakura Station. From there, they ride the free shuttle bus to the Kawamura Memorial DIC Museum of Art.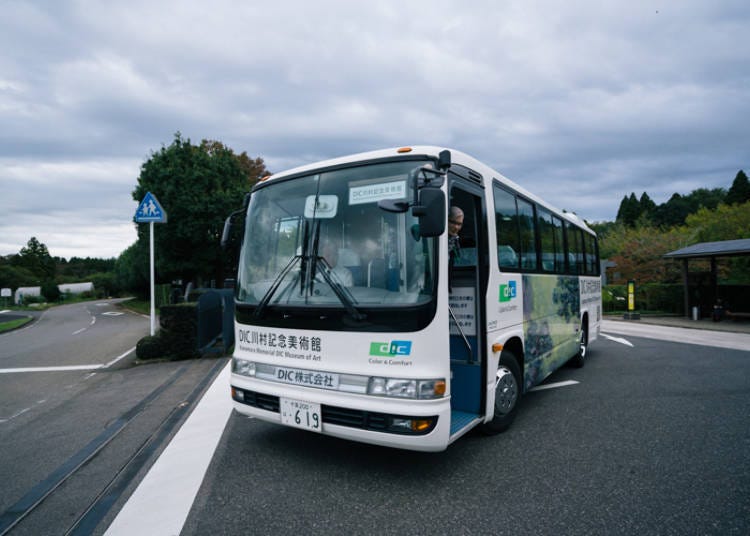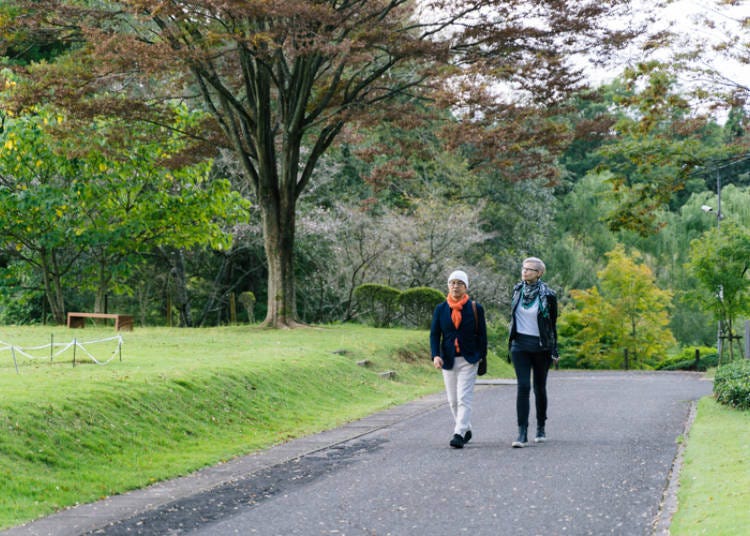 Mr. Morita: "We are going to a restaurant in the DIC Kawamura Memorial Museum with a wonderful atmosphere. You can enjoy authentic Italian food while taking in the scenery of the lush green garden."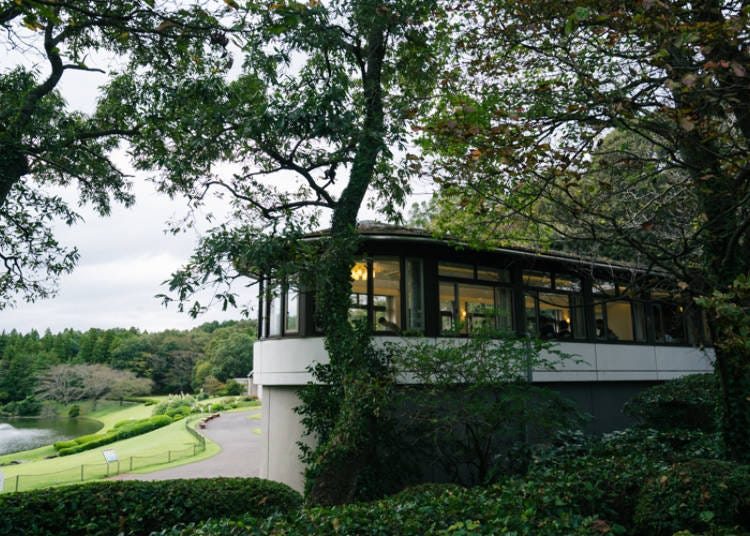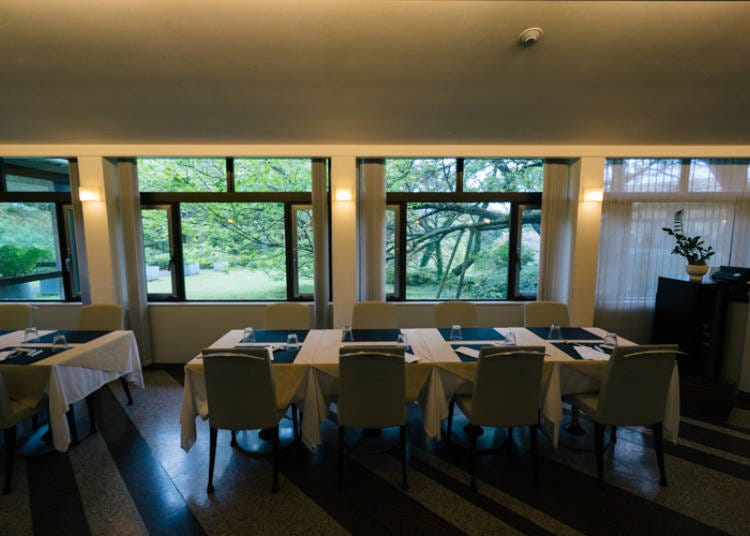 Belvedere, which is attached to the DIC Kawamura Memorial Art Museum, is an Italian restaurant where you can enjoy the changing view of the seasons. The name of the restaurant means "beautiful view" in Italian, which perfectly describes the green landscape outside the window and the nice bright lights.
As it was after lunchtime, they ordered à la carte.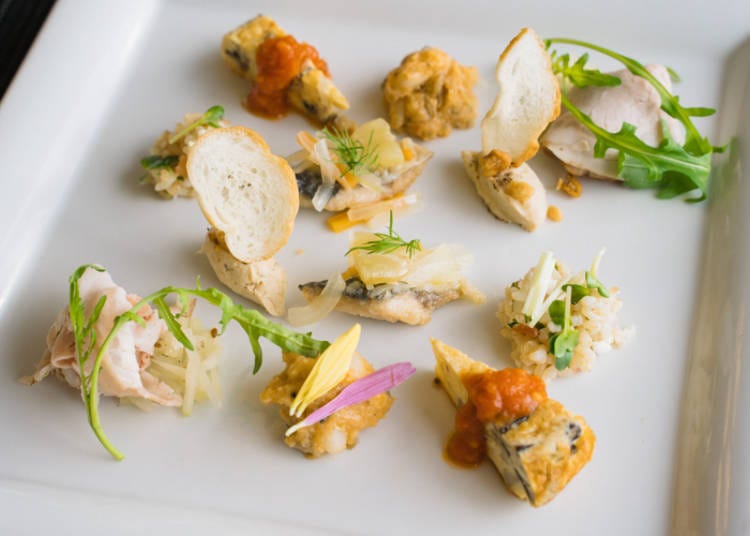 Appetizer Platter ¥1000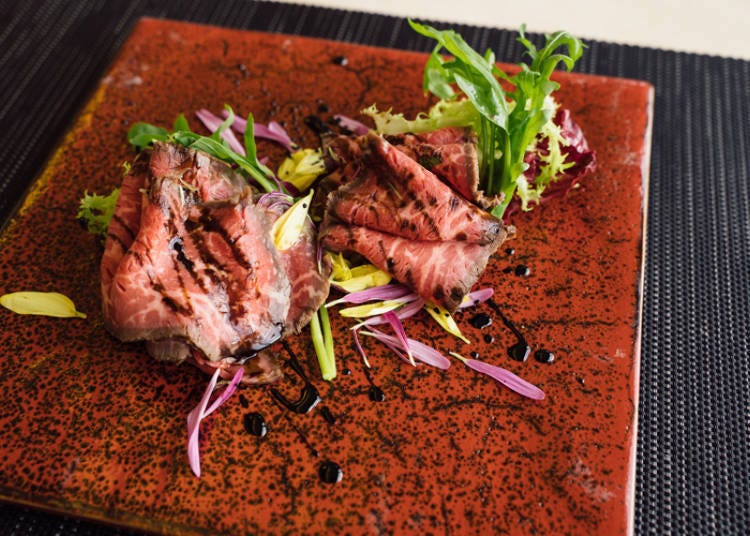 A4 Rank Wagyu Roast Beef ¥2000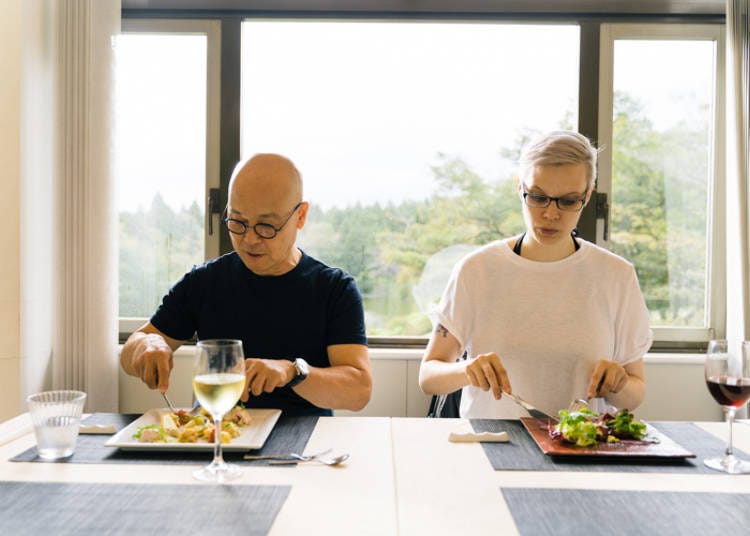 Pamela: "The roast beef is delicious, and the vegetable garnish is fresh!"

Morita: "I heard that this restaurant uses mostly local Chiba ingredients. Chisan-chisho means it is locally produced for local consumption. After seeing all the masterpieces at the museums, this is a nice place to come and talk about them."

Pamela: "There's even an English menu, so it's good for tourists who can't read Japanese."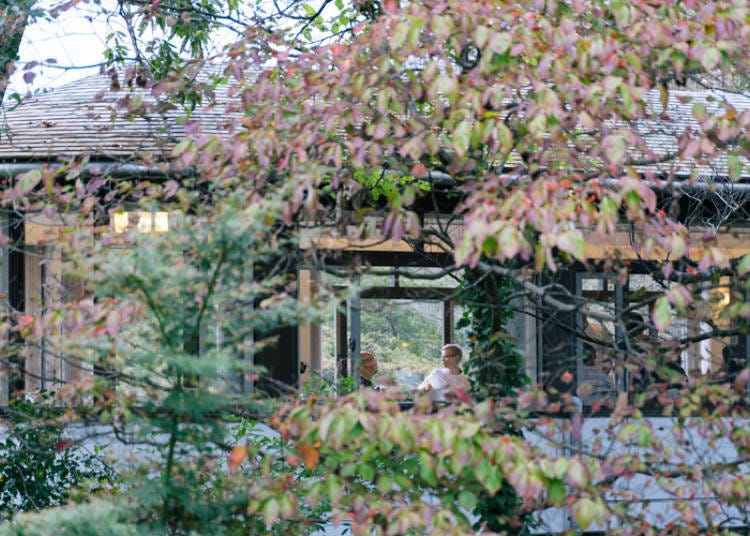 ベルヴェデーレ

Address

631 Sakado, Sakura City, Chiba 285-0078

Phone Number

043-498-0848

Open: 10:00AM~5:00PM (4:30 L.O)
Lunch: 11:00AM~2:30 L.O
Closed: Mondays (Open public holidays, closed the following weekday), New Year's Eve and New Year's Day, temporary exhibition closings
Enjoying Artwork at the DIC Kawamura Memorial Art Museum
After filling up at the restaurant, they take a walk in the garden of the museum.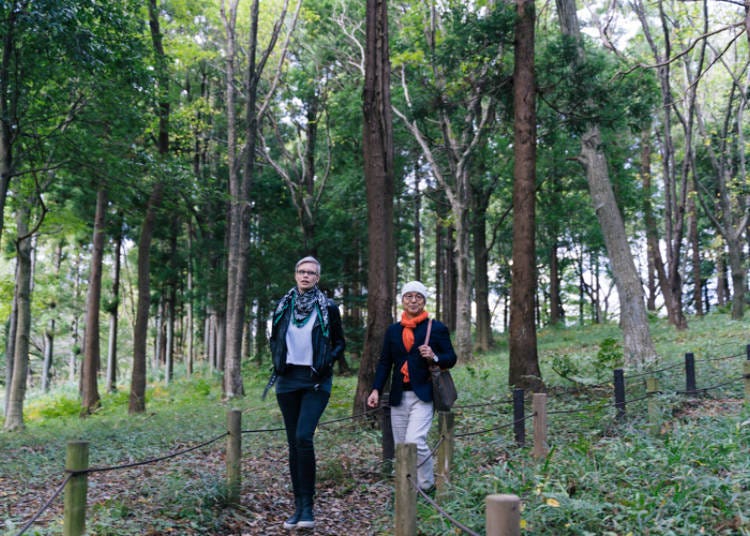 Morita: "This museum is an art museum established by the resin and ink manufacturer, DIC Corporation. The gardens and nature paths are spread along a site of about 10 hectares. You can also see seasonal flowers and outdoor sculptures."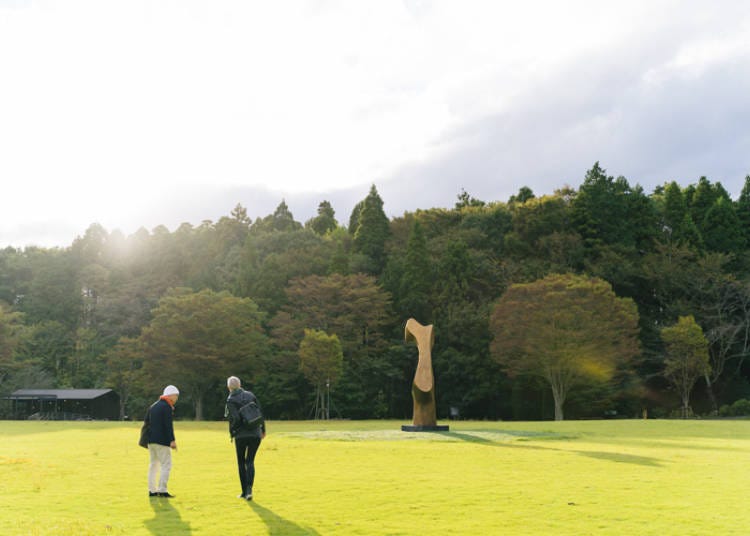 Pamela: "There's so much green, and it's really relaxing! It's fun to walk around the garden."

Morita: "The garden itself is a place worth visiting on its own."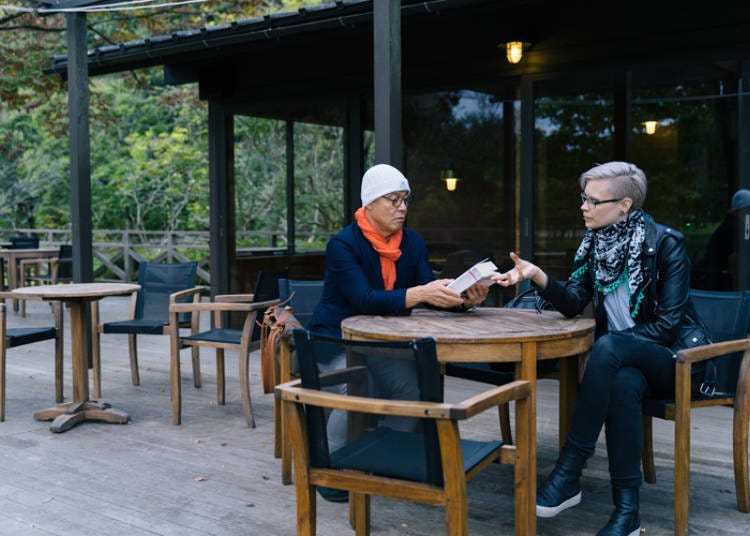 Pamela: "There's a bathroom at the back of the terrace, but it would be much nicer if it was an open cafe. I would love to just come here and read books all day."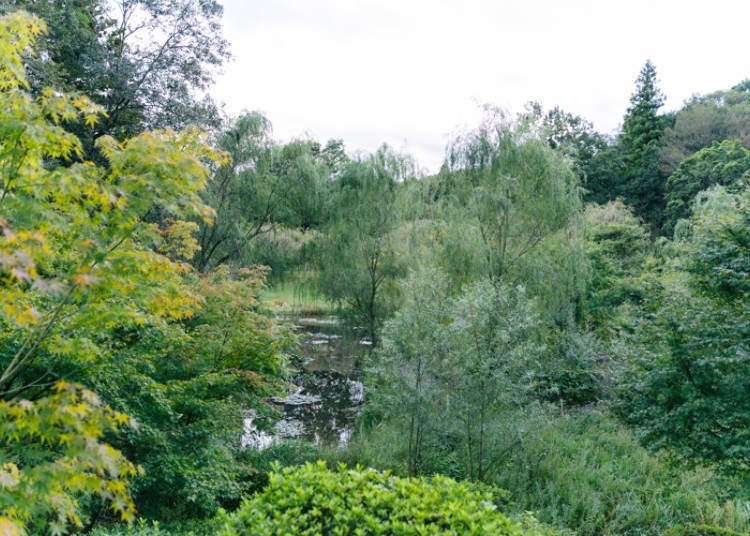 After a walk through the spacious garden and getting hungry again, they finally arrive at the DIC Kawamura Memorial Art Museum.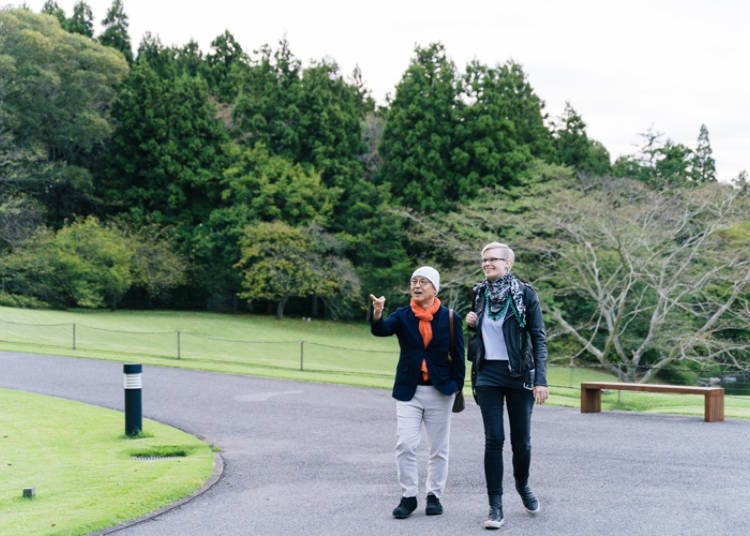 Pamela: "When traveling abroad, it's very European to do all you can to make time for an art museum. Art appreciation is one of the biggest pleasures of traveling. What kind of work does the museum here have?"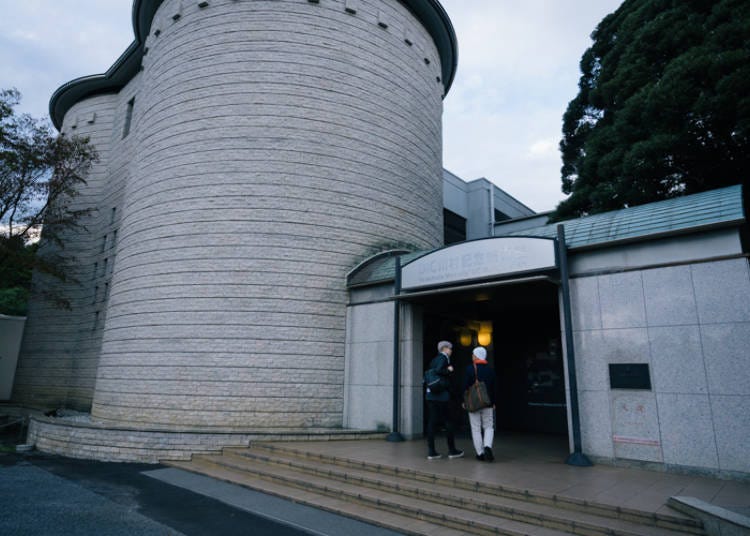 Morita: "This art museum displays mostly 20th century works. It was established in 1990 as a place to publish the artwork collected by DIC Corporation and their affiliates. There are various works by various artists such as Picasso, Black, Chagall, Miro, and more, so there is always plenty to see. Even this dimly-lit entrance seems as if it is trying to prepare you for the art work you're about to see."

Pamela: "The floor and lights seem to share a two-circle motif, it's nice."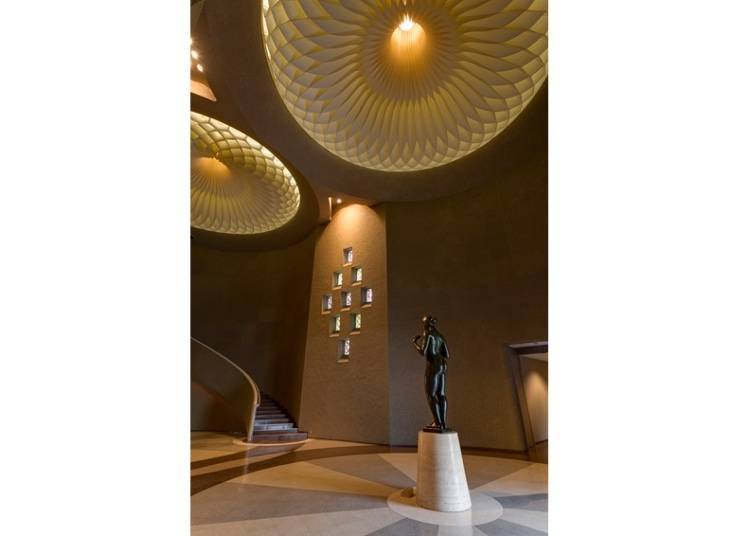 Morita: "Because it's an art museum for collections, the space varies depending on the works. To design a space according to a particular painting is quite a luxury."

Pamela: "There's also Rembrandt's 'Man in a Broad-Brimmed Hat' and Monet's 'Water Lilies.'"

Morita: "The 'Rothko Room,' which displays 7 of Mark Rothko's Seagram Murals, is also nice. It reflects Rothko's desire to create a space that exhibits only his own works. It's just like being engulfed in Rothko's world. The museum has a permanent exhibit on the first floor, and occasionally on the second floor, too. The permanent exhibit is changed several times throughout the year so you can come back and enjoy it more than once."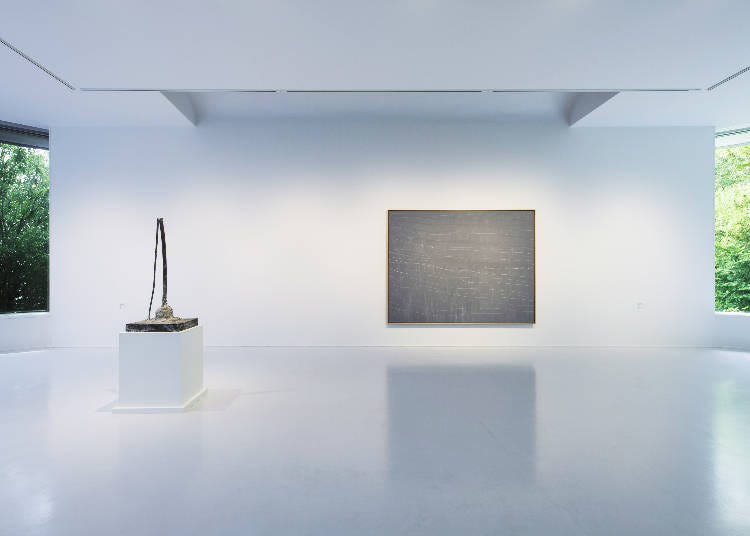 Address

Sakado 631, Sakura-shi, Chiba, 285-8505
View Map

Nearest Station

Sakura Station (JR Sobu Main Line / JR Narita Line)
20 minutes by bus


Phone Number

0120-498-130
Say Hello to Sakura Japan!
Sakura, about 30 minutes from Japan's gateway, Narita Airport, and 1 hour from Tokyo, is a place for not only travelers but for foreign residents and Japanese citizens alike, with facilities that you will want to visit more than just once.

If you stay in Omotenashi LAB, you can go to the museum as many times as you like, spend a whole day taking in the works at the DIC Kawamura Art Museum, and enjoying the nature in the garden.

When you visit this town, you can even learn about folklore and the making of Japanese swords, promising a deeper understanding of Japan during your travels. It is a city with so many interesting things to do, you will surely want to come back again and again!

*This information is from the time of this article's publication.
*Prices and options mentioned are subject to change.
*Unless stated otherwise, all prices include tax.