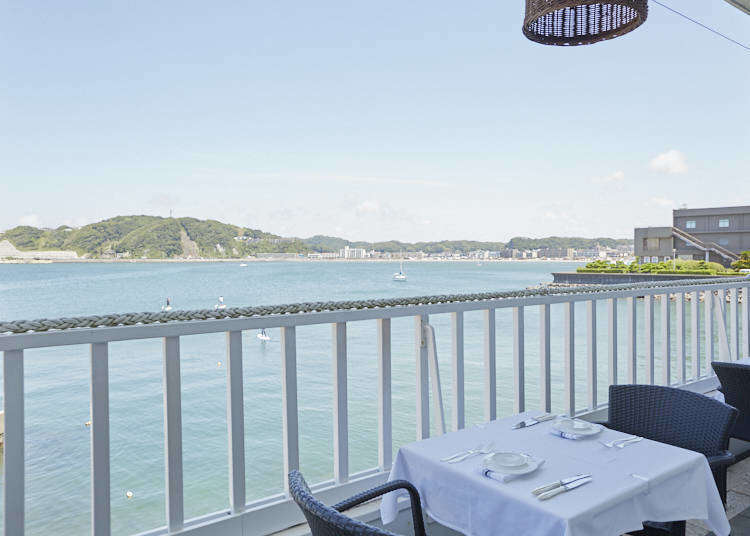 Our journey this time takes us on a relaxing day trip from Tokyo to Miura Peninsula's Hayama Town. Hayama is the historic home of some of the first ambassadors from the West to Japan over 100 years ago, and many of their residences still remain.

Feel the gentle sea breeze and discover the history of Japan's relations with the West under the guidance of Mr. Tetsu Morita, who was actively involved in the production of the Michelin Green Guide Japan! This time, he is accompanied by Timothy from New York State, a member of LIVE JAPAN's editorial staff.
Starting off in Hayama Town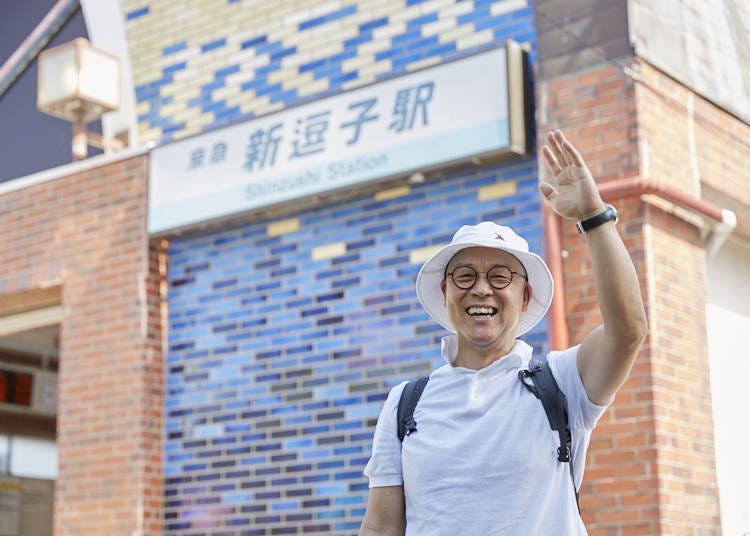 Morita-san took the Keikyu Zushi Line to Shinzushi Station (later renamed Zushi-Hayama Station) where he meets with Timothy.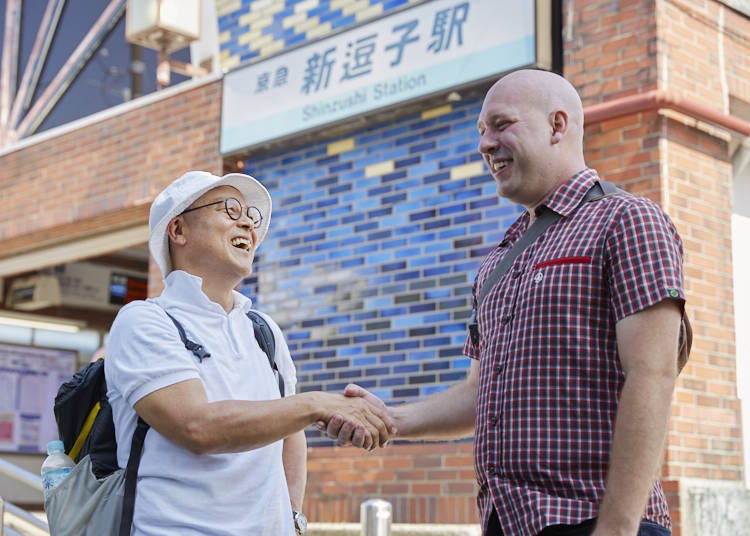 Timothy: "Good morning, Morita-san!"

Morita-san: "Hi, Timothy! I'm looking forward to showing you around Hayama Town today. It's a charming town with plenty of interesting sights and I am sure that you'll enjoy it. First, let's have lunch, I know just the right restaurant!"
LA MARÉE: Pure Relaxation at a French Terrace Restaurant Serving Fish and French Cuisine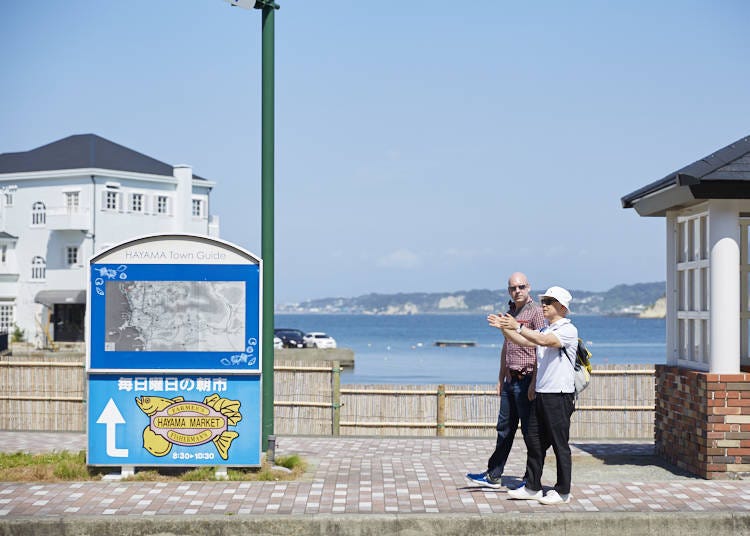 We're taking the Keikyu Bus from Shinzushi Station to Yoroisuri Bus Stop. As soon as we step out, the beautiful scenery of the Obama coast sprawls right in front of us.

Timothy: "What a marvelous place. The Western-style buildings right in front of the sea make me think of the French Riviera."

Morita-san: "Hayama was a fishing village like you'd have found them everywhere in Japan, up until 130 years ago. However, in 1876, the German doctor Erwin Bälz came to Japan, followed by the 5th Italian Minister to Japan Renati de Martino in 1883.

Both of them liked Hayama very much and built holiday residences there. They recommended the place and that led to other European ambassadors building private residences to spend the summer in Hayama. From then, Western culture took root in the town and even nowadays, the nostalgia of those days is palpable. It's probably the best place for European visitors who long for a nostalgic seaside scenery."

Timothy: "So Western lifestyle found its way into Hayama in the Meiji Period."

Morita-san: "Indeed. That makes it a very interesting town with a sophisticated atmosphere, and the traces of Europe dotted all around the area make it a popular sightseeing spot. While Hayama shares its coast with Shonan and Enoshima, its atmosphere has a rather different charm. It's the perfect place for relaxing, leisurely sightseeing."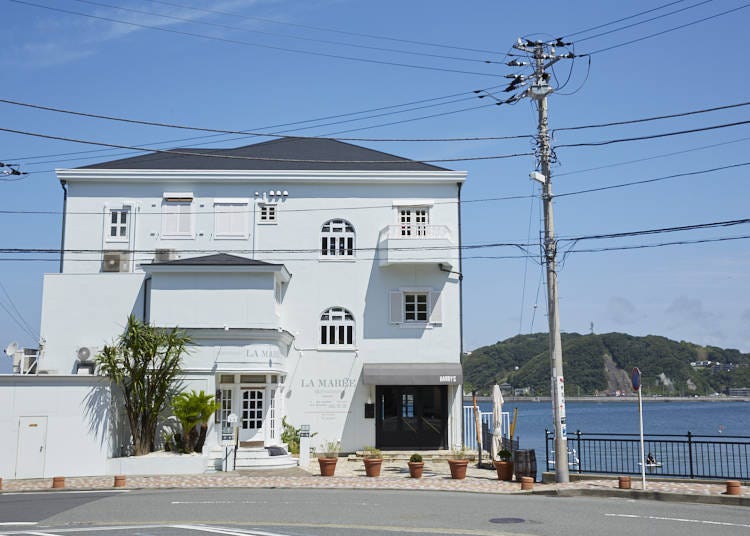 Morita-san: "This European-style house was built in 1977 and is called 'La Marée.' That name means 'sound of the sea' and true to its name, visitors get to dine on the terrace while gazing out at the water. The first floor is a casual café and brasserie, so if you just want to wind down with a cold beer, for example, I highly recommend these terrace seats. Actually, I went to this place a lot at the time of its opening and I have fond memories of sitting here with a cocktail, listening to the sound of the waves, together with a woman who taught me French."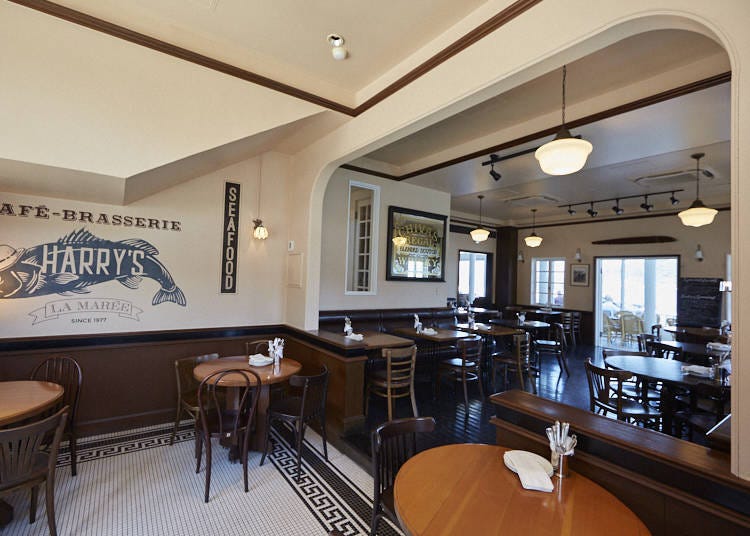 Morita-san: "If you'd like to savor wine and French-inspired creative seaside cuisine in a chic atmosphere, I recommend the second floor. There's also a banquet room on the third floor that can be rented, so this is also a beautiful venue for dinner parties and other events."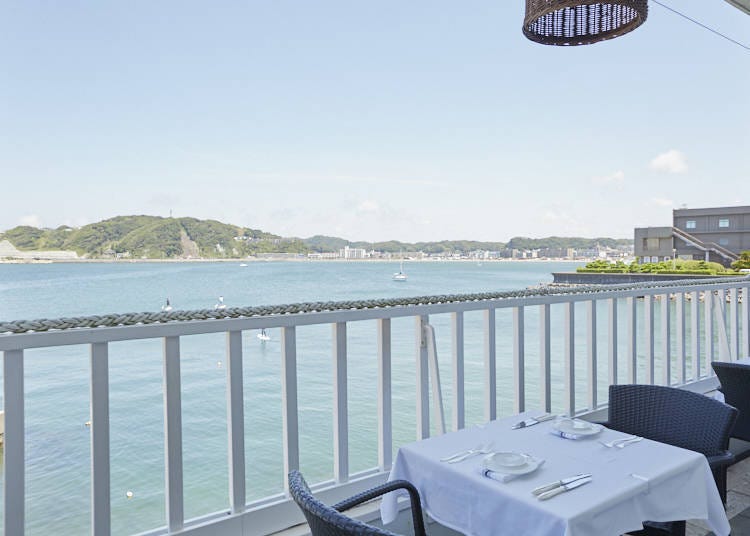 Timothy: "The view of the ocean from the terrace is breathtaking. Plenty of my American friends love these kinds of seats, being able to enjoy the ocean's scenery while feeling the wind and listening to the sound of the waves. Yes, let's keep it casual today and sit down on the terrace."

Morita-san: "From here, you can see all of Zushi coast, all the way up to Enoshima and Chigasaki. On sunny days, you'll be able to spot Oyama, Hakone, the Izu Peninsula, and sometimes even Mount Fuji. There's nothing that beats the view of Mount Fuji covered in snow on a clear winter day."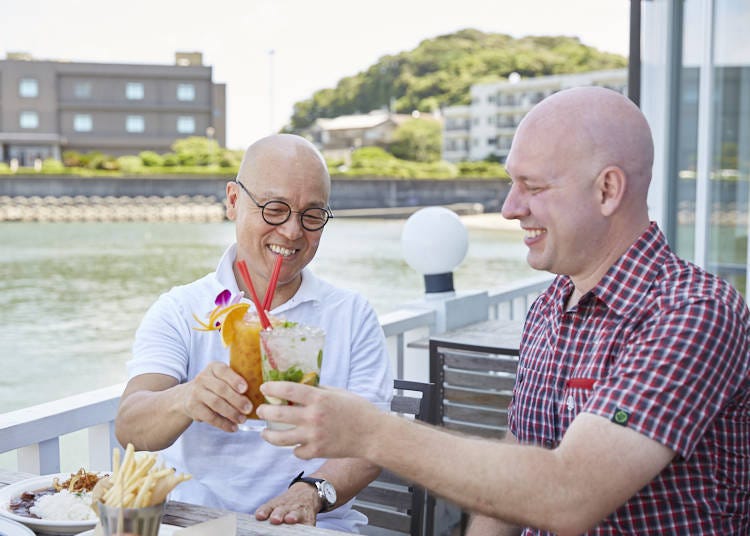 First things first: a toast to their Miura day trip with non-alcoholic cocktails, namely a tropical mango ice tea (864 yen) and a mint cooler (864 yen). The two chose two of La Marée's most popular dishes for lunch: Hayashi Rice and Cheeseburger.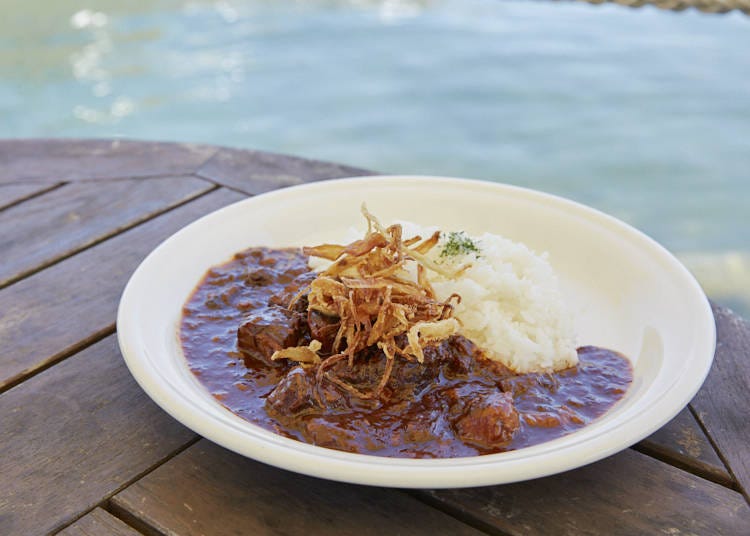 Weekday Lunch La Marée's Special Hayashi Rice (1,944 yen; without set for 1,620 yen)
Weekday Lunch Sandwich Portobello mushroom and bacon Gorgonzola cheeseburger (1,836 yen; without set for 1,200 yen; available until out of stock)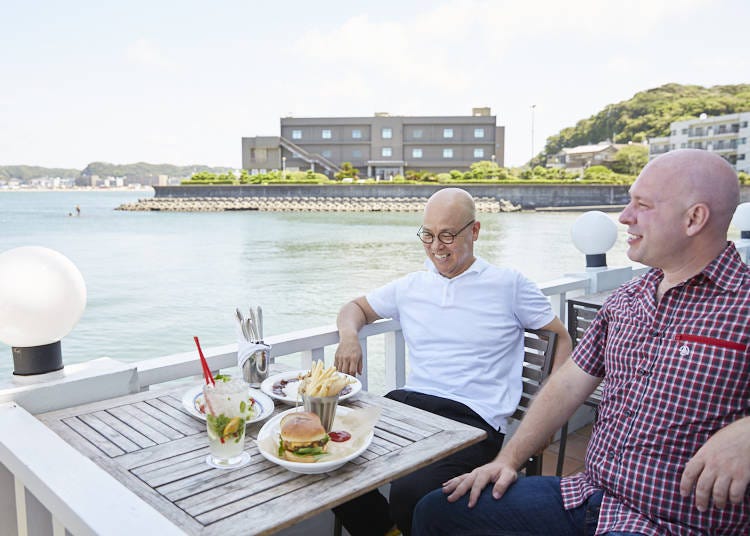 Feeling the breeze and listening to the sound of the sea makes for a fantastic atmosphere to enjoy good food in. It's also stimulating the conversation.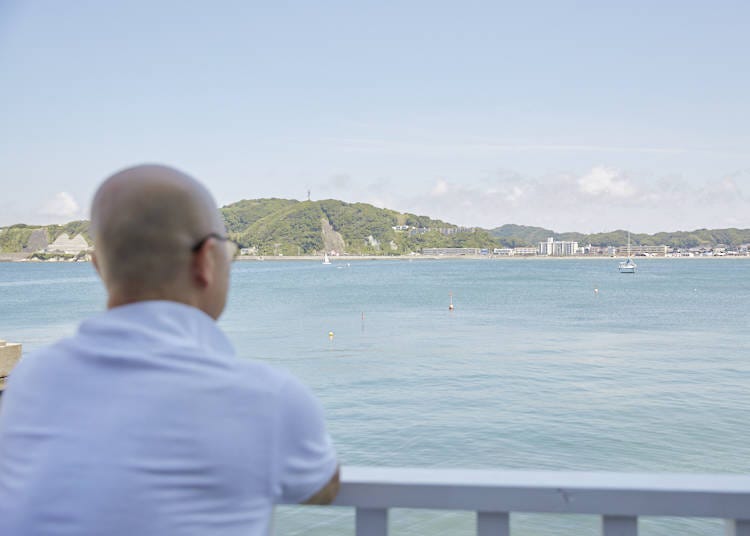 Morita-san: "It's a great café to take a break in the afternoon. Perfect to sit down for a while and write a postcard telling your friends and family at home about the memories you've made in Japan."

Morita-san and Timothy had a fantastic lunch while relaxedly gazing out on the ocean. The calm atmosphere seems to have made them forget about time for a while.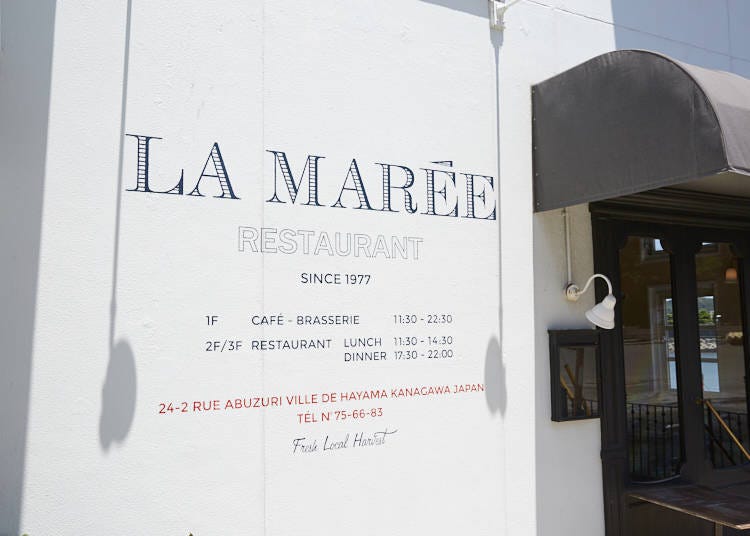 レストラン ラ・マーレ

Address

24-2 Horiuchi, Hayama, Miura Bezirk, Kanagawa 240-0112

Phone Number

046-875-6683

Access: Shin-Zushi Station (Keikyu), then Keihin Kyuko Bus to Yoroisuri Bus Stop, 1 minute by foot
Phone: 046-875-6683
Closed: Mondays (open on national holidays, closed the following weekday)

1F Café & Brasserie Harry's
Hours (weekdays)
Lunch: 11:30 a.m. – 2:30 p.m.
Tea time: 2:30 p.m. – 5:00 p.m.
Dinner: 5:00 p.m. – 9:00 p.m. (last order for food)
Hours (Saturdays, Sundays, national holidays):
Lunch: 11:30 a.m. – 2:30 p.m.
Tea time: 2:30 p.m. – 4:00 p.m.
Dinner: 4:00 p.m. – 9:00 p.m. (last order for food)

2F and 3F Restaurant La Marée
Hours
Lunch: 11:30 a.m. – 2:30 p.m. (last order for food)
Dinner: 5:30 p.m. – 9:00 p.m. (last order for food)
Hoshun Yamaguchi Memorial Hall: Sinking Into the Serene World of Art at a Modern Atelier Loved by Japanese Art Pioneers
After a delectable lunch at La Marée, we're riding the Keikyu Bus again to the Hoshun Yamaguchi Memorial Hall. Get off at the "Sangaoka: Kanagawa Kenritsu Bijutsukan Mae" bus stop. Walk the "Hoshun Komichi" towards the mountain and Hoshun Yamaguchi Memorial Hall will appear right in front of you.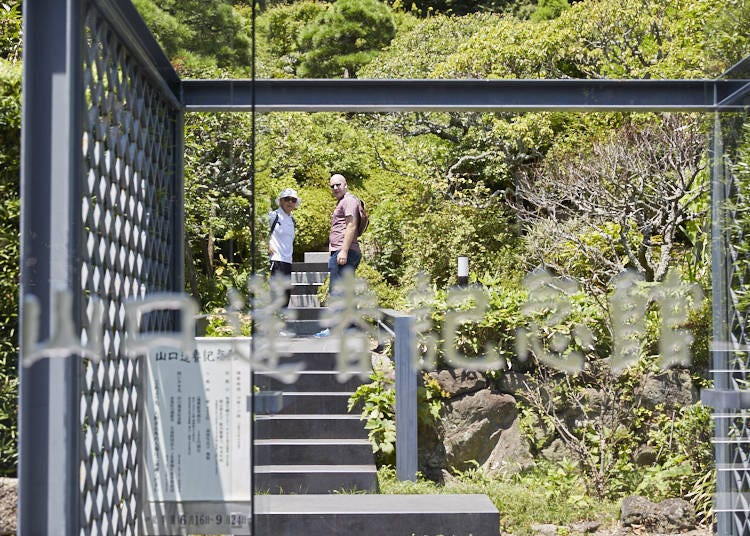 Timothy: "So what kind of artist is Hoshun Yamaguchi?"

Morita-san: "He was a Japanese Nihonga painter. However, he started by studying Western painting and when he turned towards Japanese paintings, he pursued his own style. Briefly explained, Nihonga is a style that focuses on painting techniques from before oil painting came to Japan from Europe. That means using silk cloth or washi paper instead of canvas, and the paint is made by crushing minerals or shells, mixing them with glue."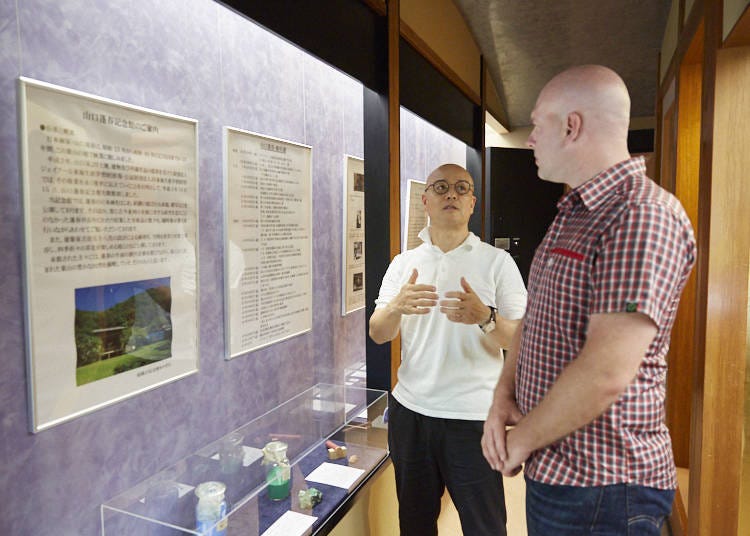 Morita-san: "This memorial hall is the Japanese-style house is Hoshun's last residence and the atelier was left as it is. An architect called Isoya Yoshida worked on it, expressing the modern style of the Showa era quite magnificently. The wonderful, large window makes full use of Hayama's sunlight."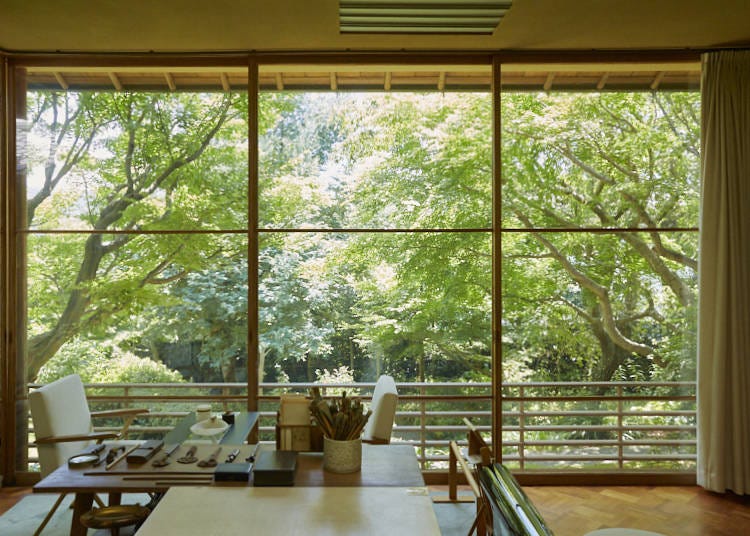 Morita-san: "From this window, you can see the beautiful garden that Hoshun and his wife put a lot of work into. Every season brings a different scenery, such as white and red plum blossoms, the Bungo plum, mimosas, Japanese maple, the weeping cherry, and, of course, the vivid colors of autumn."

Timothy: "Indeed. I could get lost in the view of this lush garden."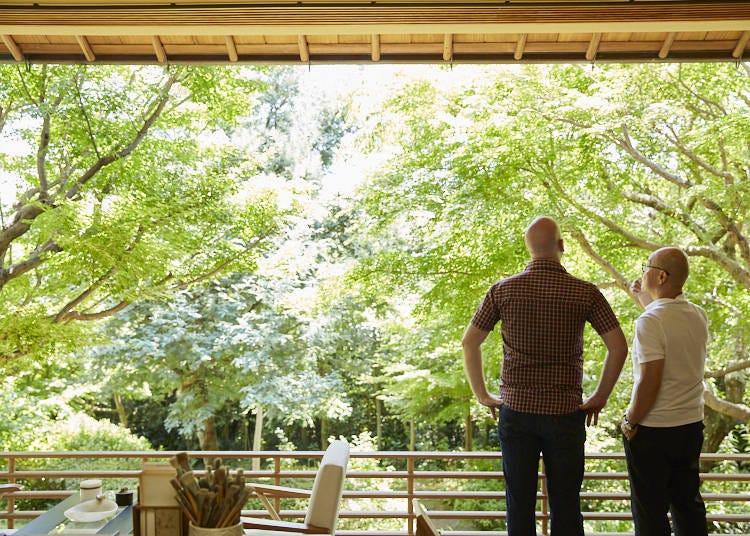 Hoshun Yamaguchi Memorial Hall

山口蓬春記念館

Address

2320 Isshiki, Hayama, Miura Bezirk, Kanagawa 240-0111

Phone Number

046-875-6094

Hours: 10:00 a.m. – 5:00 p.m. (last admission at 4:30 p.m.)
Closed: Mondays (open on national holidays, closed the following weekday), between exhibitions, on maintenance days, New Year's
Hayama Modern Art Museum: a Creative Space Where The Location Itself is One of the Artworks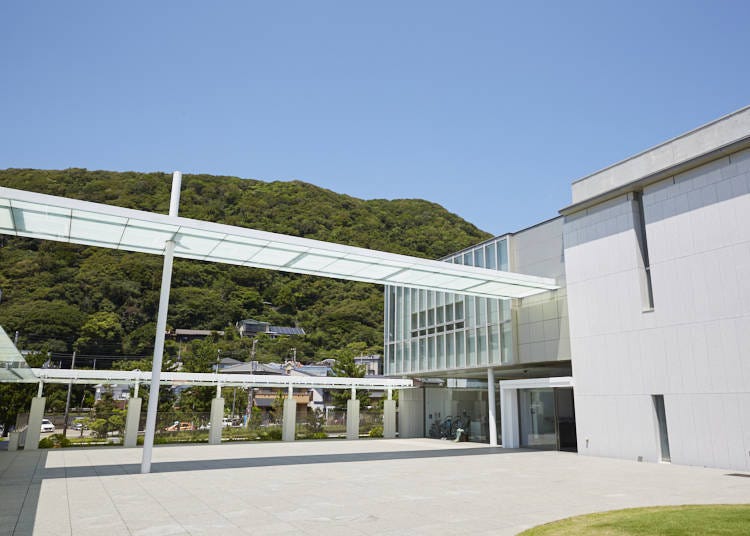 After exploring the Hoshun Yamaguchi Memorial Hall thoroughly, our next stop is Hayama Modern Art Museum that faces the sea. This art museum is home to about 1,400 contemporary artworks from both Japan and overseas, and special exhibitions and collection exhibitions take place about eight times a year.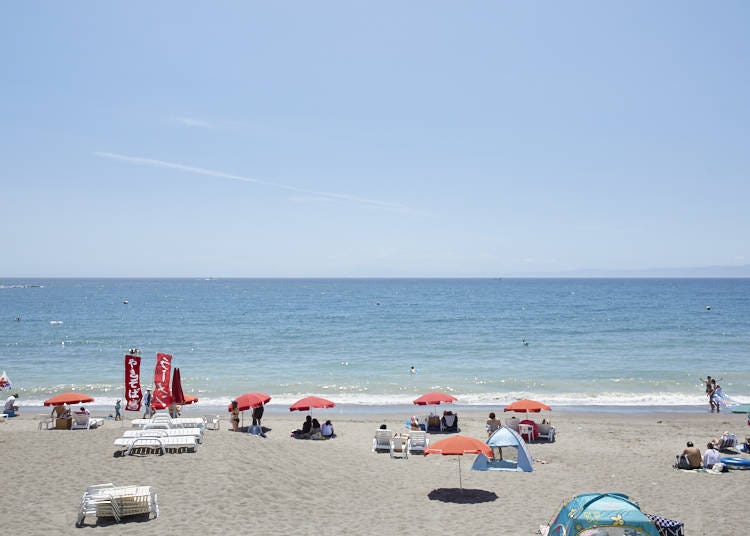 Timothy: "You can see the beach from the museum and its garden!" (The pictures were taken in summer.)

Morita-san: "That is Isshiki Beach and it is rather famous. A path right next to the art museum leads down to the ocean. I also highly recommend the view on the Pacific Ocean from the observation deck. If you're lucky, you can even see Mount Fuji from there."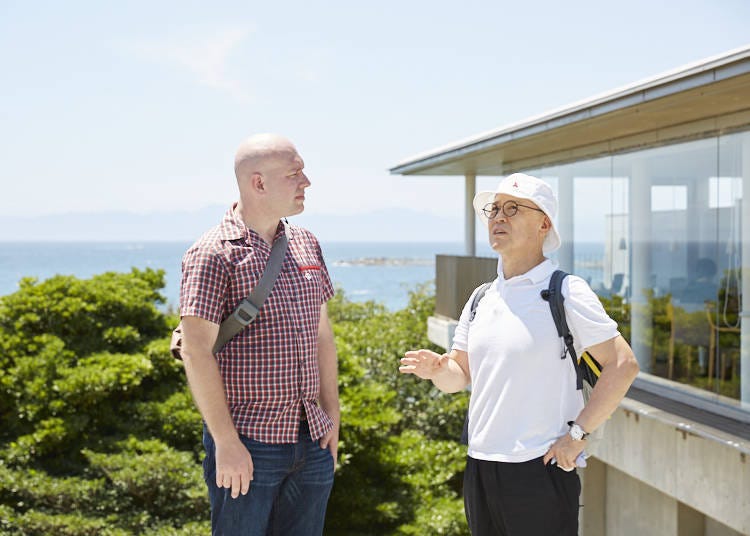 Morita-san: "The blue ocean, pine trees, the white beach, Mount Fuji... doesn't this scenery seem like it has fallen straight out of a Hokusai ukiyo-e print? This right here is the landscape that has been so characteristic for Japan since the Edo period. If you want to take it in some more, I recommend the restaurant right next to the museum called Orange Bleue."

When we visited the Hayama Modern Art Museum, the exhibition "The Collection of National Museum of Ethnology — Shell Road" was being held (however, it has unfortunately already ended). It is co-sponsored by the National Museum of Ethnology in Osaka and its many fascinating exhibits offer an in-depth perspective on the art and beauty hidden in shells and shellfish.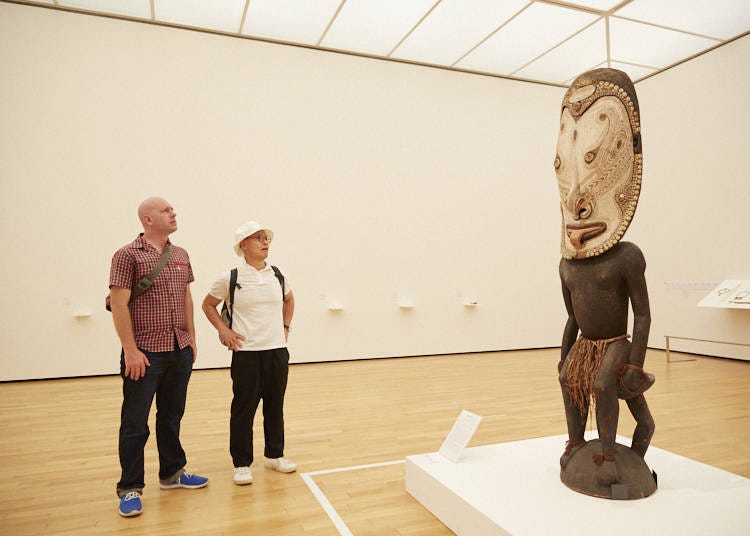 Morita-san: "I find it this collaboration with the National Museum of Ethnology really interesting, seeing how various ethnicities independently created art, accessories, tools, and so on from shells and shellfish. It's an artistic challenge, isn't it, and Hayama itself is quite familiar with that as well. Having taken in European culture so early in history, a challenge of coexisting and developing something unique."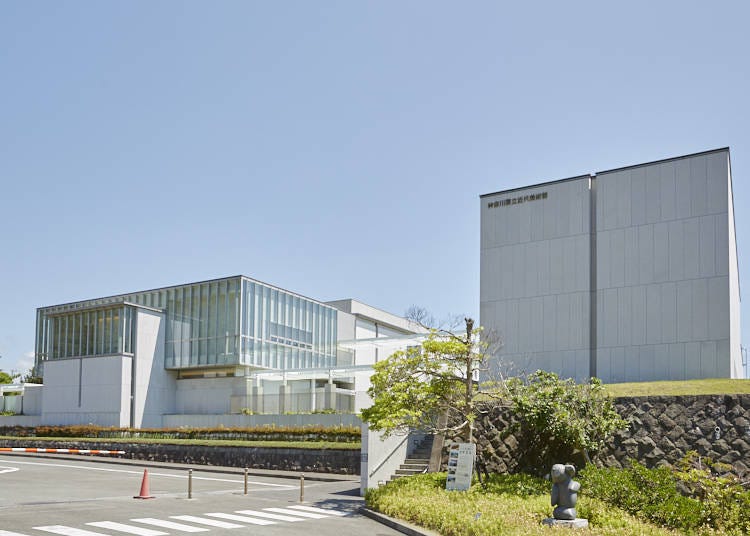 神奈川県立近代美術館葉山

Address

2208-1 Isshiki, Hayama, Miura Bezirk, Kanagawa 240-0111

Phone Number

046-875-2800

Hours: 9:30 a.m. – 5:00 p.m. (last admission at 4:30 p.m.)
Closed: Mondays (open on national holidays), between exhibitions
The town of Hayama has distinct traces of Europe and our two culture walkers had an amazing time savoring delicious food while enjoying the sea with all five senses, discovering a beautiful atelier of a painter who himself made the transition from European to Japanese art, and enjoying a museum in a stunningly scenic location.

Hayama Town has managed to develop its own fascinating culture by welcoming European culture and skillfully blending it with the Japanese way of life. This has developed into today's fascinating atmosphere, formed by being open to new ideas and influences while turning them into something truly unique. While often overlooked, as with many destinations of our culture walks, Hayama Town is sure to leave an impression and make for a wonderful memory.
About Tetsu Morita
Tetsu Morita has worked several years for the French tire company Michelin before combing every nook and cranny of Japan to create the Michelin Green Guide Japan. He knows the country like the back of his hand – and all of its many secret spots that are incredibly fascinating, yet often overlooked by sightseers. Come with us in the "Tokyo Day Trips with Morita-san," a series that explores little-known sightseeing spots all around Japan!
*This information is from the time of this article's publication.
*Prices and options mentioned are subject to change.
*Unless stated otherwise, all prices include tax.
Limited time offer: 10% discount coupons available now!