Mt. Fuji, registered as a World Heritage Site in 2013, is one of Japan's most unmissable icons. It has long held great significance in Japanese culture, and its natural beauty is best enjoyed by staying the night in the local area before exploring the surroundings.

For this article, we stayed at Rakuten STAY VILLA Fuji Yamanakako, which offers the ideal environment to slowly and thoroughly relish the charm of Mt. Fuji and Lake Yamanakako, as well as nearby sightseeing. Read on to see how our American and Taiwanese editors enjoyed their stay and what wonders they encountered in the local area!
Staying at Lake Yamanakako: Paradise at the base of Mt. Fuji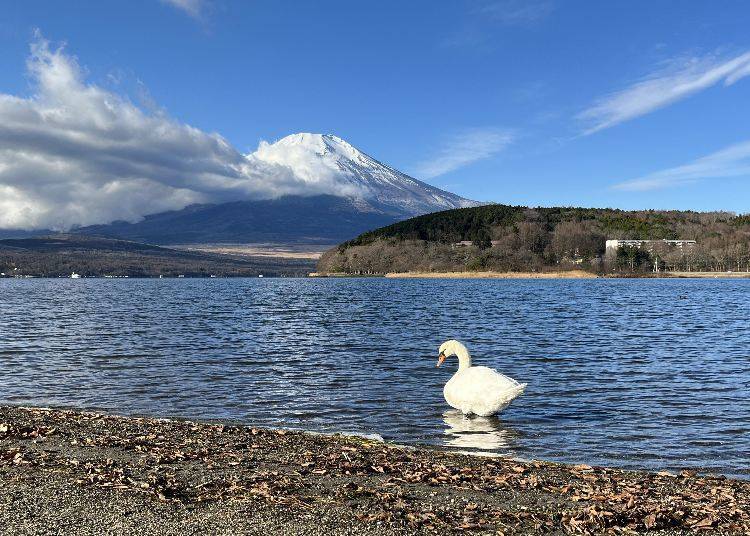 Lake Yamanakako is located in Yamanashi Prefecture and is a roughly 2-hour drive from Tokyo.

It is one of the Fuji Five Lakes, a popular destination in Japan, which consists of Lake Kawaguchiko, Lake Saiko, Lake Shoji, Lake Motosu, and Lake Yamanakako, which were formed on the Yamanashi side of the mountain by the eruption of Mt. Fuji. The area is registered as a World Heritage Site under the title "Fujisan - Sacred Place & Source of Artistic Inspiration."

Within the Fuji Five Lakes, Lake Yamanakako is one of the most famous and scenic, alongside Lake Kawaguchiko. It is the largest, highest, and closest of the lakes to Mt. Fuji.

Lake Yamanakako is particularly popular between mid-October to late February, when the wintertime "Diamond Fuji" (the tip of Mt. Fuji with the sun in the background) can be seen.

Surrounding the lake is an abundance of greenery, seasonal flowers, fall foliage, and other delightful wilderness, while activities like camping, canoeing, boating, and fishing can be enjoyed throughout the year.

It's a fantastic spot for a slow, relaxing trip to escape the clamor of Tokyo in favor of the tranquility of nature, all while enjoying dynamic, up-close views of Mt. Fuji.
Rakuten STAY VILLA Fuji Yamanakako: Private accommodation on the Lake Yamanakako shore with Mt. Fuji views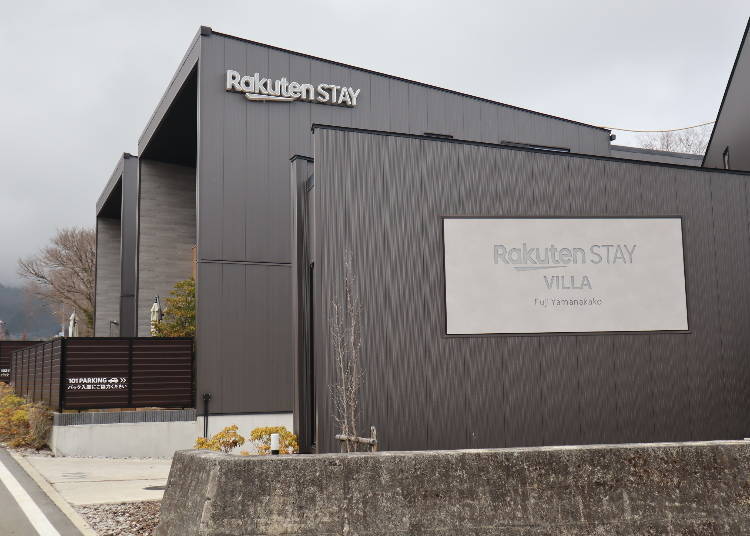 Right in front of Lake Yamanakako, and with Mt. Fuji visible on clear days, is Rakuten STAY VILLA Fuji Yamanakako. It consists of five private villas rented out to five groups daily, allowing guests to enjoy the area with the utmost space and comfort.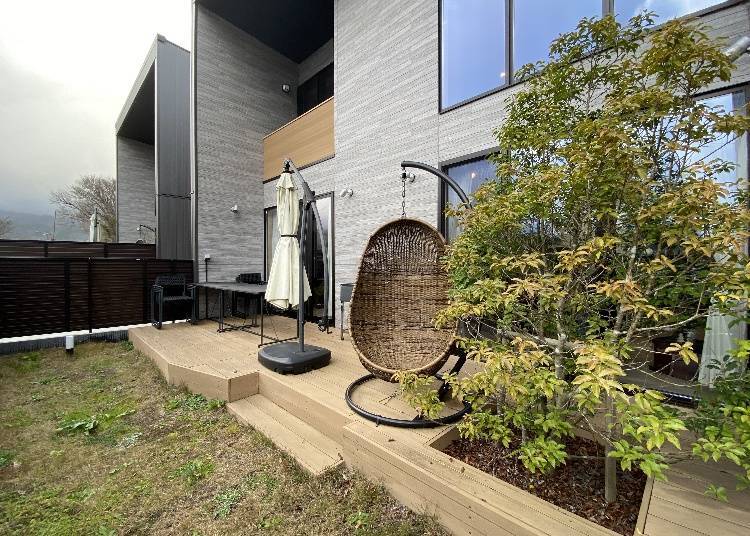 Rakuten STAY seeks to facilitate wonderful stays. This Rakuten STAY facility can host groups of up to 10 in each villa, which boast 87m² of space with two bedrooms, a living room, a dining room, a kitchen, and wooden decking in a detached, maisonette-style home. You can stretch out and enjoy your holiday with friends and family in complete privacy.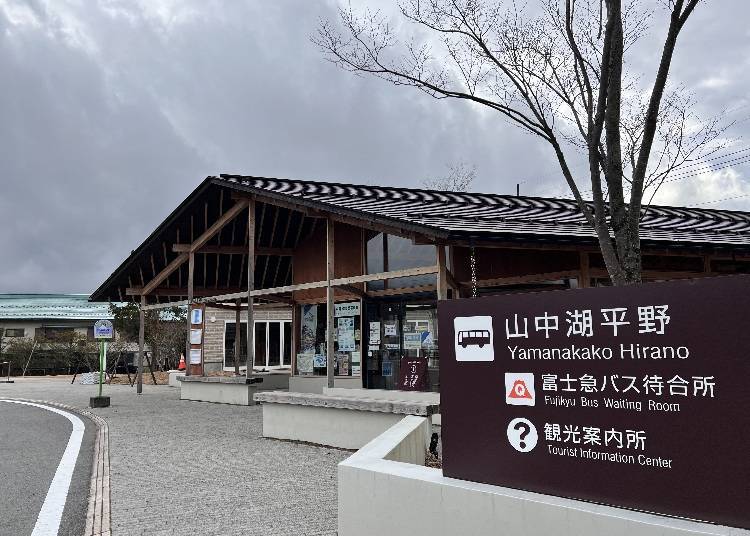 Rakuten STAY VILLA Fuji Yamanakako is also very easy for travelers to access. Take the highway bus from the Shinjuku Expressway Bus Terminal for 2.5 hours, and get off at the Yamanakako Hirano bus stop. From here, it's around a 5-minute walk. This makes it a breeze to reach from Tokyo, allowing you to add a visit to even the most packed itinerary.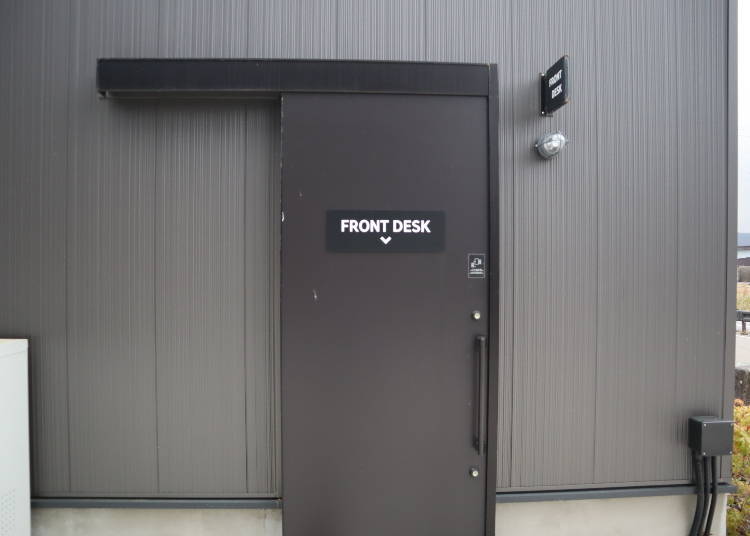 Check-in and check-out are entirely automatic, and your reservation number, procedures, key number, and other necessary information will be sent in advance via email. You can check in via the tablet at the Front Desk or through the tablet at your reserved villa.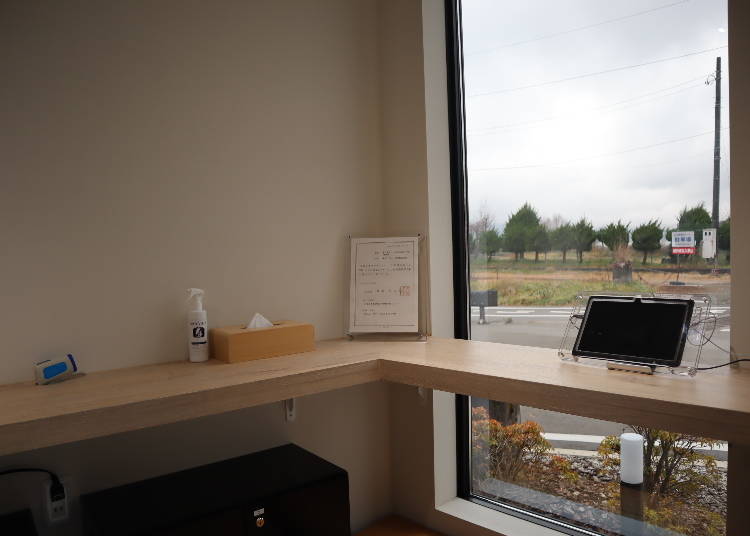 While ensuring as little face-to-face contact as possible, a video call with an operator can be requested if necessary. A monitoring system with 24/7 emergency assistance is in place to guarantee safety at all times.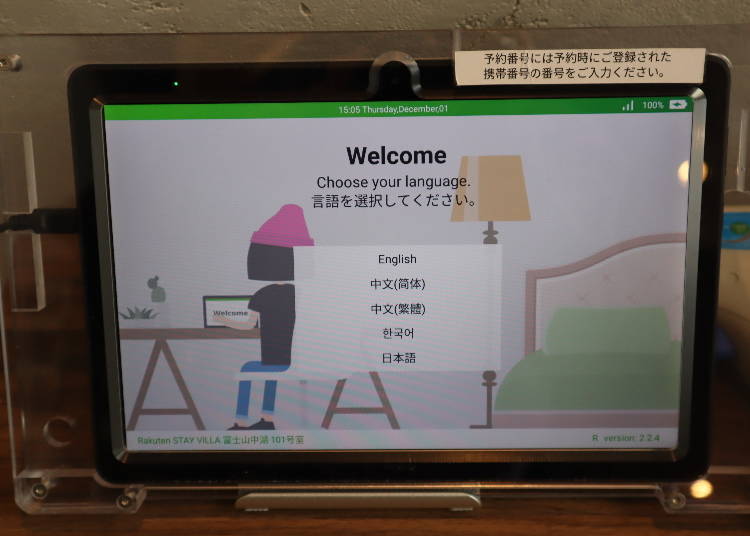 The tablet has a choice of five different languages.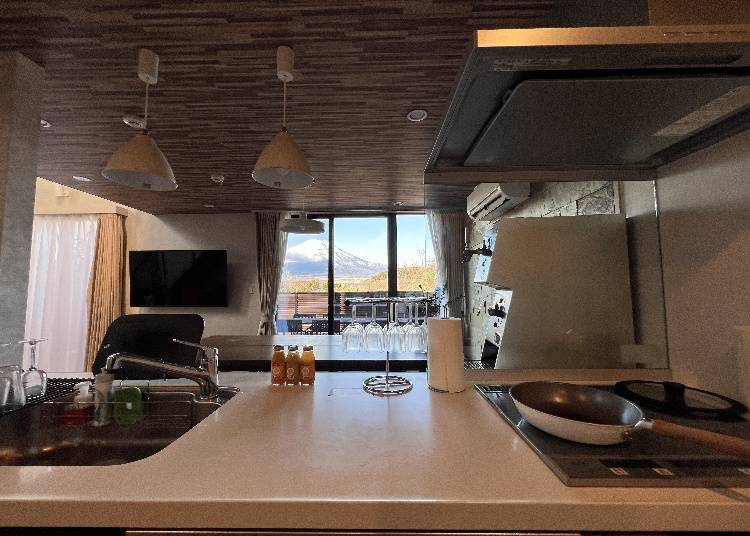 The spacious kitchen has 3 IH cookers and a grill for guests to cook their own food. Some kitchens include Mt. Fuji views for the ultimate Japanese experience - virtually impossible in a place like Tokyo.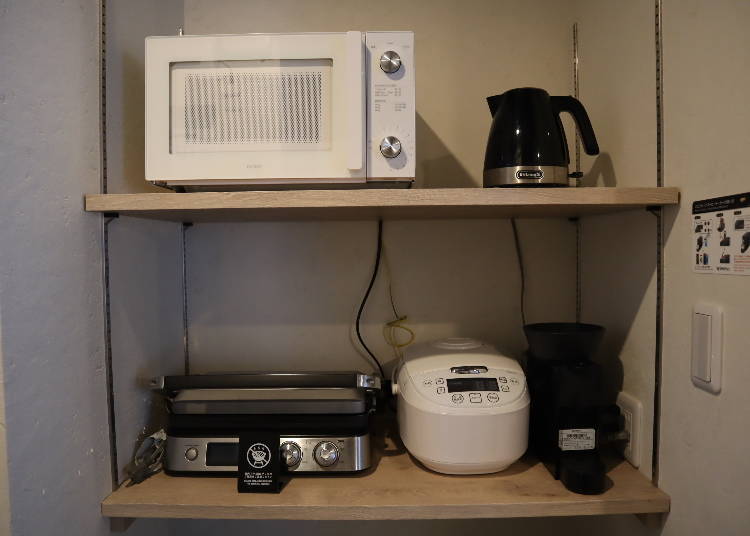 Each villa is equipped with everything you'll need, from utensils and kitchenware to a fridge, washing machine, and more, so it's an excellent fit for extended stays.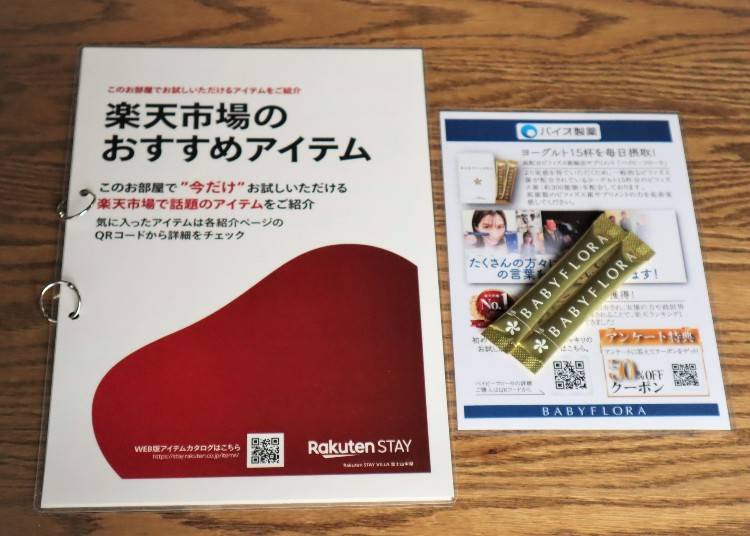 Plus, Rakuten STAY villas are also full of sample products from the online store Rakuten Ichiba, also operated by the Rakuten Group.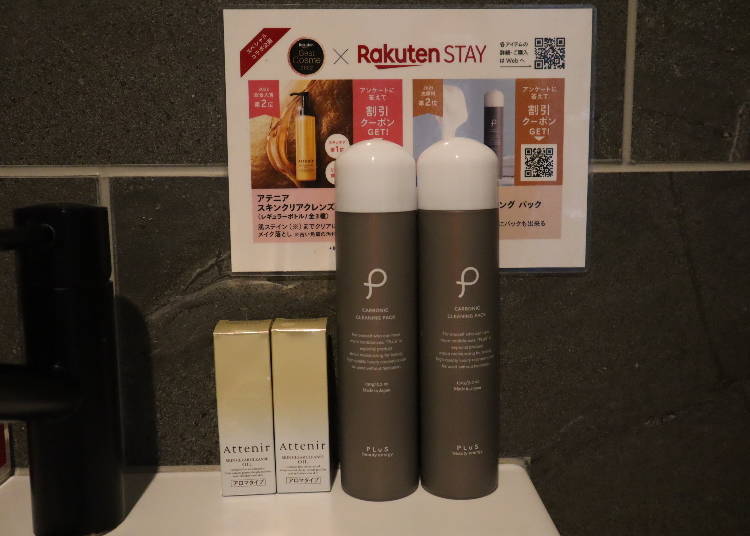 This includes amenities like highly-ranked skincare products, along with umbrellas and more, all free to use. If you find a product you like, you can purchase it instantly on the Rakuten Ichiba website.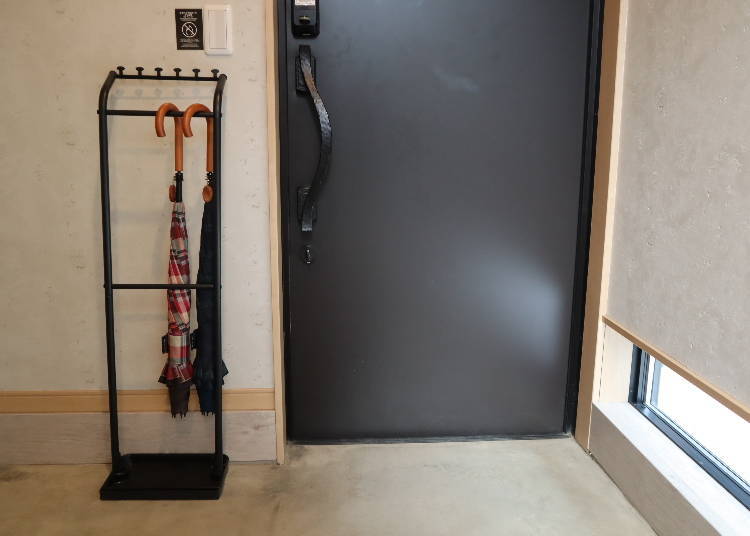 Top ranking on Rakuten market = what is popular in Japan right now. It's a convenient service, allowing you to try neat products in advance.
We stayed at Villa 101 - complete with Mt. Fuji views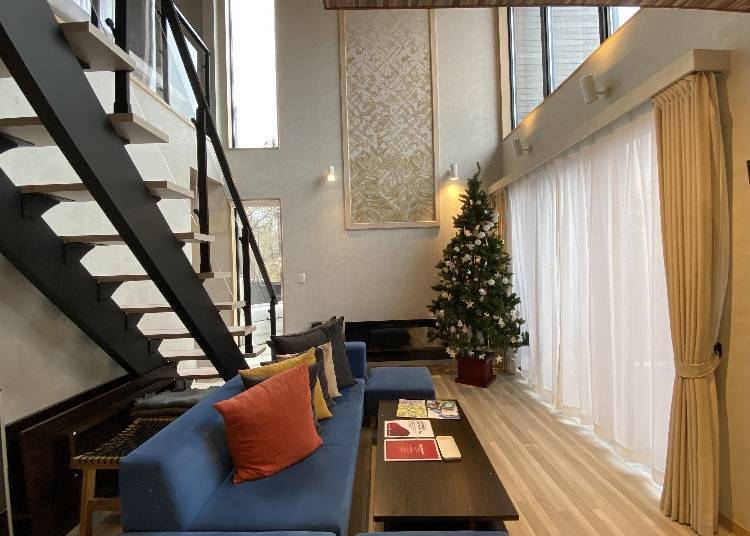 For this article, we stayed at Villa 101. Opening the door made it feel like we were returning to our own homes, filling us with a comforting sense of familiarity. The 1st floor has an airy, high ceiling with an open living room and a large TV on the wall to watch whatever you like (we were watching soccer!). Unlike regular hotels, you don't have to worry about annoying the people next door - although please don't go too wild!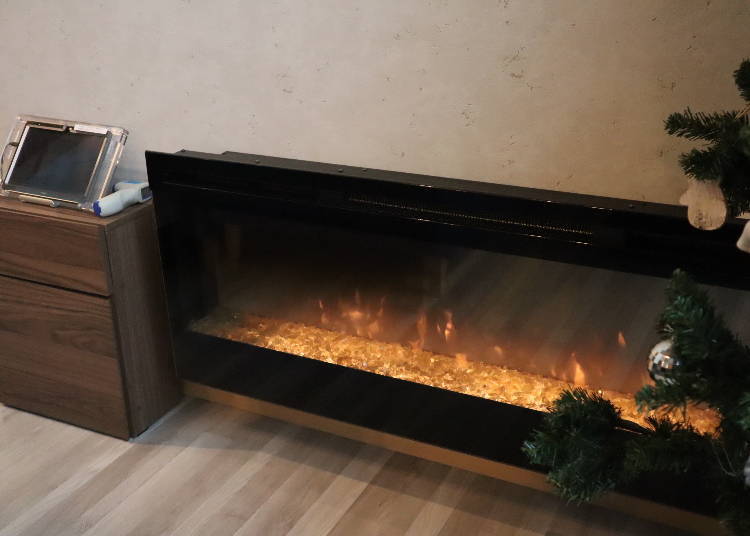 The image of fire made the interior warm and cozy, lulling us even deeper into a state of sublime relaxation.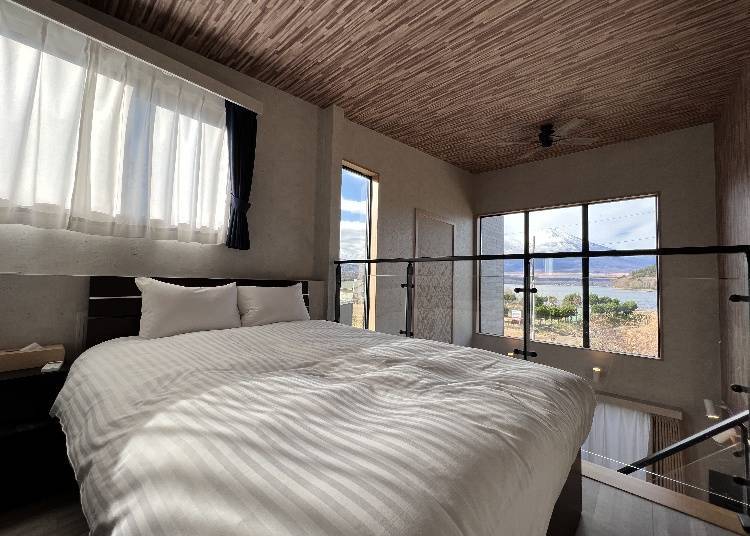 From the large window in the bedroom, you can see Mt. Fuji if the weather is clear. Waking up to this impressive sight left a profound impact and made us appreciate the appeal of Lake Yamanakako even more!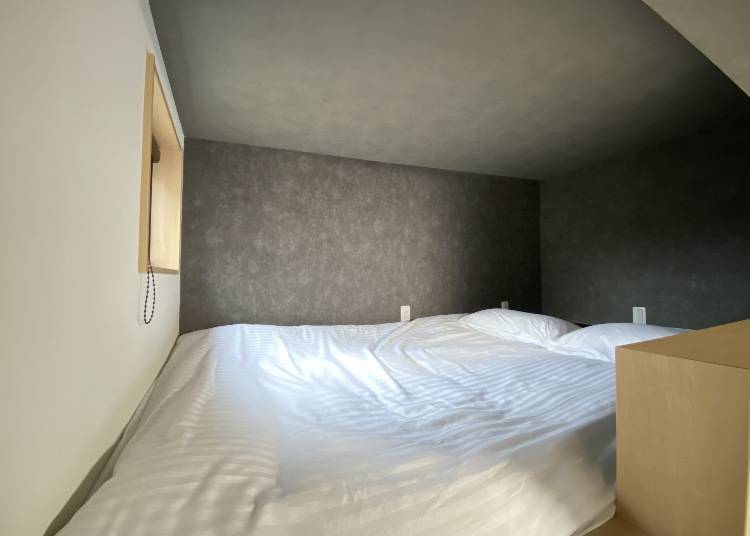 The loft bed is tucked away like a secret base, sure to excite children. It's large enough for two adults to enjoy plenty of space.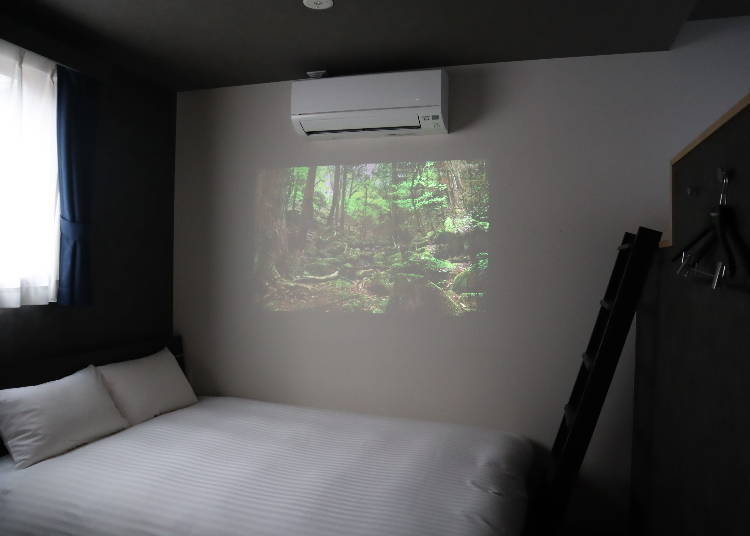 The 2nd-floor bedroom is equipped with "popIn Aladdin," the world's first ceiling light with an integrated projector, so you can watch Netflix, YouTube, or whatever else you're into (requires signing into your own account).

"At night, I watched K-POP on YouTube, which got me really excited," said our Taiwanese editor, Chia-chi.
The spacious Jacuzzi bath! Villa 101, where we stayed, and Villa 102 have large windows in their bathrooms, often framing Mt. Fuji if you're lucky with the weather. Nothing is more healing than a nice, long soak while absorbing the grandeur.
Also in the bathrooms are TVs and hi-tech Dyson hair dryers in each room, showcasing the high level of equipment and furnishings.
A special villa by tidying consultant Marie Kondo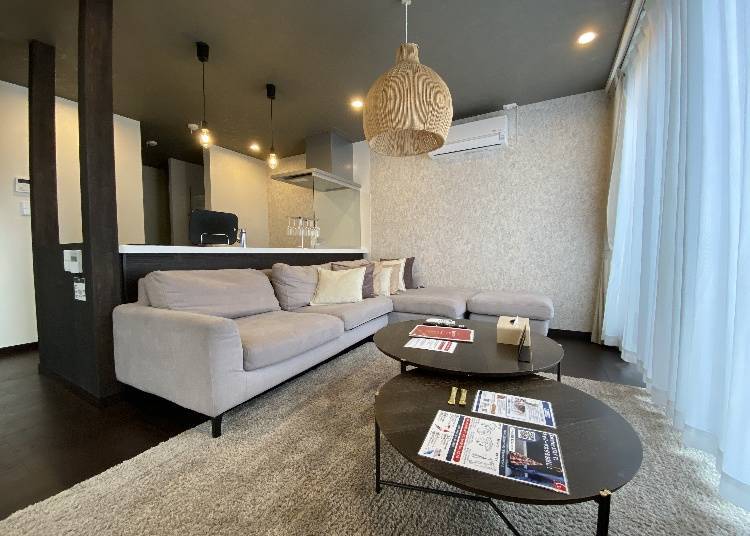 Villa "105 KonMari Style" of Rakuten STAY VILLA Fuji Yamanakako was created under a concept supervised by world-famous tidying consultant Marie Kondo. It has a chic and modest tone with a sleek, clean interior. Unlike the other villas, there is only a coffee table and no dining table, giving guests more space to stretch out and relax.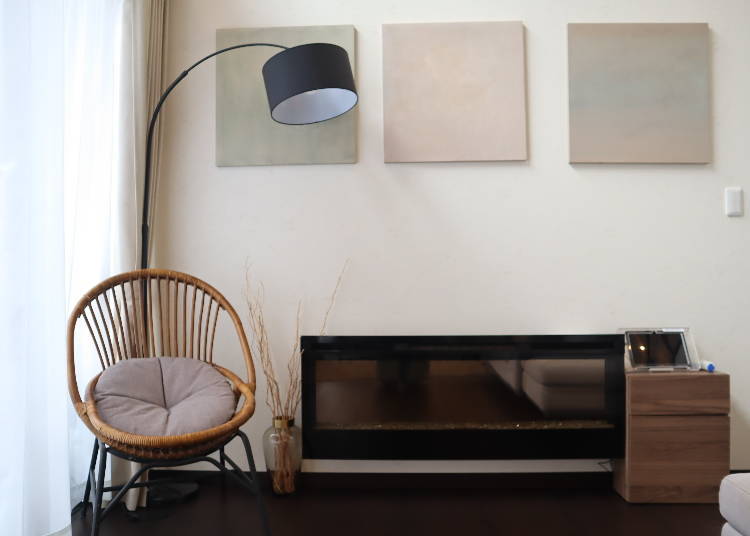 105 KonMari Style is ideal for couples desiring a quiet, calm space to unwind in, along with families with young children seeking a break from a cluttered home.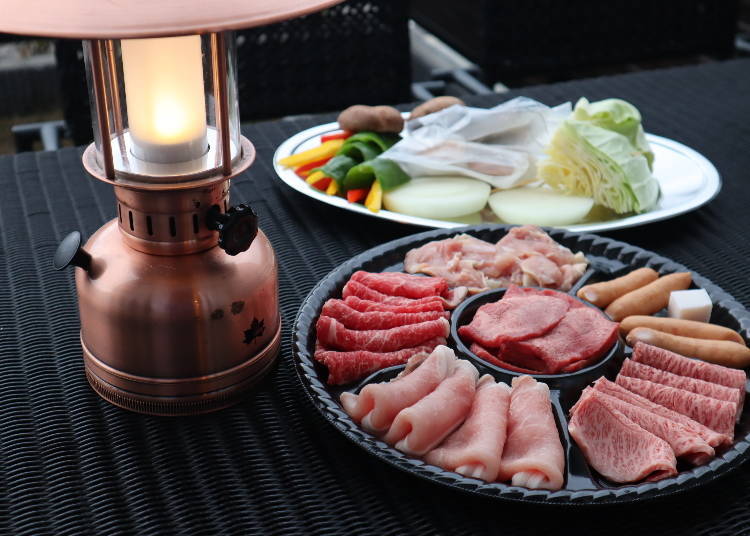 The pre-prepared BBQ set (pictured is the 2-person set)
In addition to staying without meals, a dinner (BBQ or sukiyaki) and breakfast (French toast) plan is also available.

(*Currently only available online at the Rakuten Travel website.)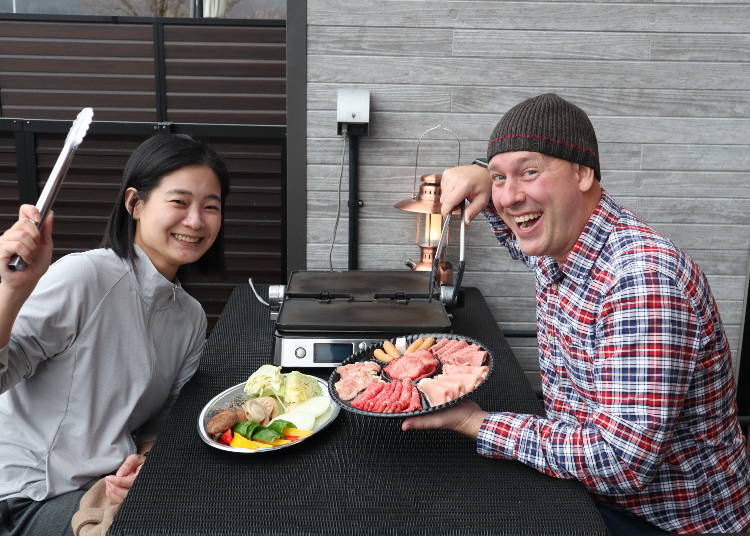 For our stay, we opted for the BBQ set. Keep in mind that BBQs can only be held outside and not inside the villas.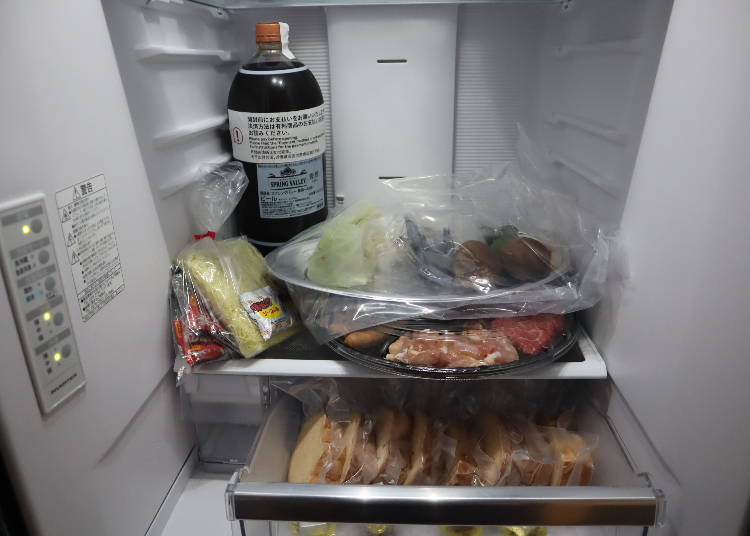 The dinnertime BBQ (pictured is for 2 people) and breakfast French toast ingredients (pictured is for four people) are all prepared in the refrigerator.
The BBQ ingredients (assortment of meat, seafood, vegetables, yakisoba) and the morning breakfast ingredients have been prepared and placed in the refrigerator in advance.

As our Villa 101 also had a beer server, some special server beer was also in the fridge, and payments could be quickly made using a QR code.

"Opening the fridge and seeing all the ingredient sets made me realize just how convenient and luxurious this stay is! With everything prepared, we could start barbequing when we liked, making it feel like my very own home. I guess that's the appeal of villa-type accommodations!" said Timothy, our American staff.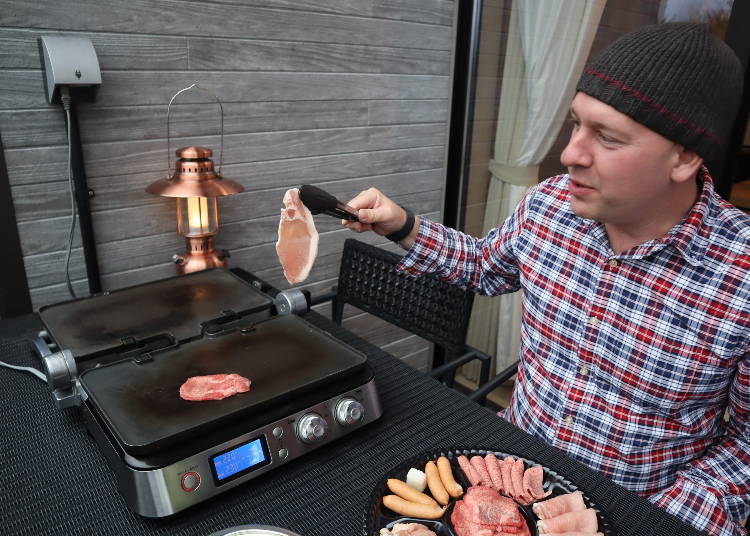 Starting the BBQ grill on the deck table, we began cooking up our favorites!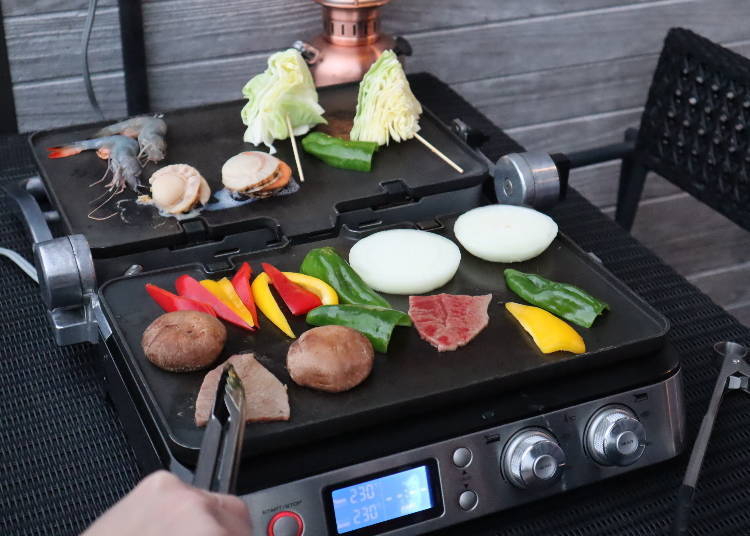 "There were plenty of vegetables alongside the meat, making for a great nutritional balance," said Chia-chi.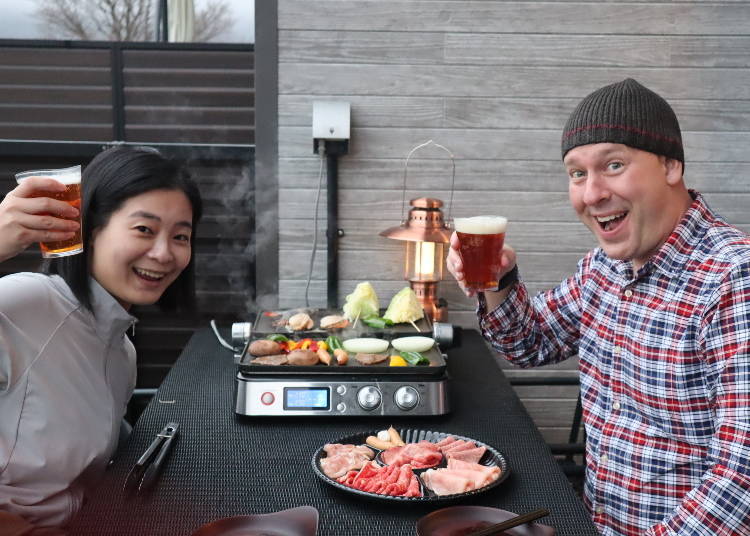 Use the beer server to pour yourself a fresh glass of beer (only available in Villa 101, beer is sold separately). Outside the villas are vending machines stocking a range of drinks to enjoy with your dinner.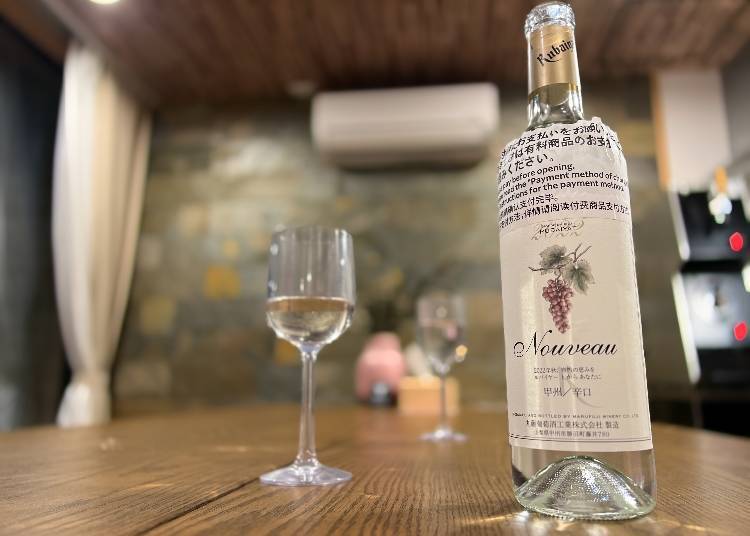 Last but not least, local wine is also on the menu! To purchase any of these items on the day, all you'll need to do is scan the QR code in the refrigerator and pay online.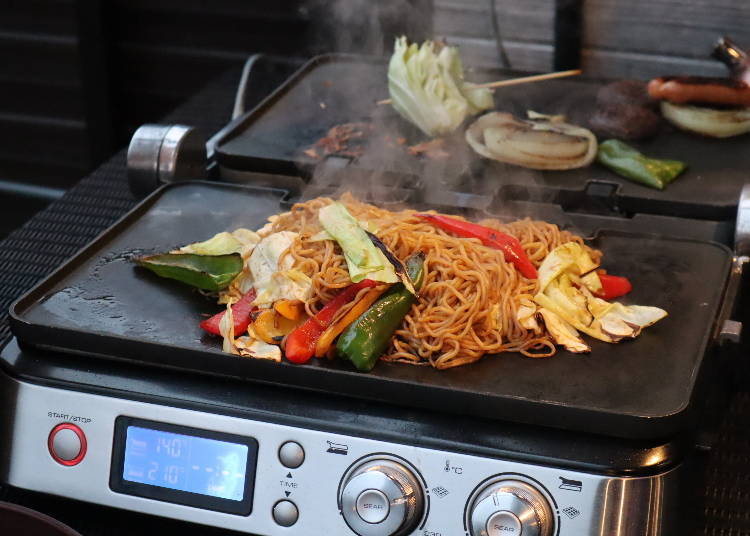 For the final dish, cook up the yakisoba fried noodles, which will absorb the umami of the meat!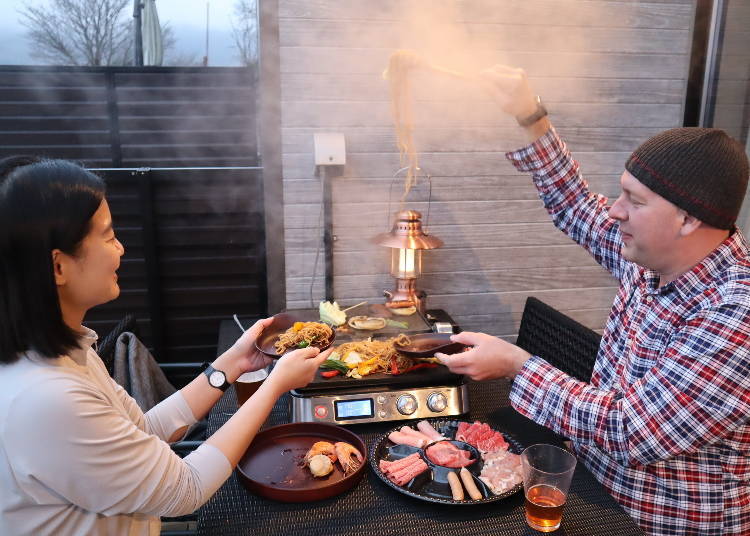 The BBQ set is packed with a hefty serving of ingredients like meat, seafood, vegetables, and noodles, ensuring complete satisfaction. Our two editors were well and truly full by the end of the night! Plus, you can also bring in whatever food or drinks you like from outside too, so don't worry about going hungry!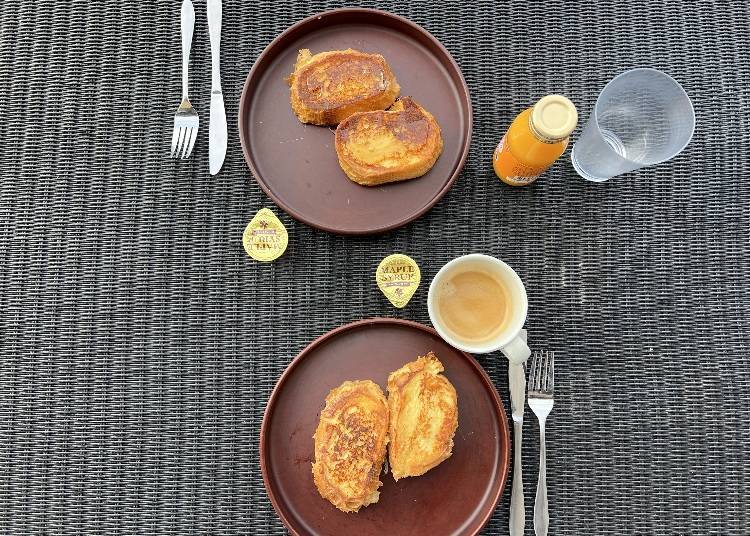 For breakfast the next morning, we kicked off the day with French toast, which is pre-prepared and only needs to be fried.

"The outside is crisp while the inside is soft and syrupy like pudding - it was an absolute treat! Making French toast from scratch for some people might be a bit of trouble, but this was already flavored and only needed cooking, so we could enjoy it in no time!" said Chia-chi.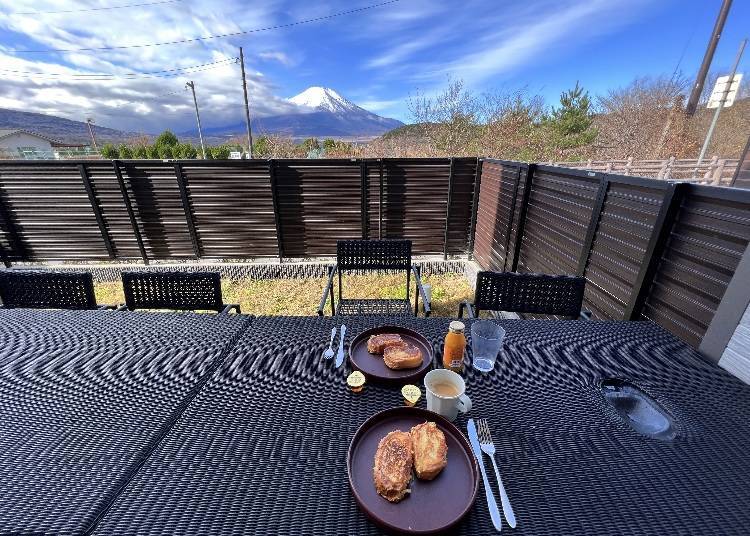 We relished this delicious breakfast with a helping of coffee amidst the fresh morning air, all while enjoying Mt. Fuji and the sounds of nature. And from this glorious morning, we started our day!
Slow sightseeing idea #1: Strolling and cycling around Lake Yamanakako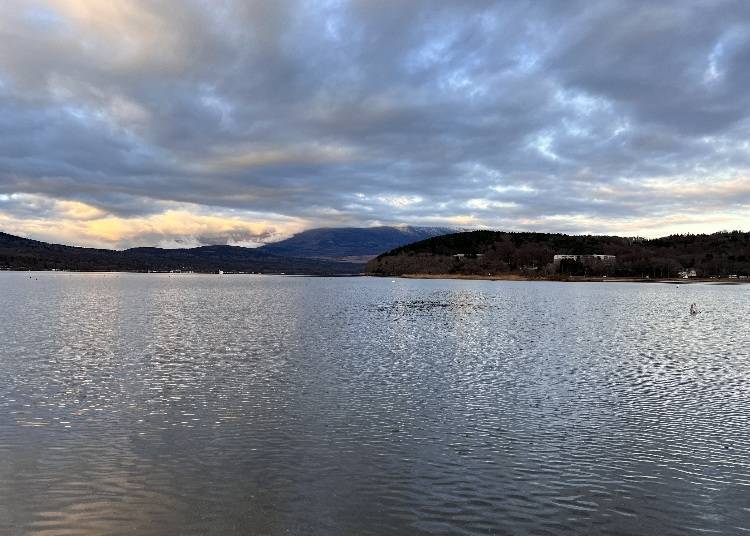 To complete your relaxing, healing stay at Lake Yamanakako, we recommend walking or cycling around the lake, which has a cycling course circling much of it. There is a bicycle rental shop near Rakuten STAY VILLA Fuji Yamanakako, and natural hot spring facilities dot the route for a rejuvenating bath along the way.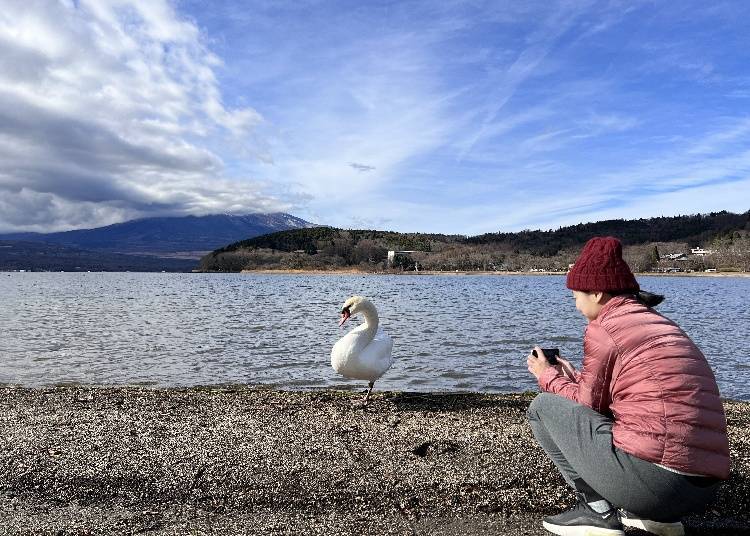 While walking around the lake in front of the villas, you'll come across white swans, the lake's elegant mascots.
The lake is encompassed by rich nature bristling with a diversity of animals and plants. It's the perfect space to forget the passing of time and concentrate on the now.
Slow sightseeing idea #2: Oshino Hakkai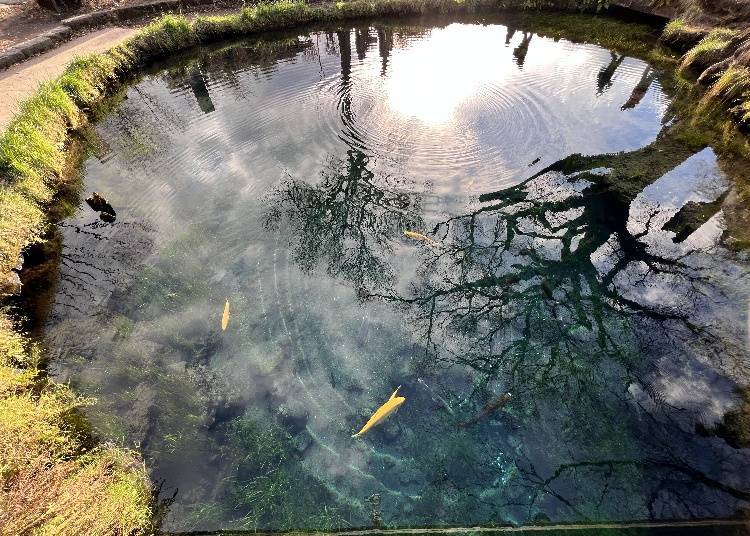 The 5th sacred site, Wakuike Pond.
Oshino Hakkai is a collection of 8 springs at the base of Mt. Fuji. Like Lake Yamanakako, they are part of the Fuji World Heritage Site, and were declared Natural Monuments in 1934, and became part of the Ministry of the Environment's 100 Waters of Japan in 1985, making them an unmissable local attraction.

The waters of Oshino Hakkai are breathtakingly beautiful, flaunting pristine transparency with deep green and blue hues changing with the different angles of the sun and seasonal light.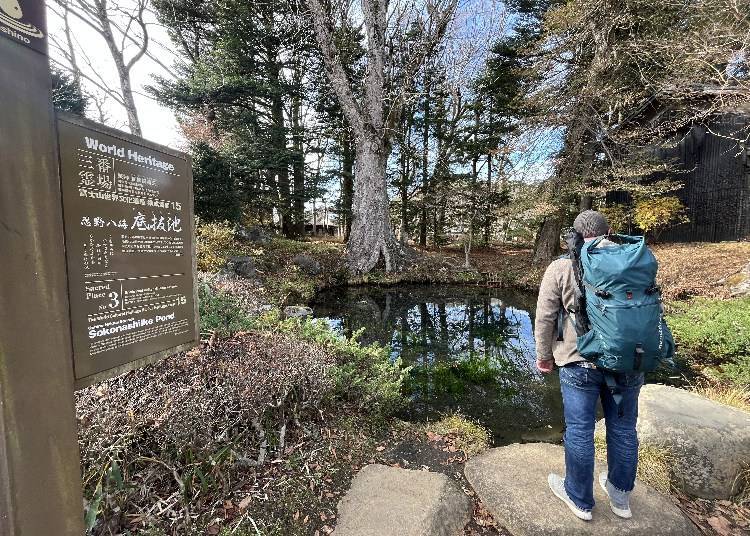 The 3rd sacred site, Sokonashiike Pond, located in the Hannoki Bayashi Museum.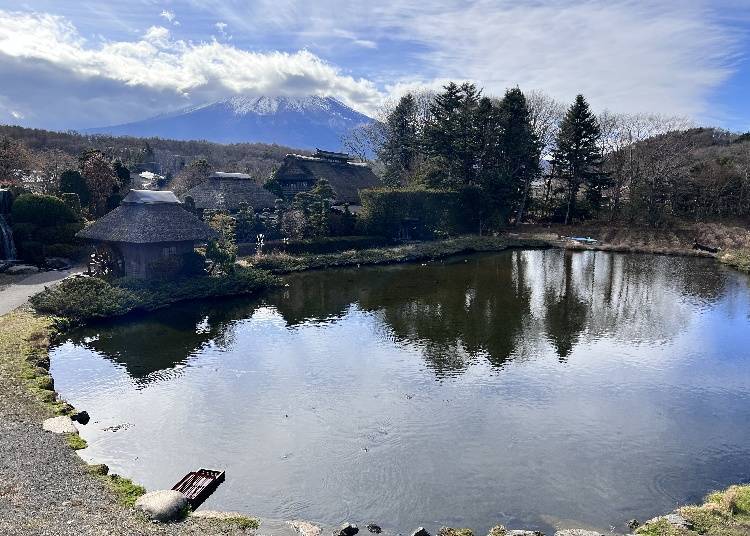 The only pond that requires a fee is Sokonashiike Pond, which is located on the grounds of the Hannoki Bayashi Museum (Adults (middle school and up): 300 yen; children (elementary school and below): 150 yen; infants (1-kindergarten): 100 yen; all prices including tax.)

The facility has an observation deck with stunning Mt. Fuji views, plus old "kominka" folk homes exhibiting precious artifacts showcasing the ancient Japanese lifestyle, making it well worth the cost.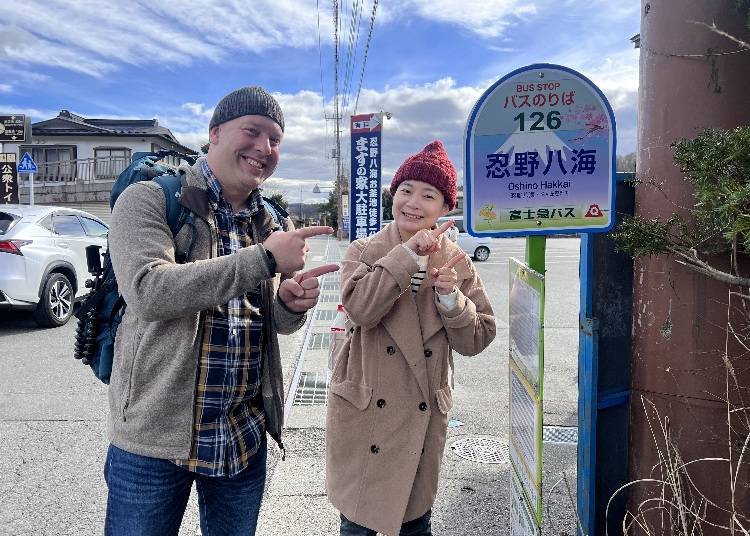 Oshino Hakkai is best reached by bus via the "Oshino Hakkai" bus stop, which is just 30 minutes away from Rakuten STAY VILLA Fuji Yamanakako. There are also multi-language maps and sightseeing information available at the nearby Oshino Village Tourist Information Center, as well as free lockers, toilets, and even limited-edition stamps on sale, making it a convenient spot for tourists.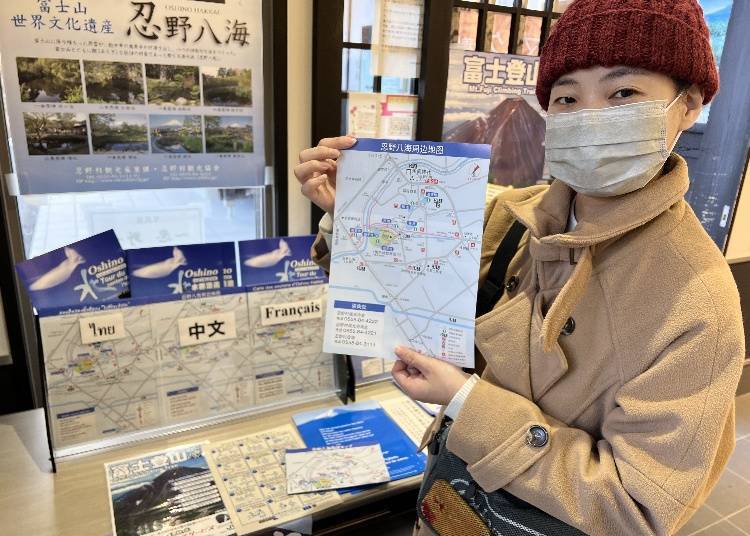 There are lots of shops and restaurants around Oshino Hakkai, and you can spend much of the day shopping for local products and gorging on regional dishes.

The first sacred site, Deguchi-ike Pond, is a little further away from the rest, so we suggest taking your time here to see them all.
Refresh among the great outdoors and through the power of Mt. Fuji at Lake Yamanakako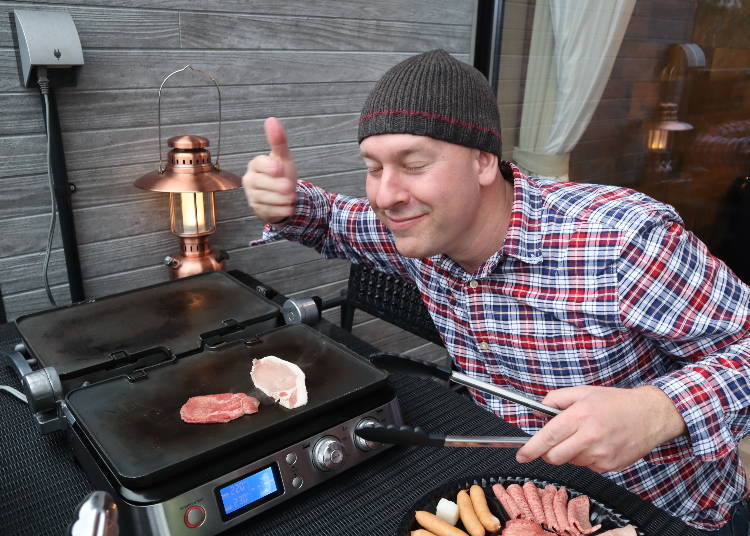 Our editors were overwhelmed by the fantastic experiences they enjoyed while staying at Lake Yamanakako and exploring the local area.

"Sipping on coffee while listening to the singing birds and relishing the fresh air all while gazing upon Mt. Fuji - I'm certain I'll never forget this time for the rest of my life. I've longed to visit Oshino Hakkai in all the 20+ years I've lived in Japan. Seeing Mt. Fuji beside the traditional Japanese buildings was a treat for the senses, and I was delighted to finally have the opportunity to discover this fascinating region. Rakuten STAY VILLA Fuji Yamanakako is also really close to the bus stop, and is a convenient base for local sightseeing," said Timothy.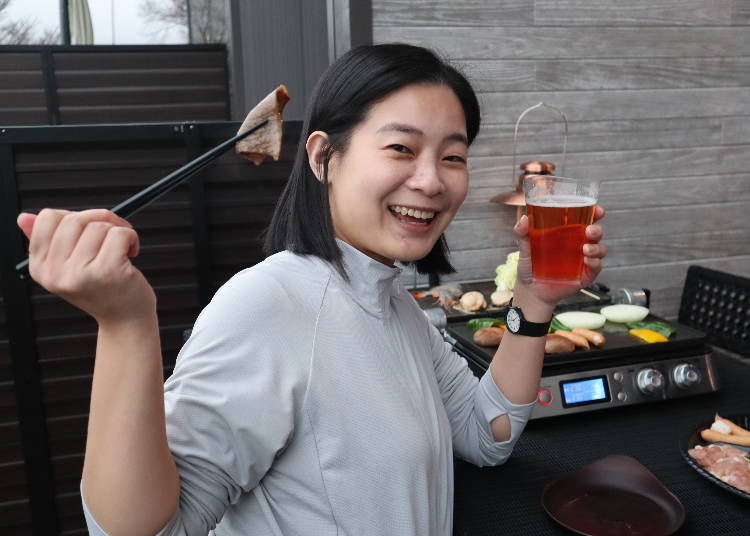 "I was able to see Mt. Fuji from my room, the bathroom, kitchen, deck, and more, and I was in constant awe of its size and majesty. I found the stay to be luxurious and fulfilling - totally removed from life in the city. Cycling around the lake presented even more gorgeous scenery while I relished the wind and let myself unwind. I was enraptured by the up-close swans, and am leaving refreshed and healed," mentioned Chia-chi.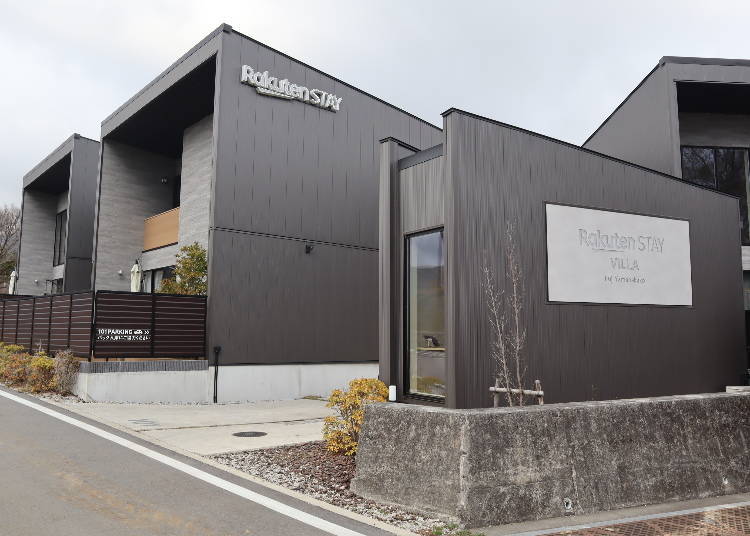 Lake Yamanakako is one of the closest attractions to Mt. Fuji, making it the ideal spot to fully embrace its magnificence while enjoying a slow, relaxing holiday. While the view of Mt. Fuji depends on the season and weather, other wonders like starry night skies, sunrises, and the surrounding wilderness make it a well-rounded, worthwhile experience.

Embrace this carefree, slow, and liberating style of travel with a stay at Rakuten STAY VILLA Fuji Yamanakako!

*The information in this article is current as of January 2023. Please check the official website for the latest information.
General Information
・Available Languages

Japanese, English, Chinese (Simplified and Traditional), Korean
*Multi-language tablets available
・Hotel Information

・No. of Rooms: 5
・Opening hours:
- Check in: 3:00 pm - 10:00 pm
- Check out: 10:00 am
・Front desk: 7:00 am - 9:00 pm
・Price: From 37,000 yen for one villa
*Prices are subject to change
Address

Hirano 410-3, Yamanakako, Yamanashi, 401-0502
View Map

Nearest Station

Suruga-Oyama Station (JR Gotemba Line)


Vacancy search, reservation

from

47,138JPY

1room, 2adults

Check with our partner site as the latest rates, rate details, and guest room requirements may vary.
Address

Hirano 410-3, Yamanakako, Yamanashi, 401-0502
View Map

Nearest Station

Suruga-Oyama Station (JR Gotemba Line)


Vacancy search, reservation

from

36,508JPY

1room, 2adults

Check with our partner site as the latest rates, rate details, and guest room requirements may vary.
Written by:
Other recommended activities nearby
*This information is from the time of this article's publication.
*Prices and options mentioned are subject to change.
*Unless stated otherwise, all prices include tax.
Limited time offer: 10% discount coupons available now!