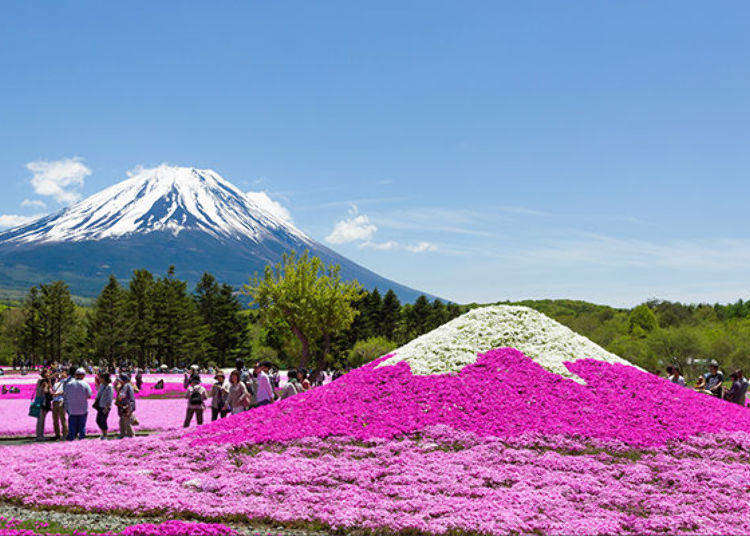 We toured the Fuji Five Lake area to find the five best spots to enjoy Mount Fuji and flowers! Lose yourself in the dreamlike scenery under a vivid blue sky!

The Fuji Five Lakes is a stunningly beautiful area of five lakes that spreads all around Japan's most iconic mountain. Because of the high altitude, spring hits the region about a month later than in Tokyo, offering a sea of flowers even until Golden Week in May, a week of consecutive holidays that puts the entire country in a mood of wanderlust.
1. Fuji Motosuko Resort: A Perfect Pink Carpet of Pink Moss Phlox (Fuji Shibazakura Festival)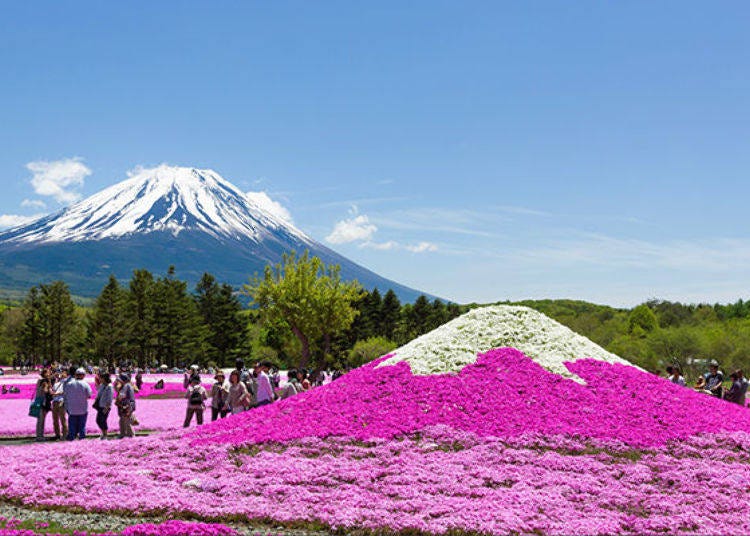 Mount Fuji, the real one and the moss phlox version. 800,000 blossoms spread on a carpet of 2.4ha on the largest moss phlox field in the Tokyo area.
When it comes to flowers and Mount Fuji, this is the prime spot. The Fuji Motosuko Resort hosts the Fuji Shibazakura Festival every year. There, look forward to more than ten kinds of vivid flowers, including eight species of phlox, as well as Anemone and the Mitsuba Azalea (Rhododendron dilatatum) which show their colors between April and May.

The best time to visit Mt. Fuji for shibazakura is in early to mid-May. The vivid pink offers a stunning contrast to the blue sky above, creating a flowery carpet so breathtaking, it was featured on CNN as one of Japan's best 31 sights in March 2015.
・In bloom:

Early to mid-May
・Flowers:

Moss phlox (8 varieties), Anemone, Forsythia, Japanese primrose
・Fuji Shibazakura Festival 2021 dates:

4/17 - 5/30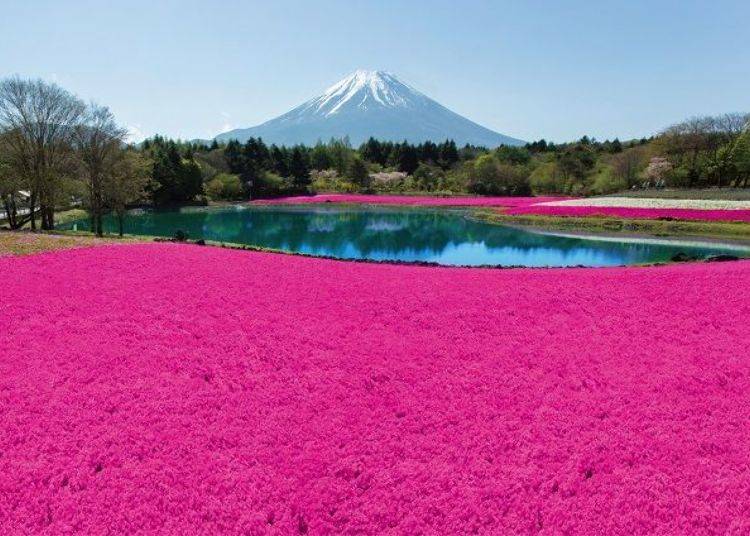 Phlox and the Ryujin Pond on the premises. At that time, Mount Fuji's peak is still covered in snow.
The Fuji Shibazakura Festival doesn't only offer stunning floral sights but also treats you to a local gourmet experience with the Mt. Fuji Delicious Foods Festival.

Look forward to savoring regional specialties such as Yoshida Udon and a chicken offal dish called kōfu tori motsu-ni. On top of that, the Mt. Fuji Street Performance Festival entertains visitors in all kinds of ways (not held during Golden Week).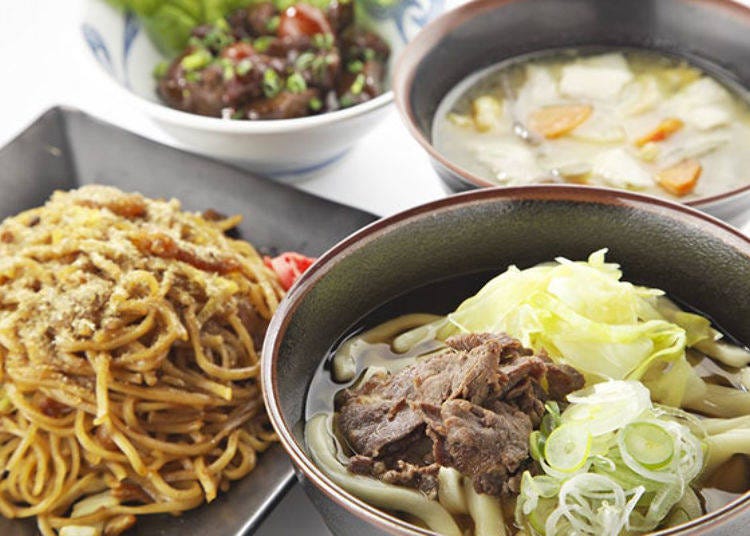 Savor local dishes from around Mount Fuji, from casual to haute!
If you need a break from feasting and exploring, head to the Observatory Café for a nice cup of coffee and delicious sweets or dangle your feet into the Observatory Footbath (100 yen admission, 100 yen for towel rental, tax included), both part of the Highland Resort Hotel & Spa.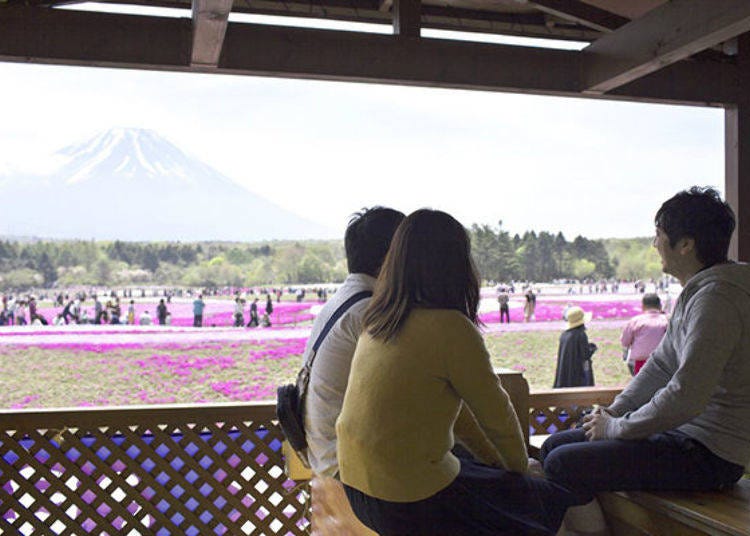 The view from the footbath, perfect for a break.
While the festival is taking place, a bus takes you to the venue from Shibuya next to several other round-trip buses, connecting various parts of Tokyo to Mount Fuji's moss phlox paradise (reservation required). Enjoy an amazing day trip into a world full of Mount Fuji and flowers!
富士本栖湖リゾート

Address

212, Motosu, Fujikawaguchiko-machi, Minamitsuru-gun, Yamanashi, 401-0337, Japan

Phone Number
0555-89-3031(富士芝桜まつり事務局)

Event period: April 13 to May 26
Hours: 8:00 a.m. – 5:00 p.m.
*May change depending on the flowering.
Admission: 600 yen for adults (junior high and above), 250 yen for children (3 and older; tax included)
Closed: open daily during event period
2. Oshino Omiya Bridge: Magical Marriage of Cherry Blossoms and Mount Fuji's Snowy Peak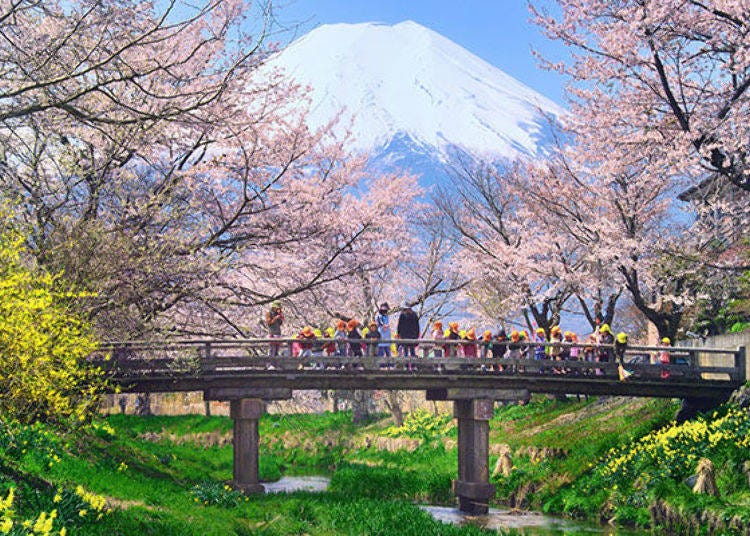 The embodiment of Japanese spring. Oshino Village's scenic view is unchanged since centuries. (Photo credit: Oshino Village)
Oshino is a scenic village just northeast of Mount Fuji. Situated on a plateau, it boasts a peaceful landscape and breathtaking views of the area. A river called Shinashōgawa flows through the town, lined by numerous cherry trees that blossom beautifully during spring.

About 100 somei yoshino trees stretch their branches to the sky along both sides of the river and especially Omiya Bridge is a fantastic scenic spot. (The road is close by, so please be careful where you walk while taking pictures.)

Full bloom is around the end of April, and a lot of people bring long rubber boots to shoot the stunning scenery directly from the river. It certainly is a one-of-a-kind sight, sure to cast a spell over you!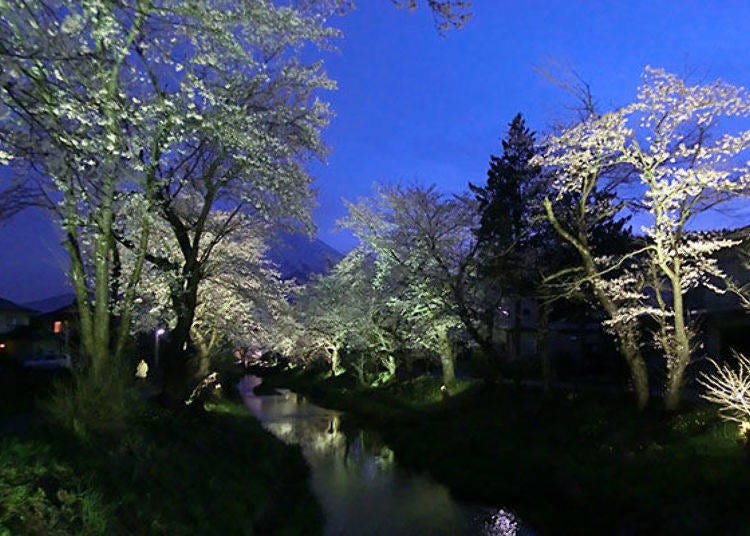 The light-up at night, highlighting yozakura (cherry blossoms at night). (Photo credit: Oshino Village)
When the cherry trees start to bloom, there'll be a light-up at night for the next ten days. While the full bloom is often around Golden Week, the status of the flowers can be checked on the official website of Oshino Village via a live camera feed. This scenic spring spot is just a 5-minute walk away from Oshino Hakkai, a World Heritage Site that is well worth a visit in itself. Brace yourself for a breathtaking stroll dotted with stunning sights!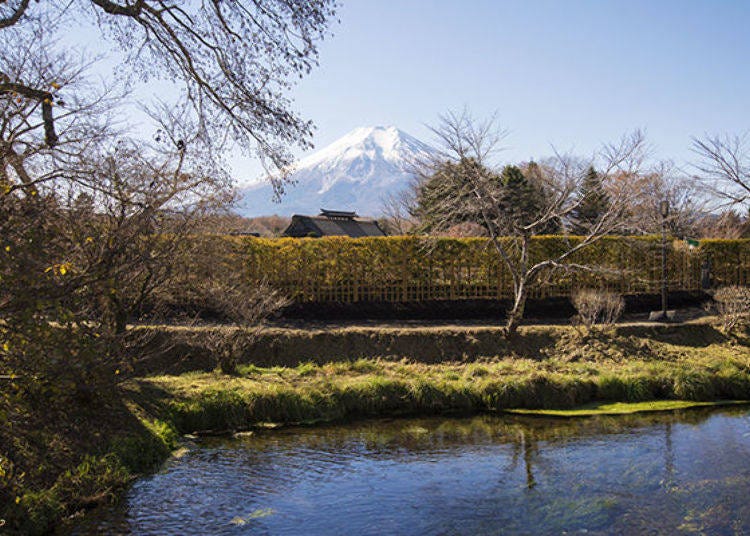 Nigori Pond, part of Oshino Hakkai. It's a 2-minute walk away from the Shinashōgawa River and its cherry blossoms. (Photo credit: Oshino Village)
・In bloom:

Mid- to late April
・Flowers:

Cherry blossoms (somei yoshino), Daffodil, Forsythia
Oshino-mura Omiyabashi no Sakura

忍野村「お宮橋」の桜

Address

Omiyabashi, Shibokusa, Oshino-mura Minamitsuru-gun, Yamanashi, 401-0511, Japan

Phone Number
0555-84-3111(忍野村役場)

Light-up period: 10 days from the first blossoming of somei yoshino cherry trees.
Light-up time: from sunset to 9:00 p.m. (scheduled)
3. Kawaguchiko Music Forest Museum: A Rose Garden Straight Out of a European Fairytale
The roses peak in June. Drift away to a land of magic while listening to the world's largest dance organ.
The Kawaguchiko Music Forest Museum is a theme park of flowers and music, sitting on the north side of Lake Kawaguchi. The beautiful garden is often featured in music videos and other productions. It feels like an enchanted place straight out of a European fairytale and its various flowers start to blossom around March. Especially the rose garden and its 720 different varieties is a must-visit during June when the 1,200 roses bloom from flower beds, arches, and walls.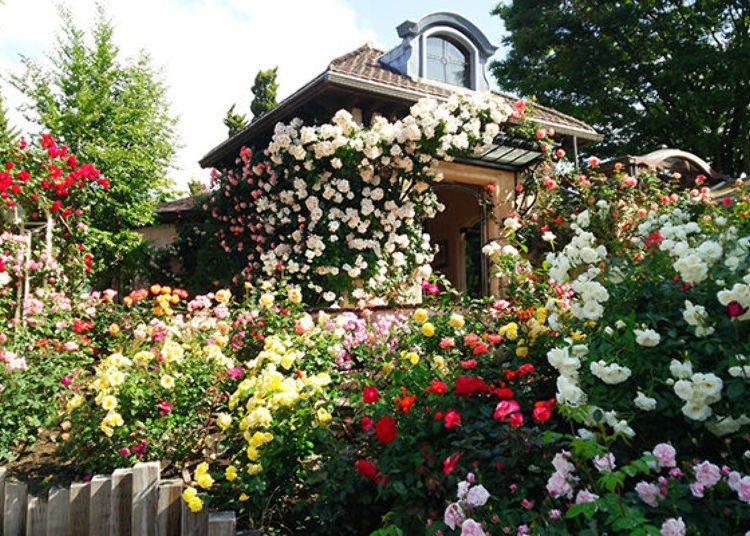 In mid-June, the garden transforms into a colorful ocean of roses.
The premises also feature a collection of automatic musical instruments, historic music boxes, and mechanical dolls. Especially noteworthy is the large organ that was intended to be installed inside the Titanic.

For an extra dash of magic, make use of the plan (from 1,000 yen for adults, 500 yen for children, tax included) that lets you dress up in fairytale-inspired European costumes, transforming you into elegant royalty, and so on! There are numerous photo spots throughout the garden that really make these costumes shine, such as the Butterfly Bench pictured below.
The Butterfly Bench inside the garden, worthy of a princess!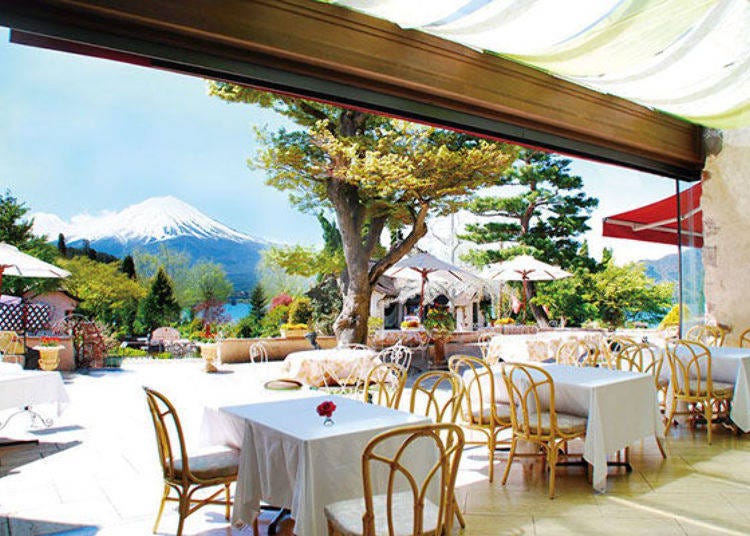 The terrace commands a superb view of Mount Fuji, Lake Kawaguchi, and the garden's many roses. Enjoy a delicious meal while losing yourself in the scenery.
・In bloom:

April to November
・Flowers:

Roses (~720 varieties), Delphinium, Marigold, Cosmos, Zinnia
Kawaguchiko Music Forest Museum

河口湖オルゴールの森美術館

Address

3077-20, Kawaguchi, Fujikawaguchiko-machi Minamitsuru-gun, Yamanashi, 401-0304, Japan

Phone Number

0555-20-4111

Hours: 9:30 a.m. – 6:00 p.m. (last admission at 5:00 p.m.) *changes by season.
Admission: 1,500 yen regular, 1,100 yen college & high school students, 800 yen elementary school & junior high students (tax included)
Closed: winter holidays (please inquire)
4. Oishi Park & Yagizaki Park: Relax With Mt. Fuji and Lavender (Lake Kawaguchiko Herb Festival)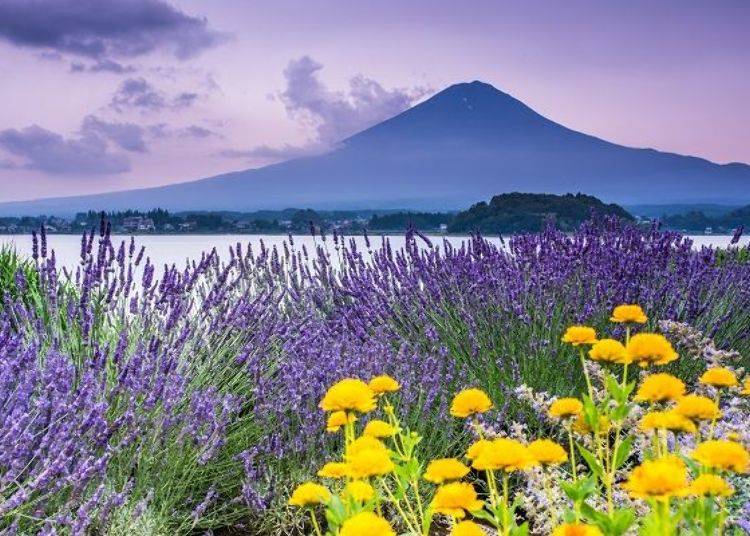 Mount Fuji towering over the lake, seen from Oishi Park. The mountain changes its appearance throughout the day.
Oishi Park and Yagizaki Park are the large Lake Kawaguchi Herb Festival venues, located north and south of the lake, respectively. This festival features about 8,000 lavender flowers blossoming in enigmatic purple, covering the entire area with their relaxing aroma.

Oishi Park's highlight is the sublime scenery of the lake, the blossoming lavender, and Mt. Fuji in one picture. We especially recommend going early in the morning on sunny days without wind. Then, you'll be able to see "Fuji upside-down," the iconic mountain reflected in the lake's calm waters.

Additionally, Oishi Park also boasts a flower road of about 350 meters, leading you through a variety of flowers in bloom, such as the aforementioned lavender but also begonias arranged like waterfalls and moss phlox. Take a walk and discover the many floral charms.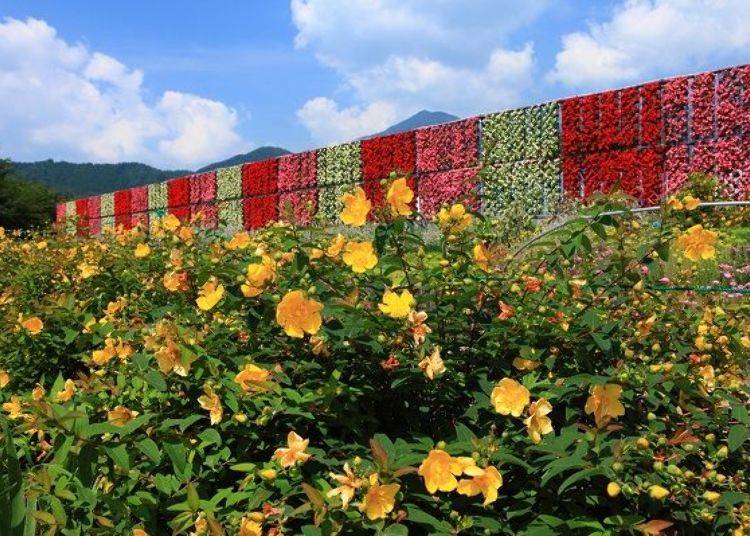 The begonia waterfalls on the flower road.
Inside the park also is the Kawaguchiko Natural Living Center with its café called "Café With a view of Mt Fuji," where Yamanashi peach juice and blueberry soft serve are popular.

The Oishitsumugi Traditional Craft Museum opposite Oishi Park has also been renewed just in 2017. It now offers a service called Kimono Kibun, where you can rent and get dressed in a kimono, experiencing Mount Fuji and Lake Kawaguchi's beautiful scenery, traditional Japanese style! Rental is possible for up to 8 hours and includes accessories such as footwear and handbags (5,000 yen, tax excluded, reservation required).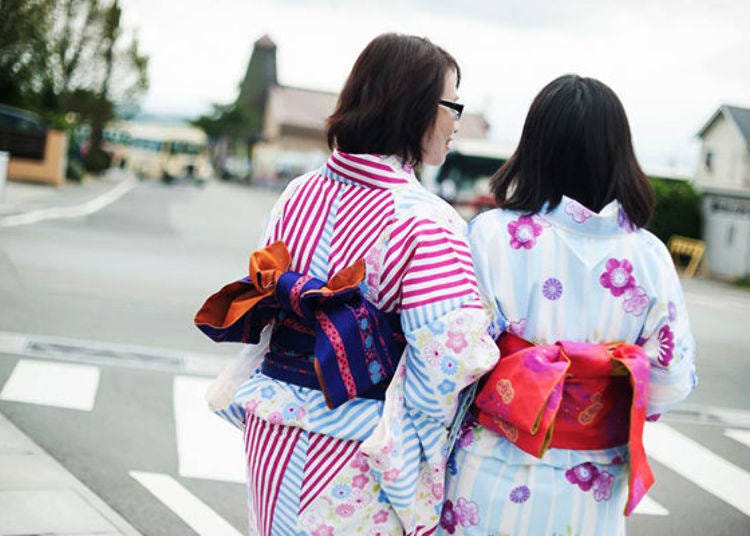 Sightseeind around Lake Kawaguchi in a kimono. The Herb Festival's Oishi Park is just across the street!
・In bloom:

June to July
・Flowers:

Lavender, Hydrangea, Moss phlox, Begonia, Rape blossoms
Kimono Kibun (Oishitsumugi Traditional Craft Museum)

キモノキブン(大石紬伝統工芸館)

Address

1438-1 Oishi, Fujikawaguchiko-machi, Minamitsuru-gun, Yamanashi, 401-0305, Japan

Phone Number

0555-76-7901

Hours: 9:00 a.m. – 5:00 p.m.
Admission: 5,000 yen for kimono rental *requires prior reservation. Return until 5:00 p.m.
Closed: open daily
If you mainly want to sink into a field of lavender, head over to Yagizaki Park on the south side of Lake Kawaguchi. When the wind blows, the gentle aroma is carried all over the field that dyes the lakefront in a stunning purple color.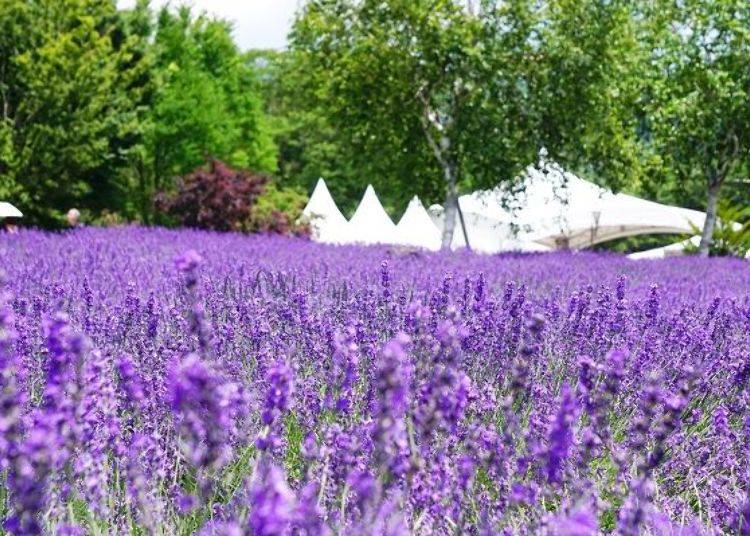 Lavender, lavender, lavender. The scenery is enchanting, the aroma is out of this world.
During the event, booths are set up in front of the lavender garden and various performances entertain the guests. Get soothed by live jazz, buy herb seedlings, enjoy the light-up at night, and leave all your cares behind.

Another highlight of Yagizaki Park is the many hydrangeas, blossoming at the same time as the lavender. Follow the wonderfully scenic path that is just lined with hydrangea, taking you along the lake's shore. It's just as beautiful as the lavender, so don't miss out on this sight.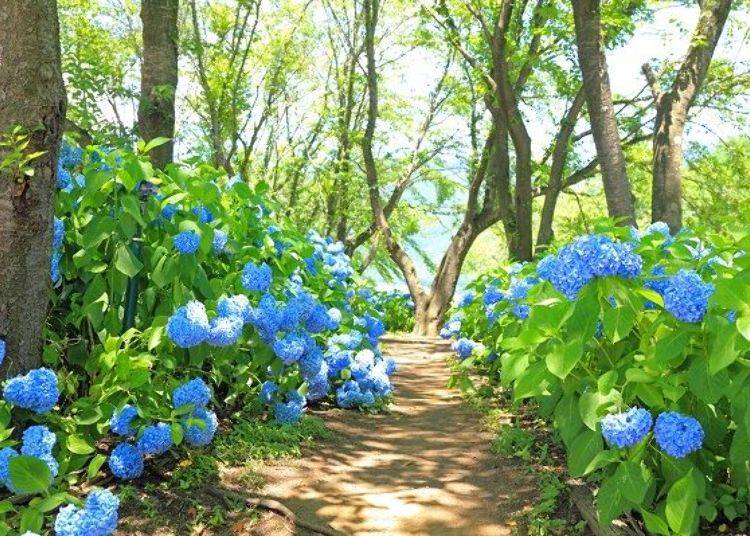 The fresh blue color follows the lake's shore on the hydrangea path.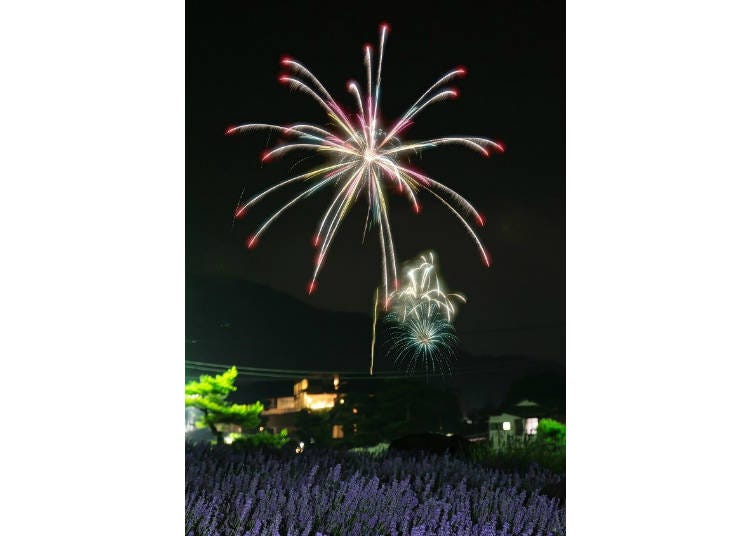 July 7th marks the start of the mountaineering season for Mount Fuji and fireworks are launched over the lake to celebrate the day.
大石公園

Address

2525-11, Oishi, Fujikawaguchiko-machi Minamitsuru-gun, Yamanashi, 401-0305, Japan

Phone Number
0555-72-3168(河口湖ハーブフェスティバル実行委員会)

Event period: June 14 to July 15
Hours: 9:00 a.m. – 6:00 p.m.
Admission: free
八木崎公園(河口湖ハーブフェスティバル)

Address

923, Kodachi, Fujikawaguchiko-machi Minamitsuru-gun, Yamanashi, 401-0302, Japan

Phone Number
0555-72-8772(大石観光協会/大石会場)

Event period: June 14 to July 7
Hours: 9:00 a.m. – 6:00 p.m.
Admission: free
*Information of 2018.
5. Yamanakako Hananomiyako Park: a Full, Unmarred View of Mount Fuji and a Lush Flower Garden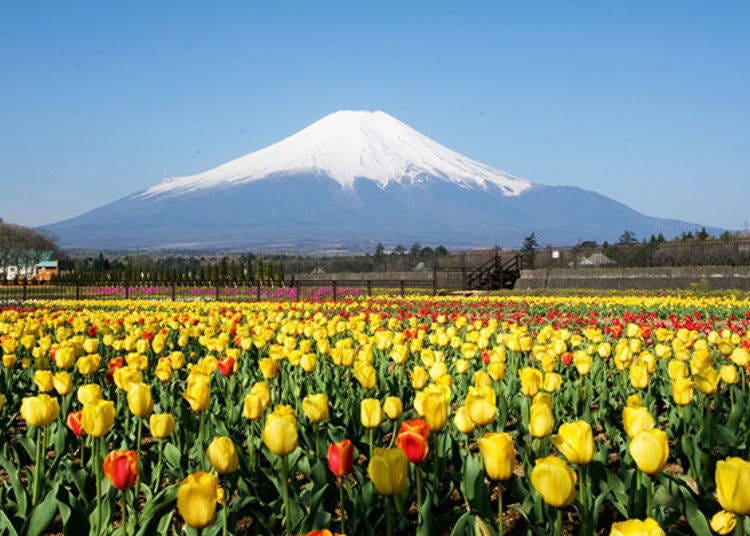 Mount Fuji towers majestically over the tulip field. It's an open, vast scenery that invites to take a deep breath. *The tulips bloom from late April to early May.
The "Haru no Ibuki" (Breath of Spring) event takes place at this park from April 28 to May 27. The indisputable highlight is the about 170,000 tulips that are in full bloom during this time, creating a carpet of color that makes for stunning pictures.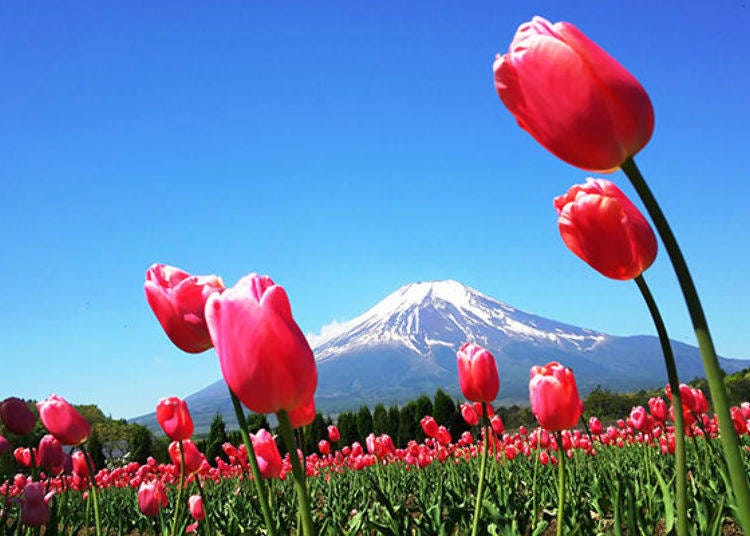 The tulips blossom between late April and early May. It's a vast area to be enjoyed at your heart's leisure.
Baby blue eyes, as well as the yaebeni-shidare and the Fujizakura cherry blossoms also show their floral magic. For the event, a special tour will take you to see the orchid Japanese cypripedium, an endangered species.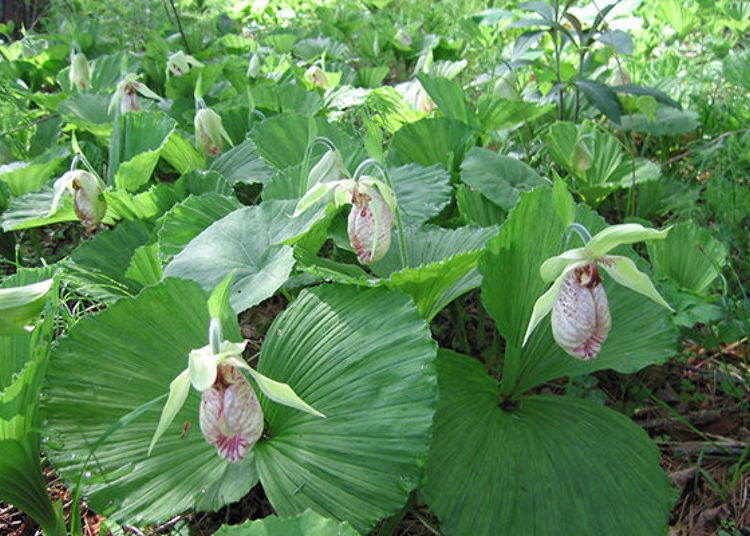 Also called Japanese or Korean lady slipper, the Japanese cypripedium boasts about 3,000 individual plants inside the park.
The restaurant "Hana'an" will tickle your taste buds with the Kōshu specialty "hōtō," a noodle hot pot with flat udon. Here, the regional delight is enhanced with wine, unfolding the secret taste of the region (1,300 yen, tax included). From April, chilled hōtō called "ozara" is also served, cooling you down on a hot day.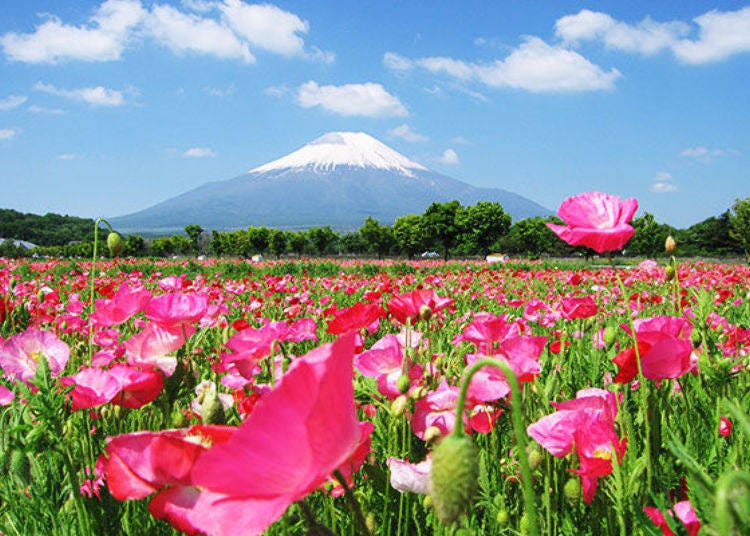 The poppies blossom between early July and mid-July, attracting plenty of visitors as well.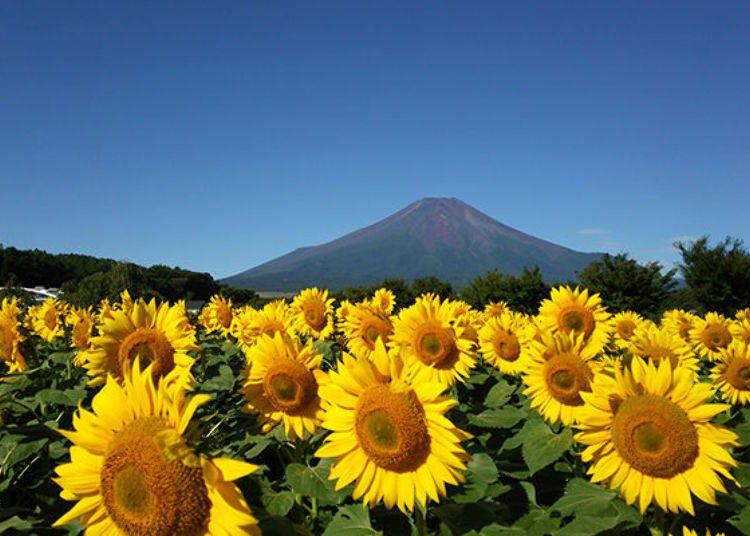 Mid-August to late August is sunflower season! A maze is made inside the flowers and the laughter of children echoes from within.
Before planning your trip, check the official website to see in which state the flowers are, as it features live images of both the flowers and Mount Fuji.
・In bloom:

Late April to mid-October
・Flowers:

Tulips, Rape blossom, Sunflowers, Poppy, Zinnia, Japanese Cypripedium
Yamanakako Hananomiyako Park

山中湖花の都公園

Address

1650, Yamanaka, Yamanakako-mura Minamitsuru-gun, Yamanashi, 401-0501, Japan

Phone Number

0555-62-5587

Hours: 8:30 a.m. – 5:30 p.m. (April 16 to October 15); 9:00 a.m. – 4:30 p.m. (October 16 to April 15)
Admission: 500 yen for adults, 200 yen for elementary school and junior high students. *Tax included. Changes by season.
As the days get warmer and warmer, a bit of snow is left on Mount Fuji's peak, between the 7th and 8th station. That speck of snow looks like a bird and is called "nōtori," heralding the arrival of spring.

That's precisely the time when numerous flowers start to bloom at the foot of Mount Fuji, attracting people from far and wide to shake off the cold of winter and rejoice in the colorful, fragrant flower fields.

The Fuji Five Lake area is about 90 minutes away from Central Tokyo, close enough for a day trip to welcome spring in the most magnificent way! So, what are you waiting for?

*Dates indicated above are for 2019. Pictures are of 2016 and earlier. The blossoming times given for the flowers is a rough guide only, and actual blossoming varies by weather conditions. Make sure to check the official websites of the locations for further information.
See Mount Fuji and Flowers With These Tours!
*This information is from the time of this article's publication.
*Prices and options mentioned are subject to change.
*Unless stated otherwise, all prices include tax.