In the wintertime, much of Japan's Tohoku Region becomes blanketed in snow, drawing in hordes of tourists seeking breathtaking snowy landscapes, skiing adventures, and relaxing hot springs.

Here we present a 5-day itinerary, using the Tohoku Area JR East Pass, curated to immerse you in the beauty of Tohoku's charming winter sceneries and exciting snow festivals!
JR EAST PASS: The Best Value for Your Tohoku Winter Trip
The JR East Pass (Tohoku Area) is valid throughout the six prefectures of the Tohoku Region, as well as some parts of the Kanto Region. Prices are 20,000 yen for adults and 10,000 yen for children. There's also the JR East Pass for the Nagano and Niigata areas, priced at 18,000 yen for adults and 9,000 yen for children, which is valid in Niigata and Nagano, as well as some parts of the Kanto area.

(*Prices will be revised from October 1, 2023. Please check the JR official website for details.)
Day 1: Ride the Shinkansen Hayabusa to Shin-Aomori
Head to Tokyo Station and obtain your JR East Pass (Tohoku Area) by scanning your reservation information at the ticket machine. Then proceed to the boarding area for the Tohoku Shinkansen Hayabusa.

Your first destination is Shin-Aomori Station in Aomori Prefecture, located in the northernmost point of Honshu. Average travel time on the Hayabusa from Tokyo Station to Shin-Aomori Station takes about three hours and 10-20 minutes. There are two types of Hayabusa trains: one bound for Shin-Hakodate-Hokuto and another for Shin-Aomori, both of which stop at Shin-Aomori Station, allowing travelers to reach their destination without any transfers.
12:00 PM: Depart Shin-Aomori Station for Aomori Station for a Delectable Seafood Lunch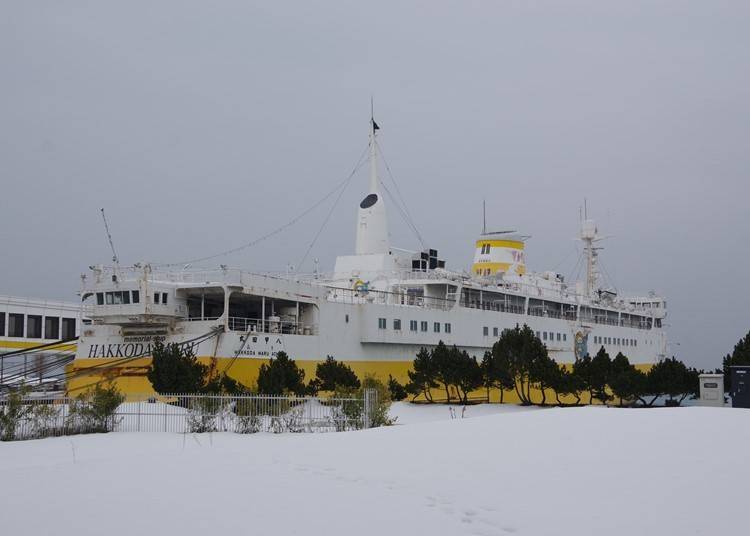 Aomori Station offers a wider array of restaurants and souvenir shops in comparison to Shin-Aomori Station. Without exiting the ticket gate, board the Hirosaki-bound JR Ou Line to Aomori Station (a short 5-minute ride). Once at the station, the surrounding white snowy landscape will amaze you! Secure your luggage in one of the lockers, and make your way to the city center.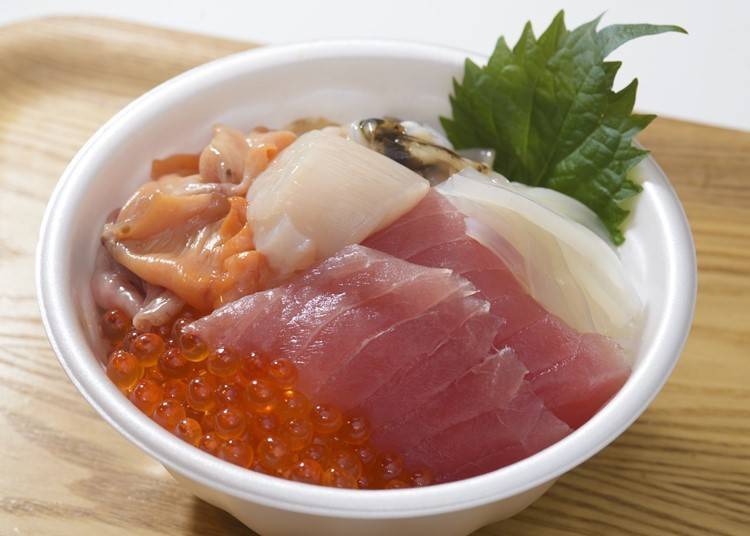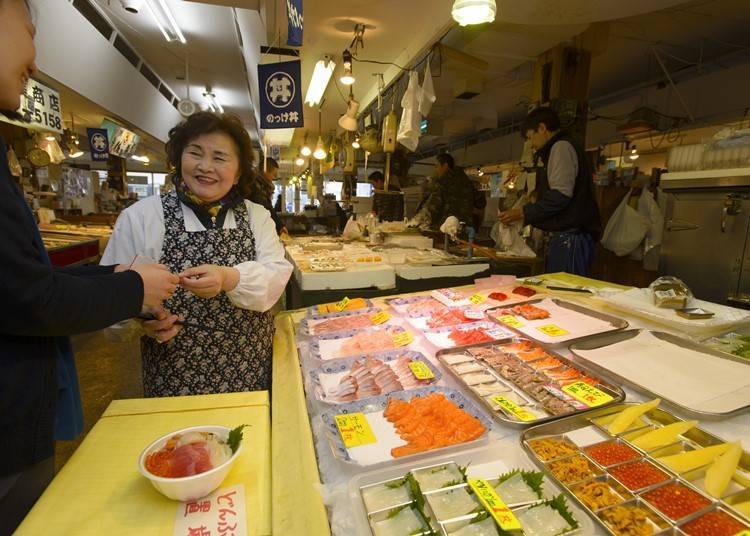 For lunch on your first day, treat yourself to Aomori Nokkedon, located at the Aomori Gyosai Center just five minutes away. Aomori Nokkedon is a rice bowl topped with the seafood of your choice, with options including tuna, salmon, shrimp, and octopus. Aomori's seafood is fresh and delicious, and this market is a great place to enjoy it for yourself! Even if you're not familiar with the local language, the friendly market staff will gladly greet you with gestures, ensuring a memorable lunch regardless of any language barrier!
3:00 PM: Take In the Picturesque Japanese Scenery of Snowy Hirosaki Castle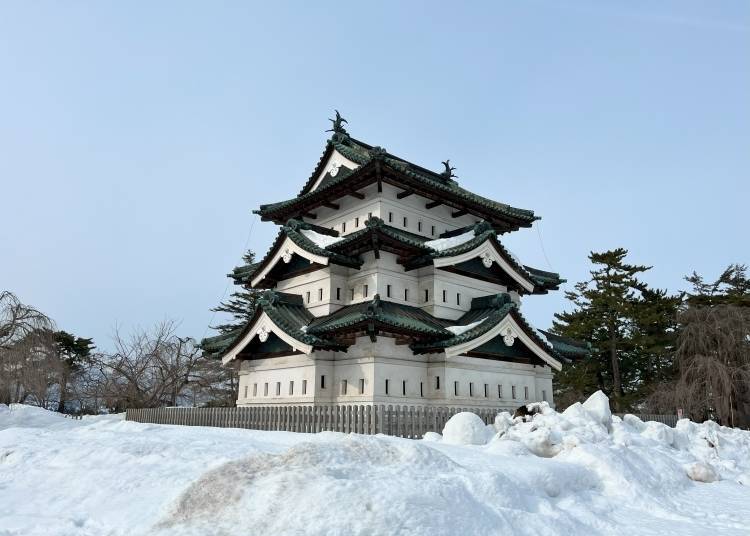 From Aomori Station, use your JR East Pass and take the JR Ou Main Line bound for Hirosaki or Odate. The ride typically lasts between 45-55 minutes. Hirosaki is famous for its namesake Hirosaki Castle, a historic structure that has stood strong for nearly 200 years. While the castle is a renowned cherry blossom viewing spot, its landscape is just as captivating when blanketed in snow! Once you arrive at Hirosaki Station, hop on the 100-yen Hirosaki City Loop Bus. The ride is about 15 minutes.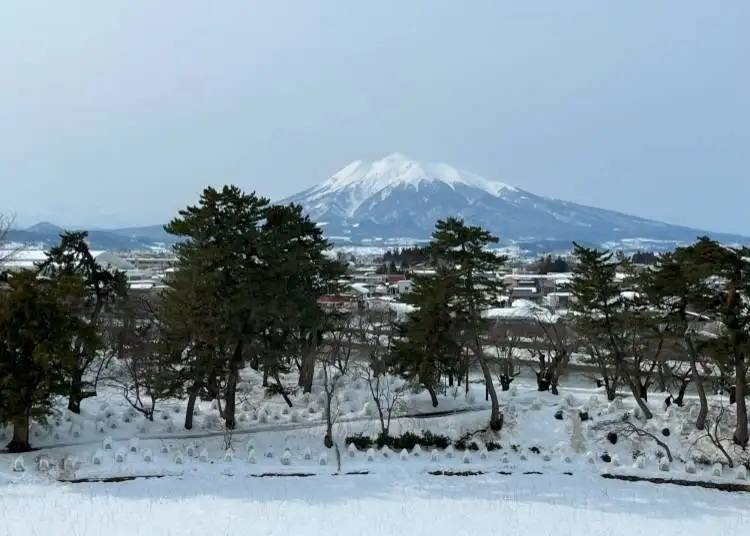 On clear days, the snow-capped Mt. Iwaki is a stunning sight to behold!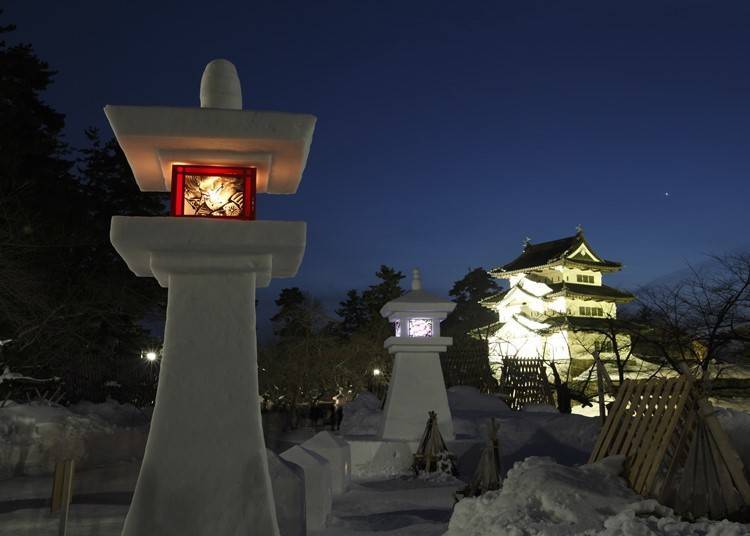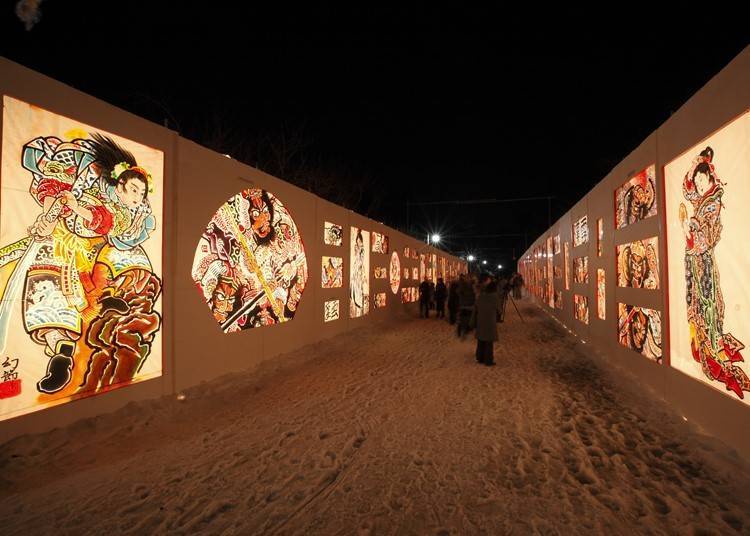 In early February, visitors can take part in the Hirosaki Castle Snow Lantern Festival, an event that usually spans several days. At this time, the castle comes to life with lovely lanterns, sculptures of snow, and old, beautifully illuminated pine trees.
Address

1, Shimoshiroganecho, Hirosaki-shi, Aomori, 036-8256
View Map

Nearest Station

Chuohirosaki Station (Konan Tetsudo-owani Line)
15 minutes by car


Phone Number

0172-33-8739
Day 2: Hop the Local Gono Line and Head to Koganezaki Furofushi Onsen
8:00: Ride the Gono Line Resort Shirakami Train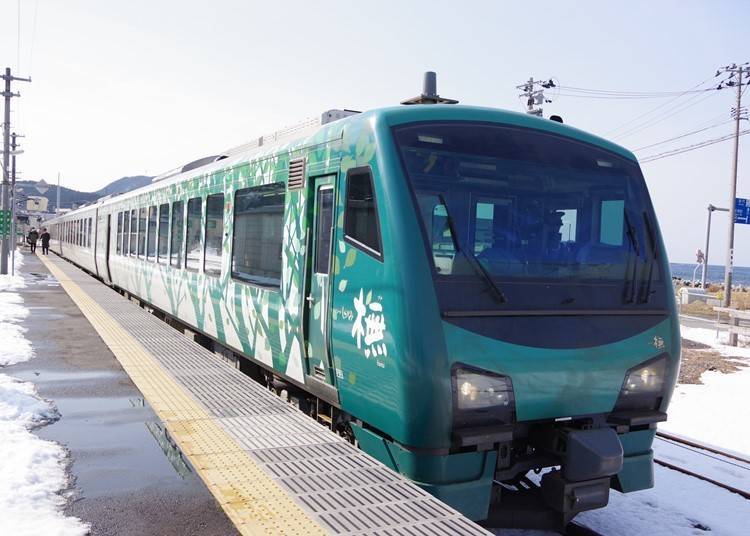 From Hirosaki Station, hop aboard the Resort Shirakami train to Koganezaki Furofushi Onsen. The Resort Shirakami is a special rapid train that operates along the JR Ou and Gono Lines, reaching Wespa Tsubakiyama Station, the nearest station to your destination, in about 2.5 hours. Please note that advanced reservations are required to ride in Car 2. To secure your spot, consult with the JR EAST Travel Service Center beforehand, located in major stations throughout Tokyo.
One of the main attractions of the Resort Shirakami is its spectacular view of the Sea of Japan. Running right along the coast, the Gono Line allows passengers to immerse themselves in a journey set against the vast expanse of ocean spanning endlessly before their eyes.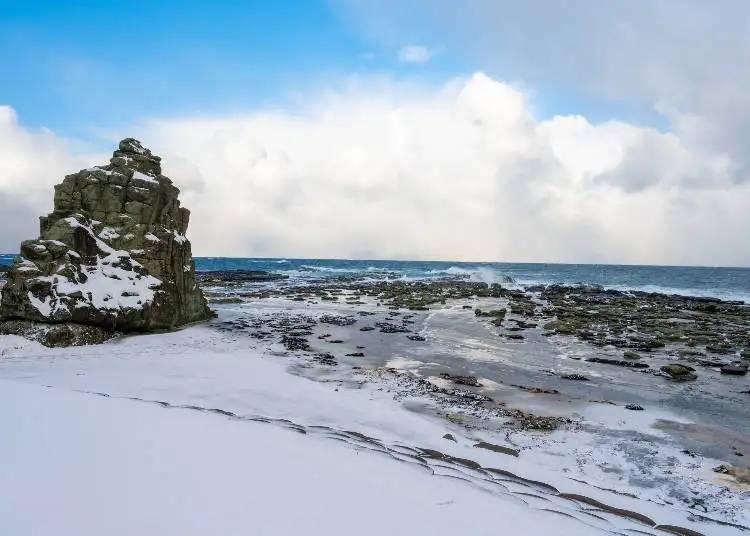 (Image photo. Credit: PIXTA)
The train will make a stop at Senjojiki Station at around 10:15 AM. Here you'll discover a rocky beach that was uplifted by an earthquake, which visitors can still walk around. Take advantage of the 15-minute break to step off the platform, explore the area, and enjoy the captivating views of Senjojiki!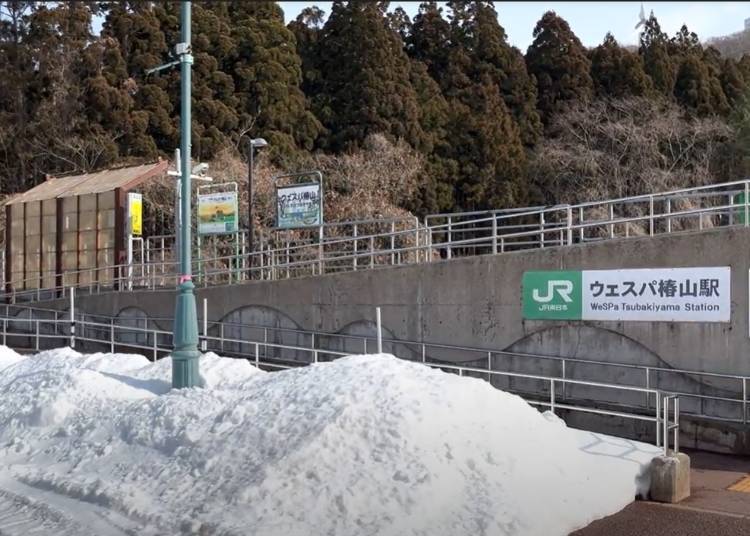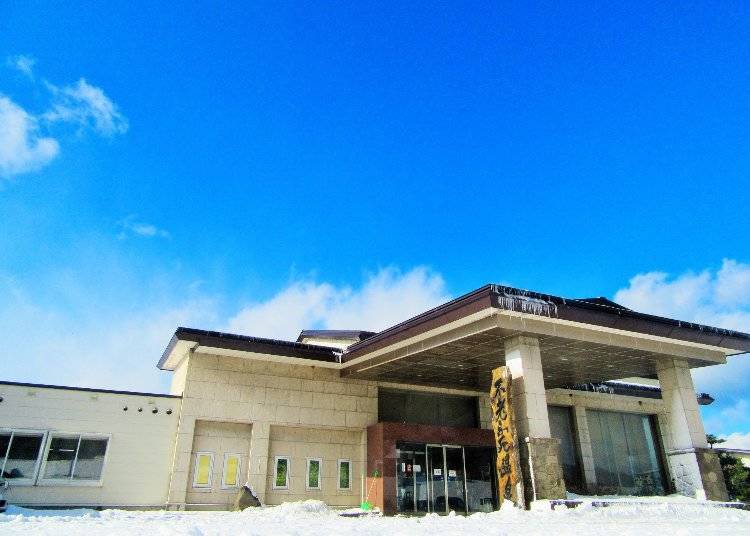 At around 11:15AM, the bus will arrive at Wespa Tsubakiyama Station. This unmanned station has only a platform, with the Koganezaki Furofushi Onsen shuttle bus stop right in front. The shuttle bus ride from here is about five minutes.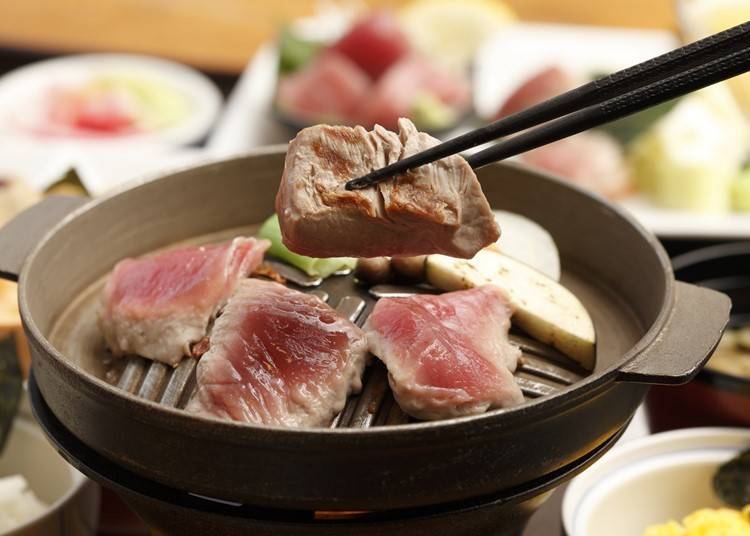 For lunch, indulge in the popular Fukaura Tuna Steak Donburi at the Koganezaki Furofushi Onsen restaurant. This area, called Fukaura, is located in Nishi-tsugaru, Aomori Prefecture, and is famous for its tuna. Fukaura boasts the largest tuna catch in the entire prefecture, rich in texture with just the right amount of fat.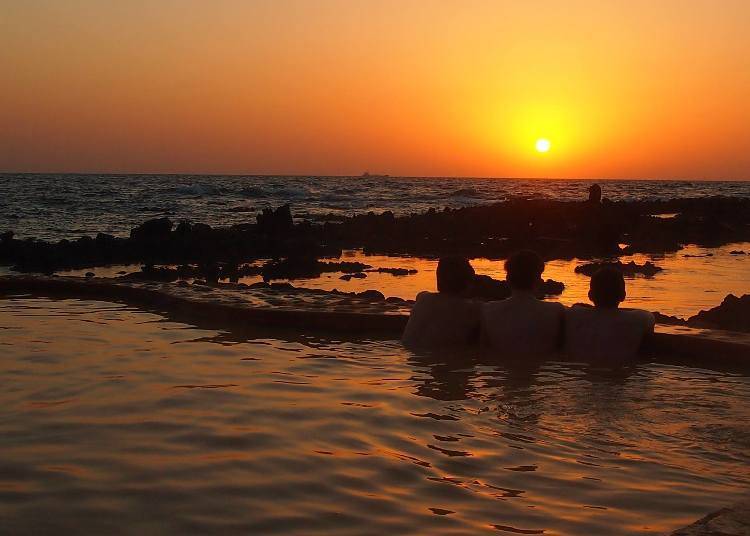 After a satisfying meal, unwind in your room for a bit before heading off to the hot springs. The highlight of Koganezaki Furofushi Onsen is its open-air baths, positioned right along the edge of the Sea of Japan. The springs are particularly popular at sunset, with breathtaking views of the fiery sunset descending on the horizon.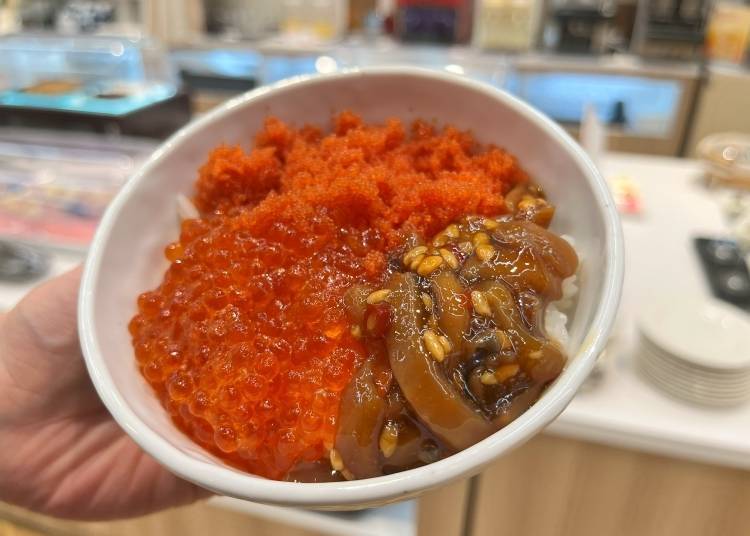 For dinner, treat yourself to a delectable seafood buffet, then retire to bed early for a well-rested night.
Address

Henashi Shimokiyotaki 15-1, Fukaura, Aomori, 038-2327
View Map

Nearest Station

Henashi Station (Gono Line)
14 minutes on foot


Vacancy search, reservation

from

30,000JPY

1room, 2adults

Check with our partner site as the latest rates, rate details, and guest room requirements may vary.
Day 3: To Lake Tazawa & Nyuto Onsenkyo in Snowy Akita Prefecture
9:30 AM: From Wespa Tsubakiyama Station to Lake Tazawa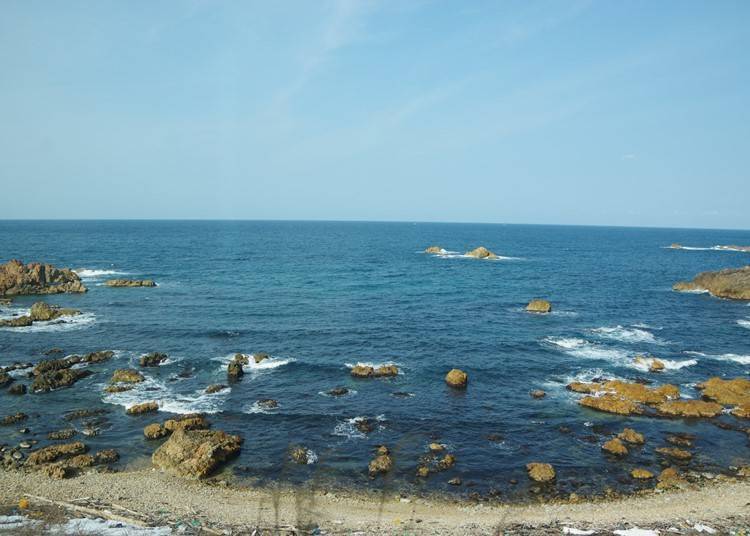 On the third day, you'll embark on a journey to Akita Prefecture. From Wespa Tsubakiyama Station, board the JR Gono Line Express Higashi-Noshiro train for a one-hour ride to Higashi-Noshiro Station. From there, transfer to the Ou Line Limited Express Tsugaru No. 2 bound for Akita. The transfer takes about 15 minutes, so take your time and don't rush.

After an hour's ride, you'll arrive at Akita Station, where you'll board the Tokyo-bound Akita Shinkansen Komachi and ride to Tazawako Station. All seats on the Komachi are reserved, so it's essential to book in advance using a ticket machine or the Midori-no-Madoguchi at Akita Station.

For a hassle-free journey, the station's Tazawako Tourist Information Center "Folake" offers convenient luggage storage services (500 yen per piece).
1:30 PM: Picture-Perfect Photos at Gozanoishi Shrine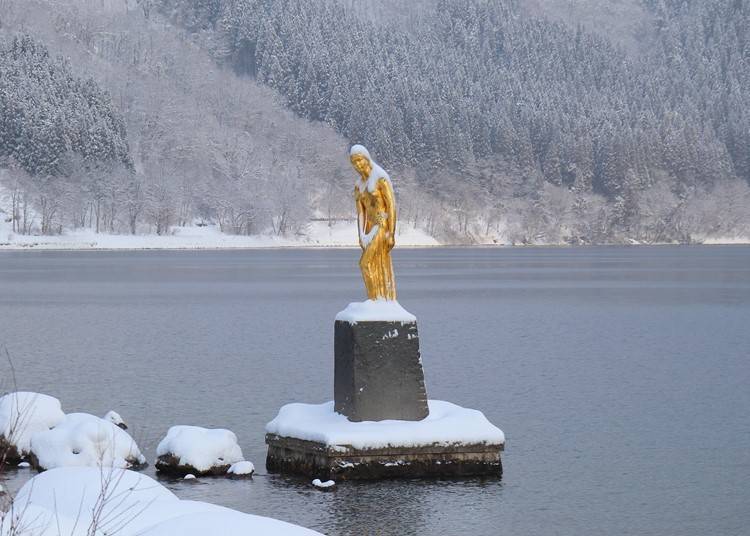 A 15-minute ride on the Ugo-Kotsu Bus from Tazawako Station will transport you to the tranquil shores of Lake Tazawa, a freshwater lake located in Semboku City, Akita Prefecture, and the deepest lake in Japan. During the winter, snow blankets the bronze statue of "Tatsuko," the legendary figure associated with the lake.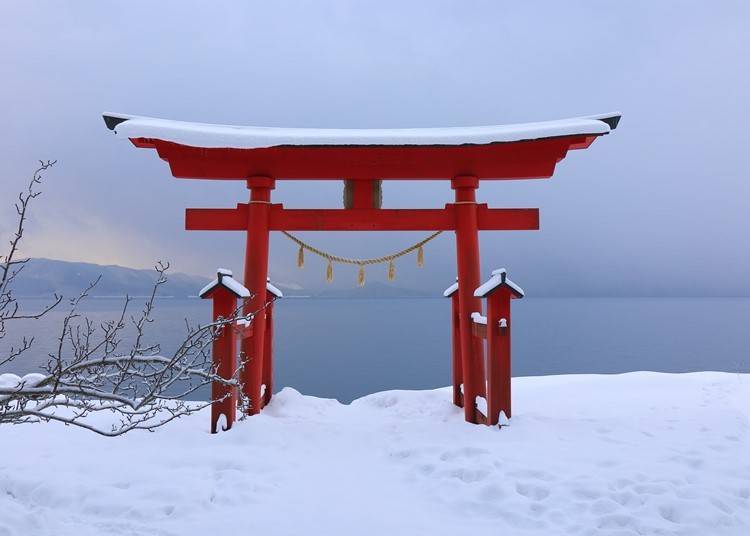 Recently, Lake Tazawa has garnered much attention for Gozanoishi Shrine, situated on the lake's shore. The vermilion torii gate, adorned with snow, frames a spectacular view of Lake Tazawa. The snow-covered gate and main shrine emanate a sense of divine serenity, making this spot a topic of admiration for its sheer beauty.

The cheapest way to Gozanoishi Shrine from Tazawako Station is via the Tazawako Isshu-sen (circuit bus), although the number of departures on this route may be limited. Another alternative is going by cab, available in front of Tazawako Station.
Address

Senboku-shi, Akita Lake Tazawa, 014-1204
View Map

Nearest Station

Tazawako Station (Tazawako Line)
10 minutes by bus

5:00 PM: Seek Warmth and Comfort in Snowy Nyuto Onsenkyo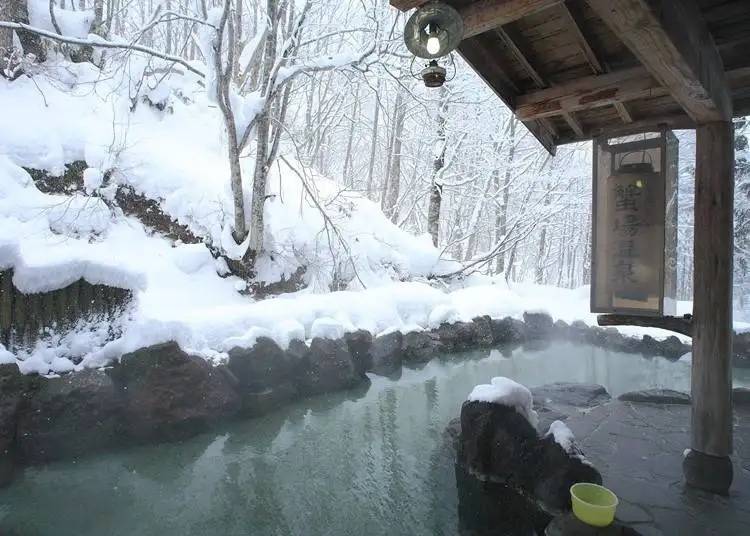 Ganiba Onsen, Nyuto Onsenkyo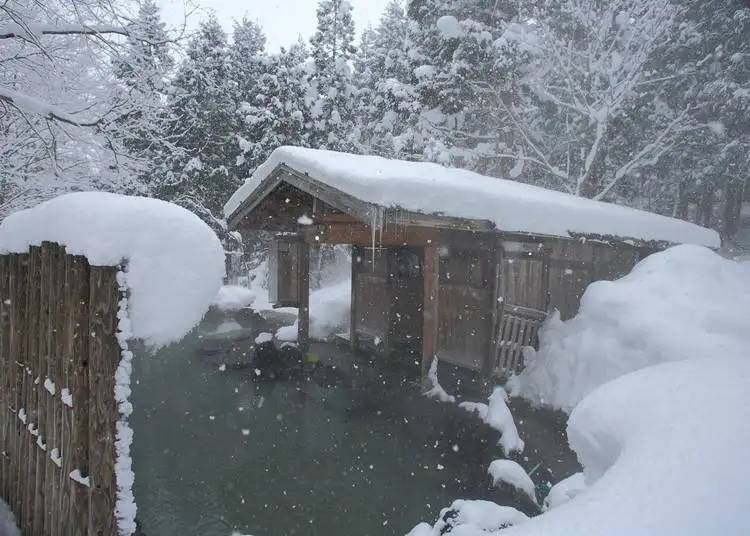 Today's destination is Nyuto Onsenkyo. To get there, take the Ugo-Kotsu Bus from Tazawakohan or Tazawako Station. Nyuto Onsenkyo's biggest winter attraction is its open-air baths surrounded by glistening snow. The enchanting ambiance of this space is sure to warm you, body and soul.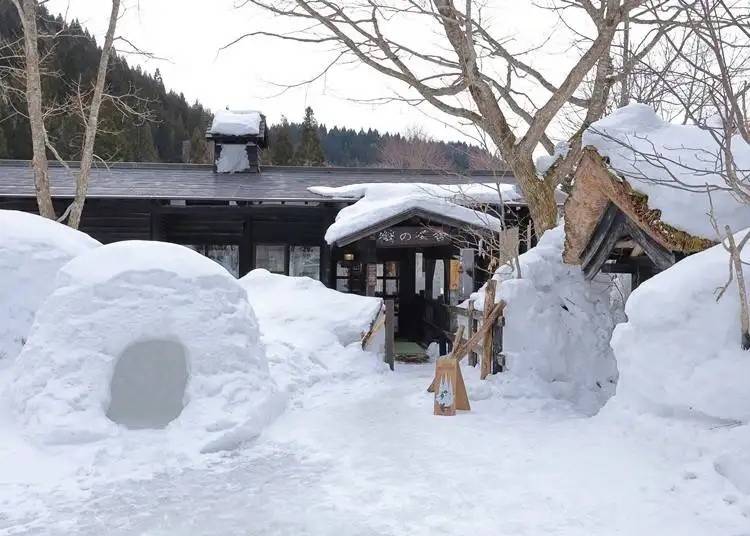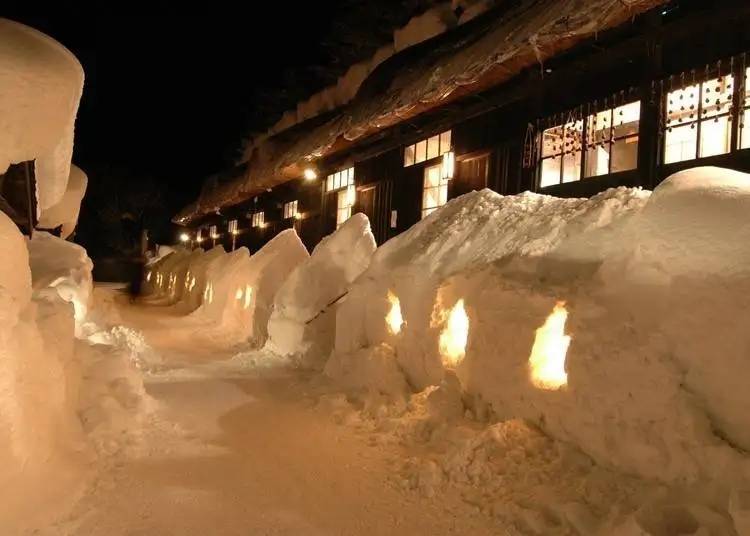 Tsuru-no-yu stands as the oldest of springs in the entire onsen village, exuding a nostalgic atmosphere reminiscent of the olden days. One of the must-see attractions here is the row of thatched-roof houses, dating back to the time of the samurai, having stood the test of time for nearly 400 years.
Day 4: Traditional Festivities at the Kakunodate Samurai Residences
11:30 AM: Savor Local Specialties around Tazawako Station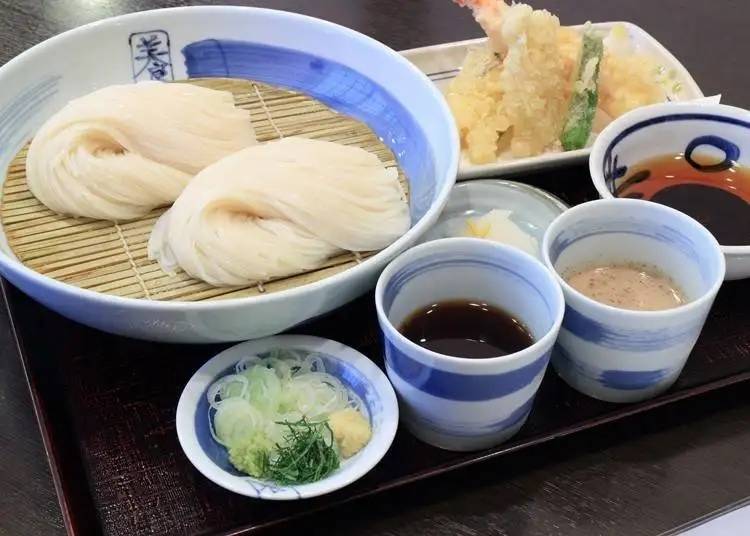 (Image photo)
On the fourth day, bid farewell to Nyuto Onsenkyo, and make your way back to Tazawako Station. The area around the station is home to several restaurants that serve famous Akita delicacies, such as Inaniwa udon, soba, and ramen. We absolutely recommend indulging in one of these delicious local dishes before taking off!
12:30 PM: Explore the Historic Town of the Kakunodate Samurai Residences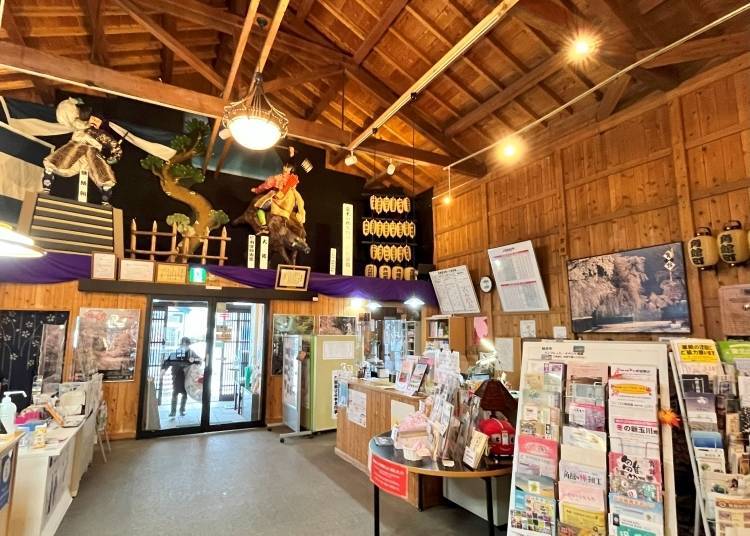 From Tazawako Station, take the Komachi Akita-bound train for a short 15-minute ride to Kakunodate Station. Similar to Tazawako Station, Semboku City's Kakunodatecho Sight Seeing Information Center also offers luggage storage for your convenience (500 yen each).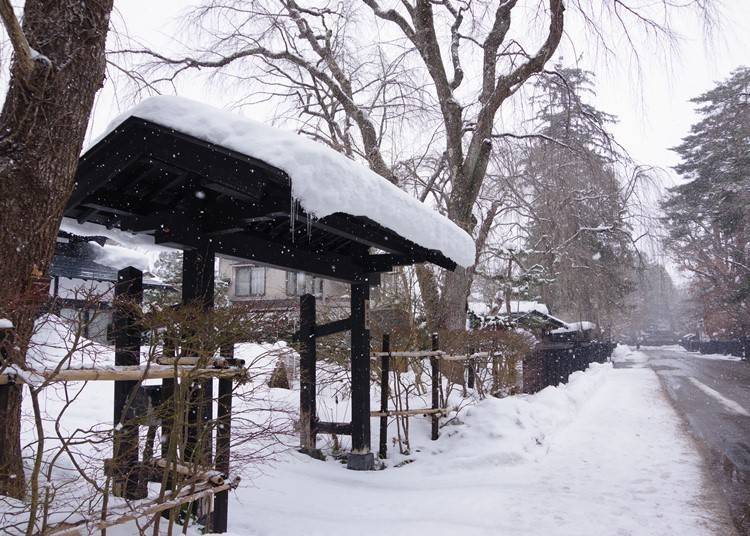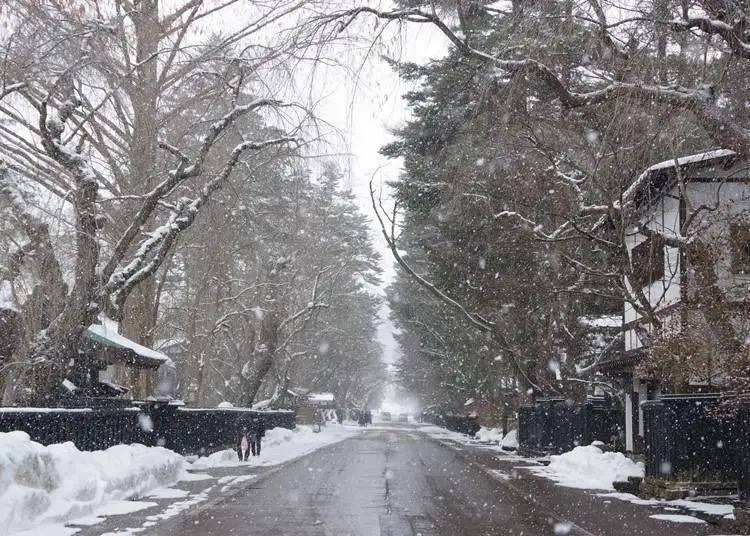 Kakunodate was developed as a castle town by the Satake Kita family, one of the prominent families of Akita's ruling Satake clan at the time. And today, 400 years later, the streets of samurai residences with their massive blackboard fences stand strong. While Kakunodate is renowned for its weeping cherry trees that bloom around the residences in the spring, winter unveils a whole new enchanting scenery of black walls, standing out against a backdrop of pure white snow.
6:30 PM: Experience the Impressive Hiburi Kamakura Event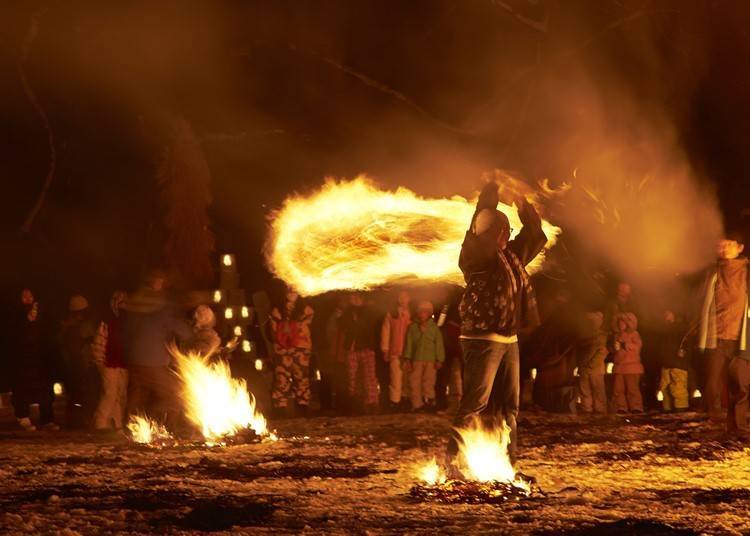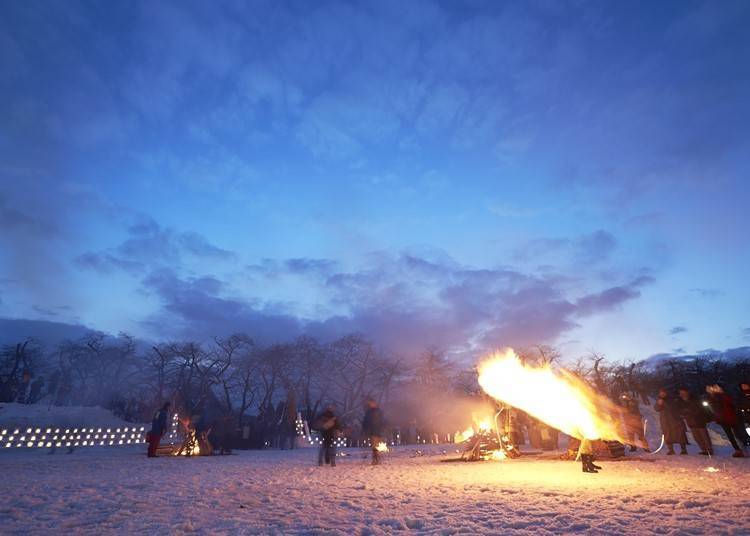 One of Kakunodate's winter traditions is Hiburi Kamakura, also known as the fire-swinging festival. During this event, held annually on February 14, charcoal bales attached to ropes are set ablaze and swung vigorously around the participants' bodies. The Hiburi Kamakura festivities take place at night at various locations around Kakunodate Town.

Note that the last train from Kakunodate Station to Yokote Station departs at around 8:00 p.m., so give yourself plenty of time to head back to the station. To reach Yokote Station from Kakunodate Station, board the Akita-bound Komachi train and ride to Omagari Station (approx. 10 min). From there, hop on the JR Ou Line bound for Shinjo, Yuzawa, Innai, or Yokote. You should arrive at Yokote Station in about 20 minutes.
Day 5: The Peak of Your Tohoku Adventure: The Magical Kamakura of Yokote
11:00 AM: A Stroll Around Yokote City's Food Stalls and Winter Market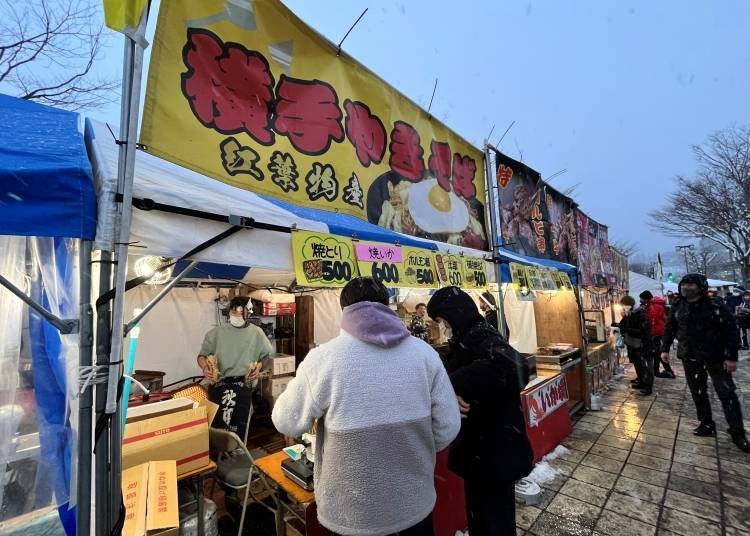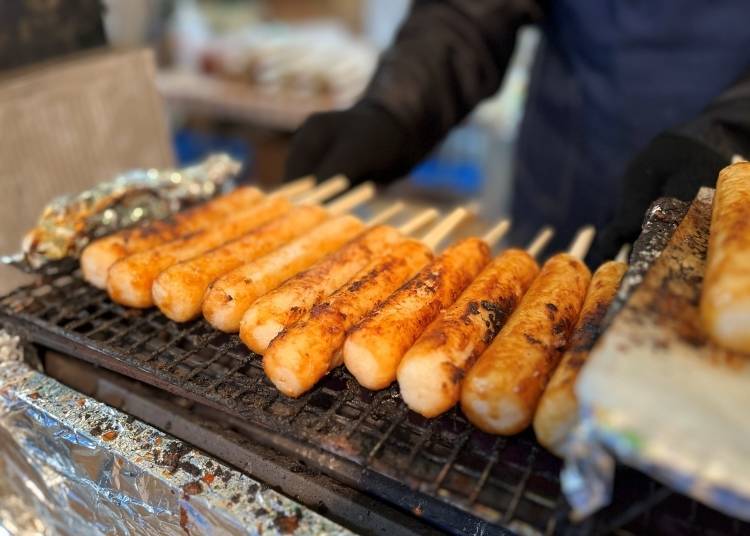 On the fifth and final day of your snowy Tohoku adventure, set out to Akita's Yokote City for the Kamakura Festival, a traditional annual event. You'll adore the charming miniature snow huts (known as kamakura) that grace Yokote Station and Yokote Park between February 15-16.

As the Kamakura Snow Festival is best experienced at night, we recommend spending the day exploring Hokkori Yokocho, an alley of food stalls offering local Yokote delicacies, or visiting the Kamakura Winter Market to indulge in more of Akita's culinary delights and experiences.
1:00 PM: Enjoy Yokote Yakisoba, A Beloved Local Delicacy, for Lunch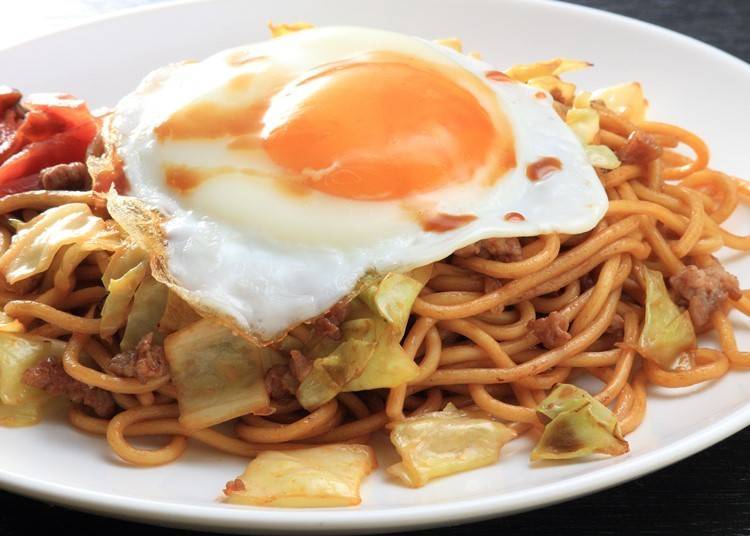 Yokote yakisoba is a local delicacy of Yokote. This delicious dish features thick yakisoba noodles stir-fried with cabbage and ground pork, topped with fried egg and drizzled with an irresistibly sweet sauce. There are plenty of restaurants in the area serving Yokote yakisoba, especially in front of the station.
3:00 PM: Learn the History of Kamakura at the Kamakura Museum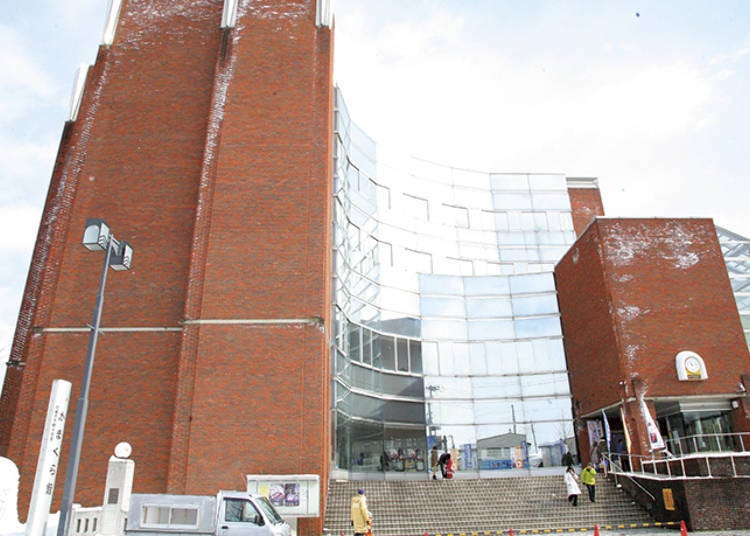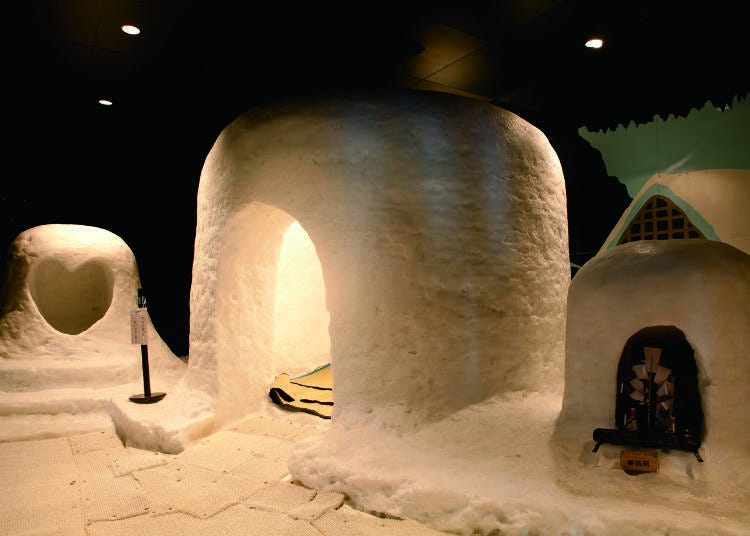 To delve deeper into the history of Yokote's kamakura, pay a visit to the Yokote City Fureai Center's Kamakura Museum. Here, not only will you experience the permanent indoor display of snowy kamakura, you'll also find a variety of specialty local products on sale. Take this opportunity to warm yourself up as you prepare for the nighttime festivities.
5:30 PM: The Kamakura are Illuminated, and the Yokote Snow Festival Begins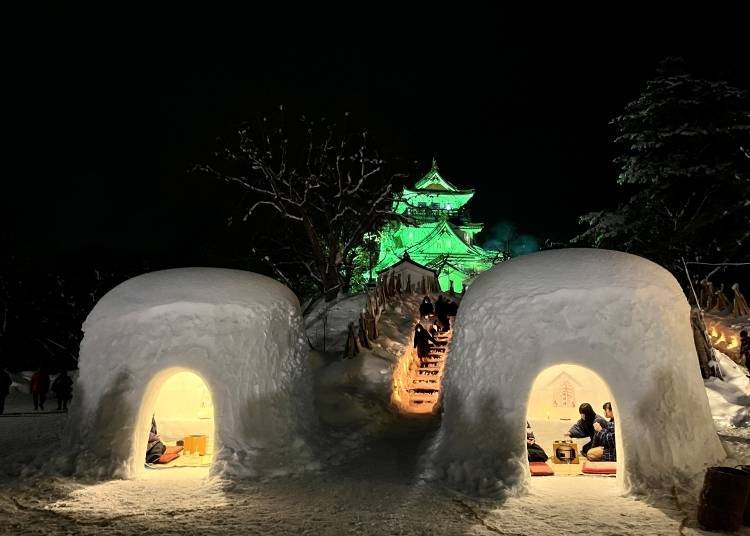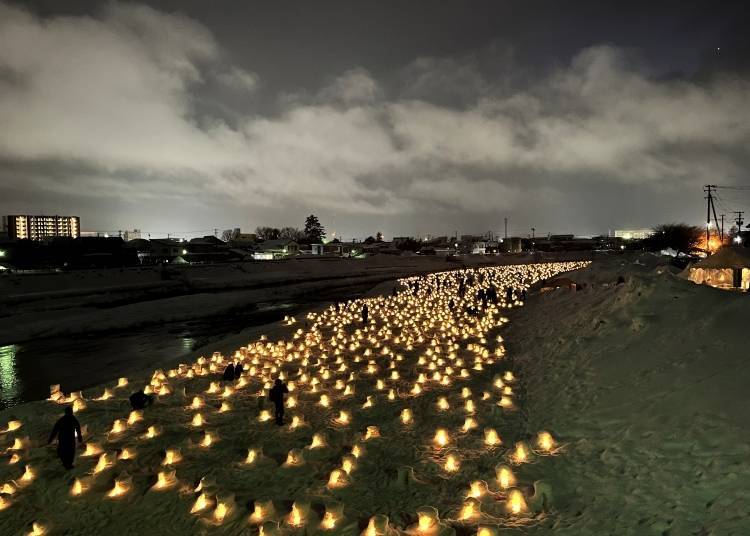 Nighttime is the ideal time to fully enjoy the kamakura experience. The inside of each beautifully-illuminated kamakura exudes a magical ambiance. Every site in the area offers its own unique attractions, including Yokote Park, with kamakura set against the castle as a stunning backdrop, and the romantic Janosaki River Beach, with dozens of miniature kamakura arranged in the form of a meteor shower. Between 5:40-9:00 p.m., there's also a convenient bus service that will transport visitors around the sites as needed.

The last train from Yokote to Tokyo departs at around 8:00 p.m. To return to Tokyo Station, take the Akita-bound Ou Line from Yokote Station to Omagari Station (approx. 15 min), then transfer to the Komachi train to Tokyo Station. The entire journey takes about 3.5 hours on the Shinkansen, during which you can fondly reflect on all the wonderful memories made on your snowy Tohoku adventure.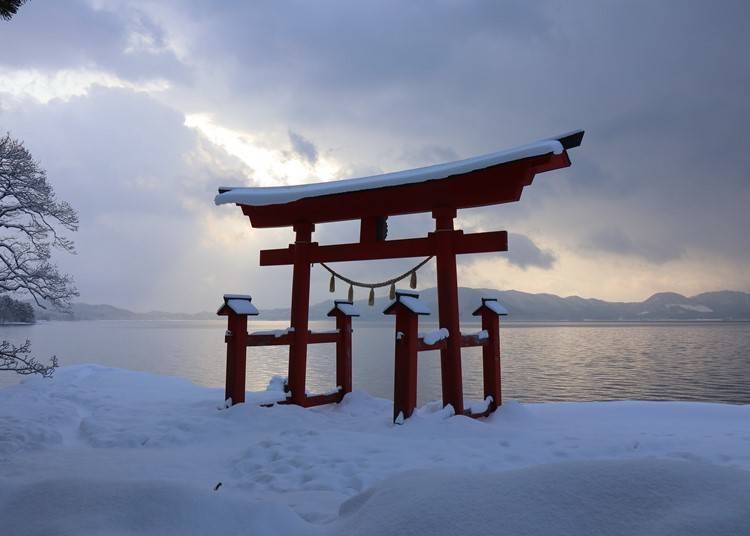 Embark on an unforgettable 4-night, 5-day journey to northern Tohoku, surrounded by beautiful snow and breathtaking scenery. Make the most of your itinerary by experiencing the captivating snow lantern festival at Hirosaki Castle and the kamakura of Yokote. Immerse yourself in the beauty and culture of Japan in this snowy wonderland, and create wonderful memories that will last a lifetime.

*Information in article as of May 2023. Please see official websites for the latest updates & information.

English translation by: Krys Suzuki
*This information is from the time of this article's publication.
*Prices and options mentioned are subject to change.
*Unless stated otherwise, all prices include tax.
Limited time offer: 10% discount coupons available now!