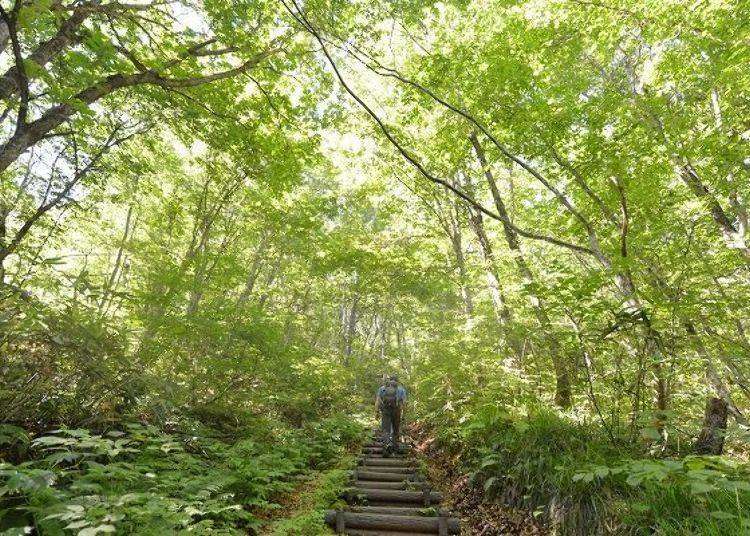 Shirakami-Sanchi is a breathtaking mountain range spanning over southwestern Aomori Prefecture and northwestern Akita Prefecture. It is a precious area where a beech forest of around 17,000 hectares (65 square miles) in size, which has not been affected by human influence, flourishes.

We decided to go trekking into Shirakami-Sanchi, which was registered as a UNESCO World Heritage Site in 1993, from the Aomori Prefecture side.
Preparations before Trekking through Shirakami-Sanchi
We started our trek at Aqua Green Village ANMON in Nishimeya Village, also called the entrance of Shirakami-Sanchi on the Aomori Prefecture side.

This is the base facility for Shirakami-Sanchi trekking, and it is equipped with a camping site and hot spring facility. In summer they hold outdoor events and you can enjoy Shirakami-Sanchi's local cuisine too.

It takes about 1 hour by car from JR Oku Main Line Hirosaki Station to Aqua Green Village ANMON. You can also take the bus.
▲Aqua Green Village ANMON Center House
Shirakami-Sanchi has a core area and buffer area. To reach the core area you will need to go beyond a few 1,000 meter tall mountains. Also to enter the mountain you have to register with the forest management chief, which is difficult for beginners.

So this time we decided to go trekking on The World Heritage Beech Forest Trail, which is maintained by Aqua Green Village ANMON and relatively easy for beginners.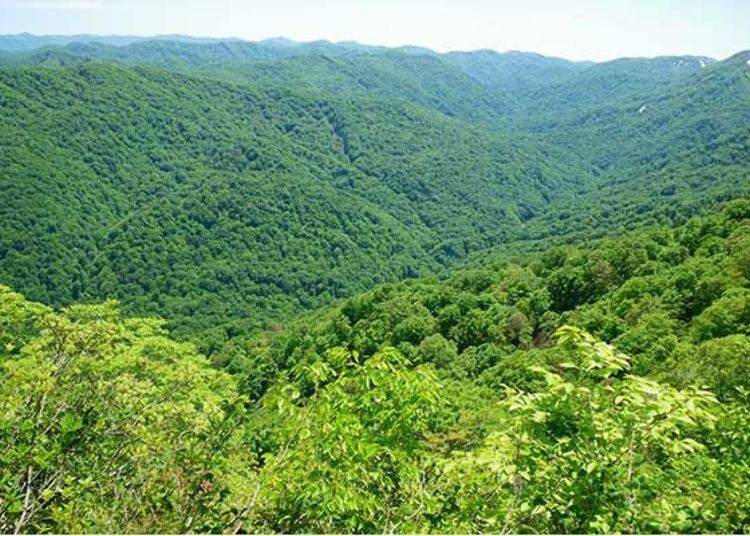 ▲The core are is beyond the mountain
You are free to enter the World Heritage Beech Forest Trail, however to learn more about the beech forest, we recommend signing up for a guide.

There are many interesting guides available, this time we asked the married couple who are both guides and also the Shirakami-Sanchi Guide Club representative Teiji Watanabe and Keiko Watanabe.

Mr. Teiji's nickname is "Kuma-san" (Mr. Bear), and gives us some bear jokes and bear facts as we walk along.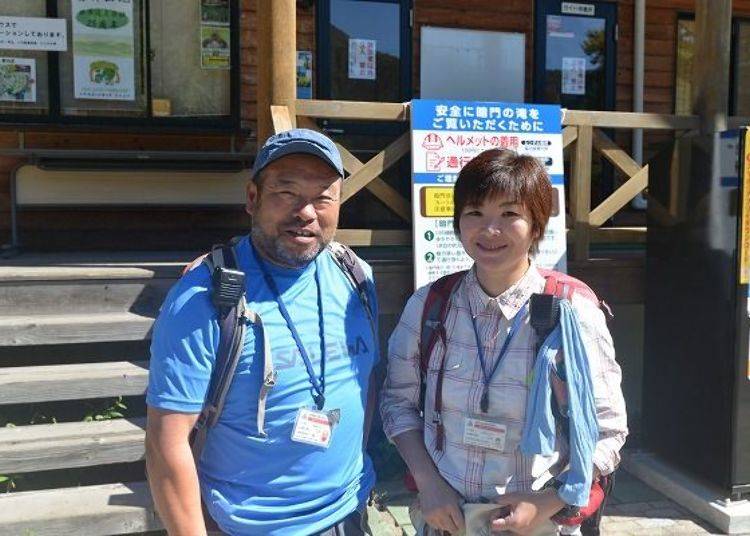 ▲Married couple guide The Watanabes
For private guides it cost 12,000 yen, guides with other customers and more than 2 people cost 3,500 yen (both include tax, available from early April to end of November). This time we wanted to learn about the beech forest so we selected the private plan.
Learn About Shirakami-Sanchi from an Aomori Forest Guide
While we are walking past ANMON parking lot Mr. Watanabe stops us and asks, "Do you notice anything odd?"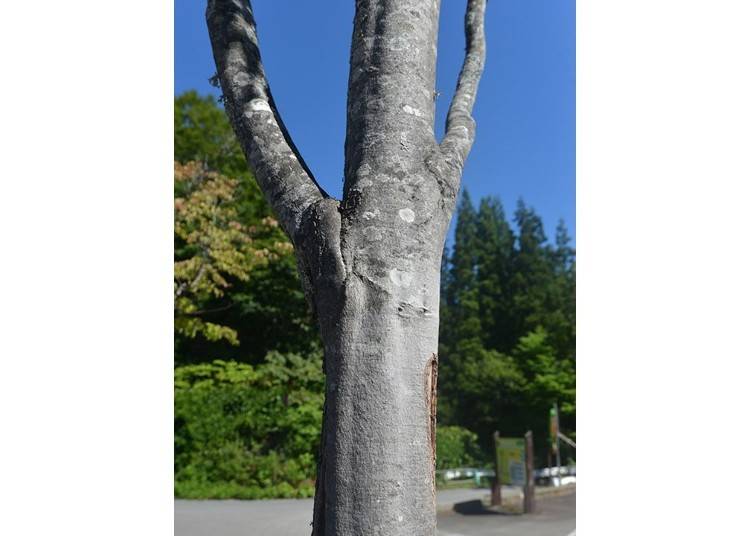 ▲Do you notice anything?
Yup, that's right. The white spots are missing on the bottom half of the tree. The white spots are drawn by lichen, a member of fungi. However they are disappearing due to car exhaust and other pollution.

We were surprised that there was such an effect on the trees, in the middle of the wilderness with very light traffic. Mr. Watanabe told us that "nature can be destroyed easily, that is why humans have to protect it. Shirakami-Sanchi teaches us the importance of nature."
▲The entrance to trekking course
We reached the entrance to the trekking course in about 5 minutes from ANMON. There was also a place where you can drink spring water. This water is from the beech forest and even on a hot summer day it is below 10 degrees Celsius.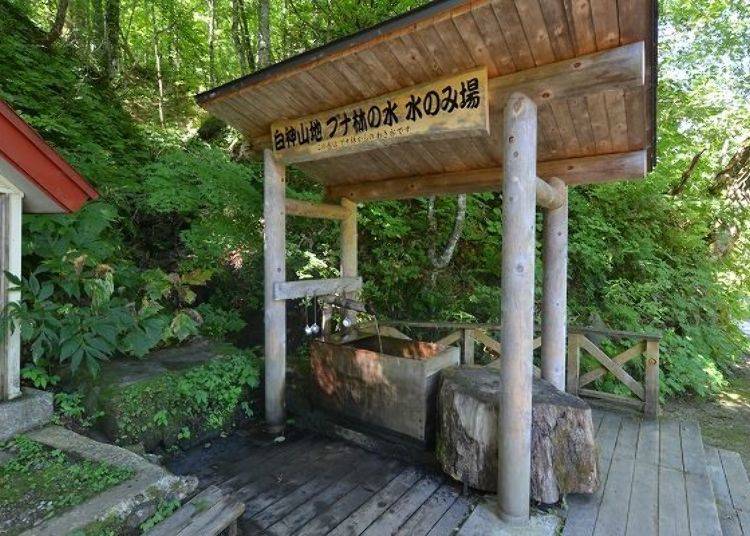 ▲Spring water area near the trekking course entrance
It has a clear and refreshing taste, that goes down smoothly. We were informed that it's a super soft water, which is rare in Japan and has a hardness of 0.2mg/l. It's the kind of water that will rejuvenate you.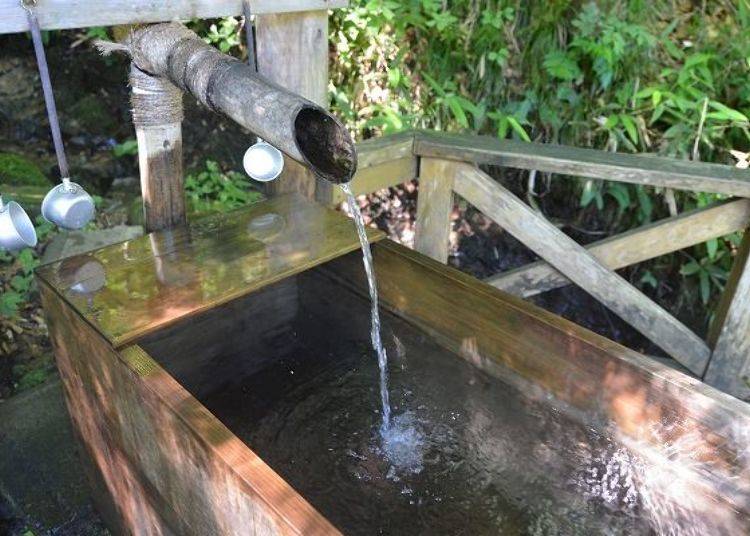 ▲There are many customers who take home the water in bottles. Recommended for making coffee
According to Mr. Watanabe, this water is rain water from about 100 years ago. The rain water traveled through the beech trees and after about 100 years it emerged to the surface as clean water. For this reason, even if it doesn't rain, the water here won't stop flowing for a hundred years. Learning about the beech trees creating clear water through a long time, we were able to feel the greatness of nature firsthand.
At the Aomori Beech Forest, Mesmerizing Scenery Awaits!
The trekking course is well maintained and it's quite easy to navigate. The course is about 2km and has a differences in elevation about 150m. There is a bit of ground to cover, however listening to the guides, time flies by pretty quickly. The ambient sound of nature such as bugs and water flowing creates a soothing environment.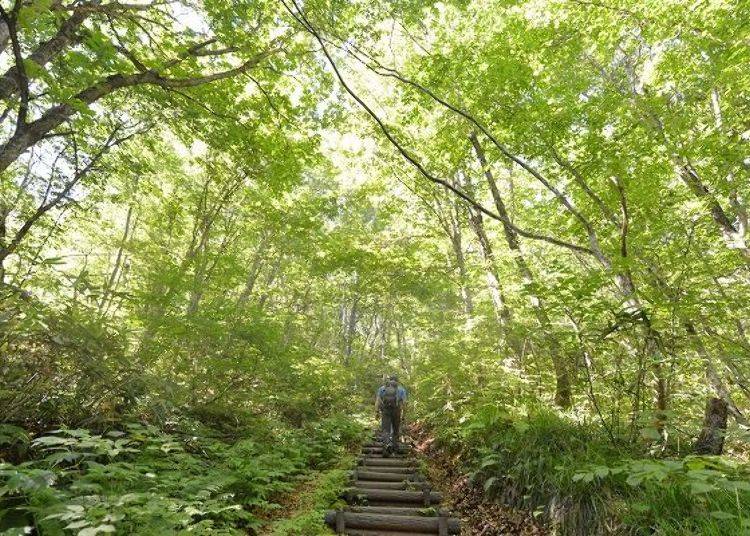 ▲The trekking course surrounded by luscious beech trees
The reason behind the nice sound is due to the unique feature of how beach forest trees are spaced out. Beech trees spread their branches at top and very rarely have branches along the trunk, so the forest creates a dome like shape.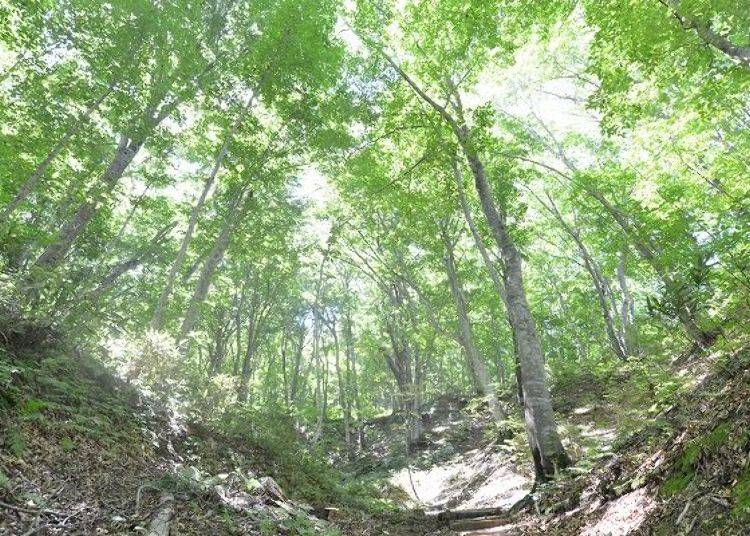 ▲Beech tree branches create a dome roof so you don't need an umbrella if it rains.
While we are enjoying the great outdoors, we were surprised by chilling secret hidden on this sign that Mr. Watanabe pointed out.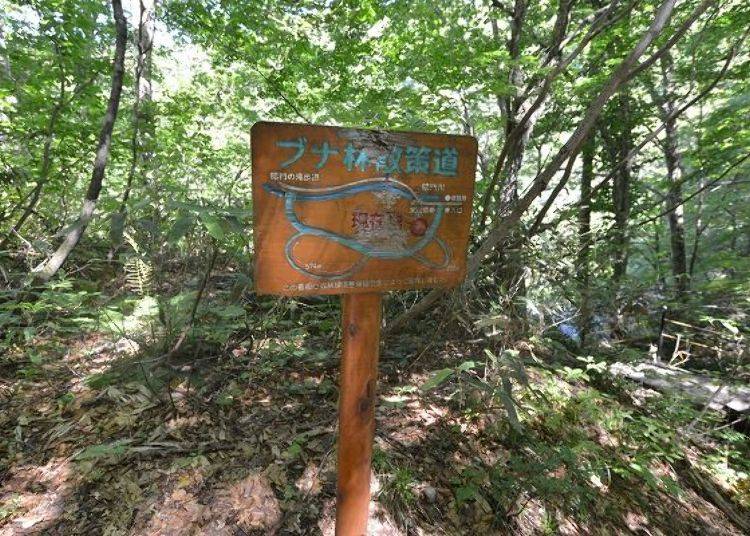 There is a scar on the back side that was done by a bear.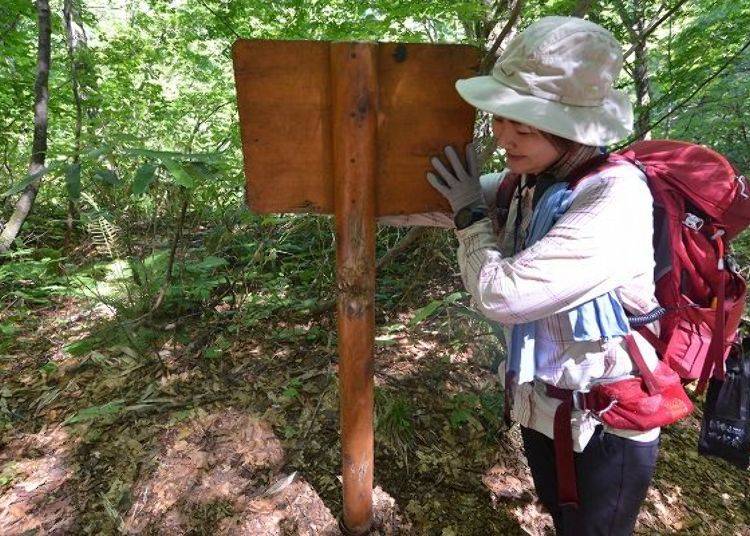 ▲The bear scar on the post section. They deliberately left the scar
These are things you only see in nature. You can really feel that humans are the outsiders here. By the way, the Watanabe couples have encountered bears multiple times, but haven't been attacked. They say that if you encounter a bear, the best thing is to back up quietly trying not the startle the bear.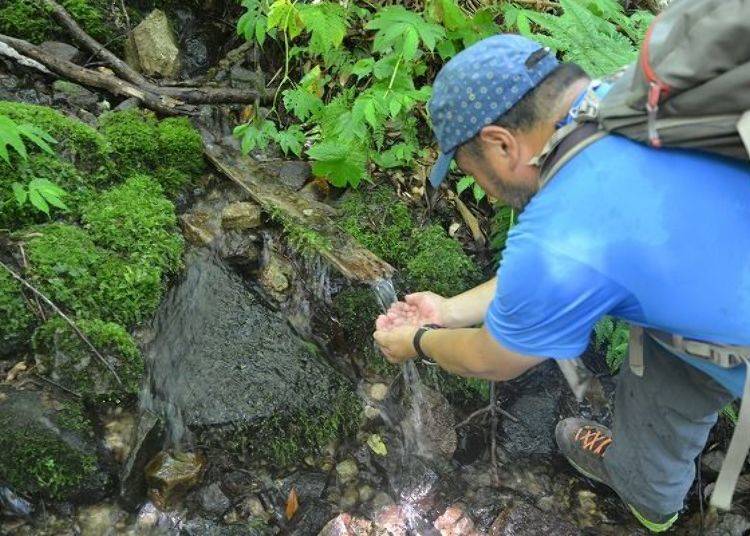 ▲They determine if you can drink out of the stream or not is by looking at the moss around it
The Watanabes knows Shirakami-Sanchi inside and out. The information they provide are detailed and some are very surprising. For example beech trees will spread their roots to the point where they overlap with other trees. Also they are called natural dams because the roots have enough water to fill 10 drum containers. The intertwined roots act as a net and prevent natural disasters like landslides.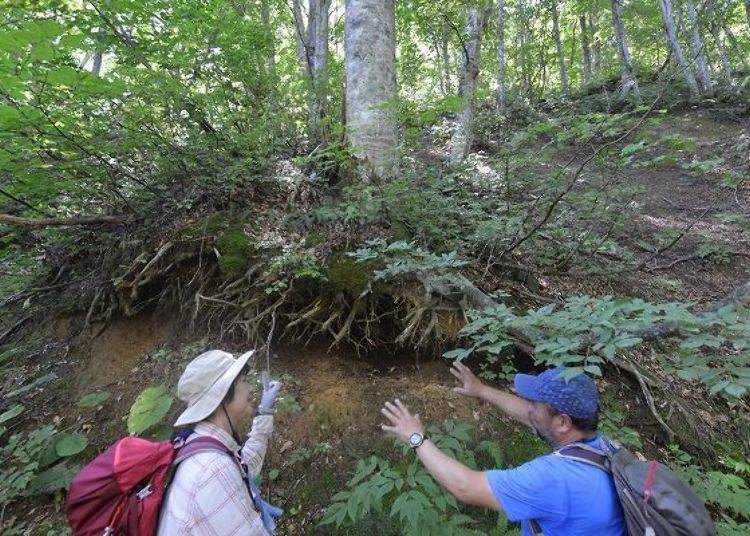 ▲A beech tree on a steep side where you can see the roots
Beech trees used to grow all over Japan, however there are only a few left. They were considered worthless trees and were deforested after the war to plant faster growing and easier to process cedar trees.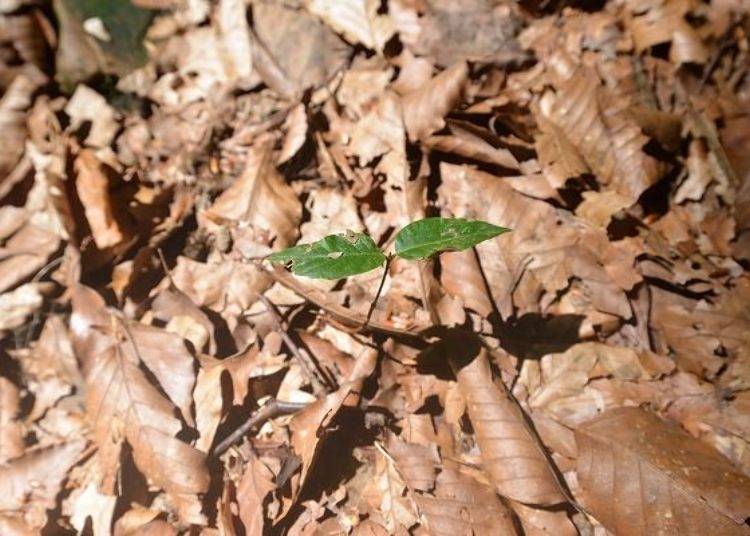 ▲The beech tree takes about a year to grow 3cm sprout
It takes about 80 years for a beech tree to grow to the point where it will bloom and bear fruit. Shirakami-Sanchi is one of the largest virgin forest that is left in Japan. Due to its rarity it was registered as a UNESCO World Heritage Site in 1994 with Yakushima.

Our trek was about 2 hours this time, however it was just right to feel the comfort of nature. Also most importantly, I think we were able to learn how important and fragile nature is through the beech trees.
Aomori's Beech Forest is Gorgeous in Every Season
We visited in early August, but each season shows a different side of the beech forest. In autumn the leaves change color, in wither there is snow and in spring the trees start to shoot buds.

Mr. Watanabe recommends the autumn leaves season from October to November and said "the sound of your foot step will change depending on the amount of fallen leaves and if it rains there will be mist. The view changes every day, and you won't see the same sight."

These are reliable tips coming from Mr. Watanabe who goes into the forest daily.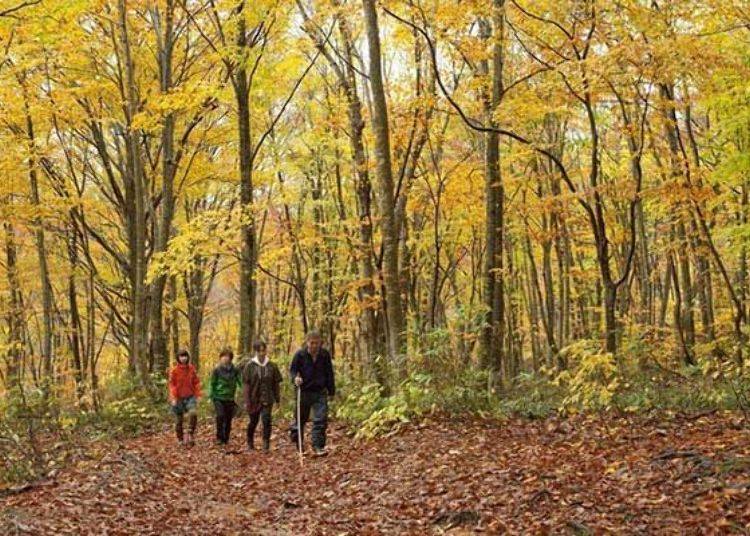 ▲Exploring the beech forest in autumn
Also further into ANMON there is 400 year old beech tree called "Mother Tree," unfortunately we were not able to see it on our tour. Beech trees are said to have a life expectancy of 300 years, and this 400 year old tree is majestic.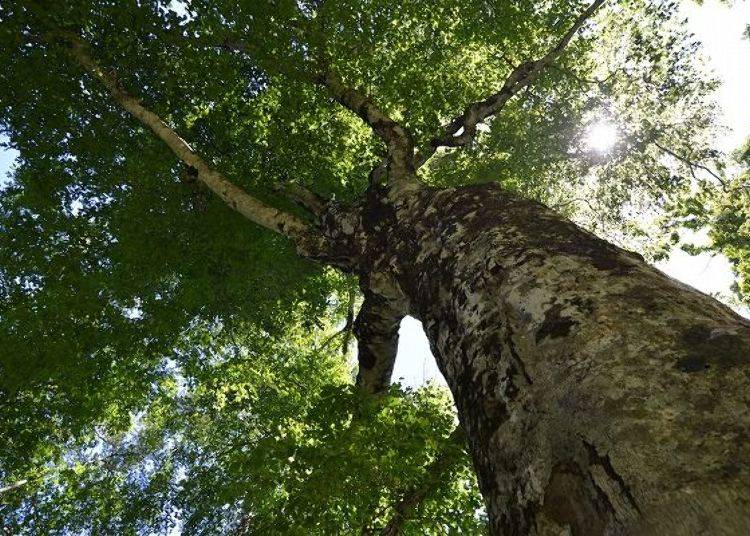 ▲The Mother Tree's trunk has a circumference of about 5 meters
(Editorial note: due to Typhoon 21 that crossed Honshu from September 4th to the 5th in 2018, Mother Tree's trunk has snapped. As of September 13th 2018 the area is off-limits)

Also there is the Ammon Valley Course which is recommended for intermediate levels and above, here you can enjoy the three waterfalls that make up the Anmon Waterfall. Along the course it is required to go in the stream to go shower climbing, so you can get a strong adventure feeling. The course requires preparations, however you can get a lot of negative ions from nature.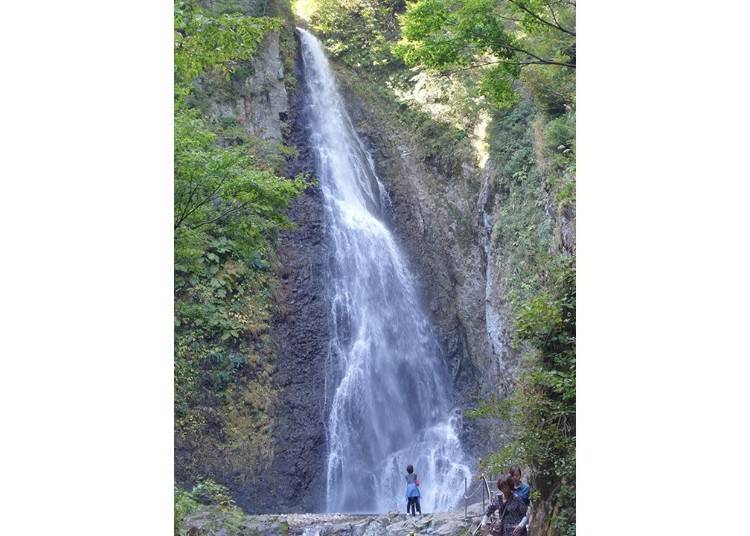 ▲The first water fall of Amon Waterfalls at the very end of the Anomon Valley Course. Currently the course is not maintained, so it is designated for experts
Shirakami-Sanchi Guide Club

白神山地ガイド会

Address

T-Fact, 1-12-1 Fujishiro, Hirosaki, Aomori

Guide Pricing: Private Plan 12,000 yen ~, 2 people or more plan 3,500 yen ~ (both plans include tax)
*prices change depending on the course
Closed: None
*There are times the phone can't be answered while they are out conducting guides.
Phone: 0172-55-0090
After Trekking Through Shirakami-Sanchi
Once you get back, let's enjoy some Shirakami-Sanchi food! First up is the apple-flavored original soft ice cream, which is made with local apples. It is a bit sour, but it matches the sweetness of the ice cream. A popular item that is only available here in Aomori.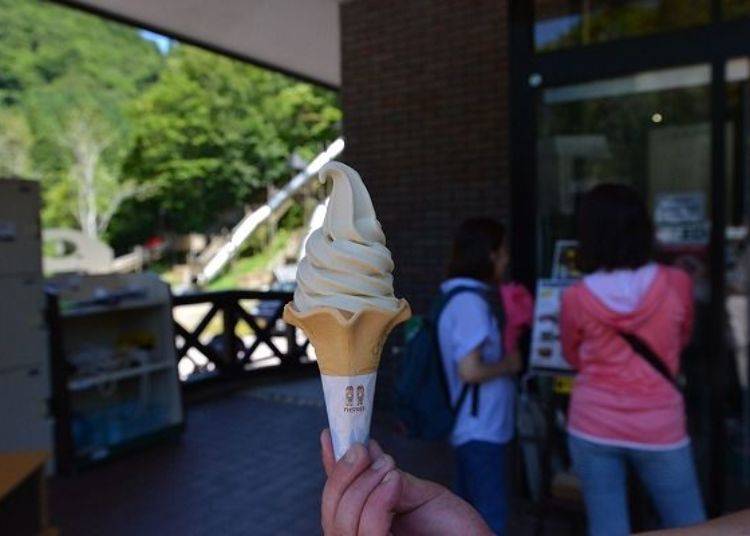 ▲Apple Soft Ice Cream (350 yen tax included)
We recommend the Matagi Meshi for lunch. It includes rice cooked with nameko mushroom and nemagaridake (sasa kurilensis), soba with sansai (mountain vegetable) and maitake (hen of the wood) tempura, nanbanzuke (fried and then marinated with vinegar) chars and apple compote. It includes many ingredients from the mountain and the mixed rice even uses butter to add some western elements to it.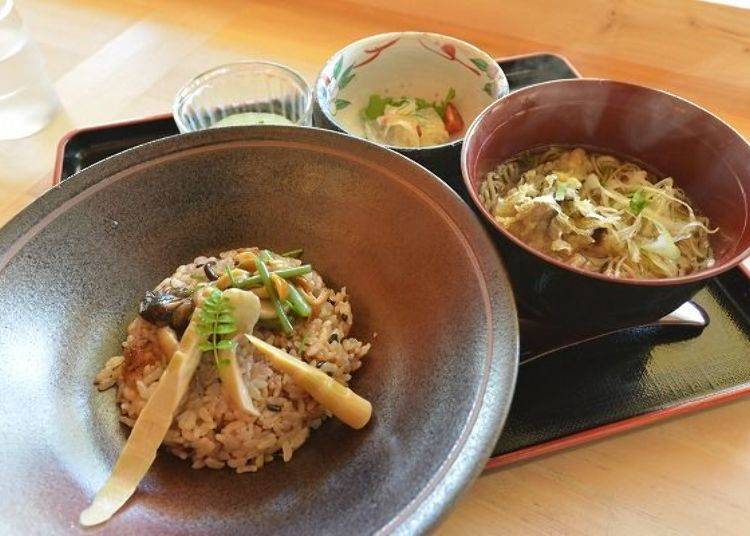 ▲Taste the mountain's bounty with Matagi Meshi (1,300 yen, tax included) Its quite filling
After your meal lets head over to the ANMON Onsen, the hot spring facility located on site, to relax and freshen up. After a good workout and a meal, soaking in the bathtub up to your shoulders is a moment of bliss.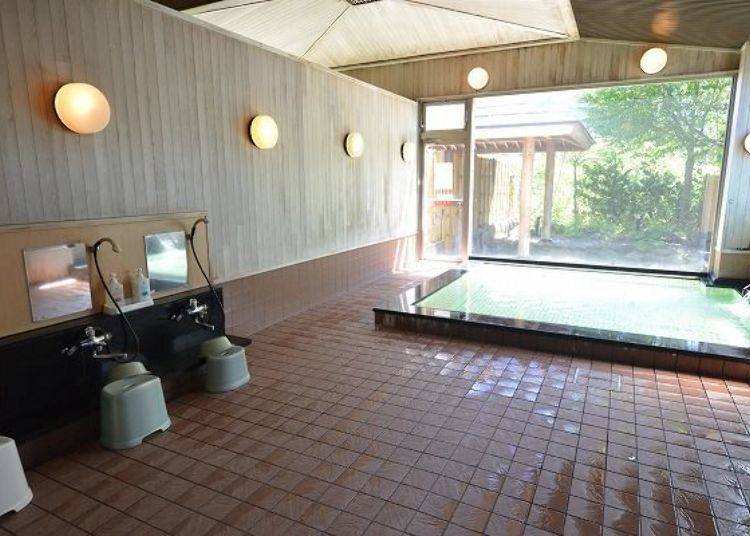 ▲Very clean bath area. Bathing fee 550 yen (tax included
アクアグリーンビレッジANMON

Address

417 Aza Okawazoe, Kawarati, Nishimeya-mura, Aomori

Hours: Meal 11:00 a.m. – 3:00 p.m., café 9:00 a.m. – 4:00 p.m., ANMON Onsen 9:00 a.m. – 5:00 p.m.
Closed: Early November – early April, other irregular holidays exist
Phone: 0172-85-3021
In 2018 Shirakami-Sanchi celebrated its 25th anniversary since it has been registered as a World Heritage Site with Yakushima. We were able to learn a lot about nature and its charm that we couldn't share here.

You can learn about nature through the internet and books, however experiencing it first hand is much more exciting. We strongly recommend visiting Shirakami-Sanchi and experiencing the great Aomori forest and outdoors first-hand.
*This information is from the time of this article's publication.
*Prices and options mentioned are subject to change.
*Unless stated otherwise, all prices include tax.
Limited time offer: 10% discount coupons available now!