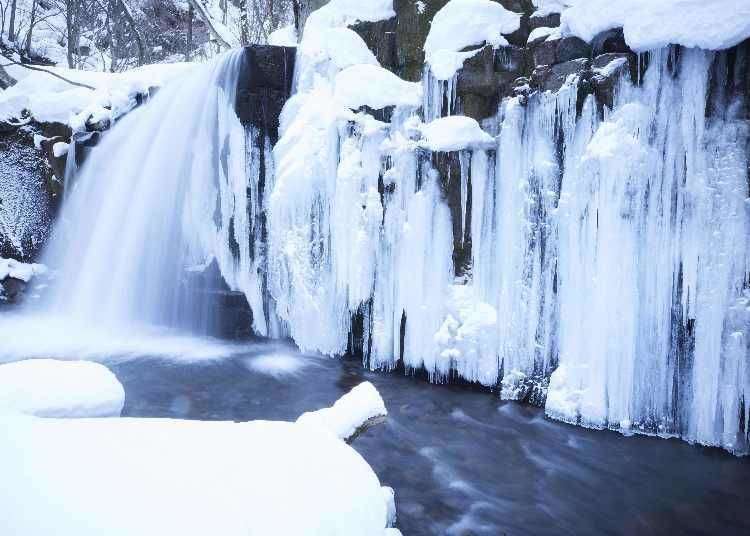 At the northernmost tip of Honshu, Aomori Prefecture is dotted with so many hot springs that it's called a "hot spring paradise," and on cold, snowy days, the warmth of the springs is especially delightful.

Two of Aomori's hot springs, in particular, are must-visits for winter travelers: Hoshino Resorts Aomoriya and Hoshino Resorts Oirase Keiryu Hotel, which feature spectacular "Yukimi" ("snow viewing") open-air baths that can only be enjoyed in winter.
1. Experience the charm of Aomori at Hoshino Resorts Aomoriya's "Neburi Nagashi Toro" Hot Spring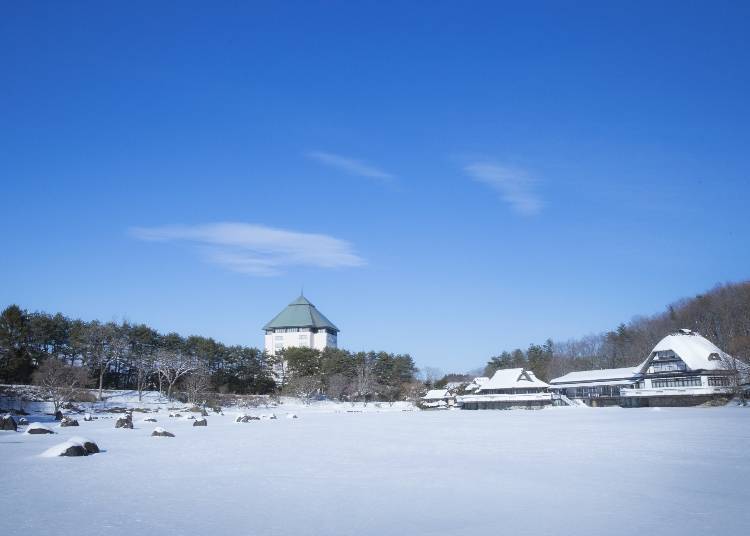 Hoshino Resorts Aomoriya in Misawa City showcases local culture and customs through the concept of "Noresore ("full" in the local Tsugaru dialect) Aomori-Hitomonogatari" – the full experience of Aomori culture.

Covering a vast 54 acres (22 hectares), the spring's surroundings can be enjoyed in all seasons.

The main hall has a lively atmosphere with the feel of a summer festival night as decorations from the Nebuta Festival give visitors a taste of Aomori life.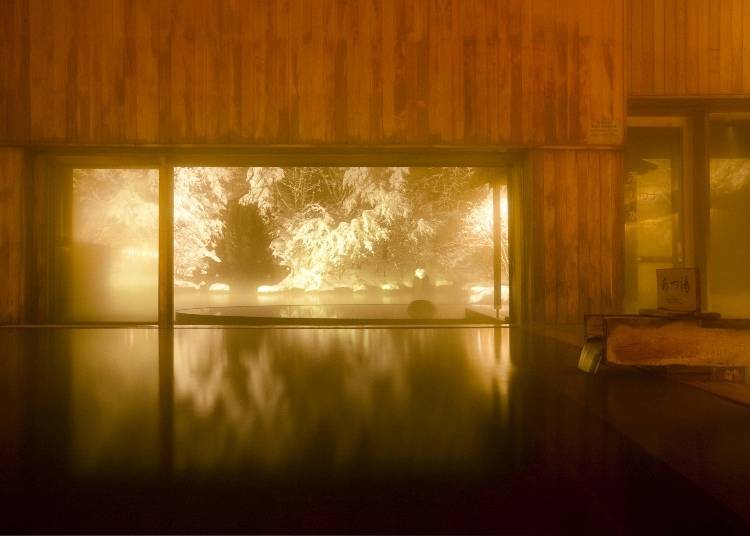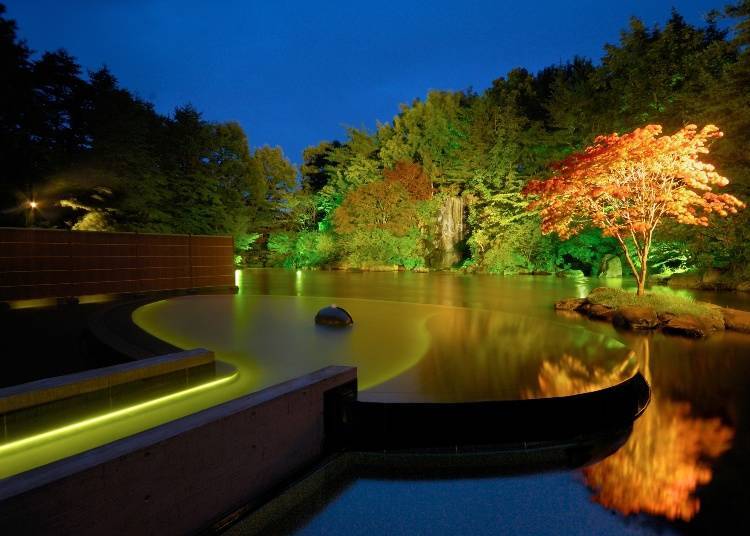 The spring itself is a simple alkaline hot spring. Flowing freely from its source, the deep, warm water effectively treats neuralgia, muscle and joint pain, etc.

The indoor bath, called "Hibayu," bears both the texture and scent of hiba (cypress), while the open-air "Ukiyu" bath looks almost like a bathtub floating in a pond.
Feel the heat of the Nebuta Festival even in winter with spectacular snowy scenery and Neburi Nagashi lanterns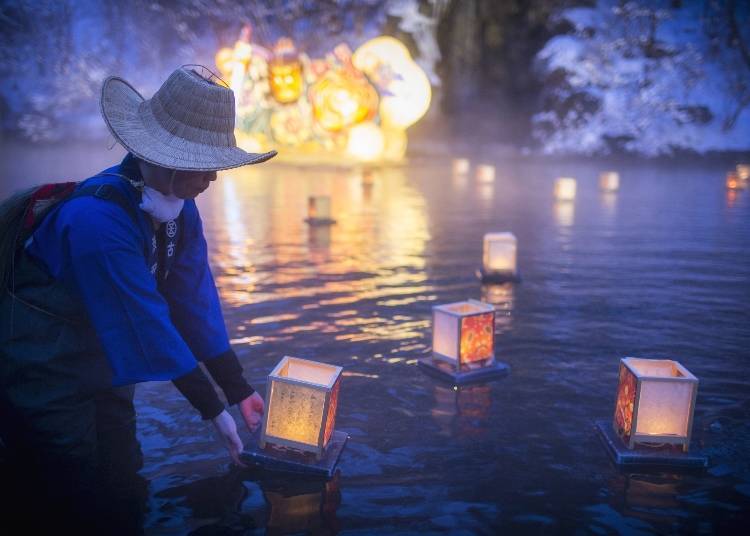 From December 1, 2020, through March 31, 2021, the pond surrounding Ukiyu is decorated with two Nebuta Festival floats. Guests are invited to write personal wishes on small lanterns before sending them afloat in the pond.

The practice of "Neburi Nagashi" – floating lanterns in rivers and seas to prevent epidemics – is said to be the origin of the Nebuta Festival. The unique combination of summertime tradition and the snowy landscape is breathtaking.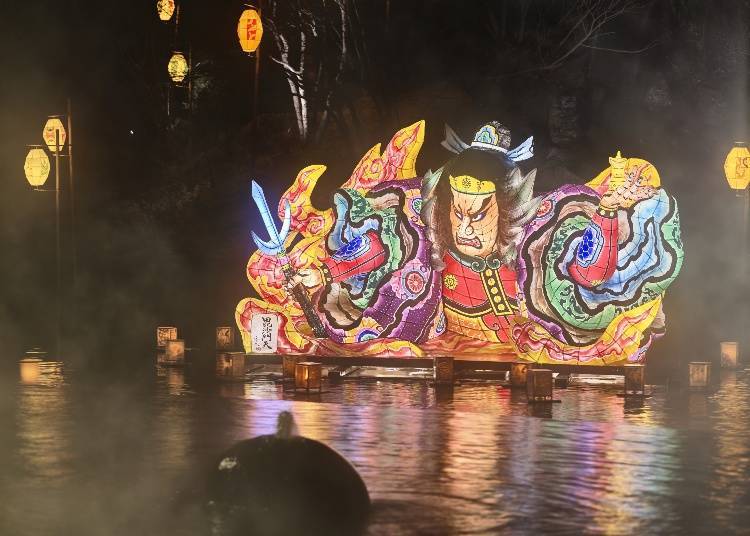 One of the pond's two large floats depicts Bishamonten, the guardian of the north and the god of wisdom and good luck. He wears his characteristic glaring expression while wielding a spear in his right hand and holding a treasury pagoda in his left.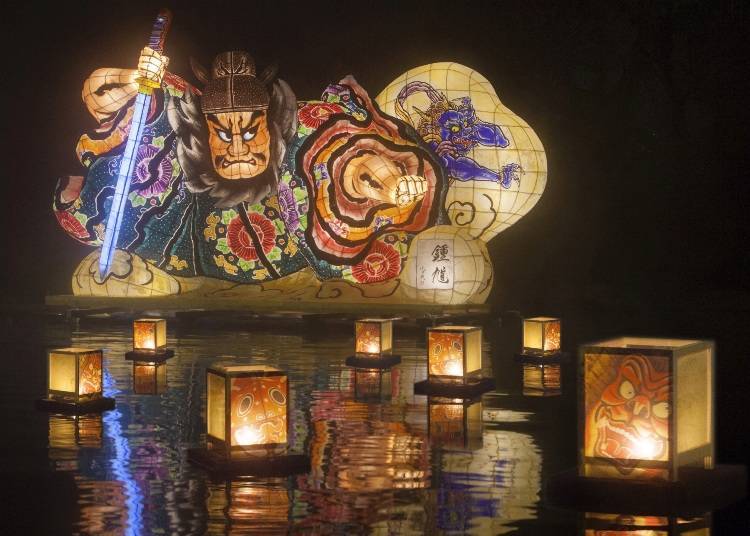 The other float is a representation of Zhong Kui, a god who combats plague and evil. According to Chinese mythology, when Emperor Xuanzong of Tang fell ill with a fever, he dreamt of a man named Zhong Kui vanquishing a small demon. When he awoke, the emperor had recovered from his illness and attributed his health to Zhong Kui.

At Hoshino Resorts Aomoriya, guests can submit their written wishes from 3:00pm to 9:00pm, and the fantastic "Neburi Nagashi Toro" hot spring can be enjoyed from 6:00pm to midnight.

Details
・Period: December 1, 2020 - March 31, 2021
・Venue: Open-air "Ukiyu" bath
・Hours: 5:00 - 12:00; 13:00 - 24:00 (illumination: 18:00 - 24:00; may be canceled de-pending on weather)
・Admission: Free
・Wish submission: 15:00 - 21:00

・Spring source: Komaki Onsen
・Spring type: Simple alkaline hot spring
・Effective for: Neuralgia, muscle pain, joint pain, stiff shoulders, poor circulation, fatigue, general health, etc.
・Number of baths: Two indoor baths (one for men and one for women) and one outdoor bath
・Open to hotel guests. It may be canceled depending on the weather.
星野リゾート 青森屋

Address

56 Furumagiyama, Misawa City, Aomori Prefecture 033-0044

0570-073-022 (Hoshino Resorts Reservation Center)
2. Seasonal beauty at Hoshino Resorts Oirase Keiryu Hotel – the "Icefall Hot Spring"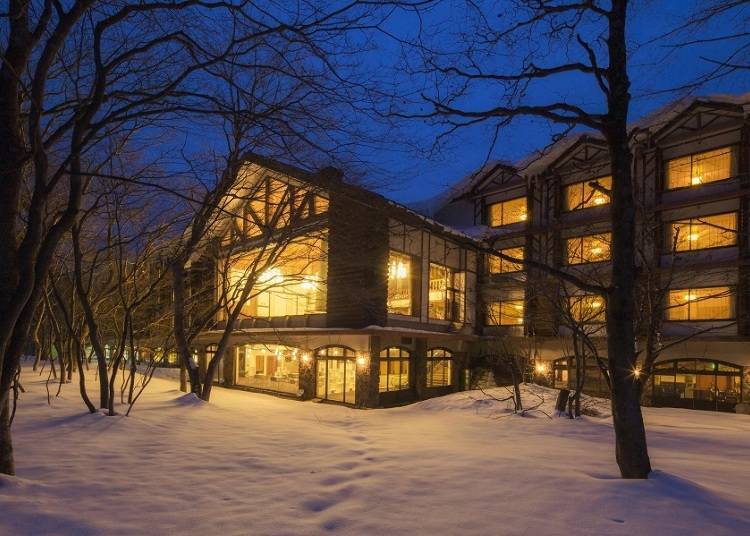 Oirase Gorge is a popular destination you won't want to miss when visiting Aomori. The natural monument, designated as a special scenic site, is located in Towada-Hachimandaira National Park.

Along 14km of the Oirase Stream's course from Yake-yama to Nenokuchi as it flows into Lake Towada, the gorge features multiple water-falls, interesting rock formations, and the otherworldly beauty of the mountain stream.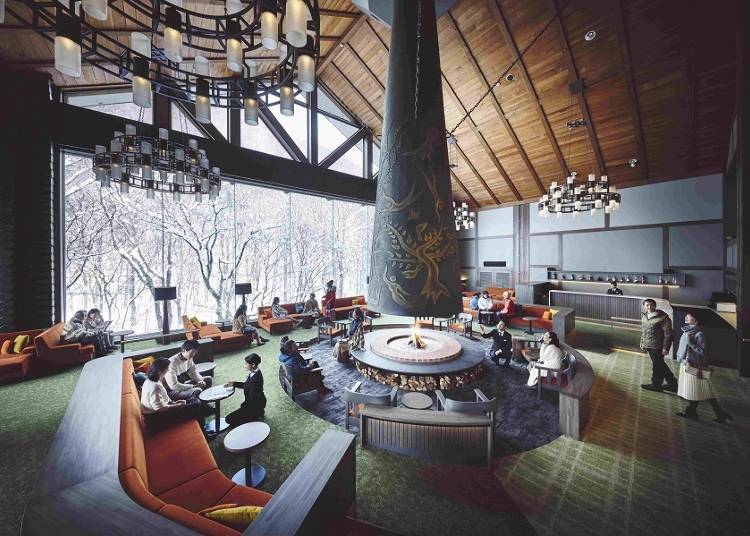 A popular autumn destination for its colorful foliage, the white of winter snows also gives the gorge and air of wonder. If you plan to stay at Oirase Gorge, Hoshino Resorts Oirase Keiryu Hotel, the only resort hotel in the area, is recommended.
The cold, beautiful art of "Icefalls Hot Spring"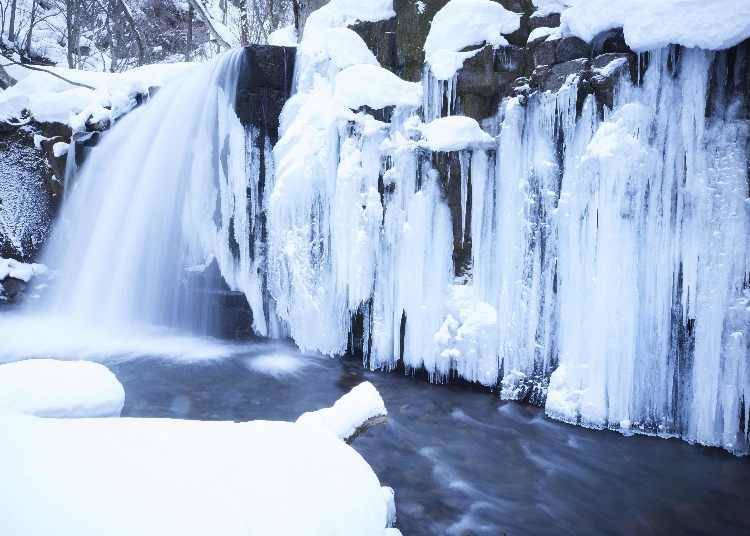 Oirase Gorge's frozen Choshi Otaki Falls
The hotel's winter-only "Hyobaku-no-Yu" bath allows guests to enjoy the natural art created by the cold weather while taking an open-air bath.

In Japanese, a frozen water-fall is called an "icefall," and there are 14 falls in the Oirase Gorge. Reflected sunlight gives the icefalls a fascinating blue. The Oirase Keiryu Hotel has been recreating ice-falls in its open-air bath since 2017.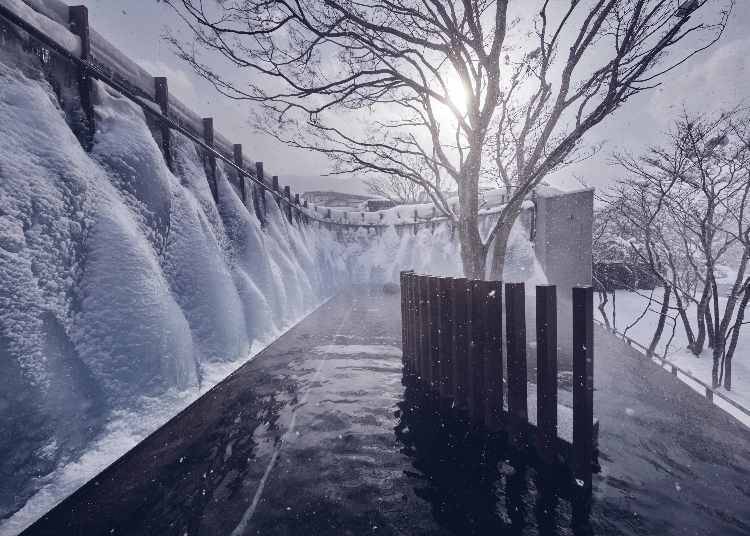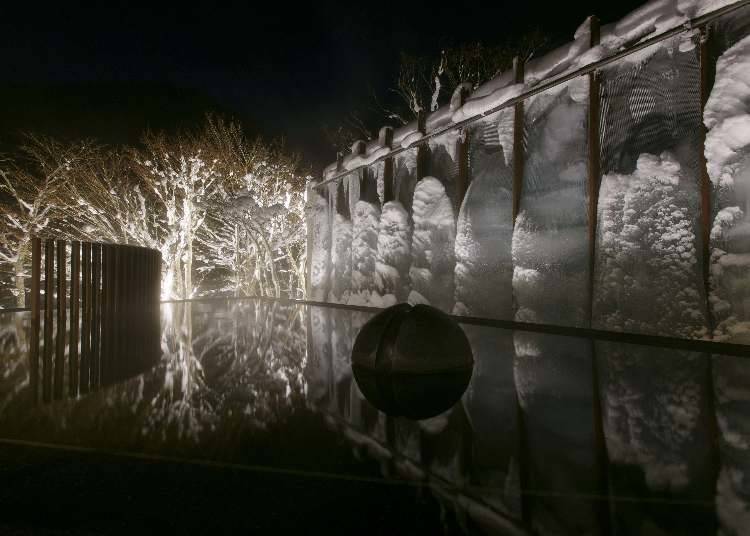 Work on the artificial icefall begins in late November as a mist of water is sprayed on the walls on both sides of the bath to create the desired shape.

Oirase's mid-winter temperatures are sub-zero, and by gradually adding more water, the bath's icefall grows to 3.5 meters high and 16 meters wide by mid-January with a shape that changes daily depending on wind direction and temperature.

Open to guests from December 18, 2020, to March 22, 2021, a blissful soak in the open-air bath while gazing at the mountain stream and the icefall will create an unforgettable memory.

Details
・Period: December 18, 2020 - March 22, 2021 (excluding closed days)
・Hours: 6:00 - 11:30; 14:30 - 24:00
・Spring source: Sarukura Onsen mixed spring
・Spring type: Simple spring (hypotonic, neutral, and high hot spring)
・Effective for: Chronic muscle and joint pain, decreased gastrointestinal function, poor circulation, fatigue, depression, etc.
・Number of baths: 1 indoor and 1 outdoor bath (both unisex)
・Open to hotel guests.
Hoshino Resorts Oirase Keiryu Hotel

星野リゾート 奥入瀬渓流ホテル

Address

231 Tochikubo, Okuse, Towada City, Aomori Prefecture 034-0398

0570‐073‐022 (Hoshino Resorts Reservation Center)
Measures against Covid-19
Hoshino Resorts have a two-pronged approach to COVID-19 countermeasures through "hygiene management" and "Three C's avoidance," with each location taking the following measures.

Efforts for hygiene management:
1. Alcohol disinfectant in all guest rooms
2. Humidifiers to maintain sufficient humidity in all guest rooms
3. In addition to standard room cleaning, alkaline electrolyzed water is used for cleaning
4. Fixtures that come into contact with hands (doorknobs, drawer, and refrigerator handles, remote controls, switches, etc.) are cleaned with alkaline electrolyzed water
5. Partitions to prevent splash infection at the reception counter
6. Placement of sterilizing alcohol throughout the building
7. Alcohol disinfection for all customers when entering the restaurant
8. High-temperature cleaning of tableware and cutlery (80° C or higher), disinfection of food trays
9. Staff members wearing masks when serving
10. Thorough management of staff health and hygiene (temperature measurement and record confirmation before going to work)
11. Application of antiviral coating to often-touched fixtures, such as buttons and handrails in elevators


Three Cs avoidance measures (Closed spaces, Crowded places and Close-contact settings)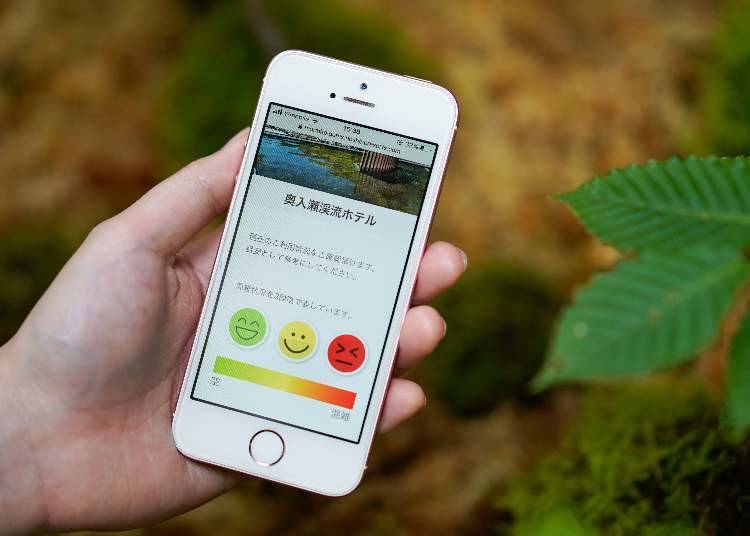 1. Restrictions on admission and entry in congested areas
2. Management of restaurant congestion and varied entry schedule
3. Reception area entry restrictions implemented as appropriate during check-out
4. Introduction of a website to check the usage status and forecast of large communal baths
5. Installation of instruments to measure CO2 (carbon dioxide) levels in public areas
6. Thorough natural and/or mechanical ventilation of buildings

Event venue management (Aomoriya only)
1. Installation of sufficient ventilation equipment
2. Event Plaza: Facility ventilation can accommodate up to 900 people, but peak attendance is about 160 people
3. Show venue: Facility ventilation can accommodate up to 1,000 people, but peak attendance is about 270 people
4. Seating layout ensures social distancing
5. Cleaning and wiping of seats and tables with alkaline electrolyzed water (show venue)
6. Management of congestion levels upon entering or exiting the venue

* Excerpt from Hoshino Resorts "Travel to Avoid Three Cs"
Hoshino Resorts' popular hot springs are attracting attention this winter as they incorporate both the nature and culture of Aomori. The relaxing open-air baths not only heal the body but also soothe the eyes. With a variety of activities available, they're great places to warm your frozen body and enjoy a unique winter hot spring experience!

Text by: Masakazu. Translated by: Gabriel Wilkinson.

*Information accurate as of January 2021. Please check the Hoshino Resorts website for the latest information.
*This information is from the time of this article's publication.
*Prices and options mentioned are subject to change.
*Unless stated otherwise, all prices include tax.
Search for International flights