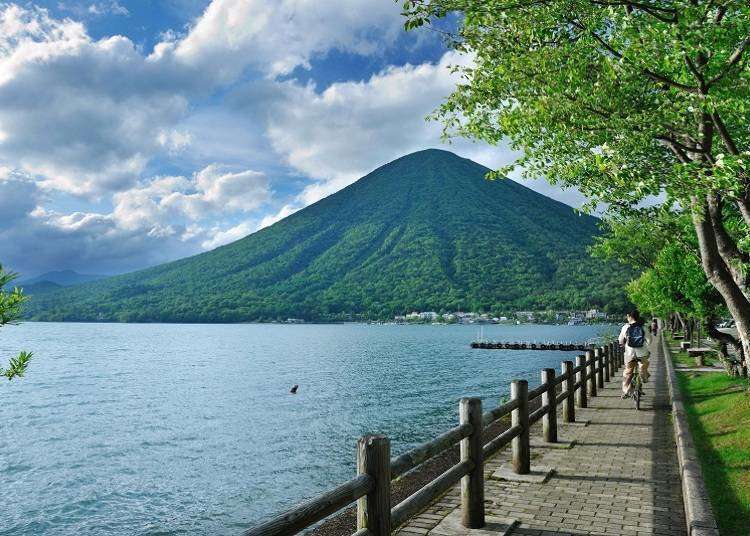 Hoshino Resorts KAI Nikko is an incredible luxury ryokan in the scenic Nikko area. In fact, once you book your room here, you might find yourself wanting to stay forever!

In fact, 'hocance' (hotel + vacance) is a recent trend that's started spreading throughout Asia! Originating in South Korea, more and more people are choosing to spend their vacations leisurely within or nearby a hotel without going out for sightseeing outdoors.

Here, we will introduce the attractiveness of Hoshino Resorts KAI Nikko, lodging that is perfect for such "hocance," in the breathtaking Nikko area. Easily accessible from Tokyo, here you can enjoy world heritage sites and magnificent nature – or, if you decide, relax and live the good life at the hotel!
Hoshino Resorts KAI Nikko on Lake Chuzenji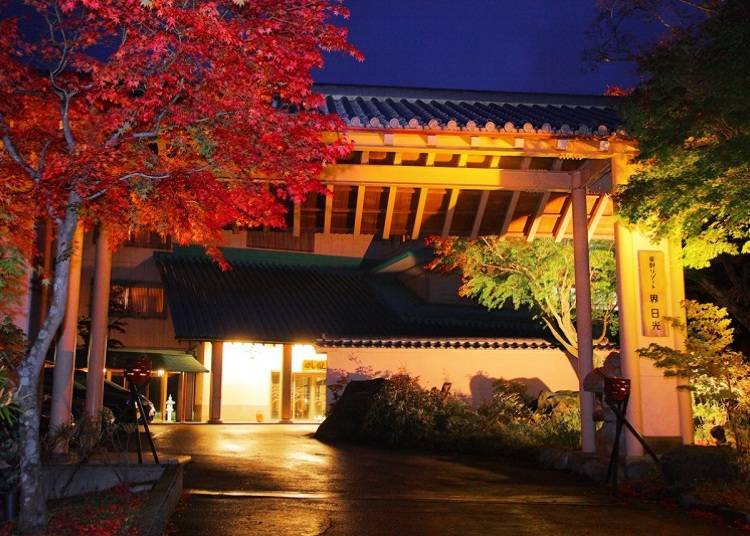 Hoshino Resorts KAI Nikko is atop Mt. Nikko, located in the Oku-Nikko area beyond the slope of Iroha. This lush natural environment overlooks Lake Chuzenji and Mt. Nantai. This location has the perfect balance for a vacation.

Hoshino Resort has four brands: HOSHINOYA Flagships, Risonare, Hoshino Resorts KAI, and Hoshino Resorts OMO. Among them, Hoshino Resorts KAI is a high-quality hot spring ryokan brand with comfort and harmony.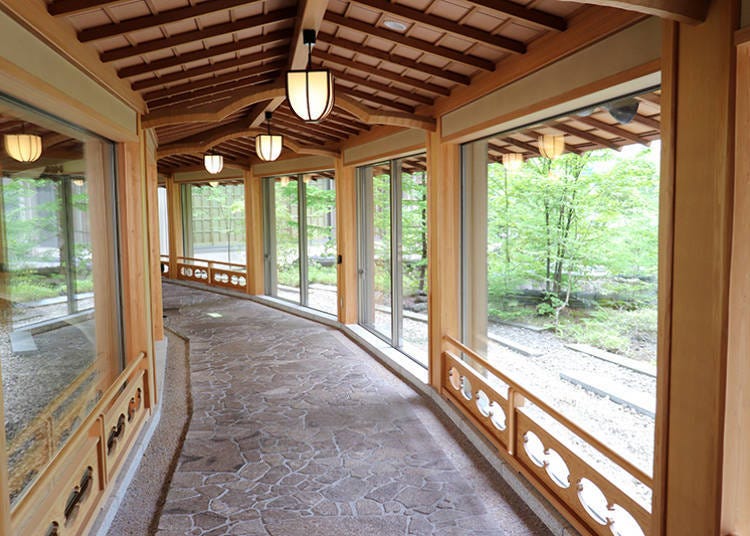 You can feel the traditional Japanese texture of "Hoshino Resorts KAI" that is full of photo-ops. Nikko is a place where the change of seasons can be truly seen.

One of the attractions of Hoshino Resorts KAI Nikko is that you can enjoy of the transitioning of seasons in a Japanese style with fresh flowers in spring, fresh green leaves in summer, foliage in autumn, and the snowy scenery of winter, the scenery of the transitioning seasons being enjoyed in a Japanese style.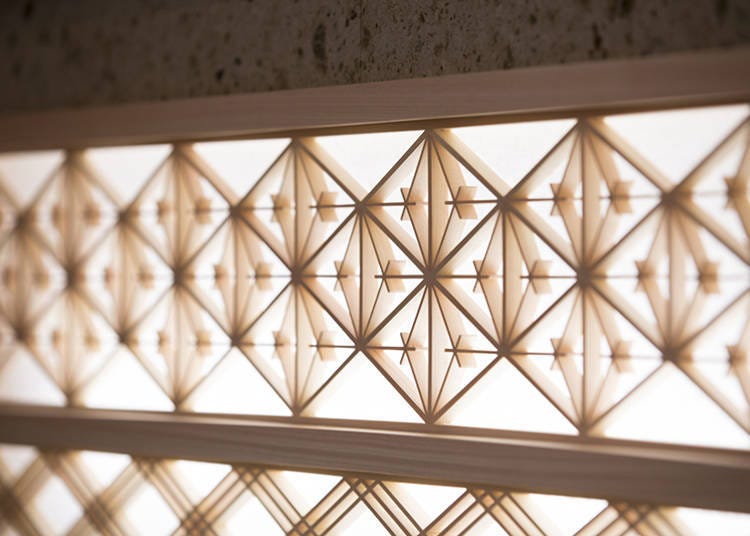 In addition, the theme of the Hoshino Resorts KAI brand is to "rediscover and convey the attractiveness of the area," and at Hoshino Resorts KAI Nikko the traditional craft of Tochigi known as 'Kanuma Kumiko' is decorated throughout the hotel.

Kanuma Kumiko is part of the culture that originated and is still found at the Nikko Toshogu temple. It is built by hand one by one without using adhesives. The smaller it is, the harder it is to create. It is said that there are approximately 35 patterns, and is fun to look for while strolling through the hall.
Rooms where you feel the movement of nature in Nikko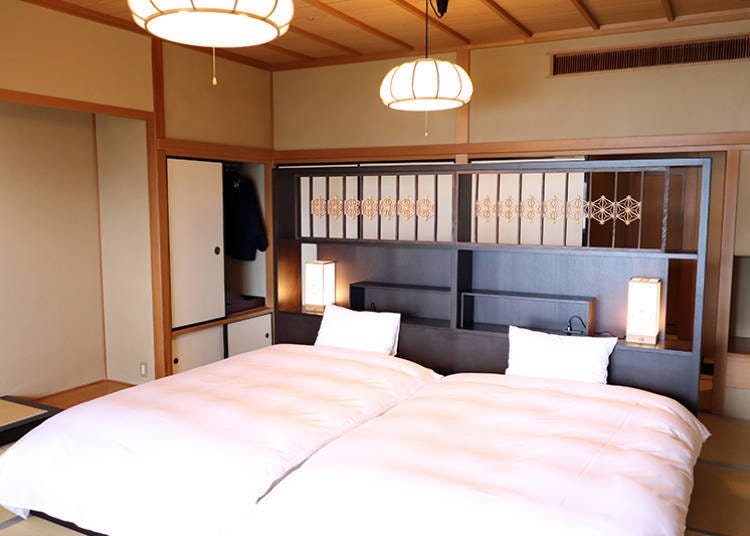 The rooms of Hoshino Resorts KAI Nikko are luxurious with over 60 square meters in each room. You can see Lake Chuzenji and Mount Nantai from almost every room, and if you look at the lake you may feel time slip away as the surface changes its expression in each moment.

Kanuma Kumiko is also used for interior decoration in the "Kanuma Kumiko Room" (only one room available).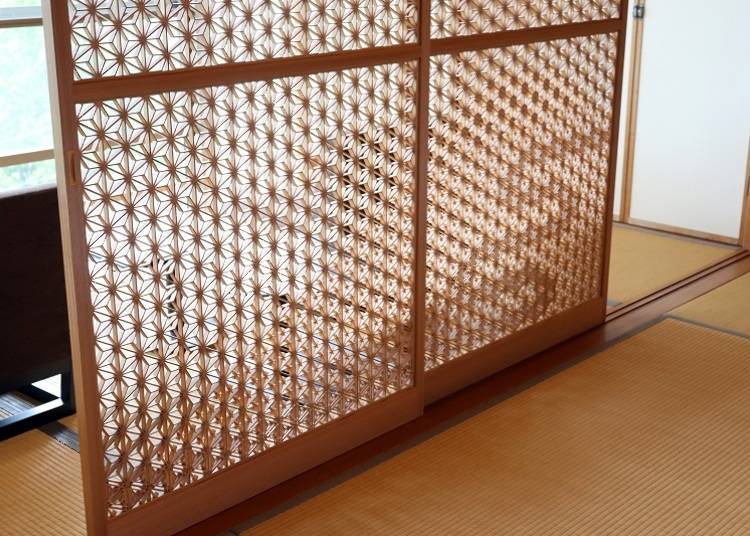 This unique room style of Hoshino Resorts KAI is where traditional Kanuma Kumiko and modern lifestyle are fused. The sliding door is equipped with a mechanism that brings up a pattern is in the shape of a hill with incredible detail.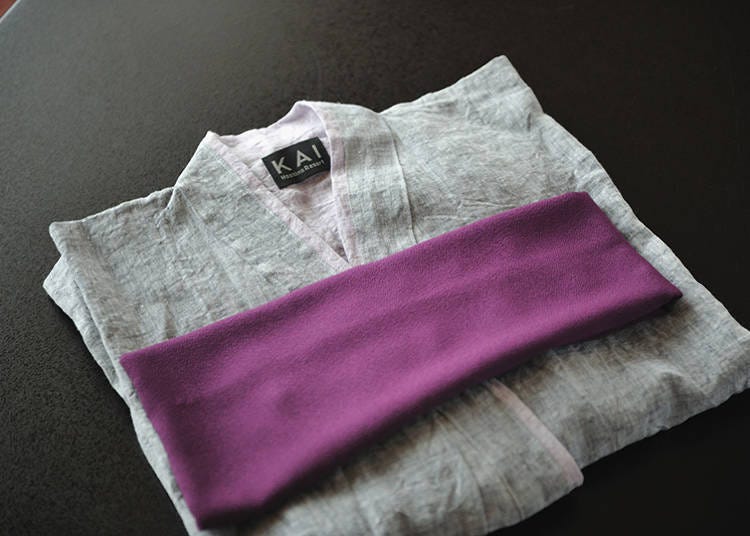 Yukatas and other amenities are also available. You can walk around the facility dressed in a yukata. You can enjoy your stay while relaxing in a yukata.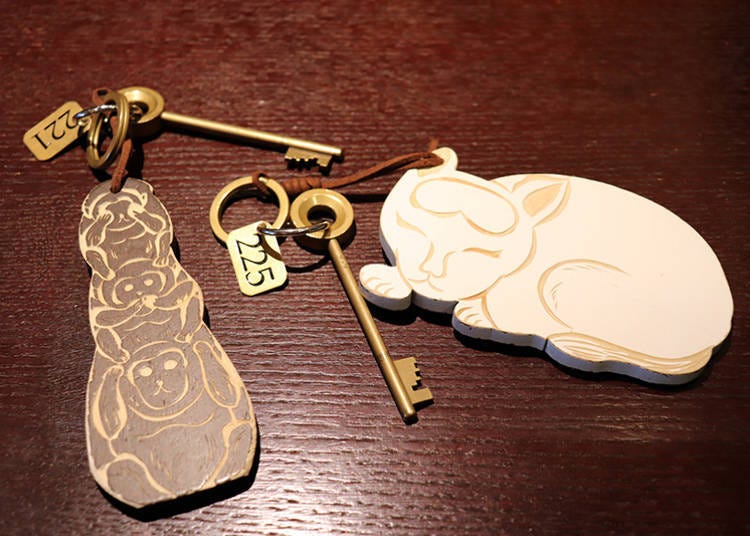 When visiting Hoshino Resorts KAI Nikko, Be sure to note the room key. In recent years, it has been common to see card keys in ryokans and hotels, but at KAI Nikko they use the simple keys that are nostalgic. You will love the key charms at Nikko with images like three monkeys or a sleeping cat.
Enjoy a sense of liberation in the Hoshino Resorts KAI onsen hot springs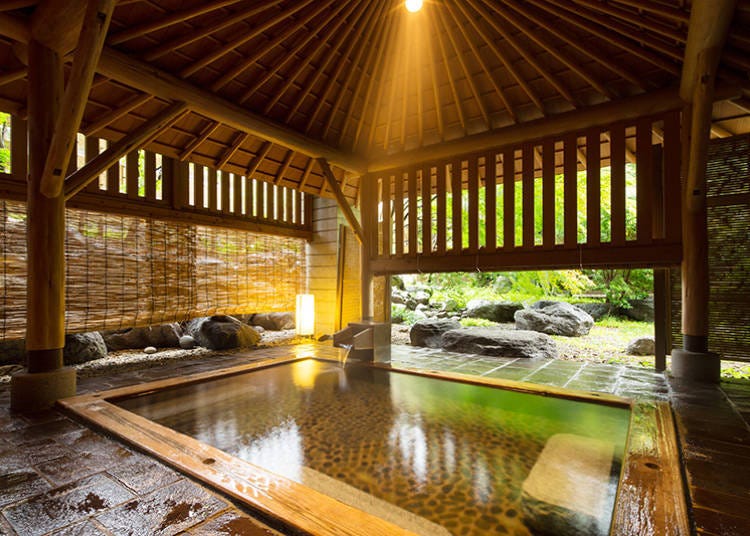 At Hoshino Resorts KAI, you can enjoy the hot spring baths prepared separately for men and women as well as the open-air baths also prepared separately for men and women.

This outdoor open-air bath is where the scent of persimmons spreads, the bathtub is made of solid wood where you can feel the warmth of trees. The heat of the bath is retained allowing you to relax in comfort.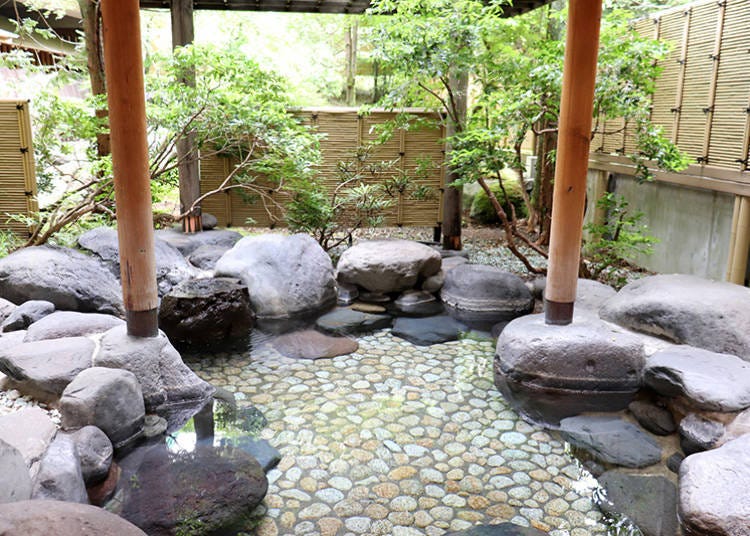 There are two types of large public baths for men and women, indoor open-air baths and outdoor open-air baths filled with wilderness. This photo is an open-air bath dedicated to women. You can enjoy a luxurious bath in this stone hot spring.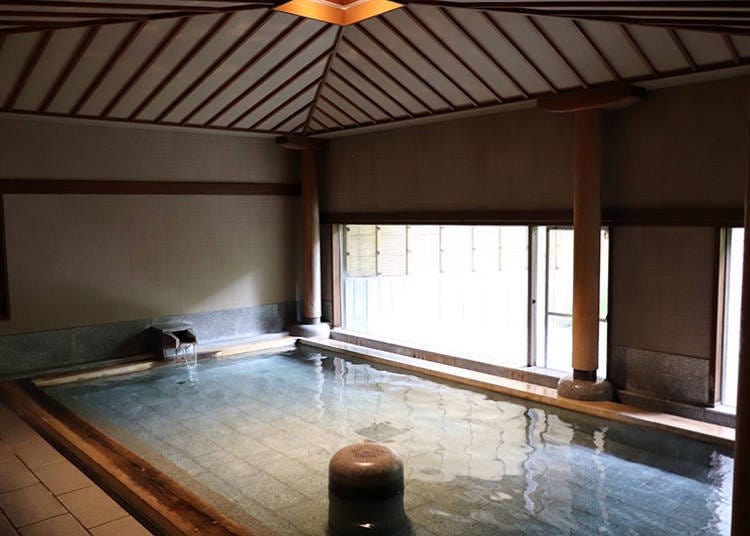 This is a female-only indoor bath. The spacious bathhouse is designed to have a ray of light come from the ceiling. You will feel as if rays of sunlight are coming in through the forest, to heal your daily fatigue.
After enjoying the hot springs relax at the "Yuagari Site," which features a small rise of tatami mats. There is rooibos tea, pear water, popsicles, and other treats to help you cool off.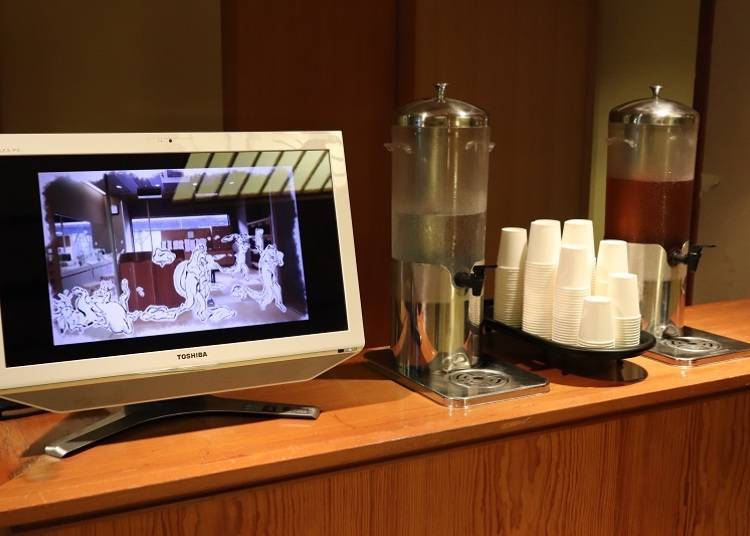 There are also videos that introduce the bathing method and manners of hot springs, please check it out and enjoy the hot spring to the fullest. (English, Traditional Chinese, Simplified versions also available)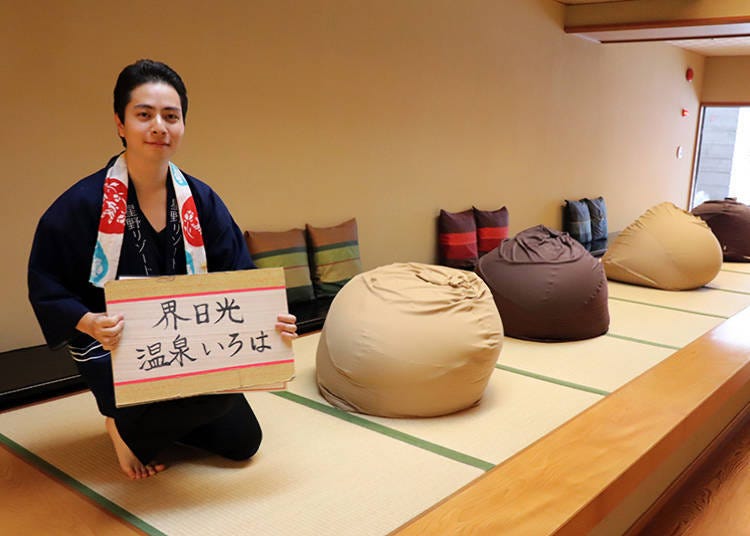 At Hoshino Resorts KAI, the "uruhashi modern hot water treatment" is used in order to get more enjoyment from the hot springs. This service conveys the essence of hot spring culture in a form that fits the lifestyles of modern people, by using the spring quality, scenery unique to the area, and a bathing method that enhances the effect of the hot springs. As KAI Nikko is located at an altitude of 1300 meters, the method of bathing goes through constant changes.

The staff, with knowledge of hot water bathing will advise guests of "the KAI hot water protection" which offers a program that includes not only advice during bathing, but also food and cultural experiences. At "Hoshino Resorts KAI Nikko Onsen Iroha", you can learn about "Iroha," which works to regulate the mind and body, through the characteristics of the quality of the hot spring and the bathing method through fun talks and play.
Special seating to enjoy beautiful dishes and waves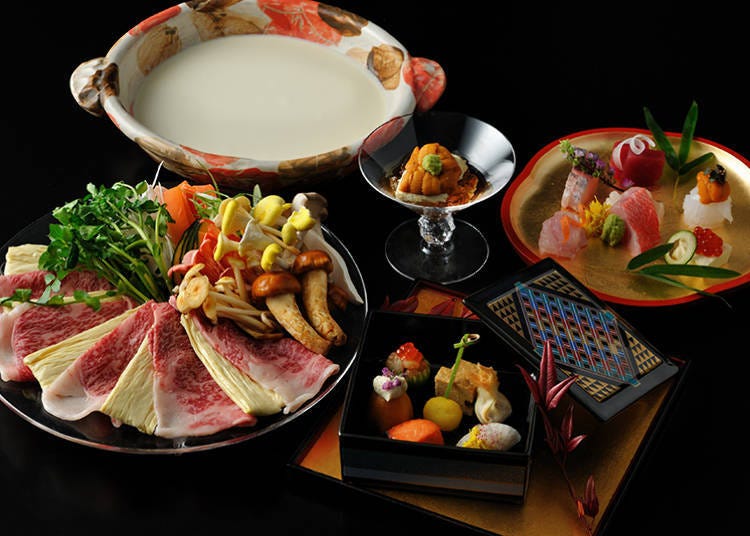 In Nikko, a unique food culture has developed that includes Nikko Yuba, different from Kyoto Yuba that began with a focus on the Nikko Toshogu Shrine. You can enjoy the special blessings of Tochigi Prefecture's vast flat land, rich beautiful water, and the natural blessings of the mild climate.

This photo shows a special banquet, "The Tosho-Yuba banquet of sea urchin and Japanese beef." The banquet begins with the sea urchins and yuba pre-set, delightful dishes are prepared in the vibrant Toshogu shrine bowls. For the main dish, you can prepare Japanese-style beef, and soy milk yuba, in a mille-feuille style hot pot.

* One night stay with meals included 24,910 yen (tax not included)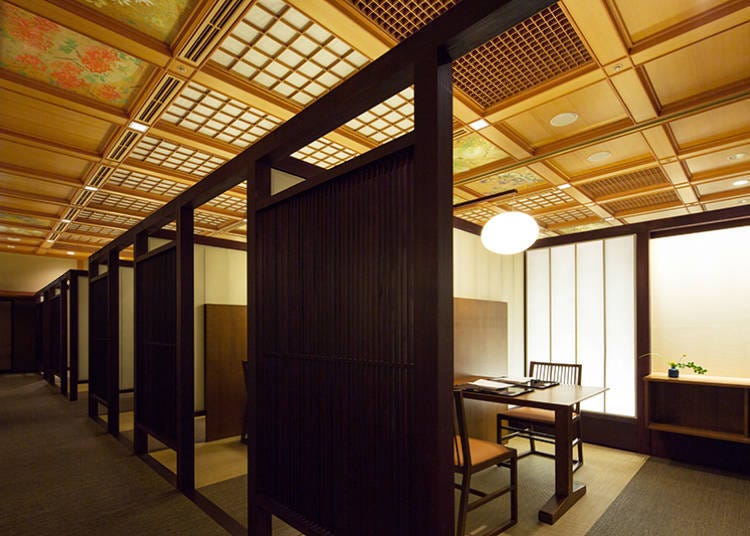 "Hoshino Resorts KAI" offers a space that pursues relaxation suited to the present age. The dining room is separated from the bedrooms so there is no concern that the futons or clothes will have an unpleasant smell. There is table seating for one to a maximum of eight people. You can enjoy your meal slowly in a semi-private room surrounded by lattices and shoji.

You can also see the commitment of the restaurant. The ceiling is decorated with golden leaves and is very popular with foreign guests. Here many guests will take photos.
Get in touch with the historic local traditional craft, Nikko Geta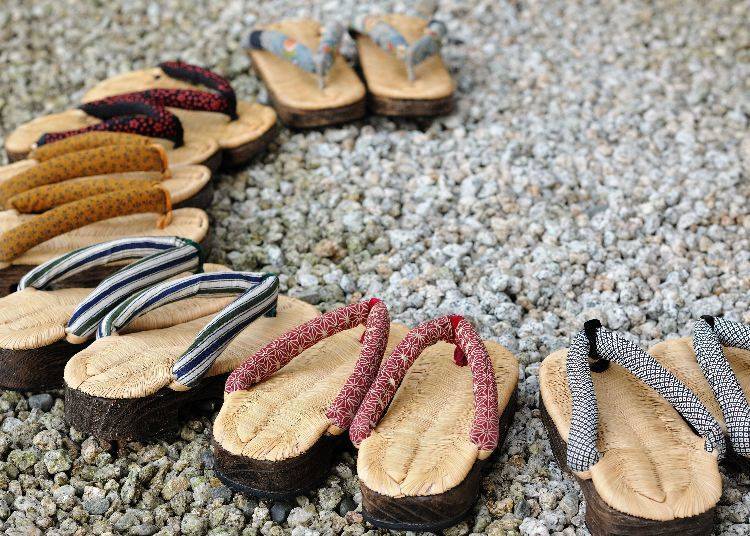 At the KAI Nikko hot springs you can enjoy the traditions and culture of the regions through their hospitality and original folk music that is unique to its region. The history and charm of the traditional craft "Nikko Geta," has been handed down for 400 years, can be experienced at KAI Nikko.

The Nikko Geta has been handed down as formal footwear for visiting shrines and temples since the Edo period. In principle, it is necessary to use "zouri footwear" to enter the temple grounds. Since the sun temples of Nikko, such as Nikko Toshogu, have many stones, snow, and slopes sandals were inconvenient and so sandals made like wooden clogs were designed. That's the beginning of the Nikko Geta.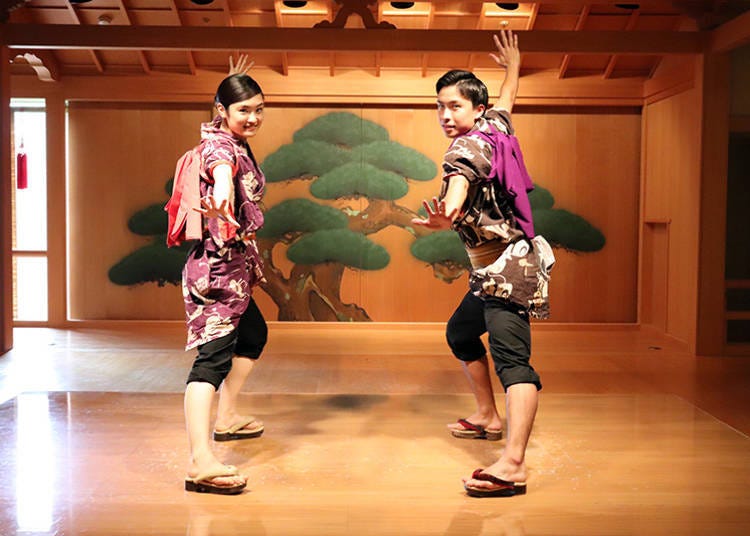 Kai's original "Nikko Geta Lecture" is where you can enjoy the charm of the solid, easy-to-wear Nikko geta. Here the making and attraction of Nikko Geta is introduced through stories, and tap dancing which gives the geta rhythmic appeal! There is also Nikko geta that you can wear while watching the program that makes you feel attractive throughout your entire body.

* Open every night; Free admission
Spend your time in the "Kumiko Library"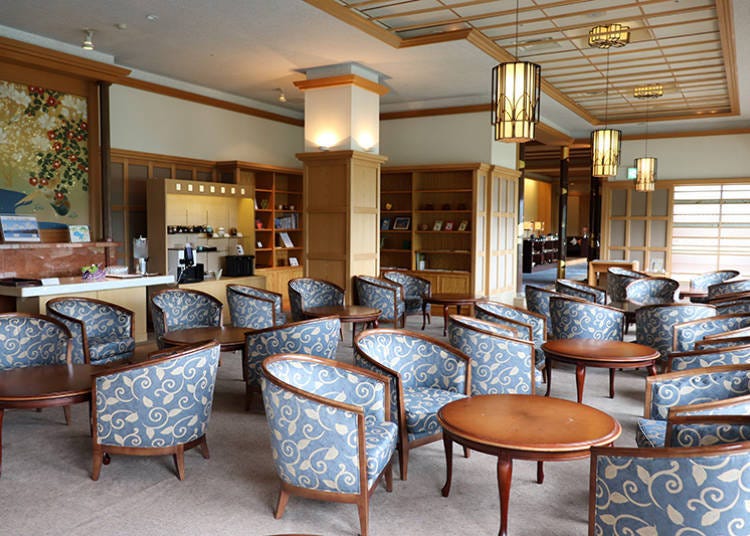 Overlooking the magnificent Lake Chuzenji and Nikko Lakes, is the "Kumiko Library" a lounge where coffee, herbal tea, as well as information on Tochigi's history, nature, and craft books are available. This is the perfect place to sit on their one-seat sofas and spend your time.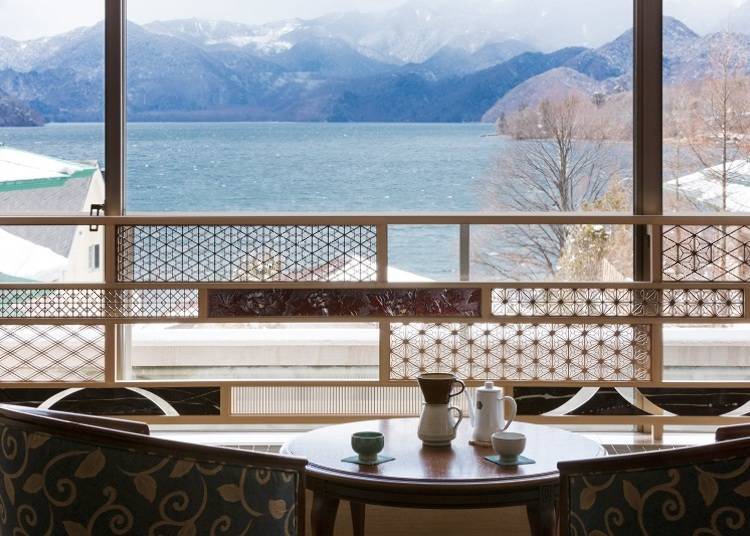 The large panoramic windows are decorated with traditional crafts representing Tochigi, such as Kanuma Kumiko, Nikko sculptures, and Mashiko ware, that when combined with the scenery, looks like a large picture. While looking at the landscape, spend time thinking about history as well as your travel plans.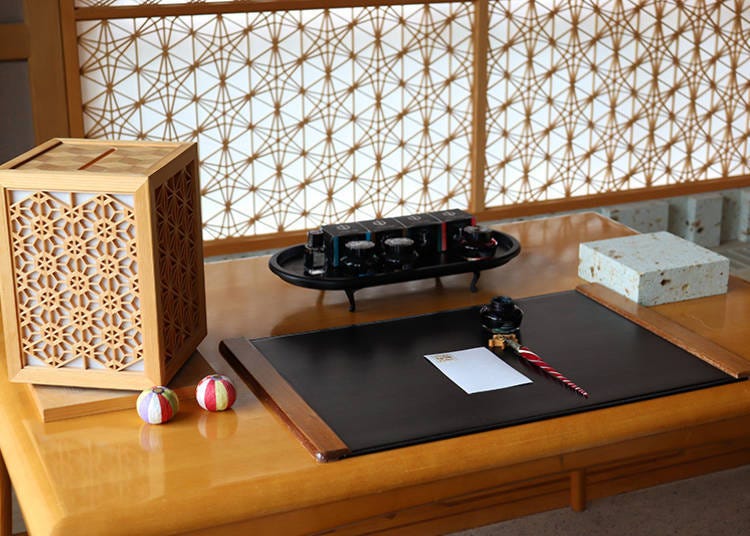 The Kumiko Library has postcards, stamps, ink, and glass pens. The box with the handle pattern on the left is the post box. If you put a stamped postcard with a valid address it will be delivered. It may be good to spend your leisure time thinking about who to send letters to as well as what to write.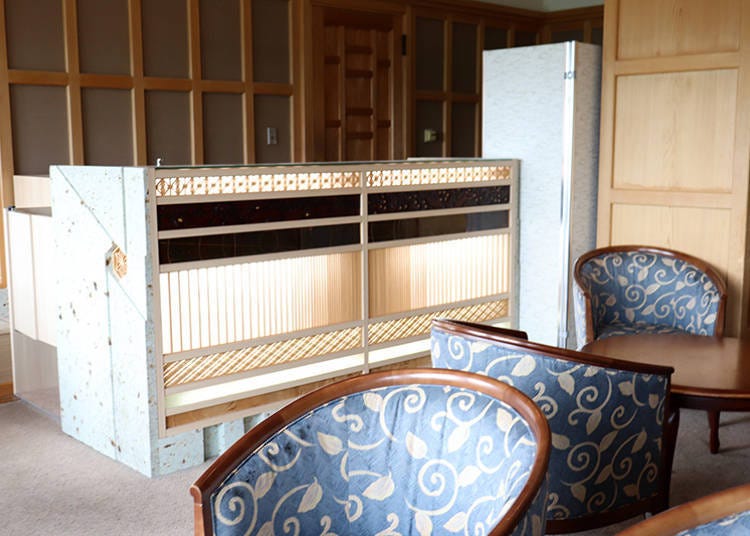 At the back of the library is a counter made of Kanuma Kumiko, Mashiko wares, Oya stone, and Nikko sculptures. Seasonal drinks and hospitality are provided upon arrival. The soft light of the pendant light utilizes the Kanuma Kumiko's delicate design and illuminates the Kumiko library.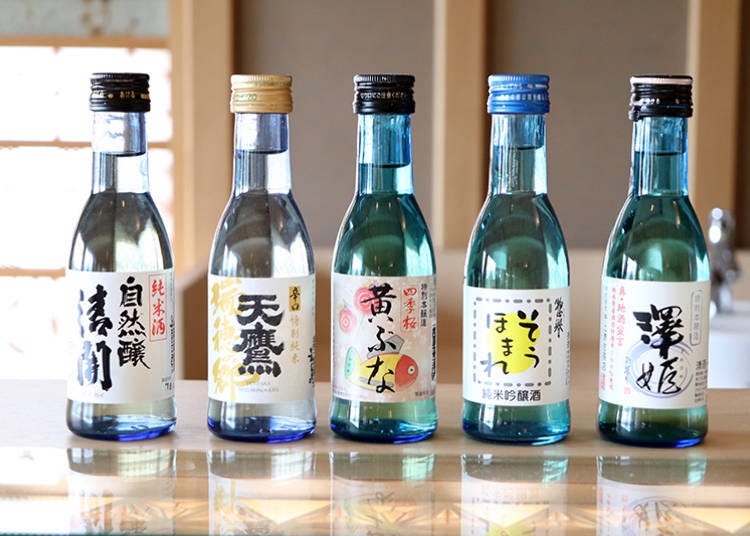 It is great idea to spend the night indulging in sake purchased at the store.
Enjoy the seasonal events at Hoshino Resorts KAI Nikko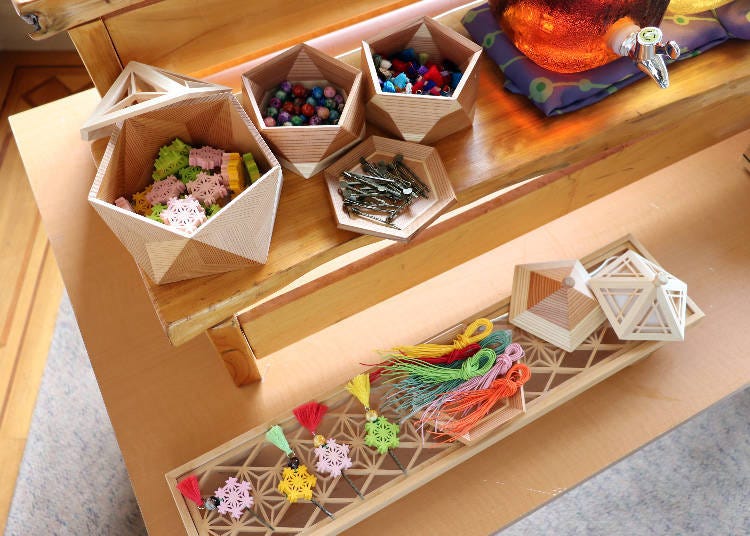 At Hoshino Resorts KAI Nikko, seasonal events are also available. One of the summer-limited events, "Kanuma Gumiko Accessory Making", is where you can experience making accessories by combining parts such as Kanuma kumiko, glass beads, and tassels of your favorite color.

Hours: 15:00-21:00
Place: Kumiko library 2fl
Price: 1,800 yen (tax included)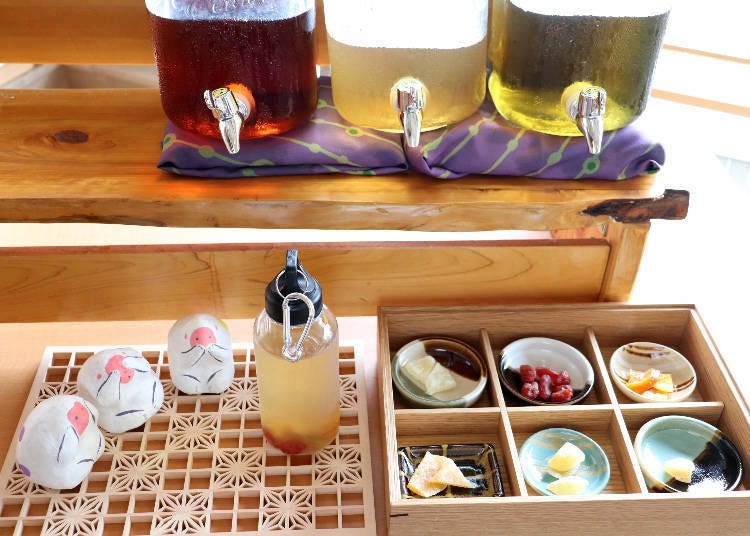 This is the "Taki-ami tea making" which is recommended for the waterfall walk. This drink is made by soaking your favorite dried fruits overnight in your favorite tea. There are so many waterfalls in Nikko that it is called "The land of 48 waterfalls". In the vicinity of KAI Nikko there are the Kegon Falls. In the Edo period, it was said that "Taki-ami" began as a way to cool off and look at the waterfall.

Hours: 15:00-21:00
Place: Kumiko library 2fl
Price: 1,000 yen (tax included)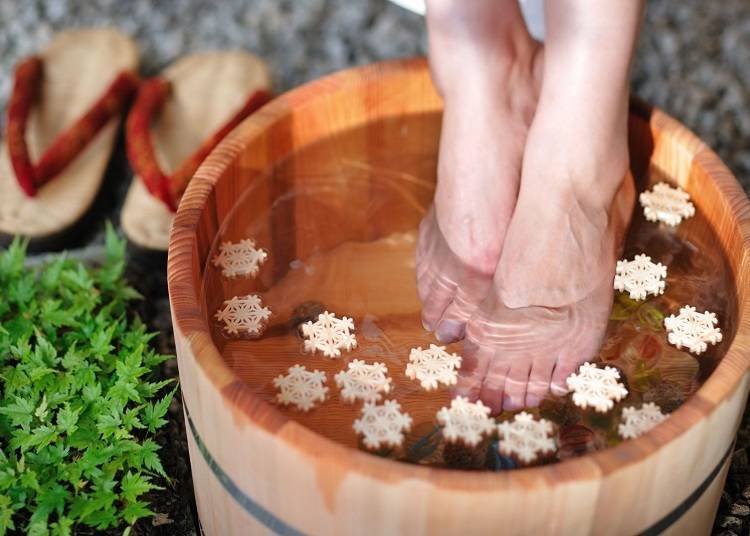 "Foot Water Terrace" is also a summer time event that is ideal for summer holidays. During the Edo period, it was common practice to cool oneself by putting water in a tub for only your legs. You can enjoy an elegant summer resort experience by putting your feet in the Kanuma Kumiko forged tubs filled with colorful marbles on a specially-designed seat that overlooks Mt. Nantai.

Time: 15:00/15:30/16:16/16:30 (4 person capacity for each time slot)
Place: 2F entrance
Fee: Free
Reservations: Sign up at the front desk after check-in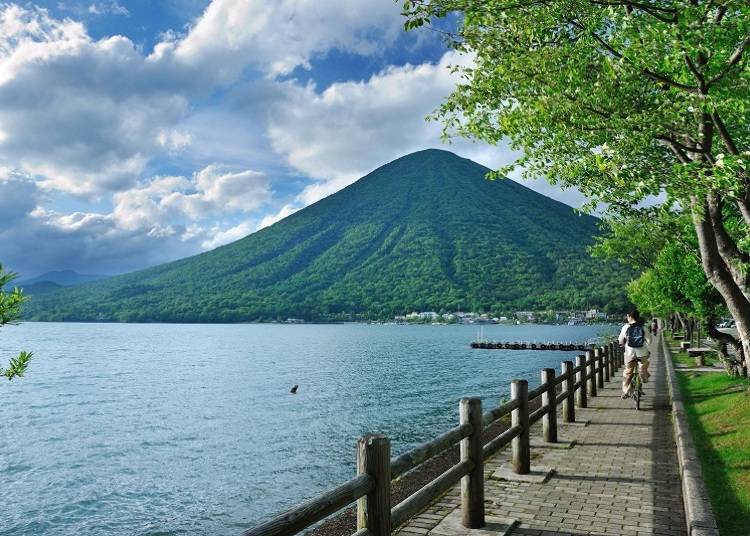 If you want to explore the surrounding area, such as Lake Chuzenji or Kegon Falls, we recommend using the electric bicycle rental service. You can enjoy comfortable cycling while feeling the refreshing breeze.

Time: 15:00-17: 00 (Must return by 18:00) / 7: 00-11: 00 (Must return by 12:00)
Price: 500 yen per hour (tax included)
Come in touch with local products at the store or gallery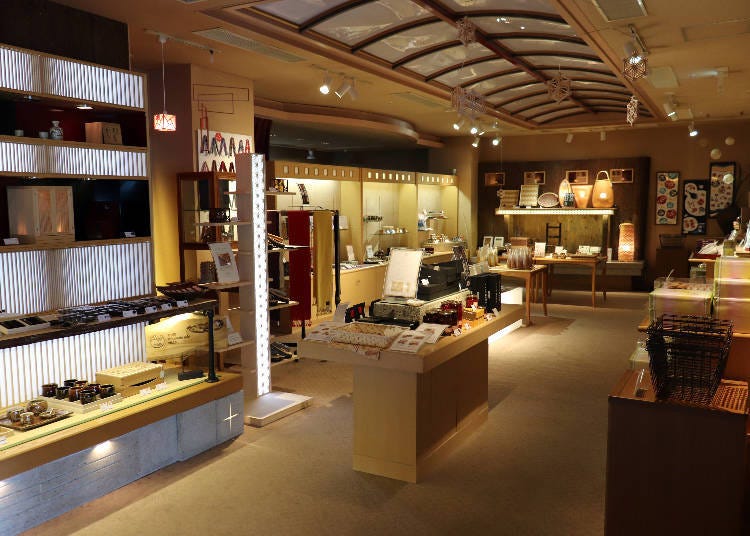 There are also shops in the hotel where traditional crafts and souvenirs unique to Nikko are sold. How about looking for a memento?
There is a gallery in the hallway leading from the entrance to the Kumiko library, where a number of traditional crafts such as Kumoma Kumiko and Mashiko wares are displayed. Sit on the sofa and spend time relaxing while viewing the traditions and culture.

Hoshino Resorts KAI Nikko is a hot spring inn surrounded by natural landscapes, hot springs and traditional crafts that change their expression each season. Please escape your daily worries and enjoy your time.
Hoshino Resorts KAI Nikko

星野リゾート 界 日光

Address

Nakamiya Sakai, Nikko City, Tochigi Prefecture 2482-1

Phone Number

0570-073-011

Hoshino Resorts KAI reservation Center(9:00~20:00)
0570-073-011
Official Website
(English):
https://kai-ryokan.jp/en/nikko/
Other hotels in the Nikko area
奥の院 ほてる とく川

Address

Nikko 2204, Nikko, Tochigi, 321-1415


Nearest Station

Tobu Nikko Station (Tobu Nikko Line)

Address

Kinugawa Onsen Ohara 1060-399, Nikko, Tochigi, 321-2522
View Map

Nearest Station

Kinugawa-Onsen Station (Tobu Kinugawa Line)
24 minutes on foot


Vacancy search, reservation

from

83,600JPY

1room, 2adults

Check with our partner site as the latest rates, rate details, and guest room requirements may vary.
Address

Kinugawaonsen Ohara 1400, Nikko, Tochigi, 321-2522
View Map

Nearest Station

Kinugawa-Onsen Station (Tobu Kinugawa Line)
14 minutes on foot


Vacancy search, reservation

from

44,000JPY

1room, 2adults

Check with our partner site as the latest rates, rate details, and guest room requirements may vary.
Address

Kamihatsuishi-machi 1300 , Nikko, Tochigi, 321-1401
View Map

Nearest Station

Tobu Nikko Station (Tobu Nikko Line)
33 minutes on foot


Vacancy search, reservation

from

29,900JPY

1room, 2adults

Check with our partner site as the latest rates, rate details, and guest room requirements may vary.
*This information is from the time of this article's publication.
*Prices and options mentioned are subject to change.
*Unless stated otherwise, all prices include tax.
Limited time offer: 10% discount coupons available now!