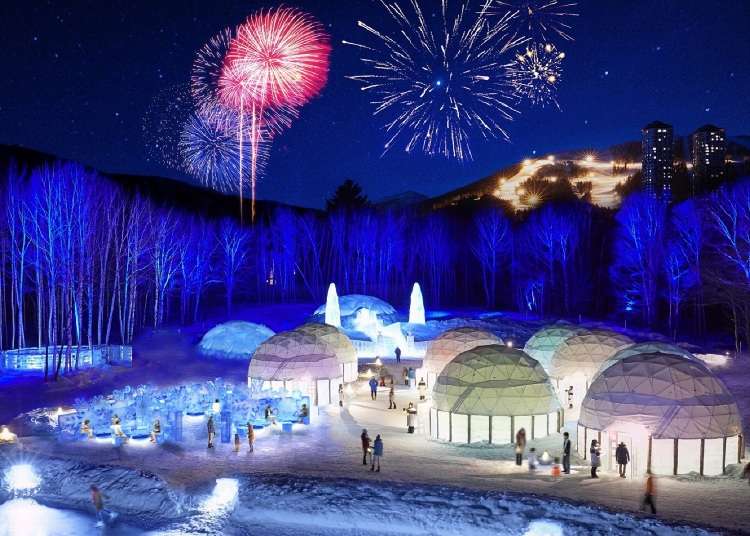 Tomamu Ice Village is Hoshino Resorts Tomamu's little winter wonderland town where you can enjoy the full experience of Hokkaido's cold, winter-time beauty.

Hoshino Resort Tomamu is a large-scale resort located in the Yufutsu District of Shimukappu Village, about 1 hour 40 minutes by car from the Shin-Chitose Airport with an area of about 1,000 hectares. When visiting in winter, one can expect plenty of powdered snow to ski on! However, that's not all this resort has to offer! Read on to see what the Tomamu Ice Village has in store!
Enjoy the Cold Weather at this Beautiful Tomamu Ice Village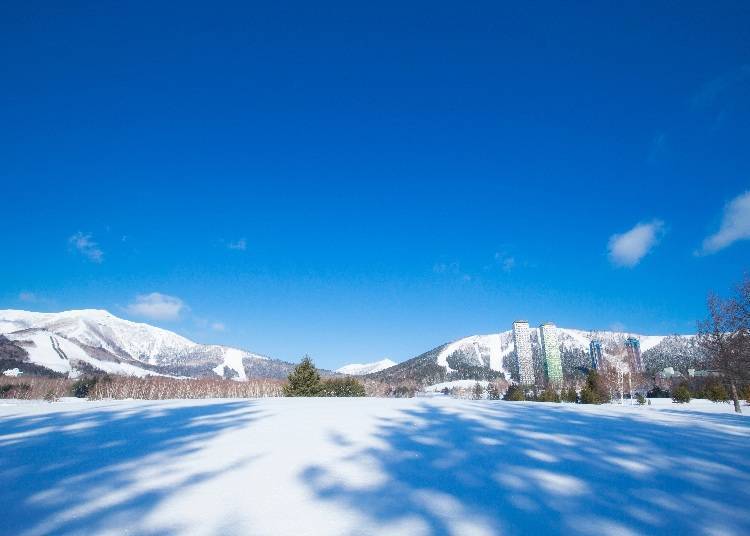 The temperature at Hoshino Resorts Tomamu can drop to as low as 30ºC below zero in the winter. But since 1998, locals have taken advantage of the cold to make chilly nights more enjoyable with their very own Tomamu Ice Village.

This village of ice, which spans an area of about 3.2 hectares, is made up of 11 ice domes and features a variety of fun activities and delicious foods to enjoy.

The Tomamu Ice Village is set to open on December 10, 2021, and will run until March 14, 2022.
A Variety of Hot and Cold Treats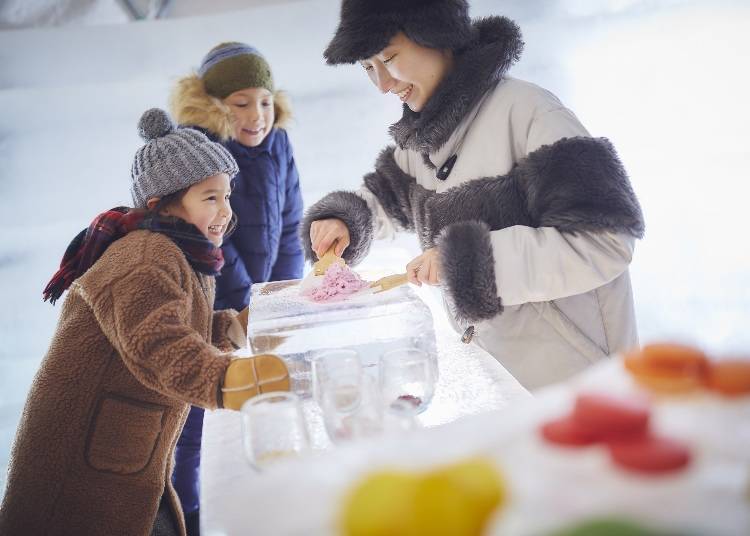 There are also two new gourmet shops in the Tomamu Ice Village. The first is the Ice Sweets Shop, where you can try its special signboard menu item, the Milk Gelato served on an ice plate (1,100 yen and up).

The milk is slowly stirred on top the plate of ice while still in liquid form, and slowly freezes up with the chilly surrounding air. Once frozen, the delicious gelato is ready to eat!

Other delicious treats include hot-chocolate-dipped ice cream bars that freeze the moment they are removed from the chocolate, and grilled marshmallows and macaroons (all 550 yen each).

Hours: 5:00PM~10:00PM (Last Order 9:00PM)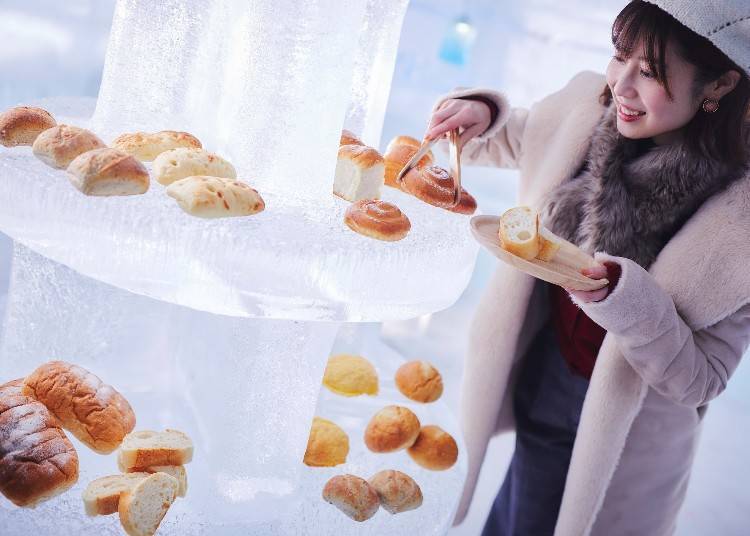 The Ice Bakery & Cafe offers 15 different types of breads and hot drinks, displayed on shelves of ice. The ice breads (starting from 550 yen) maintain their freshness when frozen, and are heated on the spot, so you can enjoy its freshly-baked goodness at the time of purchase.

The bread and drinks can also be ordered as take-out to eat elsewhere around Ice Crystal Park. There is also an ice-surrounded fireplace in the shop where you can try some delicious hot cheese fondue (5,500 yen, limited quantities available).

Hours: 5:00PM~10:00PM (Last Order 9:30PM)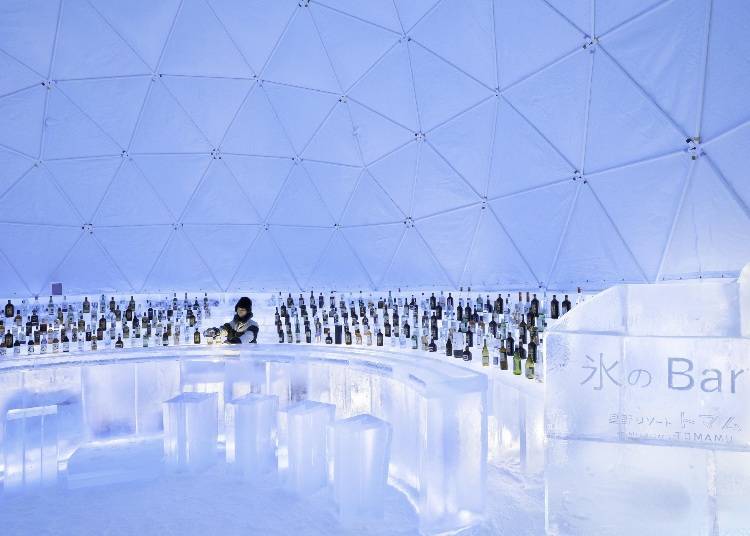 The Ice Bar is another popular spot that opens every year, with some new upgrades for this year. The Original Gin (1,650 yen) is a brand new menu item made with Tomamu's very own snowmelt. The bar also has an ice counter and cellar, where you can choose from over 50 different drinks, all served in ice glasses.

Hours: 5:00PM~10:00PM (Last Order 9:45PM)
A Variety of Icy Experiences in the City of Ice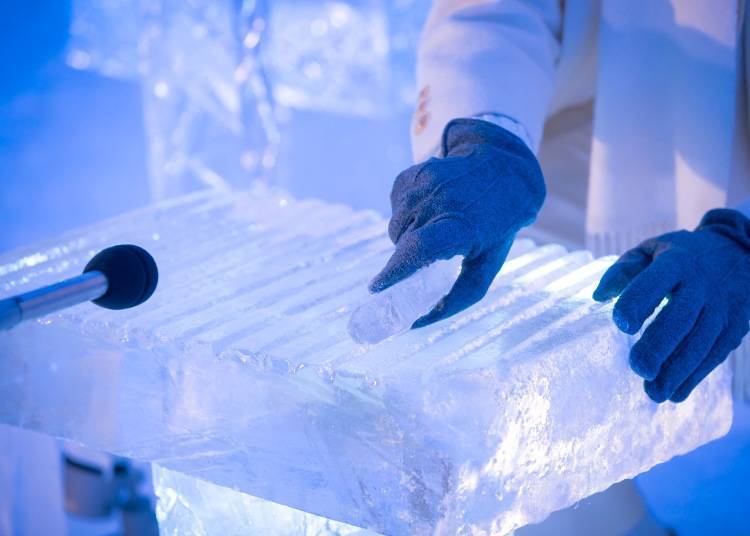 In addition to delicious food, there are also various domes around the city where you can enjoy a range of experiences, from shopping to crafting.

There is an Ice Musical Instrument Shop, which displays instruments of ice. There is even an area where you can play them yourself.

In the snow-themed Ice General Store you can buy handicrafts, miscellaneous goods, and accessories made by local Hokkaido artists, as well as original Tomamu Ice Village mugs (1,600 yen). These items are sure to make great memories, as well as wonderful souvenirs.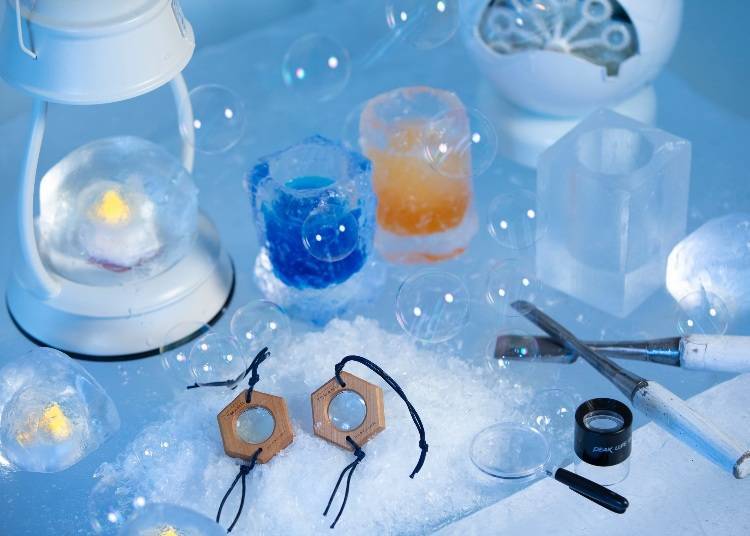 At Ice Atelier, you can try craft-making activities that makes use of the cold. Try the Ice Glass Crafting Experience (1,650 yen), where you can sculpt your own original glasses from ice, or the Snow Crystal Keychain Crafting (1,650), where you use snow crystals to make your own original keychain.

Hours: 5:00PM~10:00PM
A Variety of Ice Activities Abound!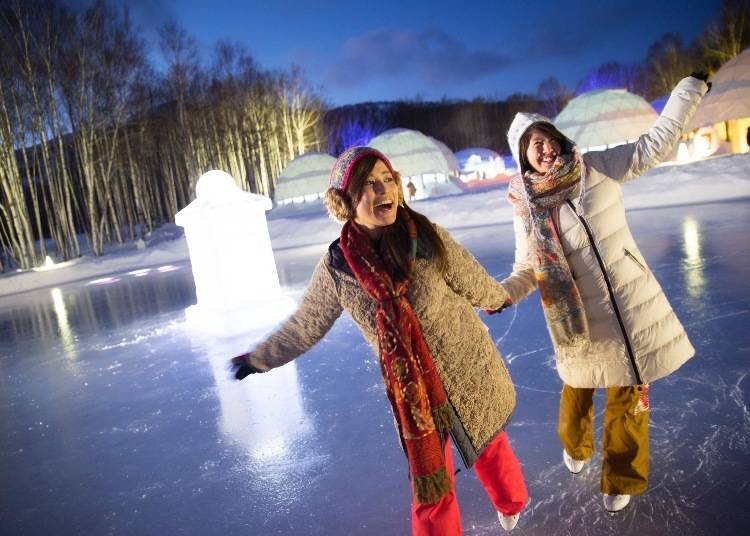 There is an observatory at the entrance to Tomamu Ice Village that overlooks the entire city, as well as an ice slide that you can use to descend back into town from the top. There is also a skating rink, naturally formed by the cold, where you can rent skates (1,100 yen for adults, 550 yen for kids) and create even more fantastic memories on ice.
Ice Church Wedding Ceremonies & Ice Hotel Accommodation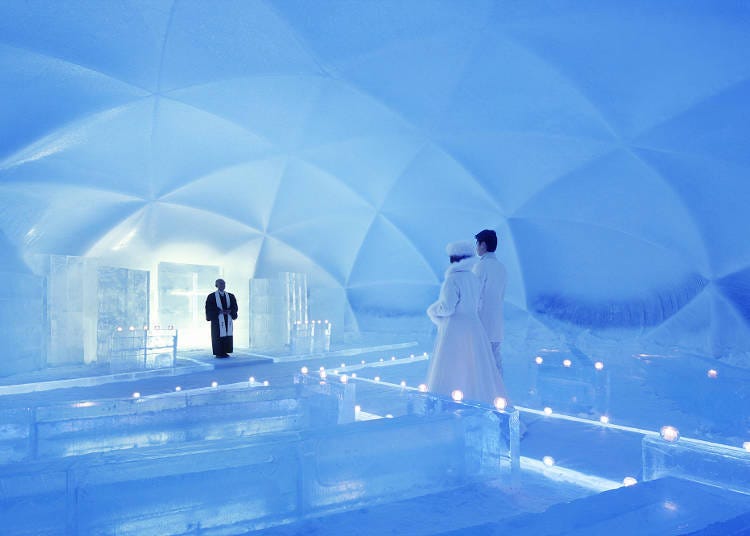 Wedding ceremonies will begin at the city's symbolic Ice Church from January 20, 2022, when the weather becomes even colder (until February 14). The church is built from one single boulder of ice that features beautifully carved seamless ceilings and walls. Ten-minute tours are available daily during this period at three different times. For weddings, there are fireworks displays held to celebrate the new couple after the ceremony.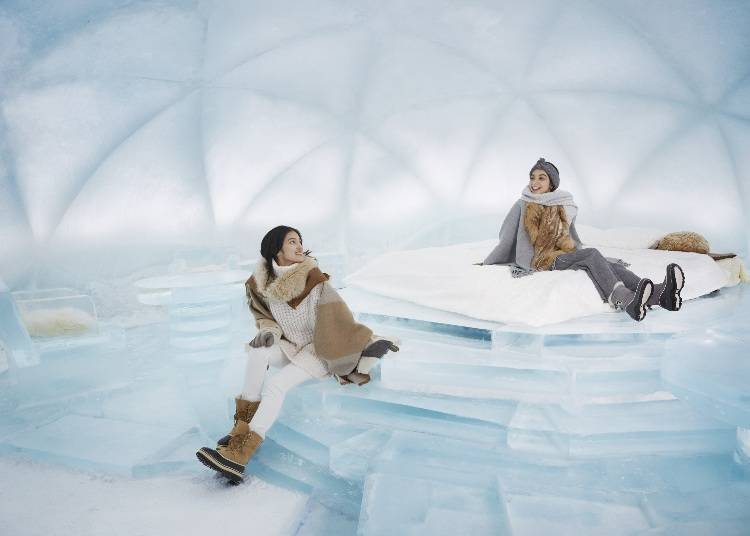 The Ice Hotel is open until February 28. The interior in this building is also made of thick, seamless ice, and is a peaceful, indoor, icy oasis that blocks the bustle of the world outside. If you stay overnight you can enjoy the Ice Open Air Bath and soak in the hot springs surrounded by the beautiful, snow-topped birch forest.

The hot springs are pumped from Yunosawa Onsen in Shimukappu Village, which gradually warms your entire body from the inside out. After your bath, spend time in the Ice Lounge and enjoy some hot drinks before heading to sleep in a warm, comfortable sleeping bag on a bed of ice. For reservations, please visit the home page.

Hours: Check-in 9:40PM~10:00PM; Check-out 8:00AM the following morning
Fee: 25,300 yen per person/night (up to 2 people per group per day; children elementary age and up)
Address

Nakatomamu, Shimukappu-mura, Yuufutsu-gun, Hokkaido, 079-2204
View Map

Nearest Station

Tomamu Station (Sekisho Line)
5 minutes by bus


Phone Number

0167-58-1111
Text by: Minanokotobasha
*This information is from the time of this article's publication.
*Prices and options mentioned are subject to change.
*Unless stated otherwise, all prices include tax.