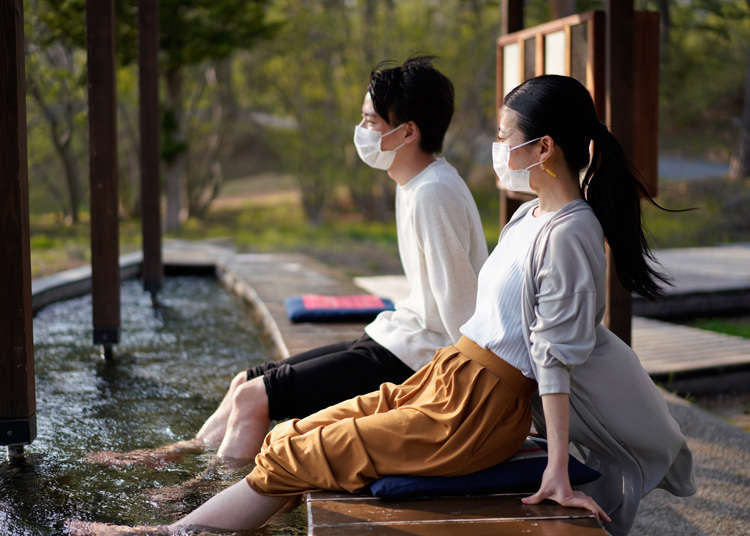 With the spread of the coronavirus (COVID-19), the tourism and travel industries in Japan have been seriously damaged. Japan National Tourism Organization (JNTO) has announced that foreign visitors to Japan in April 2020 compared to the same month in 2019 had declined by 99.9% to 2900 visitors.

* Information displayed is as of the time of article production. Prices and contents are subject to change.
* Information provided may change in response to the spread of the novel coronavirus.
* Please contact facility operators directly for the latest information.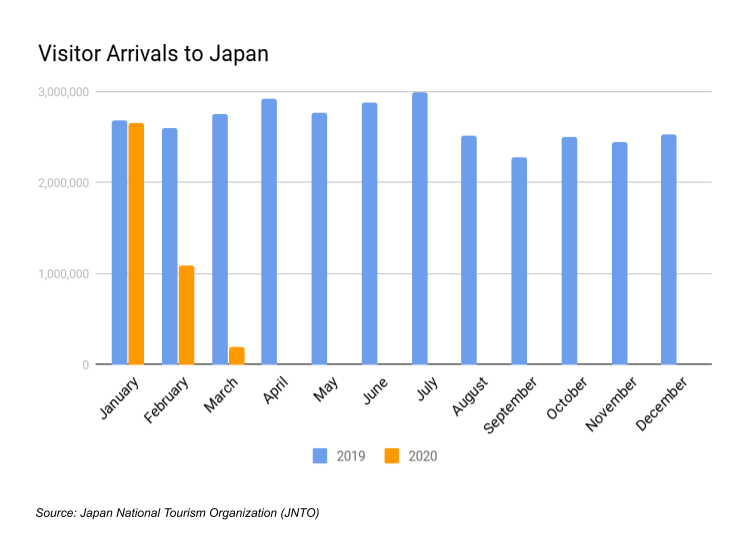 In Japan, in spite of the hopes for coronavirus infections to settle down, many specialists speculate that it will take more than one year for tourists to return in force. In this new post-coronavirus era, how are Japanese tourism and travel industries going to cope with this new lifestyle to coexist with the coronavirus?

In this article presented by one of Japan's leading resort companies, Hoshino Resorts, we will see the approaches they are taking and discuss how to travel - and have fun - during and after the coronavirus pandemic.
Hoshino Resorts' Actions Against Coronavirus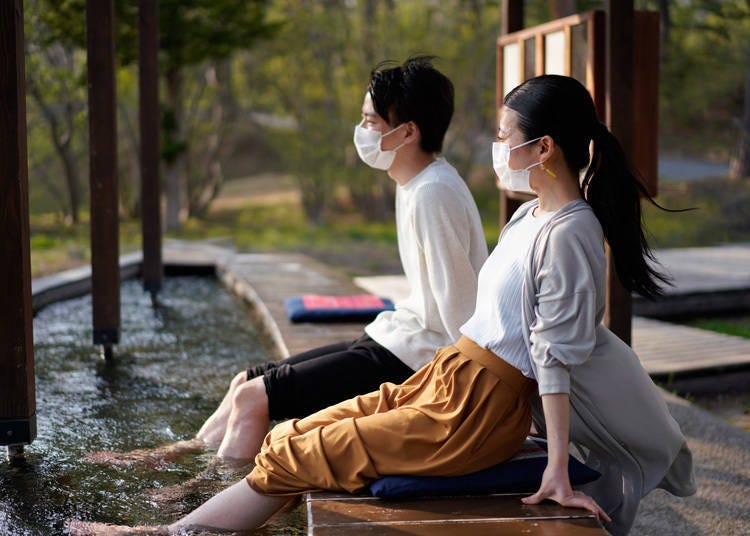 Hoshino Resorts Aomoriya
Hoshino Resorts, who operates 42 facilities in Japan and abroad, published the following statement on May 13, 2020, during the state of emergency: "We aim for the highest standard of coronavirus countermeasures through continuously improving methods of avoiding the 3 Cs."

The "3 Cs" refers to "Closed spaces with poor ventilation," "Crowded places with many people nearby," and "Close-contact settings such as close-range conversations," which are slogans raised by the Prime Minister's Office of Japan and Ministry of Health, Labor and Welfare (from the website of Ministry of Health, Labor and Welfare).

Hoshino Resorts will focus on two critical countermeasures, "Avoiding the 3 Cs" and "Hygiene Management." 3 Cs avoidance is promoted to create a safe environment for guests and staff members. Hygiene management, in addition to the usual cleaning, will involve removing bacteria inside the buildings, as well as health checks for staff members and guests.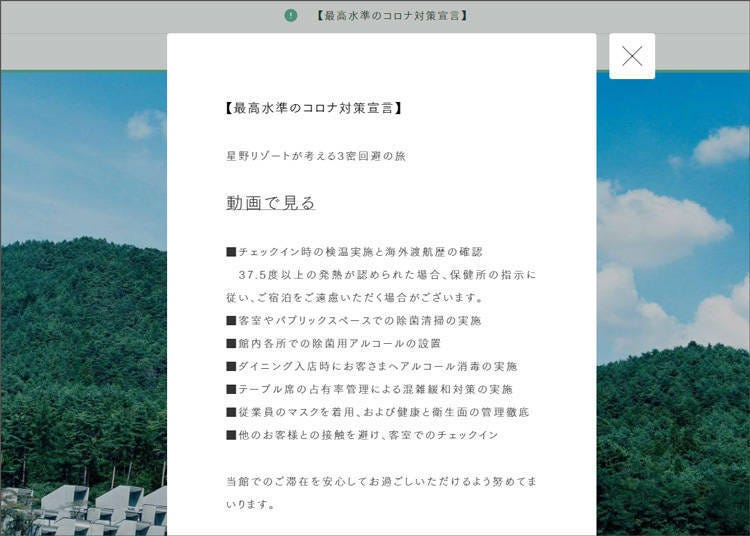 Hoshino Resorts has posted a Declaration of the Highest Standard Countermeasures Against COVID-19 on each facility's Japanese website (image from the website of HOSHINOYA Fuji).
"Avoiding the 3 Cs" When Checking-in and Checking-out at Hoshino Resorts
What exactly are measures for 3 Cs avoidance and hygiene management? First of all, let's take a look at the measures that Hoshino Resorts has in place for check-in and check-out.

●Check-in

At Hoshino Resorts, there are 5 hotel brands: the luxury flagship hotels "HOSHINOYA," resort hotels "RISONARE," hot spring ryokans "KAI," city tourism hotels "OMO," and free-spirited hotels "BEB." During check-in, each facility has taken the following measures.

HOSHINOYA, KAI: Check-in at Rooms
To decrease person-to-person contact, front desk check-ins have been temporarily suspended. Guests are escorted directly into their rooms, where check-in procedures are done.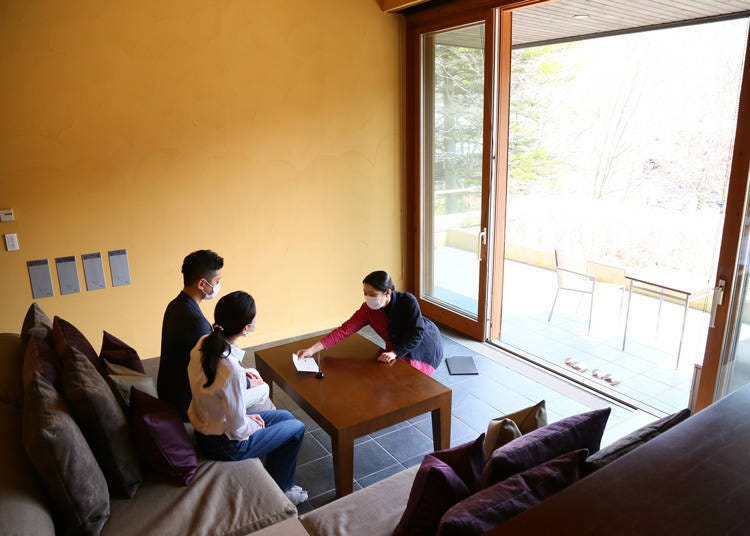 HOSHINOYA Karuizawa: In-Room Check-in
OMO, BEB, RISONARE: Access control
Staff members attend to queues to avoid congestion and maintain a distance of two meters between guests.

OMO5 Tokyo Otsuka, BEB: Automated check-in machines
Quick check-ins are possible to avoid close contact with staff members.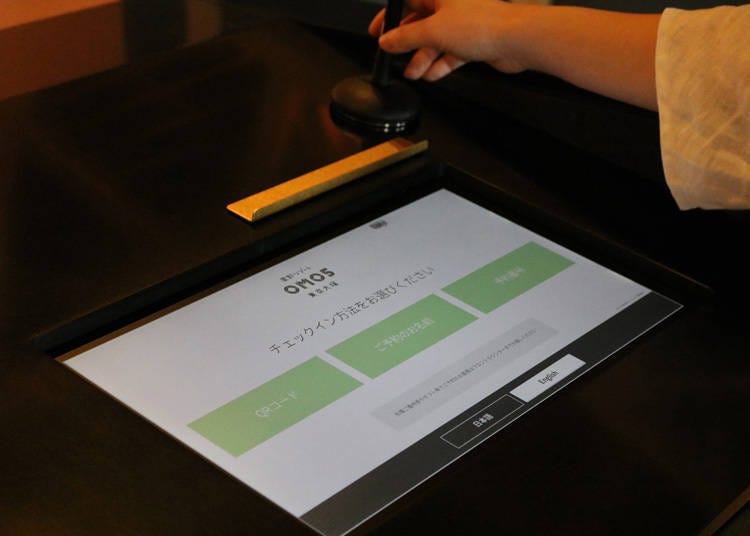 Hoshino Resorts OMO5 Tokyo Otsuka: Automated Check-In Machine
●Guest rooms

For the guest rooms, each facility has been designed to have open spaces, an outdoor area, and an open-air bath which can be used for natural ventilation, so you can enjoy the space and still avoid the 3 Cs.

For example, at HOSHINOYA Karuizawa, there is an air vent on the ceiling called "Furo," which enables natural air in when necessary. Guest rooms at HOSHINOYA Taketomi Island have a large window on the south side that lets southerly winds through the room.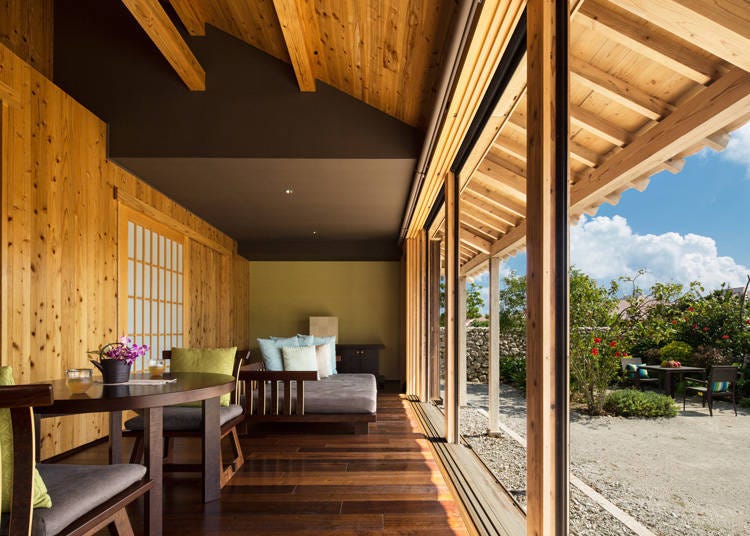 HOSHINOYA Taketomi Island: Guest Room
HOSHINOYA Fuji has a lounge area on the terrace with a sofa situated in the area that connects the outside with the inside. All guest rooms of the main building of RISONARE Nasu has wood decks. You will be surrounded by the gorgeous nature of Nasu during your stay.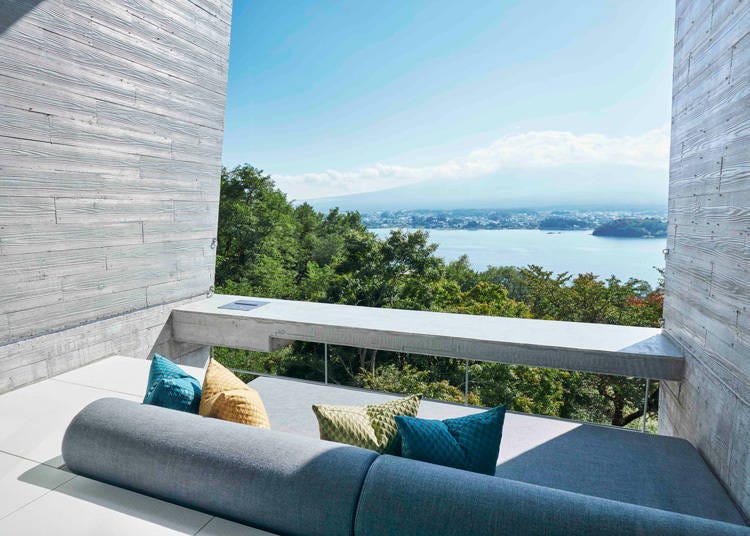 HOSHINOYA Fuji: Guest Room
Many facilities at hot spring ryokan "KAI" have guest rooms with their own open-air bath which allows you to enjoy time in the hot spring whenever you like.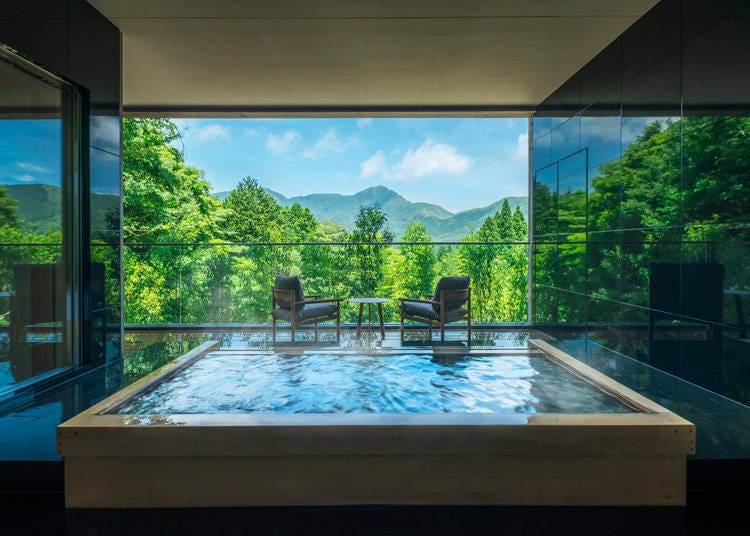 Hoshino Resorts KAI Sengokuhara: Guest Room
●Meals

During meal times, restaurants' level of congestion is managed, and dining times are staggered. Buffet-style dining has been replaced by set menus and takeout. Meals can be taken at either restaurants, guest rooms, or public areas, seats are spaced two meters apart in restaurants.

In addition, excluding some facilities at KAI, HOSHINOYA Tokyo, and HOSHINOYA Kyoto meals are provided in semi-private rooms.

●Hot spring, large public baths, and pools

The congestion level of the hot springs and large public baths can be checked on your smartphone. This system will be available from around June or July. As for swimming pools, congestion levels can be checked at RISONARE Tomamu and RISONARE Yatsugatake.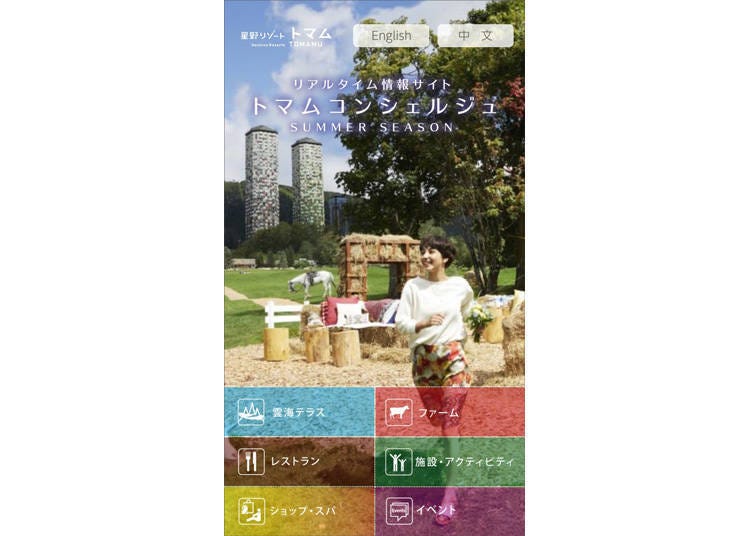 RISONARE Tomamu: Congestion Levels Shown on Website
●Activities

Hoshino Resorts offers a lot of activities you can do while avoiding the 3 Cs. Here is a sample of some.

At HOSHINOYA Fuji, there is a deep breathing exercise which is held on the deck in the woods. Held in the mornings, it gives your tired limbs a stretch and fills your lungs with the refreshing mountain air. At RISONARE Nasu, there is a Farmers Lesson in the fields and the greenhouse where you can help out on the farm work available such as vegetable and herb sowing and harvesting.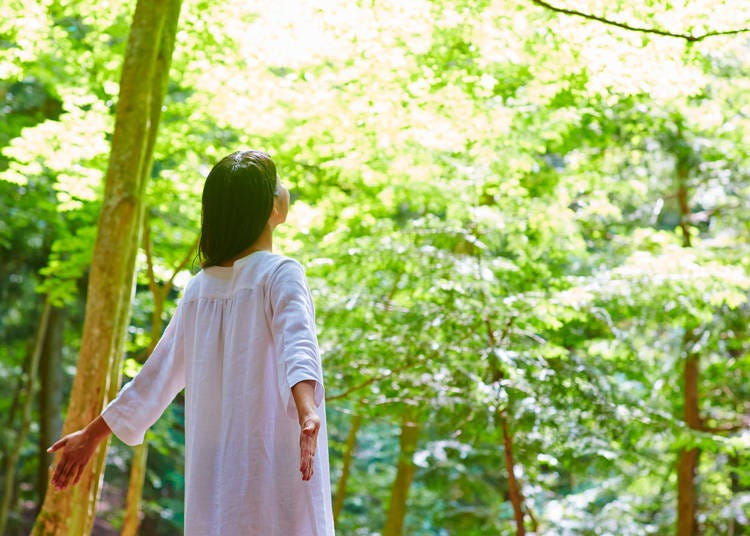 HOSHINOYA Fuji: Deep Breathing Activity
At RISONARE Tomamu, there are fluffy hay beds in the farm area to relax on and the summer scenery of Hokkaido can be enjoyed. KAI Sengokuhara inspires guests to explore their artistic side with drawing kits available in each guest room and artwork throughout the resort. Guests are also invited to join workshops.
Hoshino Resorts KAI Sengokuhara: Drawing Kit (Hot Spring Palette)
●Public Area

All seats are two meters apart in the public area of all facilities. Spaces between seats are secured by either taking seats away or putting signs on them. RISONARE Tomamu, RISONARE Yatsugatake, and RISONARE Atami have limited the number of people who can use the kid's room.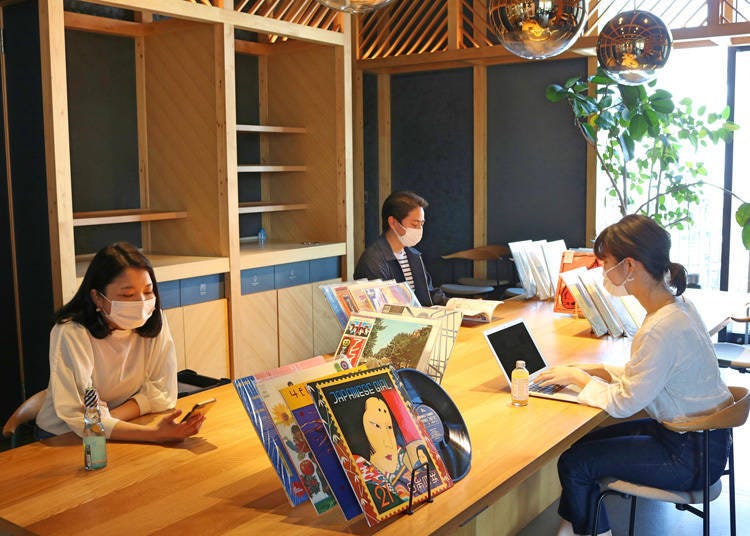 A scene at Hoshino Resorts OMO5 Tokyo Otsuka, where seating is available with extra spacing.
<@●Check-out b@>

Similar to check-in, access controls and automated check-in machines (fare adjustment machines at OMO5 Tokyo Otsuka, BEB only) are available for check-out.
Hoshino Resorts' Hygiene Management Measures
For hygiene management, guests' health and public sanitation have been taken into account and the following actions have been implemented.

■Temperature Checks at Check-in and International Travel History Confirmation

All guests who are staying are subject to temperature checks and cooperation in sharing their international travel history. People with a body temperature of 37.5 degrees celsius and over may not be able to stay, as per instruction from the health center.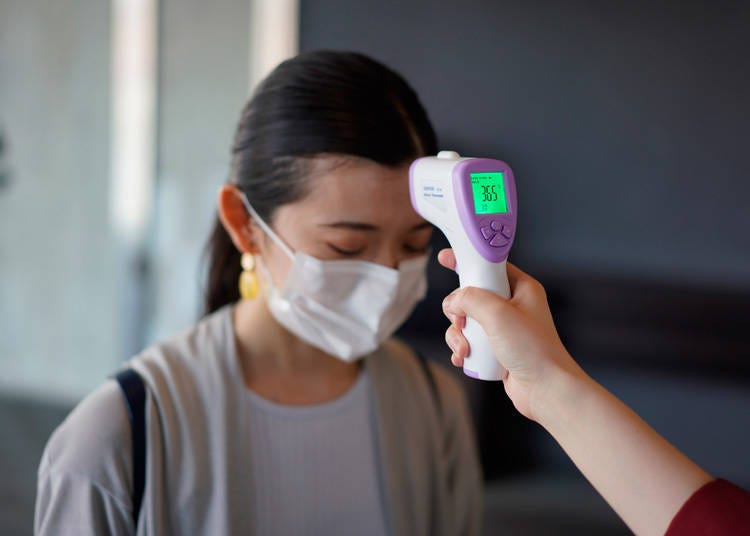 Temperature Check at Check-In
■In addition to the usual cleaning of guest rooms, alkaline electrolyzed water, an environment and human-friendly disinfectant, is used to wipe inside the hotel.

Common surfaces for hands to make contact with such as doorknobs, drawers, refrigerator handles, remote controllers, and switches etc., will be disinfected with alkaline electrolyzed water.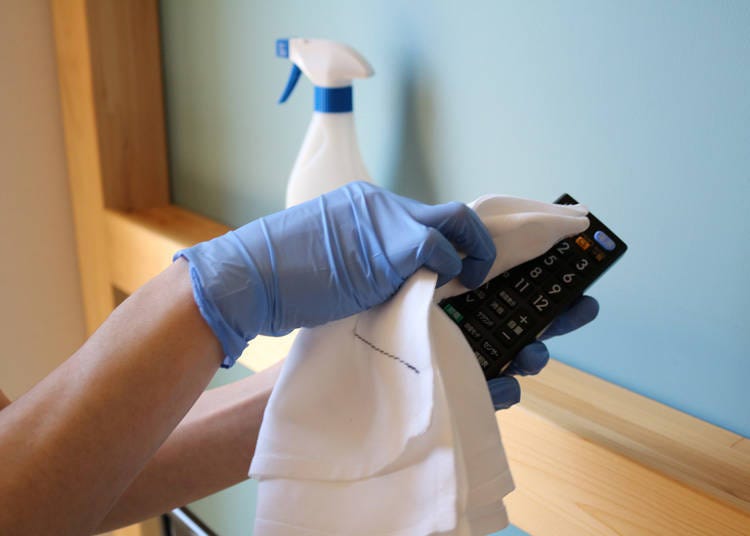 Cleaning Inside the Hotel
■Placement of alcohol disinfectant bottles inside the hotel

■Alcohol sterilization for all guests when entering the restaurant

■Tableware (plates, glasses) and cutlery washed under high temperature (80 degrees celsius and over), disinfection of meal trays

■Staff will wear masks while providing services inside the hotel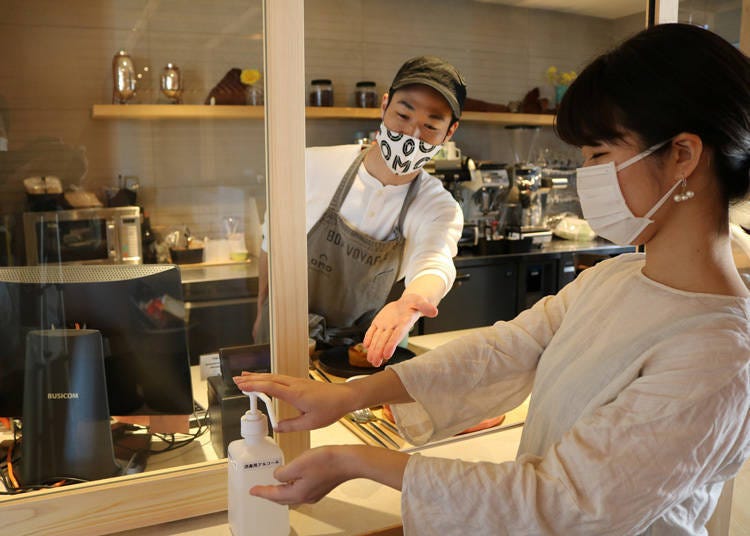 Mandatory alcohol sterilization and wearing of masks
■Staff members' thorough health and hygiene management (temperature check and documentation prior to starting work)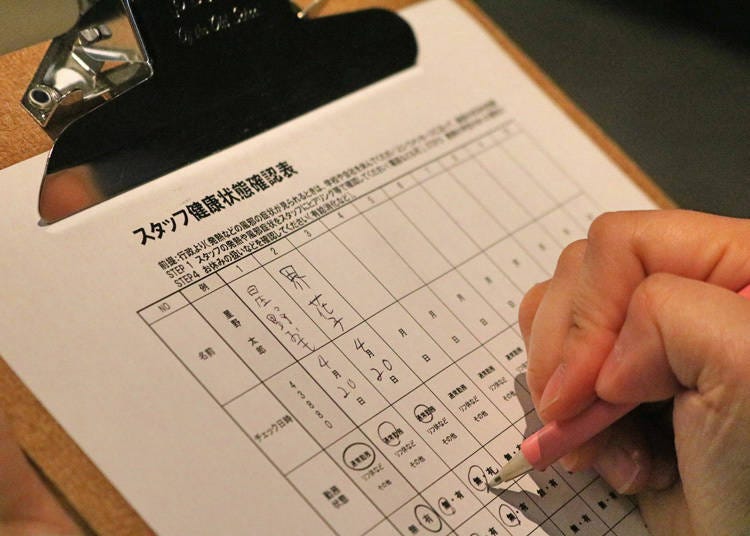 Staff Members' Thorough Health and Hygiene Management
At Hoshino Resorts, a summary of these countermeasures has been put together as a video.
In the Japanese tourism and travel industry, plans are being developed beginning with the 3 Cs avoidance countermeasures so you can travel with safety and comfort. At LIVE JAPAN, we will continue to introduce each companies' plans to address the coronavirus, and share more information for foreign travellers so that you can feel safe and enjoy traveling in Japan.
星のや東京

Address

1-9-1 Otemachi, Chiyoda-ku, Tokyo

Nearest Station

10 minutes from JR Tokyo Station, Marunouchi North Exit
2 minutes from Tokyo Metro Otemachi Station A1 or C2c Basement Exit


Guest rooms: 84 rooms
Opening hours: Check-in from 3:00 pm. Check-out until 12:00 pm.
Hoshino Resorts KAI Nikko

星野リゾート 界 日光

Address

2482-1 Chugushi, Nikko, Tochigi 321-1661

Phone Number

0570-073-011
Written by: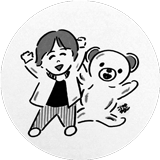 *This information is from the time of this article's publication.
*Prices and options mentioned are subject to change.
*Unless stated otherwise, all prices include tax.
Limited time offer: 10% discount coupons available now!