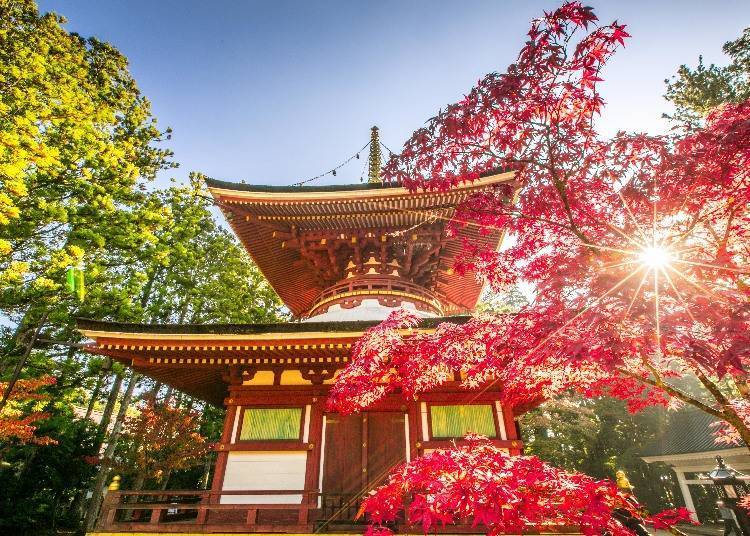 From October to November, you can enjoy Japanese maple, and ginkgo trees as the color of their leaves slowly start to transform into striking yellows and reds. What's more, these trees can often be seen around traditional tourist spots, including temples, shrines, traditional Japanese gardens, and even trains!

You won't want to miss out on this limited-time event. Enjoy stopping by the uniquely Japanese spots for fall foliage in Osaka, Hyogo, and Wakayama Prefecture with a camera in hand!

Image credit: Nankai Electric Railway Co., Ltd.
1. Mount Koya (Wakayama Prefecture): Admire fall leaves from a sacred site in the sky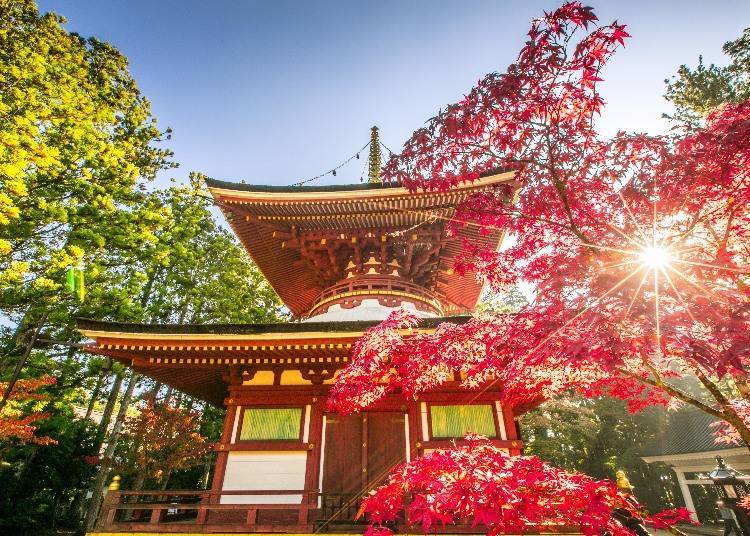 Image credit: Nankai Electric Railway Co., Ltd.
Located in the northern region of Wakayama Prefecture, Mount Koya looks like a basin compared to the range of 1,000-meter-tall mountains that surround it.

Around 1200 years ago, this mountain became a sacred site for Shingon Buddhism due to the many shrines established by the Japanese monk, Kukai (Kobo Daishi). Here you can find over 100 temples that offer beautiful scenery.

Also, because this low-altitude mountain is abundant in nature, it's the number-one famous spot in Wakayama Prefecture to view fall foliage.

Mount Koya is also a UNESCO World Heritage site, registered as Sacred Sites and Pilgrimage Routes in the Kii Mountain Range. What's more, it's also a popular spot among foreign guests, receiving three stars in Japan's travel guidebook-the Michelin Green Guide Japan.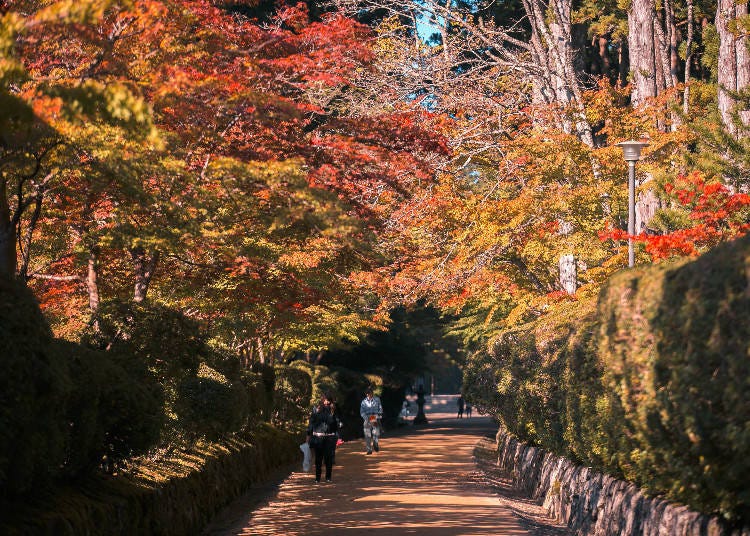 Image credit: Nankai Electric Railway Co., Ltd.
One of the best places to enjoy the foliage is when on Jabara-michi Road. This is the road you pass on your way from Kongobu-ji Temple to Dojo Garan - a complex built by Kukai that has many religious sites.

With temperatures on Mount Koya being slightly cooler than the lowlands, the best time to go see fall foliage is around late October to early November. You can let all your worries drift away as you enjoy the reds and yellows of maple and ginkgo leaves during your walk around impressive Buddhist buildings.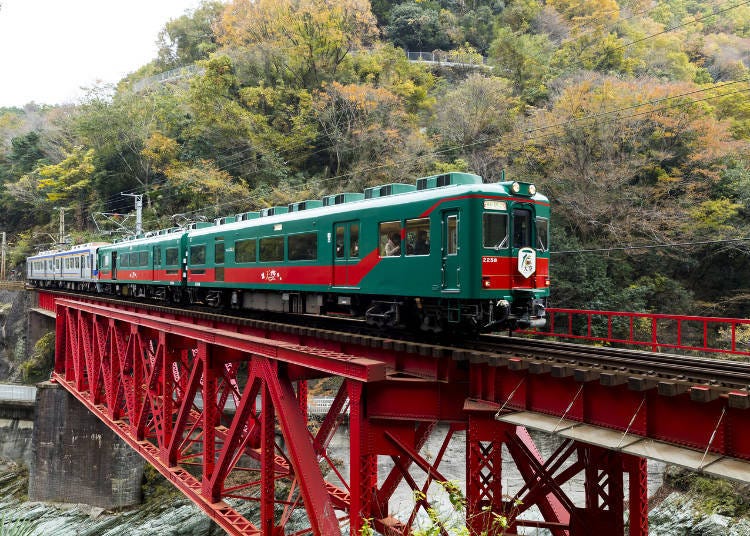 Image credit: Nankai Electric Railway Co., Ltd.
To get to Mount Koya from Osaka City, you can take an approximately 90-minute ride on the limited-express train running from Nankai Electric Railway's Namba Station. Once getting off a Gokurakubashi Station, you can transfer to the cable car until you're at Koyasan Station. From there, take either a bus or taxi to get to one of the many shrines scattered across the mountain.

Also, from Hashimoto Station to Gokurakubashi Station, the Nankai Electric Railway offers a sightseeing train called Tenku. Offering spectacular views of fall leaves from its large windows and observatory deck, a ride on this train is an experience you won't forget!
Address

132, Kouyasan, Kouya-cho, Ito-gun, Wakayama, 648-0294
View Map

Nearest Station

Koyasan Station (Nankai Koyasan Cable)
12 minutes by bus


Phone Number

0736-56-2011
2. Kanshinji Temple (Osaka Prefecture): A national treasure and fall leaves create a marvelous display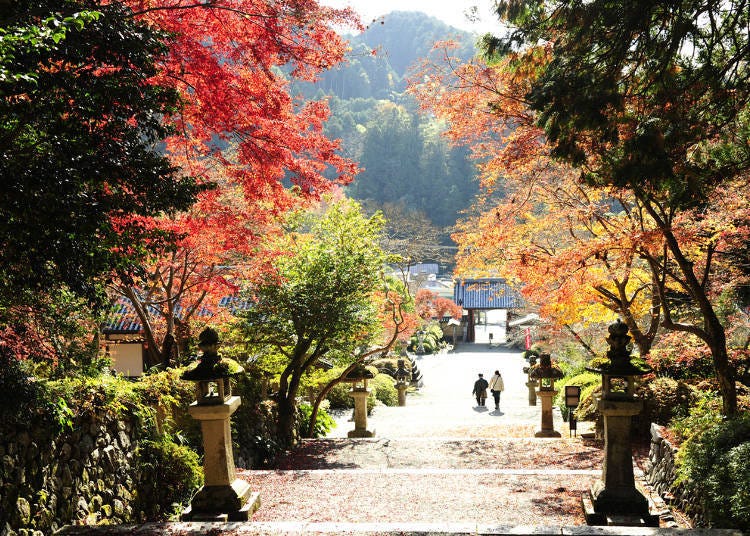 Image credit: Nankai Electric Railway Co., Ltd.
Kanshinji Temple borders on Osaka, Nara, and Wakayama Prefecture. In 701, this temple was established by En no Gyoja, a Japanese mystic who founded the mountain religion of Shugendo (the path of ascetic training).

A while later, in the year 815, it was rebuilt by Kukai as a dojo for Shingon Buddhism. Now it is known in the southern part of Osaka as one of the most popular spots to see fall leaves.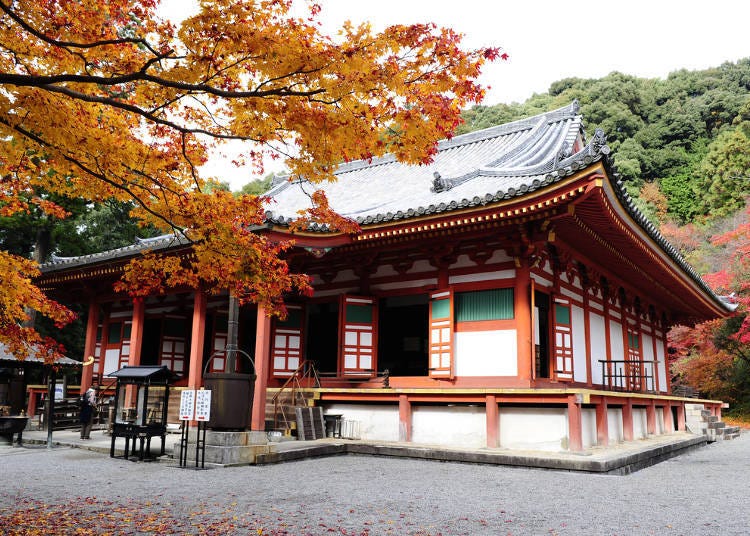 Image credit: Nankai Electric Railway Co., Ltd.
Once past the temple gate and up the stone steps, you will be greeted by a sweeping view of the Kondo (main hall), surrounded by bright red Japanese maple leaves. This main hall is the oldest building in Osaka to be designated as a national treasure.

The explosive combination of the vermilion-lacquered Kondo with the burning-red maple leaves is a sight so beautiful; you'll just have to take a picture! Be ready to lose track of time in this enchanting space.

Many important cultural assets are on the temple grounds, such as the Tatekaketo pagoda. Exuding somewhat of a solemn atmosphere, you can also find the graves of Kukai's apprentice, Jitsue; Emperor Go-Murakami (the 97th emperor of Japan); and the grave of Kusunoki Masashige, a celebrated military leader during the Kamakura period.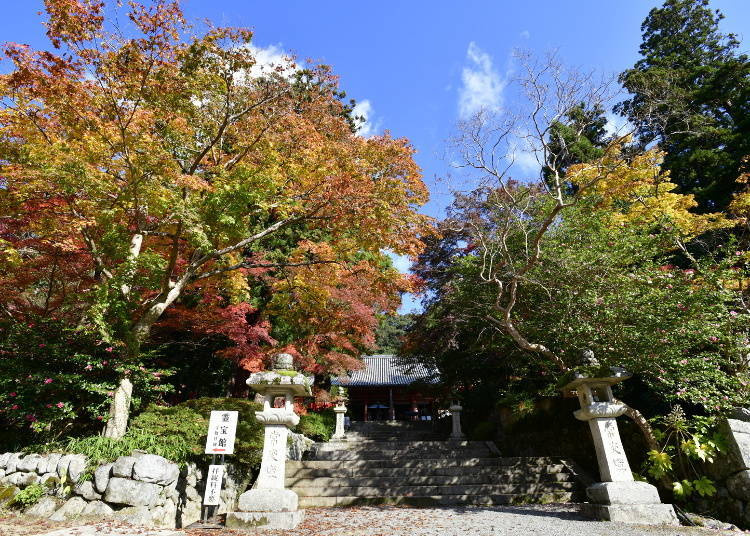 Image credit: Nankai Electric Railway Co., Ltd.
The best time to see the fall leaves at Kanshinji Temple is from early to late November. Many Japanese maple and ginkgo trees are throughout the temple grounds, so on a sunny day, you can enjoy the striking contrast of the brightly colored leaves with the clear blue sky.

The beautiful color gradients pop against the traditional scenery, making it look like something out of a painting. Here you can enjoy the charming views of Japanese fall to the fullest.

To get to the temple from Osaka City, you can take the Nankai Koya Line to Kawachinagano Station. From there, you can take the Nankai Bus bound for Kongosan Ropeway-Mae or Ishimigawa on the Kobuka Line or the bus bound for Kobukidai on the Kobukidai Danchi Line. After getting off at the Kanshinji bus stop, the temple is just a short walk away.
観心寺

Address

475 Teramoto, Kawachinagano, Osaka 〒586-0053

Phone Number

0721-62-2134

・Hours: 9:00 a.m. - 5:00 p.m.(last admissions are at 4:30 p.m.)
・Admission: Adults (300 yen), Elementary and Middle School Students (100 yen)
・Closed: Open daily
3. Daisen Park (Osaka Prefecture): A traditional Japanese garden with an exotic atmosphere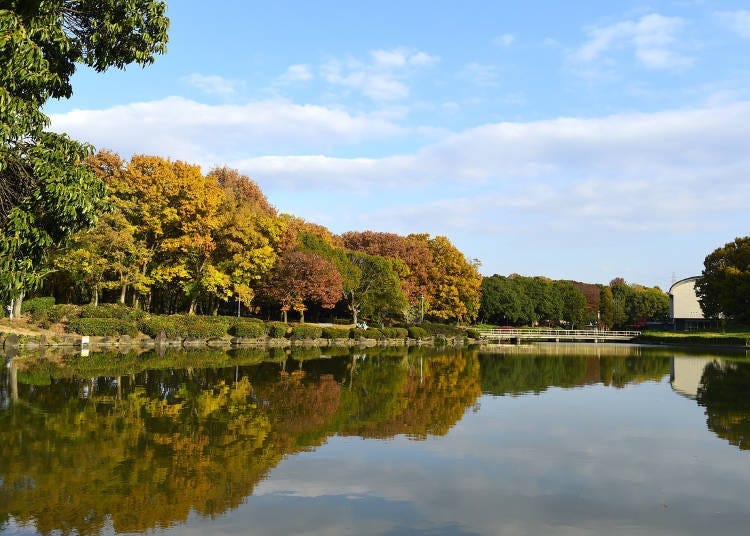 Image credit: Nankai Electric Railway Co., Ltd.
Daisen Park is registered as a UNESCO World Heritage site due to being part of the Mozu Tombs, a cluster of megalithic tombs found in Osaka's Sakai City.

This multi-purpose park is right beside the Tomb of Emperor Nintoku (Daisen Kofun). Also designated as one of Japan's top 100 historical parks, Daisen Park has a long and distinguished history. Here you can enjoy museums, teahouses, and more!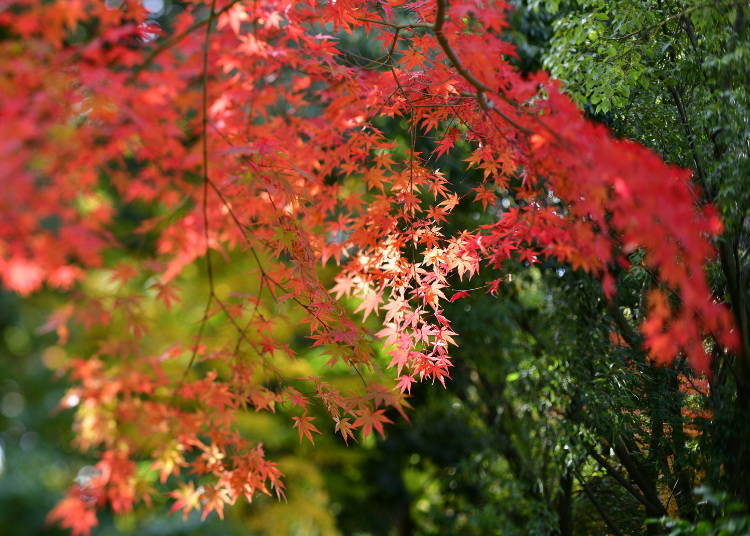 Image credit: Nankai Electric Railway Co., Ltd.
The park's traditional Japanese garden spans a vast 26,000 square meters. Offering exotic scenery, the circuit-style garden has a large pond in its center as well as a hill resembling China's beautiful Mount Lushan.

We recommend enjoying the view while relaxing with some matcha green tea (comes with namagashi, soft, unbaked Japanese sweets, for 450 yen).

The best time to see the fall leaves is from mid to late November. The sight of leaves sparkling on the garden's pond will take your breath away!

In addition to this, the garden is lit up at night, offering new and magical views different from those you experience during the day. Also, when heading from the park's north entrance towards the Heiwa-to, Tower of Peace, you can enjoy a colorful walkway lined with bright yellow ginkgo trees.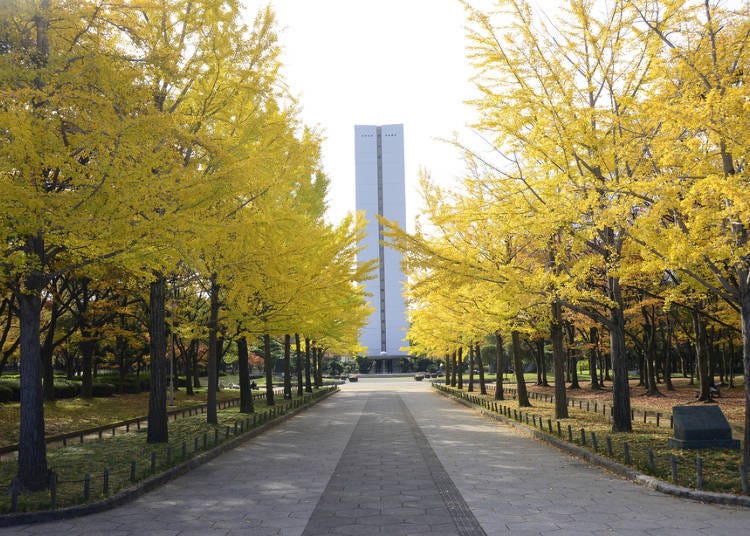 Image credit: Nankai Electric Railway Co., Ltd.
To get to Daisen Park's Japanese garden, take the Nankai Koya Line to Sakaihigashi Station. Then take the Nankai Bus's Denen Line until the Daisen Koen Nishi bus stop. From here, it's a five-minute walk to the park.
大仙公園

Address

Daisennakamachi, Sakai-ku, Sakai, Osaka 〒590-0801

Phone Number

072-247-3670

・Hours: 9:00 a.m. - 5:00 p.m. (March to November), 9:30 a.m. - 4:30 p.m. (December to February)/Last entry into the park is 30 minutes before closing.
・Admission: Adults (200 yen), Children (Elementary and Middle School Student, 100 yen)
・Closed: Every Monday (In the case that a holiday falls on a Monday, the park will be closed the following day.), New Year's holiday
4. Wakayama Castle and Momijidani Teien Garden (Wakayama Prefecture): A famous castle decorated with Japanese maple leaves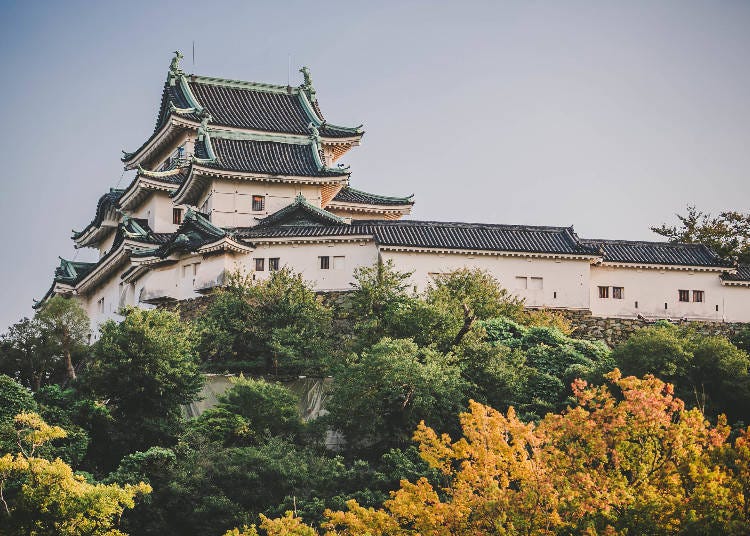 Image credit: Nankai Electric Railway Co., Ltd.
Wakayama Castle was built by Toyotomi Hidenaga under the order of his older brother and famous military leader who united Japan, Toyotomi Hideyoshi. Construction was overseen by the famous castle designer, Todo Takatora. Once you go up the white three-story tower, you will be greeted by an incredible panoramic view of Wakayama City!

The best spot to view the fall leaves is in Nishinomaru Garden, otherwise known as Momijidani Teien Garden. With momiji being the name for Japanese maples, the garden offers its most beautiful scenery in the fall.

Built during the Edo period, this is a circuit-style garden where you walk around the large pond to enjoy. Also, you can find the castle tower on Torafusuyama hill. Here, stones decorate the slanting sides of the hill, exposing a unique view of a wild garden not regularly associated with the traditional Japanese style.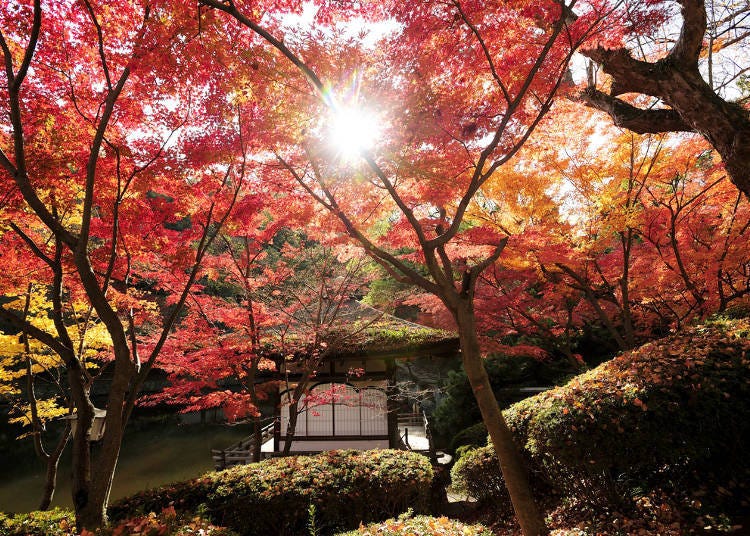 Image credit: Nankai Electric Railway Co., Ltd.
The best time to see the fall leaves are from late November to early December. An especially breathtaking sight is the engyokaku, a pavilion that floats in the middle of the garden's pond.

This is an amazing photo spot where you can experience Japanese wabi sabi - the concept of finding beauty in imperfections. Entry into the garden is free, and to enjoy the view from the teahouse Koshoan, you can order the matcha tea set (comes with Japanese sweets, 470 yen).

Additionally, a free zoo as well as Ometenashi Ninjas - ninja guides to help you around the castle can be found on the castle's grounds. Taking a picture with a ninja guide that shows the castle in the background is sure to become a cherished memory! Except for busy periods, you will see ninjas popping up Wednesdays through Sundays. Consider yourself lucky if you meet one on the vast grounds!

To get to Wakayama Castle, take the Nankai Electric Railway to Wakayamashi Station. From here, you can walk for ten minutes or take the Wakayama Bus until the Shiyakusho Mae bus stop.
Wakayama Castle - Momijidani Teien Garden

和歌山城・紅葉渓庭園

Address

3 Ichibancho, Wakayama, Wakayama 〒640-8146

TEL: 073-435-1044 (Wakayama Castle Maintenance Planning Division)
Hours: 9:00 a.m.~5:00 p.m. (Momijidani Teien Garden)
Admission: Free
Closed: December 29th through December 31st
5. Futatabi Park (Hyogo Prefecture): Enjoy the Combination of Pine Trees and Fall Leaves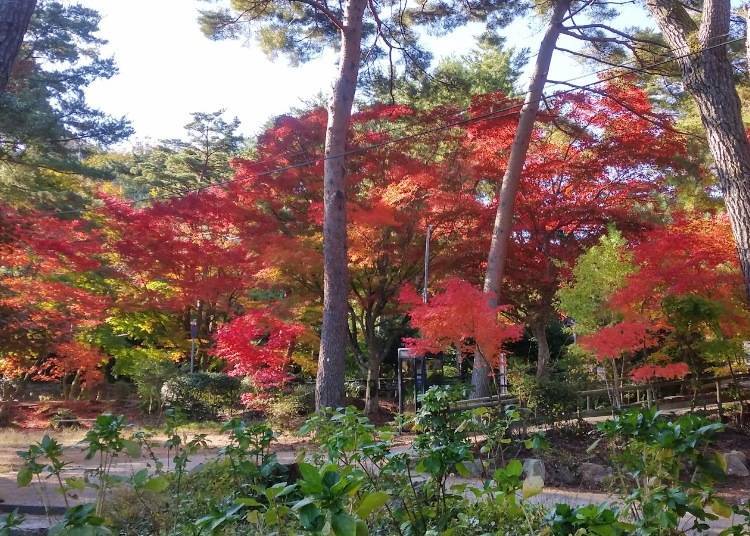 Image credit: Kobe City Transportation Bureau
Located in Hyogo Prefecture's Kobe City, Futatabi Park can be found mid-slope of Mount Rokko. In the center of this natural park, you can find the man-made Shiogahara Pond.

Since it's close to the city and can be easily accessed, the park attracts many hikers throughout the year. Here you can also find many Japanese maple and oak trees, making it a popular destination to view beautiful fall leaves.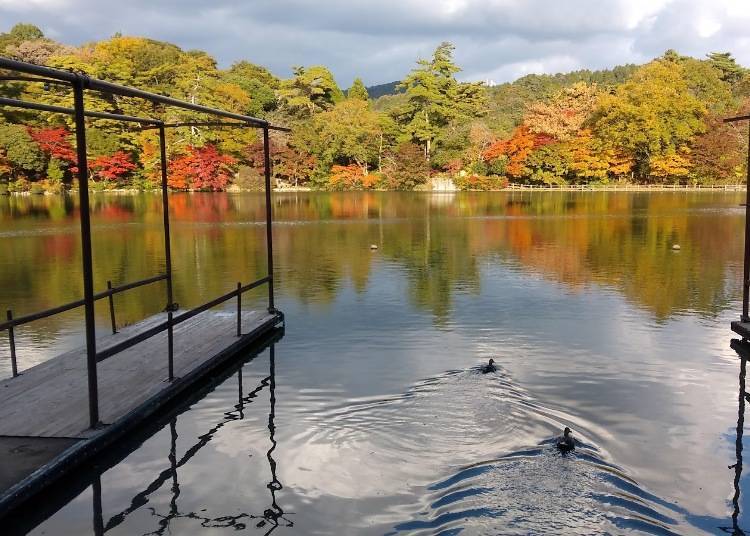 Image credit: Kobe City Transportation Bureau
The best time to see the fall leaves is from mid-November to early December. Around Shiogahara Pond, you can also find pines over 100 years old. This allows you to enjoy the uniquely Japanese mix of pine trees and trees with fall foliage.

There is also a promenade going around the pond, giving you a closer look at the colorful scenery reflected in the water. The reds and yellows you see will leave you feeling refreshed.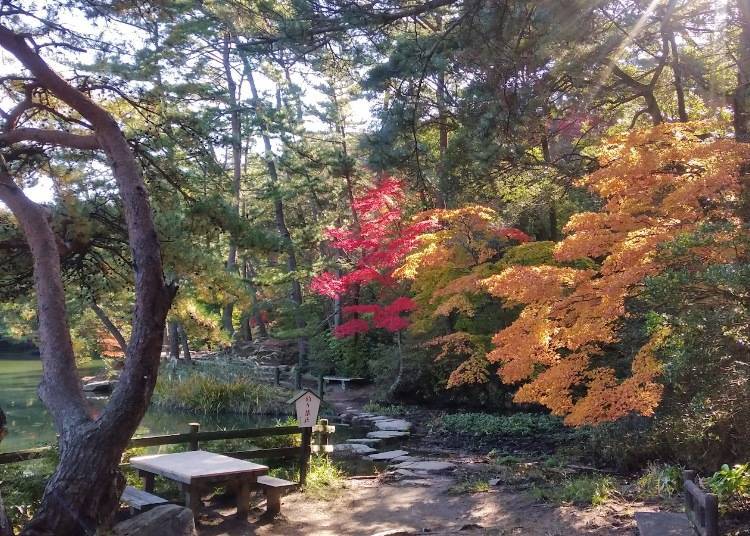 Image credit: Kobe City Transportation Bureau
The Shiogahara area, where Shiogahara Pond is located, is also well-known for where Kukai conducted his religious practices. Before traveling to the Tang Empire in China, he prayed in Shiogahara, and upon his return, he went to the same spot to give a prayer of thanks. It is said that the park was named futatabi ('once again') after this act.

What's more, there is a foreign cemetery in the park. Here you can find the graves of the famous chocolatier, Fedor Dimitrich Morozoff, and J. C. Wilkinson, the founder of the carbonated water brand Wilkinson, among many others.

Generally, entry is denied to the general public, but every 4th Sunday during the periods of April to November, you can take part in a graveyard tour. With reservations required, a guide will take you around the grounds. There's also a free viewing deck that gives you an entire view of the graveyard. We recommend you stop by!

To get to Futatabi Park, take the Kobe City Bus No.25 bound for the Kobe Municipal Arboretum (Kobe City Forest Botanical Garden) from Sannomiya Bus Terminal. Once you get off at the Futatabi Park bus stop, it's just a short walk away. Please keep in mind that the buses only operate on weekends and holidays from late March until November.
再度公園

Address

Yamadachoshimotanigami, Kita-ku, Kobe, Hyogo 651-1102

・TEL: 078-333-3330 (Kobe City General Call Center)
・Hours: Open for entry at any time
・Admission: Free
・Closed: Open daily
Once you step a little outside of the city, the Kansai region offers an abundance in nature. Here you can find spots to enjoy the fall leaves and castles, temples, and other historical monuments!

Traditional Japanese architecture enhances the beauty of fall foliage, creating opportunities to take fantastic photos. Remember your trip forever by taking a photo you absolutely love!

Text by: Shigemi Niki

*The information found in this article is from October 2021. For updated information, please refer to the respective official websites.
*This information is from the time of this article's publication.
*Prices and options mentioned are subject to change.
*Unless stated otherwise, all prices include tax.
Limited time offer: 10% discount coupons available now!