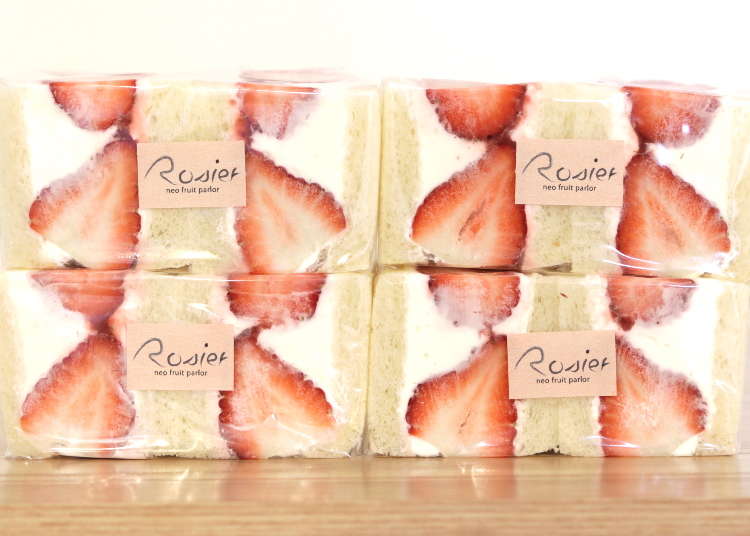 A lot of Japanese fruit has been specifically bred to be the perfect amount of sweetness, and that's one of the reasons why fruit picking as a tourist activity is becoming more and more popular.

Brands such as Tochiotome and Amaou are exceptional, and they produce unforgettably mouthwatering strawberries that you've got to eat to believe it. Many of them find their way into unique desserts, like the famous Japanese strawberry sandwich!

So, here are three carefully selected Osaka shops where you can eat sweets that feature those amazing Japanese-brand strawberries. Don't miss them, because you'll regret it later!
The taste of Japanese strawberries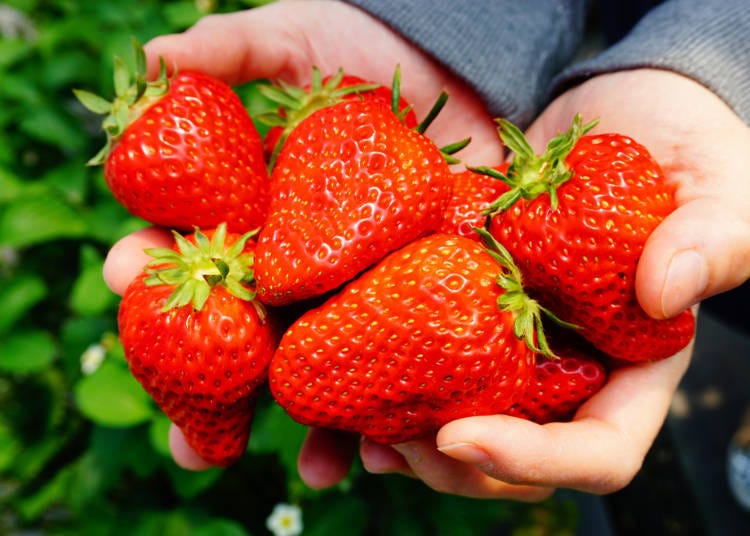 Japanese strawberries are characterized by their high sugar content. This requires careful cultivation and a long growing period, so some varieties cost thousands of yen per pack.

Here are three produced in Kansai:

■ Asuka Ruby
Produced in Nara Prefecture, Asuka Ruby strawberries are characterized by large fruits with an appetizing bright red appearance. Overflowing with juice they are sweet with moderate acidity.

■ Marihime
From Wakayama Prefecture, Marihime strawberries have a rich, tart flavor. Firm and crunchy, they pair excellently with condensed milk or cream.

■ Yume Amaka
Hyogo Prefecture's Yume Amaka variety is called the "phantom strawberry" due to its rarity. Both fragrant and sweet, they are not readily available in the market, so if you really want to try them, picking them on site is the best option.

The Japanese strawberry season is from December to spring and desserts featuring well-known strawberry brands are readily available at cafes and fruit parlors.
1. Torkuchen's bouquet-like strawberry parfait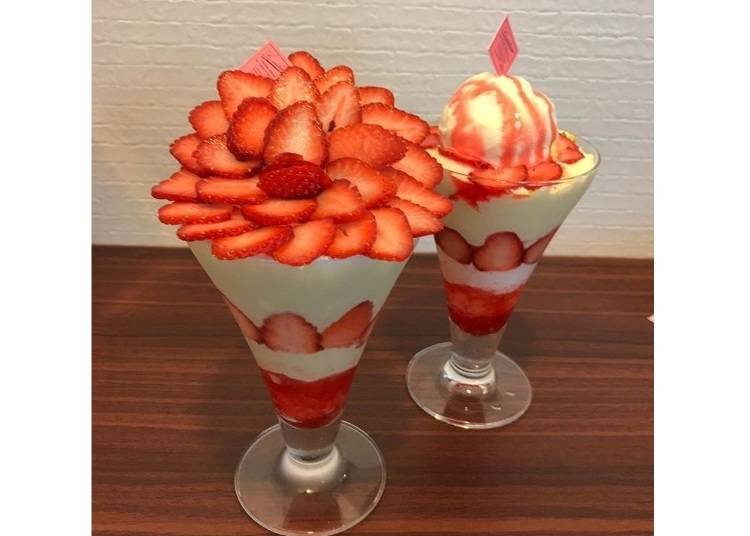 Just a five-minute walk from JR Osaka Station, Torkuchen Patisserie offers a special parfait menu available only during strawberry season.

Torkuchen has six different parfaits, all of which are photo-worthy with their bright red strawberries. Due to their extreme popularity, the parfaits often sell out, so orders can be made via phone or online(https://ssl.xaas3.jp/s0572017/login/inquiryedit ).
The recommended "Strawberry and Pistachio Flower Parfait" (1,490 yen excluding tax), is decorated with seasonal strawberries like the Sachinoka variety from Wakayama Prefecture. This beautiful arrangement of fresh strawberries made us drool just looking at it!

Strawberry jelly, pistachio cream, strawberry slices, maple chiffon, almond slices, and yogurt are layered on top of vanilla ice cream. The fragrance of pistachios, the fresh strawberries, the sour yogurt, and the light sweetness of the maple chiffon combine to make every bite irresistible. Torkuchen's strawberry parfaits are sold from November to May every year.
Shortcakes made with other Japanese fruits are also popular. Fruit tarts with a crisp crust topped with strawberries or muscat grapes have the perfect match of buttery aroma and fruity freshness.
パティスリー トルクーヘン

Address

1-14-4 Shiginonishi, Joto-ku, Osaka 536-0014

Phone Number

06-7172-0443

Hours: 11:00 - 19:00 (last order 18:30), closed Wednesdays
2. The balanced flavors of Rosier's strawberry sandwich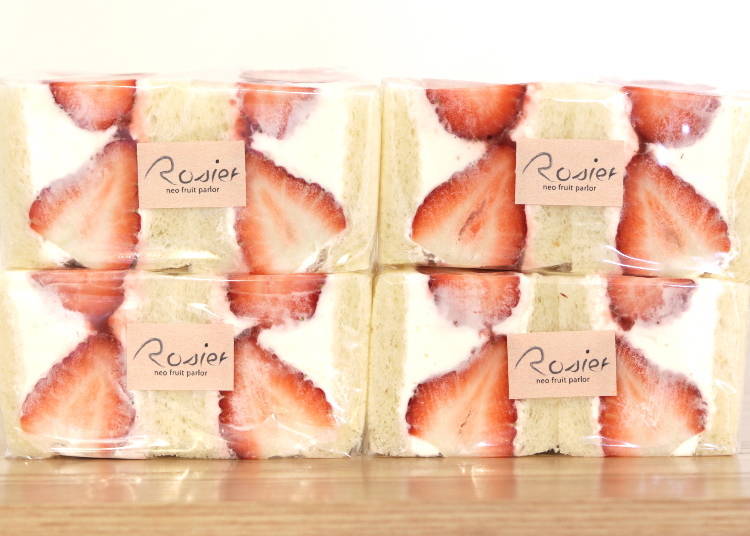 Take the express train from Nankai Namba Station and get off at Sakaihigashi Station - the third stop. Walk about ten minutes west and you'll come to Rosier, a fruit parlor owned by true fruit lovers. Desserts featuring many kinds of fruit are on sale, but one of the most popular is the "Japanese Strawberry Sandwich" (500 yen, excluding tax), available only during strawberry season.

The Japanese Strawberry Sandwich is made using the variety of domestic strawberries that are considered to be the most delicious at the time of production like Tokushima Prefecture's Sachinoka variety.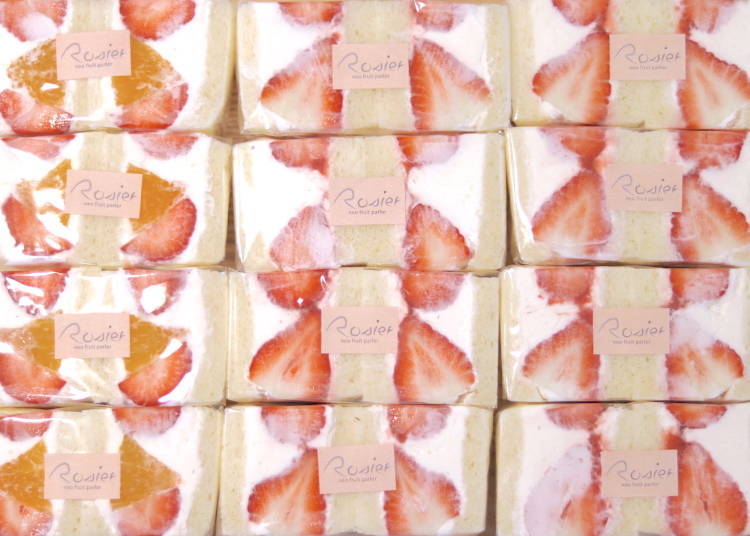 The Japanese strawberry sandwich filling is a combination of fresh cream and yogurt, and the slightly salty bread serves to enhance the strawberries' sweetness. It's an exquisitely refreshing taste that's unforgettable!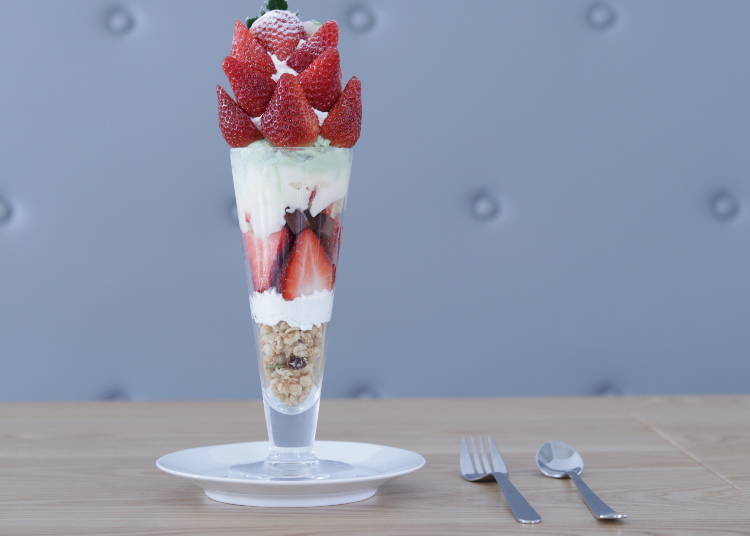 Rosier's "Strawberry Parfait" (1,500 yen, excluding tax) is also excellent and is made using an entire pack of sweet, juicy strawberries! This easy-to-eat dessert also features pistachio ice cream, pudding, fresh chocolate, fresh cream, and granola.
ロジエ

Address

5-1-15 Ichinochohigashi, Sakai-ku, Sakai Osaka 590-0952

Phone Number

072-248-6033

Hours: 11:00 - 19:00 (last order 18:30), closes at 18:00 (last order 17:30) on Sundays and holidays, closed Tuesdays and the 1st Monday of each month
3. The amazing texture and juiciness of Shochikudo's fruit mochi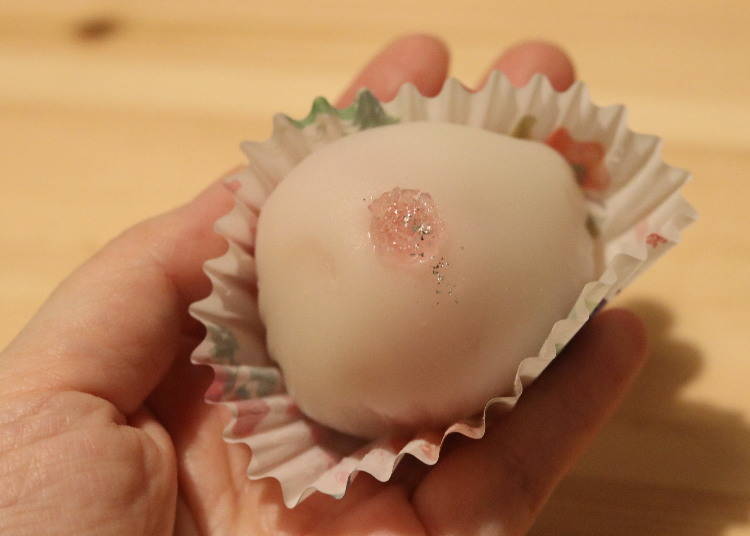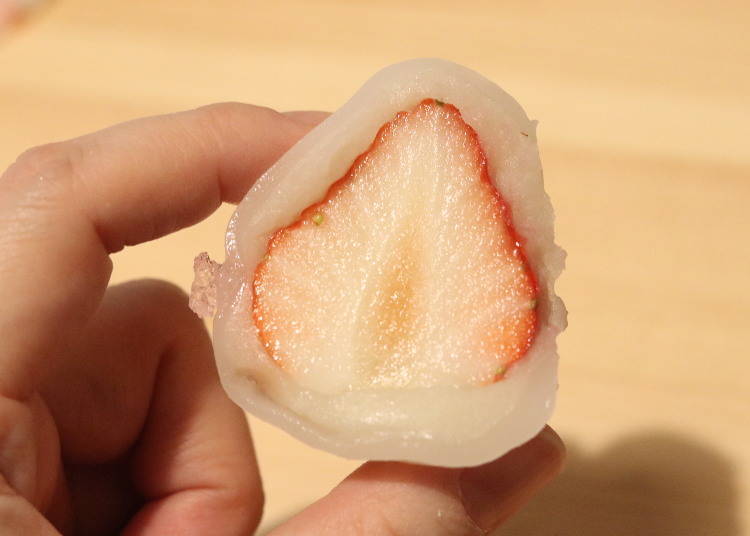 From Hankyu Osaka Umeda Station, ride the Hankyu Senri Line for about 25 minutes and get off at Yamada Station. After a 30-minute walk to the southeast, you'll arrive at Shochikudo. While not easily accessible, this popular Japanese sweet shop is still crowded with customers.

The shop's specialty is "fruit mochi," made by wrapping fresh fruit from around the world and white bean paste in soft rice cake for both an outstanding taste and appearance.

"Fruit Mochi Ichigo" (270 yen, excluding tax) is available from December through spring. Using Japanese strawberries such as the "Kotoka" variety from Nara (the production area and varieties used change depending on the season), the first bite overflows with juice.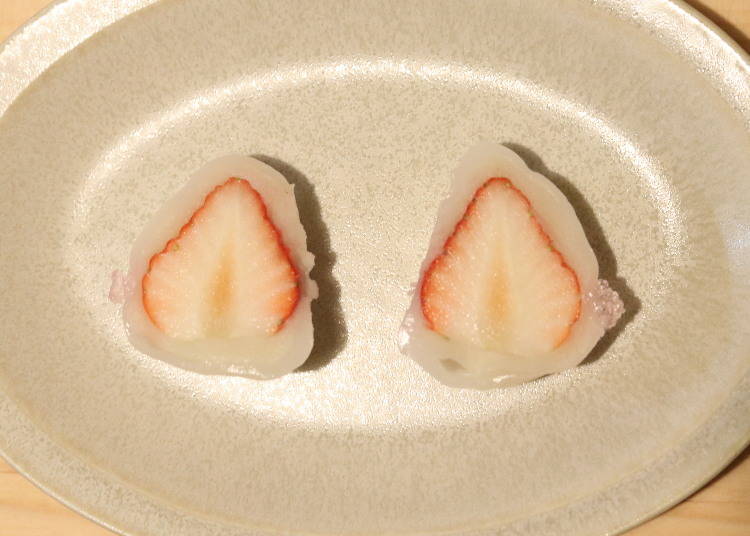 The outer mochi (rice cake) is very thin and soft enough to melt in your mouth, while the moderately sweet white bean paste enhances the flavor of the strawberries. When eating this dessert, you'll first experience the sweetness of the strawberry, then the gentle white bean flavor, and finally the mochi's elegant finish. You're sure to want more than one of these delicious Japanese sweets!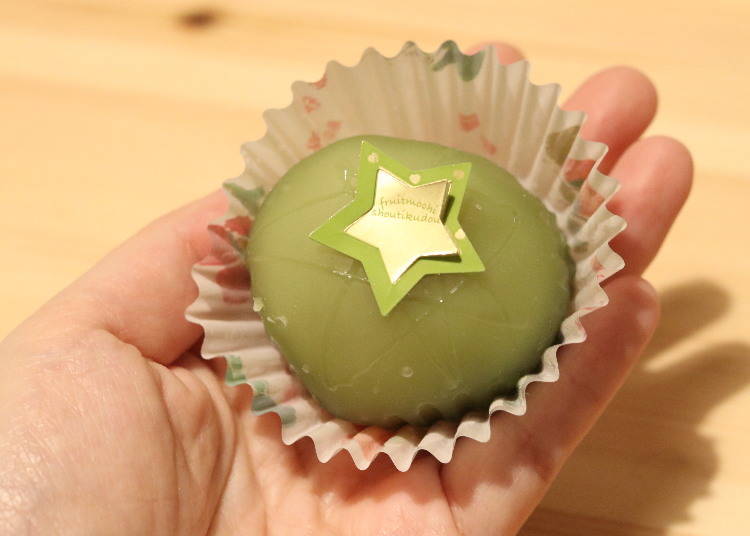 Fruit mochi melon (270 yen, excluding tax)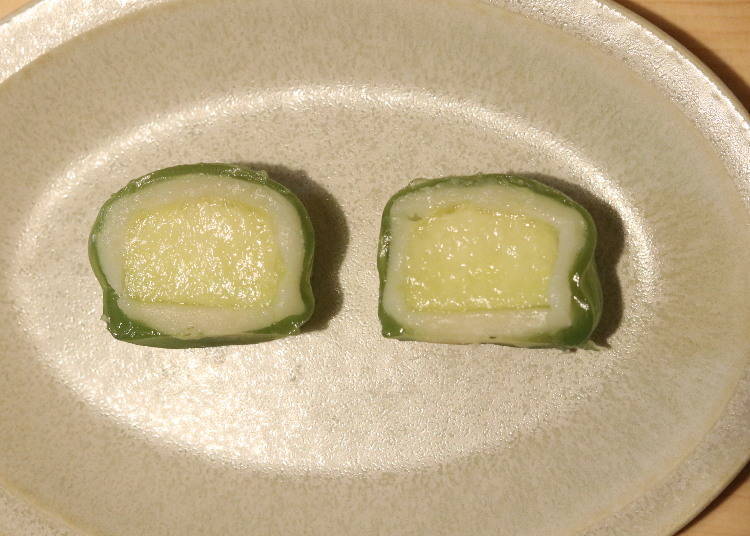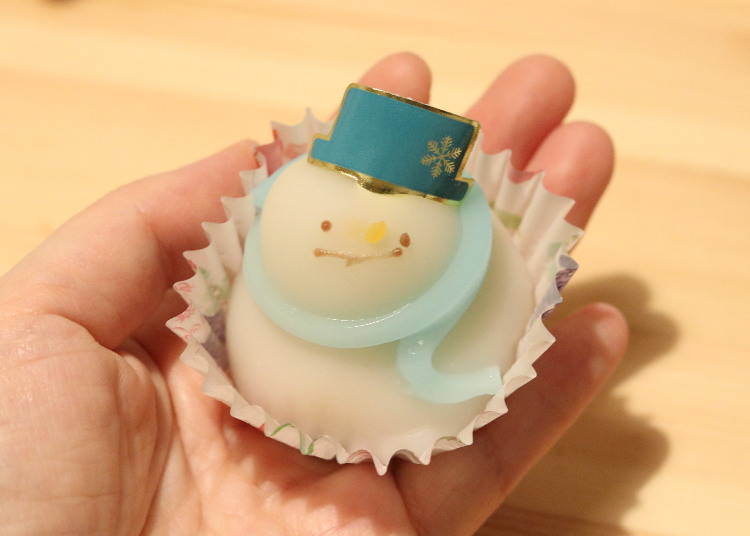 Fruit mochi snowman (300 yen, excluding tax)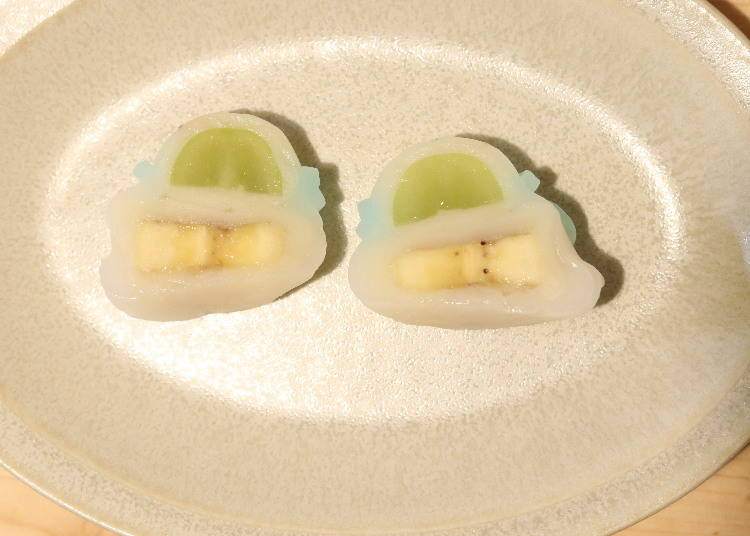 Shochikudo also has six other types of fruit mochi, including melon and a fun snowman-shaped version that features slices of banana and muscat grape.

If getting to the main Shochikudo shop is too difficult, a set of six fruit mochi is available on Tuesdays in the first basement floor of Osaka's Takashimaya department store directly connected to Nankai Namba Station.
松竹堂

Address

2-36-2 Yamadahigashi, Suita, Osaka 565-0821

Phone Number

06-6877-1125

Hours: 10:00 - 19:00, closed Wednesdays
Enjoy the special strawberry sweets of Osaka!
These three sweet shops produce desserts that are not only aesthetically pleasing, but their parfaits, Japanese strawberry sandwiches, and rice cakes have a flavor like no other.

While two of the shops are a bit far from typical sightseeing spots in Umeda and Namba, they're worth visiting if you're in Osaka during the December through June strawberry season!

Text by:WESTPLAN
*This information is from the time of this article's publication.
*Prices and options mentioned are subject to change.
*Unless stated otherwise, all prices include tax.