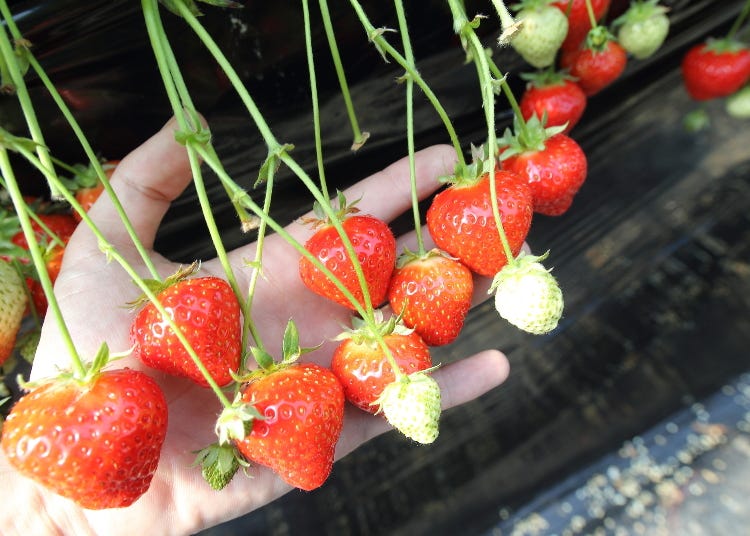 Plump, juicy Japanese strawberries are one of the hallmarks of a springtime harvest. And in Japan, there are a number of places where you can pick and eat fresh strawberries in Tokyo on your own!

Some strawberry farms around Tokyo let you pick and eat them on the spot, while others let you pick strawberries to take home as a souvenir. Strawberry picking is a fun experience for adults and children alike, and one of Japan's most popular springtime events!

Japanese strawberries come in many varieties. Tochiotome, Akihime, and Toyonoka are just a few of these. There are also a number of local varieties such as Chiba Prefecture's Fusa-no-kaori, Shizuoka Prefecture's Beni-hoppe, Gunma Prefecture's Yayoi-hime, and Nara Prefecture's Asuka Ruby.

We will introduce several strawberry farms that you can easily visit from Tokyo and the surrounding suburbs, and tips to help you make the most of your strawberry picking experience.

Main image: PIXTA
When is Strawberry Picking Season in Japan?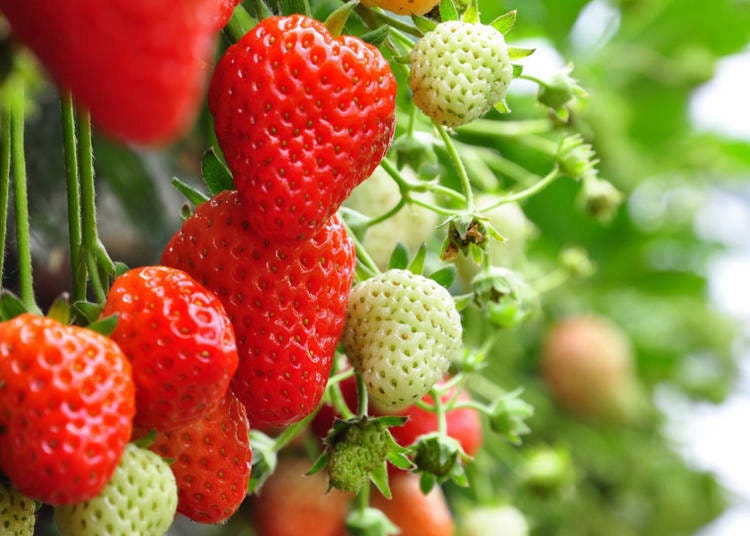 The best season for picking strawberries varies depending on region and cultivation method, but generally lasts from January to early May. Many people enjoy strawberry picking during Golden Week, a week of consecutive Japanese holidays from late April to early May.

Greenhouse cultivation: Some greenhouses begin growing indoors in December. However, the strawberry season can be delayed in colder regions. Some places in Nagano Prefecture offer strawberry picking until the end of June!

Outdoor cultivation: In snowy mountain areas, many farmers grow their strawberries in the open fields. Outdoor strawberry picking is especially popular in Hokkaido, although the season is a little shorter, lasting from late June to late July.
What You Should Know Before Picking Strawberries in Japan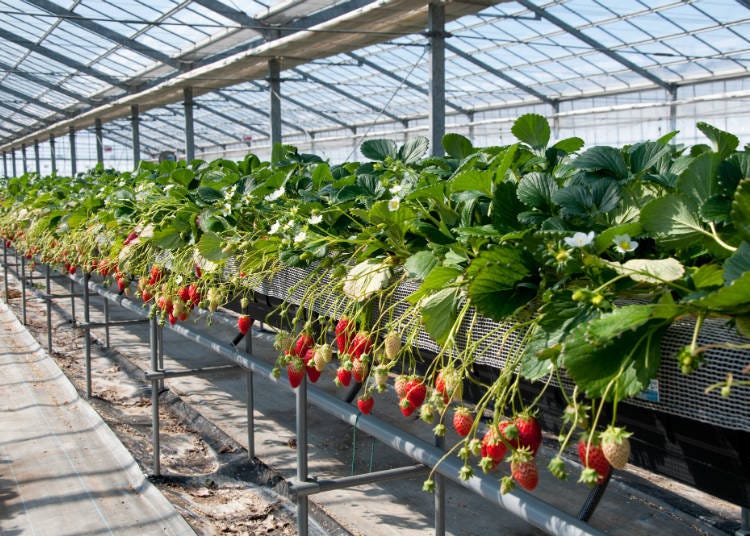 Strawberry picking is a popular springtime tradition in Japan. From December to early May, you can enjoy all-you-can-pick and all-you-can-eat strawberries at farms all over the country.

The rules and methods of strawberry picking vary from farm to farm. Some farms let you fill a container with as many strawberries as possible to take home for later. Others let you pick and eat as many as you like on the spot within a set time limit. Be sure to check the rules of each farm before you visit.

Don't take more strawberries home than you're allowed, don't pick strawberries that you shouldn't pick, and don't pick any more than you can eat so that you end up throwing them away.
How to Identify Delicious Strawberries for Picking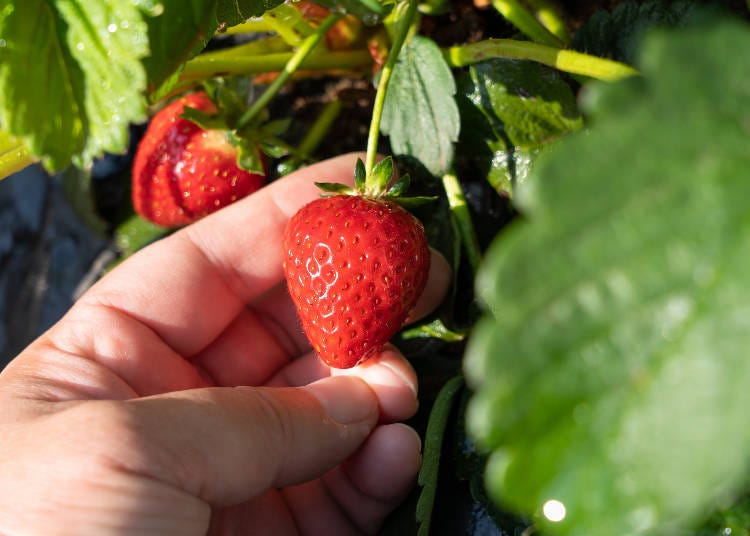 (Image: PIXTA)
Here are some tricks to help you identify the most delicious strawberries. Use the following as a guide when going strawberry picking in Japan.

・Start from the back of the farm: Most people start picking around the entrance. If you can, try to start from the back! Note that some farms may set designated locations from which you can harvest your berries. If that's the case, be sure to stay within that range.

・Aim for hard-to-reach spots: Strawberries may be hidden toward the back, between branches, and behind poles. Try to gather some of these harder-to-reach berries - but be careful not to damage any strawberries in the front!

・Focus on color rather than size: Small, red strawberries tend to be sweeter and tastier than larger, unripe strawberries.

・Look for red strawberries with cracks near the calyx: Don't let its appearance fool you. This is a sign of ripeness! Scratched strawberries generally cannot be shipped, so take advantage of having access to these sweet, ripe strawberries yourself! (Note that depending on variety, some may crack due to reasons other than ripening.)

・Look for malformed strawberries: Most people go for the prettiest, perfectly-shaped strawberries. But just because a strawberry's shape is a little odd doesn't mean it's not delicious! Don't judge a berry by its shape - feel free to adopt any abnormally-shaped strawberries that others have left behind.
Picking Strawberries in Japan Perfectly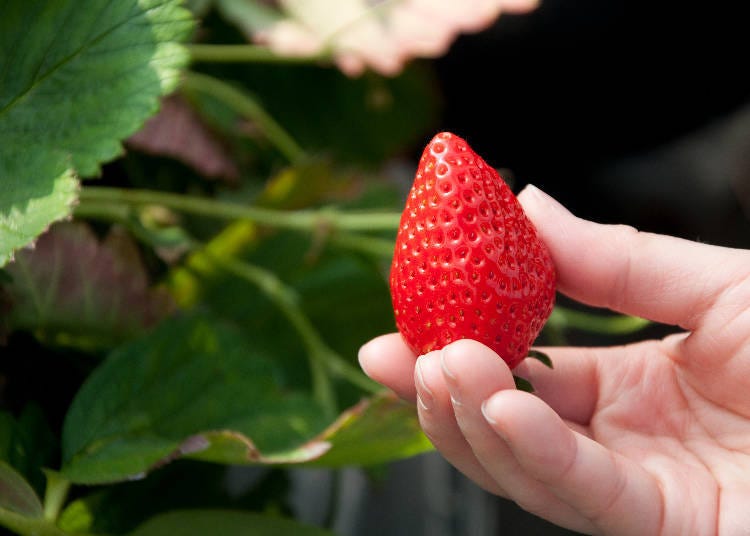 Strawberry stalks are thin, so it's easy to accidentally damage the fruit or stems when picking. Here are some tips to help you pick your strawberries with care.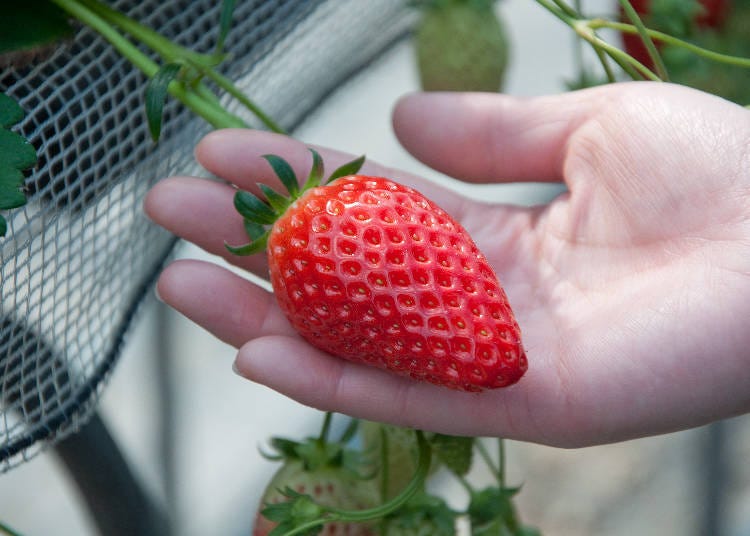 Step 1: Grasp strawberry stalk with your index and middle fingers as close to the actual fruit as possible.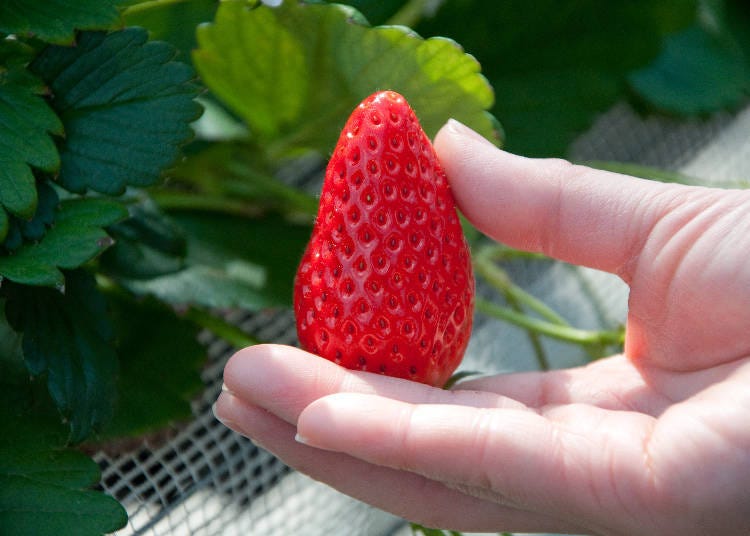 Step 2: Slowly turn the strawberry upwards, and pinch the fruit with your thumb. Be careful not to apply too much force, or you may accidentally crush the strawberry.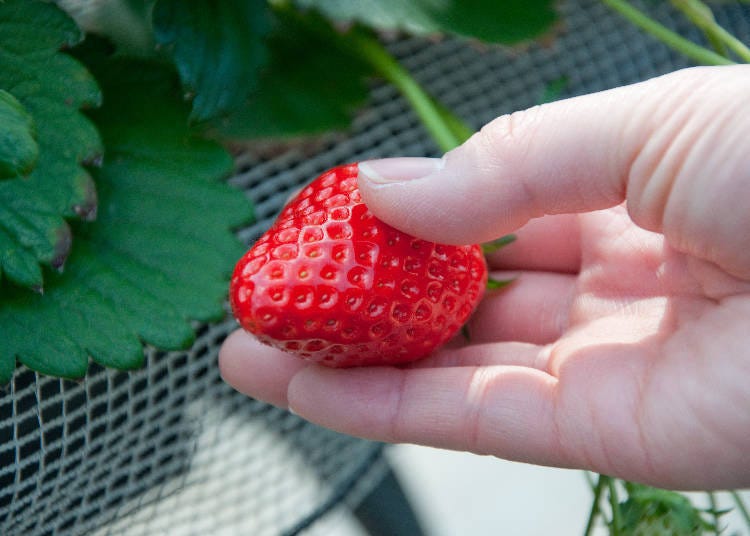 Step 3: Push the strawberry lightly with your thumb. Move your fingers holding the stem back and forth to loosen it and pick the berry off.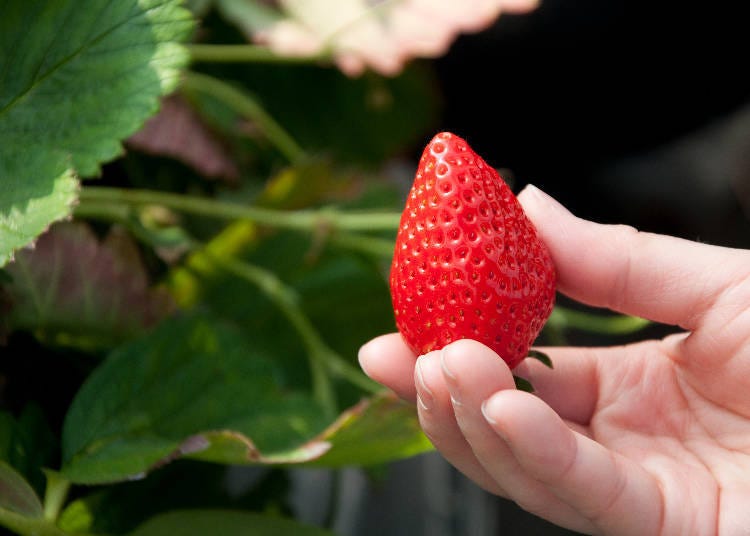 If the stalk of the strawberry you want is too thick to pick with the above method, hold the strawberry with one hand and the stalk with the other.

Be careful not to squeeze the strawberry. If you pull a berry off without supporting the stem, you risk damaging the other berries and stems.

Please be considerate of the hard efforts the farmers have taken to grow these plants, and take care not to cause any damage.
How to Eat Your Strawberries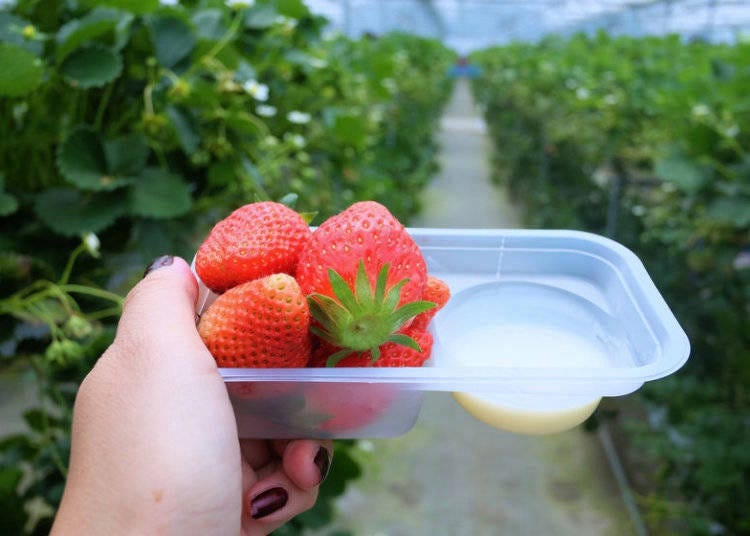 Strawberries are generally sweet at the tip, becoming sour toward the calyx. We recommend starting from the calyx and eating toward the tip.

Saving the sweet part for last lets you taste the strawberries in their best possible form. Of course, you can also start from the tip and enjoy the acidity at the end.

Some farms also offer condensed milk that you can enjoy with your strawberries - a popular combination in Japan!
5 Recommended Strawberry Picking Farms in Tokyo & Suburbs
While you can go strawberry picking just about anywhere in Japan, the best season to do so varies by climate and cultivation environment. Generally, the earliest you can eat strawberries is from January to February in the south, while in northern areas like Hokkaido, you can eat them until July.

Here are some recommended strawberry picking spots in Tokyo and its suburbs.
1. Kawatsura Strawberry Farm (Chiba Prefecture)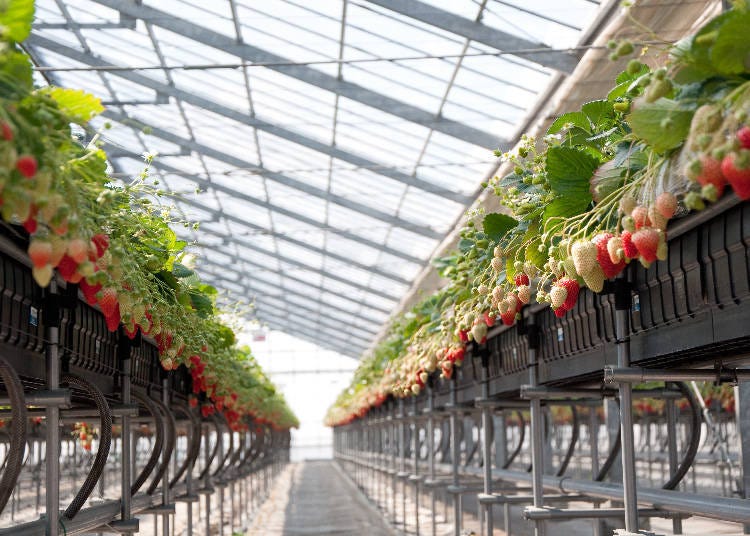 Kawatsura Strawberry Farm is located in Tokyo's neighboring Chiba Prefecture, about an hour and a half away from the city center.

Kawatsura Farm employs various strawberry cultivation methods that grow and propagate seedlings freely and with little human interference, thanks to pollination by honeybees. This is believed to give it an exceptional taste!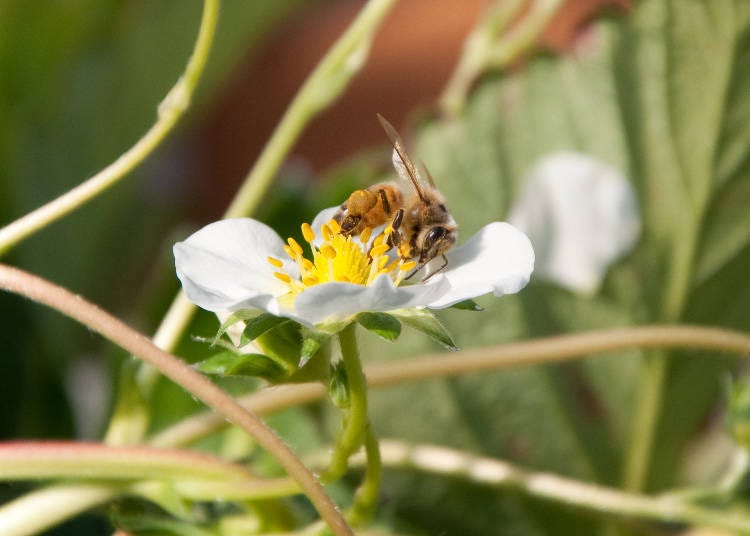 The entry fee varies by season. If the timing is right, you may even be able to catch a ride back to JR Naruto Station on your way home. Entry on a first-come, first-served basis (no reservations). The Kawatsura Strawberry Farm website is also available in English, making it easily accessible to foreign tourists.

Time Limit:
40 min, all-you-can-eat

Strawberry Varieties:
2022 varieties: Kaorino, Beni-hoppe, Yayoi-hime, Oi C Berry, Koi Minori, Shinku-no-misuzu, Kanna-hime, Hoshi-no-kirameki

Reservations:
Reservations unavailable. First come first serve only.
*Exception: Parties of 20 people or more, please call ahead for reservation

Getting There:
10 min from JR Naruto Station (by taxi, about 1200 yen one-way)
65 min from JR Tokyo Station via Limited Express Train Shiosai

Take-homes:
Freshly picked strawberries available for purchase
Kawatsura Strawberry Farm

かわつら苺園

Address

478 Hayafune, Sanmu City, Chiba Prefecture 289-1311

Nearest Station

・10 min from JR Naruto Station (by taxi, about 1200 yen one-way)
・65 min from JR Tokyo Station via Limited Express Train Shiosai


・Season: Mid-December to early May *May vary depending on strawberries' growing condition.

・Hours:
Weekdays: 10:00 a.m. - 2:30 p.m.
Saturdays, Sundays, holidays: 9:30 a.m. - 2:30 p.m.
*Until 3:30 p.m. starting March
*Ends when strawberries are gone

・Admission: *Varies by season
Mid-Dec - Jan. 4: Adults 2,000 yen / 4-6 years 1,600 yen / 3 years & under 500 yen
Jan. 5 - late Feb.: Adults 1,800 yen / 4 to 6 years 1,400 yen / 3 years & under 500 yen
Mar. 3-24: Adults 1,700 yen / 4-6 years 1,300 yen / 3 years & under 500 yen
Mar. 25 - Apr. 6: Adults 1,500 yen / 4-6 years 1,100 yen / 3 years & under 500 yen
Apr. 7 - Mid-May: Adults 1,200 yen / 4-6 years 800 yen / 3 years & under 300 yen

・Closed: Irregular holidays
・Phone: 090-9009-6572 (9:00 a.m. - 5:00 p.m.)
2. Kamakura Kanko Strawberry Farm (Kanagawa Prefecture)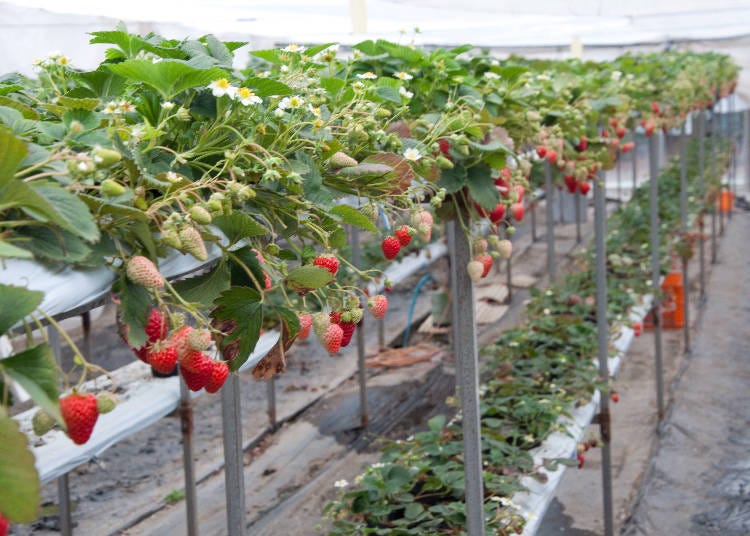 Kamakura Kanko Strawberry Farm is the only place in Kamakura that offers strawberry picking. As the fruit grows just 80cm (about 31 inches) above ground, adults and children can easily pick the berries, making this a popular spot for families.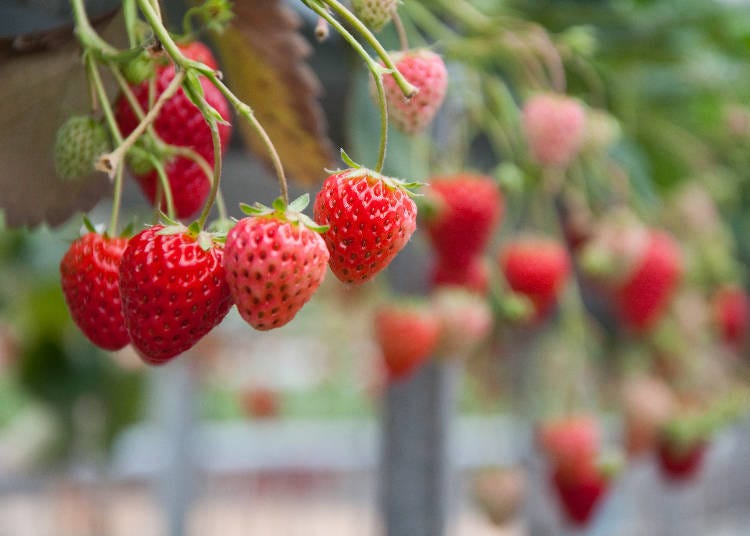 Another feature of this farm is its use of hydroponics, in which only the roots are planted in soil, and the rest is grown in water. In this way, even if the fruit grows large, the stems will be thinner, making them easier to pick.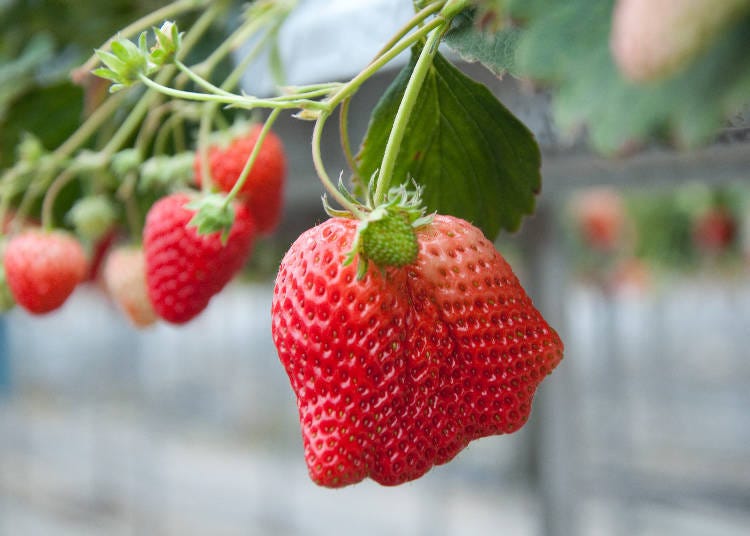 The farm is only open on weekends and holidays from late January to early May. Reservations are required, which you can do from their website.

Whether the farm will open on a certain day is determined by the strawberries' growth on the previous evening, so be sure to check the official Kamakura Kanko Strawberry Farm website before your visit for any schedule changes.

Kamakura Kanko Strawberry Farm also grows its own original brand of strawberries called Beni-shizuka. This rare variety, known for its fresh sweetness, can only be found here!

Time Limit:
30 min, all-you-can-eat

Strawberry Varieties:
Beni-shizuka

Reservations:
See the schedule on the official website.
*Please call for parties of 20 people or more.

Take-homes:
Pears
*Available for purchase from sales office starting 10:00 AM on Wednesdays
Kamakura Kanko Strawberry Farm

鎌倉観光いちご園

Address

2-11 Fueda, Kamakura City, Kanagawa Prefecture 248-0027

Nearest Station

・10 min walk from Shonan Monorail Shonan Fukasawa Station
・60 min from JR Tokyo Station


Phone Number

0467-31-5339

・Season: Late January to early May

・Hours: Saturdays & Sundays only, starts 10:00 AM (reception starts 9:30 AM)
*Ends when strawberries are gone
*Admission may be limited to prevent overcrowding.

・Closed: Weekdays

・Admission: Elementary school & up: 2,000 yen / Toddlers: 1,300 yen / Children under 1 year free
3. Ichigo Land Nakanishi (Shizuoka Prefecture)
Ichigo Land Nakanishi in Izu-Atagawa, Shizuoka Prefecture, is a popular tourist destination for marine sports and hobbies.

It's a 2-hour ride from Tokyo Station to Izu-Atagawa Station, and the farm is about 5 minutes by taxi from there. There is also a free service that can pick you up from Izu-Atagawa Station and nearby hotels.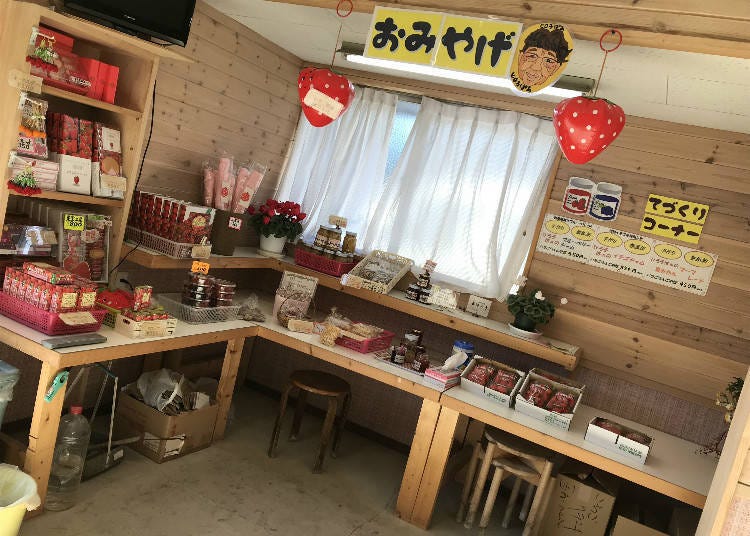 The greenhouse grounds are carpeted in vinyl mats, so it's easier and safer to move around, and you don't have to worry about getting your shoes dirty. The strawberries planted in-ground are on a slope, making it easier to pick without bending down.

The farm also accommodates strollers, wheelchairs, and pets (small dogs only), making it easier for the whole family to enjoy, whether visiting with babies, the elderly, or the family pet. Also, as it's indoors, you can enjoy strawberry picking, even if it rains!

Time Limit:
30 min, all-you-can-eat

Strawberry Varieties:
Akihime, Beni-hoppe

Reservations:
See official website

Take-homes:
Strawberries, homemade jams, and other strawberry-related sweets
いちごらんど中西

Address

1381-2 Naramoto, Higashiizu-cho, Kamo-gun, Shizuoka Prefecture 413-0302

Nearest Station

・5 min from Izu-Atagawa Station via taxi
・120 min from JR Tokyo Station via JR Tokaido Main Line Super View Odoriko


Phone Number

050-3188-1515

・Season: December to May 6 (tentative)

・Hours: 10:00 a.m. - 3:00 p.m. *Ends when strawberries are gone
・Closed: Irregular holidays

・Admission: Varies by season
Early Dec. - Jan. 3: 1,800 yen
Jan. 4 - Feb. 29: 1,600 yen
Mar. 1 - 31: 1,400 yen
Apr. 1 - 30: 1,100 yen
May 1 - 6 (tentative): 800 yen
4. Keisei Rose Garden (Chiba Prefecture)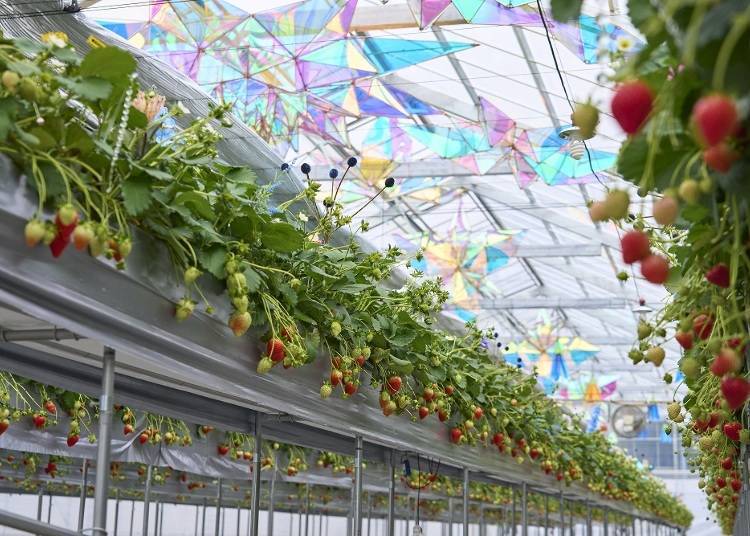 Keisei Rose Garden recently opened their first strawberry-picking farm in December 2021. Located only an hour away from Tokyo Station in Yachiyo City, Chiba Prefecture, this is one of the largest rose gardens in the Kanto Region.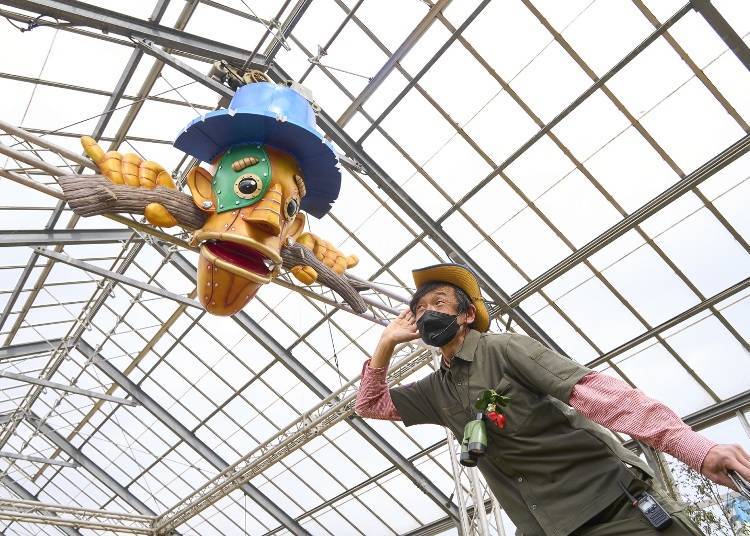 The greenhouse ceiling is decorated with artwork made of lights and lampshades. The strawberry seedlings are also decorated in various ways, creating a strawberry-picking space surrounded by art.

There are also a number of creations based on the story of popular literary work, The Wizard of Oz. This is the one and only strawberry picking farm that also acts as a sightseeing attraction!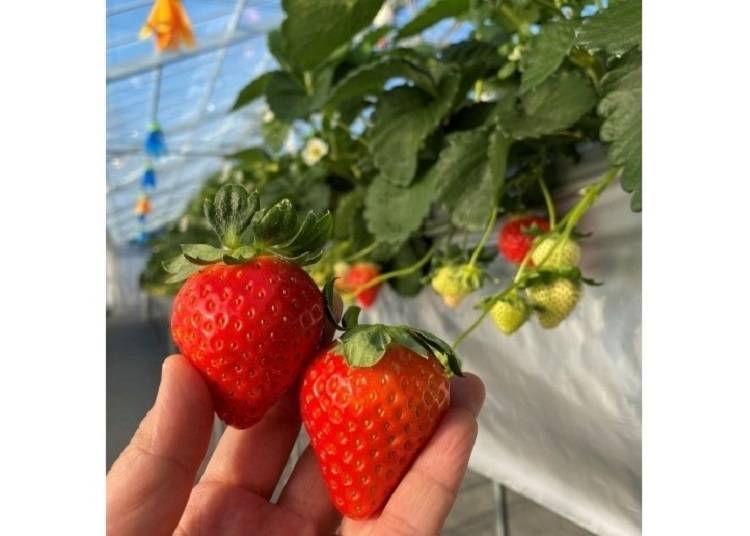 As part of the experience, a staff member will guide you to the greenhouse. There you will pick as many strawberries as you can fit into a special box, which you can then eat on the spot, together with coffee or tea. You'll also get a paper bag and strawberry box to bring home anything you can't finish.

We also recommend checking out the rose garden while you're there! (Note that entry into rose garden will require a separate admission fee).

Seasons:
First: Friday, Dec. 24, 2021 - Thursday, Jan. 27, 2022
Second: Saturday, Jan. 29, 2022 - Saturday, April 30, 2022

Hours:
February: Saturdays & Sundays
March-April: Every Tues/Thurs/Sat/Sun
*Three time slots available:
1. 10:00 a.m. - 11:30 a.m. (entry begins 10:00 a.m.; starts 10:20 a.m.)
2. 11:00 - 12:30 p.m. (entry begins 11:00 a.m.; starts 11:20 a.m.)
3. 12:00-1:30 p.m. (entry begins at noon; starts 12:20 p.m.)

Admission:
2,000 yen (Elementary school & up)
*Up to 2 preschool children per group
*Wheelchair and stroller accessible. Please ask in advance.

Time Limit:
90 min (including reception and eating time)

Strawberry Varieties:
Koi-no-minori, Yotsuboshi, Beni-hoppe, Yayoi-hime *Varies by harvest period

Reservations:
Advance reservation system
*Same-day entry based on availability
Jalan Net (via the Keisei Rose Garden official website)
Address

755, Owadashinden, Yachiyo-shi, Chiba, 276-0046
View Map

Nearest Station

Yachiyo-Midorigaoka Station (Toyo Rapid Railway Line)
15 minutes on foot


Phone Number

047-459-0106
5. Fuchu Ichigogarien (Tokyo)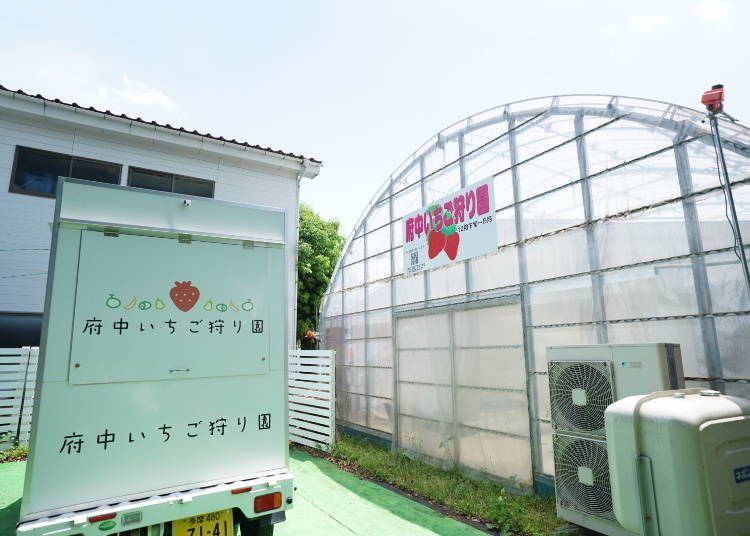 Fuchu Ichigogarien, which opened in Fuchu City, Tokyo, in 2020, is amongst the few farms where you can pick strawberries right in Tokyo. The farm is located near Bubaigawara Station, only 30 minutes from Shinjuku Station.

The farm has become super popular since its opening as one of the few places where you can eat ripe, delicious, freshly-picked strawberries from the comfort of a familiar place.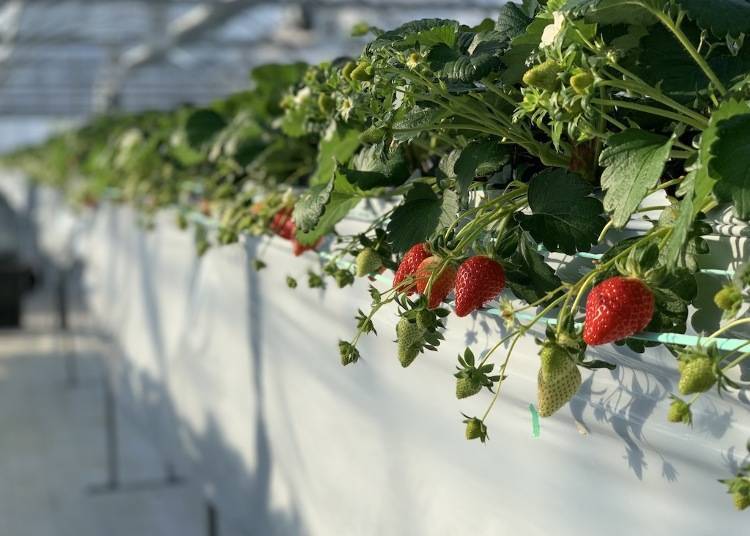 The strawberry cultivar Yumenoka is known for its juiciness and mild sweet-and-sour taste. Here, you can eat as many as you like with the farm's 30-minute all-you-can-eat experience, complete with condensed milk. The setup makes it easy for adults and children alike to pick strawberries while standing, so you're less likely to tire out quickly.

Luggage lockers are available, and wide aisles easily accommodate those with wheelchairs and strollers, making it easy to enjoy for the entire family!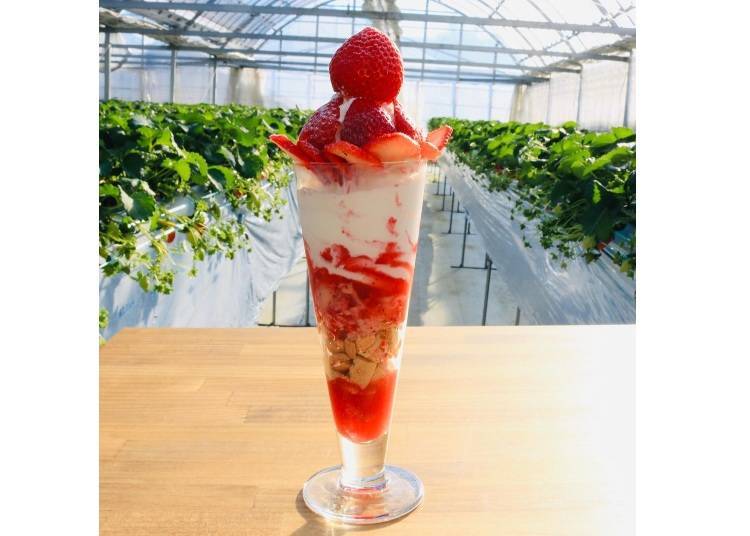 The farm also operates its own cafe, the Tokyo Ichigo Cafe, which offers a variety of unique strawberry sweets including parfaits, tarts, strawberry daifuku, and strawberry sandwiches.

Advanced reservations are required for strawberry picking via the official website. You can reserve up to 30 days in advance of your desired visit date. Keep in mind, this is a popular experience, so try to book as early as you can!

Season:
January to late May (tentative)

Time Limit:
30 min, all-you-can-eat (free condensed milk included)

Strawberry Varieties:
Yumenoka

Take-homes:
Strawberries available for purchase
府中いちご狩り園

Address

3-16-2 Miyoshi-cho, Fuchu City, Tokyo 183-0045

Nearest Station

・8 min from Bubaigawara Station on Keio Line and JR Nambu Line


・Open: Wed/Sat/Sun
*Hours vary by day.
・Closed: Tuesdays

・Admission: Adults (elementary school & up): 2,200 yen; children (3 years & under): 1,400 yen
*Children 2 years & under free

・Reservations: Reserve via the official website
(Can reserve up to 30 days in advance)
6. Strawberry Farm Ota Farm (Shizuoka Prefecture)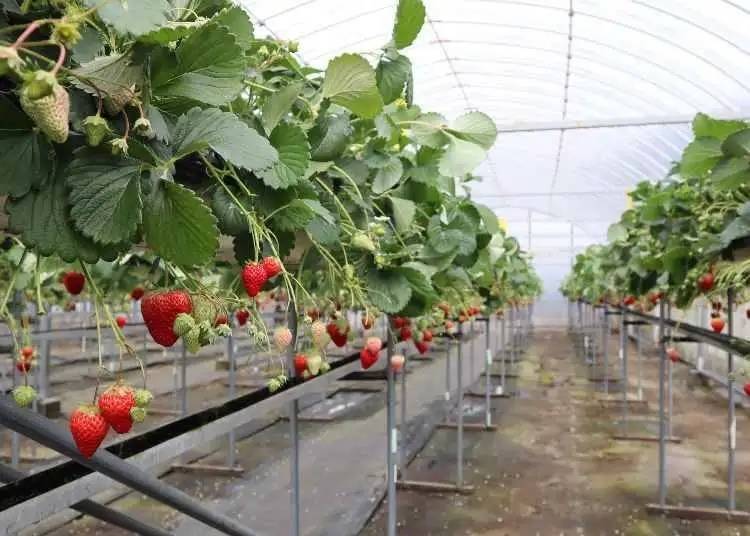 Ota Farm can be reached from Izu-Atagawa Station, a roughly 15-minute train ride from Kawazu Station. There is a free shuttle bus service from Izu-Atagawa Station, or from hotels within the Atagawa area.

Ota Farm allows visitors to pick and eat as many strawberries as they like within the greenhouse for 30 minutes. So get your fill and don't hold back! You can also purchase strawberries to bring back home separately.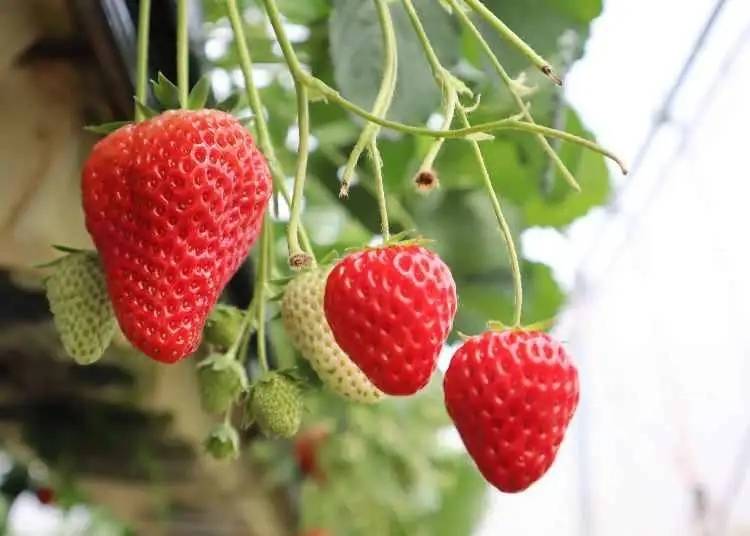 English guidance is available, making it stress-free for international visitors. On the day we visited, a group of overseas tourists were also enjoying the farm.

Inside the greenhouse is a staggering number of ripe and juicy strawberries. They largely cultivate two different types - Benihoppe, which are common in Shizuoka, and have a good balance of sweetness and tartness with a deep, classic strawberry taste; as well as Akihime, which are sweet with a reduced sourness and juicy, clean flavor. Both varieties are planted at random throughout the greenhouse. The strawberries here are grown in raised plots, so you don't have to crouch down to pick them, or worry about getting your clothes dirty.
ストロベリーファーム太田農園

Address

153 Naramoto, Higashiizu, Kamo District, Shizuoka 413-0302

Phone Number

055-723-0050
Strawberry Picking in Japan: A Unique Experience
If you plan to visit Japan in the spring, we highly recommend visiting a strawberry picking farm! There are many farms you can visit on a day trip, even within Tokyo and its suburbs. Pick and eat some of Japan's freshest strawberries, and fully enjoy the sweetness of spring!

Translated by: Krys Suzuki

*Information in this article is as of February 2022. Details may have changed since this time.
*Business hours are subject to change depending on the spread of Covid-19.
*This information is from the time of this article's publication.
*Prices and options mentioned are subject to change.
*Unless stated otherwise, all prices include tax.
Limited time offer: 10% discount coupons available now!