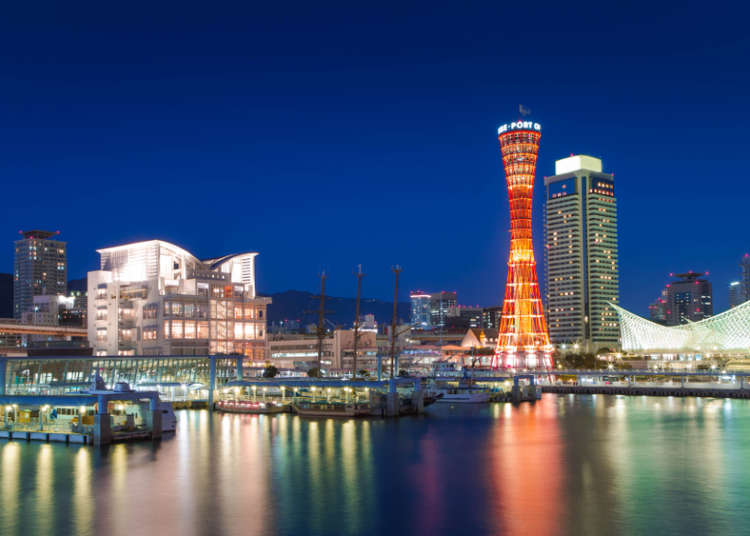 As one of western Japan's largest prefectures, there are so many things to do in Hyogo! It has many sights, of particular note being the exotic port city of Kobe.

Being home to the world-renowned Kobe Beef and having some of the best night scenery in Japan, Hyogo is a great day trip destination when visiting western Japan.

This is a quick guide for those taking their first trip into Hyogo Prefecture – read on to get a handle on Hyogo sights, famous products, and characteristics.
What's Hyogo Prefecture like? How do you get there?
Neighboring Osaka Prefecture to the west, Hyogo Prefecture similalrly has a number of tourism-centric cities. It's well known abroad, seeing a yearly rate of 1 million visitors from overseas. From the sea to the mountains, its wide area is home to a multitude of sightseeing locations. Let's take a look at most popular tourist destination city, famous for its food: Kobe.

If you're interested in Japanese history, you can head west to the world heritage site of Himeji Castle. The mountainous north has the famous hot spring towns of Kinosaki and Arima, as well.

To get to Hyogo Prefecture, you'll want to start from Kansai International Airport. You can then transfer to a domestic flight or ride a train, regular or bullet, to Kobe.
What are famous sightseeing spots around Hyogo?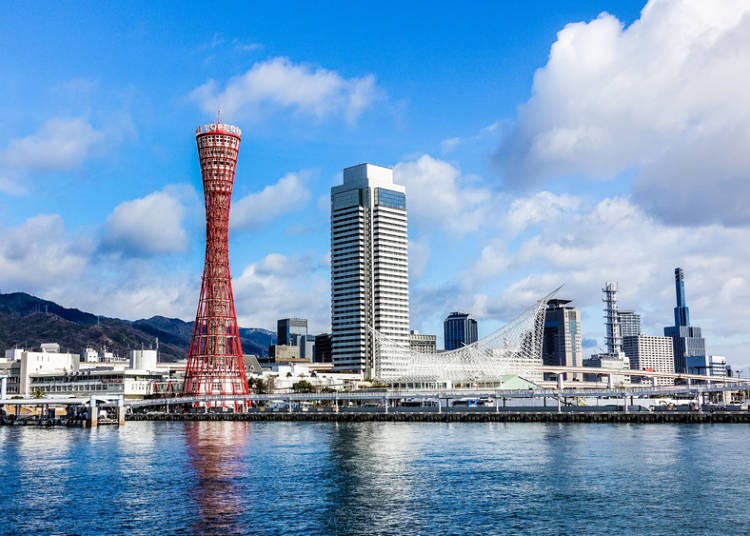 Plenty of landmarks, starting with the bright red Kobe Port Tower
Kobe holds Hyogo's prefectural office and is its most popular sightseeing city. Since opening as a port 150 years ago, the city has continued to grow. The bay area is a developed coast, providing a beautiful, scenic view. Kobe's symbol, the Kobe Port Tower, is a wonderful place to relax and take in the views. Then there's the Merican Park on the east side, a wonderful place to take a walk, and the shopping center "umie" on the west side.

Furthermore, since Kobe has had much interaction with foreign nations over the years, there's plenty of overseas influence throughout the town. The Kitano area, filled with retro, Western European architecture, and the bustling Chinatown of Nankin-machi are particularly famous.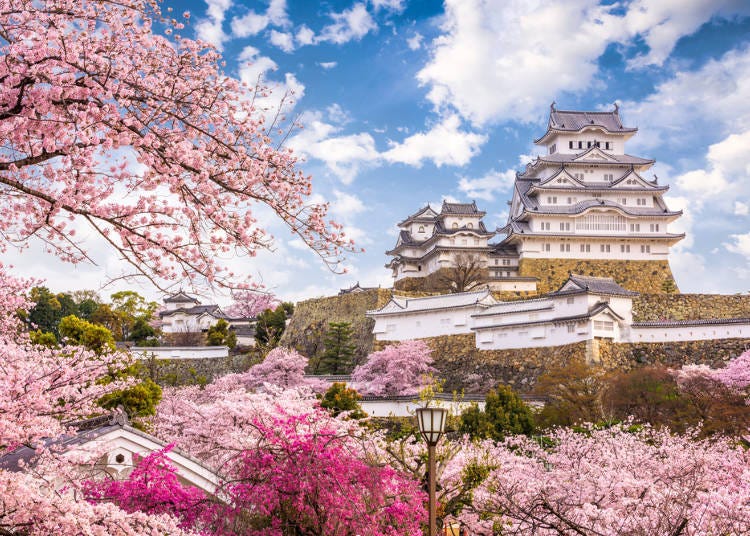 Cherry blossom season is the best time to visit Himeji Castle
Himeji Castle, Japan's first world heritage site (registered in 1993), is another popular spot. The pride and historical joy of west Hyogo's Himeji City, it has been standing for 400 years, since the age of famous Japanese warriors such as Nobunaga Oda and Hideyoshi Toyotomi.

The first thing you'll notice is the recently rebuilt white walls. The castle is beautiful – beautiful enough to be likened to an egret.

It's also well regarded as a military facility, so we recommend checking out every inch of the castle's interior. Let your imagination run through the age of samurai as you leisurely walk about it!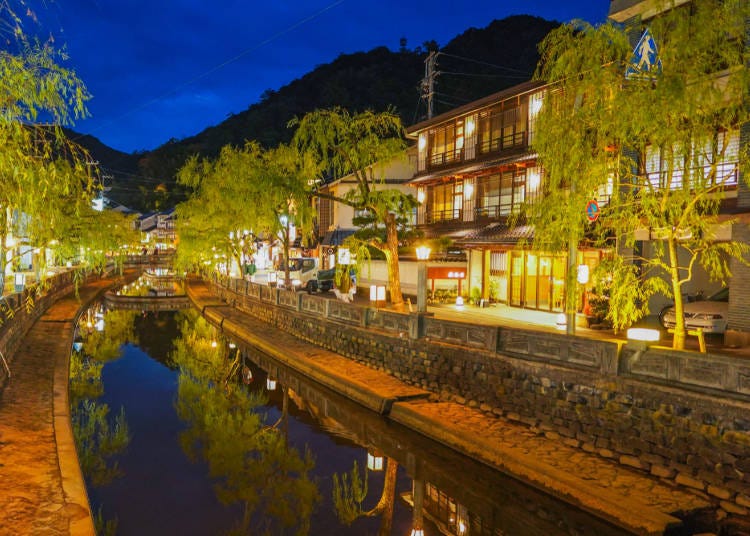 Kinosaki Hot Springs were loved by many Japanese writers Rei Imagine / Shutterstock.com
If you like Japanese scenery, you would do well to visit Kinosaki Onsen in Toyooka City, located in the northeast. The sight of town buildings by willows leaning over the river is very photogenic. This traditional Japanese scene draws in tourists from all around the world. After walking through the town, you can refresh yourself in the hot springs.

In fact, that's one of Hyogo's appeals: it has a particularly high number of storied hot spring towns. Especially famous is Arima Onsen, reachable by train from Kobe, and Yumura Onsen in the northwest. You can drive to these hot spring towns, but since you might have to pass through cramped mountain roads, you'll want to take a train or bus instead.
What's the food like in Hyogo?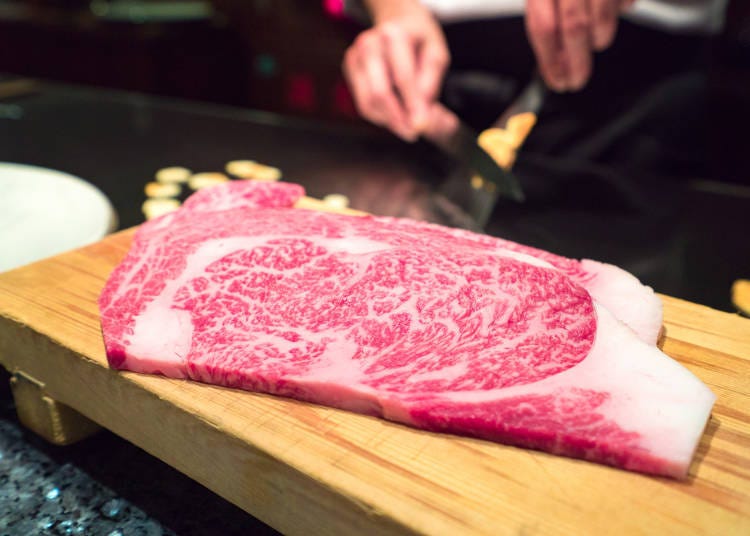 Kobe beef is the kind of delicacy you'll want to eat no matter how much you have to spend. The title of Kobe beef is only given to the highest class of Hyogo brand Tajima Wagyu cows, and in the already high-class wagyu beef world, it stands at the top. One of its traits is the shimofuri, the delicate marbling of high-quality fat in the red meat.

If you want to really get the true taste of Kobe beef, order a simple steak. There are plenty of steakhouses around the prefecture, most of which are in Kobe, that grill their steaks on an iron plate in front of you. Though dinner at these restaurants will often go over 10,000 yen, there are some restaurants with reasonably-priced Kobe beef lunches.
Bordered by seas on both its north and south sides, Hyogo is blessed with the bounty of the ocean. Of particular note are the snow crabs caught up north in winter. They have a particularly classy sweetness to them, especially the Kasumi Crabs caught in Kasumi Port.

They're often served at hotels and other lodgings, and visitors come from all over Japan during crab season. On the Seto Inland Sea side to the south, Akashi City's port is famous for its octopi and sea breams. There are also plenty of restaurants in the city that serve the morning's catch. You'll find high-quality seafood at reasonable prices in the form of kaisen-don, otsukuri, and other dishes.
Since so many octopi are caught in Akashi, it's known for its Akashiyaki. As round balls, they bear a close resemblance to Osaka's takoyaki. Unlike Osaka's treat, however, Akashiyaki has no sauce, seaweed or bonito flakes on it. Instead, you dip them in a bonito-based dashi soup.

The coating is soft and made with egg, and its lightness lets you really feel the firmness and sweetness of the octopus inside. Also, the simplicity of the coating and dashi lets each establishment that offers Akashiyaki put their own spin on the dish.
What's the classic Hyogo souvenir?
Having thrived off of sea trade, Hyogo was the recipient of much Western influence, including its sweets. These were iterated on, resulting into Hyogo's unique treat culture that has spread throughout Japan. On the ground, there are plenty of patisseries and chocolatiers that have long been loved by locals. The cookies and cupcakes on sale are easy to carry around and make for a perfect souvenir for your Hyogo trip. The department stores in Kobe usually have sweets floors, so you can always stop by and have fun looking for something you'll like.
A night scene as beautiful as gems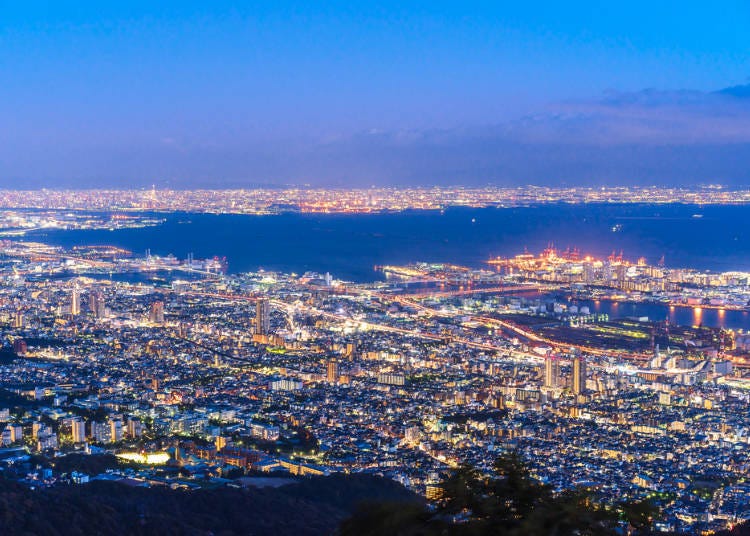 View of the bay from Kikuseidai, a mountaintop park
If you're lodging around Kobe City, there's a scene you'll want to see – a sight said to be worth 10 million dollars. Kobe is known as one of Japan's three most beautiful cities at night, and you'll find the best view up north, atop the mountains of Mount Maya or Mount Rokko. From there, you'll see a sight so beautiful it will feel like a waste to blink. Even better, Kobe's bay area lights up after the sun sets. We encourage you to take a walk as you take in the beautiful, romantic scenery.

Sightseeing in the morning, world-class lunch in the afternoon, and a stroll against amazing scenery at night. Taking a trip to Hyogo has something to offer for every part of the day, we encourage you to set up a schedule and plan out your sightseeing trip.
Text by:Bikoo-System
*This information is from the time of this article's publication.
*Prices and options mentioned are subject to change.
*Unless stated otherwise, all prices include tax.