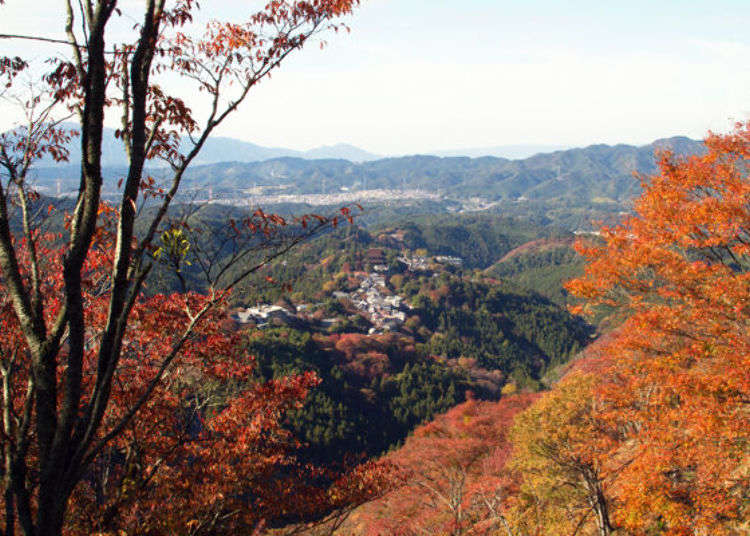 Also incredibly famous for its cherry blossoms, Mount Yoshinoyama in Nara is also well-known for its autumn colors.

Once the leaves of the cherry blossom trees begin to turn red in mid-October and into November, the foliage becomes vivid with color, and all of Mount Yoshino is dyed in hues of red, yellow, and orange.

The beloved fall leaves of the mountains are far more magnificent than any view you'd get in town. Depending on the weather, fog may trace the mountain surface, creating a different kind of fantastic scenery.

Come along as we view the autumn foliage made possible by the purity of this land, and venture to Mount Yoshino!
Mount Yoshinoyama: A Historical Faith Cherished Since Long Ago
The cherry blossom trees of Mount Yoshino (a.k.a. Mount Yoshinoyama) have been adored by many since ancient times. So much so that it is said famed daimyo Toyotomi Hideyoshi himself had a cherry blossom viewing party of as many as 5,000 people.

The cherry trees here are not just the common Yoshino Sakura type that you always see. In fact, there are about 30,000 trees in 200 different varieties decorating the mountain slopes, most of the Shiroyama-zakura species.

Autumn at Mt. Yoshino sees these all change color, dying the entire mountain a gorgeous crimson.

The cherry trees of Mount Yoshinoyama, stretching from the bottom to the summit, are divided into four areas: Shimo-senbon (lower area), Naka-senbon (middle area), Kami-senbon (upper area), and Oku-senbon (inner area).

Every spring the cherry blossoms bloom from bottom to top, however in the fall that order is reversed, and the foliage begins to change color from the inner part to the bottom. The stunning gradation creates a magnificent and calming view.
Going to Mount Yoshino's Summit: A Ropeway Runs Through the Autumn Leaves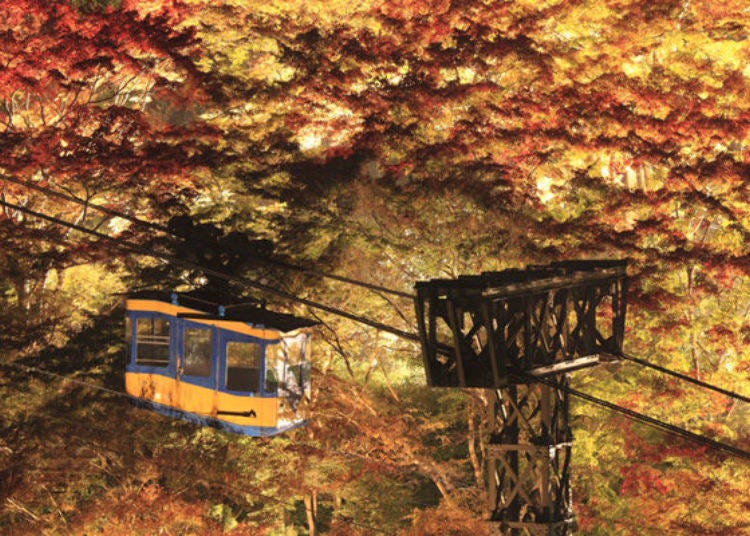 ▲At night, the light-up makes an even more stunning view. The 2018 light-up period was scheduled from November 3 to 30. (Photo provided by Yoshino Mountain Tourism Association)
Though there are many who choose to get the full experience of the autumn foliage by hiking up the mountain themselves, I recommend the ropeway. The Yoshino Ropeway is the oldest existing ropeway in Japan, beginning operation in 1929.

Once you get in the cute, retro yellow-and-blue gondola, it only takes 3 minutes to the summit. Enjoy the ride through the sky while taking in the surrounding scenery of beautiful autumn leaves.
吉野山ロープウェイ

Address

79 Yoshinoyama, Yoshino-cho, Yoshino-gun, Nara

Phone Number

0746-39-0010

Hours: 7:30AM~5:40PM (every 15 min)
Admission Fee:
Adults: ¥450 one-way, ¥800 round-trip
Kids: ¥230 kids one-way, ¥400 round-trip (tax included)
*Information is as of April 20, 2020.
Visit to Zao Gongen: the Center of Faith
When you get off the Mount Yoshino Ropeway, you will come to a path lined with shops famous for Yoshino local goods such as kaki-no-ha-zushi (persimmon leaf sushi) and Yoshino kuzu (a starch product). And then right there in front of you, you will see the gates of the World Heritage Site Kinpusenji Temple!

Kinpusenji Temple is the head temple of the Kinpusen-Shugendo Religion, established by the founder of Shugendo, En-no-Gyoja. It is said that it was in the sacred mountains of Omine and Sanjogatake that En-no-Gyoja carved Zao-gongen (the most powerful deity of Shugendo) into the cherry trees and began to worship them.

Since then, as the believers and those who trained in the mountains started planting cherry blossoms as sacred trees, this area it has become a popular cherry blossom viewing spot.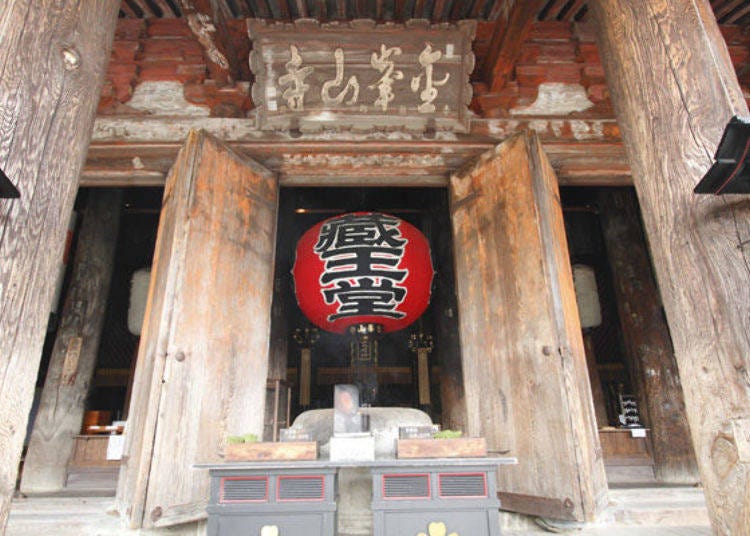 ▲The Zaodo pillars are made from natural wood.
Zaodo, which is in the main hall of the temple grounds, is the second largest wooden structure in Japan, right after the Buddha Temple of Todaiji.

Enshrined inside are the main objects of worship, three Zao-gongen statues that stand at roughly 7 meters tall. Because these are normally hidden away from public view, special occasions are held at irregular intervals for worship.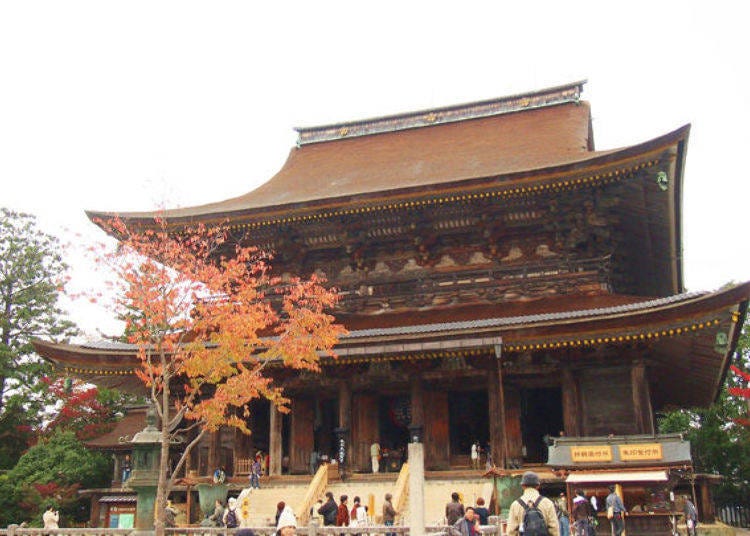 ▲Zaodo was rebuilt in the Muromachi period. It is designated as a national treasure.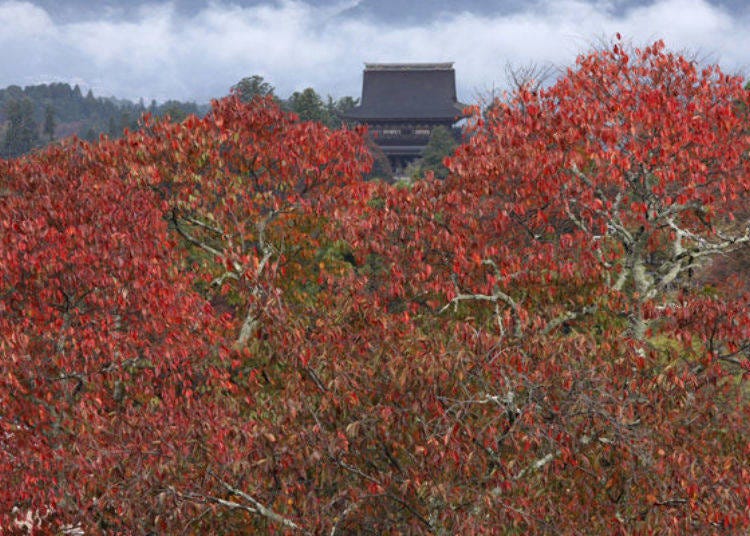 ▲Zaodo as seen through the foliage from Kami-senbon (Photo provided by Yoshino Mountain Tourism Association)
金峯山寺

Address

Yoshinoyama, Yoshino-cho, Yoshino-gun, Nara

Phone Number

0746-32-8371

Viewing Times: 8:30AM~4:30PM (reception closes 4:00PM)
Fee: ¥500 (unveiled worship is separate)
Yumoto Hounoya: An Amazing View from the Open Air Bath!
Leaving Kimpusenji, I continue on further towards the popular hot springs inn, Yumoto Hounoya. The secret of its popularity is its amazing view that overlooks everything! You can also enjoy viewing the trees coloring the mountain from both the bath and the guest rooms. I definitely recommend staying for those who would love to take their time leisurely enjoying the autumn views.
▲A scene like this is not one you see everyday. Enjoying the autumn leaves, undisturbed by a single soul. (Photo provided by Yumoto Hounoya).
The view of the autumn leaves from the hot springs of the outdoor bath is particularly enchanting.

When looking at the leaves in town, we usually have to look up, but here, the colors of the leaves extend in a brilliant panorama right before our very eyes, gradating from Naka-senbon, to Kami-senbon on the right, into the deeper Oku-senbon area.

It is a very luxurious feeling to be able to experience this while enjoying the hot bath, that I even caught myself saying aloud, "Ahhh, this water is great."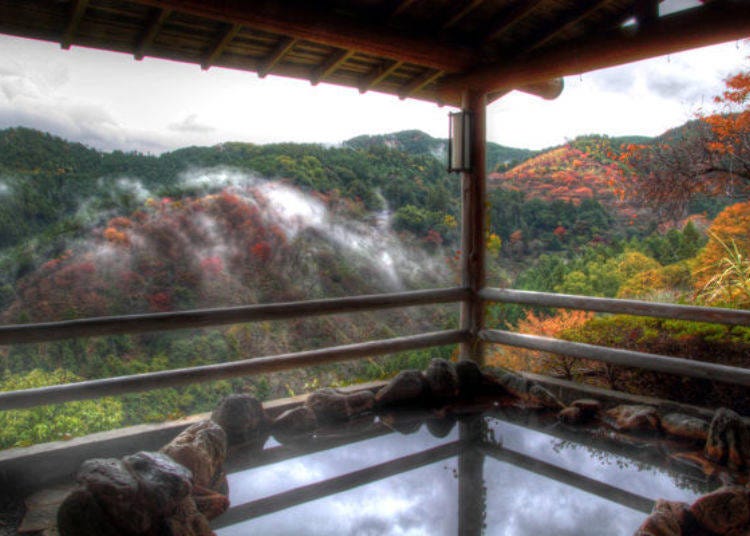 ▲An outdoor bath × superb view = paradise! (Photo provided by Yumoto Hounoya).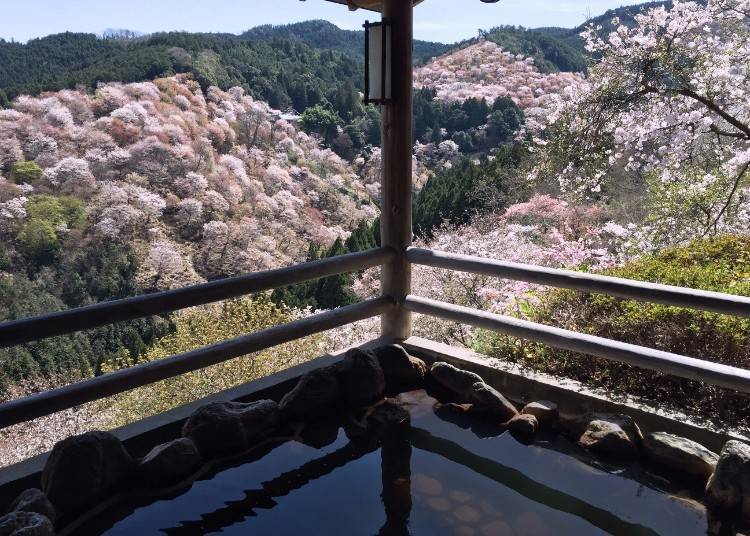 ▲You can also see the cherry blossoms in full bloom during spring
It is possible to enjoy visiting just the springs as a day trip, so it's perfect for relieving any tiredness after your walk. You can experience viewing the autumn leaves here in a completely different way than you're used to.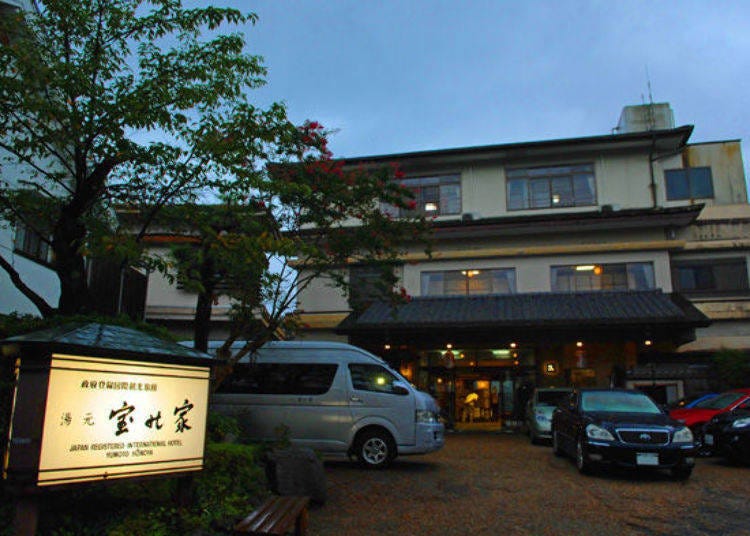 ▲A hot springs inn will make any traveler feel great
湯元 宝の家

Address

937 Yoshinoyama Naka-senbon Koen, Yoshino-cho, Yoshino-gun, Nara

Phone Number

0746-32-5121

Day-Trip Bath Times: 2:30PM~7:00PM, April only from 11:30AM~3:00PM (Please check schedule for irregular holidays and any restrictions)
Admission Fee:
Day-Trip Bath ¥1000 (tax included, included towel)
Overnight, including 2 meals, from ¥16000~ (tax not included)
*Some photographs may be before 2015
*This article was partially updated based on contents from 2015.
main Photo provided by Yoshino Mountain Tourism Association
Text by:EditZ
*This information is from the time of this article's publication.
*Prices and options mentioned are subject to change.
*Unless stated otherwise, all prices include tax.