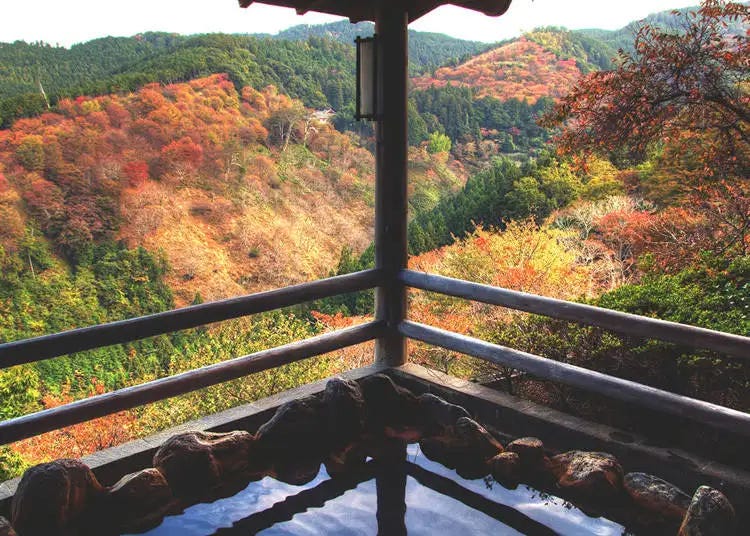 This autumn, enjoy the beautiful foliage hues from the comfort of an onsen in Kyoto! We've selected four of the finest onsen in Kyoto and Nara, where you can soak while enjoying the autumn scenery.

Kyoto's Yunohana Onsen and Kurama Onsen are great in November. In Nara, Dorogawa Onsen is best in early November and Yoshinoyama from late October through November.

So let's find out more about these perfect places to rest and relax!
1. Sumiya Kiho-an: Beautiful as a painting in autumn!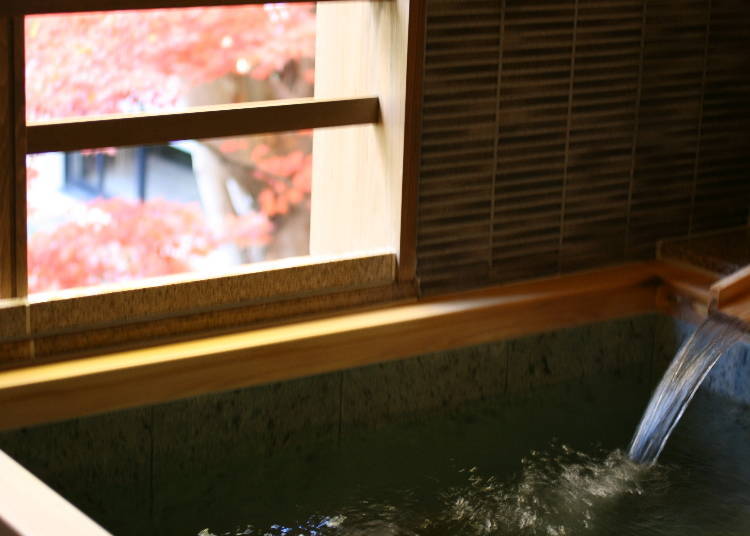 The view from an open-air bath
Sumiya Kiho-an is a Kyoto ryokan set in Yunohana Onsen in the back hills of the city. Yunohana Onsen is about 30 minutes by car from Torokko Kameoka Station, which is, in turn, about 25 minutes away from Torokko Arashiyama Station on the Sagano Scenic Line.

According to legend, this classic hot spring village was used by ancient warlords to recuperate from battle wounds.

Offering clear air, natural scenery, and a calm atmosphere not found in the city, this area of onsen in Kyoto also has a reputation for quality, mineral-filled springs with the ability to adjust hormone imbalances.

Best time to visit in Autumn: The entire month of November is the best time to see the autumn leaves at Yunohana Onsen.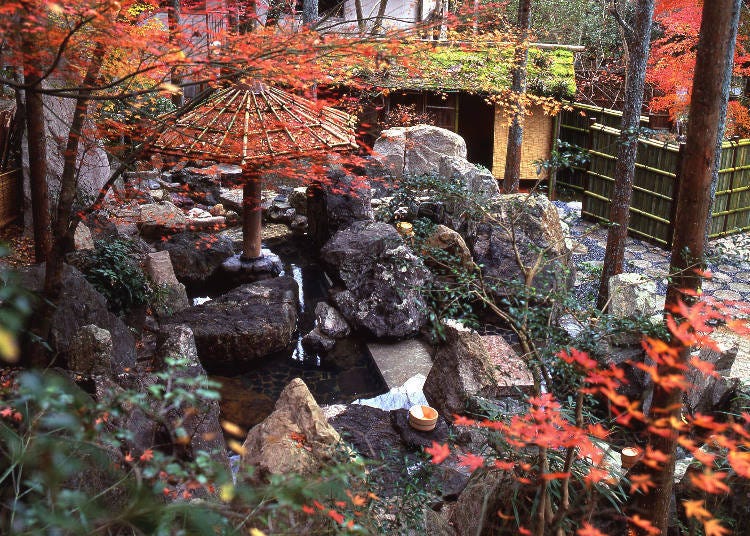 You will definitely want to experience the "hidden mountain hot spring," a private open-air bath at the end of a scenic footpath.

Whether in summer or autumn, a walk under the maple leaves will lead you to a relaxing forest bath and the unique luxury of immersing yourself in fresh, flowing waters away from the hustle and bustle of everyday life.

Reservations at this onsen in Kyoto can be made for parties of up to 5 people, and day-trip packages, including meals, are available (11:30 - 21:00, 45 minutes, 3,000 yen, excluding tax).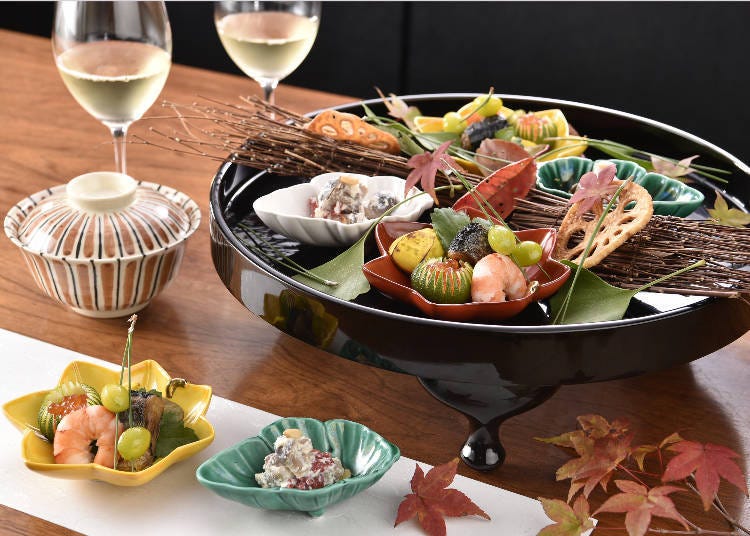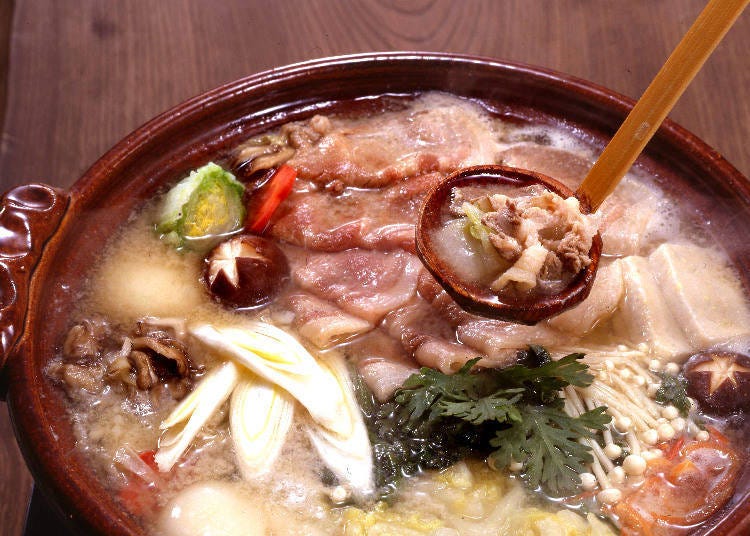 Kameoka is known for rice and vegetables, and seasonal multi-course meals are prepared using locally sourced produce. From December 1st, hot pots are served and feature tender, thinly-sliced salmon in white miso soup.

Winter vegetables with high sugar content and deep flavor and a special ponzu sauce complete the dish. This pot pairs perfectly with wine, and Austrian rose wine or red wine are recommended.
すみや亀峰菴(きほうあん)

Address

25 Miyanooku, Kakihana, Hiedanocho, Kameoka-shi, Kyoto 621-0036

Phone Number

0771-22-7722

・Hours: Check in 15:00, check out 11:00; day bathing 11:30 - 14:30 (bathing only is not available)
・Price: 21,000 yen per night with two meals; 8,000 yen per person for day bathing + meal (excluding tax)
2. Yumato Hounoya: Superb view from an elevated Nara onsen bath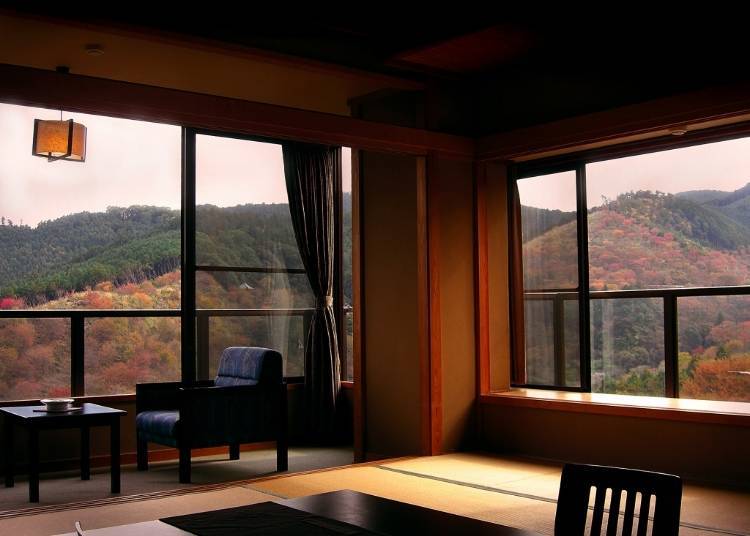 The view from the guest room
(Ed. Note: Permanently Closed as of 2020)

Recognized as a world heritage site, Yumoto Honoya is located in the heart of Yoshinoyama. From the rooms, the lobby, and the natural hot springs, spring visitors get a panoramic view of the cherry blossoms of Mt. Yoshino's famous thousands of cherry trees.

In contrast to the spring blossoms, the entire mountain is blanketed with red, yellow, and orange in autumn, providing an equally spectacular view.

Due to elevation differences, the mountain's beautiful colors change gradually from the lower, middle, and upper areas to the shrines at the summit.

Best time to visit in Autumn: From late October through November.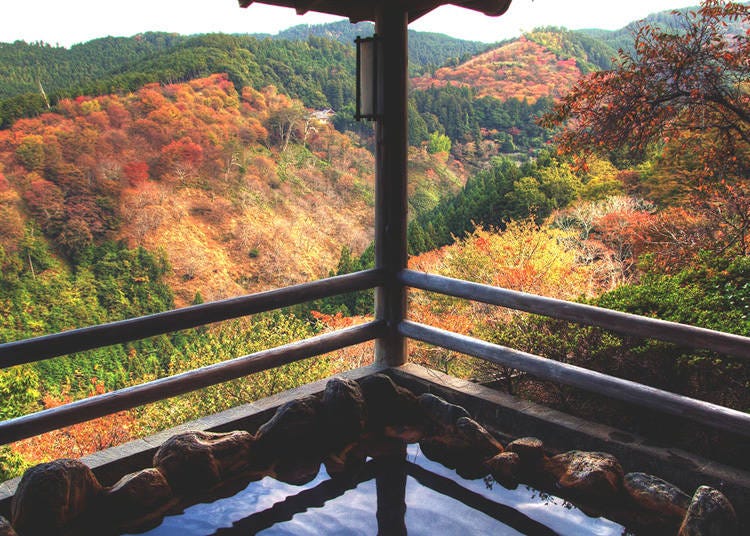 Aun-no-yu
Aun-no-Yu is a spectacular elevated bathhouse. From the "A-no-yu" (women's bath) and "Un-no-yu" (men's bath), bathers get a panoramic view of the unbelievable scenery of middle and upper areas of Yoshinoyama and can enjoy the foliage with the utmost luxury of the bicarbonate spring.

Aun-no-yu's origins date back to the days of Emperor Go-Daigo. After defeating the Kamakura Shogunate, and a conflict with the Muromachi Shogunate he established his administration in Yoshino where Emperor Go-Daigo is said to have bathed at Aun-no-yu.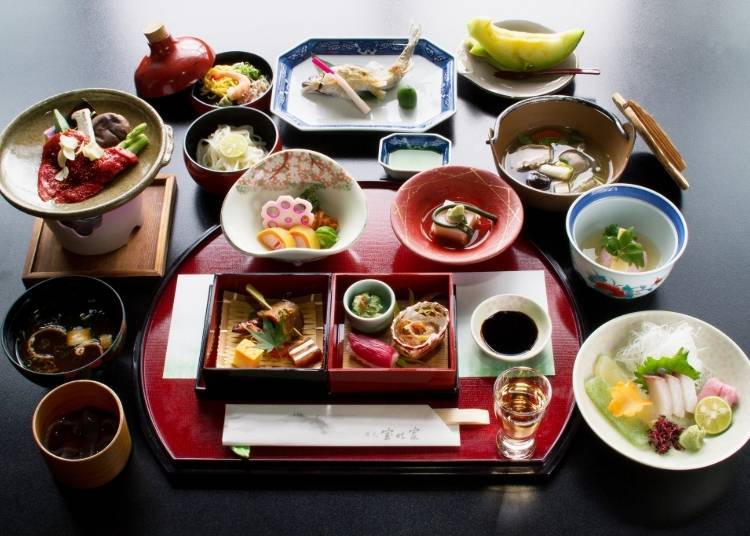 "Kuzugozen" course
Yoshino is a famous kuzu production area and has a reputation for high quality. The local topography, good water, and cool soil are suitable for the growth and refining of kuzu powder. The delicious "Kuzugozen" course features Yoshinomoto kuzu and other seasonal ingredients.

In addition, you can also enjoy the famous "Amanabe," made with pork loin, seasonal vegetables and a homemade miso or the tasty pheasant and botan hot pots.
湯元 宝の家

Address

937 Yoshinoyama, Yoshino, Yoshino-gun, Nara 639-3115

Phone Number

0746-32-5121

・Hours: Check in 15:00, check out 10:00; one day bathing 14:00 - 19:00 (last entry 18:00)
・Price: 18,360 yen with half board for 1 night (tax included / separate), day bath 1,000 yen for adults, 500 yen for elementary school students (tax and small towels included)
3. Kurama Onsen: Kyoto onsen ryokan inn rich in poetry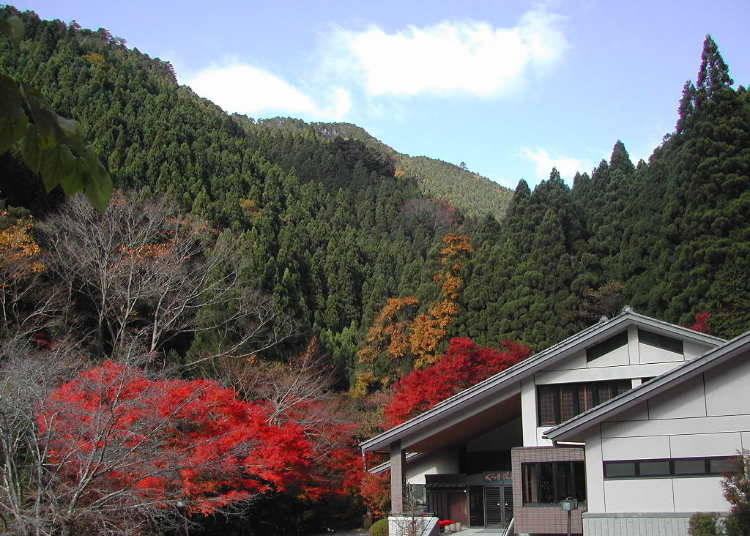 Only a one-hour drive drome downtown Kyoto in the mountain village of Kurama, the small Kurama Onsen is situated near the Anba River. The spring is a mineral-rich hydrogen sulfide spring and has a wide range of benefits including relief of neuralgia, rheumatism, diabetes, and back pain, and is also good for the skin.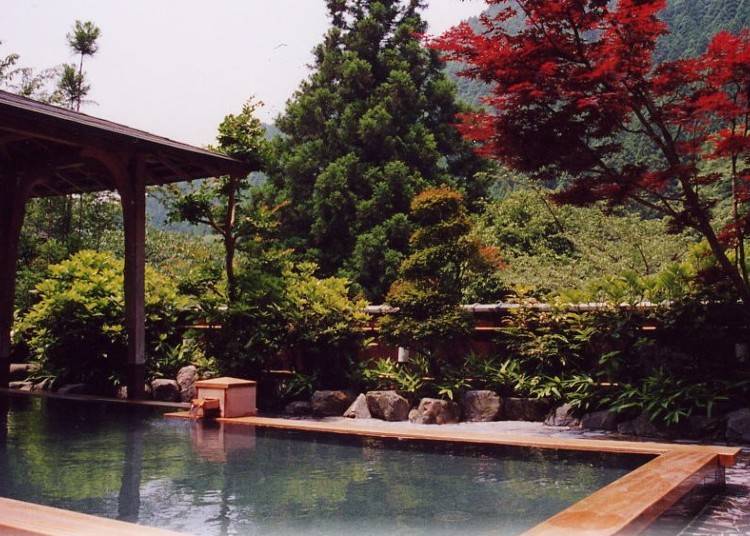 Open-air bath "Horokuyu"
From the comfort of Kurama Onsen's "Horokuyu" open-air bath, you can enjoy the best each season has to offer. In the main building, you can experience several public baths, including a bubble bath and sauna.

In autumn, the contrast between the colored leaves of the garden and the evergreens on the surrounding mountains is stunning. You're sure to fall in love with this Kyoto onsen.

Best time to visit in Autumn: Peak foliage viewing is in early November.

One-day bathing includes towel and yukata rentals, and use of the open-air bath and the large public bath, while another one-day course allows guests to enjoy two hot springs and an outdoor bath course, including the use of the Horokuyu bath.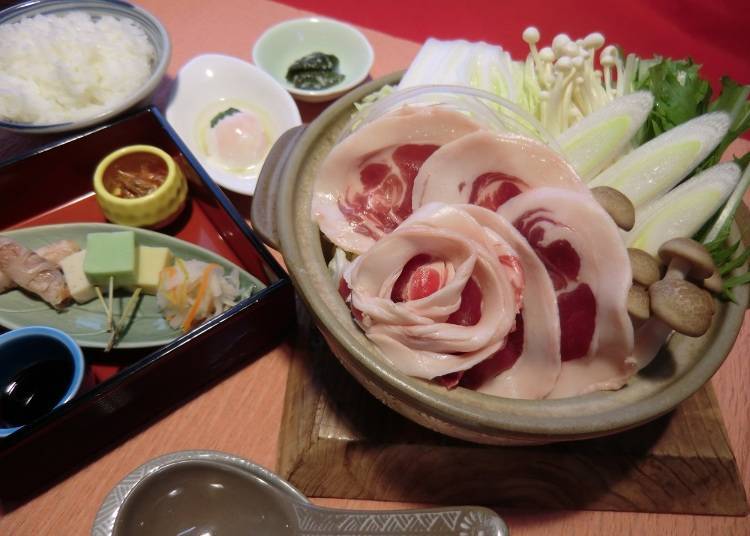 Dining options are mainly traditional kaiseki meals prepared with plenty of seasonal ingredients. Other popular choices include delicious chicken raised locally in Tamba and duck dishes and soup. In autumn and winter the crab ans miso-based botan nabe is also available.

For Kyoto day trippers, the restaurant offers a variety of items, from udon and soba noodles, donburi, and kamameshi, to one- and multi-course meals.
くらま温泉

Address

Address: 520 Kuramahonmachi, Sakyo-ku, Kyoto, 601-1111

Phone Number

075-741-2131

・Hours: Check in 15:30, check out 10:00; day bathing 10:30 - 21:00 (Last entry 20:20, winter 19:20); restaurant 11:40 - 20: 45 (L.O. 19:45)
・Price: 18,700 yen per night with two meals (tax included); one-day bathing, adults 2,500 yen, children 4-12 1,600 yen; open-air bath course, adults 1,000 yen, children 700 yen (tax included)
4. Hanaya Tokubei: Dogawa Onsen's long-established ryokan inn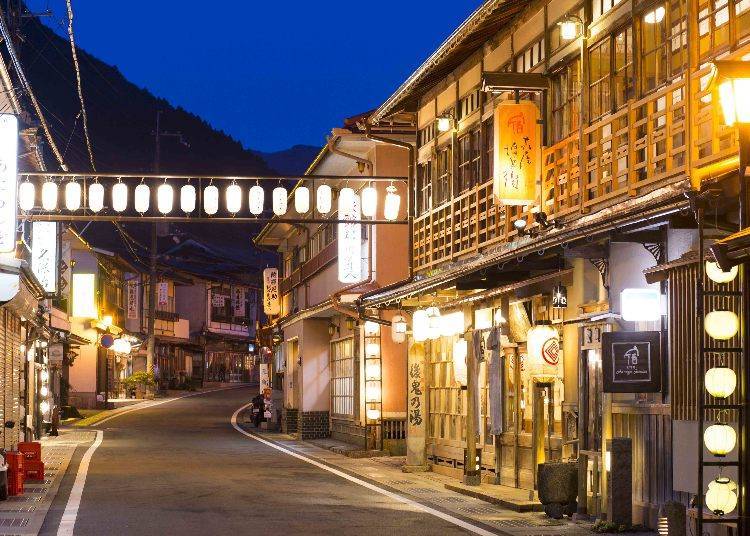 Dorogawa has seen prosperity as a base for pilgrimages to Mount Omine, the home of the Shugendo religion.

The town has a feeling of nostalgia, like stepping back into the Showa era with its ryokans, and traditional folk medicine and dharani shops, souvenir shops, and restaurants.

The town's oldest ryokan (over 500 years old) is centrally located Hanaya Tokubei - only a two-minute walk from Ryusenji Temple.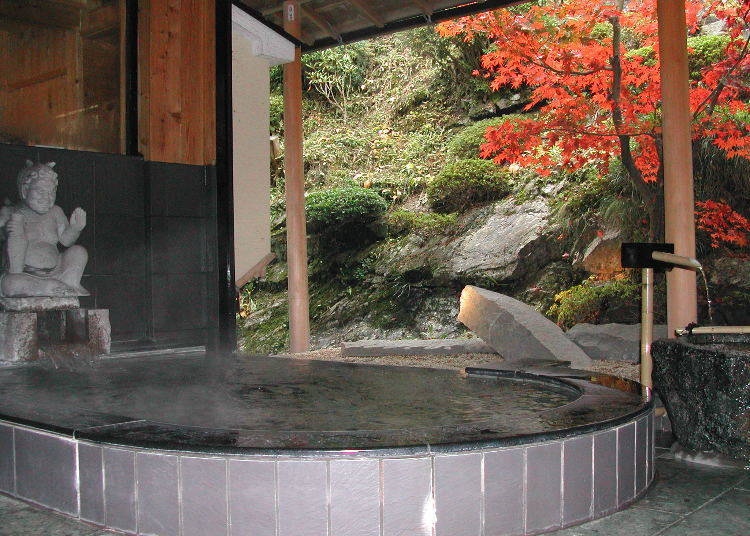 Goki-no-yu
The mildly alkaline springs of Dogawa Onsen will leave your skin feeling smooth after bathing. It also has healing effects on neuralgia, muscle and pain, and chronic digestive tract problems.

After their journey, mountain climbers often rest in the indoor Zenki-no-yu bath or the small semi-open-air Goki-no-yu with its garden view. The private Zekuu-no-yu bath can be reserved for 50-minute for 2,000 yen (tax included), and Goki-no-yu and Zenki-no-yu are available 24 hours a day.

Best time to visit in Autumn: The best time to see the autumn leaves is around the beginning of November, and you can enjoy the red leaves from Goki-no-yu and Zekuu-no-yu.

The newly-built Japanese-style room "Tenku no Ma" (maximum capacity 5 people) features an in-room bath with a large observation window that provides a wide view of the nearby mountain's colorful autumn leaves.
花屋徳兵衛

Address

217 Dorogawa, Tenkawa, Yoshino-gun, Nara 638-0431

Phone Number

0747-64-0878

・Hours: Check in 14:00, check out 11:00
・Price: 12,000 yen per night with two meals (excluding tax)

Vacancy search, reservation

from

32,400JPY

1room, 2adults

Check with our partner site as the latest rates, rate details, and guest room requirements may vary.
Autumn: Best season for soaking in a Kyoto onsen bath!
Please be aware that the prime leaf-viewing season may vary slightly from year to year, but if you want to experience the luxurious combination of beautiful autumn colors and an open-air Kyoto onsen bath, it's recommended that you make an early reservation to avoid missing out on this unique part of Japanese culture. Come warm your body and your heart!

Text by:WESTPLAN
*This information is from the time of this article's publication.
*Prices and options mentioned are subject to change.
*Unless stated otherwise, all prices include tax.
Limited time offer: 10% discount coupons available now!