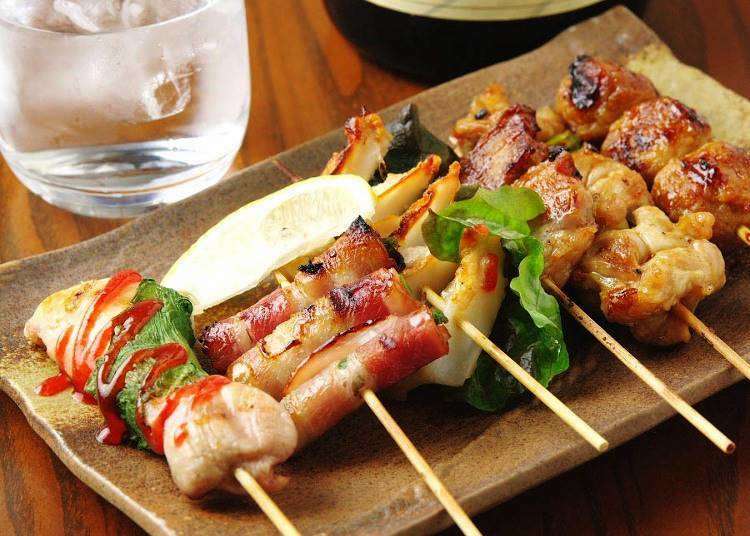 Visiting Osaka? After the sun sets, izakaya in Osaka become the destination for travelers and locals alike.

From Dotonbori to Shinsaibashi stretches one of Osaka's most vibrant commercial areas. This area of Osaka is known for its quality dining. Though there are plenty of glamorous on the busy town streets, of particular note are the izakaya pubs - restaurants where you can enjoy local fare and drink at bargain prices.

There are those that let you stand and enjoy Japanese sake, while others offer you iron-grilled food and robatayaki charcoal-grilled cuisine, and our editor, knowledgeable in Osakan delicacies, will tell you all about them.
1. Nihonshu Unagidani: Enjoy over 100 types of Japanese sake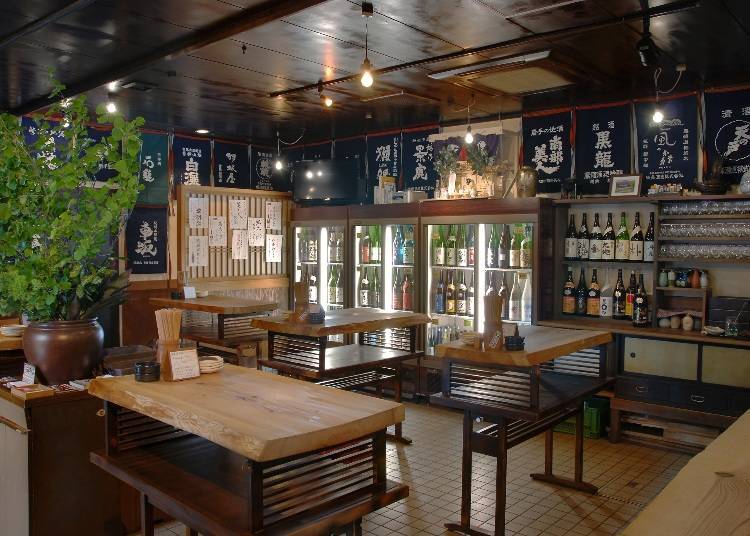 Japanese sake has grown in popularity lately, even abroad. Every brand has a different taste and fragrance, and this izakaya in Shinsaibashi has over 100 brands in stock at all times! The establishment's refrigerators and shelves hold carefully curated brands from all over Japan, such as Yonjudai, Dassai, and Kokuryu.

When you're not sure which one to pick, take a look at the rubber ring atop the bottle. The color denotes Light, Smooth, Strong aroma, Deep, and more, letting overseas customers know easily what they're getting into.
There are plenty of brands popular with tourists in stock
This Shinsaibashi izakaya has all sorts of classic foods that go great with Japanese liquors, like otsukuri and karaage. Best of all is the eel dishes – it's even in the establishment's name (unagi means eel)!

Most recommended by the owner is the umaki, fragrantly toasted eel wrapped in a soft rolled omelet. There's also the kabayaki, eel grilled and slathered in a secret sauce. It's a popular complement to sake. The "Nomikurabe" set (980 yen, without tax) is another good choice, coming with three recommended junmai sake for you to compare.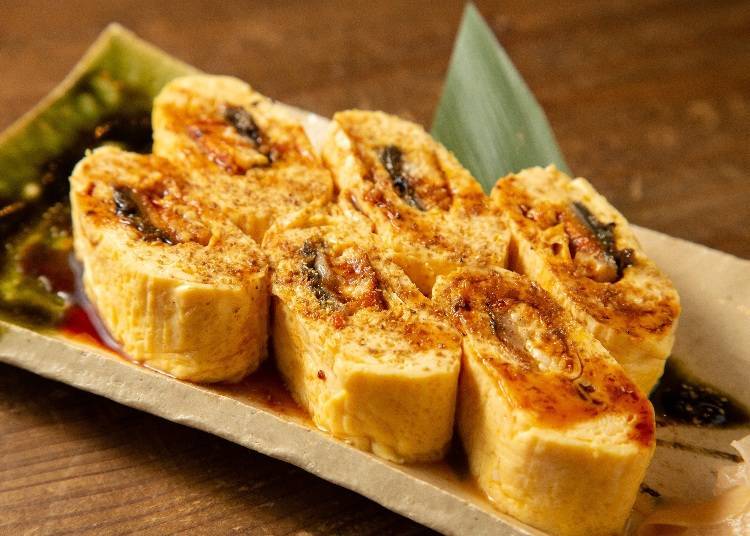 Umaki (780 yen, without tax). It goes very well with the sweet sauce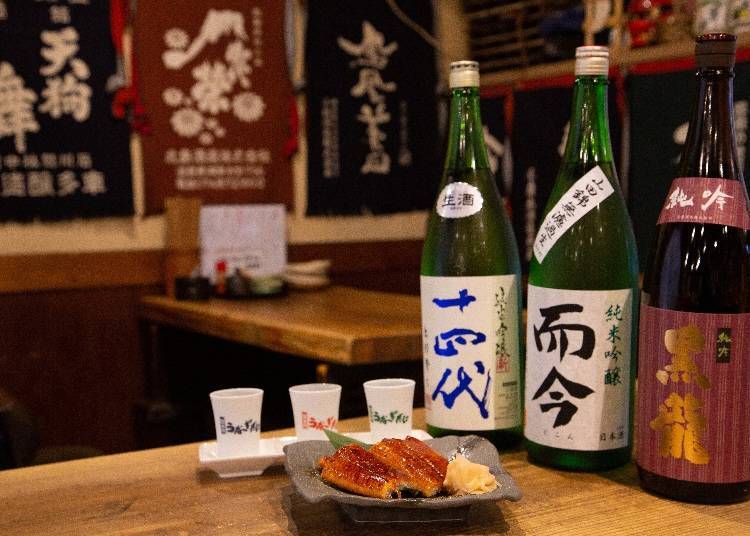 Kabayaki (880 yen, without tax). Try it out with the Nomikurabe sampling set
This Shinsaibashi izakaya has always been in the tradition of standing and drinking, letting its patrons casually enjoy their sake. If you'd prefer to sit, ask the staff a chair when you want to sit down and enjoy your drink after a long journey.
The izakaya is in an alley about a two-minute walk from Shinsaibashi Station
Incidentally, this is Nihonshu Unagidani's main branch. You can find its sister store Nihonshu Unagidanibanare nearby – it has tables and seats that you can relax with. Luckily, they're both close to Shinsaibashi Station and easy to get to.

Recently in April of 2019, the sister store underwent renovations, re-opening as the hand-rolled sushi restaurant Nonono. You pour vinegar on seaweed, then place ingredients onto it such as seafood, beef, pork, chicken or vegetables, then you wrap it up and dine. This is another place you'll want to check out!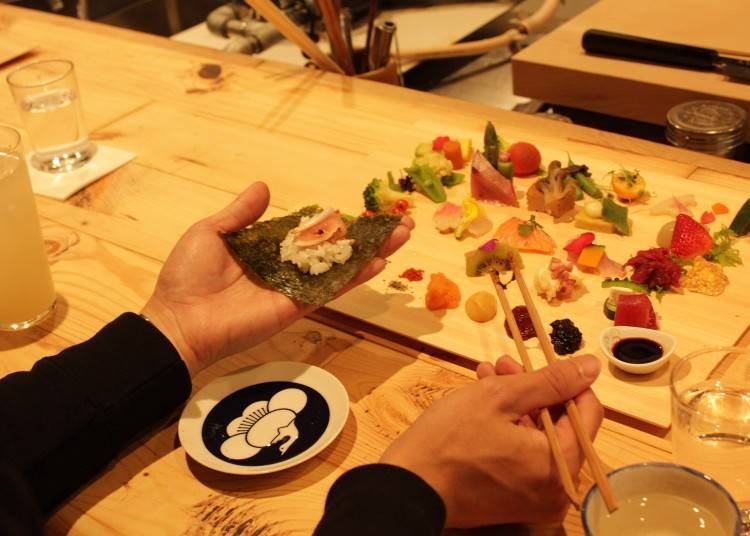 Fish and Vegetable Temaki Sushi Set (2,700 yen, tax included)
日本酒うなぎだに

Address

1-3-28, Shinsaibashisuji, Chuo-ku, Osaka

Phone Number

06-4963-2547

Hours: 3PM to 12AM (Fri: 3PM to 2AM, Sat: 12PM to 2AM, Sun/Holidays: 12PM to 12AM)
Closed: Open Daily
2. Teppan-Jinja: Original teppan skewer restaurant where you can really taste the ingredients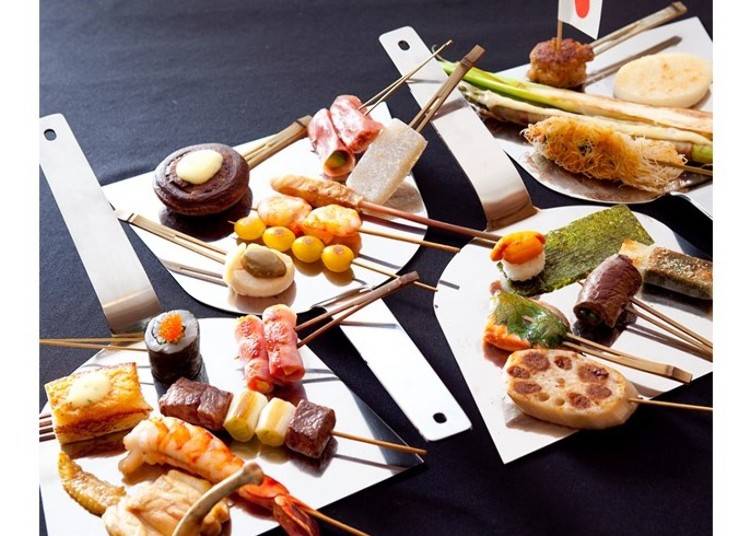 You'll find Teppanyaki Jinja Dotonbori Honten on the main street of bustling Dotonbori. This Dotonbori izakaya offers a variety of teppan (griddle-cooked) culinary delights, including original skewers given to you piping-hot from the lively counter.

The skewers are grilled to perfection by skilled experts right in front of you in an appetizing display. Aside from the kushiyaki skewers and sides to have with your sake, the yakisoba made with their prized sauce and the garlic rice they fry up on the griddle serve as parts of a bountiful menu of meals.

Teppanyaki Jinja Dotonbori operates during night and day, so you can come for lunch as well.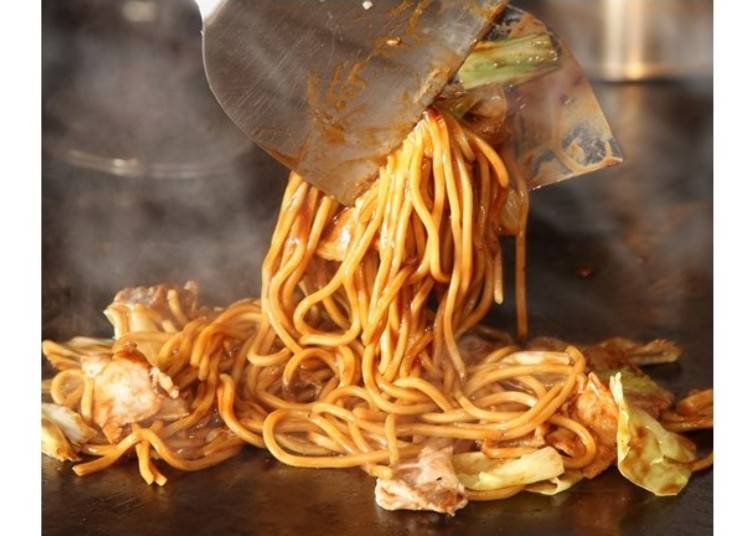 There's plenty of teppan meals, such as yakisoba
One feature that stands out about this Osaka izakaya is that it uses olive oil for its kushiyaki, making a healthy product that truly brings out the flavor of its ingredients. There are over 40 items on the menu, including fresh shrimp and Japanese Black beef, starting at 100 yen (without tax) per skewer.

You can go with the "omakase course" if you want to try a bunch of types. This will get you a parade of recommended items from the chef until you tell them to stop when you're full. It will only run you about 2000 to 2500 yen (without tax) even if you eat ten skewers, so you'll be exposed to a wide variety. It does, however, depend on the day's stock and the types of skewers you eat. There's a variety of drinks available as well, with sake, shochu, beer, wine, and cocktails.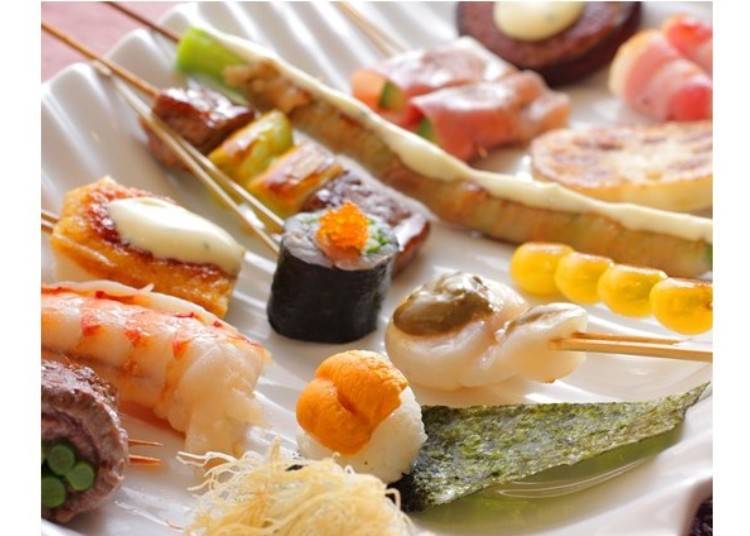 A great variety of skewers in the "omakase course"
The interior has counter seats where you can enjoy the sight of teppan masters grilling up your meals, or table seats where you can sit back and relax.

This izakaya in Osaka also has the Dotonbori shopping street on its front and the Dotonbori Riverwalk behind it, meaning they keep the terrace seats open yearlong. This lets you look out on the neon-lit Dotonbori river as you dine as if you were in a beer garden.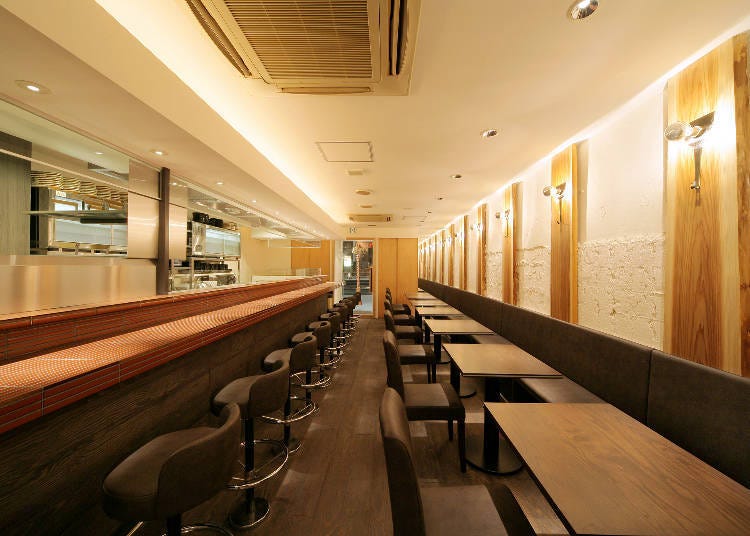 A stylish interior with a counter and tables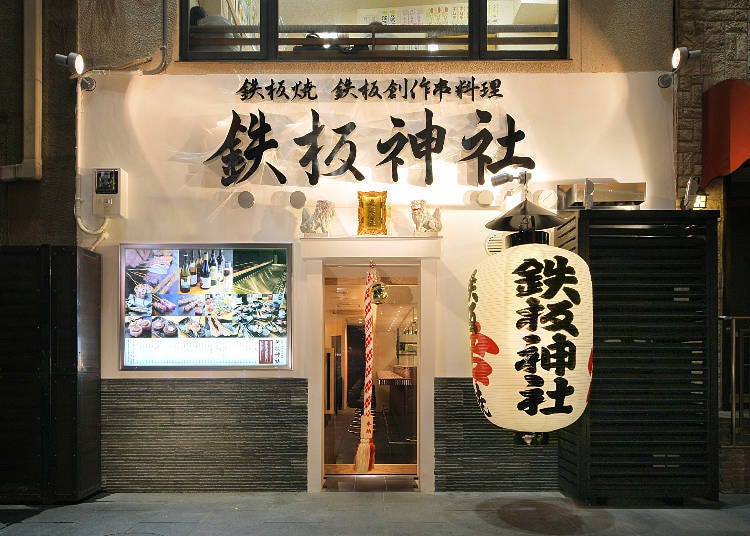 The large lantern indicates the Dotonbori shopping street side front entrance
鉄板神社 道頓堀店

Address

1-6-4, Dotonbori, Chuo-ku, Osaka

Phone Number

06-6214-2855

Hours: 11AM to 3AM
Closed: Open Daily
3. Mizukaketyaya: Everything costs 300 yen!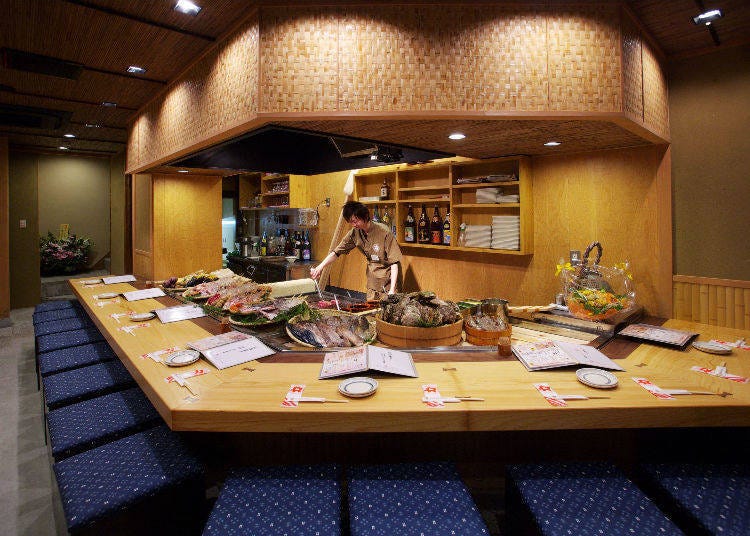 The Rikimaru Group has 16 restaurants in Osaka, mostly robatayaki establishments that grill up fresh ingredients stocked from wholesale markets in front of diners' eyes.

They have a variety of popular izakaya in Osaka that has proved pleasing to discriminating Osakans' palates, and most recommended to the tourist from abroad is the Mizukaketyaya, in the atmospheric Hozenji Yokocho. The appeal is in how easily you can slip by while sightseeing in Dotonbori.

Now, if you want to really see the joy of robatayaki, you'll want to sit at a counter seat. Pick some fresh seafood or vegetables on display and watch as they showily grill it up right there. They deliver the finished meals to you on oars, and those always get cheers.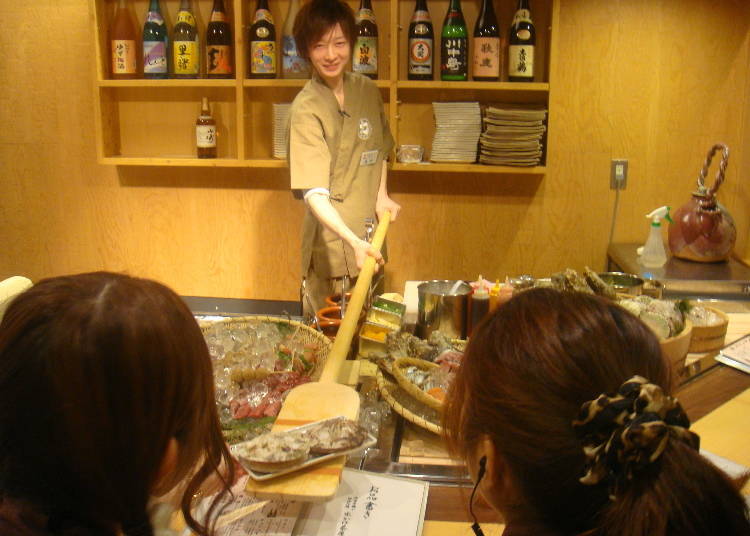 Serving food with an oar
The most popular item on the menu is the hotate no batta-yaki (300 yen, without tax). Grilling a juicy scallop at the perfect heat while still alive makes its meat wonderfully juicy. The fragrant butter mixes well with it, making you want to lap up every drop of soup in the shell.

There are other delicious kinds of seafood available, such as turban shells and shrimp, all freshly stocked from the market. If seafood isn't your thing, there's also grilled chicken or seasonal vegetables all on skewers, as well as otsukuri and other sides. There's beer, chuhai, and cocktails, or shochu and local Osakan sakes, depending on what you're in the mood for drinking with your robatayaki.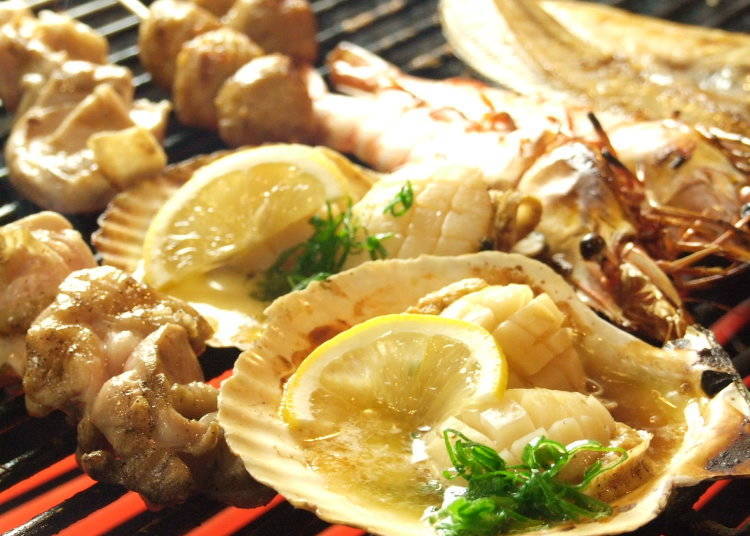 Scallop grilled in its shell. The flavor of the soy sauce and butter really stand out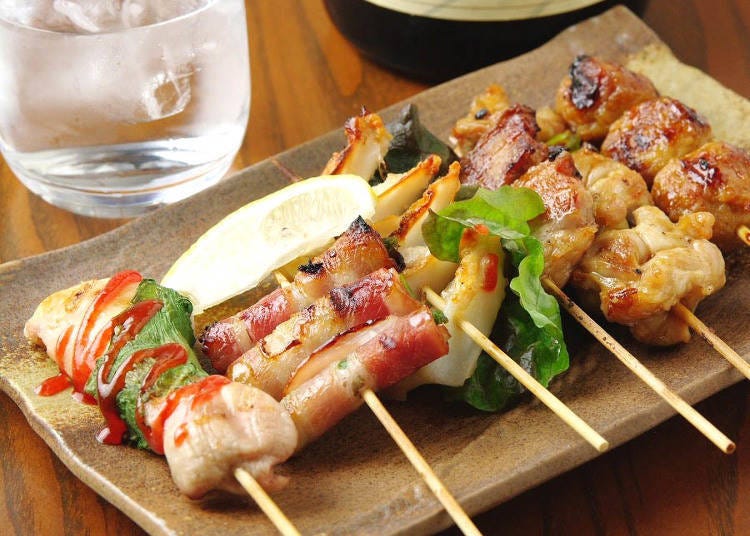 Seafood isn't all that's on offer – there's grilled chicken and vegetables
At this izakaya in Osaka, there are twelve counter seats on both the first and second floor, where you can witness your food being grilled. There are also tatami and cushion seats, along with the attic's seats with depressions in front of them for free leg movements. There are even private rooms with karaoke available.

The izakaya is on the stone-paved streets of Hozenji Yokocho, so you can enjoy a nice walk after having your drink inside.
The attic has seats with depressions that make great use of space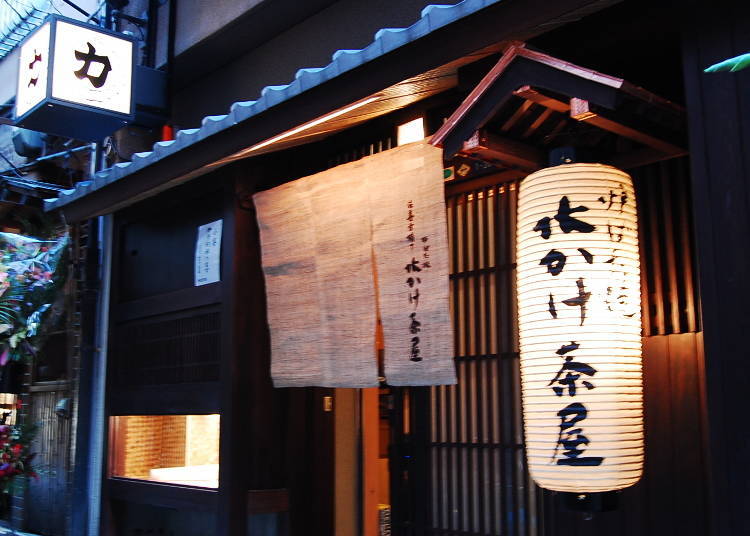 The restaurant exterior. The retro stylings match the Hozenji Yokocho street it occupies
法善寺横丁 炉ばた焼 水かけ茶屋

Address

1-1-20, Namba, Chuo-ku Osaka

Phone Number

06-6282-7290

Hours: 5PM to 11PM (Sat/Sun/Hol: 4:30PM to 11PM)
Closed: Open Daily
Text by:copyz
*This information is from the time of this article's publication.
*Prices and options mentioned are subject to change.
*Unless stated otherwise, all prices include tax.
Limited time offer: 10% discount coupons available now!