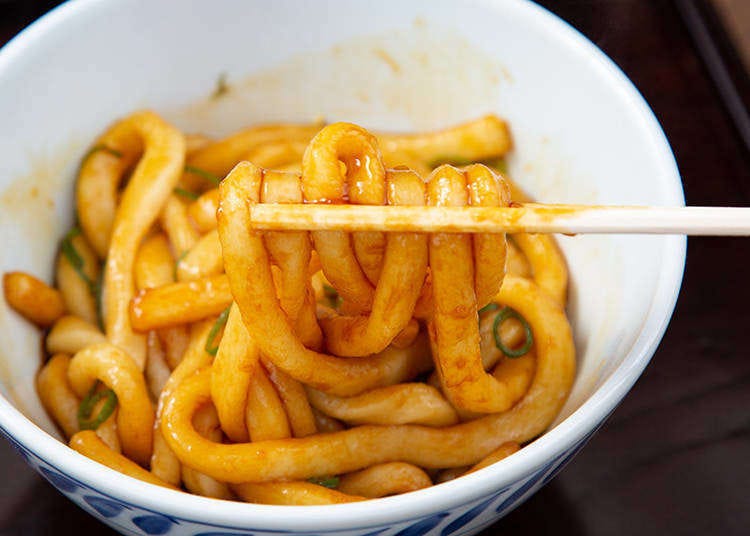 Ise Jingu in Ise City, Mie Prefecture, is one of the foremost tourist spots in the world. Home to Japan's greatest deity Amaterasu and a variety of traditional Japanese structures, it pulls in crowds day after day.

Now, virtually everyone who visits Ise Jingu goes to Okage Yokocho either before or after they pay their respects in the shrine. The street has a variety of Ise restaurants, many of which offer local Ise cuisine, making it a spot you can enjoy all day. If you're here to visit Ise Jingu, we've got five great spots to dine in for you.
1. Fukusuke: Ise's top place for udon noodles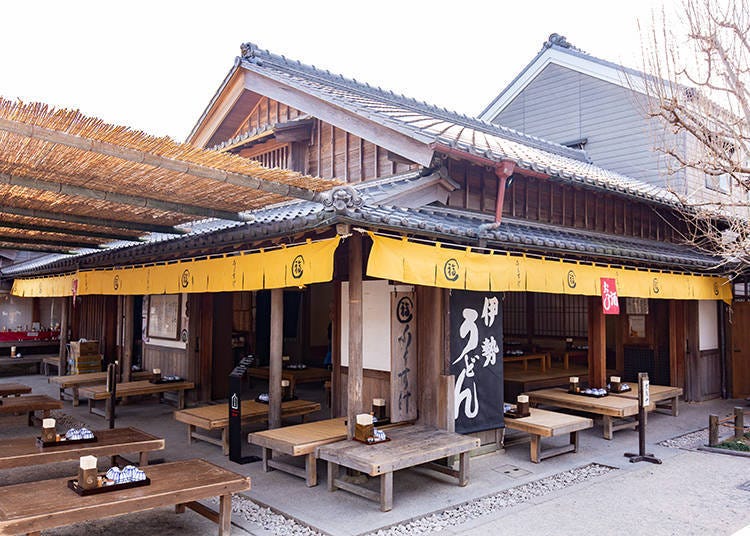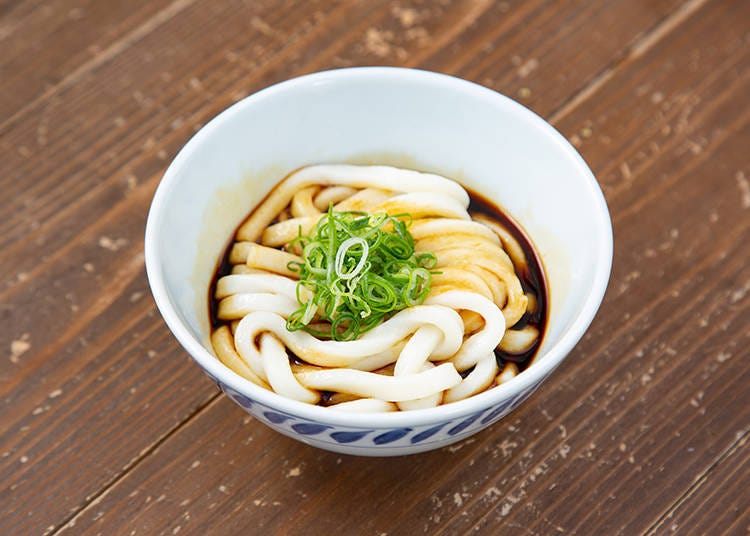 Representing local Ise Cuisine in Okage Cho is Fukusuke, where one popular dish is Ise Udon (500 yen, tax included). This Ise restaurant stands out with its dense tsuyu sauce and thick noodles - fantastic food when you feel peckish but your belly isn't grumbling loudly. It may not look it, but it has a gentle flavor with soft noodles, so it's easy to eat. There are just enough noodles for a quick meal, making it perfect for when you're feeling peckish.

They say that the noodles are soft as not to weigh you down on the way to the shrine, a tradition since ages long ago.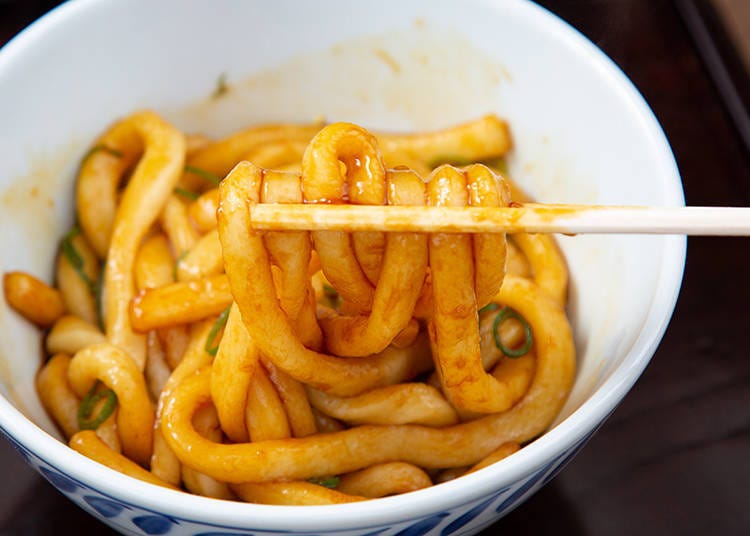 Make sure to mix the Ise Udon noodles up with the tsuyu before eating. If you're out of tsuyu after finishing your last noodle, you've eaten it correctly. Similarly popular are their Tsukimi Ise Udon (590 yen, tax included), which has an egg for flavor, and the Matsusaka Gyuniku Ise Udon (990 yen, tax included) which uses Mie's local Matsusaka beef.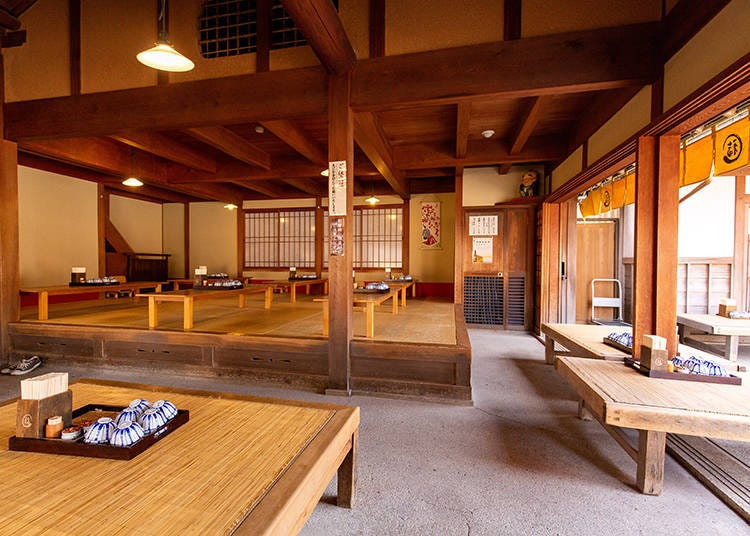 A certain veteran of visiting Ise Jingu advises that you want to eat Ise Udon at 10 AM, when the restaurant opens, then go into the shrine to do your prayers. Then, come back to Okage Yokocho, have lunch, and enjoy sightseeing.
ふくすけ

Address

52 Ujinakanokiricho Ise-shi, Mie-ken 〒516-0025

Phone Number

0596-23-8807

Hours: 10AM to 5:30PM (Last order 5PM, varies by season)
Closed: Open Daily
2. Akafuku Hon-ten: Ise restaurant reprieve for the traveling body and soul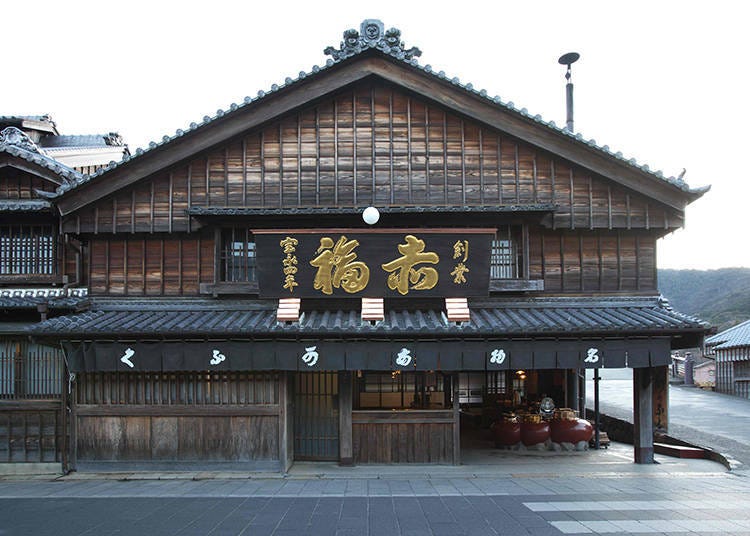 Mie Prefecture's signature treat, Akafuku Mochi (2 for 210 yen, tax included) is something you can't pass up if you're visiting Ise. You can buy them in stores, at the station, or at the airport, but you really want to come to the source: the "hon-ten", or main branch.

As you sit down and snack on your mochi in this building made in 1877, you'll really feel like you're on a journey.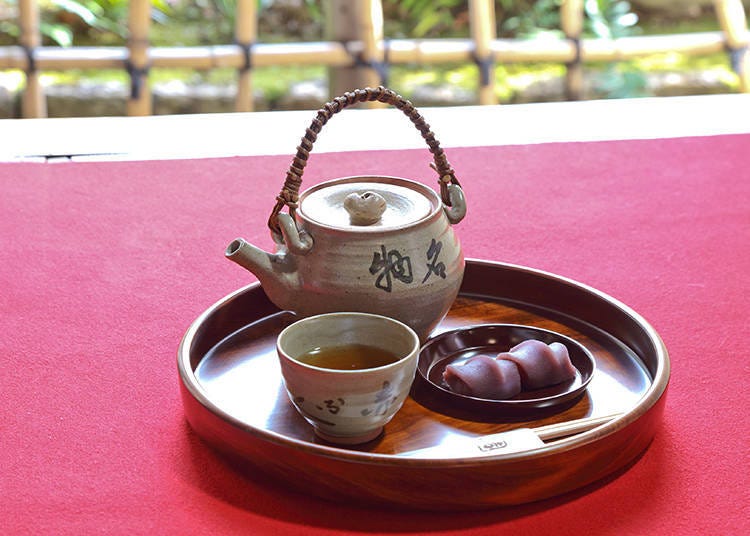 Akafuku mochi consists of bean paste over mochi. The bean paste is fashioned after the flow of the Isuzu River that runs through the holy grounds of Ise Jingu, and the white mochi is meant to represent small pebbles at the river floor.

The tea served with them truly brings out the classy sweetness of the bean paste, and the soft, tasty treat is beloved by all.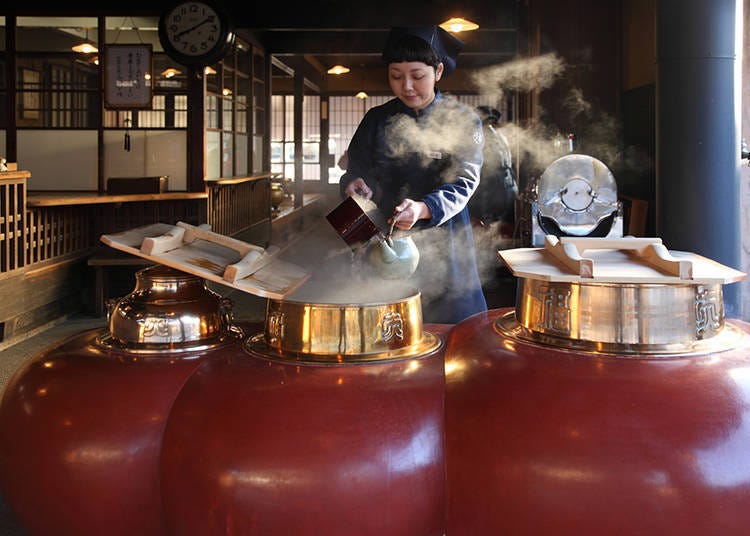 The ovens at the head of the store as fashioned after the Sanbo Kojin, a three-person saddle often used by weaker-legged women on pilgrimages to the shrine in ages past.

Since the Sanbo Kojin is also a god of fire, it is said to reside in these ovens. The tea they serve is made with water boiled in said ovens, allowing guests to enjoy a sacred experience of hospitality.
赤福本店

Address

26 Ujinakanokirichō Ise-shi, Mie-ken 〒516-0025

Phone Number

0596-22-7000

Hours: 5AM to 5PM (can change during busy seasons)
Closed: Open Daily
3. Tofuya: Perfect, hand-made Japanese tofu made daily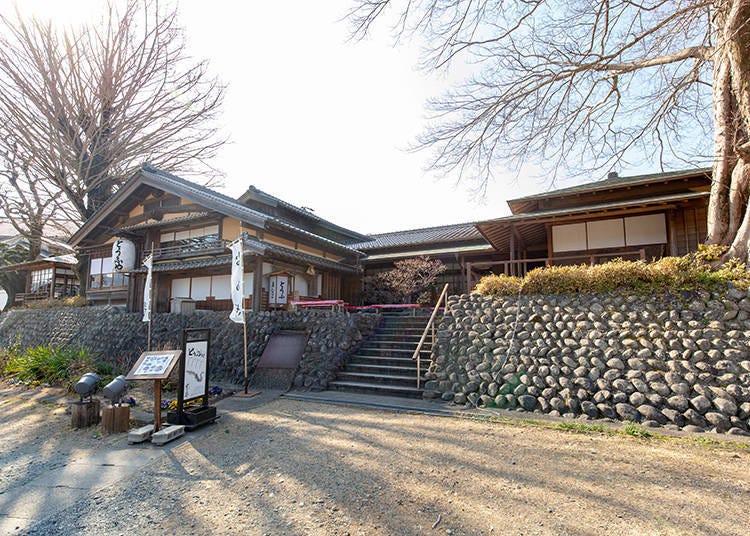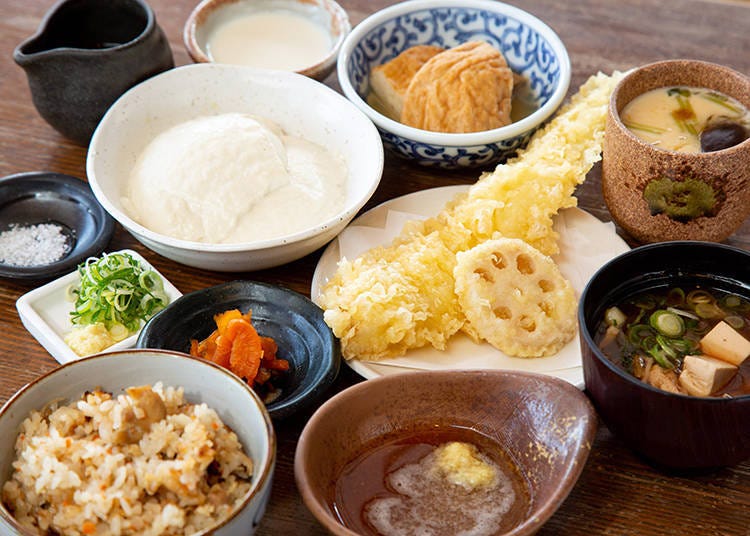 Tofuya Zen (with fish and vegetables over rice) (1,900 yen, tax included)
Tofuya is known for its melt-in-your-mouth tofu, made in-house at this Ise restaurant. Their tofu truly makes use of ingredient flavors, and the Ise Bay-caught conger tempura has won this establishment much popularity. The fact that you can gaze out to the Isuzu River while you dine is just icing on the cake. It really lets you enjoy a seasonal, natural atmosphere.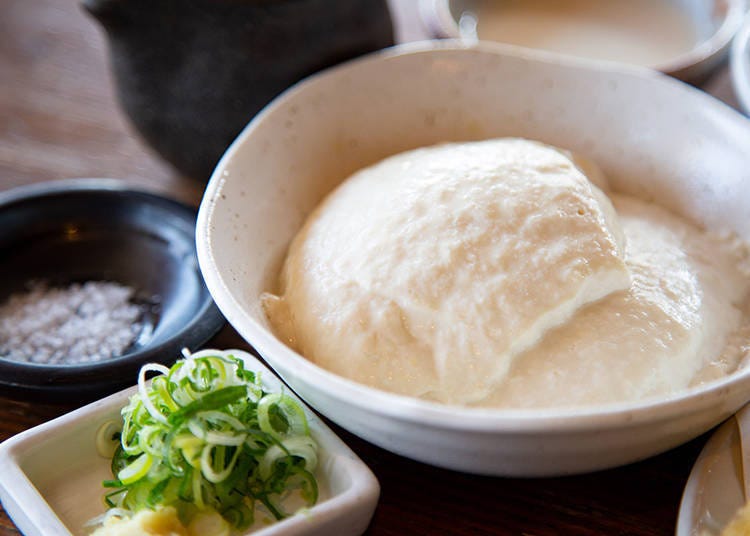 When eating, start with soy milk before your meal, then move on to the tofu. Have your first bite plain, your second one with salt, and your final one with the spice and soy sauce. Test out the three flavors and find which one you like the best!

The tofu is made with domestic beans each morning, and the beans' aroma stands out with the hand-made texture. This is also one of the few establishments that operates until night in Okage Yokocho, so you can dine here in the evening, when things have calmed down.
とうふや

Address

1 Chome-4-1 Ujiurata, Ise-shi, Mie-ken 516-0026

Phone Number

0596-28-1028

Hours: 11AM to 2PM 5PM to 8PM (Sat/Sun/Holidays are 11AM to 8PM)
Closed: Open Daily (No evening hours during the first day of the month, or on Wednesdays)
4. Butasute: Food-on-the-go since 1909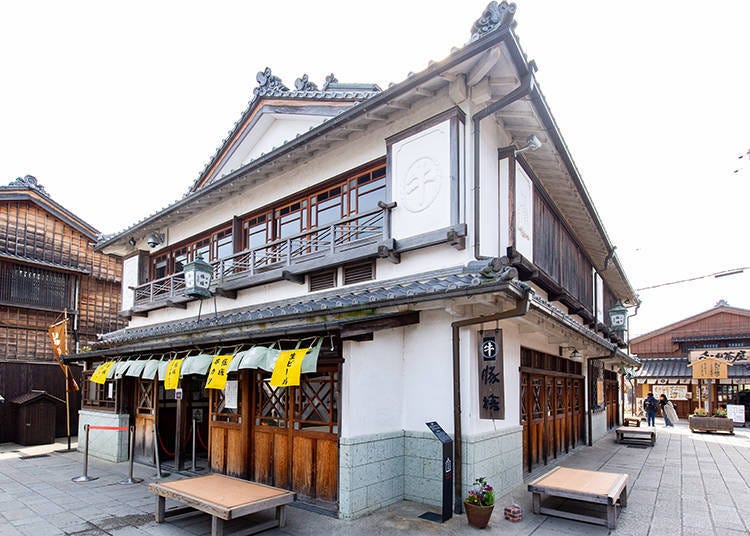 If you want to eat some meat on Okage Yokocho, pay Butasute a visit. Though it has Buta (pig) in the name, it mainly deals in beef. The strange name comes from how the founder, Sutekichi, started a butchery while keeping pigs as pets.

The beef that he served along with the pork was so tasty that customers told him to throw out (suteru) the pork, hence "Butasute". The beef is so tasty that you'll come to believe the story behind the name!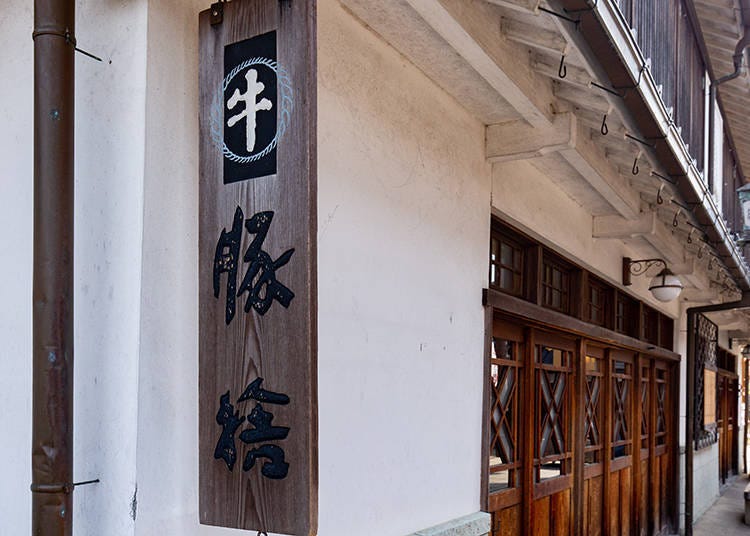 The gyudon (1,000, tax included) and gyu-nabe sugi (2,260 yen, tax included) are this Ise restaurant's most famous dishes, making liberal use of their well-loved beef. There is, however, another famous item on their menu that draws a crowd.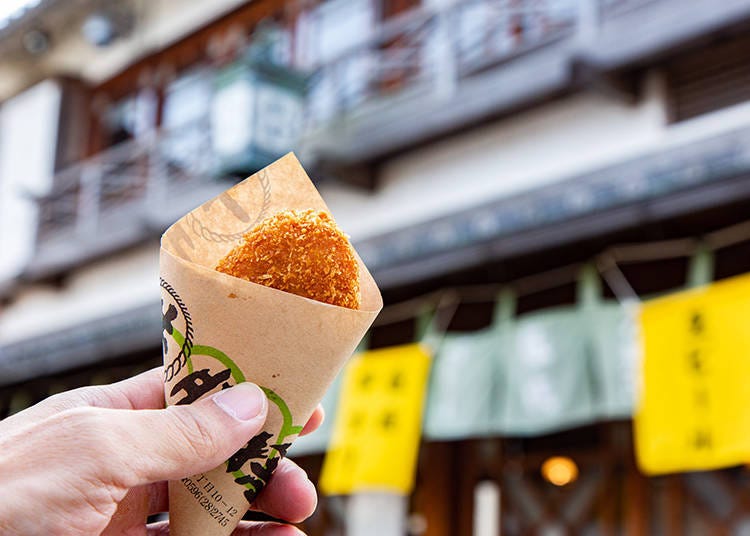 Butasute's famous takeout item are the croquettes (100 yen, tax included). Made with warm potatoes and formed in a perfect, handheld-size, it's great for walking around with.

It's such a popular item that the lines for it never end – but that means that each croquette is made fresh.
The restaurant interior has 150 seats, and they all fill up during peak lunchtime hours.
豚捨

Address

〒516-0025 三重県伊勢市宇治中之切町52

Nearest Station

0596-23-8803


Phone Number

0596-23-8803

Hours: 9:30AM to 5:30PM (Dining from 11AM to last orders at 5PM, changes by season)
Closed: Open Daily
5. Iseman Naiku-mae Shuzojo: Find sake available nowhere else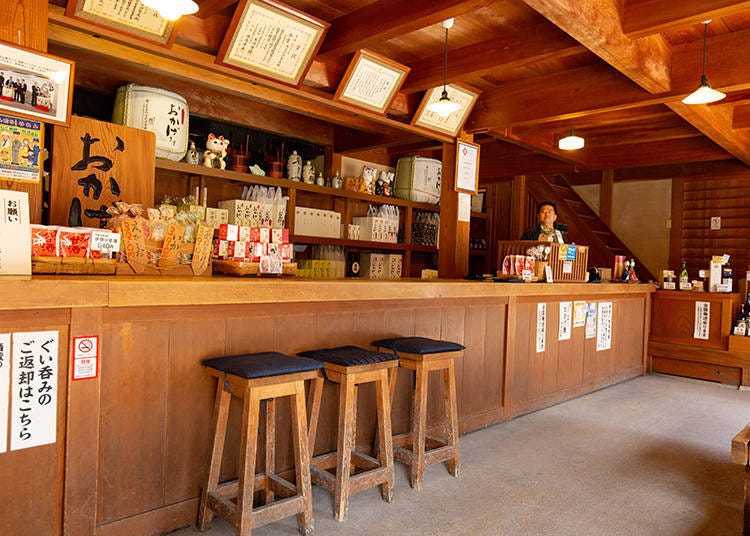 After visiting the shrine and enjoying the local food, how about some sake? Iseman Naiku-mae Shuzojo is Ise City's only local brewery, offering local sake. It makes nine types of alcohol yearly, letting you enjoy different bottles by season. They're perfect to buy as souvenirs, and you can also drink half cups in the store.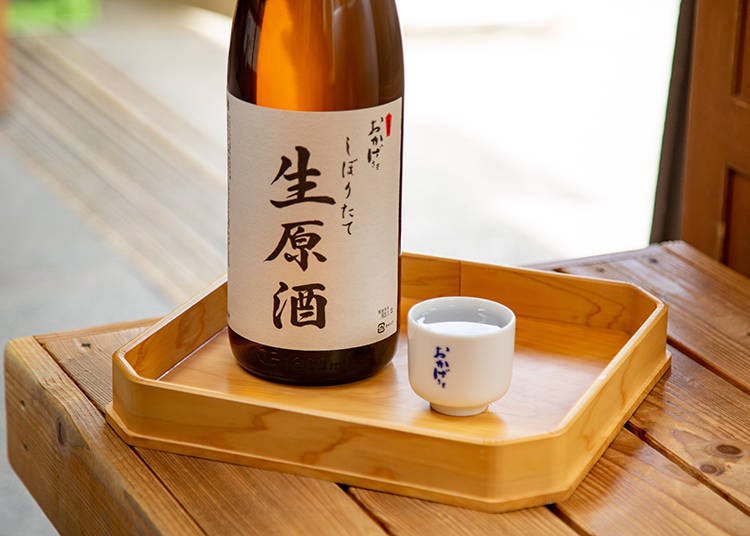 There are plenty of types of sake inside, but we have to recommend the liquor "Okagesama Shiboritate Nama-genshu."(300 yen, tax included, half-cup) This raw sake is made from the water of the Isuzu River and has a fruity flavor with a gentle aftertaste. What's more, you can only have it at its freshest in the store itself. Since you can't try it anywhere else, why not take advantage of the opportunity?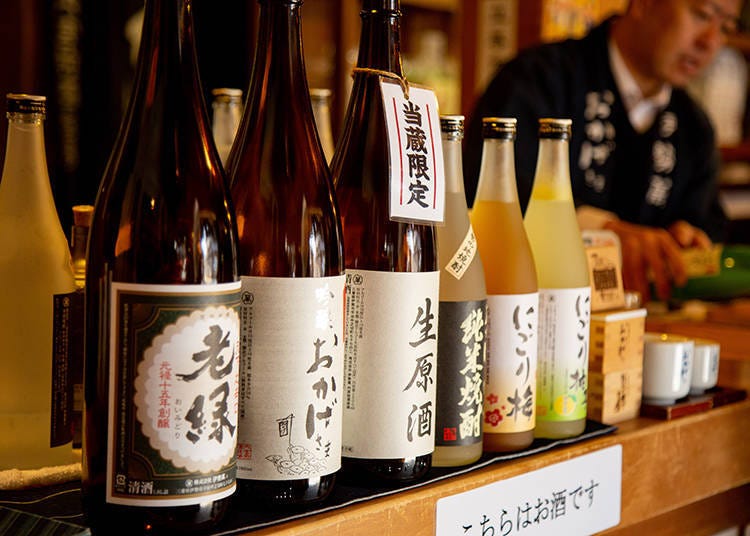 Other popular drinks include the nigori-ume and nigori-yuzu drinks, available for sampling in the store in half cups that each go for 220 yen (tax included). Try out a lot of different flavors in the store and find out which one you want to settle on to represent your journey.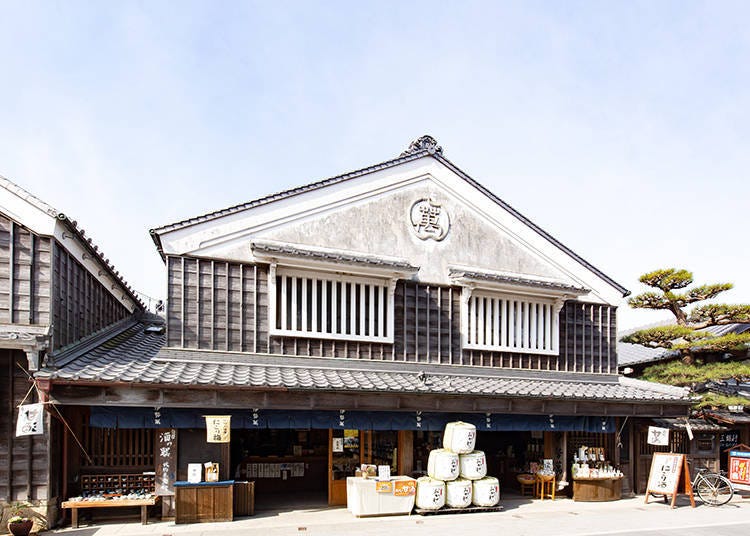 伊勢萬 内宮前酒造場

Address

77-2 Ujinakanokirichō, Ise-shi, Mie-ken 〒516-00257-2

Phone Number

0120-177-381

Hours: 9:30AM to 5:30PM (changes by season)
Closed: Open Daily
Text by:GAIN
*This information is from the time of this article's publication.
*Prices and options mentioned are subject to change.
*Unless stated otherwise, all prices include tax.