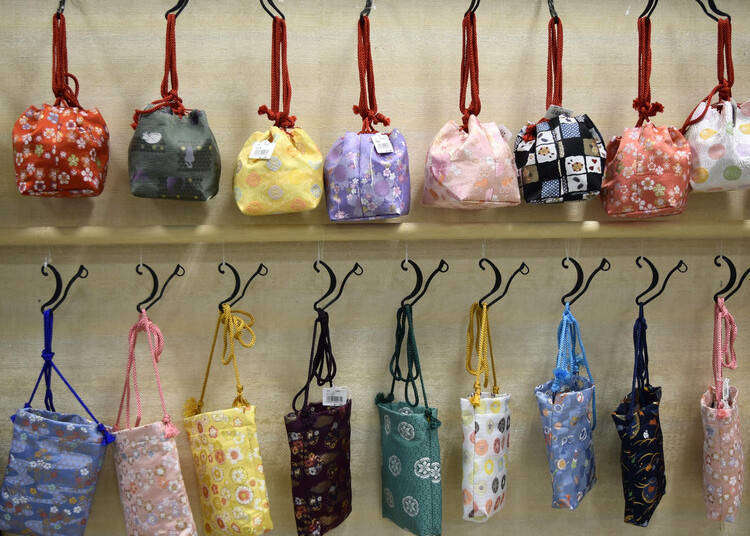 At Nishijin Textile Center in Kyoto, you can learn how kimonos are made, see (and wear!) real, authentic kimono, and even buy some for yourself!

Nishijin-ori is a high-class woven fabric representative of Japan. These fabrics come in beautiful patterns made with yarn-dyed threads, and are used to make kimono and obi (kimono sashes).

This full-scale facility is operated by the Nishijin-ori manufacturing company and a union of craftspeople. Rest assured that measures against coronavirus are strictly in place, so you can come and experience this Japanese tradition with peace of mind.
An Exhibit that Teaches the History and Culture of Nishijin-ori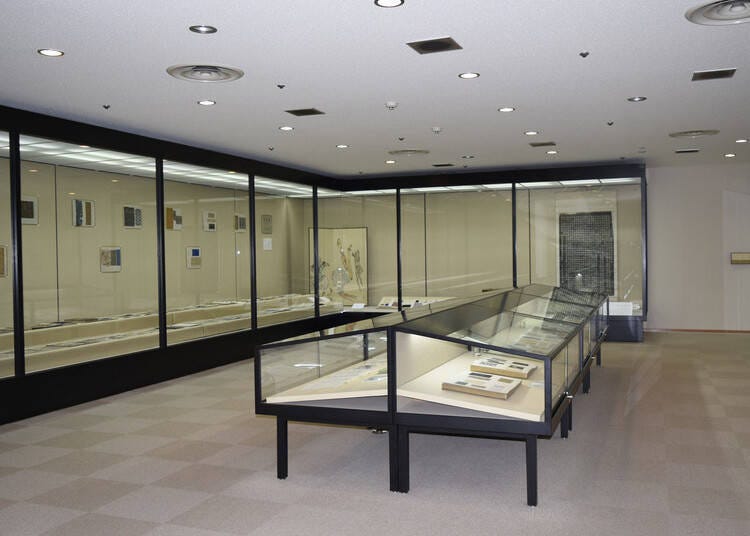 Weaving is said to have started in this area around the 8th century. This area was the headquarters for the Western Army during the Onin War for 11 years in 1467. It became known as Nishijin ("Nishi" means "West"), and fabrics weaved in the area became known as Nishijin-ori.

The distinctive technique of Nishijin-ori has been designated as a traditional national craft. Displays on the 3rd floor showcase historical materials, textiles, and outfits all related to Nishijin-ori. Get an up-close look at this hundreds-year-old craft and an essential part of Kyoto's culture.
A Closer Look at Traditional Craftsmanship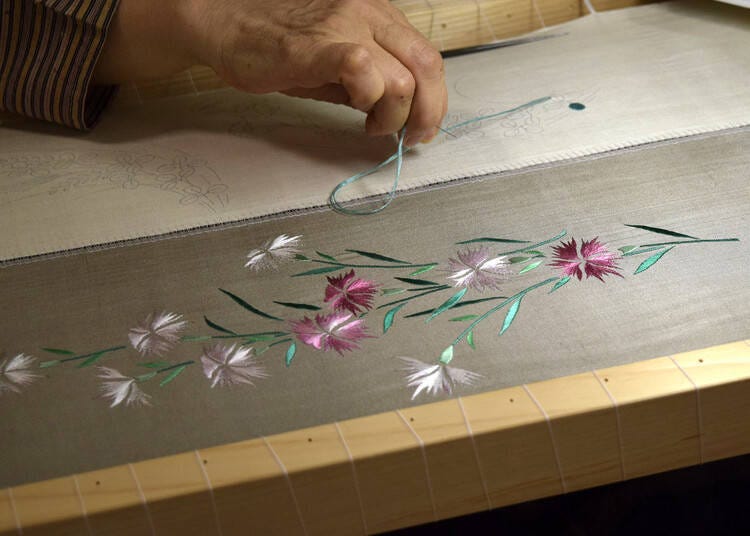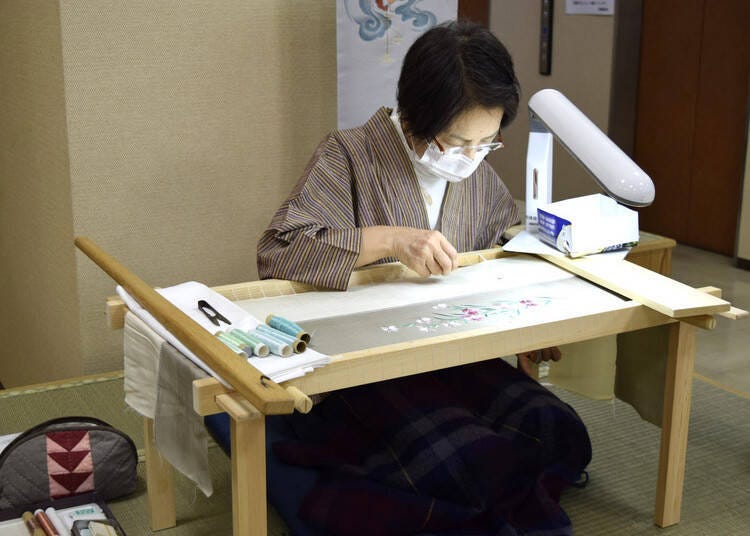 See the craftspeople at work on the second floor of Nishijin Textile Center. Watch live demonstrations, and appreciate the embroidery and hand-weaving techniques the workers use to make their designs.

Because the craftspeople rotate throughout the day, the demonstration's content may vary depending on the day of the week and time of day.
Fall in Love with Hand-Weaving!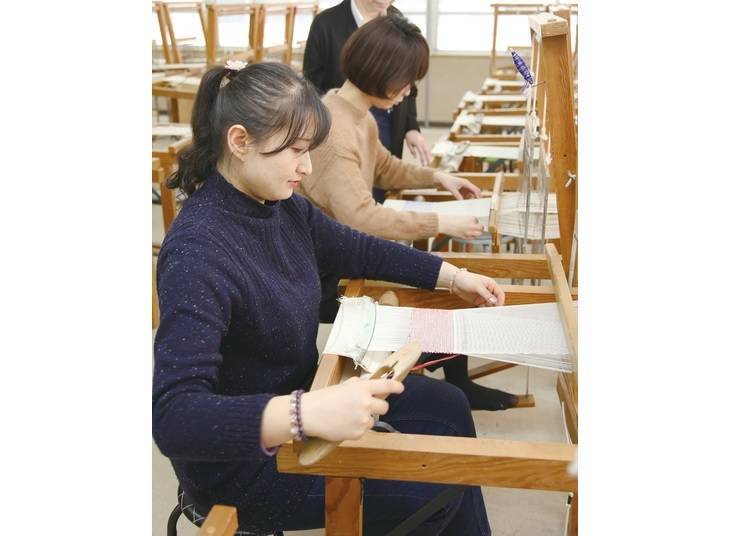 Participate in the popular Hand-weaving Experience, and learn how to use a tebata, or handloom. Pass the shuttle between the threads and weave your weft yarn. Time seems to pass in the blink of an eye as you listen to the hypnotic clacking of the machine.

In about 40 minutes, you will have just woven your very own table runner. Children from 5th grade and older can participate.

Join as a family! The fee is 2,200 yen for general admission and 1,870 yen for students (reservations required, tax included).
Nishijin Textile Center's Glamorous Kimono Show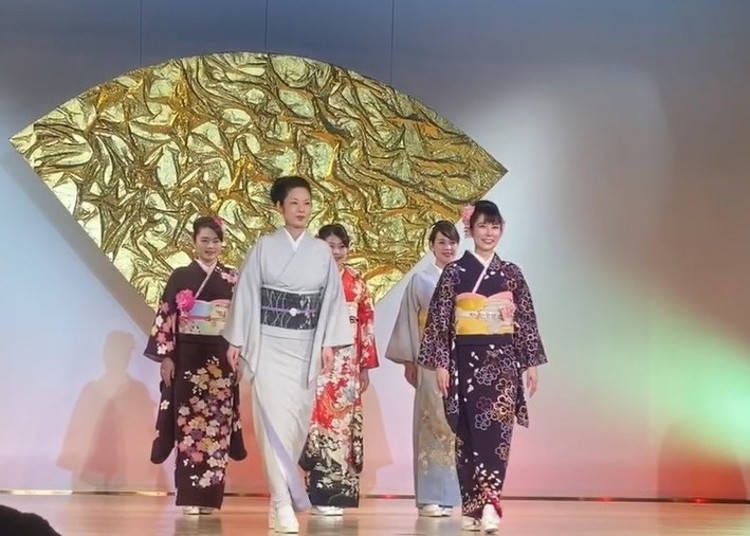 Kimono come in a variety of types and designs. From casual everyday wear, to kimono for special occasions, to formal wear and kimono that vary by age.

You can see all of these styles and more in the gorgeous Kimono Show held on the 3rd floor. Pay attention to the beauty created by the different combinations of kimono and obi, and the various ways the obi are tied.

All the traditional Yuzen-dyed and Oshima Tsumugi kimono are authentic handmade pieces by the craftsmen.

Performances are currently suspended due to coronavirus. However, in the future, you may be able to see many new styles. Please contact ahead before visiting.
Stroll the City in Stylish Kimono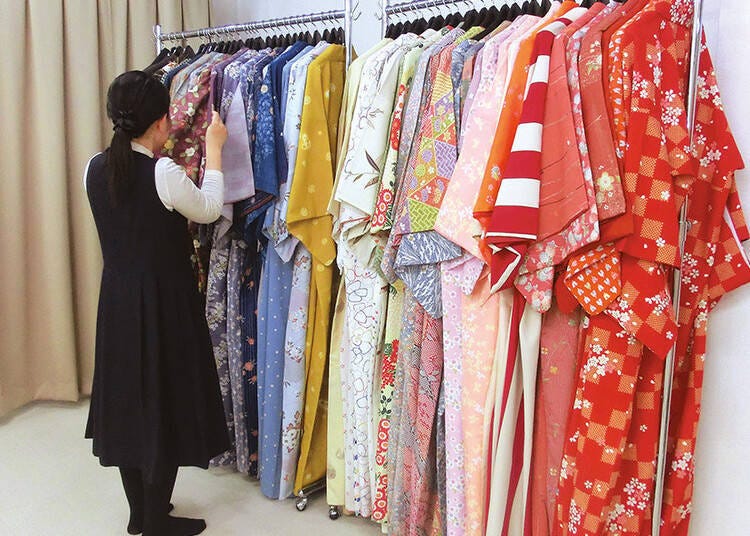 On the 3rd floor you can also experience wearing a kimono for yourself. There are plenty of casual polyester kimonos to choose from. Call in advance to reserve a pure silk kimono. Yukata are highly recommended for summer strolls.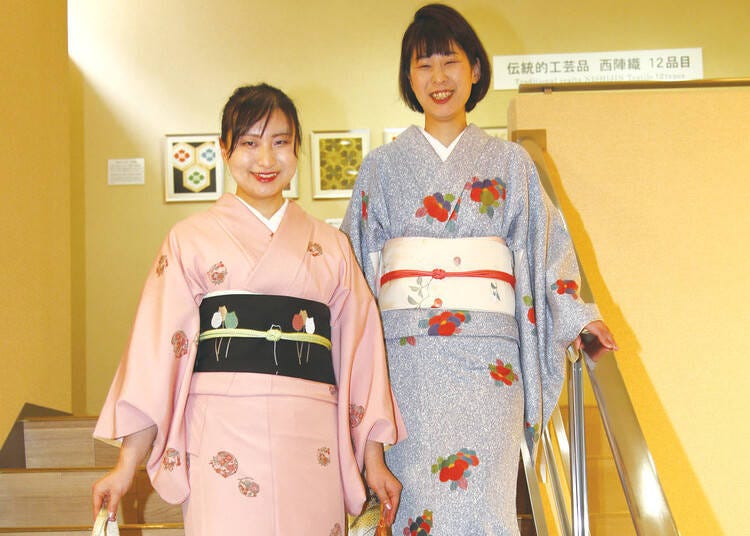 A komon is an informal kimono that you can wear casually on the street. Choose a matching obi to wear with your kimono, and wear it outside while sightseeing, or simply to visit a cafe.

You can rent the kimono until 4:00PM. In the immediate vicinity, you can visit Seimei Shrine (also known as Abe no Seimei). If you want to go a little further, take a taxi to Kyoto Imperial Palace and Nijo Castle.

Kimono Wearing Experience Prices:
Komon/Polyester: 3,300 yen (in hall only), 4,400 yen (outside; return by 4:00PM)
Komon/Silk: 6,600 yen (in hall only), 8,800 yen (outside; return by 4:00PM)
Yukata: 4,400 Yen (outside; return by next morning) (tax included)
Hair, makeup, and photos are not included. Experience limited to 5 people at a time as a measure against coronavirus.
Shop for Beautiful Kyoto Souvenirs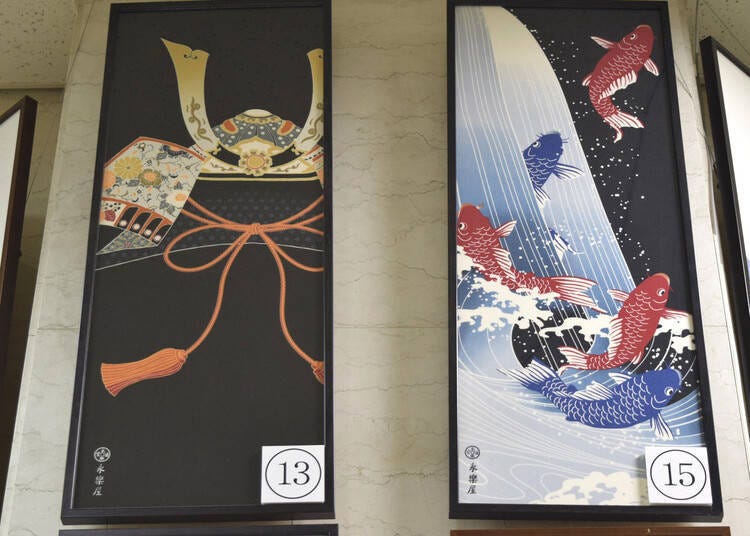 Japanese Towel: from 1,760 yen (tax included)
The second floor of the shop has a variety of Japanese miscellaneous goods, including cotton towels with Japanese designs that have been used in Japan for a very long time.

The patterns are so dynamic, many people choose to frame them and hang them as decorations. These old-fashioned Japanese towels are durable and easy to use, so you can use them to replace the normal towels in your washroom. Visitors will surely be surprised!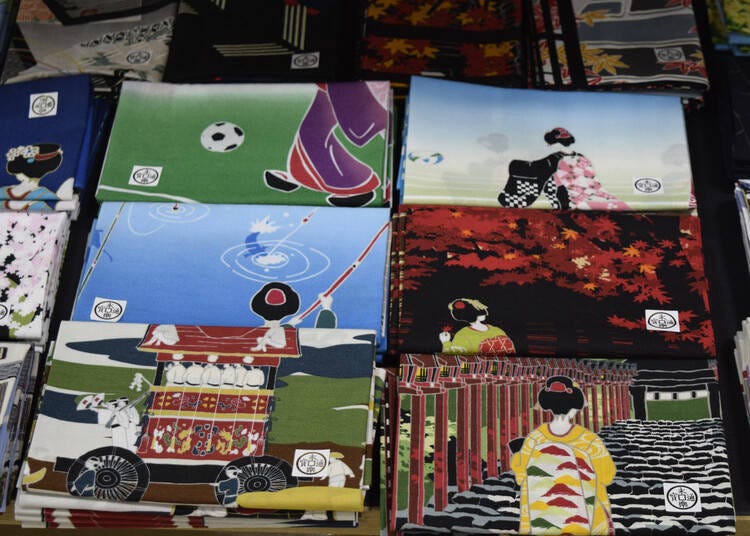 Japanese Maiko Towel: from 1,980 yen (tax included)
Tourists love the maiko designs! A maiko's obi is so long it reaches their feet. These are called "darari-obi" in Japanese ("dangling sash" in English). At about 6 meters and 50 centimeters in length, they are about 1.5 times as long as the average obi.

These are high-class sashes with fine multi-colored patterns made with dyed yarn, a feature of Nishijin-ori. Check out all the different, gorgeous obi designs of the maiko decorating the towels, and buy your favorite as a souvenir from Kyoto!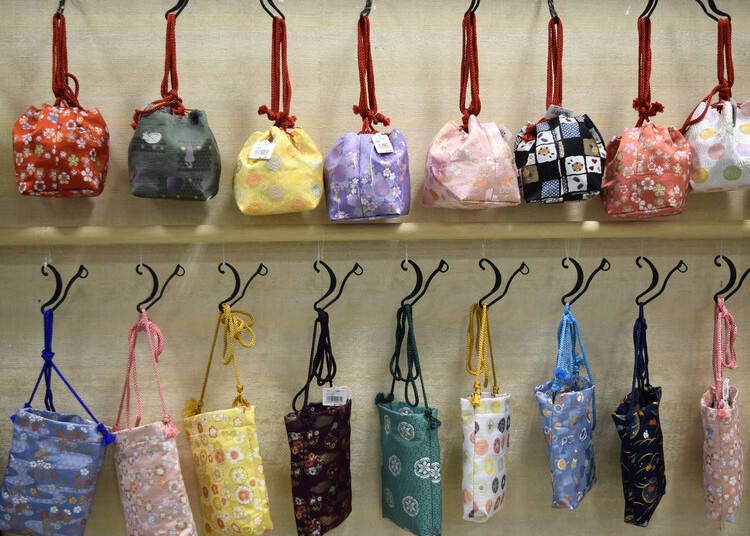 Square Drawstring Purse: 2,200 yen, Pochette: 1,100 yen (tax included)
Nishijin Textile Center's original drawstring bags and pochettes feature colorful Japanese pop patterns. These bags are popular with the younger generation, as they look great not only with kimono and yukata, but with jeans and casual outfits, as well.
Nishijin-ori Goods for Men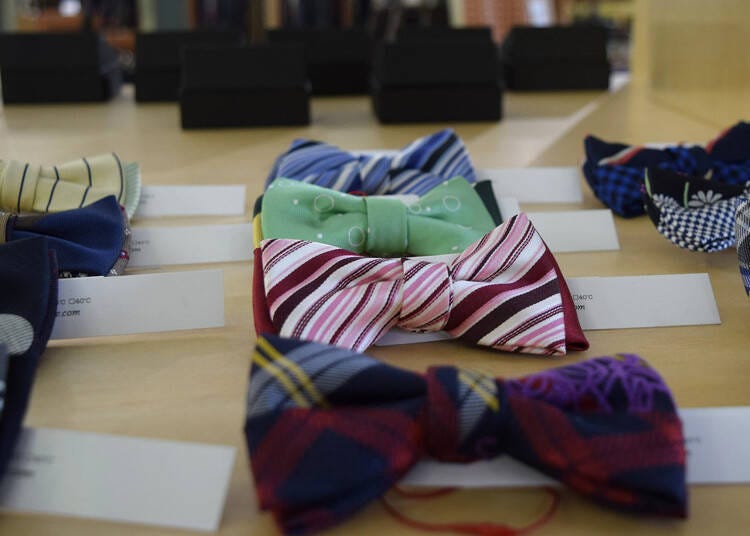 Bow Tie: from 4,180 yen (tax included)
The first floor is lined with ties from famous textile manufacturers from all over Japan, including Nishijin-ori. Made of high-quality fabrics and featuring unique patterns for adults, they make great gifts for men.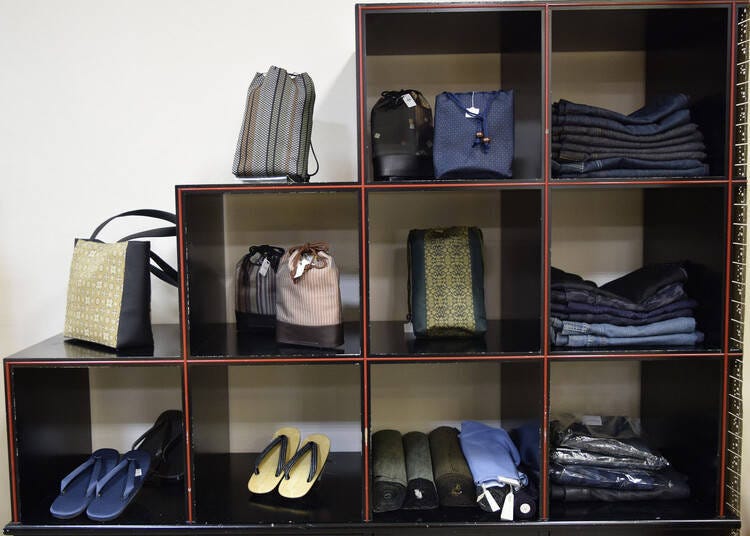 Though the number of men who wear kimono has been increasing, Japanese shops still have a surprisingly small selection of men's accessories. In order to appeal to the growing market, the second floor has carefully-selected kimono and unique matching accessories for men.
Nishijin Craft Beer at a Hidden Location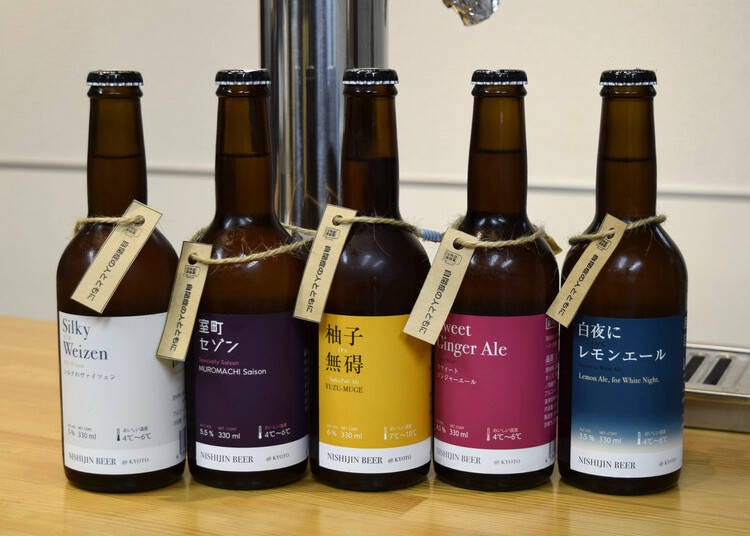 At the Nishijin Sangyo Kaikan, located on the same site as the Nishijin Textile Center, you will find Nishijin Bakushu, a local beer brewery.

As seen in the photo, there are five standard drinks from the left: Silky Weizen, Muromachi Saison, Yuzu Muge, Sweet Ginger Ale, and Lemon Ale for White Night (590 yen per bottle, tax not included).

Enjoy different flavors, from sweet and fruity to bitter hops. Currently, they are only allowing takeout, so you can still buy them as souvenirs.
Nonprofit Organization HEROES

特定非営利活動法人HEROES

Address

414 Tatemonzencho, Kamigyo-ku, Kyoto

Phone Number

080-2514-3441

Hours: 9:00AM-6:00PM
Closed: Saturdays, Sundays and public holidays
At Nishijin Textile Center, you can learn all about Nishijin-ori, and experience beautiful, authentic items crafted with traditional techniques.

Exhibits are displayed in English, and currency exchange machines are available. Admission is free, and in addition to exhibits and experiences, there is also a shop and a restaurant. Visit Nishijin Textile Center, and experience traditional Japanese culture for yourself!
Measures Against Coronavirus
Regularly cleaned and disinfected; sanitizer available; partition plates installed; all staff required to wear masks/wash hands/use sanitizer/gargle/take temperatures; customers also required to wear masks/take temperatures
Address

414 Tatemonzencho, Motoseiganji-dori, Kamigyo-ku, Kyoto-shi, Kyoto, 602-8216
View Map

Nearest Station

Imadegawa Station (Karasuma Line)
10 minutes on foot


Phone Number

075-451-9231
Written by: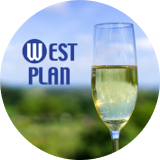 Book an unforgettable experience in Kyoto!
Make your trip extra memorable by booking one of these recommended experiences on our partner site, Klook!
*This information is from the time of this article's publication.
*Prices and options mentioned are subject to change.
*Unless stated otherwise, all prices include tax.