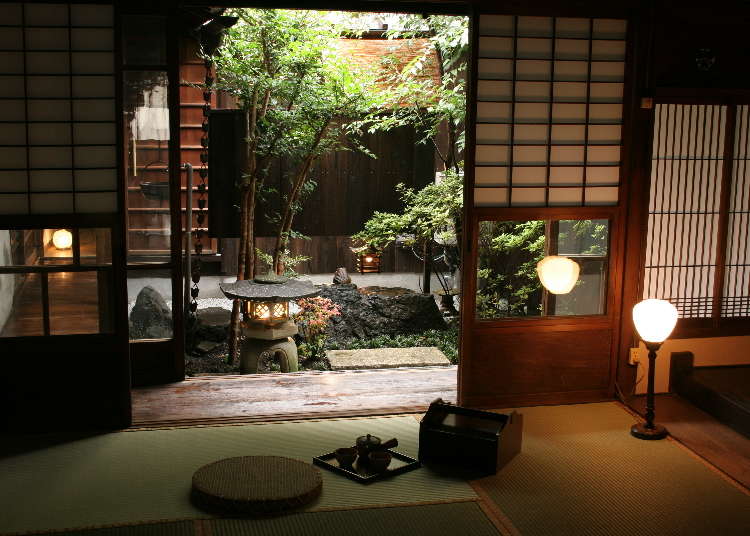 One of Kyoto's most popular attractions is its old-fashioned townscape, lined with old streets and buildings that look just as they did long ago. But did you know you can enjoy these houses as Kyoto vacation rentals too?

That's right, there are many old, wooden homes where people once lived, still perfectly intact. And now, you can experience what it's like to live in one, too!

We've collected some of the best old-fashioned, Kyoto-style houses that now serve as accommodations for you to enjoy, including traditional Kyo-Machiya townhouses, Sukiya-zukuri homes, and even old-fashioned thatched-roof houses.
Why Kyoto House Rentals are Gaining Popularity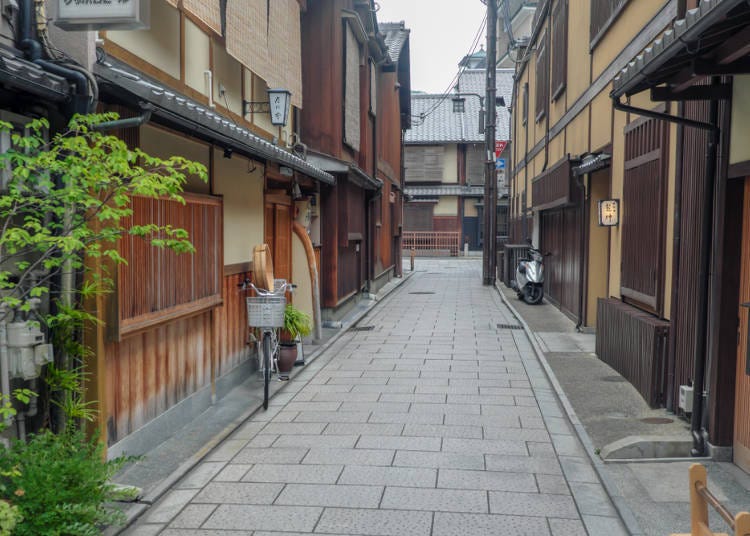 Sakaj Pawasuttikul / Shutterstock.com
While the reasons for traveling and how one chooses to enjoy their trip may vary from person to person, there is one important thing that everyone seems to agree on is: deciding where to stay.

Recently gaining popularity as one of the options is "kominka," or old-fashioned, private house rentals. Kominka are Japanese houses using traditional architecture and are generally over 50 years old.

There are many old-fashioned houses in Kyoto called "Kyo-machiya," complete with lattices and insect windows, creating a historical townscape that feels as if you've stepped back in time.

Take a trip back in time by staying in an old-fashioned kominka for a special experience you'd never find in a typical hotel.
1. Yamanaka Aburaten Machiya Guest House: Enjoy a Stay in a Heian-kyo Rental
Over 1,200 years ago, when Kyoto was the capital of Japan, it went by a different name: Heiankyo. Experience the energy and tradition of ancient Heiankyo at this gorgeous Kyoto vacation rental!

Yamanaka Aburaten Machiya Guest House is only a 5-minute walk from the Senbon-demizu bus stop on Senbon-dori, which was once the main street of Heiankyo, called Suzaku Avenue. It is now a vacation rental that has been renovated from a 100-year-old townhouse built behind the remains of Heian Palace.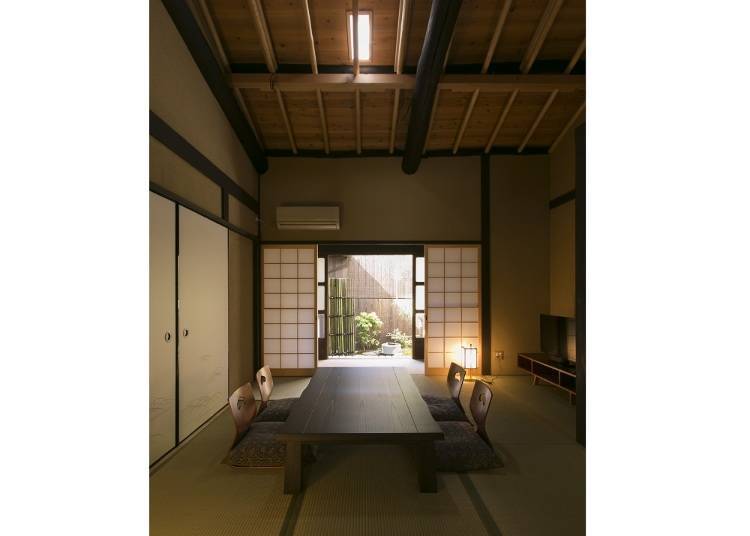 These attention-grabbing buildings, with their traditional red old-fashioned lattices (called "bengara goshi"), are named after the shrines that once existed at this place, such as Jogyoden and Kokiden.

There are 7 buildings: Jokyoden Higashi-no-tai (East House), Jokyoden Nishi-no-tai (West house), Kokiden Minami-tei (South house), Ichi-no-tsubone, Ni-no-tsubone, San-no-tsubone, and Demizu-machiya.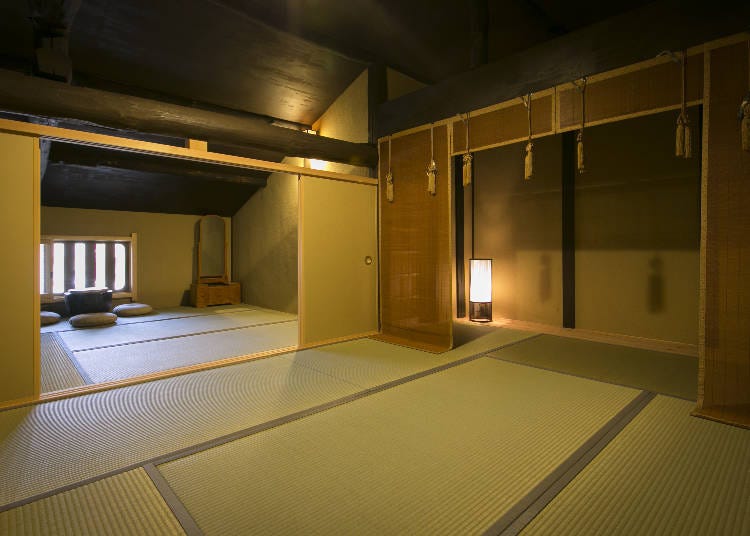 With the exception of Higashi-no-tai, all other buildings include an induction stovetop, so you can cook your own meals. At the Demizu-machiya building, you can take a "Goemon-buro" bath, a traditional Japanese bath in a cauldron-like tub. There are also two bicycles available at the facilities (excluding Demizu-machiya), so you can easily travel around the Heian-kyo area from the inn.

Spend your time relaxing during your stay at one of the most memorable Kyoto vacation rentals, an inner palace reminiscent of The Tale of Genji. Gaze upon the moonlit garden, and travel back in time to an ancient dynasty.
Yamanaka Aburaten Machiya Guest House

山中油店 町家ゲストハウス

Address

297 Higashi-shimeicho, Kamigyo-ku, Kyoto City, Kyoto, 〒602-8162

Phone: 050-2018-1700 (Machiya Inn Co., Ltd.)
Hours: Check-in: 9:00AM~7:00PM (Kyoto Station Reception Desk)
Facility Entry: 4:00PM~8:00PM
*Entry into actual facility from 4:00PM
*Advance notice required for on-site check-in
Check-out: By 11:00AM
Price: From 13,500 yen per night per person (for 2 people, tax included)
2. Naokonoza BETTEI UMEKOJI: A Traditional Kyoto Townhouse Rental with Kimono Culture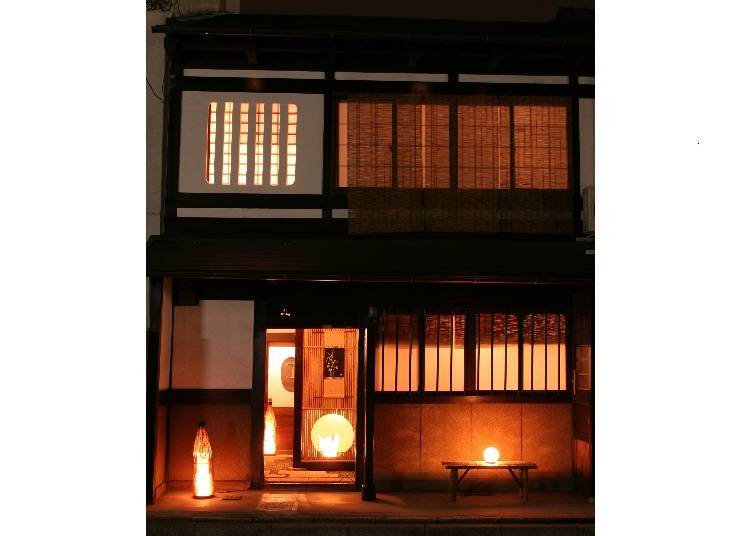 This Kyoto house rental is thoroughly charming. Naokonoza is a remnant of a traditional Kyoto townhouse that has since been lost, with its courtyard gardens, ceiling beams, and unique "ranma," or above-door transoms.

The inn was designed by a landlady who worked for a travel magazine and holds nothing but love for the traditional culture so deeply rooted in Kyoto.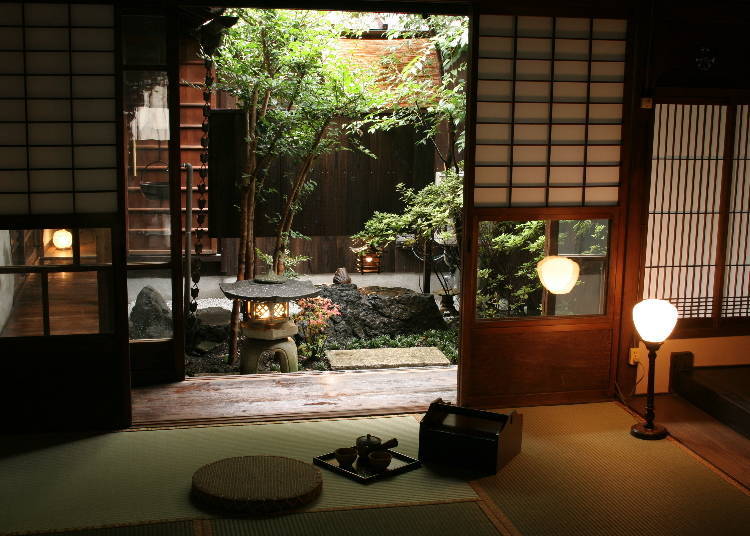 Naokonoza BETTEI UMEKOJI is only a 5-minute walk from Umekoji Park, where the aquarium and railway museum are located. It features typical Kyomachiya characteristics such as street gardens and "hibukuro" (fire boxes to let the smoke out), so your experience can feel as if you are actually living in a townhouse.

After visiting nearby attractions such as Toji and Shimabara, you can enjoy a relaxing bath in the Shigaraki-style ceramic tub.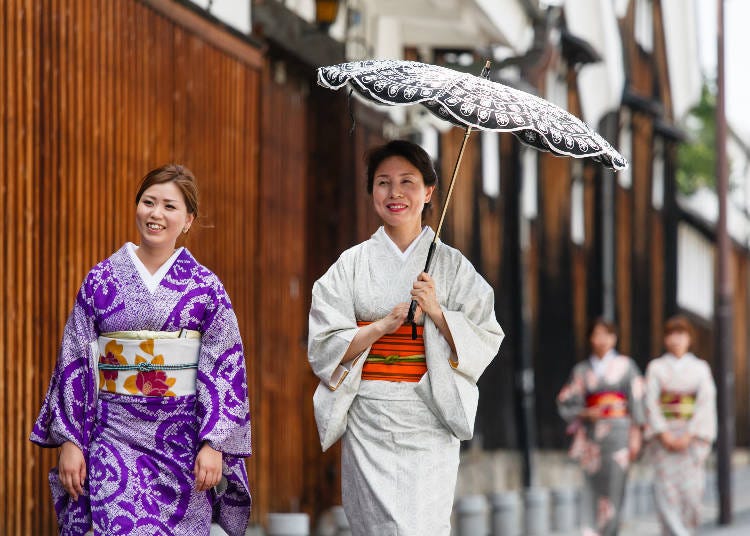 Kimono rental is another attraction of Naokonoza. You can change into your kimono at Beppin Kyoto near Kyoto Station and enjoy sightseeing in your new outfit (yukata available from June to September).

You can have any luggage delivered to this Kyoto house rental that you don't want to bring with you while you stroll around in your kimono (fees may apply). Set out to make wonderful memories of your trip around the townhouses with just your kimono and a camera.
Nao炬乃座 別邸梅小路

Address

8-33 Sujaku-uchihatacho, Shimogyo-ku, Kyoto City, Kyoto 〒600-8843

Phone Number

0120-707-538

Hours: Check-in: 10:00AM~5:00PM (Check-in counter)
Check-out: 11:00AM
Price: From 15,300 yen per night per person (for 2 people)
Kimono Rental: From 3,800 yen (tax included)

Vacancy search, reservation

from

31,000JPY

1room, 2adults

Check with our partner site as the latest rates, rate details, and guest room requirements may vary.
3. Hanare Ninoumi: Stay in the Castle Town of Sengoku Warlord Mitsuhide Akechi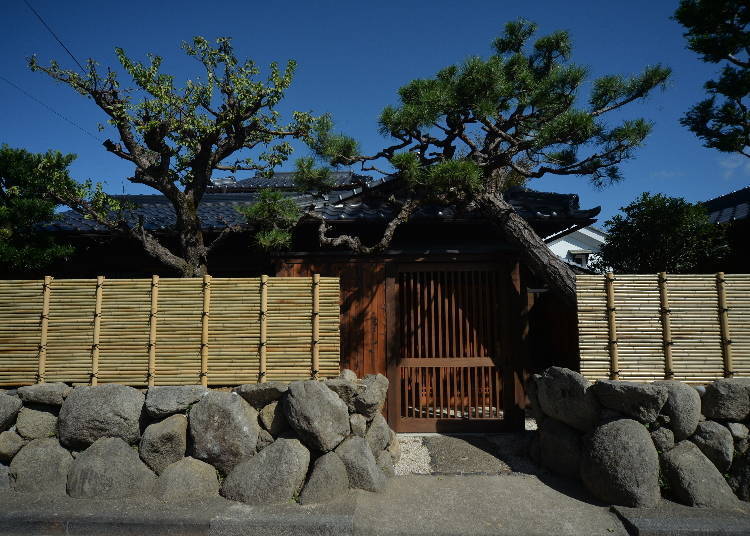 Kameoka City, which is about 20 minutes from Kyoto Station via the JR Line, is a nature-rich area located in the heart of Kyoto.

Hanare Ninoumi is a 100-year-old renovated kominka townhouse, located in the castle town where Sengoku warlord Mitsuhide Akechi first established the Kameyama Castle. You'll instantly fall in love with this Kyoto house rental.

Hanare Ninoumi was named after the "Ninoumi Sea" (literally "Red Sea"), which comes from the deep red mist dyed by the morning sun, a landscape unique to the area of Tamba.

These Kyoto vacation rentals consist of three townhouses named after three great figures of Kameoka: Okyo, Baigan, and Ryoi.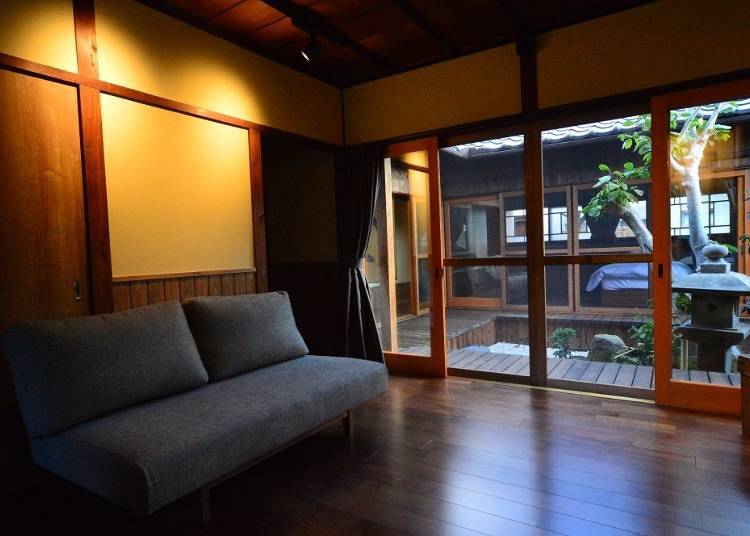 Though the areas around the water supply have been renovated for ease of use in modern times, the townhouse has retained its old-fashioned kominka style, with its old storehouse and gardens kept in their original state.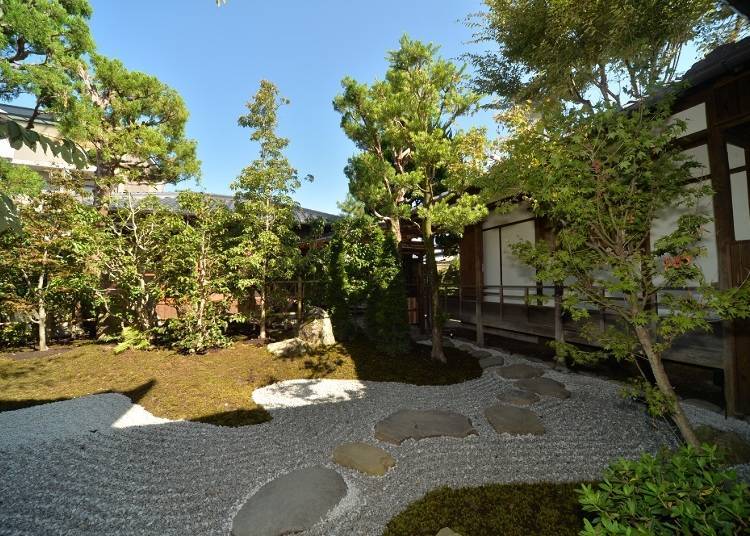 Catering services for kaiseki-ryori (traditional cuisine) and guided tours around the castle town are other popular attractions of the area. Kameoka is an area full of highlights such as the Hozugawa River Tour, trolley train, and Yunohana Onsen, and at this inn, you can now experience living there for yourself.
「離れ」にのうみ

Address

15 Nishitatsucho, Kameoka, Kyoto 〒621-0817

Phone Number

070-2319-9360

Hours:Check-in: 3:00PM
Check-out: 10:00AM
Price:(Per night per person, for 2 people, tax included)
Ryoi: From 8,140 yen
Baigan/Okyo: From 9,160 yen
4. MIYAMA FUTON & Breakfast: Stay at an Old, Thatched-roof Home
MIYAMA FUTON & Breakfast is an old-style house accommodation with thatched roofing located in Miyama, a town famous for Kayabuki no Sato ("thatched-roof village") and its idyllic rural landscape.

The steep roof shingled with grass and sedge of this kayabuki, or thatched-roof, home is made in an architectural style that has long been handed down in rural Japan.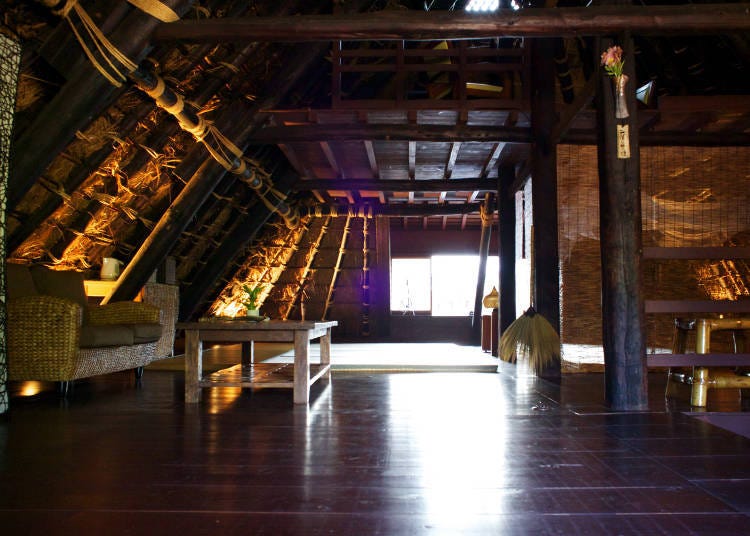 The main building is a 150-year-old registered cultural property and is filled with the old-fashioned charms of a kayabuki house, such as a large hearth and a second-floor attic where you can see the thatched roof up close.

At this particular Kyoto vacation rental, accommodation is limited to one group per day, so you can enjoy your time in Miyama with your family and friends.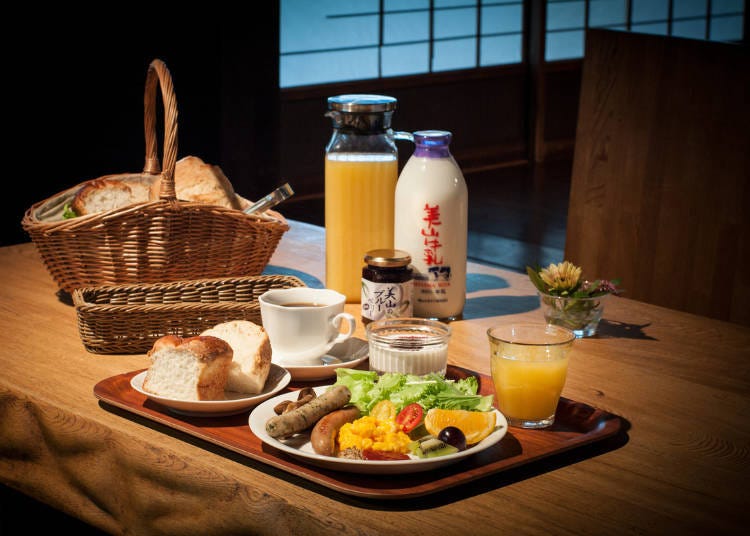 Be sure to check out Miyama's signature breakfasts, which are made from special local ingredients. You can reserve pick up and drop off at JR Sonobe Station in advance for easy access. Activities such as cycling tours and bamboo work are also available.

There are four buildings total including the main building, each with their own unique characteristics. Enjoy an experience of country life in Miyama at a unique Kyoto house rental, where the original scenery of Japan remains intact.
美山FUTON&Breakfast

Address

52 Kitsuneiwa, Miyamachoshima, Nantan, Kyoto 〒601-0751(Check-in center)

Phone Number

0771-75-5125

Hours:Check-in: 3:00PM
Check-out: 10:00AM
Price:From 61,900 yen per person (up to 5 people, tax included)
Points to Note About Kyoto Vacation Rentals
In the case of rental of an individual building, the charge will vary depending on the number of people. Please contact each facility for more information on accommodation.

Some facilities may be at a separate location from the check-in counter, so advanced confirmation is required.

Because Japanese houses consist mostly of wood and paper structures, these are strictly non-smoking facilities due to fire hazards.

Please enjoy these unique traditional spaces while carefully adhering to the rules of each facility.

Text by:word
*This information is from the time of this article's publication.
*Prices and options mentioned are subject to change.
*Unless stated otherwise, all prices include tax.
Limited time offer: 10% discount coupons available now!