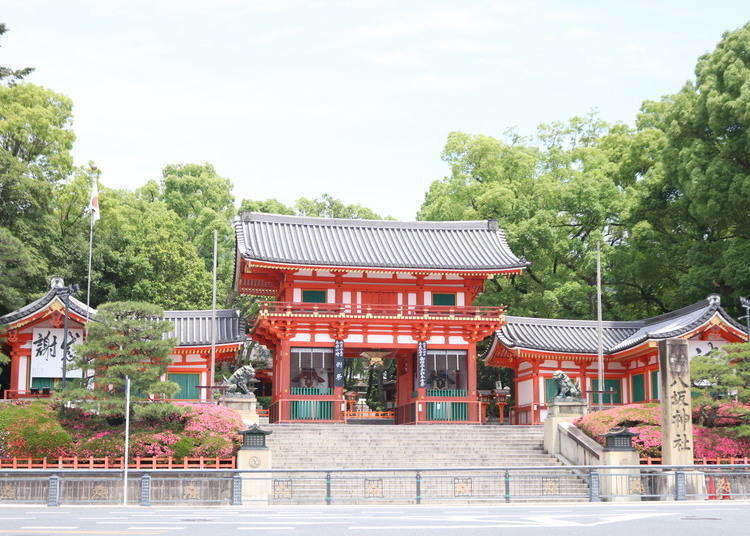 The Kyoto Gion district is a famous "hanamachi" geisha district and an excellent place to experience the atmosphere of ancient Kyoto.

Starting from Gion-Shijo Station on the Keihan Railway, you can enjoy the beautiful scenery and casually stroll around Gion Shopping Street, Hanamikouji Street, and Yasaka Shrine.

Here are ten fascinating spots to visit on a walking tour of the area.
What is the Kyoto Gion area like?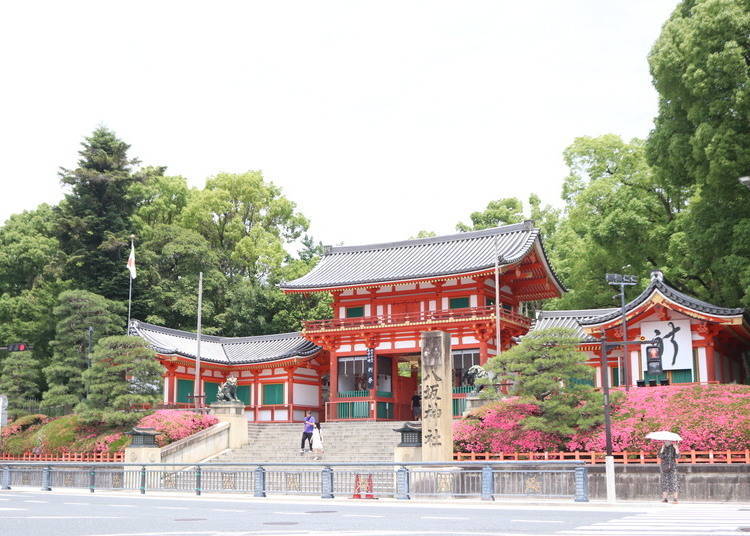 Gion's Yasaka Shrine was formerly known as "Gionsha" with extensive grounds covering the current location and the entire Kamogawa area. As a result, the area around the shrine came to be known as "Gion."

Modern Gion has a dual-character, serving as a tourist destination with its old-fashioned atmosphere and a "hanamachi" (literally "flower district") the Japanese term for districts where Maiko and Geisha live and entertain teahouse guests.

Visiting tourists can easily experience the atmosphere of Kyoto, and enjoy the best food at local restaurants.

In the hanamachi, "ozashiki asobi" and other geisha games afford guests the opportunity to witness the dancing and artistry of Maiko and Geisha while dining.

However, entry to such tea parlors is very strict, with most would-be patrons immediately turned away. Even Japanese people cannot enter without an introduction from a current patron. Below we will share a few spots where you can nevertheless enjoy this ancient tradition for yourself.
How to get to the Kyoto Gion area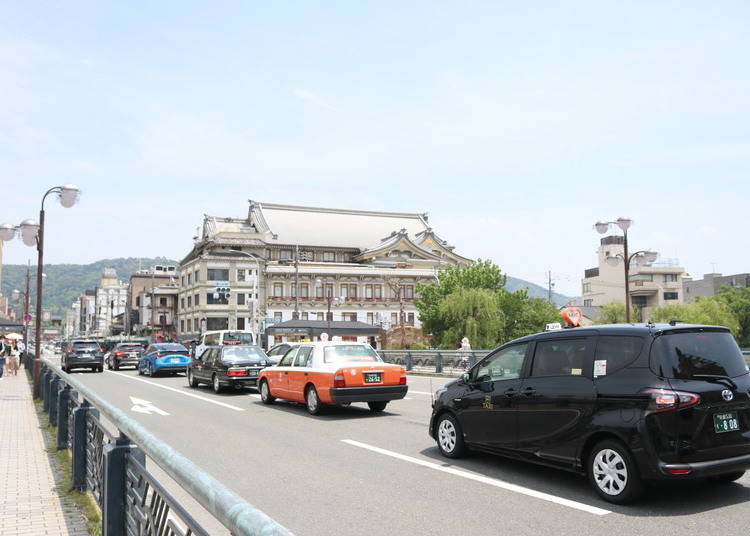 The closest station to Kyoto Gion is Gion-Shijo Station on the Keihan Railway. Exiting the station via the 3rd, 4th, 6th, and 7th exits will lead you to Shijo Dori and Gion Shopping Street, which leads to Yasaka Shrine.

To get to Gion-Shijo Station from Osaka, take the Keihan Main Line Limited Express for 45 to 50 minutes from Temmabashi Station or Yodoyabashi Station (one-way fare 420 yen). From JR Kyoto Station, take the JR Nara line to Tofukuji and change to the Keihan train (about 20 minutes, 290 yen one way). You can also ride the Hankyu Line from Kyoto Kawaramachi Station and then walk about 5-10 minutes to Gion.
Walking around Kyoto Gion
Here are ten noteworthy tourist sites near Gion-Shijo Station, along Hanamikouji Street, and around Yasaka Shrine.
To start your tour, head to Kamogawa from any of Gion-Shijo Station's exits. The Kamo River is about 23km long and flows from north to south through Kyoto. The riverbed has a promenade that's perfect for running and walking. There are also small benches in the shaded area under the nearby bridge, where you can relax while watching the river flow past.
鴨川

Address

Kyoto

Admission: Free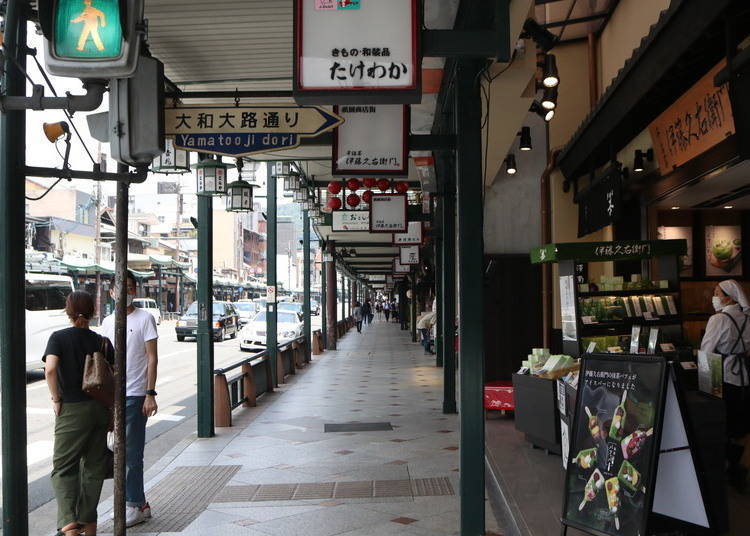 Shijo Dori, the main street that runs from Kamogawa to Yasaka Shrine, is known as "Gion Shopping Street," and is home to a myriad of restaurants and souvenir shops. The covered sidewalk makes it a beautiful place to walk, even in bad weather.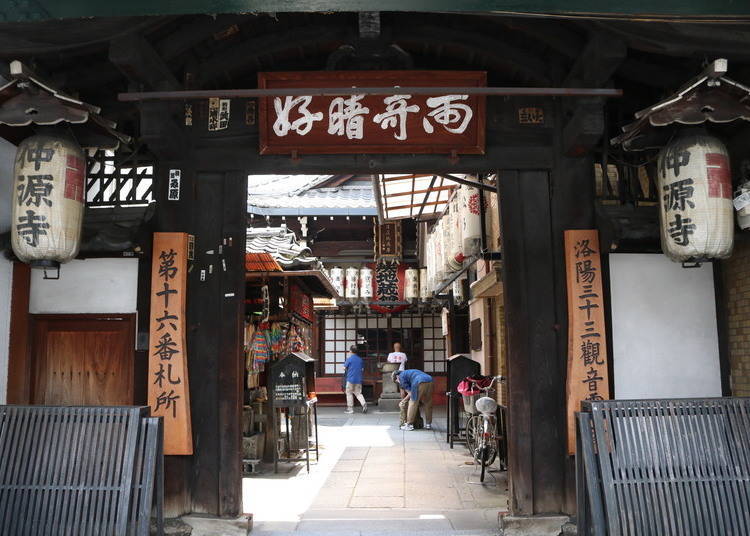 Chugenji Temple is said to be beneficial to the eyes (worship time: 7:00 - 20:00)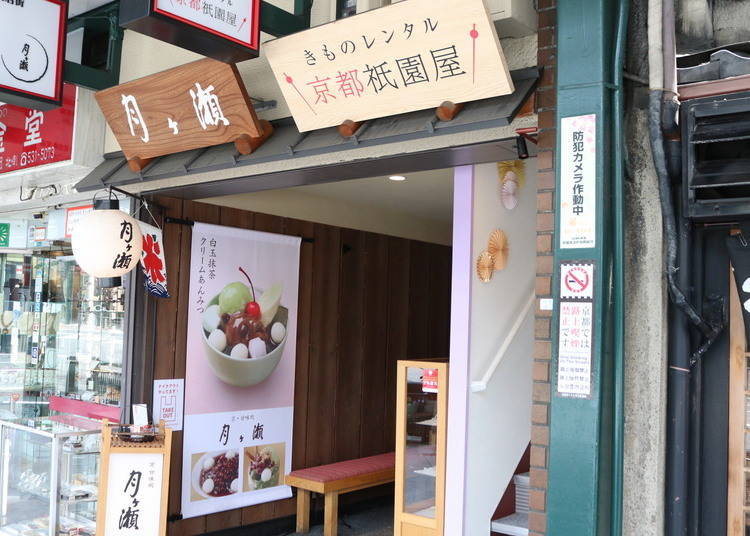 There are so many kimono rental shops and sweet shops
All along the street, there are well-established tea shops, cafés, and sweet shops where you can eat Japanese sweets, including the Saryotsujiri tea shop, famous for its green tea parfaits. A well-known destination, the sidewalk is crowded with people waiting in line to enter during peak tourist season.
祇園商店街

Address

Gionmachi Minamigawa, Higashiyama-ku, Kyoto, 605-0074

Hours: Vary by store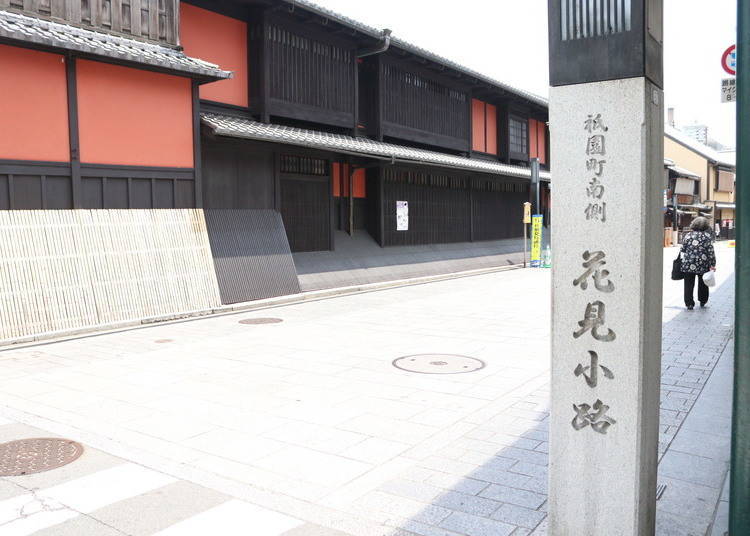 As you walk toward Yasaka Shrine on Gion Shopping Street, you'll see a charming side street on your right. This is the famous Hanamikouji. The stone-paved road is lined with buildings unique to Kyoto known as "Kyomachiya," many of which feature vermilion "bengaragoushi" lattices and "inuyarai" protective fences below their eaves.

When the sun sets, the shops and street lights create a magical atmosphere. Geisha and Maiko entertain guests in Gion's ancient teahouses, the most prestigious of which, Ichirikitei, bears an impressive presence.

There are many private streets along Hanamikouji, with numerous "no photography allowed" signs posted. You may be able to see Maiko and Geisha walking down the road, but it's advisable to walk quietly and maintain the dignity of Kyoto by not taking photos, and instead committing these unique images to memory.
花見小路通

Address

Gionmachi Minamigawa, Higashiyama-ku, Kyoto 605-0074

Admission: Free
4. Gion Kobu Kaburenjo Theater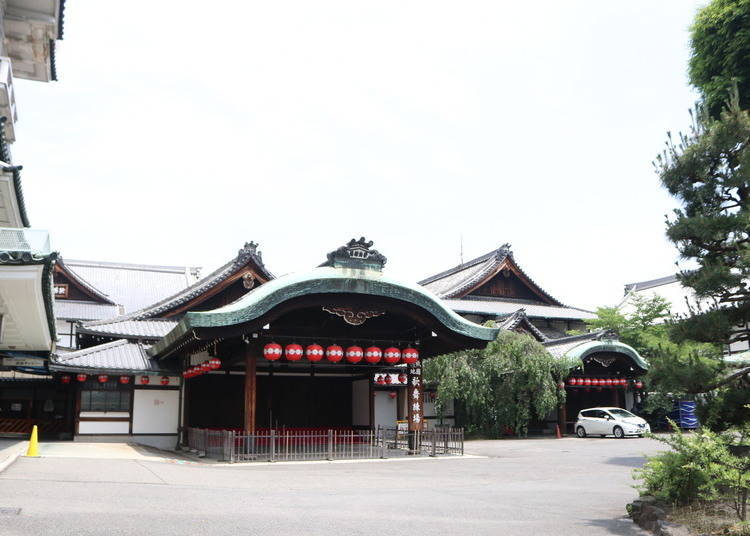 If you walk south on the main street of Hanamikouji, you'll eventually arrive at Gion Kobu Kaburenjo Theater, renowned for its spring "Mito Odori" and autumn "Onsenkai" Maiko and Geisha dance performances. Although in 2020 it is currently closed for earthquake-resistant repairs, the theater's beautiful exterior is worth a visit even if you can't enter.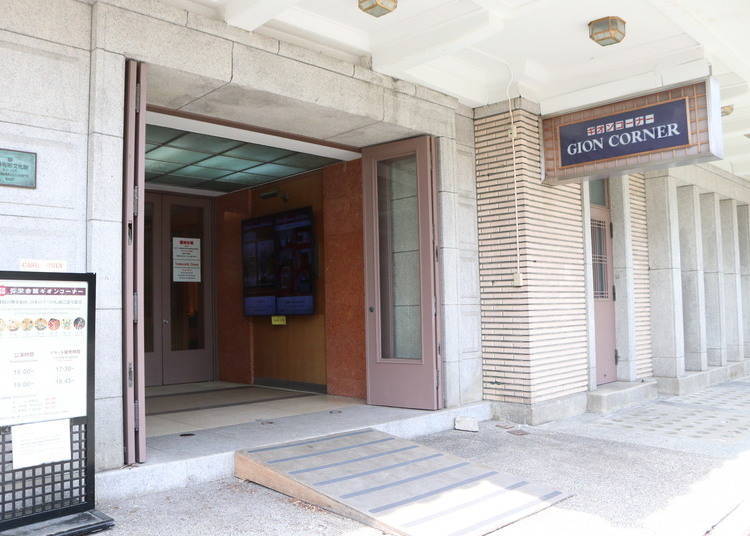 "Gion Corner" is part of Yasaka Kaikan, adjacent to Gion Kobu Kaburenjo. There you can experience traditional performing arts such as "Kyomai," a dance that originated in Kyoto; "Gagaku," one of the oldest forms of music in the world; and "Kyogen" social satire, all in about one hour. Performances are held twice daily at 6:00 and 7:00 pm (Friday to Sunday and holidays only from December to the second week of March), and tickets can be purchased at the front counter. It's an excellent place to visit between walks and get in touch with traditional arts.
祇園甲部歌舞練場

Address

570-2 Gionmachi Minamigawa, Higashiyama-ku, Kyoto, 605-0074

Hours: Temporarily closed for renovation
Admission: Please refer to official website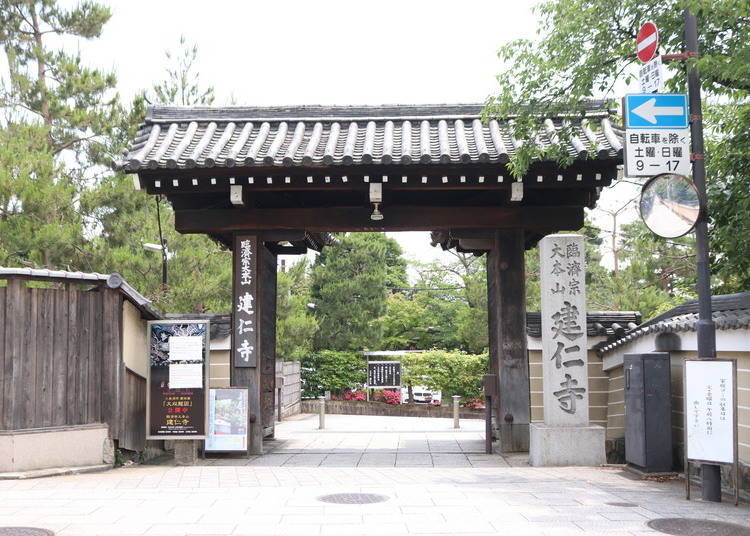 From Gion Kobu Kaburenjo, go back to Hanamikouji and head a bit further south until you reach Kenninji Temple. The oldest Zen temple in Kyoto, it houses the national treasure screen painting "Fujin Raijinzu" depicting the Shinto wind and thunder gods. There is also a Karesui-style Japanese rock garden with such serenity will make you forget it's located in the heart of the city.

On the second Sunday of every month, guests can participate in zazen meditation starting from 7:30. Anyone is welcome, there is no participation fee, and no reservation is required (Please note that the service may be canceled due to various circumstances so be sure to check before visiting.)
建仁寺

Address

584 Komatsucho, Higashiyama-ku, Kyoto, 605-0811

Hours: 10:00 - 17:00
Admission: Adults 600 yen, middle school and high school students 300 yen, elementary school students 200 yen
Head east along Kenninji and you will see the "torii" gate of the Yasui Konpiragu Shrine, which is said to be beneficial for cutting off bad relations and vices and forming good connections. The shrine is dedicated to Emperor Sutoku and named for Konpiragu Shrine in Sanuki (modern-day Kagawa Prefecture), where Sutoku rid himself of greed and desire. Likewise, the shrine is believed to stop the evil that hinders good relationships between men and women.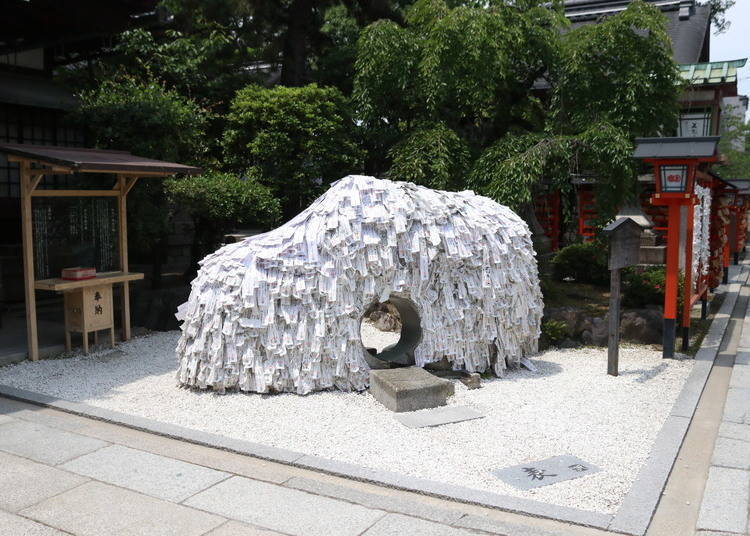 It is said that the hole in the center of the shrine's 1.5-meter high and 3-meter wide votive "ishi" stone is filled with divine power.

First, worshippers visit the main shrine and write a wish or prayer on a card called a "katashiro." Next they go through the hole in the ishi from the front to back and vice versa while reciting their wish before putting the katashiro on the ishi to rid themselves of bad sexual relations, sickness, drinking problems, gambling addiction, and other afflictions.
安井金比羅宮

Address

70 Shimobentencho, Higashiyama-ku, Kyoto, 605-0823

Admission: Free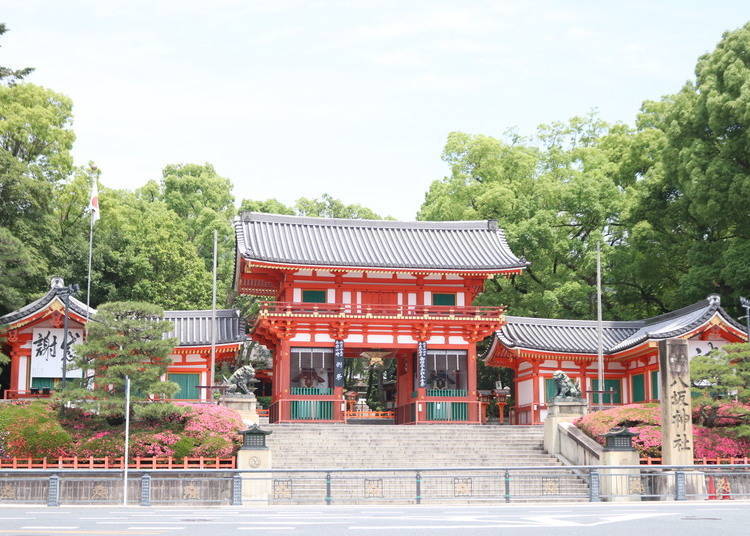 Next return to Shijo-dori and head due east. After about a 10-minute walk from Yasui Konpiragu to a main street called Higashioji Dori, and you will see the large vermilion West Tower Gate of Yasaka Shrine across the T-intersection.

Yasaka Shrine is also called "Gion Shrine" and is symbolic of the neighborhood. In addition to the main shrine and the dance stage, various gods are enshrined throughout the vast complex. One shrine is dedicated to the god of plague control, Bigozensha (Utsukushi Gozensha) enshrines the god of beauty, and Okuninushisha is for the god of marriage. Be sure to stop by and take a stroll through the grounds.
八坂神社

Address

625 Gionmachi Kitagawa, Higashiyama-ku, Kyoto, 605-0823

Admission: Free
8. Shirakawa (Ipponbashi)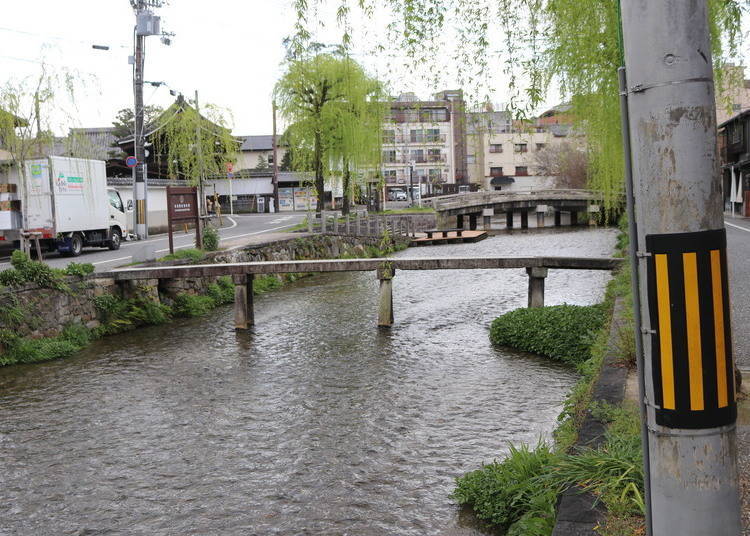 When you return to Higashioji Dori and walk north, you'll eventually reach a small river – the Shirakawa, which is connected to the Kamo River. Willow and cherry trees growing along the Shirakawa River give the area a scenic atmosphere throughout the year. If you have time, we recommend a stroll upstream.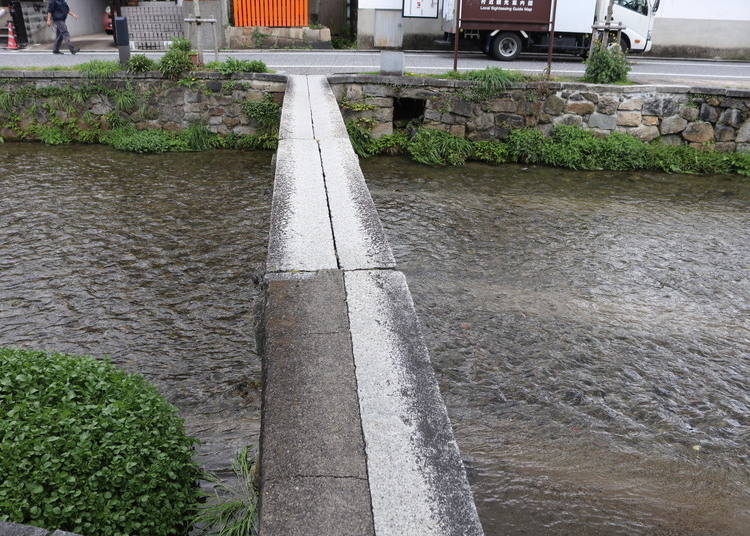 Ipponbashi is so narrow!
In particular, "Ipponbashi," a simple footbridge with no balustrade, is a popular spot for beautifully posed photos because it offers a unobstructed view of the subject.
一本橋

Address

478 Umemiyacho, Higashiyama-ku, Kyoto 605-0061

Admission: Free
9. Tatsumi Bridge and Tatsumi Daimyojin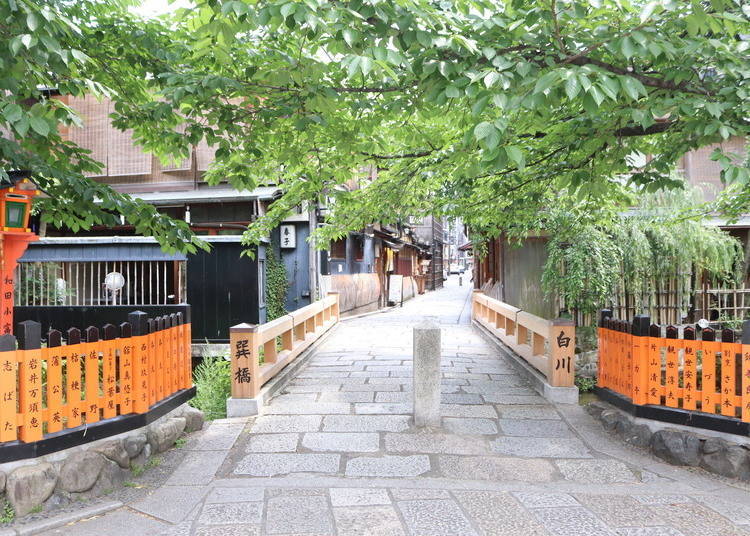 Following the Shirakawa west, the atmosphere becomes increasingly elegant. Walk along the willow-covered cobblestone street, cross the Shinbashi Bridge, and you arrive at a small bridge called Tatsumibashi. Just next to it is the Tatsumi Daimyojin Shrine.

Spanning the Shirakawa, Tatsumi Bridge creates a picturesque scene with its vermillion-colored railing. It is also a popular location for wedding photos, especially in spring, when the cherry blossoms are in full bloom.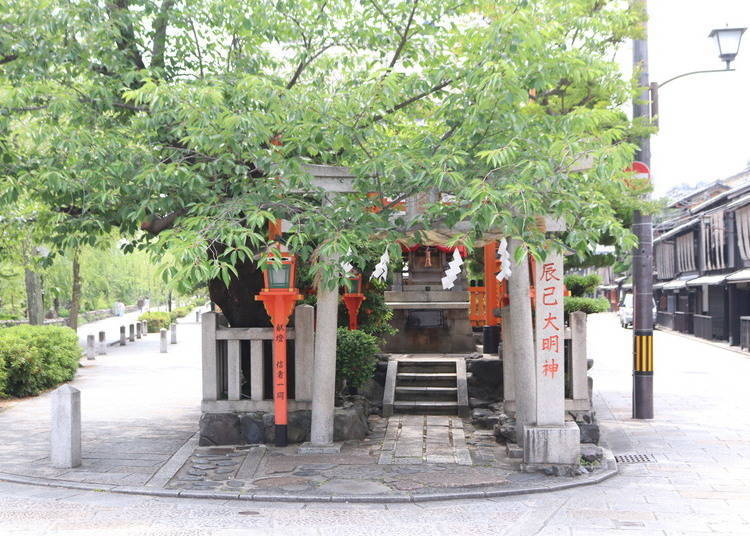 Tatsumi Daimyojin, across the street, is worth a visit. It's a small, but beautiful shrine with Shirakawa-dori as its backdrop.
Tatsumi Bashi / Tatsumi Daimyojin

巽橋 / 辰巳大明神

Address

Gion, Higashiyama-ku, Kyoto, 605-0084

Admission: Free
10. Shinbashi Dori and Shirakawa Minami Dori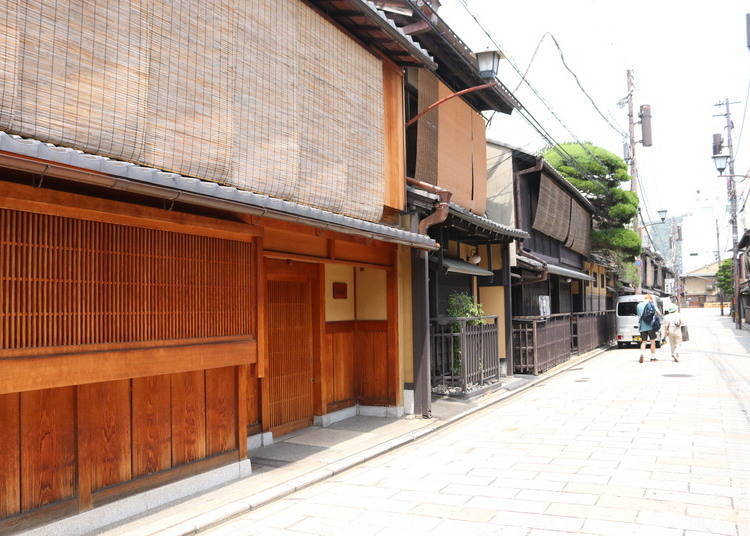 The road forks around Tatsumi Daimyojin with Shinbashi Dori to the north and Shirakawa Minami Dori to the south featuring a footpath rich in Kyoto atmosphere. It's a must-see on a trip to Gion!

There are many traditional townhouses on Shinbashi Dori. In consideration of the privacy of customers, large blinds are hung so passers-by cannot see inside. Even teahouses are devoid of large signs, maintaining the serene atmosphere.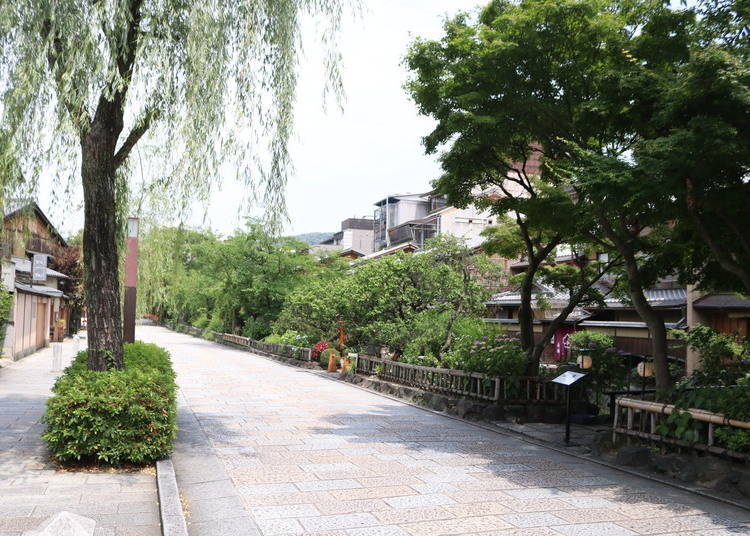 Shirakawa Minami Dori's cafés take full advantage of the scenery. With the gentle murmur of the Shirakawa and smoothly swaying willow trees beckoning tourists, merely walking along this short street is thrilling.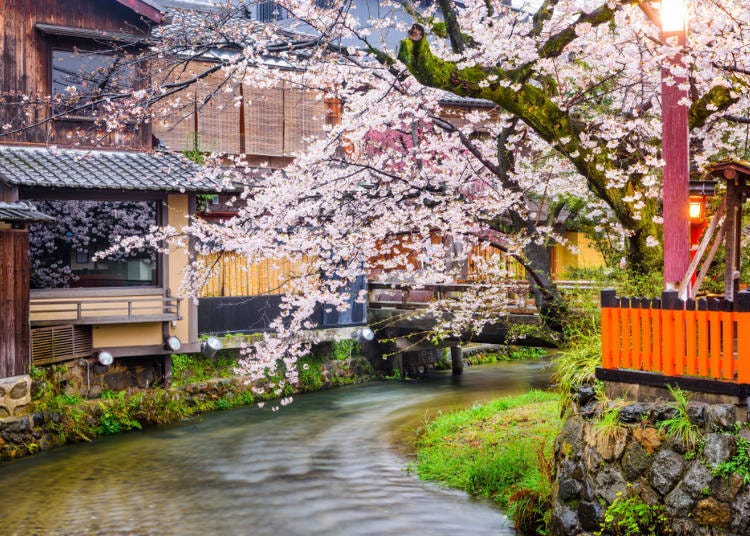 The cherry blossoms planted along the Shirakawa River will be in full bloom in spring, further adding to the magical atmosphere.

After passing Shirakawa Minami Dori and continuing west, you will return to Gion-Shijo Station.
The Gion neighborhood is fun to walk around
Gion is one of Kyoto's leading tourist destinations and Japan's largest hanamachi. You can enjoy beautiful streets like Hanamikouji and Shirakawa Minami Dori, and while excellent restaurants are plentiful, take into consideration that many are open only to regular customers.

Gion isn't such a large area, and with so many highlights, it's ideally suited for a half-day of sightseeing on foot. Be sure to visit and enjoy the walk!

*The above article is based on information from June 2020
Book an Authentic Maiko and Geisha Experience in Kyoto Gion
Make your trip extra memorable by booking one of these recommended experiences on our partner site, Voyagin!
*This information is from the time of this article's publication.
*Prices and options mentioned are subject to change.
*Unless stated otherwise, all prices include tax.
Limited time offer: 10% discount coupons available now!