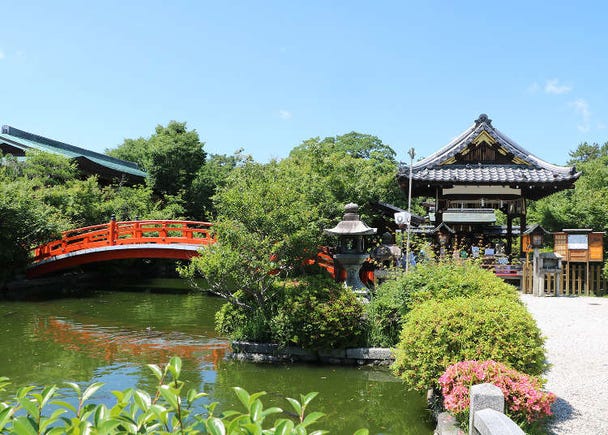 Nijo Castle, extremely popular among foreign visitors to Japan, is surrounded by even more fascinating places to visit. This article will introduce nearby spots you'll want to visit alongside your trip to Nijo Castle, including old, history-filled temples constructed in ancient Kyoto, buildings with great historic value, and facilities that allow you to experience Kyoto traditions. Each place is within walking distance from Nijo Castle for quick and easy side trips. Connect with Kyoto's long history and enduring culture to get an even more intimate feel for Kyoto city.
Photo:(C)Shinsen-en
1. "Shinsen-en", a Magical Temple Built in the Middle of a Pond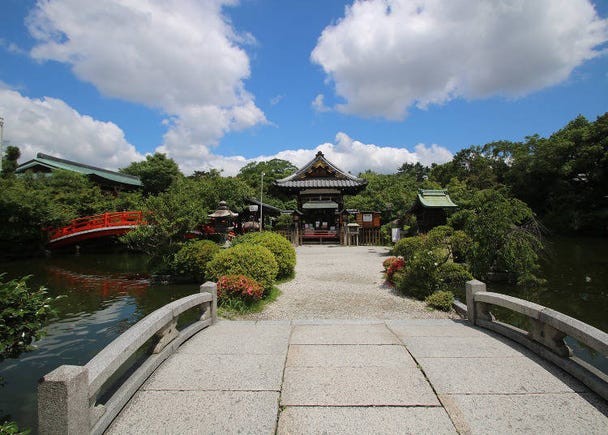 (C) Shinsen-en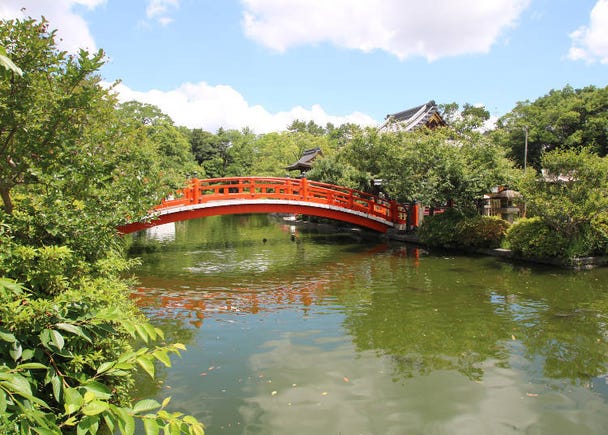 (C) Shinsen-en
Shinsen-en, located south of Nijo Castle and just across the road, is a Shingon Buddist temple constructed adjoining to the south edge of the Heian-kyo imperial palace. The temple was an imperial garden where the emperor and aristocracy held parties, and it is the subject of many various pieces of history and folklore. Based on the legend that Kukai (the monk who founded the Shingon school of Buddhism) performed a rain-making ritual and attained sacred powers, it is said that if you cross the red Hosei bridge over the pond and pray to the Zennyo Ryuo god dragon of rain enshrined in the center, your prayer will come true. The lake is also where ceremonies to appease the spirits of the dead were performed, which were the origin of the present-day "Gion Festival" famous to Kyoto.
神泉苑

Address

166, Monzencho, Nakagyo-ku Kyoto 〒604-8306

Phone Number

075-821-1466

Hours: 8:30 a.m. - 8:00 p.m.
Free entry
Regular holidays: None
2. "Nijo Jinya" and its Long-Standing Disaster Prevention and Defense Construction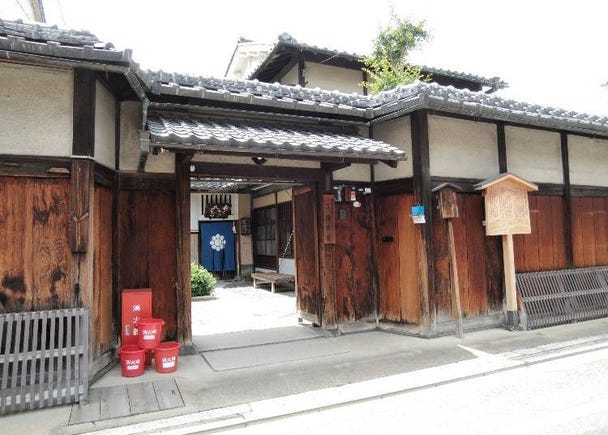 (C)Nijo Jinya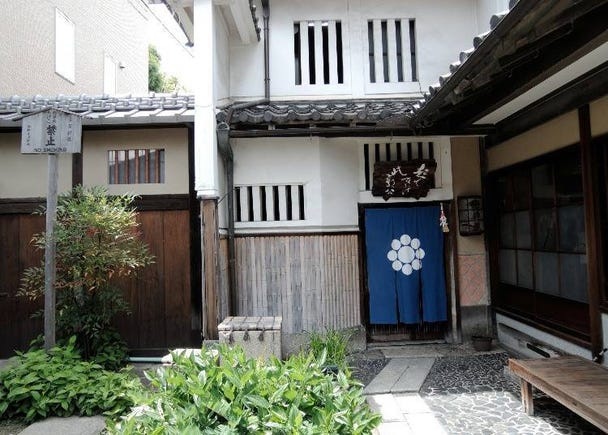 (C)Nijo Jinya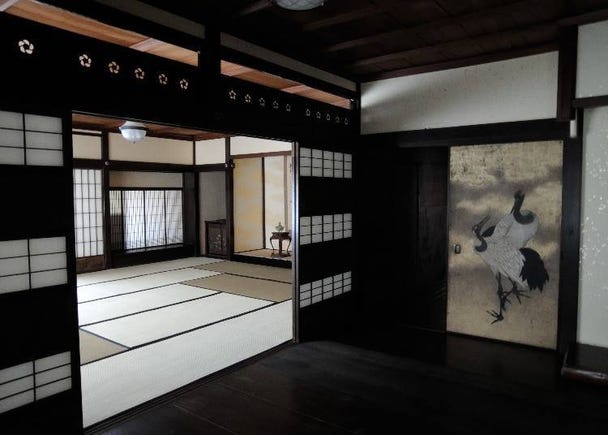 (C)Nijo Jinya
By taking Oshikoji-dori on the South side of Nijo Castle, turning onto Omiya-dori, and walking south, you will reach Nijo Jinya. Nijo Jinya is an old townhouse, built as the residence of a wealthy merchant approximately 350 years ago. It is said to have been also used as the lodging of a feudal lord in the Edo period. The house is made distinctive by its protective construction like fireproof walls and well, a hiding place built into the ceiling for hiding guards, and hidden and suspended staircases. Nijo Jinya is highly valued for its superior construction both in terms of defense and design, and it was the second private home with current residents to be designated a nationally important cultural asset.

A reservation is required to view the interior, and guests can see the building while listening to commentary by participating in one of the 4 guided tours held per day. The guided tour is only in Japanese, but on the Nijo Jinya website you can find volunteer interpreters. If necessary, you can make reservations for interpretation by using the contact information listed on the website.
二条陣屋

Address

137, Sambo Omiyacho, Nakagyo-ku Kyoto-shi, Kyoto, 〒604-8316

Phone Number

075-841-0972

Hours: Guided tours from 10 a.m., 11 a.m., 2p.m., 3 p.m. (50 minutes each)
Entry: 1,000 yen
Regular holidays: Wednesdays
Winter holiday: December 28 - January 3
3. Buy Some Snacks at Ureshinatsukashi Koshiya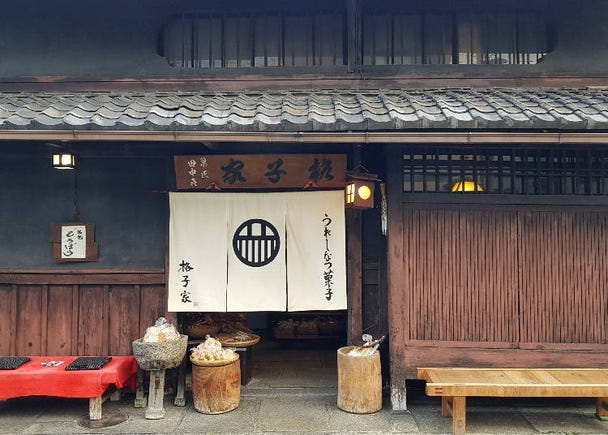 (C)Ureshinatsukashi Koshiya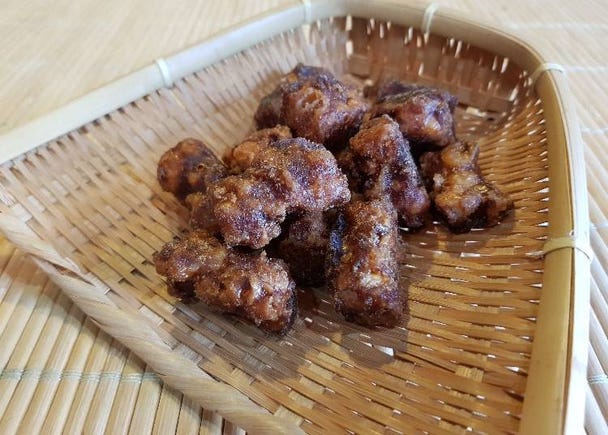 "Dorobo" brown sugar flavored sweet 450 yen (tax included) (C)Ureshinatsukashi Koshiya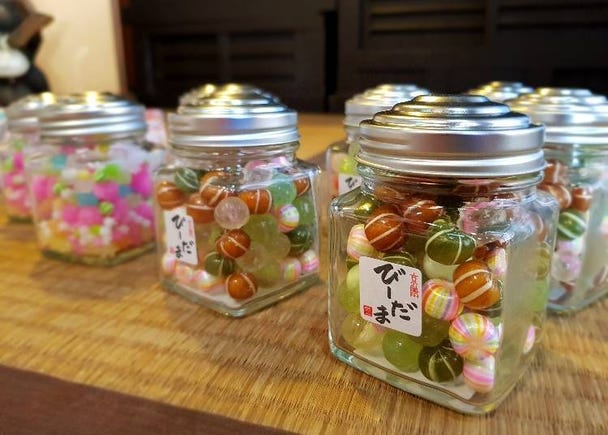 Colorful Kyo-ame in glass jar 390 yen (tax included)(C)Ureshinatsukashi Koshiya
When you visit Nijo Castle, one nearby shop you'll definitely want to stop by is "Koshiya". You can find Koshiya located in a kyo-machiya (traditional Kyoto tradesman's house) along Omiya-dori, which runs along the south side of Nijo Castle and the east side of Shinsen-en. Inside the quaint shop are varieties of sweets and desserts that have been favorites since long ago.

The shop's trademark product, "Dorobo" is a simple, brown sugar flavored dessert. Its name comes from the word for "thief", from the fact that the sweets are so delicious that you'd want to eat them badly enough even to steal. The shop also sells okoshi, karinto, senbei, and other classic Japanese snacks from the past. The colorful amedama and konpeito candy sold in glass jars even look cute, making them perfect souvenirs. In summertime, their shaved ice topped with plenty of honey is a big hit.
うれしなつ菓子 格子家

Address

180, Ichinocho, Nakagyo-ku Kyoto-shi, Kyoto, 〒604-8305

Phone Number

075-841-4464

Hours: 10 a.m. - 6 p.m.
Regular holidays: None
4. Brightly Colored Tops at "Kyo-koma-takumi Jakkyu"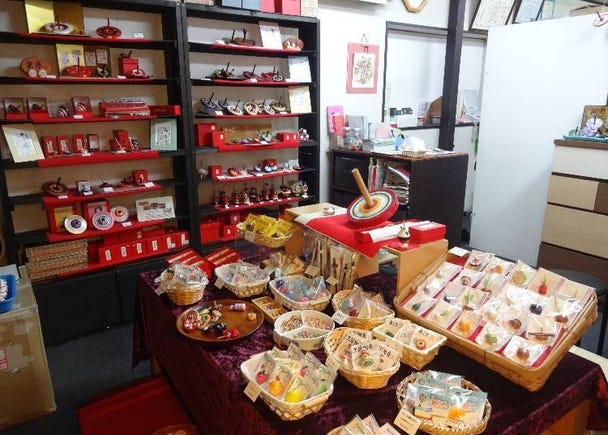 (C)Jakkyu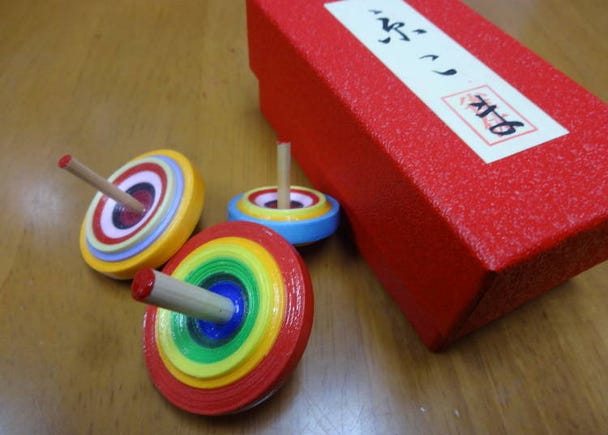 The pack of three different sizes of Kyo-koma is a perfect souvenir. "Large-Medium-Small Kyo-koma Box" 1836 yen (tax included) (C)Jakkyu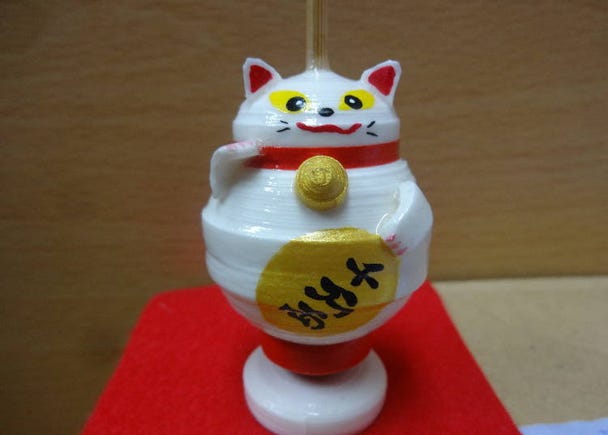 Lucky "Maneki-neko Top" 2160 yen (tax included)(C)Jakkyu
Kyo-koma, or Kyoto tops, are one of Kyoto's traditional crafts, made by wrapping kimono fabric or vividly colored cotton strings around a top center. It is said the craft originated from how the women of the Imperial Court would wrap kimono cloth around bamboo cores to make tops to play with.

Jakkyu is located along Oike-dori, the second street south of Nijo Castle, and is the sole specialty Kyo-koma shop in existence. There are dozens of varieties of tops, from brightly colored tops to tops of unusual shapes and sizes. Tops are the subject of many good luck superstitions - by spinning them, your job and financial situation will "spin" smoothly too, that their widening rings represent peace and prosperity, and the top's core or "heart" symbolizes the ability to see into your heart and grant your wishes. Their lucky symbolism makes them common and popular gifts. Consider getting a lucky top as a souvenir for family or friends.
京こま匠 雀休

Address

Shinsenencho1, Nakagyo-ku Kyoto-shi, Kyoto, 604-8371, Japan

Phone Number

075-811-2281

Hours: 11:30 a.m. - 6 p.m.
Regular holidays: Sundays, Mondays
5. Try Your Hand at Traditional Craftmaking at "Kyoto Shibori Museum"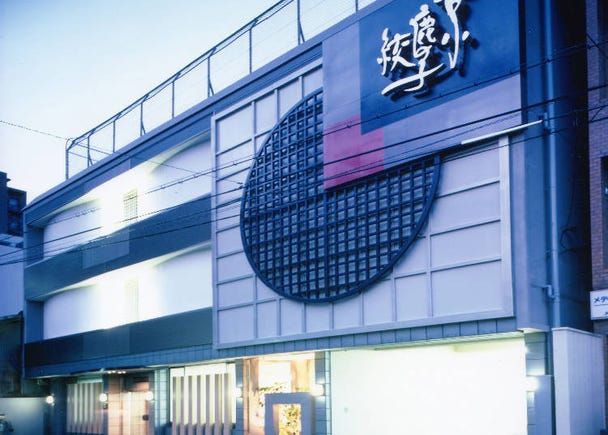 (C)Kyoto Shibori Museum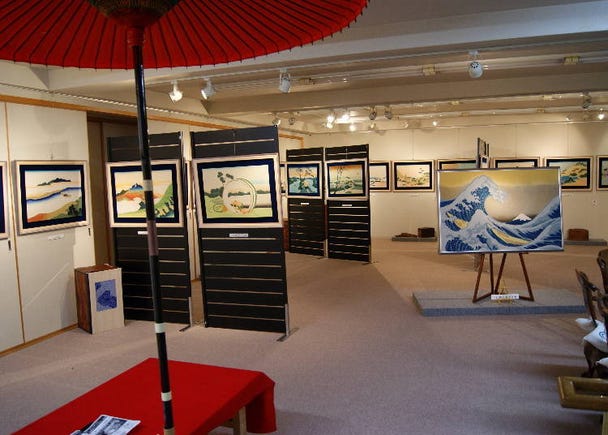 Museum dislaying shibori-zome crafts(C)Kyoto Shibori Museum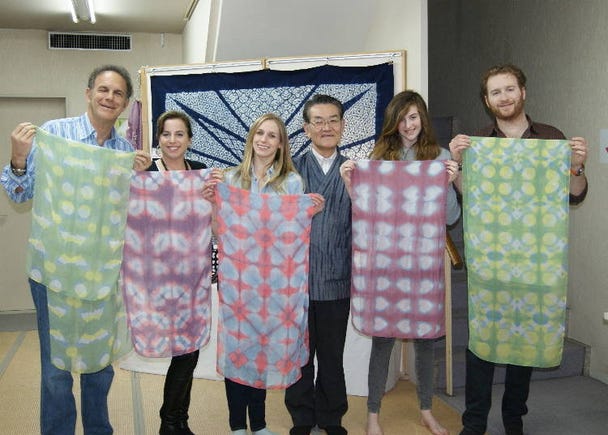 A look at the Itajime Shibori Class, where you can dye silk fabric using boards (C)Kyoto Shibori Museum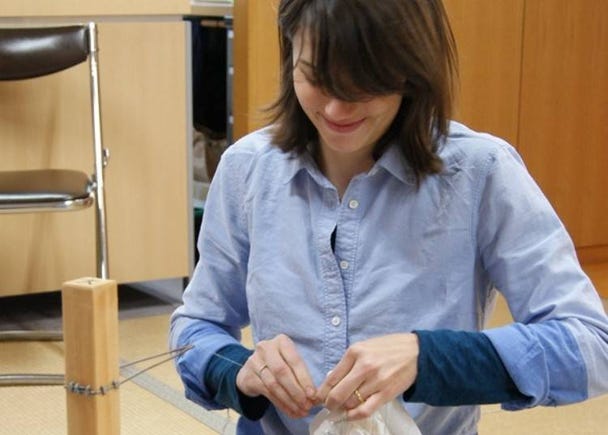 In the Fukusa Wrapping Cloth Class, you can experience another traditional technique (C)Kyoto Shibori Museum
The Kyoto Shibori Museum, a 5-minute walk away from the southeast gate of Nijo Castle, is an art museum jam-packed with the allure and charm of shiborizome, one of Kyoto's traditional crafting techniques. Aside from the craft works produced by the delicate technique on display, you can also purchase shiborizome items from the museum shop.

One thing you'll definitely want to try out when you visit are the shiborizome classes. Create a beautiful snowflake pattern in the "Sekka Shibori Scarf Class" (3,000 yen, tax not included), dye cloth pressed between boards in the "Itajime Shibori Class" (4,000 yen, tax not included), try the museum's original "Kyo-arashi Shibori Scarf Class" (5,000 yen, tax not included), or try your hand at kasamaki shibori and nuijime shibori traditional techniques in the "Fukusa Wrapping Cloth Class" (5,000 yen, tax not included). In each class, you will use silk material and, as an added bonus, get to take your created item home with you. Full English instruction is available.
京都絞り工芸館

Address

127, Shikiamicho, Nakagyo-ku Kyoto-shi, Kyoto, 〒604-8261

Phone Number

075-221-4252

Hours: 9 a.m. - 5 p.m.
Entry: 500 yen (beginners fee)
Regular holidays: None
Text by:word
*This information is from the time of this article's publication.
*Prices and options mentioned are subject to change.
*Unless stated otherwise, all prices include tax.