In central Japan, Kansai is a delightful region of Japan that has both modern cities and natural sights, all within easy reach of each other. Some views here can only be seen during the winter when everything starts taking on a mesmerizing white sheen.

The sharp contrast between the bright red paint of the torii temple gates and the whiteness of fallen snow can be fully appreciated at the largest lake in Japan, Lake Biwa, with its floating torii. Nara's light festival, one of the prefecture's major events, takes you into a world that interweaves calmness and dynamism, not entirely unlike the image of a mesmerizing ink painting.

Look no further if you're looking for scenic spots that must be visited personally to enjoy their charm! Here's a list of 10 places you don't want to miss during your visit to Kansai in winter that we've compiled especially for you.
1. Kifune Shrine: Beautiful shades of crimson and snow (Kyoto)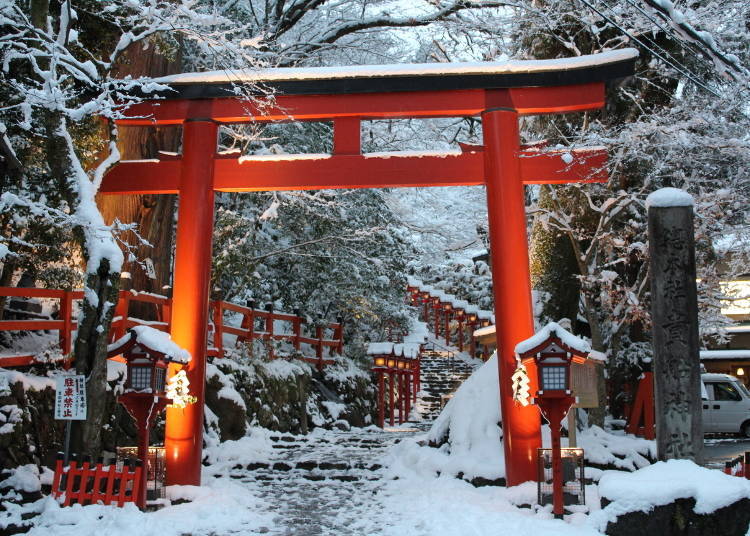 Kifune Shrine, also known as the inner parlor of Kyoto, is located in a valley between Mount Kibune and Mount Kurama and has served as a religious landmark since times of yore.

It's also well-known as a spiritual healing spot where one can visit to get blessings from the god of marriage and relationships.

When snow blankets the long stone stairwell leading to the shrine and the stone lamps by its sides, visitors often feel like they're being directed toward a wholly different and mystical world with each step they take.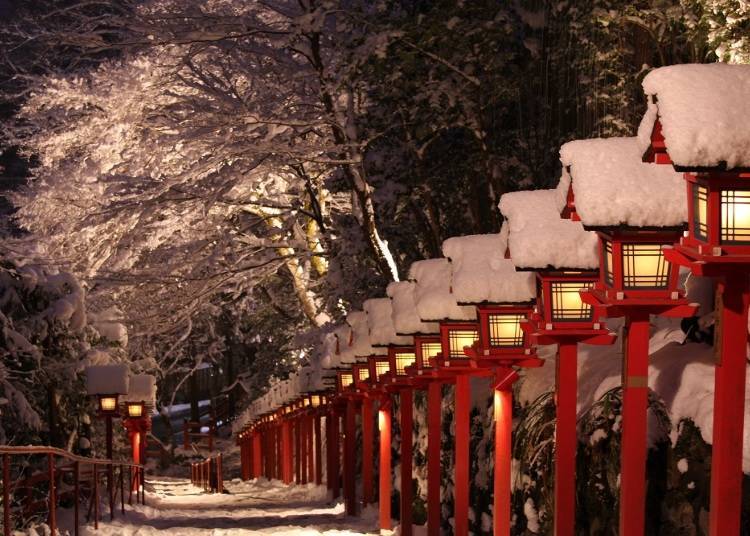 Illuminations are typically set up during winter from mid-January to end-February, but have not yet been decided for this year (as of November 30, 2022).

Kifune Shrine is conveniently accessible by bus from Kibuneguchi Station on the Eizan Electric Railway.

*The winter illumination viewing time is undecided for 2022.
Address

180, Kuramakibunecho, Sakyo-ku, Kyoto-shi, Kyoto, 601-1112
View Map

Nearest Station

Kibuneguchi Station (Eizan Dentetsu-kurama Line)
30 minutes on foot


Phone Number

075-741-2016
2. Ine: Scenic sights from a peaceful coastal town (Kyoto)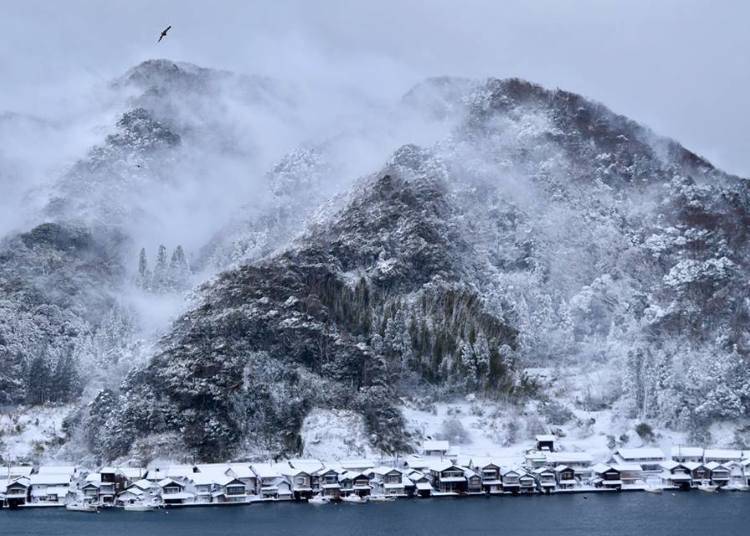 Ine is a fishing village right on the Sea of Japan. It is sometimes also called Funaya, or 'boat house', because the rows of houses standing right at the edge of the sea make it seem as if the town is floating.

On snowy days, the sight becomes even more fantasy-like and is something unlikely to be quickly forgotten. Boat houses, the traditional house structures of this area, are built with garages on the first floor for fishing boats to dock.

The second floor is used as a normal living space. During the winter season, try out the area's famous "Ine Buri" shabu shabu hot pot to truly bask in the local vibe.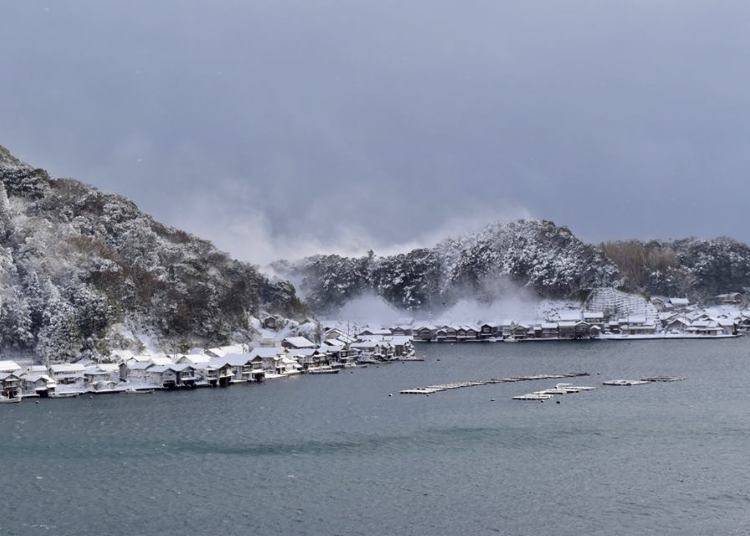 Ine City can be reached by bus from Miyazu Station on the Kyoto Tango Railway, which is directly connected to both Osaka and Kyoto.
伊根の舟屋

Address

Hirata, Ine-cho, Yoza-gun, Kyoto

Nearest Station

Access: About an hour's bus ride (Tango Kairiku Kotsu) from Amanohashidate Station or Miyazu Station on the Kyoto Tango Railway (directly connected to Kyoto Station and Osaka Station on the JR Lines)


Phone: 0772-32-0277 (Ine Tourism Association, 9:00 a.m. – 5:00 p.m.)
3. Amanohashidate: A mysterious structure crafted by nature itself (Kyoto)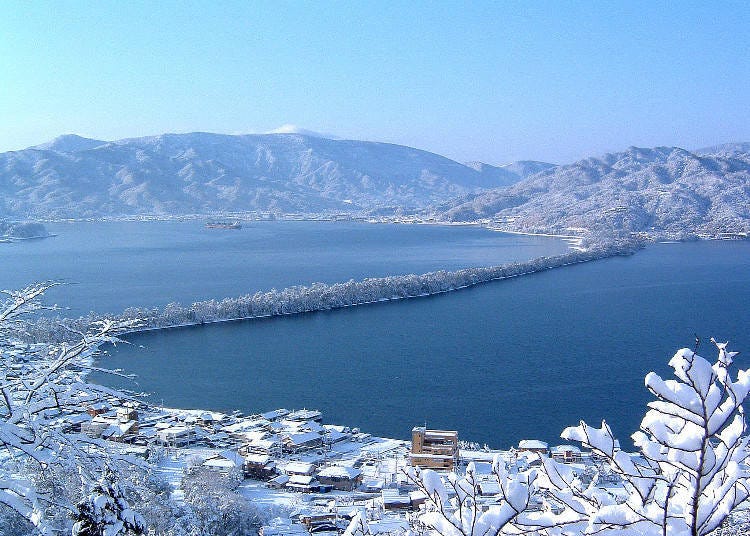 Amanohashidate can be found in Kyoto's Miyazu City and is known as one of the three best views of Japan. The beautifully sculpted natural landscape was formed by the ebb and flow of the tide over thousands of years.

More than 5,000 pine trees adorn this stretch of sandy beach measuring 3.6 kilometers (about 2.2 miles) long and between 20 to 170 meters (about 65 feet to 558 feet) wide.

Because it looks like a bridge leading into the sky, it was given the name Amanohashidate, which literally means "sky bridge".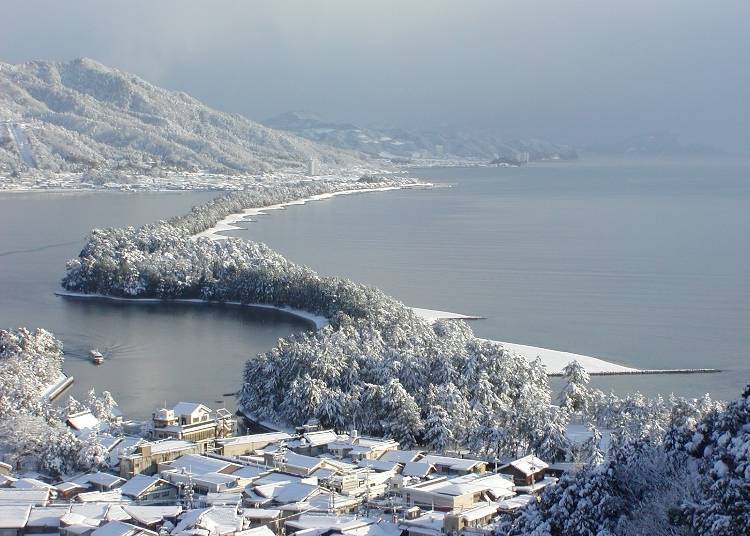 The snowy makeover of the landscape during winter portrays a silvery world and makes the bridge look almost like a carefully calculated art painting rather than the haphazard natural formation it is. It takes about 50 minutes to walk the entire length of Amanohashidate. On bicycle, this goes down to about 20 minutes.

The place is accessible from Miyazu Station on the Kyoto Tango Railway, and bicycles can be rented from the station if desired.
Address

Monju, Miyazu-shi, Kyoto, 626-0001
View Map

Nearest Station

Amanohashidate Station (Tantetsu Miyatoyo Line)
7 minutes on foot


Phone Number

0772-22-8030
4. Lake Yogo: Japan's Uyuni Salt Flat that inspired the legend of celestial maidens (Shiga)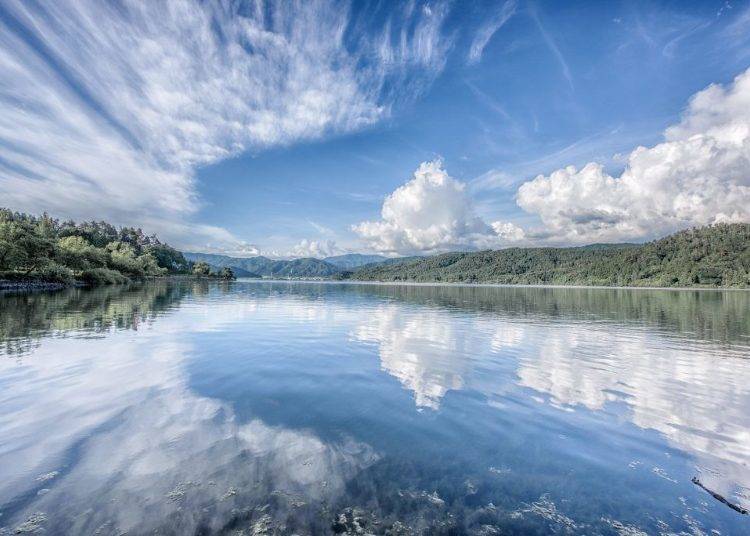 Mirror-like lake surface
At the northern tip of Shiga Prefecture is Lake Yogo, a beautiful lake surrounded by luxuriant mountains with broad-leaved trees like beech and Mongolian oak to the east, south, and west. This mystical lake that has inspired the legend of celestial maidens perfectly reflects the landscape around it on windless days. The mirror-like view is captivating enough to draw in any onlooker, and this lake is thus well-known among visitors as the Mirror Lake and even Japan's Uyuni Salt Flats.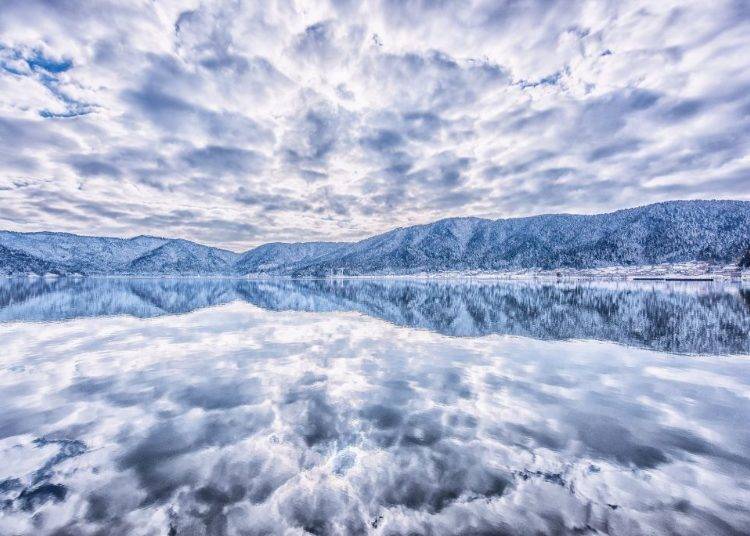 During winter, waterfowls fly to the lake and the entire place turns into a wintry wonderland of silver hues. Smelt-fishing, a winter-exclusive activity, is available for visitors to try as well, a simple activity that's easy enough even for beginners to enjoy!

Lake Yogo is within walking distance from Yogo Station on the JR Hokuriku Main Line.
余呉湖

Address

Yogocho Kawanami, Nagahama, Shiga

Nearest Station

Access: 5-minute walk from Yogo Station on the JR Hokuriku Main Line


Phone: 0749-65-6521 (Nagahama Information Center)
5. Metasequoia Namiki: Like snow flowers in winter (Shiga)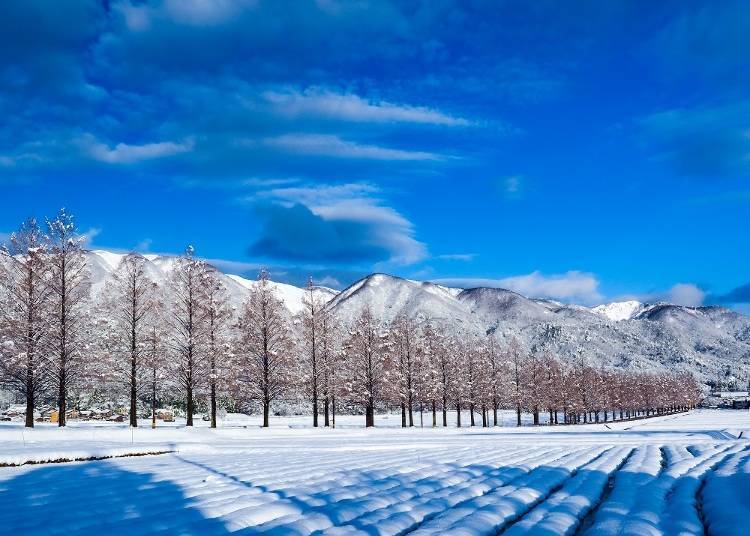 Planted along the 2.4 kilometers (about 1.5 miles) stretch of road that leads from Makino Pic-Land to Makino Highland in Shiga Prefecture's Takashima City are about 500 metasequoia trees that change appearances along with the seasons.

Going down this path allows you to enjoy summer foliage, autumn leaves, and other lovely seasonal scenes at different times of the year. In wintertime, when snow accumulates on the branches of the trees here, the trees themselves start to look like ephemeral snow flowers that only bloom in winter.
This road is recognized by many as a lover's sanctuary, and simply being at the place can make you feel like the main character of an epic film because of its sheer magnificence - something that can only be experienced during deep winter, when snowfall becomes more regular.

The road can be reached within 10 minutes if you hop a bus from Makino Station on the JR Line.
メタセコイア並木

Address

Makinocho Makino, Takashima, Shiga

Phone: 0740-33-7101 (Biwako Takashima Tourist Association, 8:30 a.m. – 5:15 p.m.)
6. Shirahige Shrine: Catch the surreal-looking torii gate that floats above the waters of Lake Biwa (Shiga)
Lake Biwa is the largest lake in Japan, and the torii, or temple gate that floats on it can be found near Takashima City, northwest of Shiga Prefecture. The torii gate belongs to Shirahige Shrine, which was established around 1,900 years ago and serves as the main shrine to the other Shirahige undershrines that can be found throughout Japan. Behind the torii is Okinoshima, the largest island in the lake.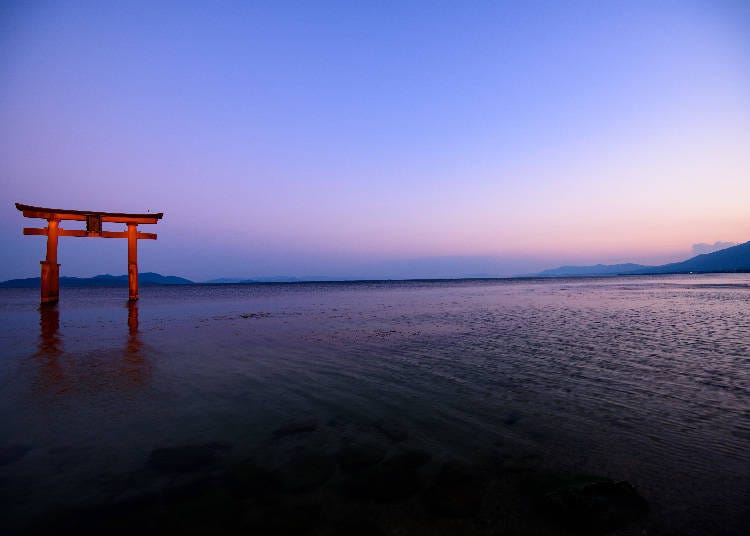 Sun rising up from the opposite shore
Admiring the large torii gate against the backdrop of a clear winter sky is something many visitors love to do, and local residents hold this amazing scene dear to their hearts as well. It's also definitely worth your while to come here to personally watch the sun sink behind the horizon at this quaint and exotic spot.

This place can be reached in about 5 minutes by taxi from the Omi-Takashima Station on the JR Lines.
白鬚神社

Address

215 Ukawa, Takashima, Shiga 520-1122

Nearest Station

Access: 5-minutes by reservation taxi from the Omi-Takashima Station on the JR Lines


Phone Number

0740-36-1555
7. Nara Park: A beautiful nature park gets made over in sapphire (Nara)
Happiness Corridors Nararurie is a fantastical illuminated path leading to the three major shrines of Nara Park (Kasuga Shrine, Kōfuku Shrine, and Tōdai Shrine) is typically held around mid-February.

Traditionally, during the period, special nighttime viewings (between 6:00 and 9:00 p.m.) are available at each shrine and temple. Here, picturesque scenery studded with glittering lapis lazuli wait to draw you into a dreamlike world as it beautifies the chilly landscape of Nara during winter.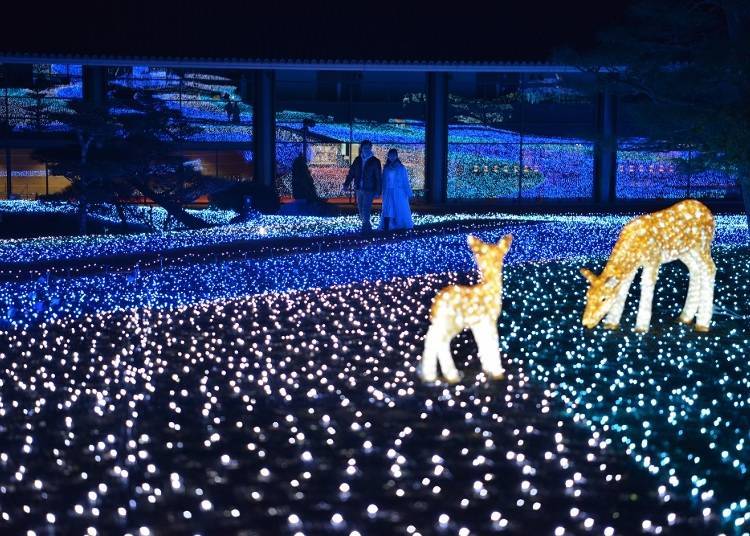 The Rurie Market will be in operation at the same time, with booths selling all kinds of merchandise and food for visitors to have their fill of this sapphire-tinted world.

*The schedules for these events for 2022 has not been decided; please check the official website (https://rurie.jp/) for the latest information.
Address

160, Kasuganocho, Nara-shi, Nara, 630-8212
View Map

Nearest Station

Nara Station (JR Kansai Main Line / JR Yamatoji Line / JR Sakurai Line)
11 minutes by car


Phone Number

0742-22-7788
8. Kikusei Platform: Dynamic night views fashioned by town lights (Hyogo)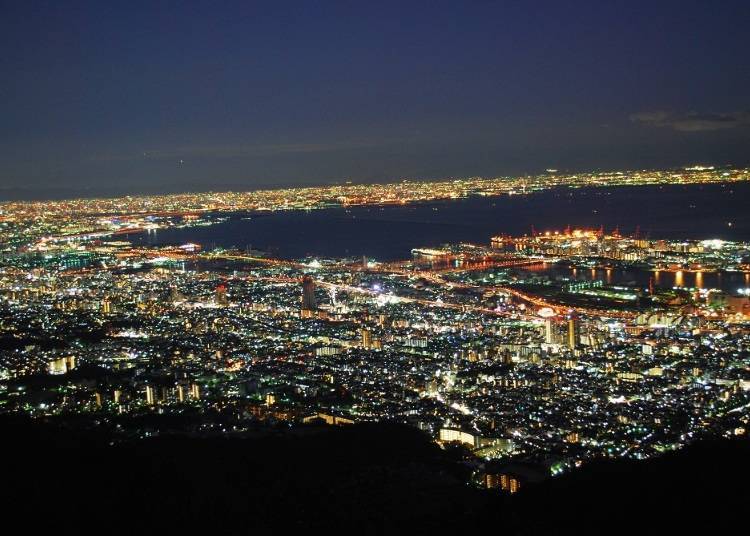 Night view from Maya cable car line at Kikusei Platform
Kikusei literally means "to scoop the stars", and is a fitting name for the platform on Mount Maya where you can enjoy the electrifying night view of Kobe City from up high. Standing here, it almost feels like you could reach out and grasp those stars scattered about from Kobe City towards the direction of Osaka City indeed. This is a night view that shouldn't be missed!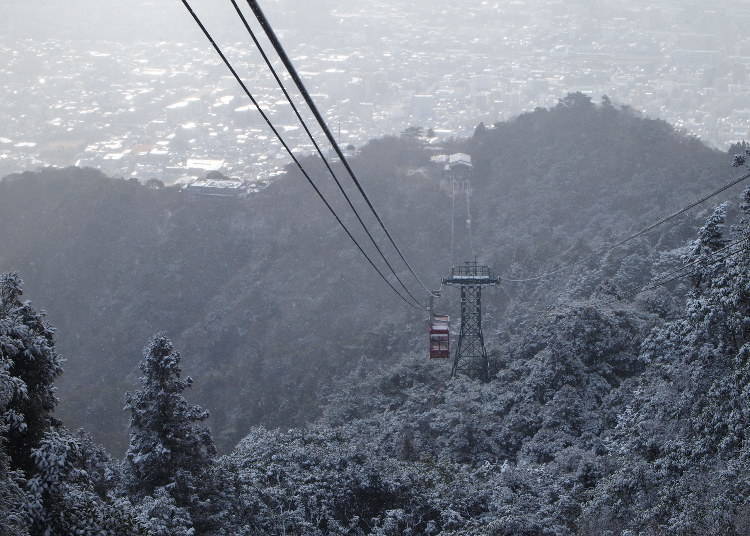 Maya cable car in winter colors
If you happen to be visiting during the day, get ready for a wide panoramic view of Kobe all the way to the faraway Kii Peninsula. The sight of the sun slowly setting over the horizon as the lights in Kobe City start turning on is quite something to behold as well. Winter is an especially good time to check out the scenery here because the air will be clearer and crisper than usual.

Kikusei Platform is within immediate walking distance from Hoshino Station on the Maya cable car.
Maya View Line
Cable car hours: Mon/Wed/Thu - 10 AM–5:40 PM; Fri/Say/Sun/Holidays - 10 AM–8 PM
Ropeway hours: Mon/Wed/Thu - 10:10 AM–5:30 PM; Fri/Say/Sun/Holidays - 10:10 AM–7:50 PM
Hours: On December 29–30, 2022 and January 2–3, 2023, 10 AM–7:50 PM; on December 31, 10 AM–5:30 PM; on January 1, 6 AM–5 PM
Fare: For all sections, one-way adult 900 yen, round-trip adult 1,560 yen
Maya Viewline Regular holiday: Tuesdays (closed on the following weekday if it is a national holiday). (*Closed on Jan. 4 in lieu of being open on Jan. 3.)
Address

Mayasancho, Nada-ku, Kobe-shi, Hyogo, 657-0101
View Map

Nearest Station

Rokko Station (Hankyu-kobe Main Line)
10 minutes by car


Phone Number

078-303-1188
9. Minoh Falls: Like an ink painting come to life (Osaka)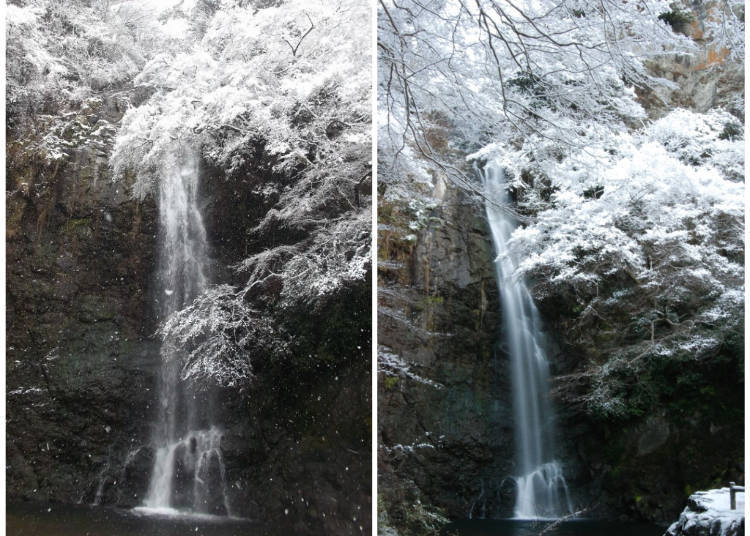 Mount Minoh is the site of Japan's oldest place of ascetic training, and the Minoh Falls found therein is part of the training package. This is also where you can come into contact with plenty of greenery just about 30 minutes away from Osaka.

Minoh Falls are also listed as one of Japan's top 100 waterfalls and there are plenty of lovely sights to catch here as well as in nearby Ryōan Temple. The waterfall path that goes from Minoh Station to Minoh Waterfall is about 2.7 kilometers (about 1.6 miles) long and lined with souvenir shops selling deep-fried maple snacks and cafes operating out of historic buildings, amongst other commercial spaces.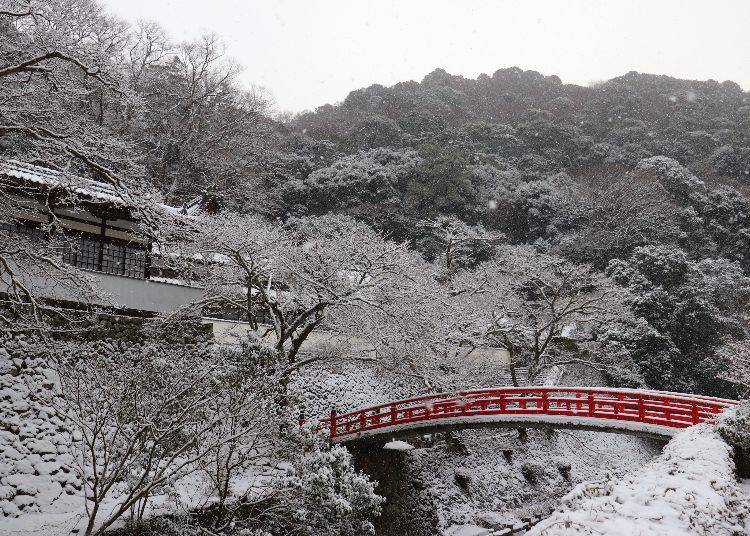 Although Minoh Falls is probably better known for its impressive fall foliage, its winter makeover is worth a visit as well. As the slim trees and branches become blanketed by white snow, the entire place feels like an ink painting that has come to life on its own. A must-visit spot in any Osaka winter.
Address

Minookouen, Minoo-shi, Osaka, 562-0002
View Map

Nearest Station

Minoh Station (Hankyu-mino Line)
40 minutes on foot


Phone Number

072-723-1885
10. Engetsu Island: Spectacular sunset on a small island (Wakayama)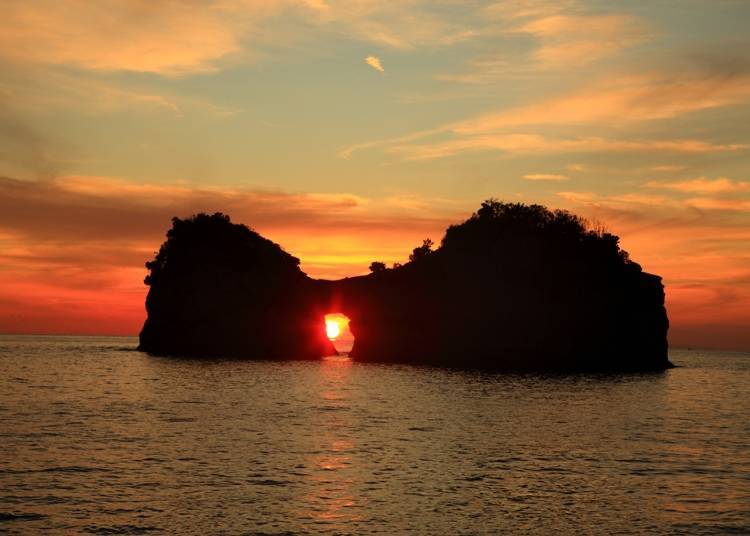 Shirahama City in Wakayama Prefecture is where a natural hot spring has gushed for more than 1,350 years. As such, you can find plenty of bath-related facilities such as hot spring places, sea baths, the theme park Adventure World and others - all of which are very popular among locals and foreign visitors alike.

Despite that, the scenic Engetsu Island is probably the most iconic sight Nanki Shirahama is known for around the world. In fact, it's also included in a list of Japan's 100 best sunset spots.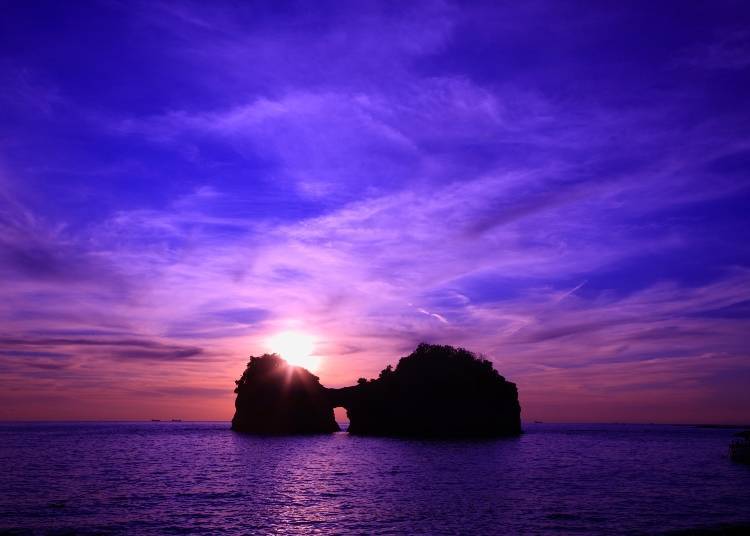 This naturally-formed island has a round shape tunnel (sea cave) through its middle that is especially captivating when the sinking sun peeks out from it. This charm is further enhanced during winter due to a calmer sea surface than usual. Winter is also the best time to scout for grouper cuisine here.
Address

3740, Shirahama-cho, Nishimuro-gun, Wakayama, 649-2211
View Map

Nearest Station

Shirahama Station (JR Kisei Line / JR Kinokuni Line)
15 minutes by bus


Phone Number

0739-43-6588
As you can see, Kansai is a region with many faces - from vast seas to towering mountains, historic shrines, the largest lake in Japan, and more!

Which of the scenic spots in this list is your favorite so far? There are fantasy-like sceneries, romantic places, and magnificent natural landscapes for you to choose from - all places that are better personally experienced than admired in a photograph.

One thing's for sure: You'll never have to worry about not having something to see and do in Kansai!

English translation by: Huimin Pan
*This article was updated in November 2022.
Written by: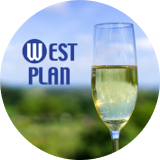 *This information is from the time of this article's publication.
*Prices and options mentioned are subject to change.
*Unless stated otherwise, all prices include tax.
Limited time offer: 10% discount coupons available now!