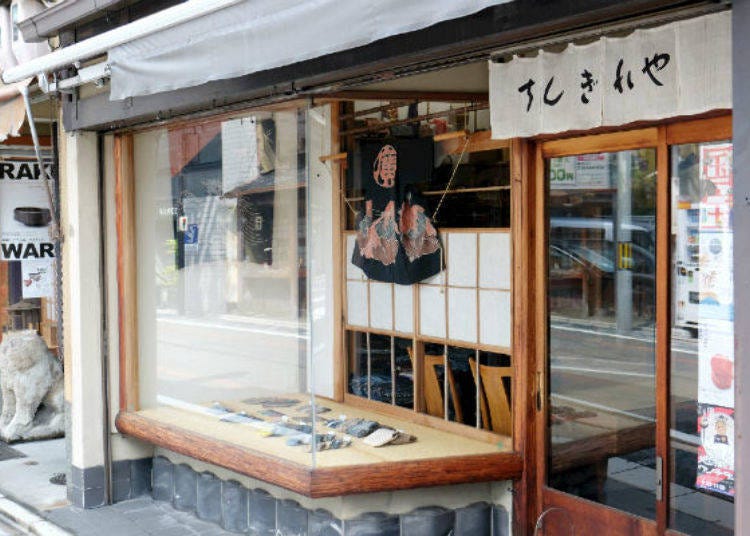 Gion is a major tourist location in Kyoto. For those in the know, Gion's the place to go to find cute Japanese souvenir shops!

In Gion, you can see traditional scenery with many Kyo-machiya (Kyoto style traditional town-house). If you are lucky you can come across maiko (apprentice geisha) heading to ozashiki (a Japanese style banquet room).

In Gion, there are many cute Japanese sundry shops, and some of these shops have special items for maiko such as Kyoto cosmetics and kanzashi (traditional hair ornaments).

Here are some recommended products that you will want to get during your visit to Kyoto.
1. Kazurasei Roho: From Kanzashi to Cosmetics, a Long Established Shop Favored by Maiko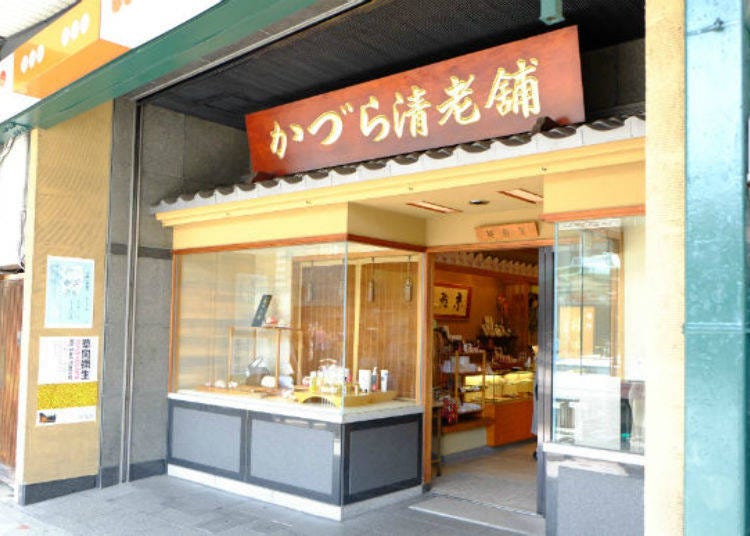 Located right in the center of Shijo Street running east to west. Kazurasei Roho is a sundry shop in Gion with over 150 years of history.

Established in 1865 during the Bakumatsu Period in Kyoto they have sold wigs, used in theater, to kanzashi and other specialty goods used by maiko and geigi (geigi or geiko is the Kyoto version of geisha). Nowadays they sell cosmetics and items for Kyoto style beauty.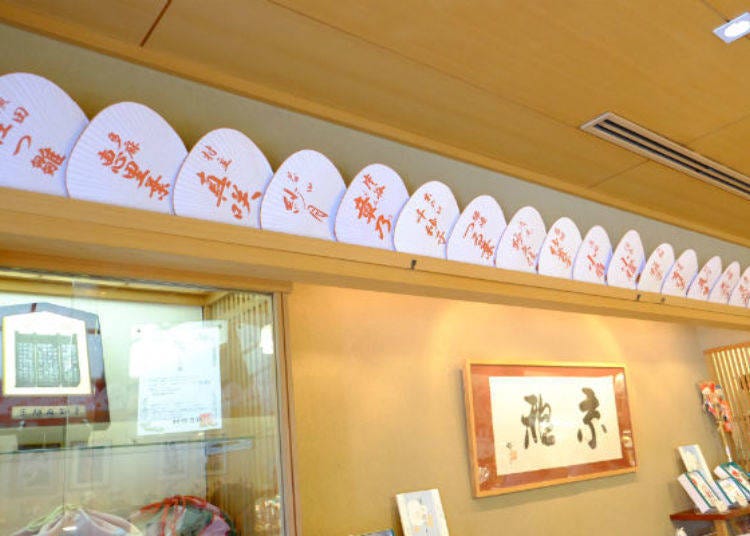 ▲Fans with names of maiko and geigi in the shop. These fans prove that maiko and geigi favors this shop. It is sight only seen in Gion.
The main product of this shop in Gion is the kanzashi. Most people think that you can only wear kanzashi when wearing a kimono, but there are kanzashi with simple designs that match normal clothes.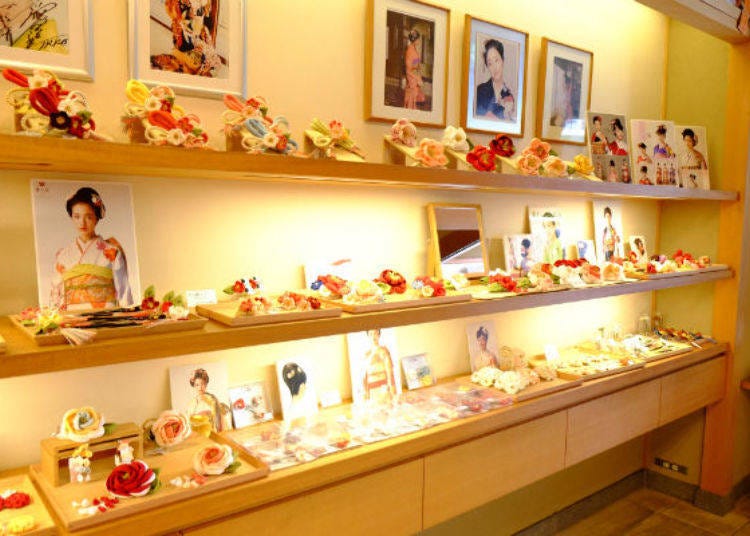 ▲There are kanzashi for everyday use and celebrative occasions.
For example the cute plum decoration Mini-pin Kanzashi (6,048 yen) can be worn with various styles other than Japanese hair styles such as half up and half down, and buns. The flower section of the kanzashi uses selected materials like the Tango-chirimen. Craftsmen make these products by hand.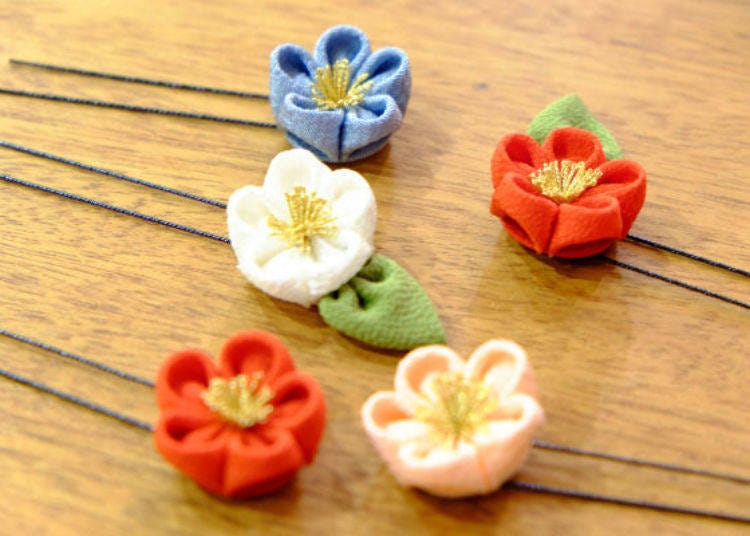 ▲Made with attention to detail. They are small so it retains balance even if you use two or three.
Another main product is the domestic camellia oil (tsubaki-abura). Kazurasei camellia oil has been known to be good for your skin and hair from long ago, and in 1972 they have established their own plantation and oil mill in Goto Islands Nagasaki Prefecture. It uses only pesticide-free Japanese camellia in its products.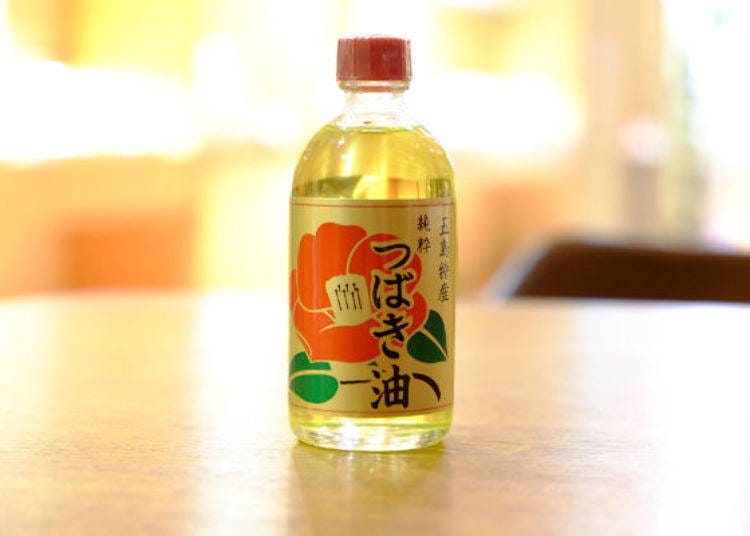 ▲Goto Tokusen Junsui Tsubaki-abura (100ml – 2,052 yen). Limited item only available at the store or by phone order
Camellia oil consists of about 85% oleic acid, which is considered good for your skin. The oil has been filtered many times and isn't sticky. It has a reputation that the oil sinks isn't and creates moist skin and shiny hair. It can also be used by men so couples and families can share the oil.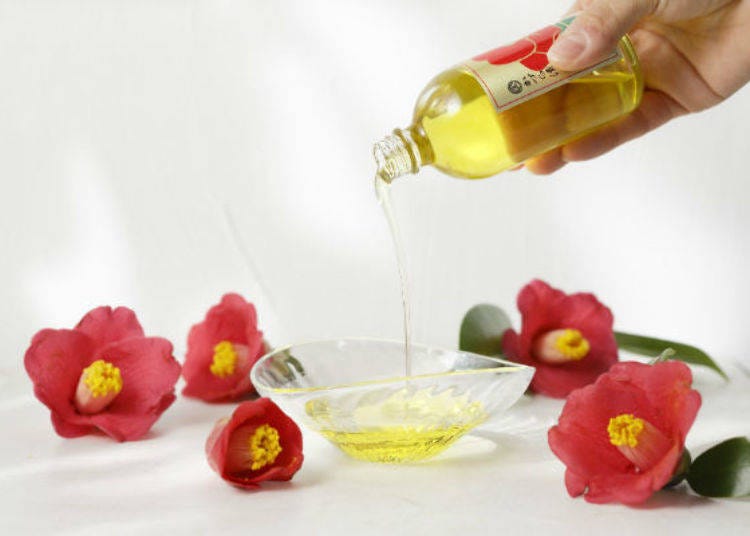 ▲Massaging your hair with camellia oil before washing your hair makes it more beautiful
They also have camellia oil moisturizer (3,564 yen), the new moisturizer masks made with sake from Sake-dokoro Fushimi (3,888 yen), Hand & Body Cream (1,512 yen), and other cosmetics.

Some other goods are the premium comb tsuge-gushi (starting from 1,944 yen) and a coin purse with Japanese camellia design (2,268 yen).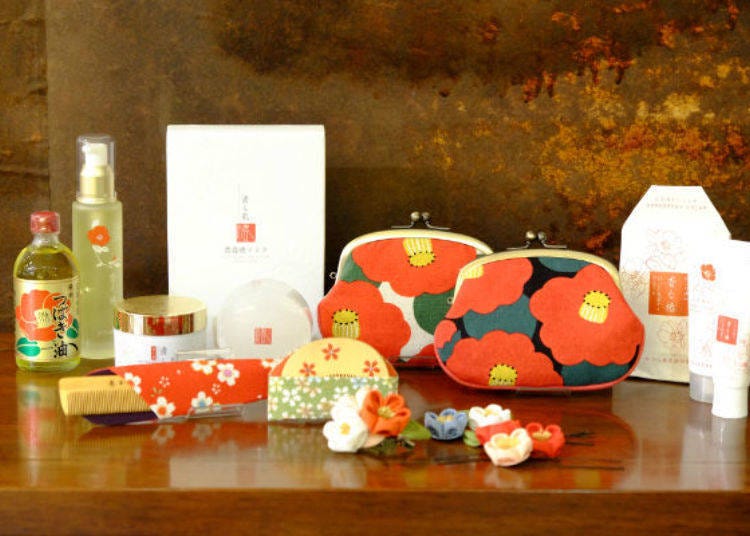 ▲There are many goods that are appealing to woman
These items that create Kyo-bijin (Kyoto beauty) are carefully selected by the shop. Take one hair ornament, not only do they pass on the tradition, but they also alter the color and ease to use for modern times.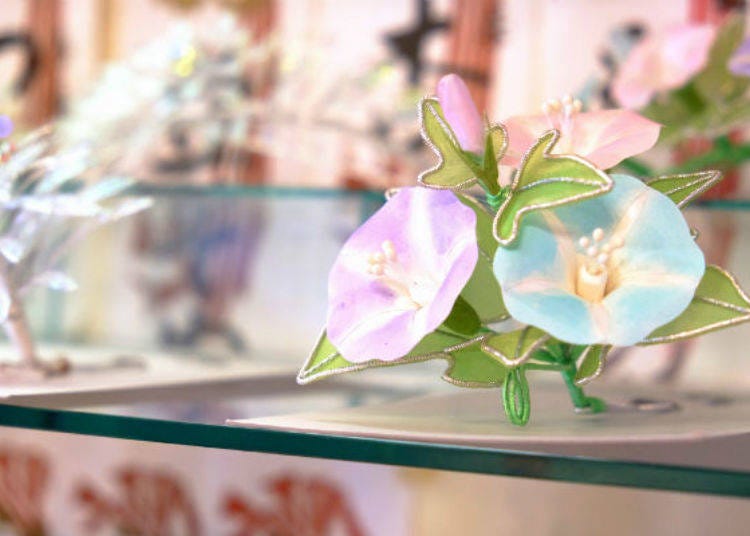 ▲Soft colored kanzashi specially made for maiko (starting from 20,000 yen *normal customers can order these)
A long-established shop in Gion that pursued Japanese beauty throughout the ages. Have a look to find items that enhance beauty.
Kazurasei Roho Gion Main Store

かづら清老舗 祇園本店

Address

285 Gionmachi Kitagawa, Higashiyama-ku, Kyoto-shi, Kyoto-fu

Phone Number

075-561-0672

Hours: 10:00 AM – 7:00 PM
Closed: Wednesday (opened if it is a holiday)
2. Kyo-to-to: Cute and Comical Embroideries of Traditional Culture like Yokai and Temples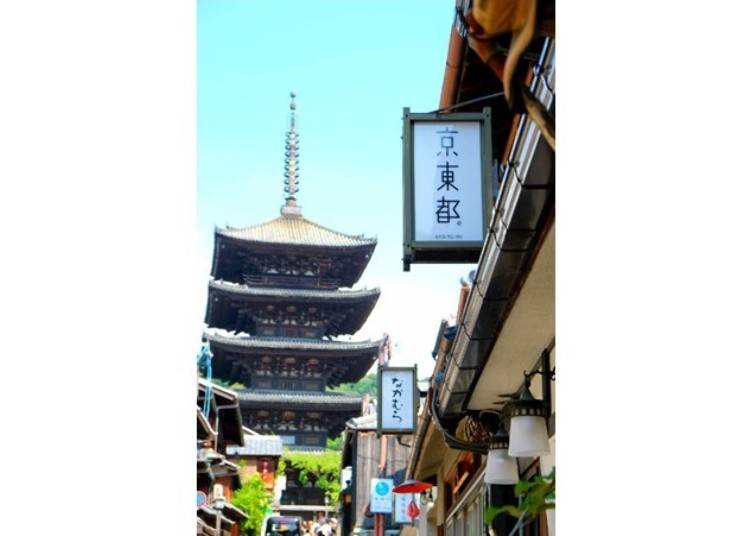 Kyo-to-to Main Store is located on Yasaka Dori with a good view of Yasaka-no-To. It is an embroidery brand that was established in 2007 by a company that operates an embroidery workshop in Kaemoka City Kyoto.

The name was made by combining Kyoto, the symbol of Japanese tradition, and Tokyo, which represents modern Japan. By combining the two names they hope to pass on culture in a new way.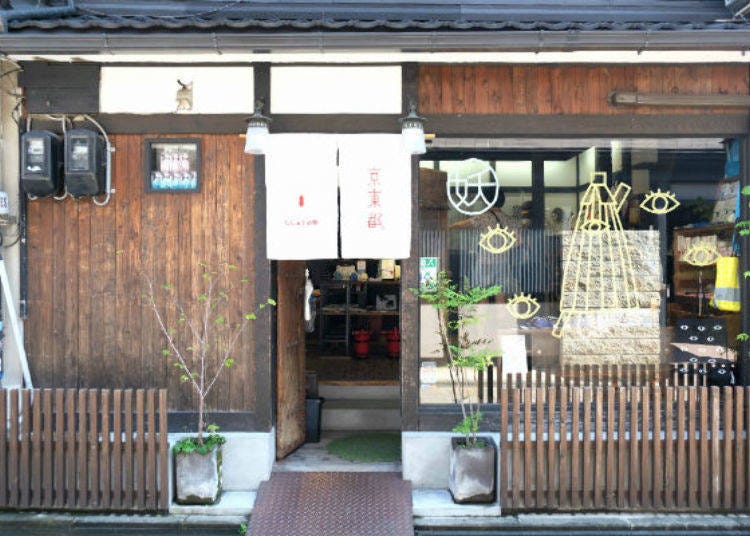 The main feature of Kyo-to-to is its original embroidery designs. Under the theme of Japanese traditional culture, they design yokai (Japanese monsters), sushi, Kyo-yasai (heirloom veritable from Kyoto), and others with original designs that are cute and comical.

In the shop, there is a lineup of hand towels, bags, pouches and small items with Japanese embroidery. Here you can find items with wonderful design and practicality.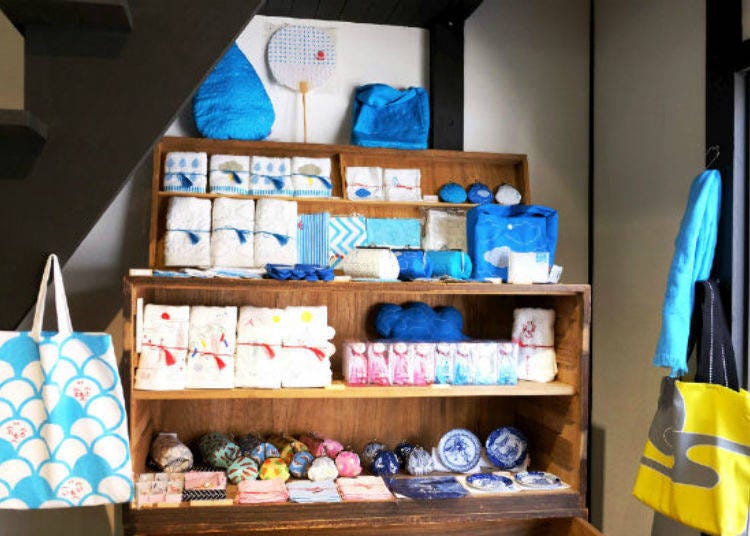 ▲Items with weather themes such as clouds and teru teru bozu (Japanese handmade paper dolls to stop rain)
A popular product is the Yasaka-no-To series that are limited to the main store. The series has items like the mini gama-guchi (miniature purse with metal clasps) and tawara gama-guchi (large purse with metal clasps).

Yasaka-no-To is the landmark of this area, it is a 5 story pagoda at Honganji Temple that is visible from the shop. The white embroidery of Yasaka-no-To on a red cloth is impactful and cute. The delicate embroidery gives the item design with a warm feeling.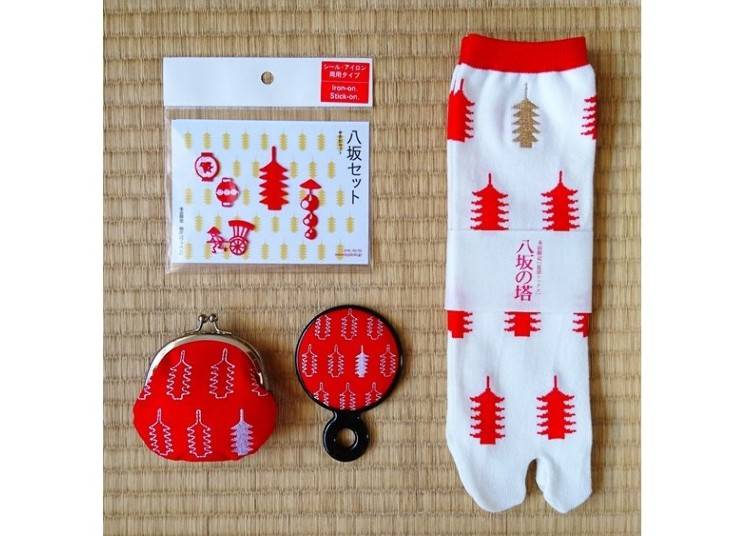 ▲From the top right going clockwise, tabi socks (1,026 yen), hand mirror (1,026 yen), mini gama-guchi (1,404 yen), patch set (1,080 yen)
The main product of this shop in Gion is the wappen or Japanese design patches. The store has a large lineup of patches with unique Japanese style designs such as living creatures like birds and fish, food like sushi and mushrooms, and yokai.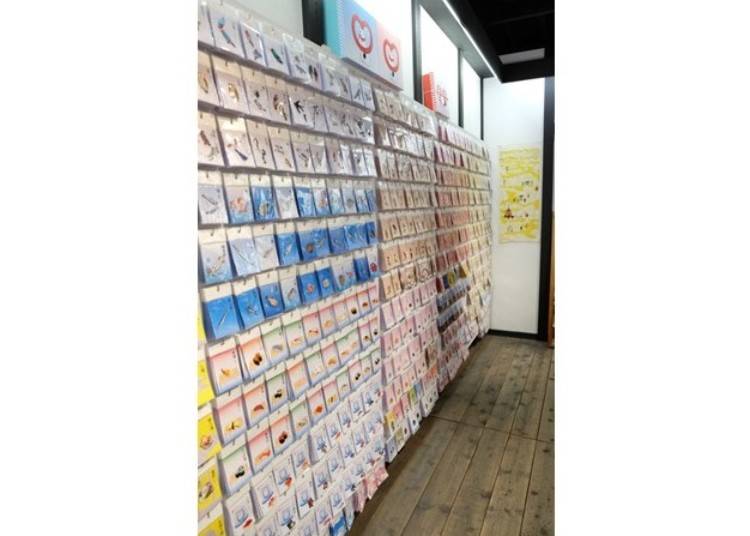 ▲The left side of the store is covered with wappen (starting from 324 yen for one). With so many wappen, time flies by while looking at all of them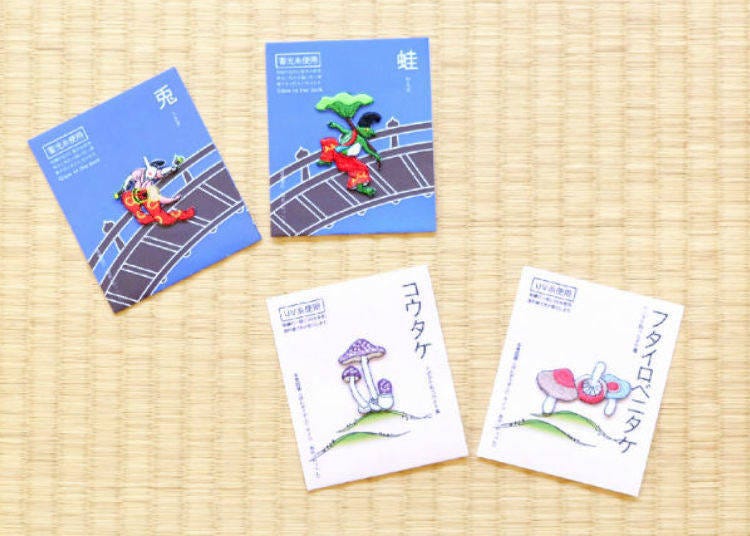 ▲Normally there are over 600 patches. There are some types that uses luminous threads and threads that change color under ultraviolet lighting
They even have designs based on Choju-jinbutsu-giga (a famous four picture scroll with frolicking personified animals) that was drawn 1,000 years ago. If you look carefully you can see the cute facial designs. These items can enhance your clothes or bags in the right way.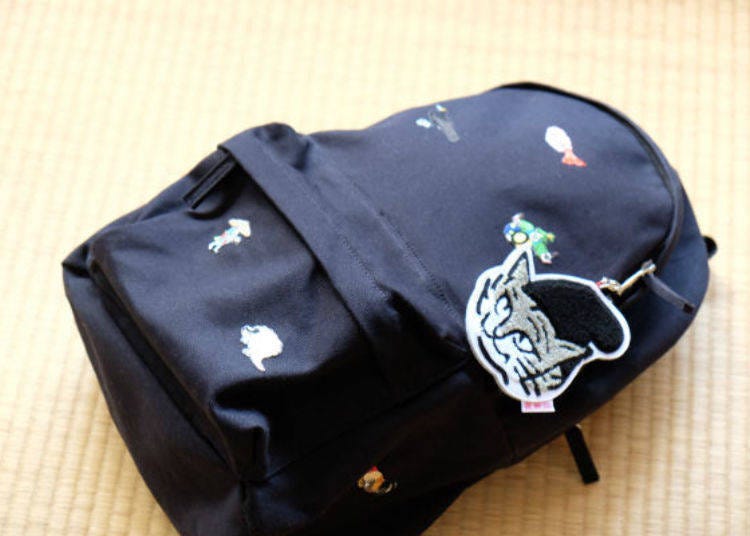 ▲Adding wappen and the Choju-giga back charm (1,836 yen) to the backpack for some additional fashion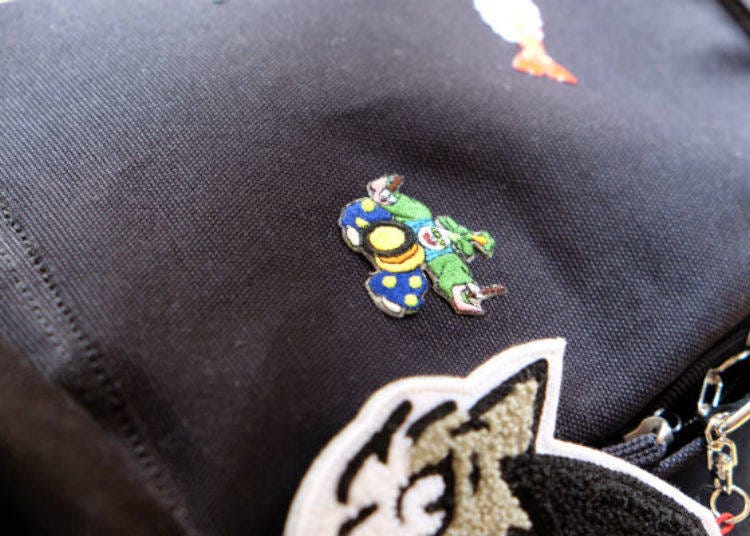 ▲If you look carefully you can tell that they are made delicately, such as the thickness of the thread is different depending on the color
Store manager Umemura said, "we hope that 'kawaii' can introduce Japanese culture and traditions to people." These cute items with a mix of culture and tradition make perfect gifts.
▲They also have small cussions and keyrings
京東都 本店

Address

93-28 Hoshino-cho, Higashiyama-ku, Kyoto-shi, Kyoto-fu

Phone Number

075-531-3155

Hours: 11:00 AM – 6:00 PM
Closed: Irregular holidays
3. Chingireya: Find One-of-a-Kind Fabric Accessories Made from Ancient Cloth Fragments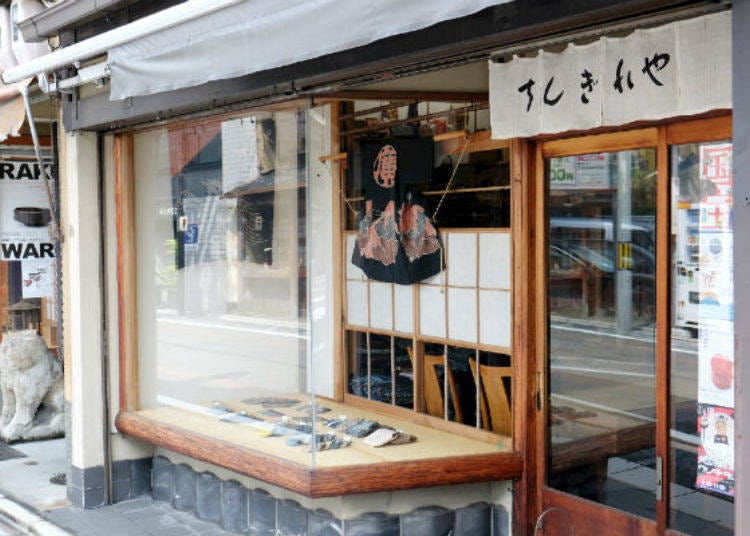 Going south on Yamato Oji Dori for 3 minutes from Keihan Main Line Sanjo Station, you will find Chingireya on your left. Since the store has been established in 1902 it has dealt with kodaigire (antique fabrics) that are over 100 years old.

In the store, they have items from the Azuchi-Momoyama Period, Edo Period, Meiji Period, and precious fabric from Japan and overseas. They are so rare that researchers at museums and collectors visit the store.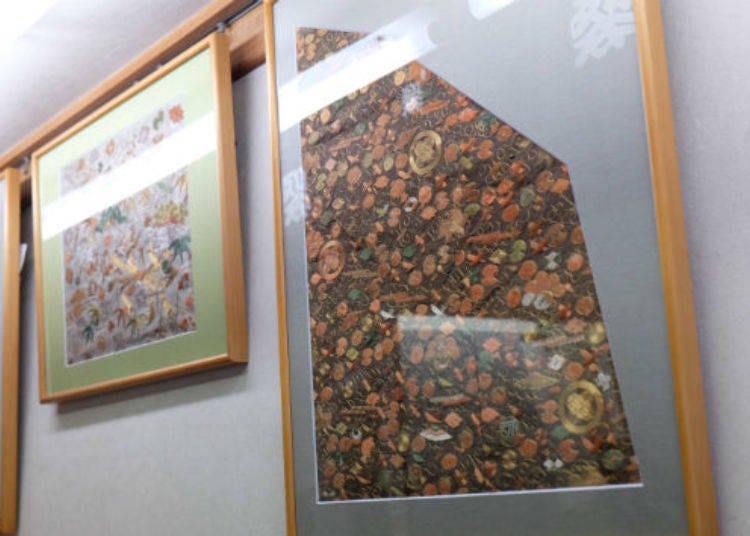 ▲Uchikake, a formal wear of an upper class lady in a samurai society on display. A very detailed fine quality piece
▲French antique fabric that arrived to Japan through the Nanban trade. The different color and design from Japanese products is eye catching
The main attraction of antique fabrics is that you can find one of a kind items that you like. With various items from different eras, there isn't one article that has the same material and design. If you find something to your liking you can purchase the whole antique fabric.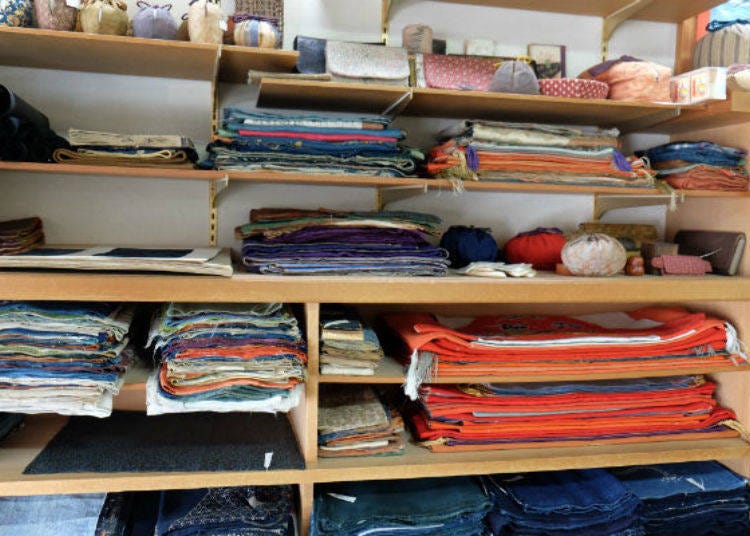 ▲Various antique fabrics from different eras and countries. There are even some high grade fabrics that were used by kuge (court nobles) and daimyos (feudal lords)
At Chingireya there are small items such as gama-guchi, pouches and name card holders that are made from these antique fabrics. These items are handmade by exclusive shop craftsmen.

Since the design changes depending on what part of the cloth is sued, all the designs are different. Also depending on the fabric the price changes for the same sized items.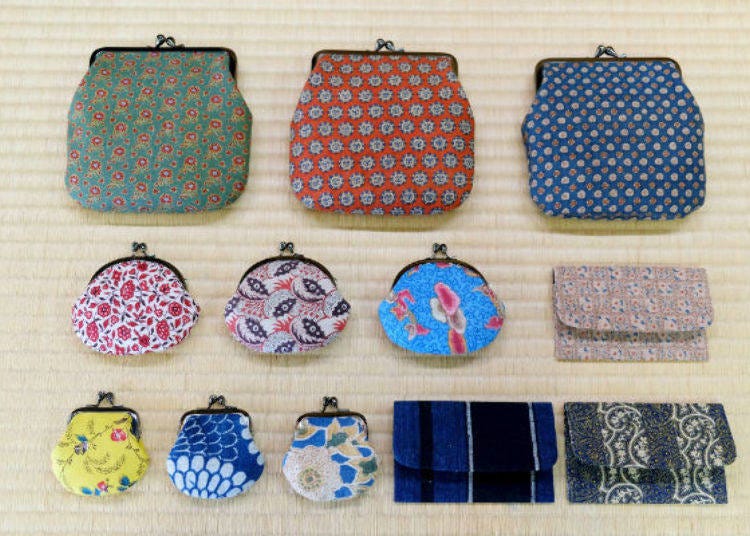 ▲Pouch starting from 3,500 yen, Gama-guchi (small) starting from 1,500 yen, name card holder starting form 1,000 yen, mame gama-guchi (tiny) starting from 1,000 yen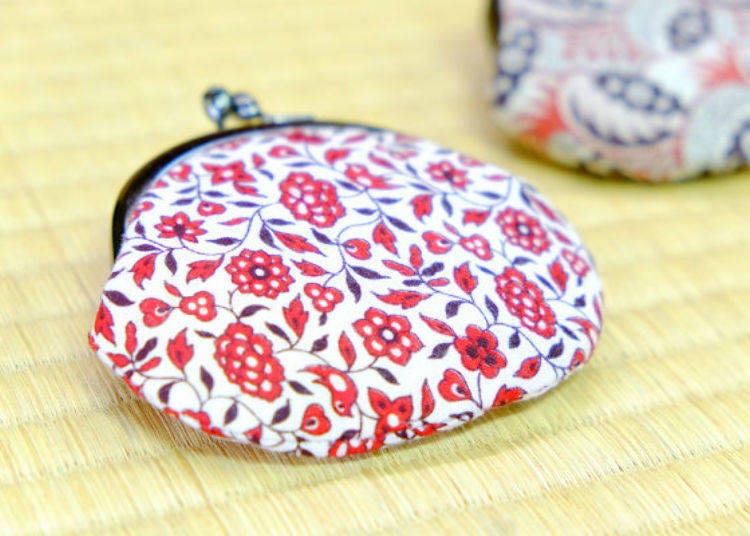 ▲Small gama-guchi (starting from 1,500 yen) made with fabric from Europe, has an elegant design
▲The more you use the antique fabric items the more they become broken in. Mame gama-guchi (starting form 1,000 yen)
A perfect store to find a one of a kind item for you. Finding that one special item is like looking for treasure. Also looking at the design and material of the antique fabric, it can tell you how people used to live. Imagining what kind of people using that particular fabric is part of the fun.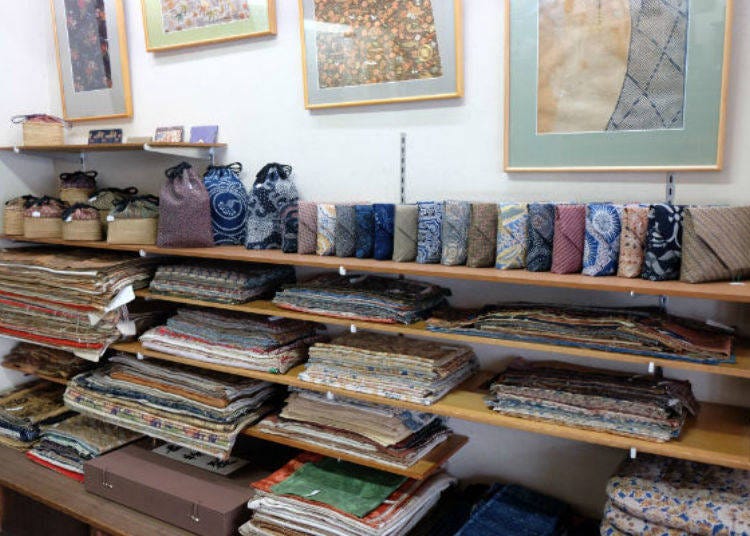 ▲They also have antique hand baskets
ちんぎれや

Address

Sanjo Minami-iru, Nawate-dori, Higashiyama-ku Kyoto-fu, Kyoto-shi

Phone Number

075-561-4726

Hours: 10:00 AM – 7:00 PM
Closed: New Year Holiday
We hope you enjoyed the guide. The Gion shops we introduced in the Gion area have many products that have qualities of cuteness and essence that increases the elegance of women. They are perfect for yourself or gifts for friends. We hope you can find the perfect item for your travels in Kyoto.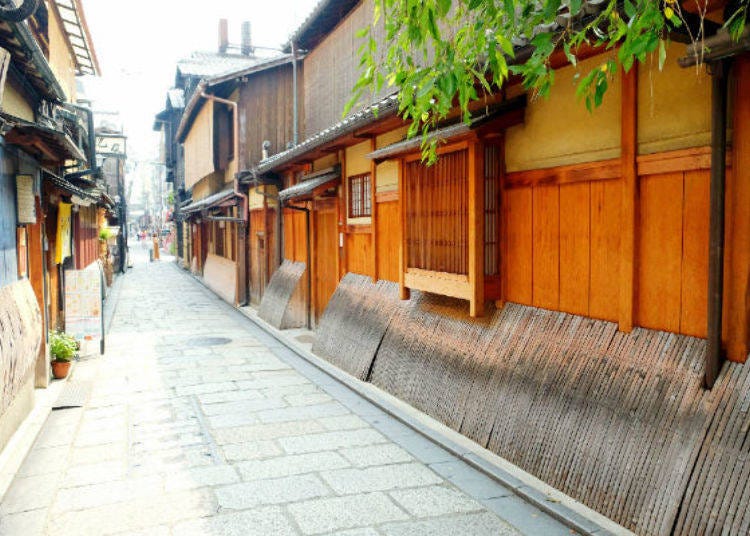 ▲Don't forget to enjoy the beautiful cityscape of Gion
*All prices include tax.
Text by:kurashisa
*This information is from the time of this article's publication.
*Prices and options mentioned are subject to change.
*Unless stated otherwise, all prices include tax.