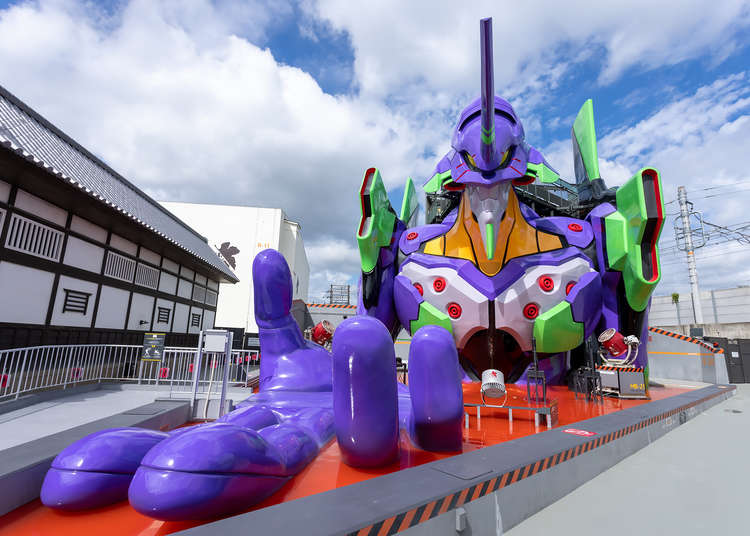 Evangelion Kyoto Base features the world's first Evangelion that you can actually ride! Enter the world of the popular anime series, Evangelion.

The attraction, which opened on October 3, 2020, has already gained plenty of attention, and you can visit it too at Toei Tahata Kyoto Studio Park in Uzumasa, Kyoto.

Here, Chi, a student from Vietnam, reports on her experience from the world of Evangelion!

Main image ©︎カラー
Getting to Evangelion Kyoto Base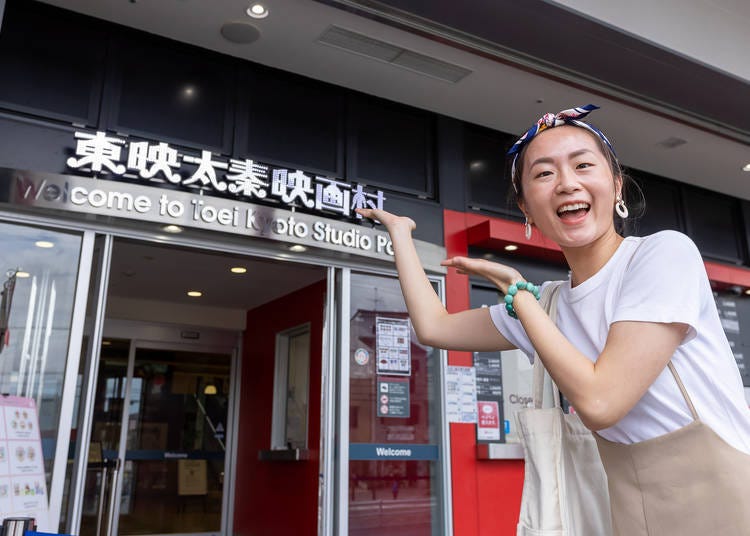 It takes 14 minutes to travel from JR Kyoto Station to Uzumasa Station. Kyoto Studio Park is a 5-minute walk from Uzumasa Station. You can also get there by Randen tram or bus.

Today, Chi, a graduate student in Osaka, reports on her experience at the Evangelion Kyoto Base in Toei Kyoto Studio Park. "Japanese robot anime is popular in Vietnam, so I've been looking forward to this," she says in excitement. Also a fan of ninja, she has already visited Koka City in Shiga Prefecture, the home of Japan's ninja.

Today, she will visit Kyoto Studio Park for the first time.
Please be aware that all visitors are required to wear masks. Note that in the photos, her mask was only removed for those photos.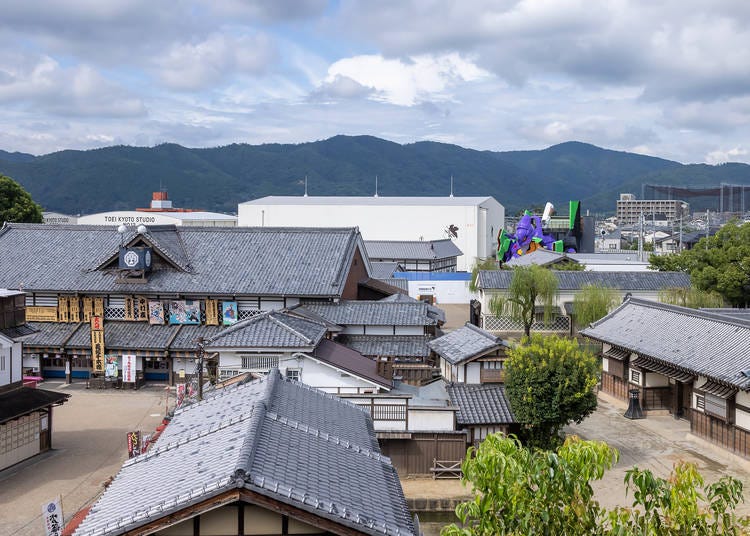 ©︎カラー
At Toei Kyoto Studio Park, you can watch dramas and movies, walk through an open-set reproduction of the streets of Edo, enjoy attractions such as mystery mazes and ninja mansions, and watch shows that use 3D-mapping.

One of the best photo spots is outside the 3rd floor of Padios near the stairs, where exhibitions and shows are held. You can see both the streets of Edo and Evangelion from here.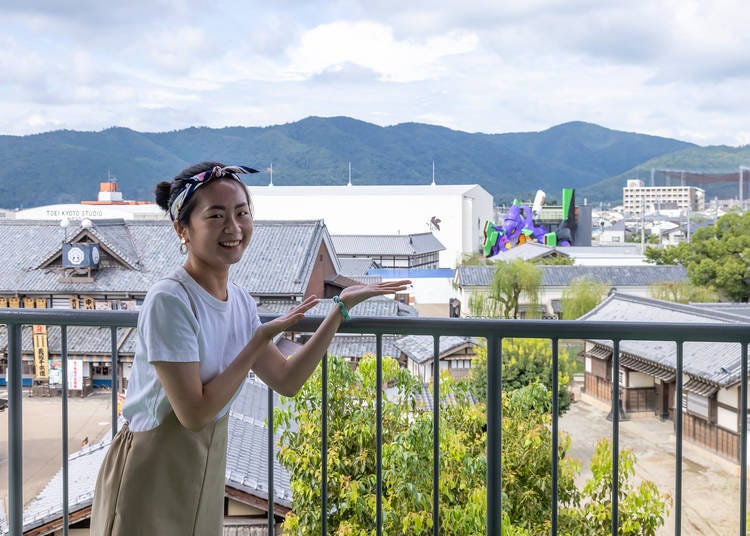 ©︎カラー
When you visit Kyoto Studio Park, be sure to get a photo that includes both the town scenery and Evangelion.
Ride in the Palm of a Giant, 15-meter Tall Eva!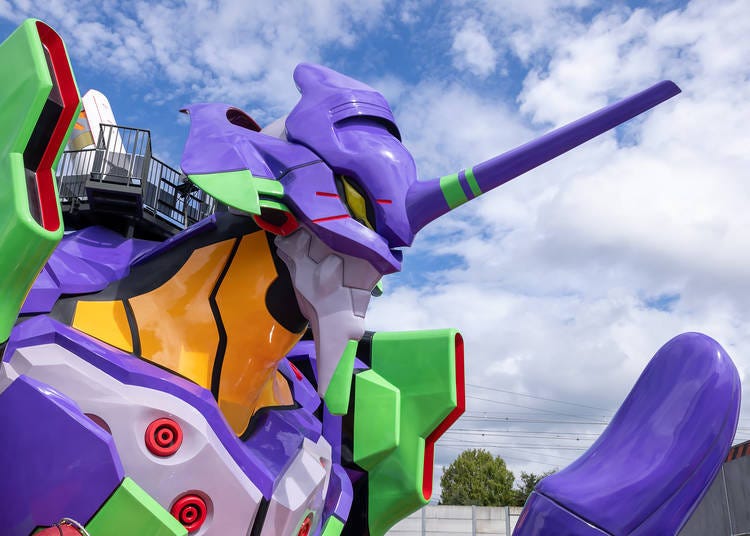 ©︎カラー
Evangelion Kyoto Base is located towards the back of Kyoto Studio Park. Before riding the Eva, let's review: what exactly is Evangelion?

Evangelion is an anime work that aired in 1995. It is famous not only in Japan but overseas as well. The story follows a 14-year-old boy and girl aboard gigantic humanoid battle robots, the Evangelion, fighting against a mysterious enemy, the Angels.

This Kyoto attraction is the first Eva machine to be built in real life, based on the machine that Shinji Ikari, the main character, pilots.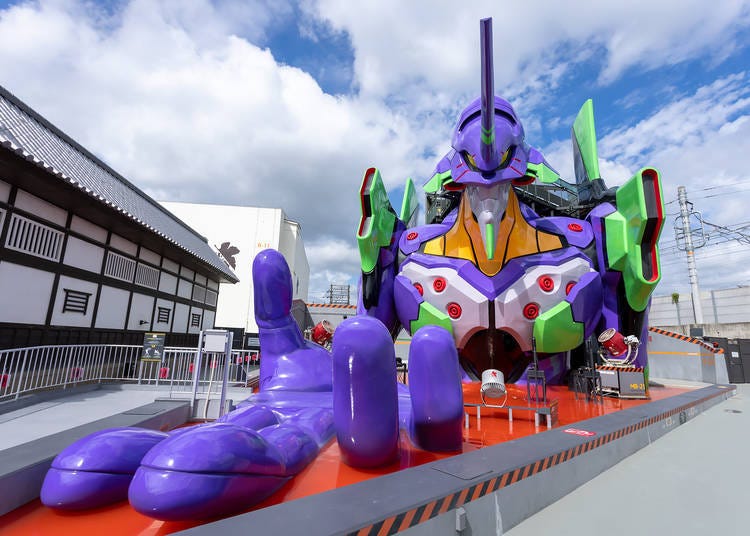 ©︎カラー
This Eva boasts a height of 15 meters. It is immersed in LCL, the red liquid that allows the pilot to connect to their Eva. You can take pictures in the palm of the Eva's outstretched hand.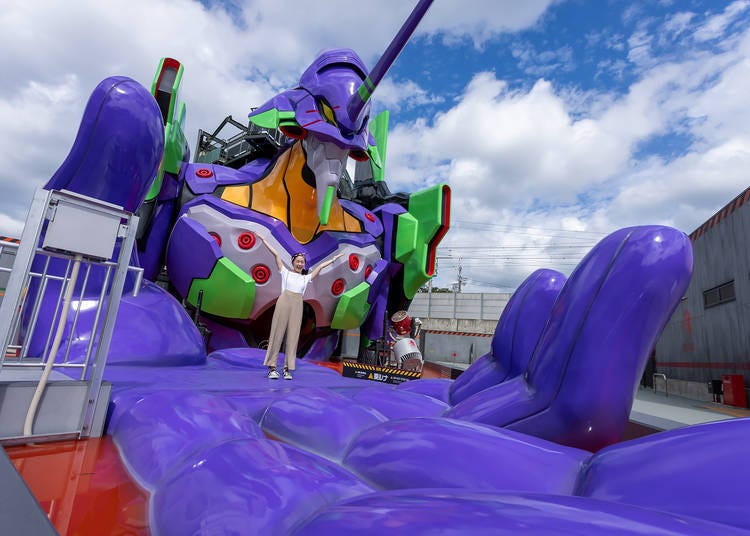 ©︎カラー
The Eva appears to be under maintenance, half-immersed in a pool of LCL with only its upper body protruding out. Its head alone is 7 meters long! "It's huge! This is so cool!" Chi shouts in excitement as she strikes a pose.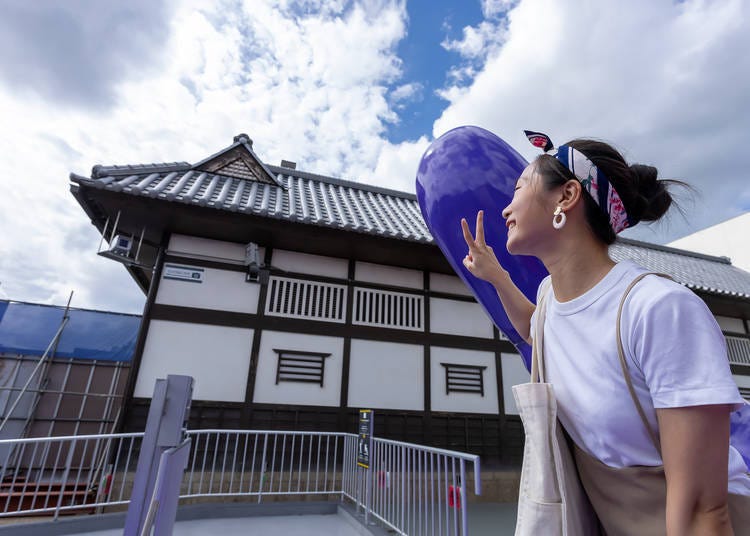 ©︎カラー
If you happen to be visiting alone, don't worry! You can still have your photo taken! Scan the QR code (which we will introduce later), and a camera installed in the neighboring building will automatically take two photos of you on the Eva.

"It's really great that they included a camera so that even solo visitors can take a photo with the Eva," says Chi.

There is also a professional photographer on the scene, and you can get one free photo per group. You can also purchase large photos. The first photo is 1,500 yen, and you can buy up to four additional photos at 500 yen each (prices include tax).
Boarding the EVA and Taking the Pilot Test!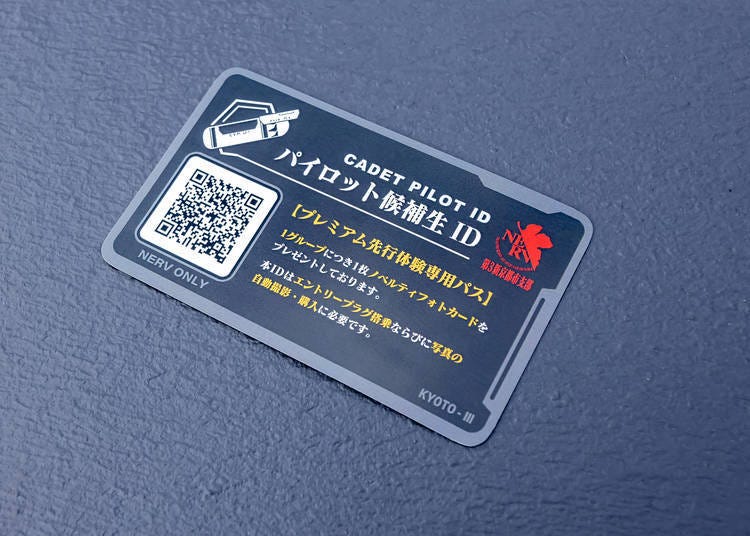 ©︎カラー
The Pilot ID card is required for the main boarding experience. There is a QR code printed on the card, which explains the boarding process, as well as how to take photos and make purchases. The card in the photo is the pre-sale version, so the design may differ from those purchased after the grand opening.
Take Tests with NERV and Board the Eva!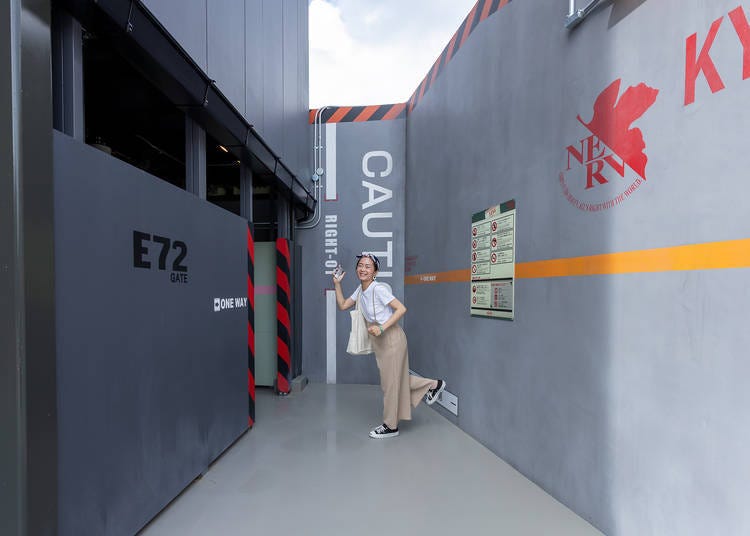 ©︎カラー
In this experience, you are a 14-year-old pilot candidate. You will face a variety of aptitude tests under the direction of NERV, the special agency that owns the Evangelion, as you head for the entry plug cockpit.

All the voices you hear are those of the main characters, including Misato Katsuragi, the commander of NERV, which have been specially recorded for Kyoto Base! "It's all in Japanese, but I think even foreign fans will want to listen," said Chi.
Road to the Entry Plug: Achieve a High Synch Rate!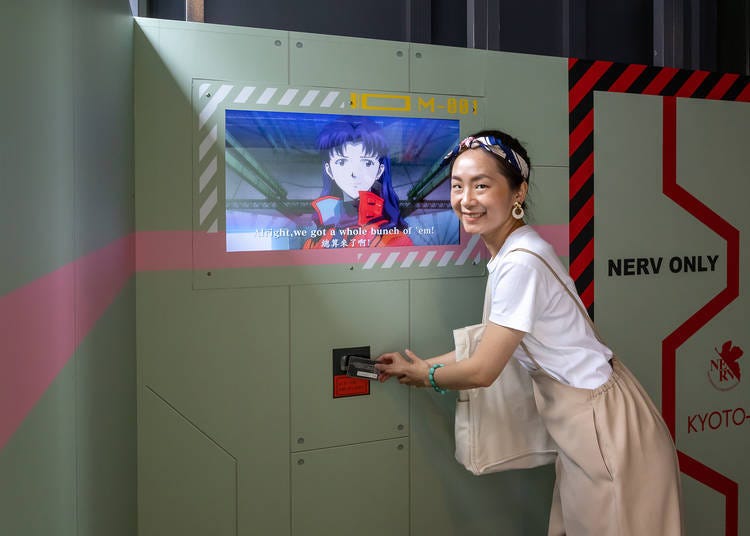 ©︎カラー
You will receive tests and explanations as you climb the stairs to the entry plug. Again, you can scan the QR code on the pilot ID in various places.

Here you can take the test to measure the synchronization rate between pilot and Eva. Results are announced after you board the entry plug. Proceed ahead, and aim for your best synch rate!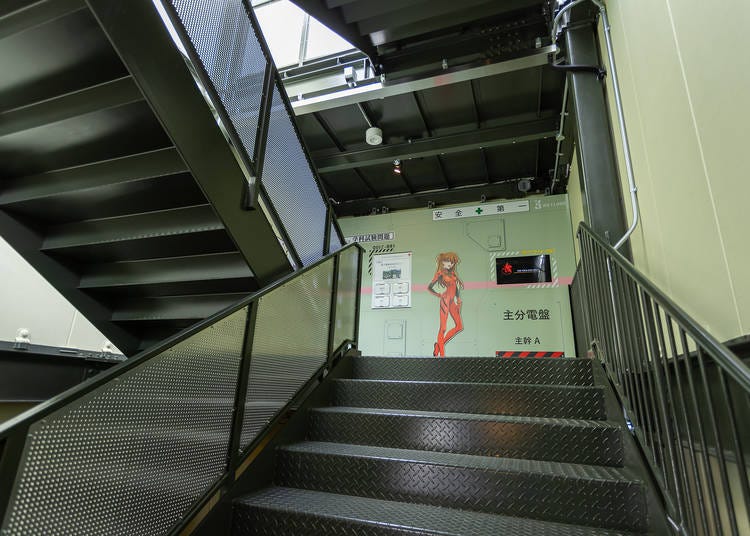 ©︎カラー
Images of the NERV logo and characters greet you as you climb the stairs. Even if you're not familiar with the series, you're sure to feel the excitement build. Don't forget to take photos!
©︎カラー
Scan the QR code with your phone for the pilot aptitude psychological test. It is available in Japanese, English, and Chinese. Chi was impressed by the many modern mechanisms. "You just don't see systems like this!" she says.
What happens when you sit on the entry plug?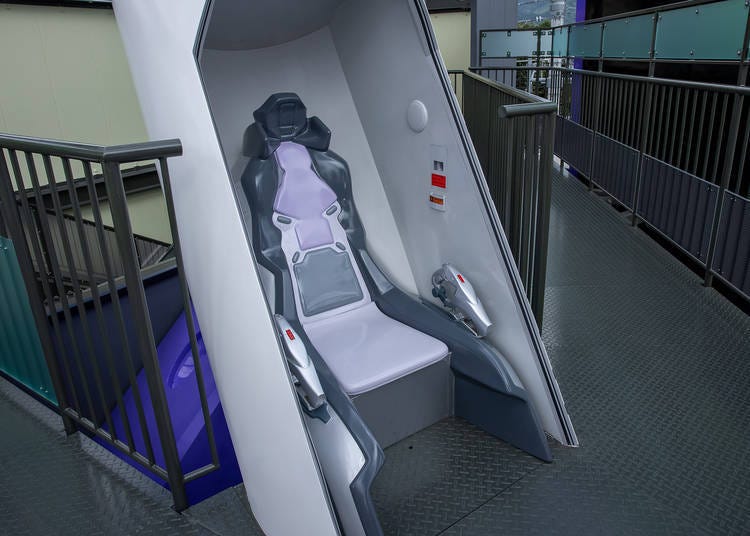 ©︎カラー
After completing the tests, you can finally sit in the entry plug. What happens when you sit down? That's something only boarding passengers can find out. Please visit Evangelion Kyoto Base to find out for yourself!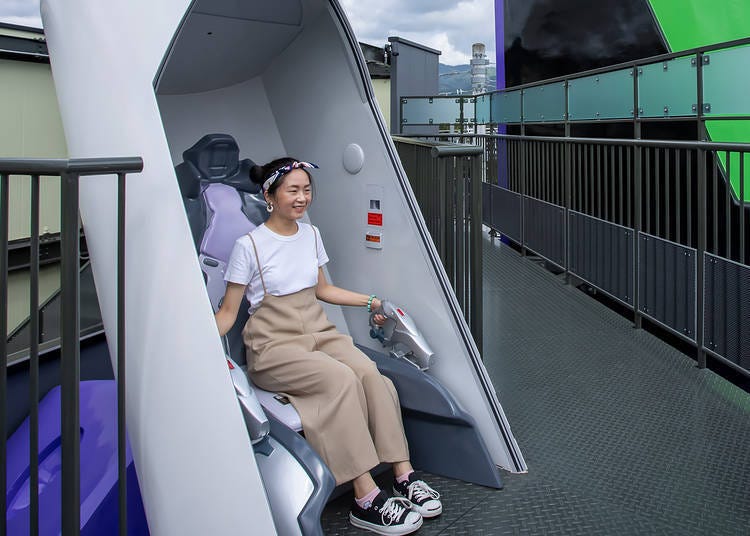 ©︎カラー
Chi seemed to enjoy the experience. "I want to go again!"
©︎カラー
The photo spot at the end of the entry plug features the A.T. Field, a force-field barrier that Evangelions and Angels produce. Take a picture of yourself breaking through an A.T. field with a background of a Kyoto town in flames!
The Suspense is Over! What's your Synch Rate?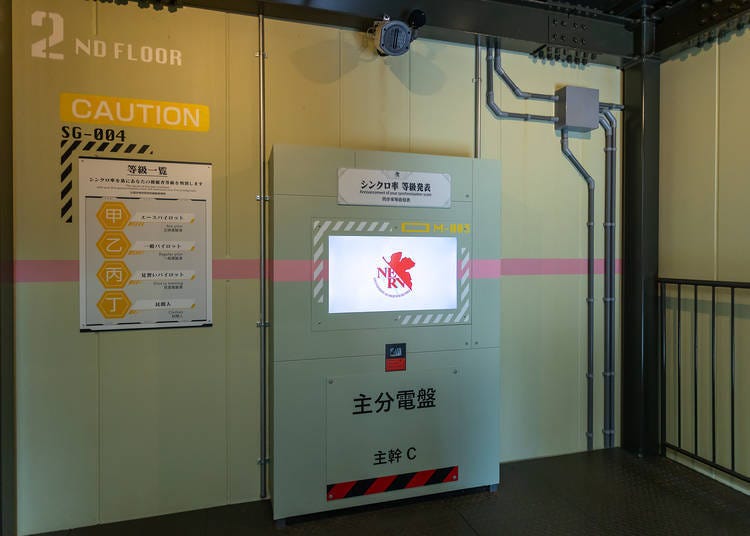 ©︎カラー
It's time to find out your Synch Rate! Scan the QR code to display your percentage and level (A, B, C, or D). If you're in the top percentile, you just may be scouted by NERV as an ace pilot!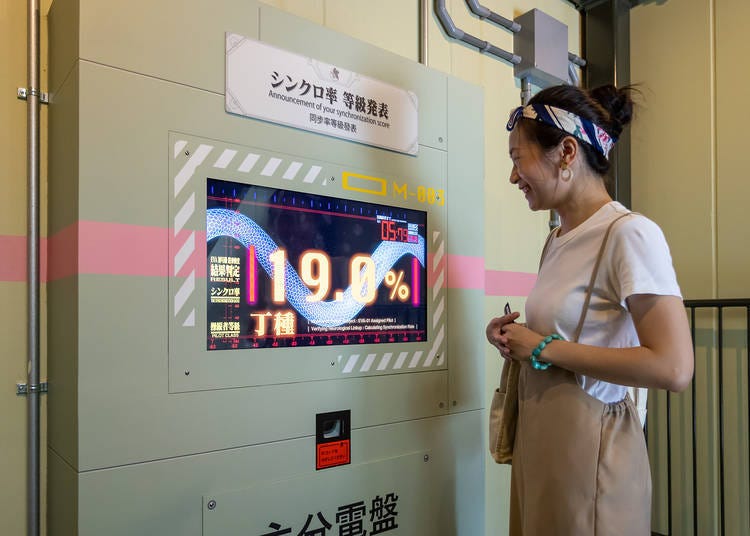 ©︎カラー
Chi's results: 19.0%! Unfortunately, it seemed like one of the lowest grades. But Mr. Ugawa, one of the staff members at Kyoto Studio Park, reassures Chi: "The test is very strict, so 19% is actually normal! It's not a low grade. Only 1 in 100 people are selected as an ace pilot." Think you have what it takes? Try to achieve a high score for yourself!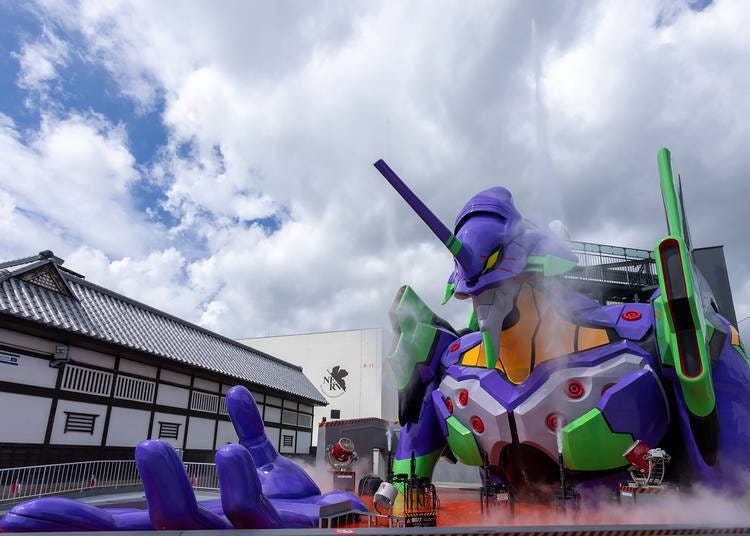 ©︎カラー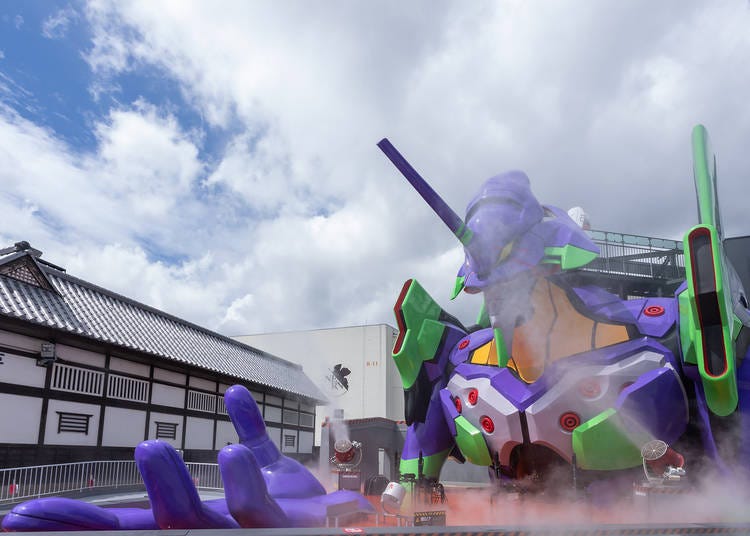 ©︎カラー
Original shows are held every hour that incorporate powerful water cannons shooting from around the Eva. You can also hear new voice recordings, so be sure to check it out! It is actually recommended to listen to the story before taking the test, so if you can, time yourself to watch it before boarding.
Lots of Exclusive Unique Foods and Merch at Evangelion Kyoto Base!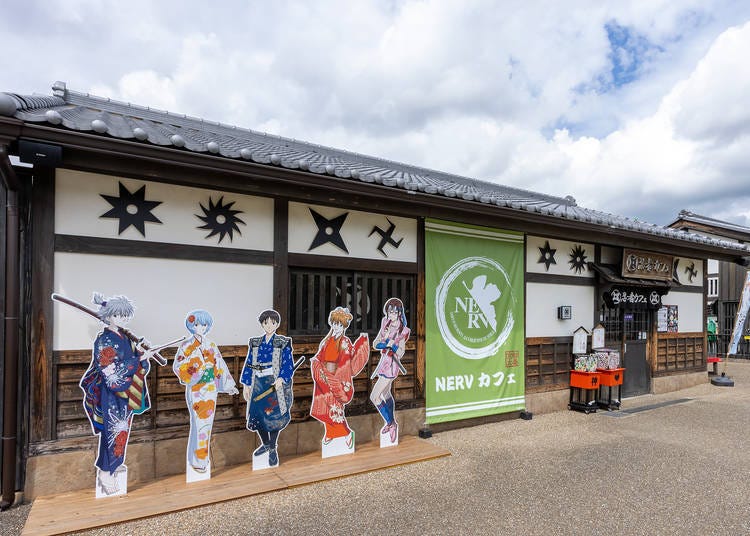 ©︎カラー
Don't miss the limited-edition collaboration foods and goods that can only be found here. The Ninja Cafe, located next to Evangelion Kyoto Base, is now serving collab food, drinks, and merch at NERV Cafe. Don't forget to take a photo of the panels in front of the store. These are brand new illustrations drawn specifically for Toei Kyoto Studio Park!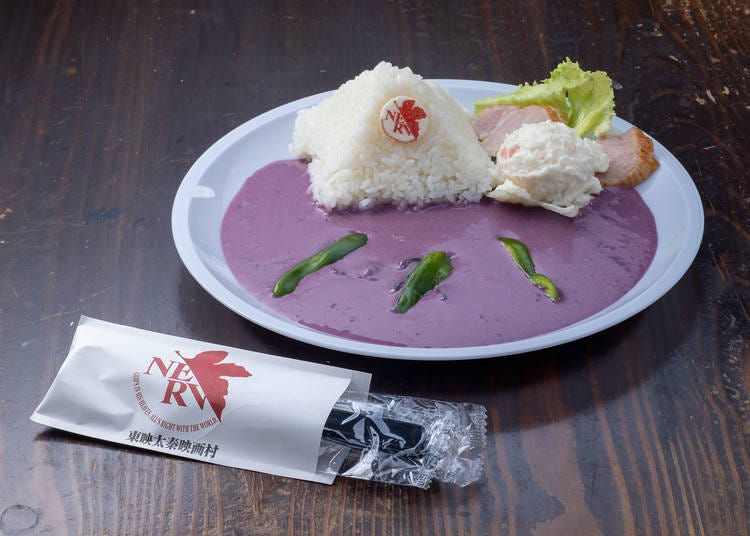 ©︎カラー
You will definitely want to try the NERV Curry Unit-01 Ver. (1,000 yen, tax included).

The color of the curry is the same violet color as the machine, made with beets and food coloring. Green bell peppers are also included, following the color scheme of the aircraft. The curry is topped with smoked chicken and potato salad, and is sweet and easy for children to eat.

A lot of detail goes into this dish, including the triangular rice, imitating the shape of NERV Headquarters, and the logo-designed chopsticks packaging. There are also Unit-00 and Unit-02 versions based on the heroines' Evas!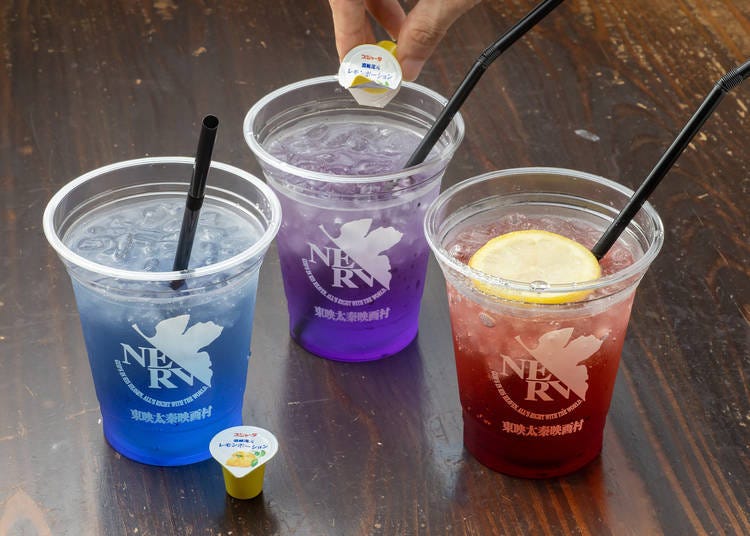 ©︎カラー
For drinks, try the "Drinkable LCL" (600 yen, tax included, front right) and "Kawareba-Ii-to-Omou-yo" EVA Tea (600 yen, tax included).

The name ("You should change" in English) is based on a famous quote from the anime, "Waraeba-Ii-to-Omou-yo" ("You should smile").

The red Drinkable LCL is a refreshing carbonated berry-flavored drink. The EVA Tea is made of black tea and butterfly-pea flower tea, which has an eye-catching blue color. If you add lemon juice, the color changes from blue (front left) to purple (back)!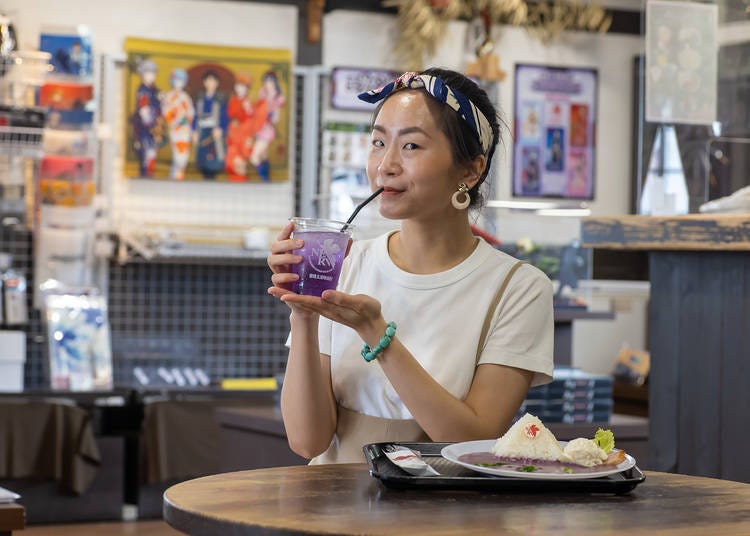 ©︎カラー
A Variety of Original Merch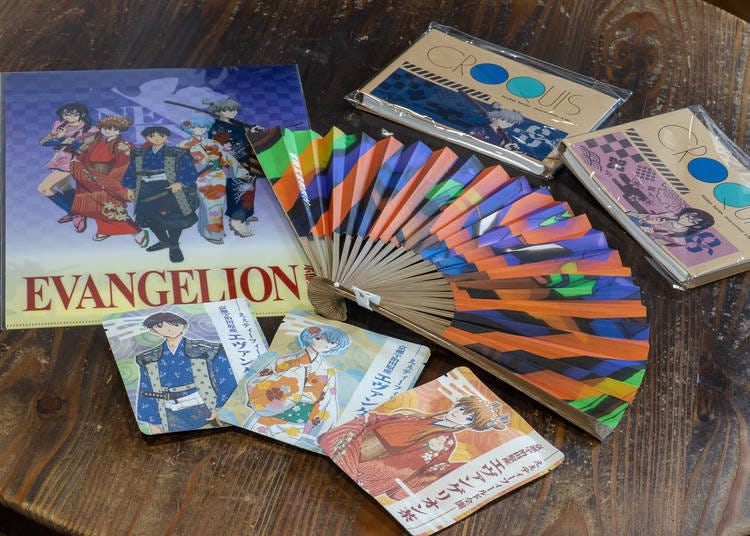 ©︎カラー
The collaboration goods feature brand-new designs. This design shows the five main characters as junior high school students visiting Toei Kyoto Studio Park on a school trip.

There are many limited goods you can only find here featuring the main characters, including 5 types of Evangelion Tea made with tea leaves from Ujitawara, Kyoto, (540 yen each, tax included, front), Clear A4 Files (440 yen, tax included, middle left), AT Field printed Kyoto Folding Fans (4,400 yen, tax included, middle right), and Mini Croquis Books (880 yen, back).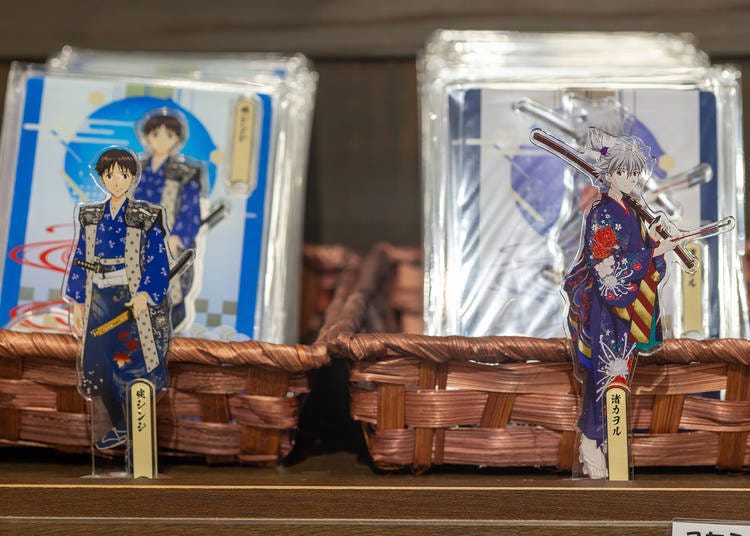 ©︎カラー
There are 5 types of standing Acrylic Figurines (1,320 yen each, tax included). Decorate your desk with Shinji in a kimono!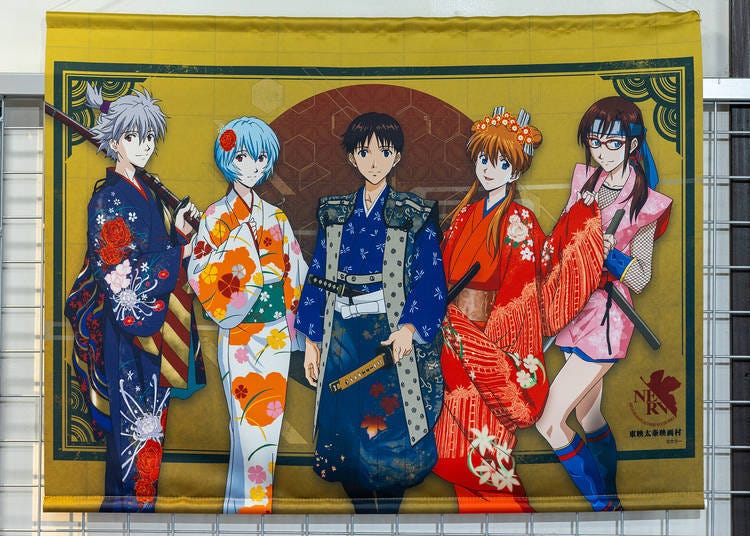 ©︎カラー
The B2 Tapestry features all five characters (2,200 yen, tax included). Hang it on the wall, and look back on your first memories of boarding an Evangelion!
Getting a numbered admission ticket
To board the entry plug, you need an "Evangelion Unit-01 Entry Plug" numbered ticket. Tickets are limited to 280 people a day. You may be able to buy one on the day of your visit, but we recommend purchasing in advance online.

Prices are 2,300 yen for adults and 1,300 yen for junior and senior high school students (tax included). Tickets include Kyoto Studio Park admission, a 100 yen discount than if purchased same-day.

There are also same-day numbered tickets to enter the Kyoto Base area that do not include the entry plug, but allow you to take photos with the machine and watch the show.

Finally, there are also numbered tickets for the Evangelion and Japanese Sword Exhibition that will become available at the same time as the grand opening. This advance sale includes a set of entrance tickets and the entry plug experience (adults 3,200 yen, junior high and high school students 2,200 yen, tax included).

The exhibit features swords created by actual swordsmiths based on Evangelion: New Theatrical Version (Rebuild of Evangelion). It's an attraction sure to please fans of both Evangelion and Japanese swords alike.

There are 23 swords on display, including the Spear of Longinus, and the original Shikinami Asuka Langley Specification Long Sword. You can only see these swords at Kyoto Studio Park, so be sure to check them out if you're planning to visit for the entry plug experience. Exhibitions on display until December 20.
Kyoto Studio Park Takes Proper Measures Against Coronavirus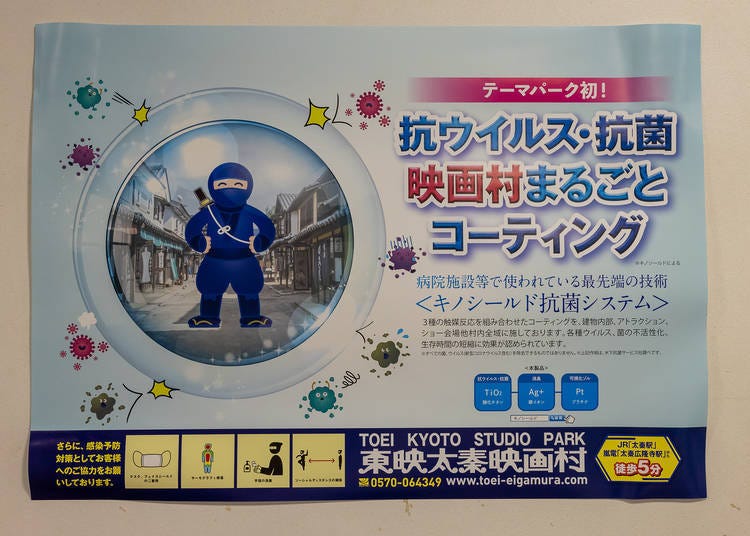 These days, many people are hesitant to visit places like theme parks due to crowding. But don't worry! At Toei Kyoto Studio Park, the entire park is coated with Kino Shield, an antiviral and antibacterial coating. Visitors must have their temperature checked before entering, and distance marks are placed to ensure social distancing between people.

In addition, all staff members are required to wear masks. It's fun to watch the samurai and ninja walking around the village hidden behind black masks and hoods!

The cafe also has an English menu and is usually staffed with interpreters who can speak English, Chinese, and Japanese.

Chi may not have been very familiar with Evangelion before, but she still had an amazing time. "It was really exciting! I enjoyed taking pictures, and the show was fun, too. If I had this much fun, then big fans of the show will have even more fun!"

Visit Toei Kyoto Studio Park, and enjoy an exciting Evangelion experience that can only be found here!

Measures Against Coronavirus:
Regularly cleaned and disinfected; disinfectant and sanitizer installed; shops are well-ventilated; use of coin trays; partition plates installed; all staff members required to wear masks/wash hands/use disinfectant/gargle/take temperatures; visitor capacity and seat spacing regulated; admission restrictions and reservations implemented; may refuse visitors in poor condition; all visitors required to wear masks and check temperatures
Text by: Efeel
*This information is from the time of this article's publication.
*Prices and options mentioned are subject to change.
*Unless stated otherwise, all prices include tax.
Limited time offer: 10% discount coupons available now!