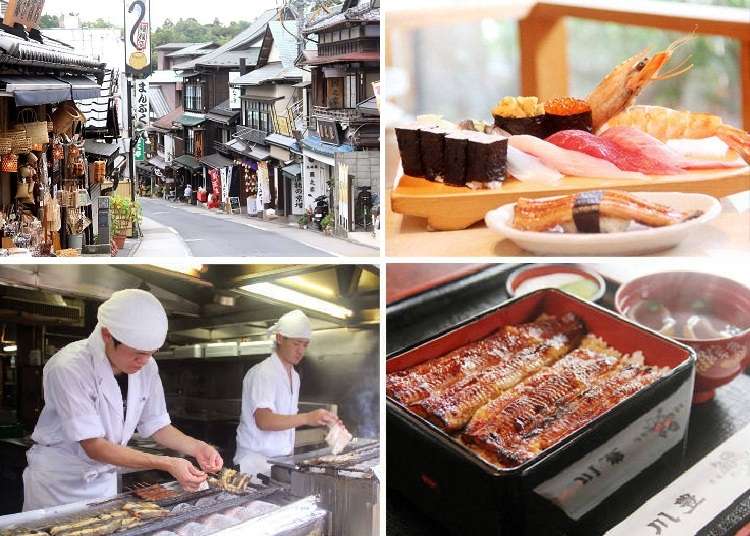 Narita International Airport welcomes millions of travelers year after year on their way to Tokyo and other destinations in Japan. However, did you know that you could have a genuine Japanese experience only 7 minutes away from the airport via train?

Narita city itself has over 1,000 years of history in the area with Narita Shinsho-ji Temple being a major landmark in Chiba Prefecture. The road leading to the temple itself though also has a long history with a variety of shops dating to the Edo period and further back. This road is called: Narita Omotesando.
History of the Omotesando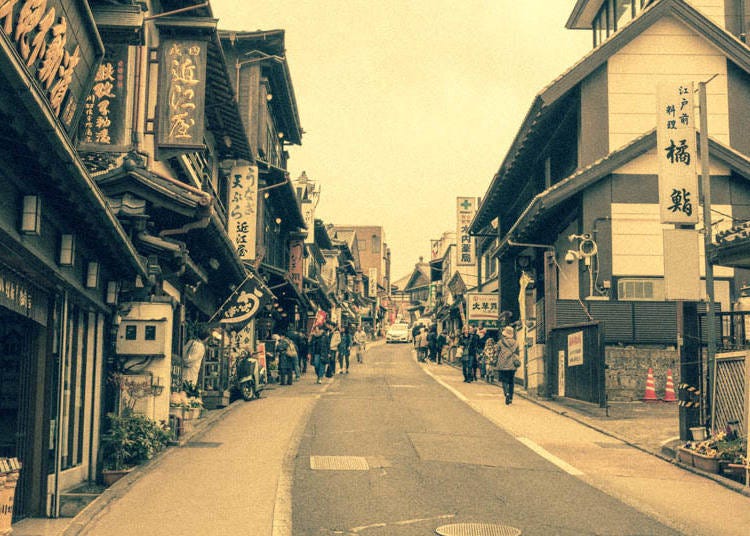 When Narita Shinsho-ji Temple gained widespread popularity in the 1600s with the help of the popular kabuki actor Ichikawa Danjuro in his performances as Fudomyo, many people began making the journey from various parts of Japan. In order to welcome the many people visiting the area, this 800-meter road featured many shops, inns, and restaurants to ease their travels.

For over 300 years, many of the shops have continued their businesses in selling local souvenirs, handcrafted goods, serving eel (believed to restore vitality), and the local delicious sake. Over 150 shops line the road to Narita Shinsho-ji Temple, being extensively renovated as time goes on.
Interesting shops and specialties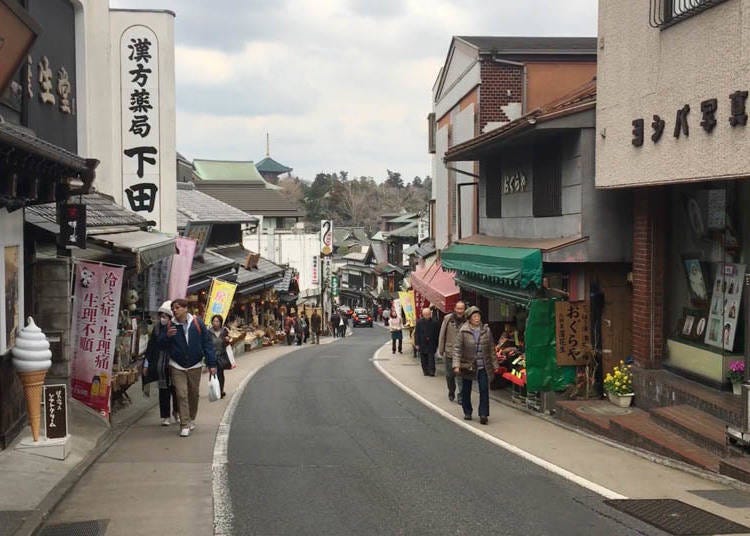 As you walk down the road, it is not uncommon to see the many shop owners greeting guests and travelers. There are over 50 eel shops in the area as well, and you can see the chefs prepare meals from start to finish via street-side windows. When you arrive near the entrance to the shopping road, you will come across a sake brewery with over 150 years of history in the area and it is highly recommended by us at LIVE JAPAN.
Chomeisen Sake Brewery and Shop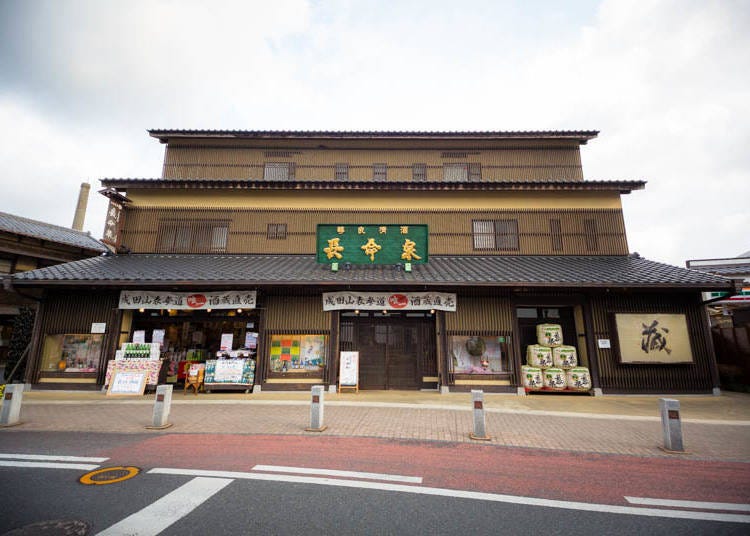 Chomeisen sake brewery and shop was founded way back in the Edo period in the height of the popularity of Narita Shinsho-ji Temple in order to accommodate the many travelers on their pilgrimage. Built in the same location as it stands today, Chomeisen continues making sake with the highest quality rice along with their renowned well water.

The quality of the sake was very delicious and highly praised by locals and travelers. Soon enough, stories began to arise of sicknesses bring cured and people living long lives after drinking the sake. These stories gave birth to the name "Chomeisen", which when loosely translated equates to "Fountain of Longevity."
Try Different Varieties of Sake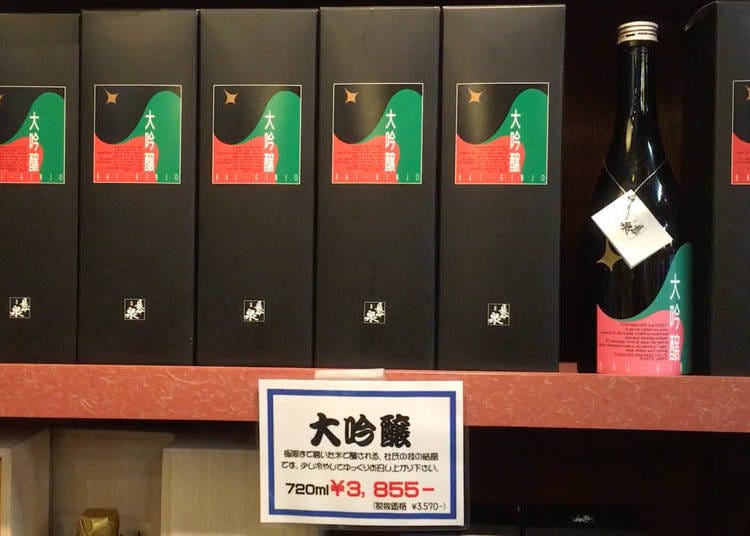 There are several varieties of sake to try at Chomeisen, ranging from a dry and sharp flavor, to a smooth and savory taste. In our visit, we tried three varieties: Ginjo Karakuchi, Bizen Omachi, and Daiginjo.

Ginjo Karakuchi has a slightly sharp and dry taste and is easy to drink. It is very smooth as well and recommended for those that enjoy similarly strong liquors. Bizen Omachi on the other hand is smooth and has a slightly sweet aftertaste, which makes it very easy to drink and enjoy. Lastly, we have Daiginjo, which has an even more aromatic taste and smoothness than the Bizen Omachi. This was our personal favorite as we have somewhat of an aromatic tooth!

After tasting some of the sake, you can browse around the shop, where you can see pictures with explanations in Japanese and English on the process of making sake from start to finish. One item to note in the shop is the huge wooden barrel, which was in fact used to make sake at Chomeisen many years ago.
Chomeisen Sake Brewery and Shop

長命泉

Address

540 Kamichō, Narita-shi, Chiba-ken 286-0032

Nearest Station

Narita Station


Shop Hours: Mon - Sat: 10:00 a.m. - 7:00 p.m.
Sun: 9:00 a.m. - 6:00 p.m.
Enjoy the Area with Narita Transit Program!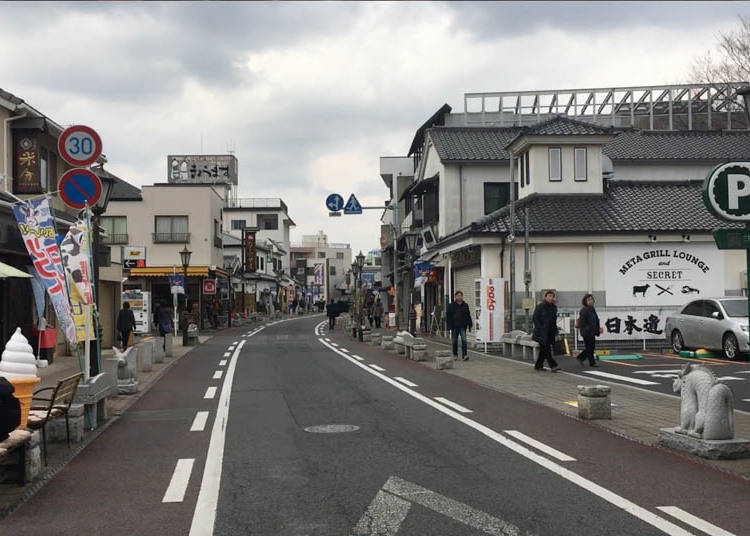 On this trip we used the web service Narita Transit Program, which is designed to help you explore the Narita area. With this service, you can learn about Narita's history, culture, and shopping spots while traveling, all while experiencing Japanese warmth and hospitality.

There are two options available at Narita Transit Program. For those who would like to have a guided tour through Narita area, you can visit the Narita Transit Program website online and schedule a time and date and choose from their selection of guided tours for a free tour guide. All the tours are run by local guides who get you safely to and from Narita Airport and help ensure that you are able to experience the warmth and hospitality of Japan. The other option is a self-guided tour. You just need to choose your favorite course from a full line-up of options. Of course, you can just refer the plans from their website and make your own trip plan. Both the website and tour are available in English, Chinese, and Korean so however you choose to visit the Narita area, we hope you have a great time!
Address

1, Narita, Narita-shi, Chiba, 286-0023
View Map

Nearest Station

Narita Station (JR Narita Line)

Written by: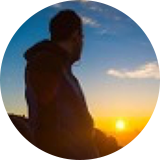 *This information is from the time of this article's publication.
*Prices and options mentioned are subject to change.
*Unless stated otherwise, all prices include tax.
Limited time offer: 10% discount coupons available now!