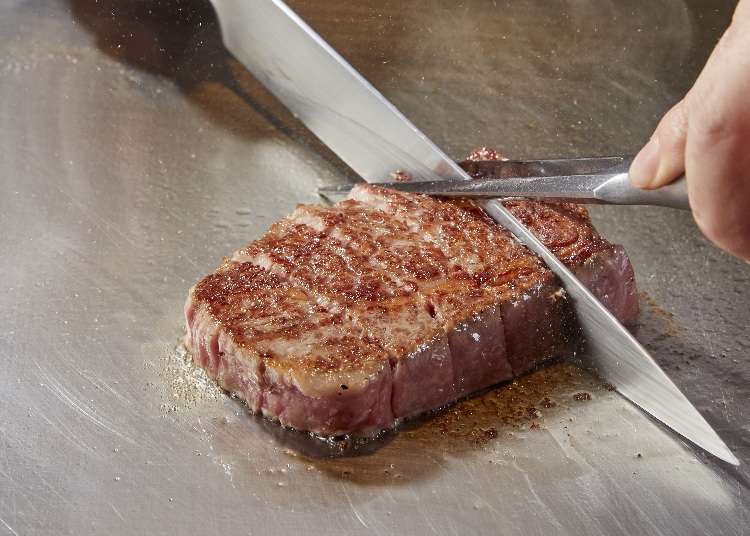 One food you'll want to try in Japan is the high-quality wagyu beef. You can enjoy wagyu in sushi, sukiyaki, shabu-shabu, steaks, and more.

The fine-grained, soft meat is farmed all over Japan, but particularly highly valued brands are concentrated in the Kansai area, like Kobe beef, Tajima beef, Yamato beef, and Omi beef.

Here we'll introduce the best places to try each kind.
Kansai's Many Brands of Wagyu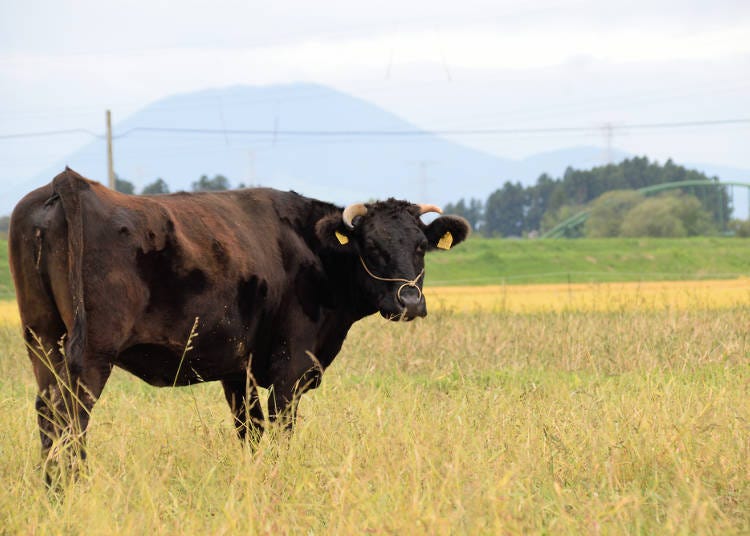 Wagyu beef is meat from native species of cows selectively cross-bred over the ages.

This article will introduce the Hyogo Prefecture-produced Tajima wagyu, one of the highest quality selections that constitute Kobe beef; Omi beef from Saga Prefecture; and Yamato beef from Nara Prefecture.

Kobe beef and Omi beef are two of Japan's three most highly valued brands of wagyu, along with Matsusaka beef.
Tajima beef is a type of kuroge-wagyu Japanese Black cattle raised in the northern part of Hyogo Prefecture. These cows were originally kept for farming rice fields and for transportation, but over time they become known as a brand of beef for their delicious taste. The sashi or stripes of fat in the meat are thin and fine, resulting in a pleasant texture and rich taste. When you eat it, the meat has a mellow taste and outstanding flavor.
To Try Tajima Wagyu, We Recommend "Kobe Plaisir"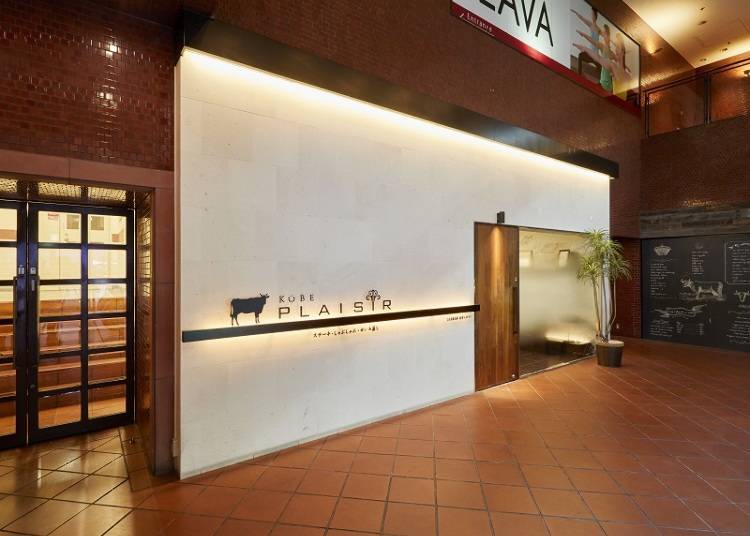 If you want to eat Tajima wagyu beef, one recommended restaurant is "Kobe Plaisir", which is managed by the JA National Federation of Agricultural Co-operative Associations, which represents farms all over Japan. With connections to various local farmers, you can enjoy delicious Hyogo Prefecture beef as well as varied vegetable dishes.
Teppanyaki is a style of cooking where superior quality meat is grilled right in front of you on an iron griddle. Just by looking at a photograph you can almost sense the smells and flavors. You can choose from four types of courses which come with soup or salad and grilled vegetables. (Teppanyaki Course Lunch 3780 yen and up, Dinner 9504 yen and up, tax included)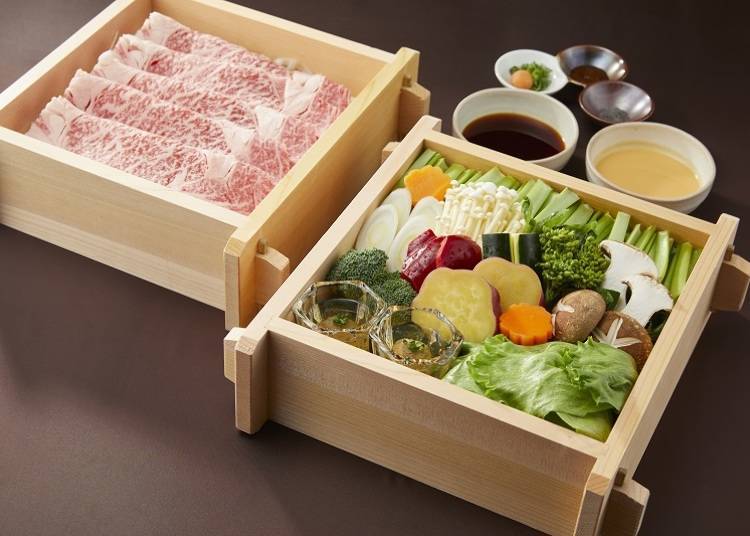 In the seiro-mushi, basket steamed seasonal vegetables and Tajima wagyu beef, excess fat drains from the meat, leaving the softness and savoriness for you to enjoy. The steamed meat and sweet onions perfectly complement each other, and the dashi broth and egg-yolk special sauce enhances the meal's flavors. (Seiro-mushi Course Lunch 3240 yen and up, Dinner 7720 yen and up, tax included)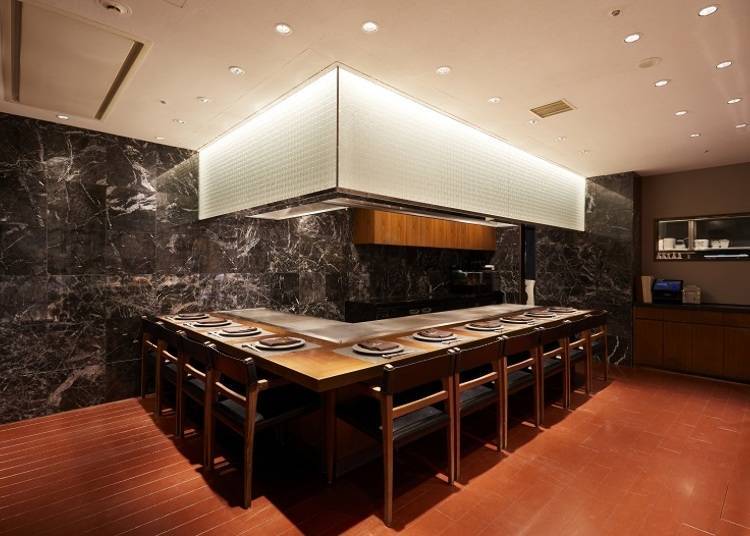 The restaurant has an elegant atmosphere with a sense of high-class luxury. There are private teppanyaki rooms and a tea salon to enjoy afternoon tea also available.
神戸プレジール

Address

2-11-5 Shitayamate-dori, Chuo-ku, Kobe, Hyogo

Phone Number

078-571-0141

Hours: 11:30 AM - 3:00 PM (last order 2:00 PM), 5:00 PM - 10:30 PM (last order 9:00 PM)
Closed: every Monday
Kobe beef refers to Tajima wagyu beef that meets the most stringent requirements. Most cows used for Kobe beef are younger and smaller than those of other wagyu, with an average age of 37 months. The fat in younger cows has a low melting temperature, which produces the melt-in-your-mouth texture. The fat is also characterized by a light and simple flavor.
To Try Kobe Beef, We Recommend "Aburi Meat Factory Wakkoqu Kitanozaka"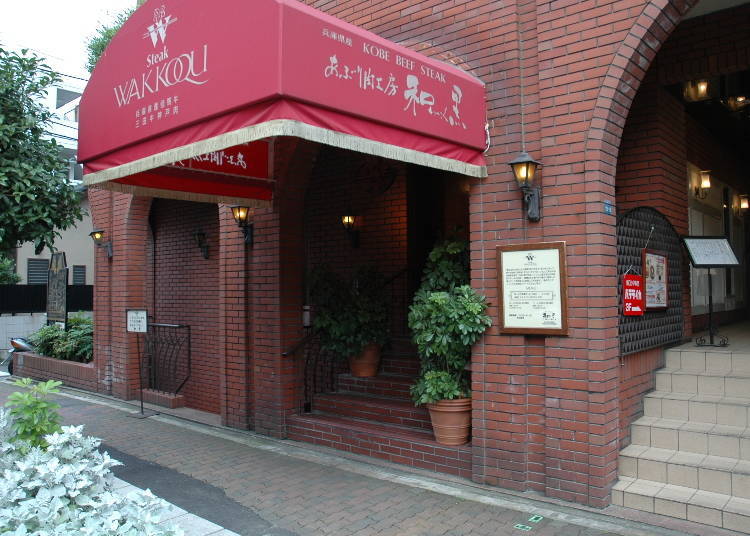 "Kitano" is a popular area for sightseeing in Kobe of Hyogo Prefecture. Due to the presence of the Port of Kobe, this region was the quickest part of Japan to incorporate Western culture. To this day, the city streets appear to straddle a line between modern and traditional, and attract tourists from both within Japan and from overseas. Right at the entrance to Kitano is "Aburi Meat Factory Wakkoqu".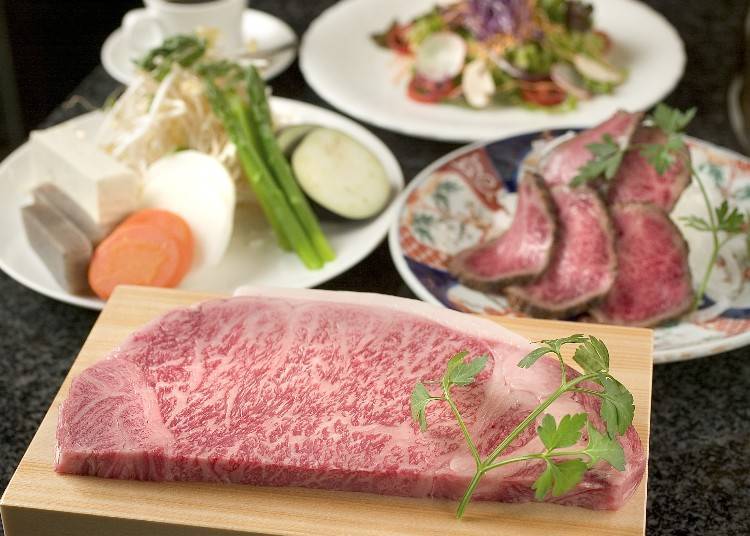 All menu items on the grand menu use Kobe beef, and all main courses feature teppanyaki. Choose either the soft, red meat tenderloin or the rich loin meat to savor the meat's fat, and then choose how many grams of meat you would like. Grilled vegetables, hors d'oeuvres, and salad will come with your meal. For your first bite, try using only natural coarse grained salt to experience the meat's savory taste. You can then try the meat with condiments of your choice, such as black pepper, mustard, and the restaurant's own special sauce. (Loin Set 200g - 12,630 yen, tax included; Tenderloin Set 180 g - 12,630, yen tax included)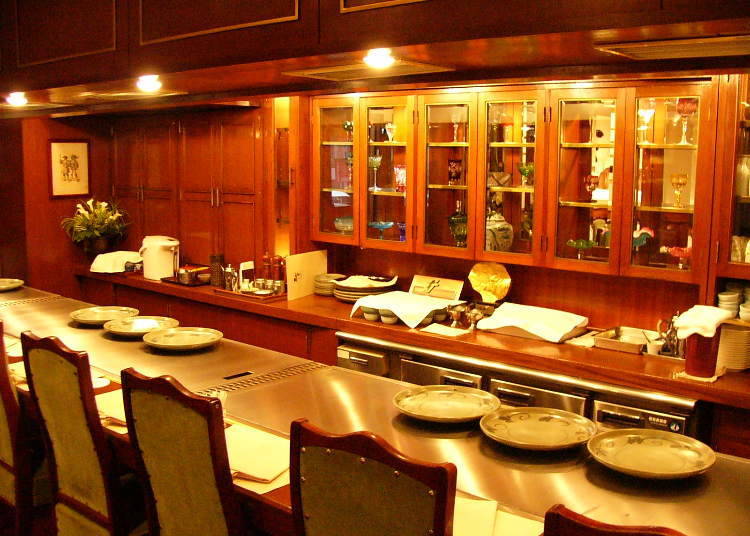 All seating is counter seating, where you can watch the meat being cooked right in front of you. Experience the fragrant smells of grilling meat and fish and the chef's skilled techniques up-close while you enjoy your meal.
Aburi Meat Factory Wakkoqu Kitanozaka

あぶり肉工房 和黒 北野坂店

Address

Hillside Terrace 1F, 1-22-14 Nakayamate-dori, Chuo-ku, Kobe, Hyogo

Phone Number

078-262-2838

Hours: 12:00 PM - 10:00 PM (last order 9:00 PM)
Closed: Open Daily
Of the Kuroge Wagyu raised within Nara Prefecture, those that fulfill several standards, including shipping age, are called Yamato beef. Nara has the perfect climate and land features for raising cattle, and the prefecture has been known for its quality beef for many years in the past. The ultra-high-class Yamato beef, raised with careful attention to the cows' pedigree, feed, and living environment, has plenty of the oleic acid said to produce a melt-in-your-mouth texture, making the meat soft and elegant while at the same time having a strong, deep and savory flavor.
To Try Yamato Beef, Go to "StEAK JiN"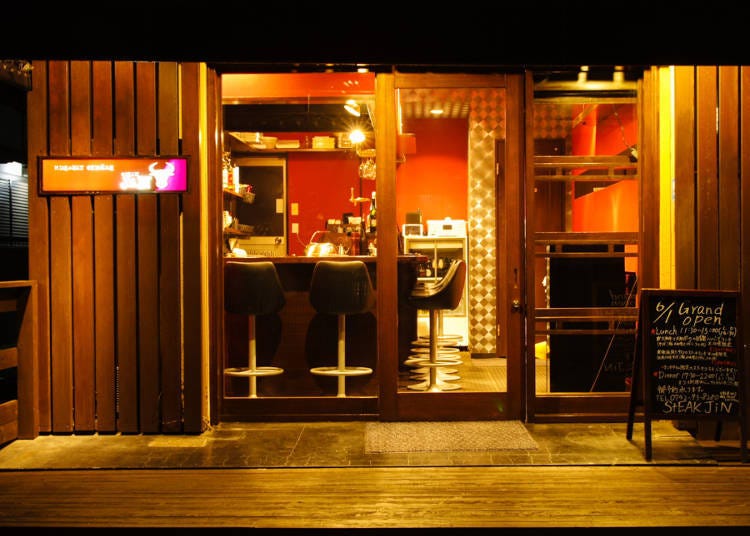 "StEAK JiN" is located a 3-minute walk from Nara Prefecture's Yamato-Saidaiji Station. It is a stylish restaurant with a lodge feel to the interior, where you can feel the warmth of the wooded features. Here they use not only Yamato beef but the even more stringently selected A4 rank and above of sirloin and loin meat. Each slice of meat is carefully sliced by hand after you order, then grilled on an iron griddle as freshly as possible.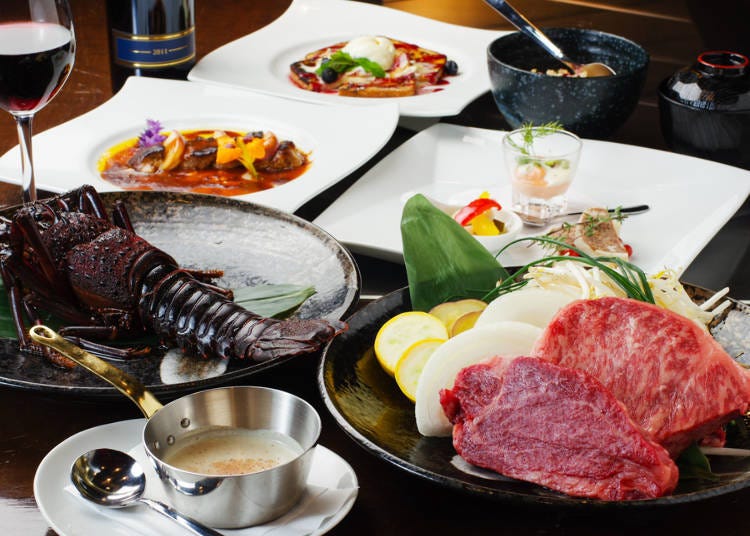 Pictured is an extravagant course meal that includes Ise shrimp teppanyaki (Teppanyaki Steak Course Jin - 15,000 yen, tax included; reservation at least 2 days in advance required). Along with steak, the meal comes with salad, soup, steamed vegetables, grilled vegetables, garlic rice, and more. The vegetables used are all crisp and fresh, directly sourced from contracted farmers in Ikoma, Nara. Meals may be accompanied by the restaurant owner's personal selection of the finest wines from around the world, so why not try enjoying one that pairs perfectly with your meal?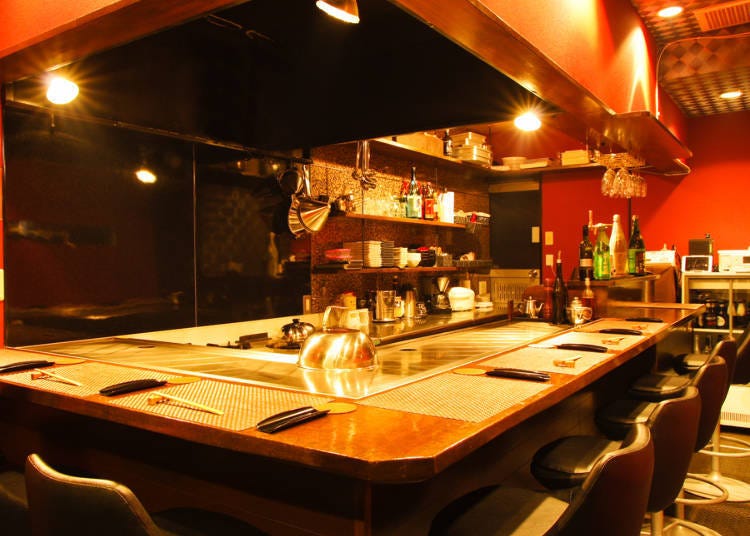 Enjoy your meal while watching the owner and chef's impressive performance and cooking show. For lunch, in addition to the Teppanyaki and Steak Course Meal (starting from 6800 yen, tax included), there are also more affordable menu choices like the "Yamato Beef and Yamato Pork Restaurant-Original Hamburg Steak Lunch".
StEAK JiN

Address

1-2-1 Saidaiji Shibacho, Nara City, Nara Telephone: 0742-93-8280

Phone Number

0742-93-8280

Hours: 11:30 AM - 3:00 PM (last order 2:30 PM), 5:30 PM - 10:00 PM (last order 9:30 PM)
Closed: every Tuesday
Omi Beef comes from Shiga Prefecture and is one of Japan's most prominent three wagyu brands. With over 400 years of history, it is also the brand of beef with the longest history in Japan. In the Edo period, consumption of beef was prohibited under the shogun's ban, but the in Hikone domain, beef was allowed to be farmed for the purpose of presentation to the shogunate family. Omi beef is highly renowned for its fine-grained meat, sweet-tasting fat, and melt-in-your-mouth deliciousness. One other attractive feature is its reasonable pricing compared to other wagyu brands.
To Try Omi Beef, We Recommend "Sennari-tei Kyara"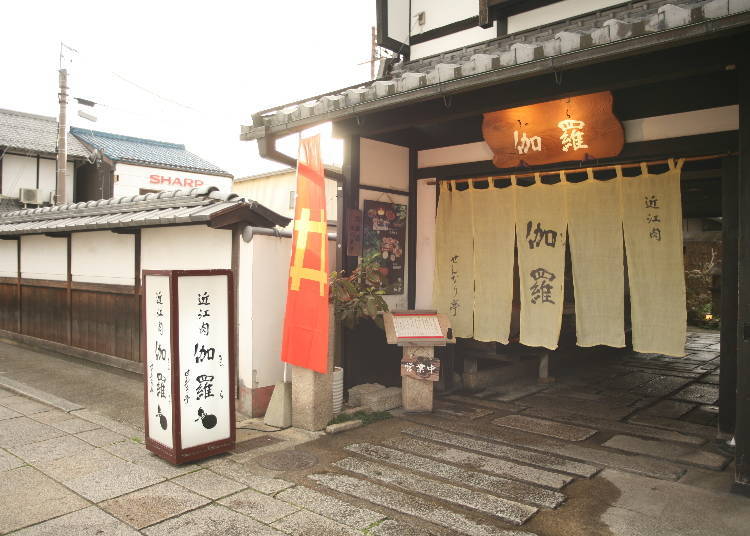 "Sennari-tei Kyara", located on "Yumeksyobashi Castle Road" near Hikone Castle, is run by Omi beef specialty shop "Sennari-tei". Above all, Sennari-tei takes pride in the freshness of their meat, procuring cows directly from private ranches and contracted farmers and butchering them in-house. At private ranches, rather than feeding cattle a large amount of food in a short period of time in order to fatten them, they slowly feed and raise them over a long period of time, producing high quality cows that have experienced little stress.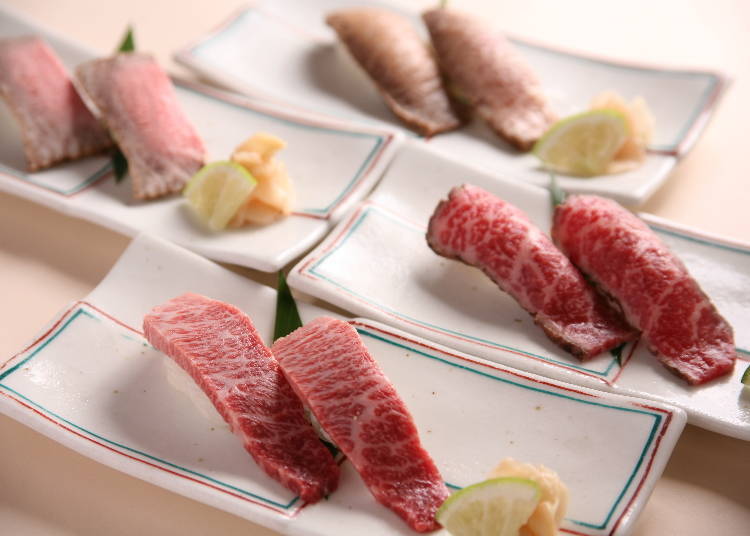 Sennari-tei's most famous product is their sushi, which allows you to directly savor the deliciousness of Omi beef. For sushi, the part of meat called toro is used, which consists of only around 1 kg of meat from an entire 600-700 kg wagyu cow. You can't experience this melt-in-your-mouth texture anywhere else. (Omi beef toro-nigiri, 2 pieces 980 yen, tax not included)
In the Omi Beef Steak Chazuke meal, half of the portion of meat is served as steak, and the remaining half used for an ochazuke style dish, with the meat put on top of rice on which is then poured a custom-made beef soup. This is yet another new way to enjoy meat you won't experience anywhere but Japan. (Omi Beef Steak Chazuke 5300 yen, tax not included)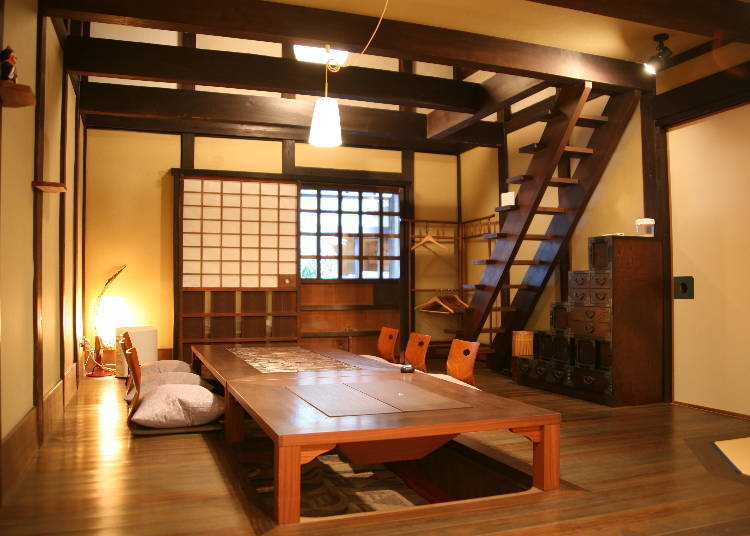 The restaurant's interior features Japanese-style furnishings and is a relaxing, calming space. There are also private rooms available. A visit to the restaurant is a great addition to your sightseeing outing to Hikone Castle.
せんなり亭伽羅

Address

2-1-7 Honmachi, Hikone, Shiga (Yumekyobashi Castle Road)

Phone Number

0749-21-2789

11:30 AM - 3:00 PM (last order 2:30 PM), 5:00 PM - 10:00 PM (last order 8:30 PM)
Closed: every Tuesday
Text by:WEST PLAN
*This information is from the time of this article's publication.
*Prices and options mentioned are subject to change.
*Unless stated otherwise, all prices include tax.