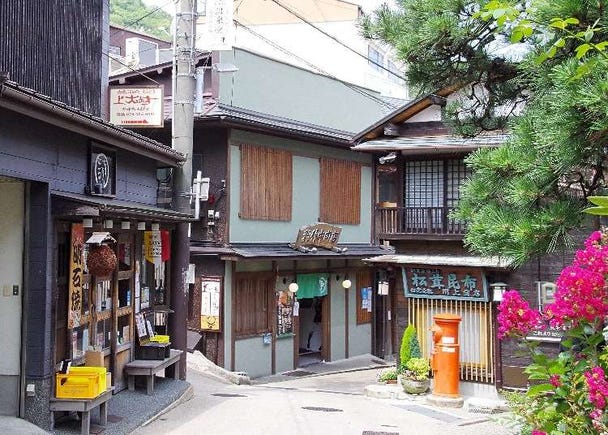 Arima Onsen is a hot spring town in Kita-ku, Kobe in Hyogo Prefecture, one of the oldest hot springs in Japan. Located about an hour out of Osaka, the area is famous as a tourist spot in the Kyoto-Osaka-Kobe area. It is also famous as a hot spring loved by Sengoku era general Toyotomi Hideyoshi, and in recent years the remains of Hideyoshi's bathroom were even discovered.

The natural hot spring water welling up from the earth contains 7 of the minerals considered by the Ministry of the Environment to have medicinal properties. The chance to enjoy both the iron-containing reddish-brown "Kin-sen" (gold water) and the colorless, radium spring water "Gin-sen" (silver water) is one of the pleasures of Arima Onsen.
1. Kin-no-Yu Bath: Mellow 'Gold Water' Bath With a Long History!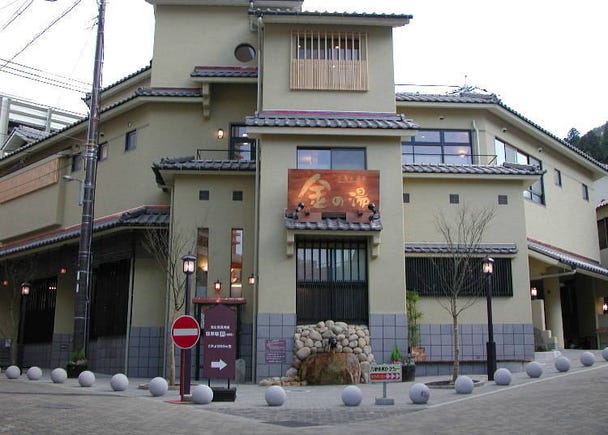 "Arima Onsen Kin-no-Yu" is a public bath with a long history as Arima's original hot spring bath. The baths here use "kin-sen" (iron-containing strong saline spring water). The bath was renovated in 2002 due to the deterioration of its predecessor "Arima Onsen Kaikan" public bath.

Among the baths inside are "Ichi-no-yu", designed using bamboo crafts traditional to Arima Onsen, and "Ni-no-yu", themed on the colorful red leaves of the Zuiho-ji Park famous as an autumn foliage viewing spot in Arima. Both the men's and women's baths are constructed with granite and have a solemn and profound aura. The spaciousness of the 29-square meter facility is also an attractive feature.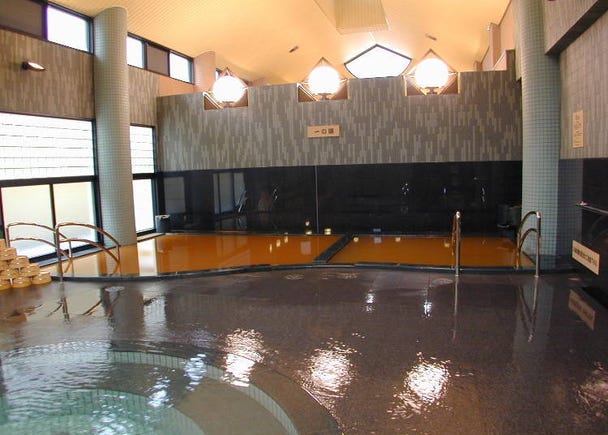 Ichi-no-yu, with bamboo images on the walls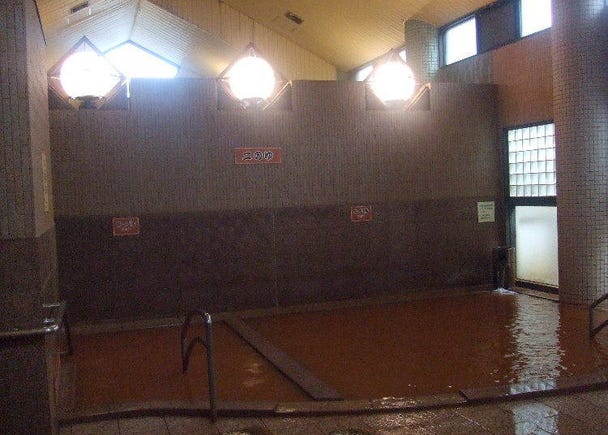 Ni-no-yu, red even down to the crimson-colored towels
The exterior is a simple, Japanese design that blends in with the rest of the onsen town. Located outside of the building is a foot bath corner where you can rest your feet during your walk around the onsen and a place for drinkable onsen water, both of which you can enjoy for free.
金の湯

Address

833 Arima-cho, Kita-ku, Kobe, Hyogo

Phone Number

078-904-0680

Hours: 8:00 AM - 10:00 PM (entry until 9:30 PM)
Price: adults 650 yen; children 6-11 years 350 yen; children 5 years and under, free
Closed: 2nd and 4th Tuesday of every month and January 1st
2. Gin-no-Yu: Feel Your Skin Become Soft and Smooth from Arima Onsen's Transparent Water!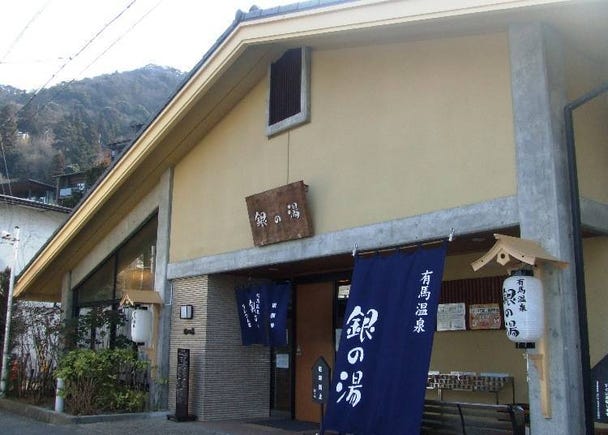 At Kin-no-Yu's sister facility public bath house Gin-no-Yu, you can enjoy the transparent gin-sen "silver hot spring" bath.

Matching the surrounding town area and its many shrines and temples, with elements like the temple belfry-inspired design of the bathing room, the exterior is a simple and neat example of traditional Japanese style construction.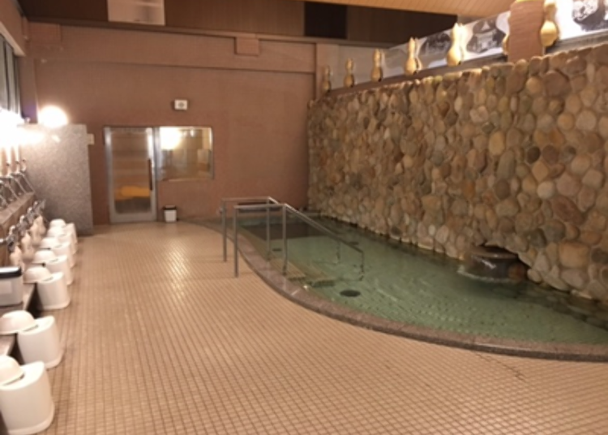 The bright and airy bath is full of a clean and fresh feeling, with its high ceilings and light streaming in from outside. This bath is popular especially among women for the slippery-smooth quality the water gives your skin after you bathe. Kin-no-Yu is right nearby Gin-no-Yu, so be sure to visit both and compare the different hot spring water qualities.
銀の湯

Address

1039-1 Arima-cho, Kita-ku, Kobe, Hyogo

Phone Number

078-904-0256

Hours: 9:00 AM - 9:00 PM (entry until 8:30 PM)
Price: adults (middle school children and up) 550 yen; children 290 yen; pre-schoolers (3-5 years) 120 yen, children under 3 years, free
Closed: 1st and 3rd Tuesday of every month (in the event of national holiday, closed next day) and January 1st
3. Taketori-tei Maruyama: Enjoy a Private Onsen Soak Right in Your Ryokan Room!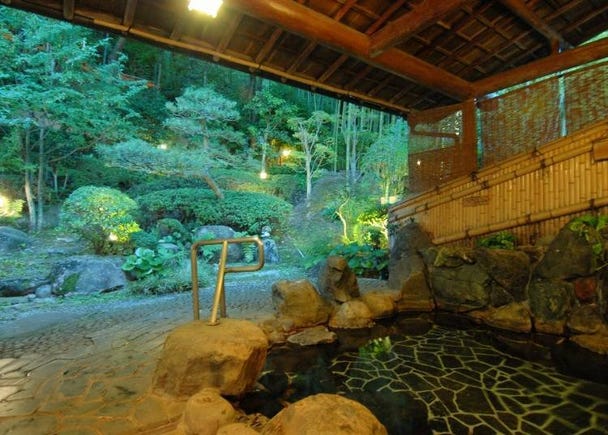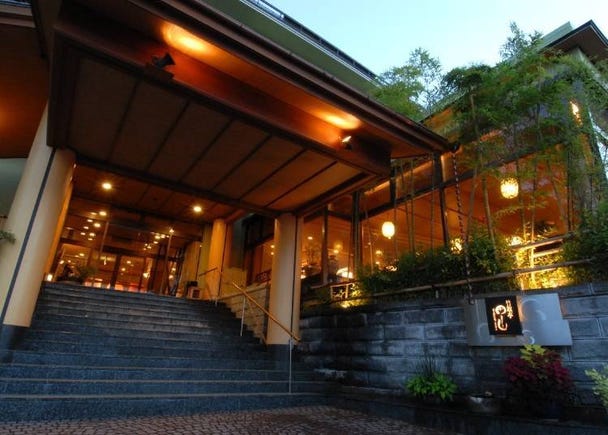 "Taketori-tei Maryama" is a peaceful and quiet ryokan Japanese inn located atop a plateau in Arima Onsen. With its design of modern elements incorporated into traditional Japanese style, the inn provides a space as restful and relaxing for Japanese guests as it is for international guests.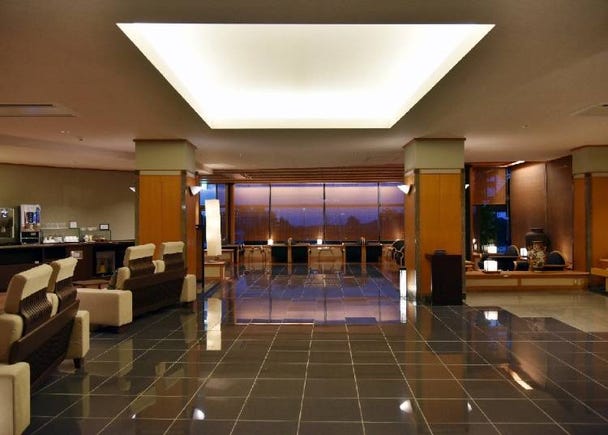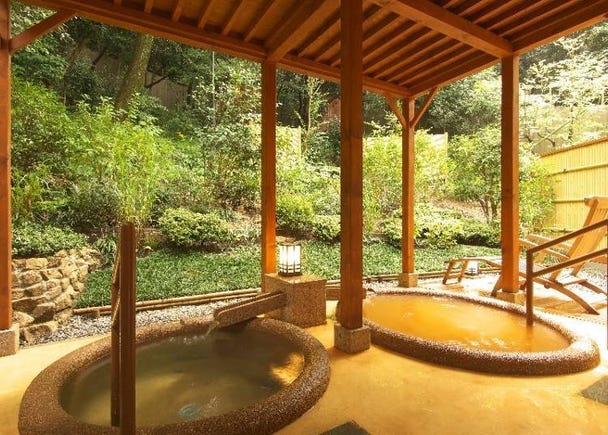 The baths use Arima Onsen's famous kin-sen and gin-sen water. Aside from the spacious large bathing area, there are also 4 private outdoor baths surrounded by bamboo thickets where you can relax with a sense of privacy.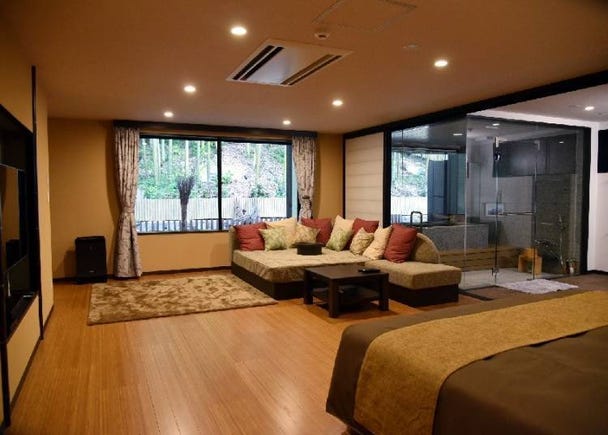 There are several different types of rooms to choose from, including Japanese style rooms, suites with an in-room hot spring bath, Japanese/Western style mixed suites, Western style rooms, and more. Recently, to accommodate the comfort of guests unaccustomed to sleeping on a futon on the floor, rooms with beds have also been added. The many amenities, such as humidifying air purifiers, LCD televisions, air conditioners, and Wi-Fi, make for attractive features.

Despite being located in the Rokko Mountains, the onsen town still has convenient access to Kobe and Osaka, so mountain-grown ingredients are in plentiful supply. The inn's creative meals use abundant seasonal ingredients and are pleasing to the eye as well, and the food is praised for bringing joy to those who visit.
竹取亭 円山

Address

1364-1 Arima-cho, Kita-ku, Kobe, Hyogo

Phone Number

078-904-0631

Hours: check-in at 3:00 PM; check-out at 11:00 AM
Price: overnight stay 32,400 yen (tax included) per person ※ day-only visitors not permitted in the bath
Closed: Occasional temporary closings
5. Hyoe Koyokaku: Wide Assortment of Onsen, All In One Place!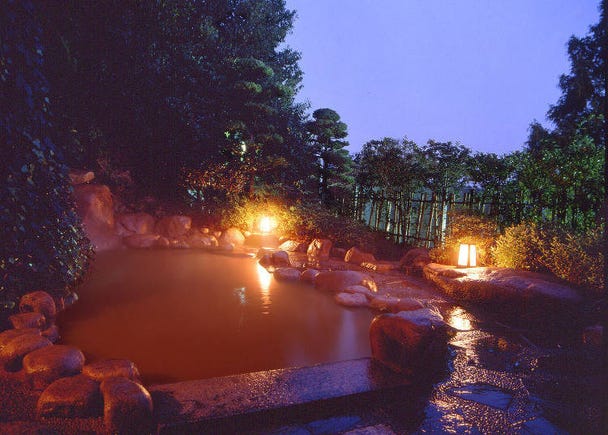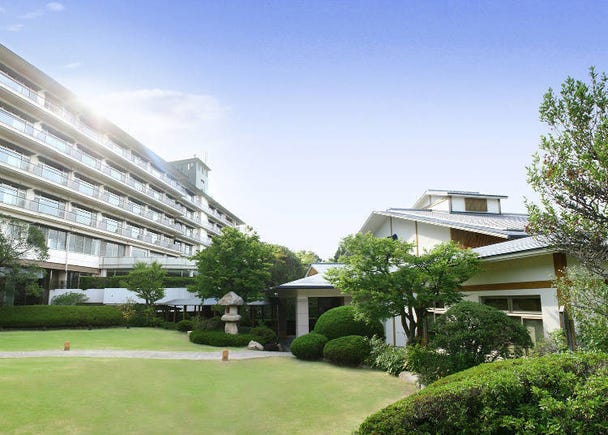 "Hyoe Koyokaku" is a veteran Arima Onsen ryokan with 700 years of history and tradition. It stands atop a plateau overlooking the Arima Onsen town at the north base of Mr. Rokko. The location is convenient not only for touring Arima hot springs but for Kobe sightseeing and visiting the outlet malls in Sanda City as well.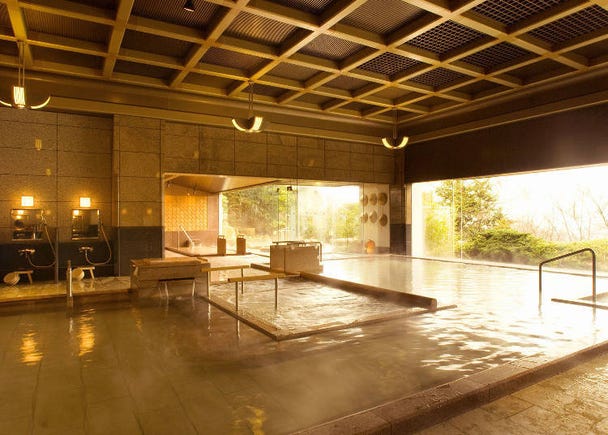 Inside, you will find three different types of large bathing areas - the Japanese style "Ichi-no-yu", with a beautiful gridded ceiling and prominent outside view; the Roman bath styled "Ni-no-yu"; and "San-no-yu", which is a half-open air bath. Each bathing area has an outdoor and indoor bath, so you can enjoy a great variety of bathing experiences. The unique reddish-brown kin-sen water, that looks like dissolved iron rust, is used in each bath.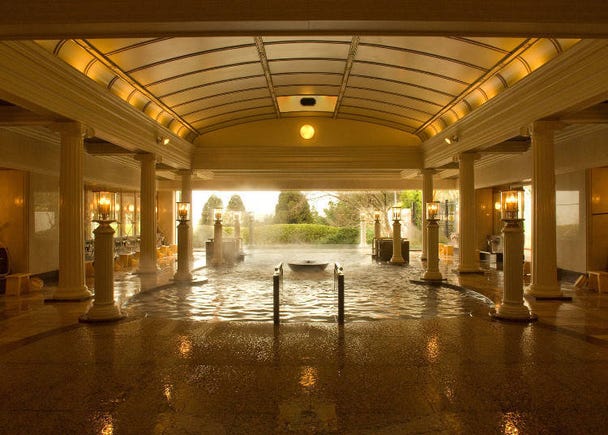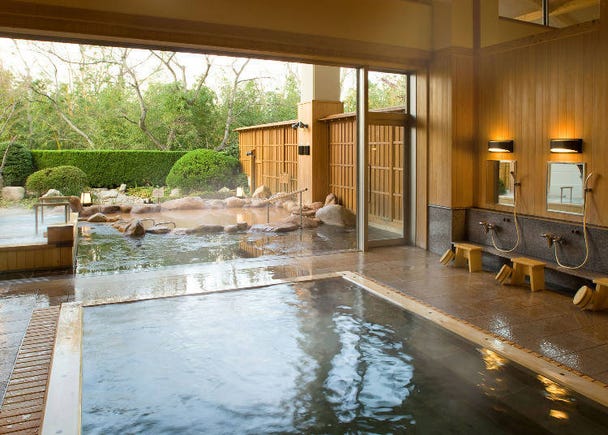 The inn's meals consist of dishes incorporating soft and flavorful Kobe beef, an abundance of local Hyogo Prefecture seafood, and other seasonal, luxury ingredients. Inn staff are proficient in English, Chinese, and other foreign languages.

The inn prides itself on its thoughtful customer service, so consider staying here for a blissful experience that will satisfy both your body and soul.
兵衛向陽閣

Address

1904 Arima-cho, Kita-ku, Kobe, Hyogo

Phone Number

078-904-0501

Hours: day trip visits 11:30 AM - 4:00 PM; overnight check-in at 2:30 PM, check-out at 11:00 AM
Price: day trip visits 4800 yen (tax not included), overnight stay starting at 18,800 yen (tax not included)
Closed: Open Daily
6. Tocen Goshoboh: Favored by Notable People of Culture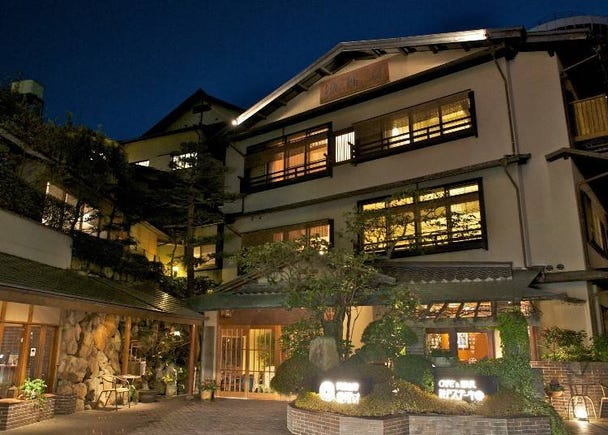 "Tocen Goshoboh" is Arima's oldest hot spring inn, established in the 12th century. At the time, it was known as "Yuguchi-ya", but at the end of the 14th century, general Ashikaga Yoshimitsu stayed at the inn, and it, therefore, was given its present-day name with the term "gosho" meaning "imperial palace".

General Toyotomi Hideyoshi of the Sengoku era also was fond of Arima Onsen, and when he built the Yuyama-goten there, he donated 13 stones to the inn, and it was moved to its current location beside Takikawa River.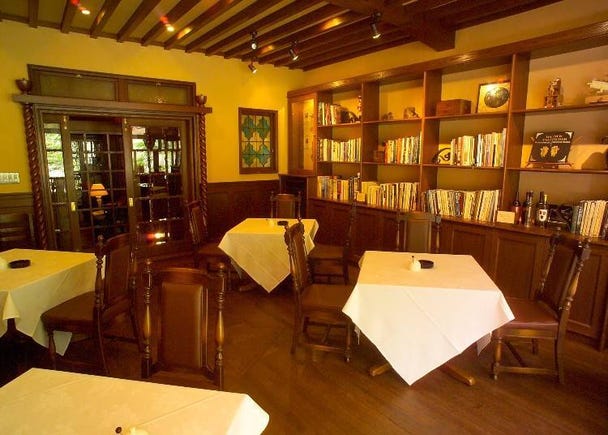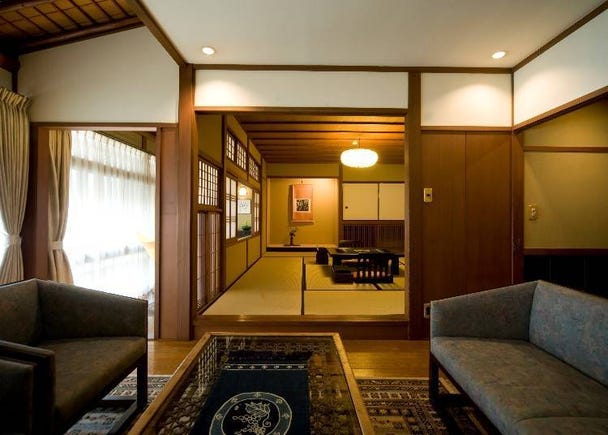 Since the Meiji era, famous Japanese writer Jun'ichiro Tanizaki featured the ryokan in one of his novels, and Eiji Yoshikawa, author of several historical novels, also stayed here.

"Tocen Goshoboh" is also mentioned in poet Yosano Akiko's works. With its popularity among those and many other intellectuals, the inn is a dream come true for lovers of literature.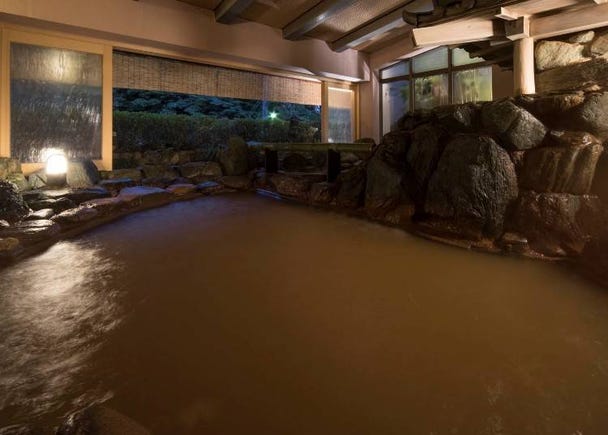 Of the baths where you can enjoy the extravagance of ever-flowing Arima hot spring water, the slightly unusual "han-konyoku", or half-mixed gender open air bath is one of the inn's unique features. There is a divider but no wall, so men and women can enjoy sharing the same space.

Goshoboh also provides guests with food that, instead of focusing on a glamorous appearance, is full of simple and rustic charm, using vegetables and rice from private farms. Each and every dish is an exquisite taste of local Hyogo cuisine, like Tajima beef and seafood caught in Akashi Bay.
陶泉 御所坊

Address

858 Arima-cho, Kita-ku, Kobe

Phone Number

078-904-0551

Hours: daytime-only 11:30 AM - 2:30 PM; overnight check-in at 3:00 PM, check-out at 10:00 AM (some plans 11:00 AM check-out)
Price: daytime-only entry 1500 yen (tax not included), overnight stay starting at 25,000 yen (tax not included)
Closed: Open Daily

Vacancy search, reservation

Please enquire directly about rates.

Check with our partner site as the latest rates, rate details, and guest room requirements may vary.
Text by:copyz
*This information is from the time of this article's publication.
*Prices and options mentioned are subject to change.
*Unless stated otherwise, all prices include tax.