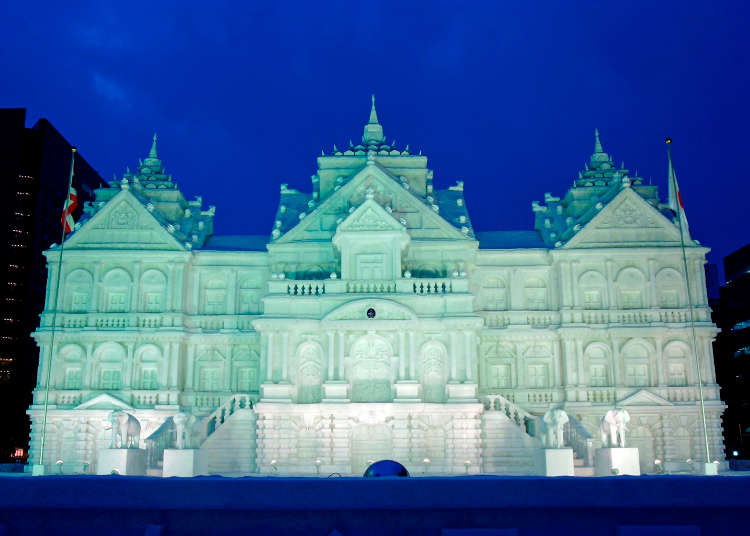 The Sapporo Snow Festival (Sapporo Yuki Matsuri) is a major snow and ice festival in Hokkaido, held in early February at Sapporo's Odori Park.

A huge variety of snow and ice sculptures are constructed in Odori Park, at Sapporo's city center. In recent years, sound and light effects have been added, making the Japanese snow festival experience even more attractive, and skating rinks and outdoor food stands have been arranged so that they can be enjoyed all day at the venue.

In 2022, the Sapporo Snow Festival will run from February 1-12, with a schedule depending on coronavirus conditions.

Here we'll do a deep dive into the charm of the Sapporo Snow Festival, including not only the main venue at Odori Park but also around Susukino and Tsudomu as well!
What is the Sapporo Snow Festival?
The Sapporo Snow Festival is a major Japanese winter festival in Hokkaido and in the country, which started taking place in 1950.

In 2019 some 2.73 million people attended, the largest since 1993 (when the event first appeared as we know it today).

In addition to large and small snow statues, this Sapporo winter festival is an event for people to experience snow and the frozen charms of Hokkaido in many ways.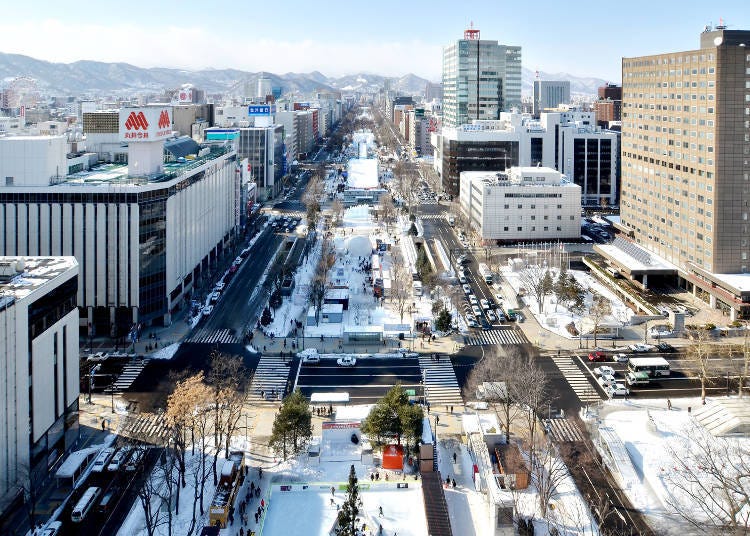 The Sapporo Snow Festival takes place in three areas: Odori, Susukino, and Tsudomu, but the main site is Odori.

From 1st West Avenue to 12th West, there will be a world of snow appearing in Odori Park, which lies in the center of Sapporo.

The nearest station is Odori Station on the Namboku Subway Line/Toho Line or Nishi 11-Chome on the Tozai Subway Line on the West 9-chome to 12-come avenues. From JR Sapporo Station, you can access the 3 or 4 chome avenue in a 10-minute walk via Chikaho.
2020 Large Snow Sculpture Lineup
The biggest attraction on the Odori site is, of course, the five massive snow statues. A giant statue called "ALL IS ONE – The Beginning of the World - The Ainu Story" is now at 4-Chome at STV Square.
Next up is a snow sculpture inspired by the history and culture of the indigenous Ainu people. This is now in 8-chome Snowy HTB Square, along with another snow sculpture called "Upopoi (Symbolic Space for Ethnic Harmony) 2020.4.24 OPEN." Projected lights will color both statues after sunset.
"5-chome at Michishin Snow Plaza" presents "Thoroughbred Running for the World," a representation of Hokkaido, a major thoroughbred-raising area in Japan.
"7-chome at HBC Poland Square" has also produced an incredible Floating Palace and a Chopin Statue in Lazienki Park, with a Polish motif, celebrating 100 years of diplomatic relations with the country in 2019.
"10-chome at UHB Family Land" features "Sazae's Family and Winter Sports in Sapporo," based on the popular Japanese animation character.
In addition to the enormous snow statues, Odori Avenue is also exhibiting snow statues created by residents, and the participants to the International Snow Statue Competition, boasting teams from all over the world.

The International Snow Statue Competition will be held from February 3 to 6, so you may be able to see the teams hard at work to make their statues.
How Sculptures are Made for the Sapporo Snow Festival
Design for the massive snow statues starts around the autumn of the previous year. Based on the draft, a 1/40 scale model is created. Then blueprints are drawn, and then a discussion about how to go about producing the statues.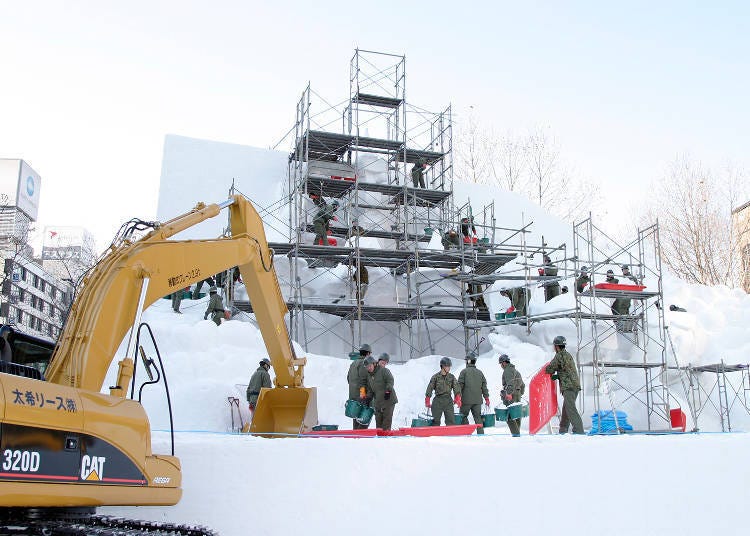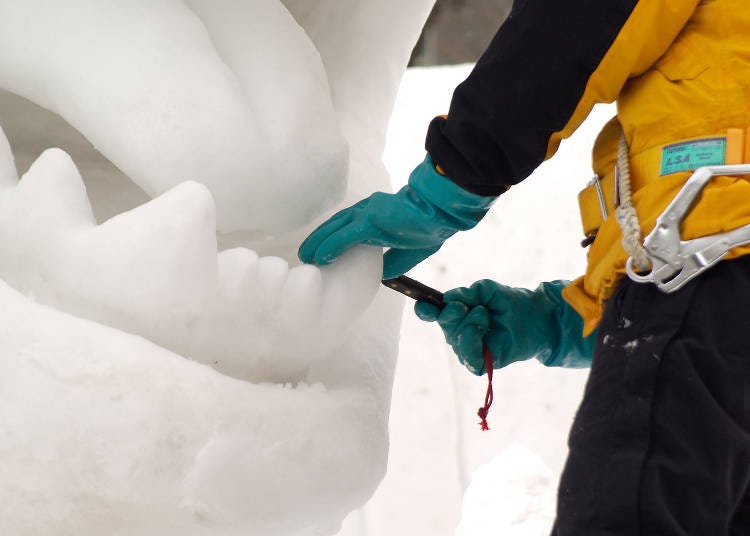 The snow used for a giant snow sculpture can pile up to a 4 to a 5-story building, and fill 600 trucks. Clean snow is collected from areas around Sapporo for a total volume of about 6,000 trucks.

On the location of the sculpture, the snow is piled up using heavy machinery, and a scaffold is built. The snow is then bound and stabilized. After creating a rough shape with heavy machinery, the statue is brought to life by hand.

This is an elaborate task that goes one throughout the night. Once the shape of the snow sculpture is created, other smaller components that have been sculpted are added, creating all the fine details.
Not only snow sculptures and statues! What to do in Odori Park
The appeal of the festival is not only about snow statues, but also a host of snow and ice-related activities. Among those is the outdoor skating rink, a popular attraction that you will find at "1-chome at J:COM Hiroba." Here you can also rent your skates and enjoy the fun under the overlooking Sapporo Tower. In the same area that are also various stage events.

Access fee: 1000 yen for adults, 500 yen for elementary school students or younger (60 minutes replacement system)

Inside the "3-chome at HTB PARK AIR Square," there will be a giant skiing platform called "Shiroi Koibito PARK AIR Jumping Platform" 24m in height, 65m in length, and a maximum slope of 39 degrees. Here you will find many fun snowboarding and skiing competitions, organized by top Japanese athletes.
Should you get hungry, after enjoying all the attractions, go to "6-chome Citizen's Plaza." Here you will be able to enjoy typical Hokkaido products, like ramen, soup curry, crab, sea urchin, scallops, and seafood in general, as well as zangi (Hokkaido fried chicken) and yakitori (grilled chicken).

You will also find here new specialties, like the "Shio Korogingisukan," which got the attention even of Fall culinary events. Also at the 11-chome site, where the International Snow Statue Competition is held, you will find a food section featuring international cuisine and local dishes.

Plus, "2-chome Kamui Snow Plaza," allows you to experience traditional culture and art, with projection coloring and mapping, in collaboration with popular animation companies, reproducing "Golden Kamui," a set of Hokkaido in the Meiji era.

Enjoy the traditional Ainu dances and live music, and the display of folk crafts, and make sure you get your souvenirs from the small stores selling goods with Ainu patterns and decorations.
Let's see what the Susukino and Tsudomu sites have to offer
In addition to the Odori site, there are two other areas in the city with festival displays and attractions. One is Susukino's Ice World 2020 (Susukino site). The theme is "Enjoy the Ice" with large and medium-sized ice sculptures delighting visitors.

You will find different statues on each block, from ones you can marvel at, to ones made even more magical by illumination, to ones you can touch and ride. Visit also the ice bar for more local delicacies. You can conveniently access this area from the Subway Namboku Line, or Susukino station.
The Tsudomu site in Higashi Ward starts a little earlier (January 31) and offers activities for both children and adults with its ice slides and snow rafts. Also, in the indoor area, there will be events that won't be affected by weather changes.

There will be stage events, children's playgrounds, and a warm food area. You can access the venue with a 10-minute walk from Sakaemachi Station on the Toho Subway Line.
February in Hokkaido is very cold! Pack heavy clothes
The festival takes place in February, the coldest time of the year in Sapporo. In addition to winter jackets and coats, make sure you also pack hats, mufflers, gloves, etc.

Roads may be slippery, so it's a good idea to have snow boots or shoes that are not easy to slip with. Since you will be walking outside a lot, prepare a nice warm drink to carry around.

If you want also to enjoy snow activities, make sure you wear snow-resistant clothes like ski-wear.
Sapporo Snow Festival - Odori Park Site

さっぽろ雪まつり 大通会場

Address

Odori Nishi 1-chome-12chome, Chuo-ku, Sapporo-shi, Hokkaido 〒060-0042

・Phone number: 011-281-6400 (Sapporo Snow Festival Executive Committee)
・February 5-12, 2022
・Lit up until 10:00PM
Sapporo Snow Festival - Susukino Site (SUSUKINO ICE WORLD)

さっぽろ雪まつり すすきの会場

Address

Minami 4 jo-7 jo Nishi 4-chome, Chuo-ku, Sapporo-shi, Hokkaido

・February 5-12, 2022
・24 hours, pedestrian zone February 4-7, 10/03:00pm to 11:00pm, February 8-9/10:00am to 11:00pm, February 11/10:00am to 10:00pm
Sapporo Snow Festival - Tsudome Site

さっぽろ雪まつり つどーむ会場

Address

885-1, Sakaemachi, Higashi-ku, Sapporo-shi, Hokkaido 〒007-0852

・February 1 – 12, 2022
・09:00am to 05:00pm (some attractions until 04:00pm)
・Official site: https://www.snowfes.com/english/
Address

Various places in Sapporo city, Hokkaido, 060-0042
View Map

Nearest Station

Odori Station (Namboku Line / Tozai Line / Toho Line)


Phone Number

011-281-6400
Text by: Minna no Kotobasha
Book an unforgettable experience in Sapporo!
Make your trip extra memorable by booking one of these recommended experiences on our partner site, Voyagin!
*This information is from the time of this article's publication.
*Prices and options mentioned are subject to change.
*Unless stated otherwise, all prices include tax.