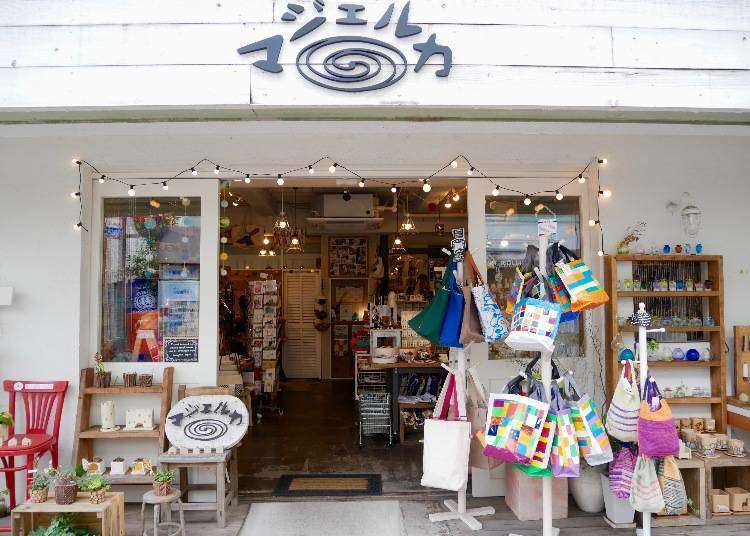 Kichijoji is a scenic, atmospheric neighborhood in Tokyo's west, a mere 25-minute train ride away from the large Shinjuku Station. It's a wonderful fusion of urban culture and suburban relaxation, home to fashionable department stores and large electronic shops, but also a plethora of small boutiques, cafes, and amazingly delicious restaurants.On top of that, Inokashira Park is the figurative heart of Kichijoji and provides urbanites with plenty of lush nature and fresh air. Let's talk a walk around the neighborhood and visit Kichijoji's must-see spots!
Majerca: The Cutest Handmade Goods in all of Kichijoji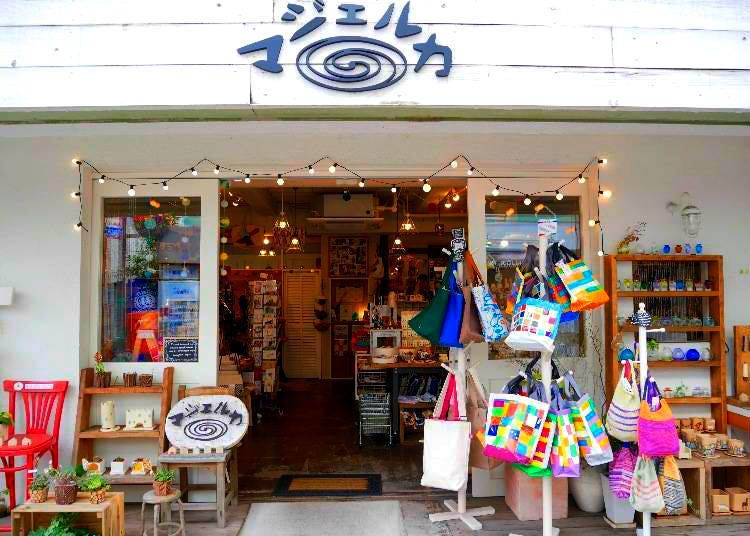 Majerca should be one of your first stops when visiting Kichijoji. The neighborhood follows a rather slow pace, so the best time to arrive at the station is around 11:00 a.m. That leaves you plenty of time to leisurely stroll through Kichijoji's alleys, and you'll happen upon Majerca almost naturally. The cozy shop will catch your eye with the many colorful goods in front of the store, its charming aura, and creative vibe.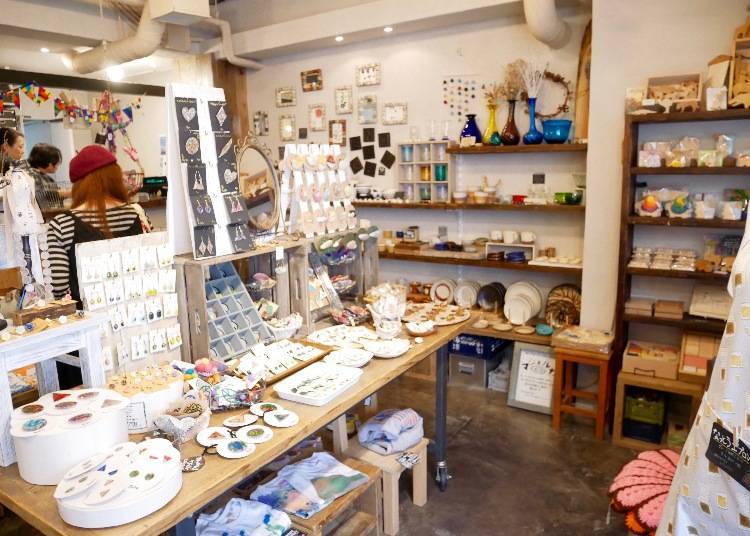 Majerca exclusively sells handmade goods made by people with disabilities from all around Japan. From necklaces to canvas bags, from tableware to pouches – Majerca is a treasure trove of unique, stylish, and adorable goods.

Examining each item, you'll not only find that one isn't like the other and of amazing creativity but also extremely high in quality.

"Majerca" is a play on words of the Japanese word for "mixing," reflecting the philosophy that the world is a colorful mix of people – some with disabilities, some without.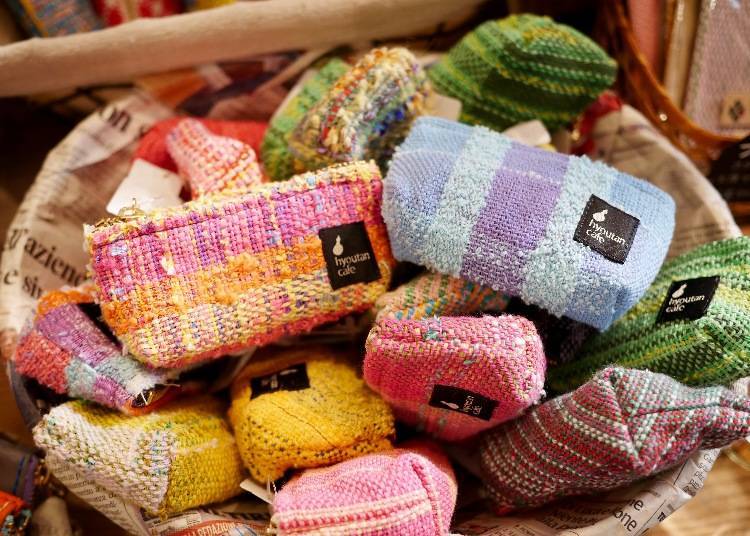 Handmake signature stamp cases, 800 yen each
These cute cases come in all kinds of colors and patterns, so take your time to find your favorite! While you probably don't have a signature stamp, these cases can easily be used for lipsticks, mascara, spare coins, and more.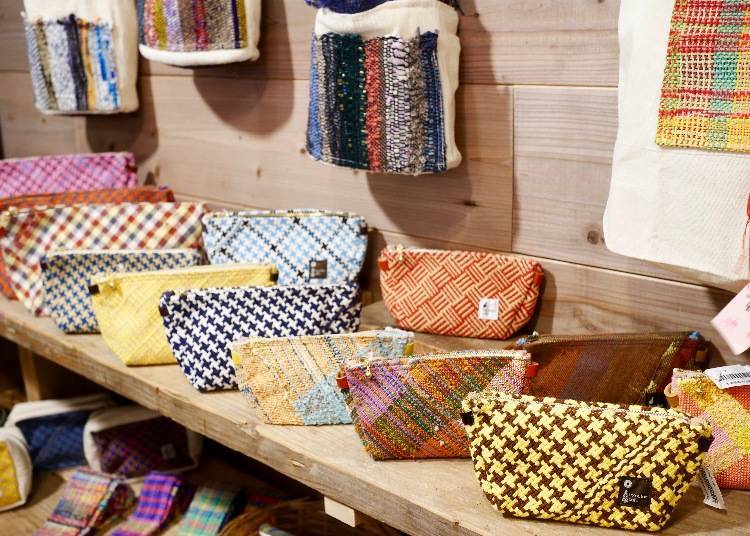 Handmade cosmetic pouches, 1,900 yen for medium and 3,500 yen for large (the designs are all unique and thus, prices may be different for some pouches)
If you're looking for something bigger but equally cute, go for the cosmetic pouches! They come in two different sizes, perfect for both small and larger on-the-go makeup arsenals. Also keep an eye out for the nicest design!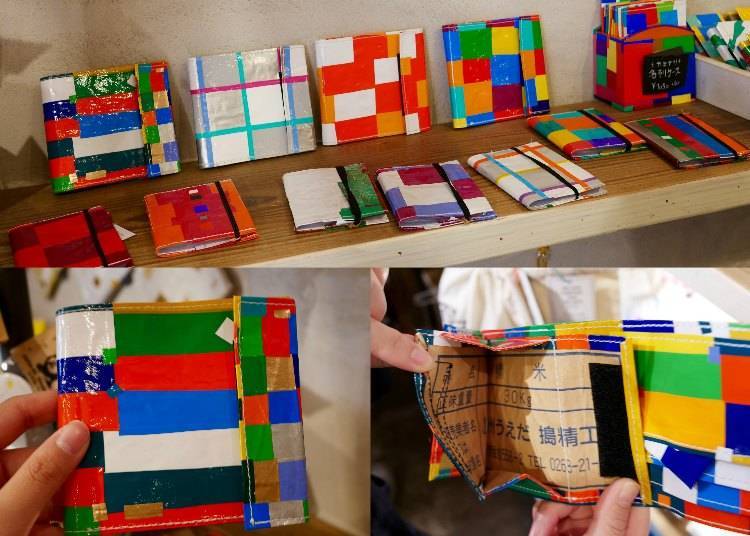 Wallets made from rice bags, 2,800 yen each
One of the most exciting things to do at Majerca is to look out for items made from recycled things. A highlight among them is the rice bag wallets which are wonderfully colorful on the outside but still bear traces of their origin as you open them!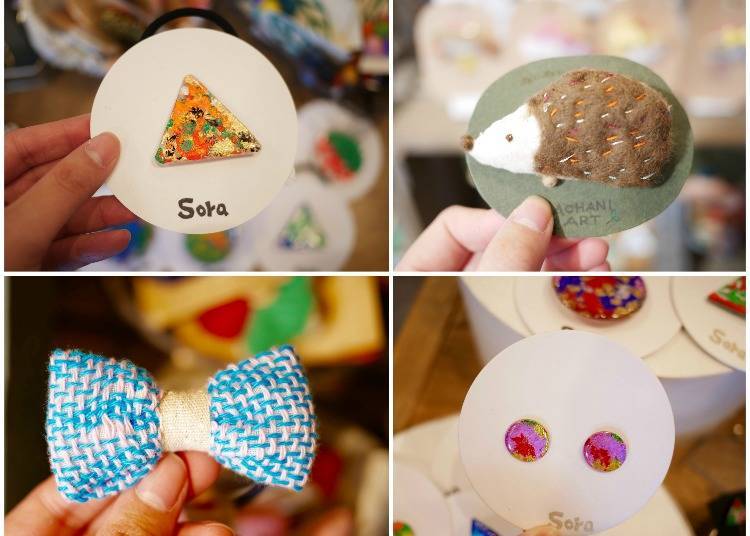 From top left: sparkly hair ornament for 700 yen, wooly brooch for 800 yen, ribbon hair ornament for 300 yen, earrings for 1,500 yen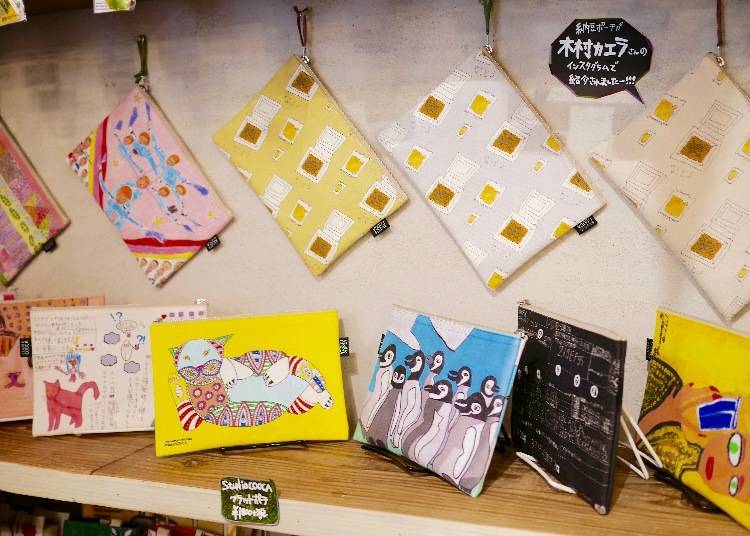 Canvas bags for 1,800 yen each
These canvas bags are some of the most creative items of Majerca, as they're printed and decorated entirely after the ideas of the person who made them.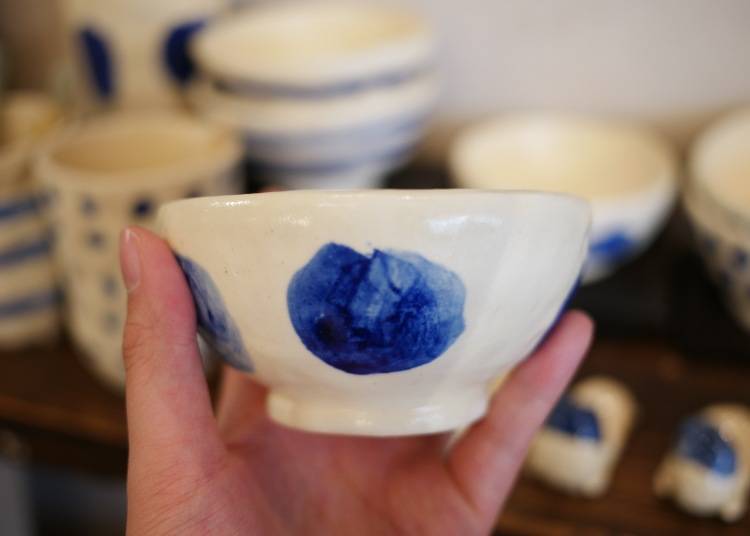 Handmade tea bowl for 1,800 yen
Even handmade tableware is part of Majerca's plethora of odds and ends. They fuse traditional shapes with modern designs and are an instant eyecatcher.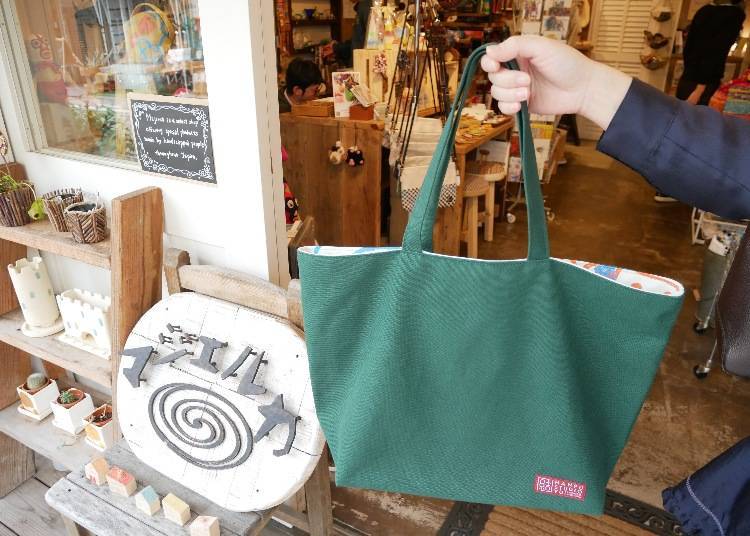 Canvas shoulder bag for 5,800 yen
These large, comfortable bags are made from Japanese "kurashiki" canvas, known for its high quality and durability. They come in ten different colors.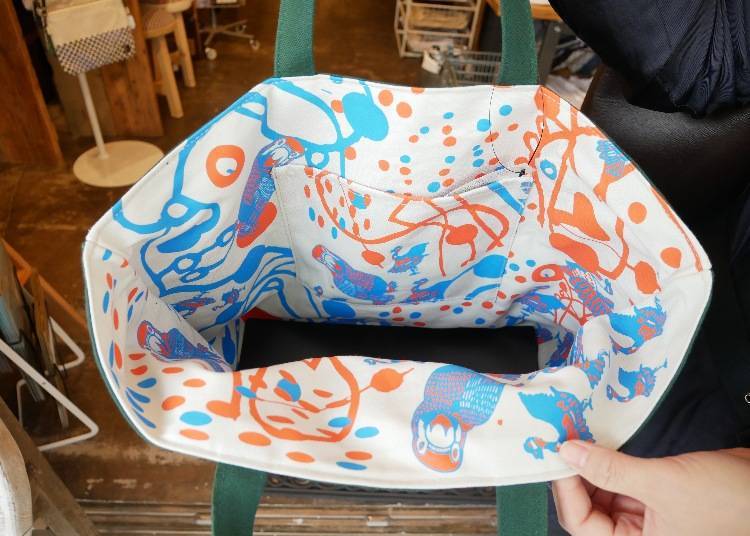 The inside of the canvas bags reveals an entirely different, colorful pattern and depending on occasion, season, and so on, can be easily reversed!

If you're looking for a one-of-a-kind souvenir or want to treat yourself to a new favorite, Majerca is an absolute must-visit!

*All prices are excluding tax.
マジェルカ

Address

Nakata Bld.1F・B1F, 3-3-11, Kichijoji Honcho, Musashino-shi, Tokyo, 180-0004, Japan

Hours: 11:00 a.m. – 7:00 p.m.
Closed: Tuesdays
Paper Message: a Colorful Paradise for Stationery Fans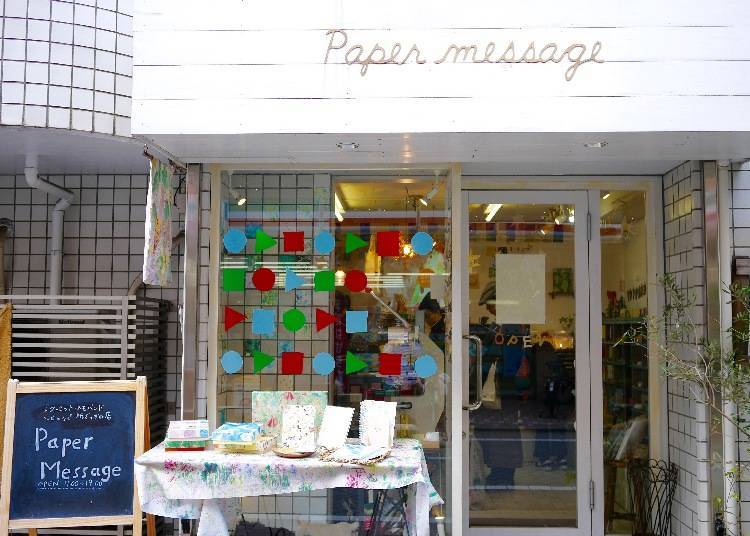 Paper Message is an adorable little shop dealing with all things stationery. Look forward to browsing through a large, creative selection of letter sets, postcards, notebooks, wrapping paper, and more.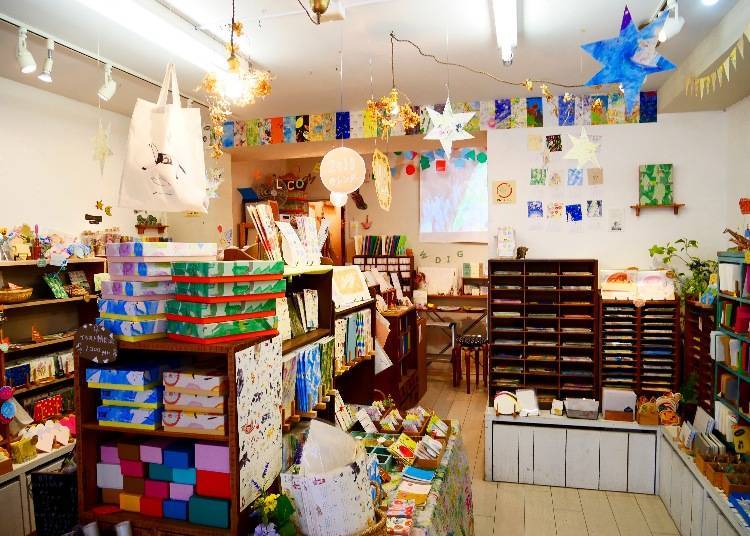 The atmosphere is wonderfully warm and welcoming, transforming mere browsing to a true stationery experience. The majority of the goods at Paper Message are both designed and printed at the store, you'll find numerous original things!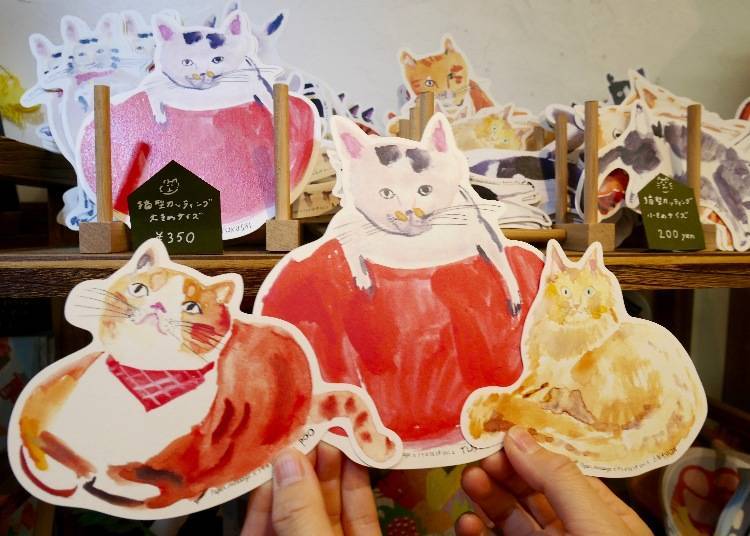 Cute cat cards, 350 yen each
Especially cat lovers will have a great time looking through the selection of original designs and prints. In fact, the cats you encounter at Paper Message are based on the actual cats of customers who sent in their favorite snapshots of their purrfect friends.
Cat-themed letter sets, 480 yen each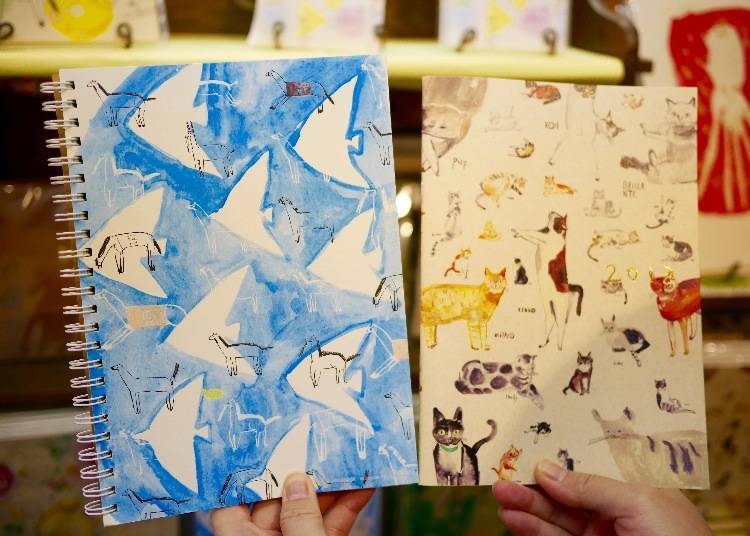 Ring-type notebooks with original watercolor designs by Paper Message, 600 yen each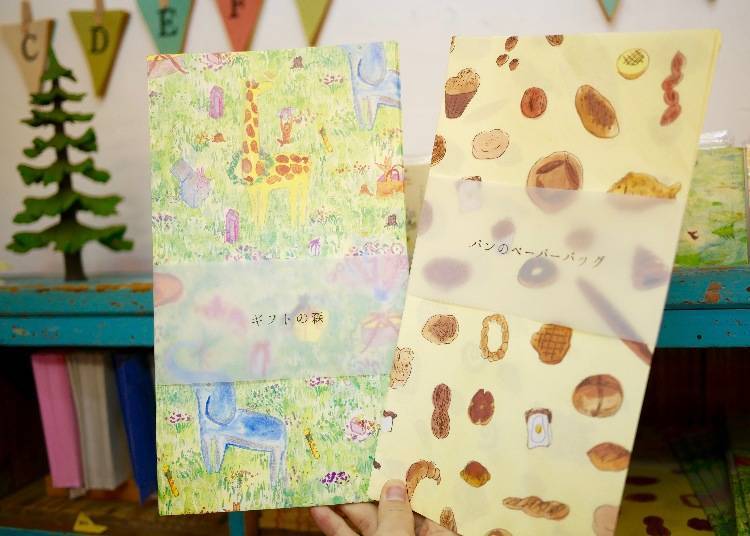 Wrapping bags, 540 yen each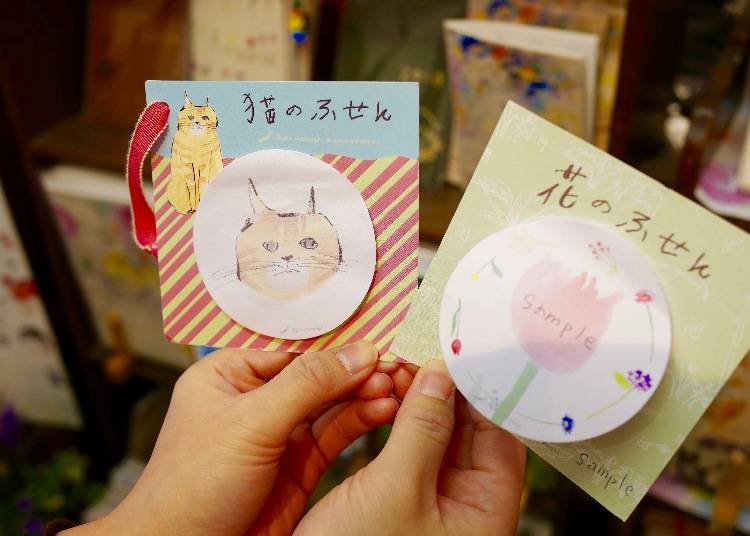 Adorable paper notes, 300 yen each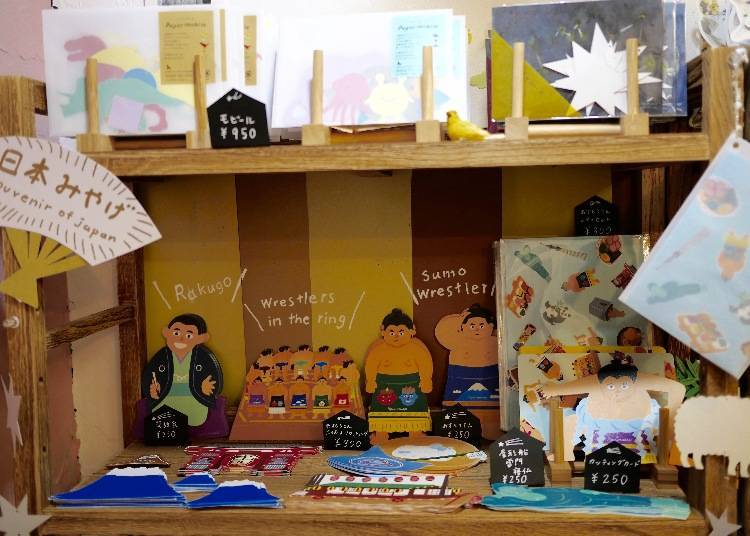 Japanese-style souvenir cards featuring sumo wrestlers, Mount Fuji, and other representative designs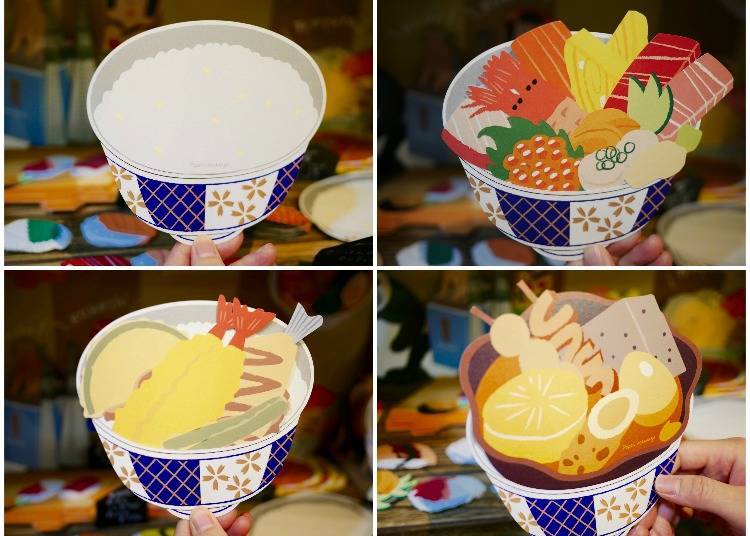 Food cards for 200 yen, pair cards for 250 yen
One of our favorites at Paper Message are the food cards. The best way to combine them is to stick a card with sushi toppings (for example) on the plain white rice bowl! They surely make for a unique letter.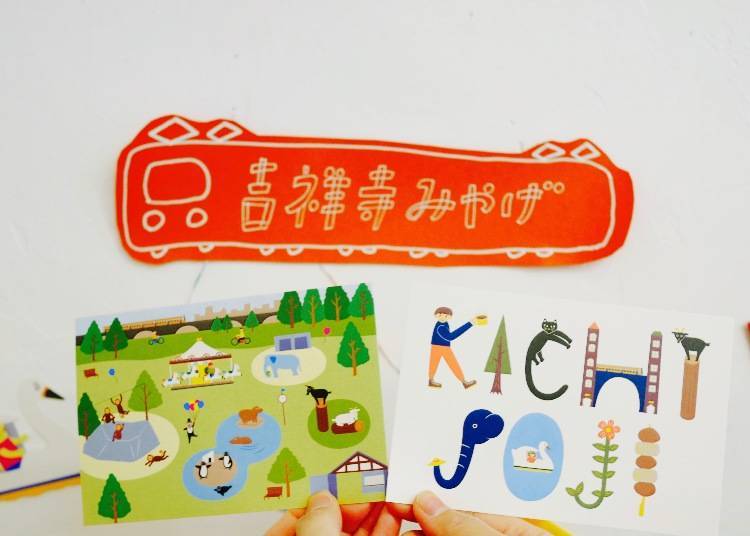 Kichijoji souvenir card for 150 yen
If you want to opt for a more classic card, why not check the Kichijoji souvenir cards? The cute design shows all sorts of landmarks of the area, including Inokashira Park.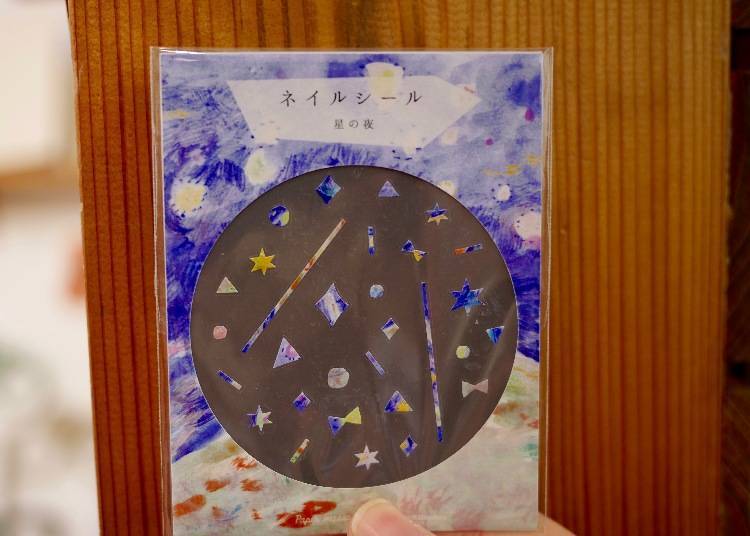 Nail stickers for 600 yen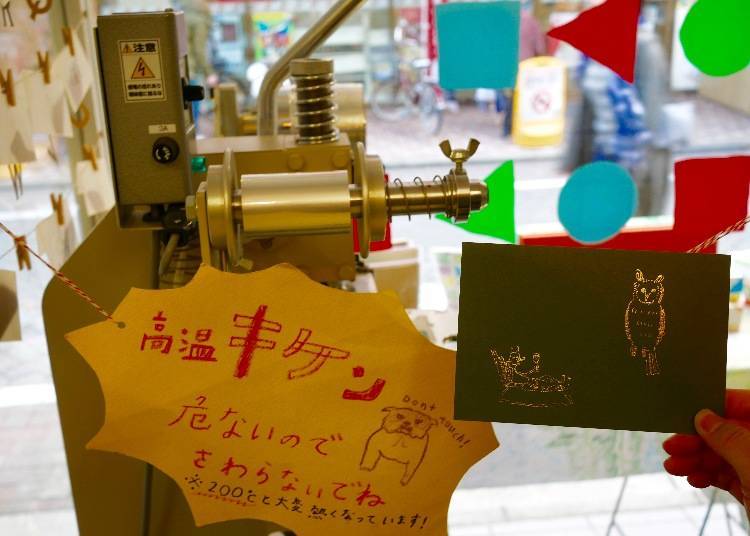 If you make a purchase over 3,000 yen, Paper Message offers a hot stamping foil service for free to enhance your paper even further.

*All prices are excluding tax.
ペーパーメッセージ 吉祥寺店

Address

4-1-3, Kichijoji Honcho, Musashino-shi, Tokyo, 180-0004, Japan

Hours: 11:00 a.m. – 7:00 p.m.
Closed: irregularly
Ozasa: Little Pieces of Japanese Deliciousness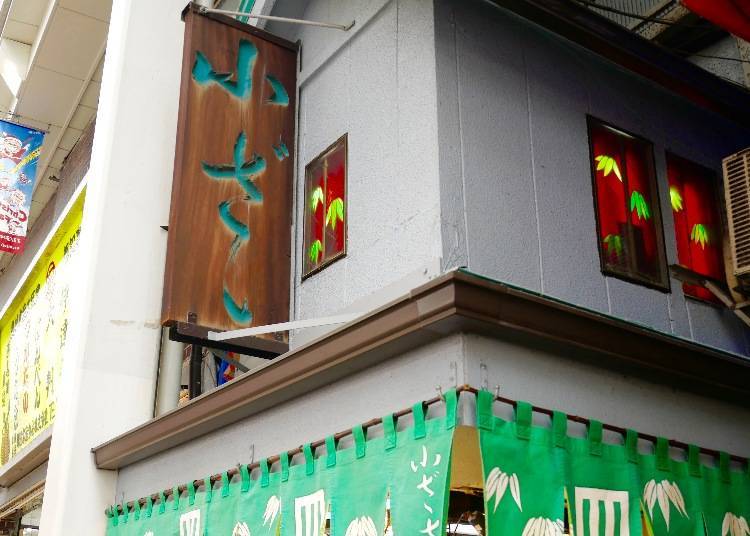 Leisurely exploring Kichijoji will get you peckish eventually, so let's head over to Ozasa. This shop has been in business for 66 whole years and keeps on delighting both locals and tourists with amazingly delicious Japanese sweets, although it sells only two types: monaka (filled wafer) and yokan (sweet bean jelly). There are only 150 yokan per day, so best come early!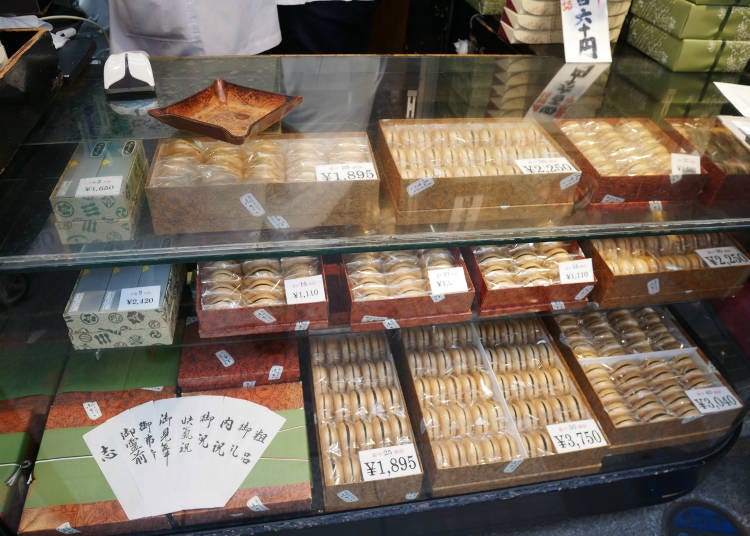 Traditionally, monaka is a sweet snack of two thin wafers filled with sweet red bean paste. The secret of Ozasa's monka is the incredible deliciousness of said bean paste and its one-bite size. Carefully, sugar is almost added grain by grain to create the perfect harmony between the beans and the crunchy wafers.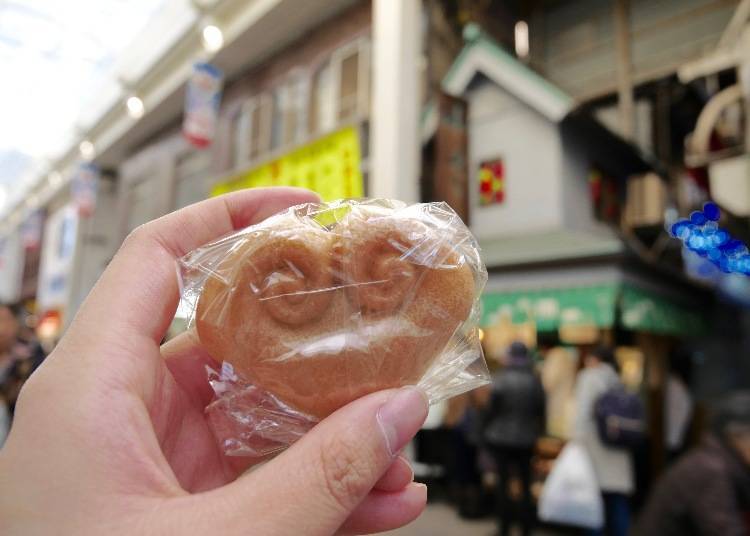 Another characteristic of Ozasa's monaka is that they're heart-shaped. Usually, you only ever come across rectangular wafers, so that's a cute little detail that makes the snack the tiniest bit tastier. They come filled with either red or white sweet bean paste – try either variety if you cannot decide!

5 pieces: 335 yen
10 pieces: 670 yen

If you want to take the little delicacies back home as a souvenir, Ozasa offers several different boxes. Apparently, the shop sells over 10,000 monaka every single day!

5 pieces: 460 yen
10 pieces: 765 yen
15 pieces: 1,110 yen
21 pieces: 1,560 yen
*All prices are including tax.
小ざさ

Address

1-1-8, Kichijoji Honcho, Musashino-shi, Tokyo, 180-0004, Japan

Hours: 10:00 a.m. – 7:30 p.m.
Closed: Tuesday
Steak House Satou: Fried Goodness with High-Grade Japanese Beef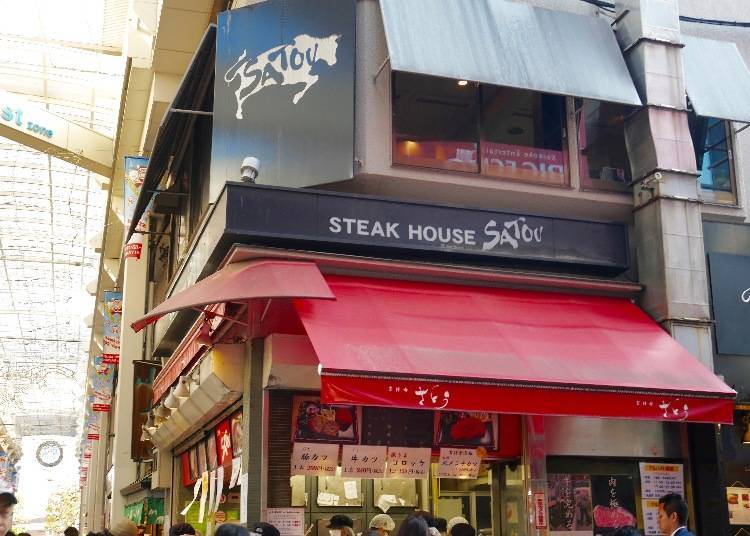 After enjoying something sweet, let's have a savory snack! Right next to Ozasa is Steak House Satou, a shop that, long ago, was just a mere meat shop. At some point, it started to sell fried food and one delicacy in particular: fried beef meatballs!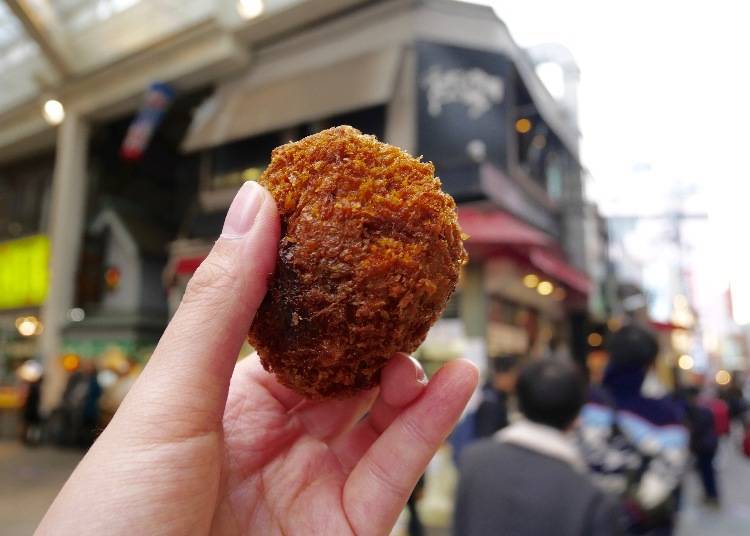 The round shape gives this meat ball a wonderfully juicy inside while the outside stays as crispy as it gets. The real characteristic of Satou's fried meat balls, however, is the high-grade Japanese black beef that is used, rich in umami flavor and incredibly delicious.

Don't be intimidated by the long queue in front of the shop, the service is great and you won't have to wait long. One fried meat ball can be enjoyed for 2040 yen. If you buy five or mote, the price drops to 200 yen per ball.

*All prices are including tax.
サトウ 吉祥寺店

Address

1-1-8, Kichijoji Honcho, Musashino-shi, Tokyo, 180-0004, Japan

Hours: 10:00 a.m. – 7:00 p.m.
Closed: always open
The fried meat balls are sold from 10:30 p.m.
Inokashira Park: Beautiful in Every Season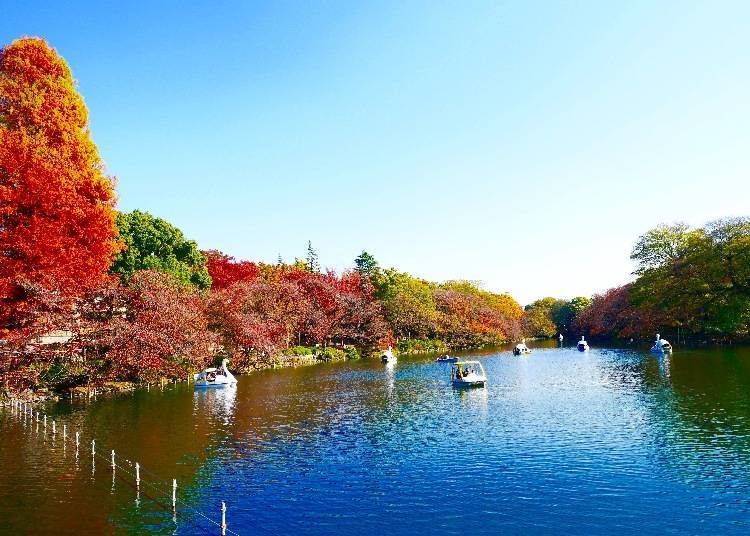 After shopping and feasting, bathe yourself in lush nature at Inokashira Park, just a 5-minute walk away from Kichijoji Station. A lovely pond is the heart of the park, known for its swan boats that are a dating hot spot in the warmer months. Besides that, he park itself is beautiful in every season, from the pink cherry blossoms in spring to the vivid colors of autumn. It's a wonderful urban oasis for all occasions, whether you're by yourself, on a date, or with friends or family.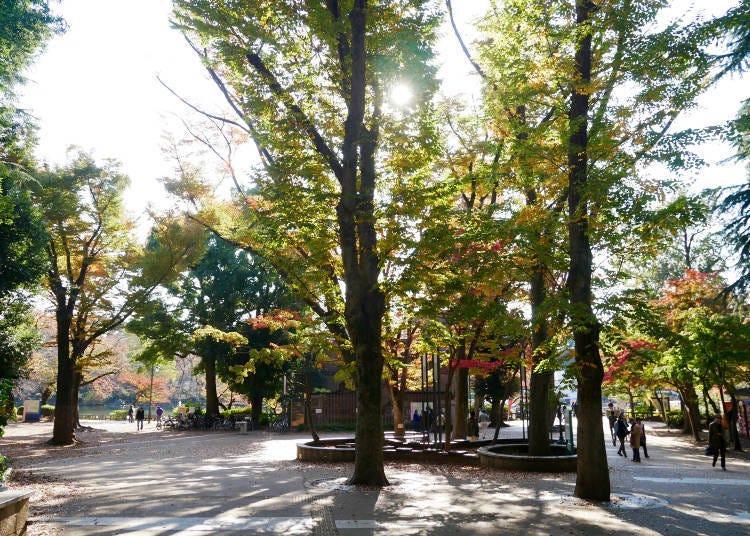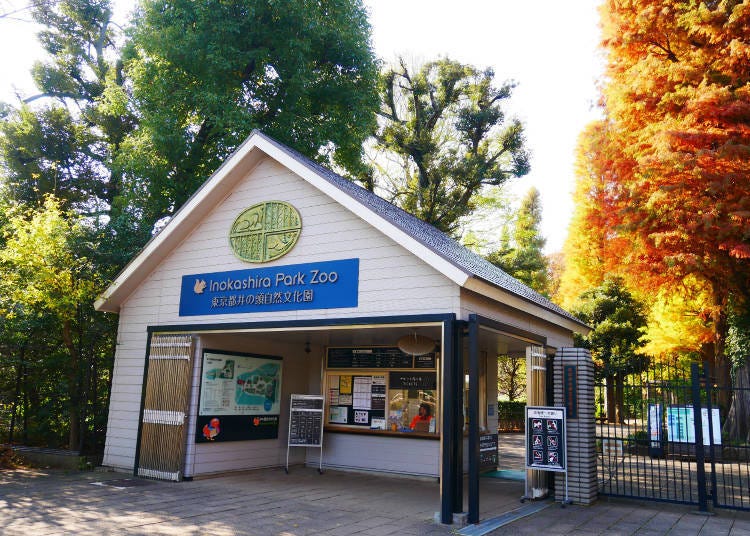 Inokashira Park is free to enter, but the different facilities in and around it are charged, such as the zoo. It's filled with smaller animals and Japanese wildlife and is a wonderful place especially for young children and their parents.

Entry: 400 yen
Junior High: 120 yen
Seniors: 200 yen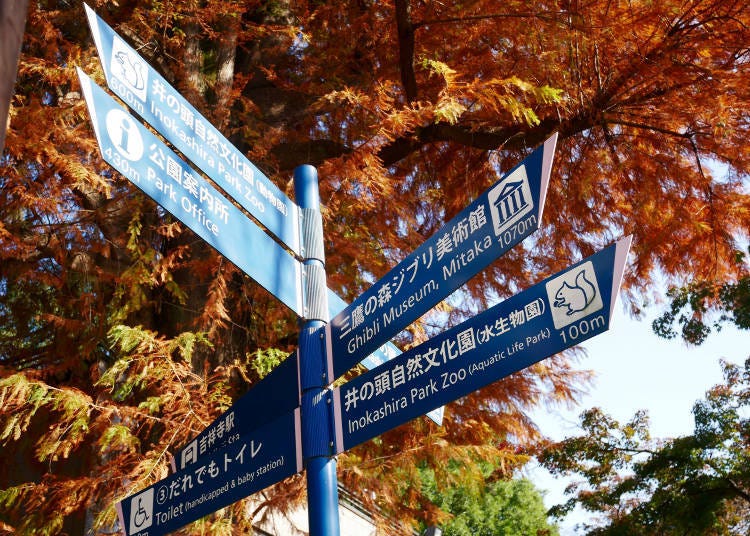 On top of that, the Ghibli Museum is close to Inokashira Park as well – Hayao Miyazaki and his movies have conquered the hearts of people all around the globe, so this is an absolute must-visit as well.

Kichijoji's Inokashira Park is full of greenery and thus it's a preferred urban oasis for both tourists and locals. If you feel like you need a break, go for a stroll and just let your mind wander for a while.
Address

1, Gotenyama, Musashino-shi, Tokyo, 180-0005
View Map

Nearest Station

Kichijoji Station (JR Chuo Main Line / Keio Inokashira Line)
5 minutes on foot


Phone Number

0422-47-6900
Little Spice: Excellent Curry in a Warm Atmosphere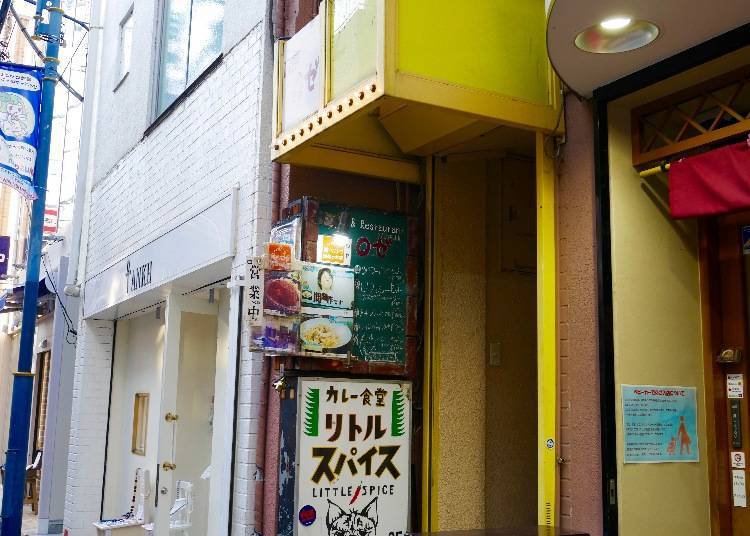 After spending a beautiful morning and afternoon in Kichijoji, you must be craving a savory dinner. Our special recommendation is Little Spice. The shop's entrance is easily overlooked, so be on the lookout for a Chinese Restaurant called Harukiya – Little Spice can be found on the second floor of the same building.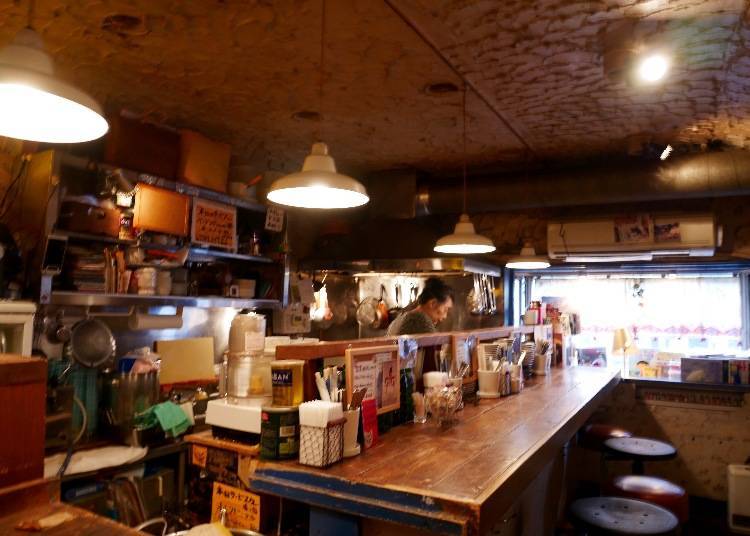 As the name suggests, Little Spice is all about curry. Right after entering, you'll be engulfed by a delicious curry aroma and a warm and welcoming atmosphere. Especially the wooden counter invites to sit down and relax.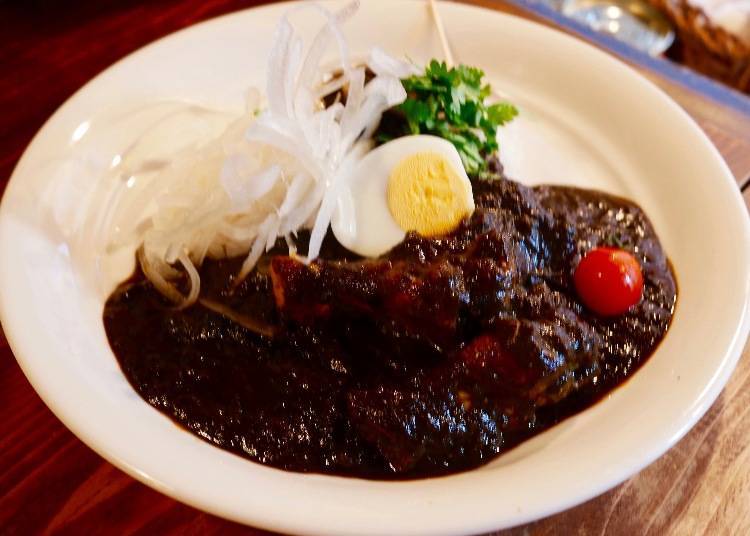 Black curry for 900 yen (tax excluded)
The menu is simple, offering only six kinds of different curry, including black, keema, pork, and more. The blend of spices for each curry creation is entirely different, so you're in for a unique gourmet experience with every order.

The shop's most famous curry is the black curry. The owner infuses it with a hint of Sri Lankan home-style cuisine that he learned from Sri Lankan students. Using over 10 kinds of spices, it is savory and full-bodied, matching the chicken it is erved with just perfectly. Recharge your energies with this flavorful curry that you can't try anywhere else!
カレー食堂 リトル・スパイス

Address

2F, 2-14-1 Yamada Bld., Kichijoji Honcho, Musashino-shi, Tokyo, 180-0004, Japan

Hours
Monday to Friday: 5:30 p.m – 9:00 p.m.
Saturday, Sunday, and national holidays: 2:00 p.m. – 9:00 p.m.
Closed: always open
*This information is from the time of this article's publication.
*Prices and options mentioned are subject to change.
*Unless stated otherwise, all prices include tax.
Limited time offer: 10% discount coupons available now!