Hokkaido cherry blossoms typically bloom in early May and are a popular draw for tourists.

Most people think of cherry blossoms in full bloom when talking about spring in Japan. The blooming season of cherry blossoms gradually starts from the south, so actually Hokkaido cherry blossom season comes just as the main island of Japan is approaching early summer.

Enduring the long and harsh winter, Hokkaido sakura creates a simple scenery of spring emanating a rustic beauty. Here we will introduce 8 popular Hokkaido cherry blossom spots where you can bask in their beauty!
Signaling the arrival of spring: When is Hokkaido cherry blossom season?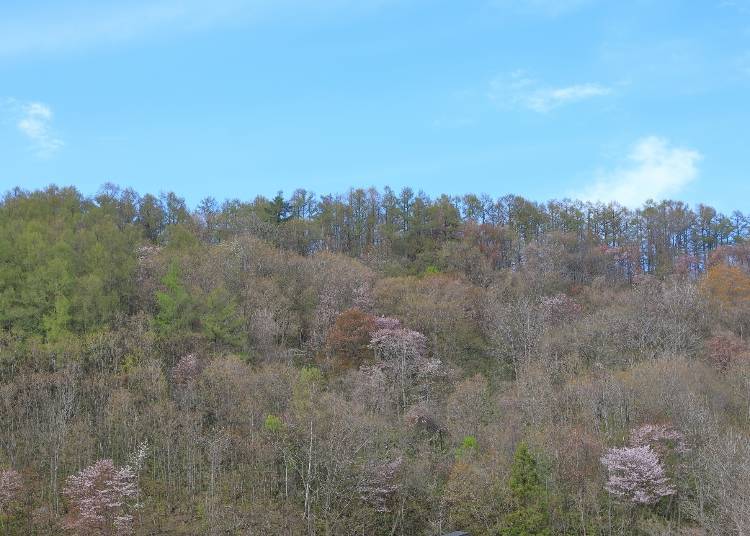 Starting from the south of Japan in Okinawa in January, the cherry blossoms slowly creep their way up through Japan, finally arriving in Hokkaido in late April.

This phenomenon is called the Cherry Blossom Front and Japanese people await the blooming season in each of their locality.

Hokkaido cherry blossom season starts in late April which takes about a month to go through the entirety of Hokkaido. Known as a place of beautiful snowscapes, from late April is when the snow on the ground finally begins to melt, allowing the flowers to bloom.

In other areas, the cherry blossom is a symbol of the peak of spring, but in Hokkaido, it announces the arrival of spring.
Ezo-yamazakura: The most common variety of cherry blossoms in Hokkaido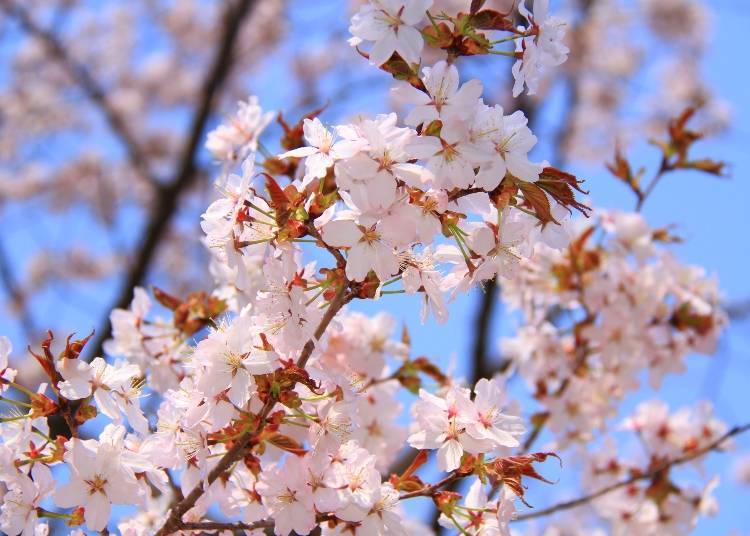 Those who have seen the cherry blossoms in Honshu might think that the ones in Hokkaido somehow look brighter. This is because they are a slightly different variety.

While the number of the more popular Yoshino cherry tree has increased, the Sargent cherry tree, which bears a deeper pink color, is commonly found in Hokkaido.

Another characteristic of this cherry blossom is that red leaves come out together when the tree starts blooming, which makes it appear darker, emphasizing its rustic beauty.
Where to see sakura in Hokkaido: Best 8 places for cherry blossoms in Hokkaido
Here are eight of the best places to enjoy Hokkaido cherry blossoms.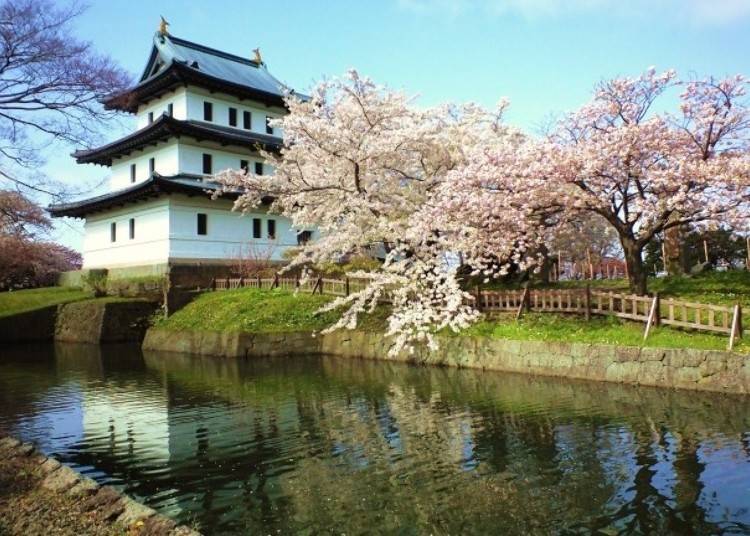 1. Matsumae Park (Southern Hokkaido): The hospitality of 10,000 cherry blossoms

Hokkaido cherry blossoms begin to bloom from the south. After a 2-hour-car ride from Hakodate, you will find Matsumae Park where Matsumae Castle is located.

This park has 250 kinds of cherry blossoms numbering to 10,000 trees, such as the single-flowered Yoshino cherry tree and the double-flowered Naden cherry tree. There are early-blooming, middle-blooming, and late-blooming cherry blossoms, which allows everyone to enjoy the flowers for a month.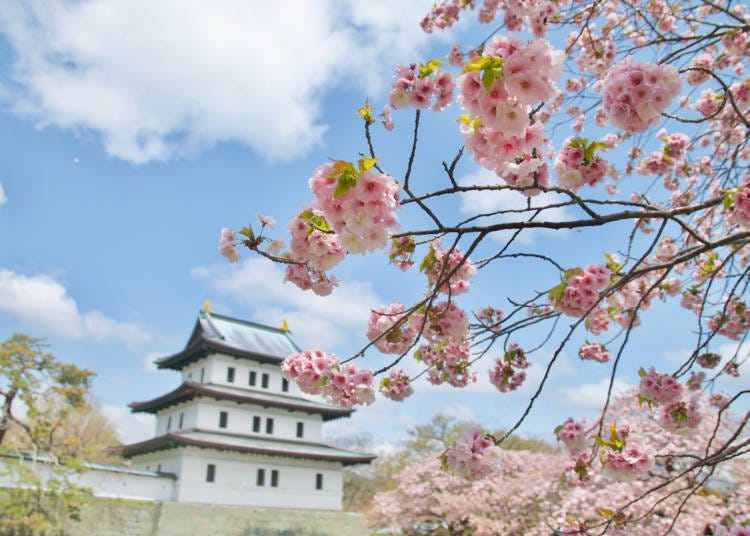 The Matsumae Sakura Festival held from late April to mid-May hosts various events such as product fares featuring seafood and sweets and live performances.

Among these events, the highlight is the Samurai Procession featuring warriors wearing armors. You should also try the cherry blossom ice cream sold in the park at this time.
松前公園

Address

Matsushiro, Matsumae Gun Matsumae Cho, Hokkaido 〒049-1511

TEL No.: 0139-42-2275 (Inquiry: Matsumae Town Hall, Commerce and Tourism Division)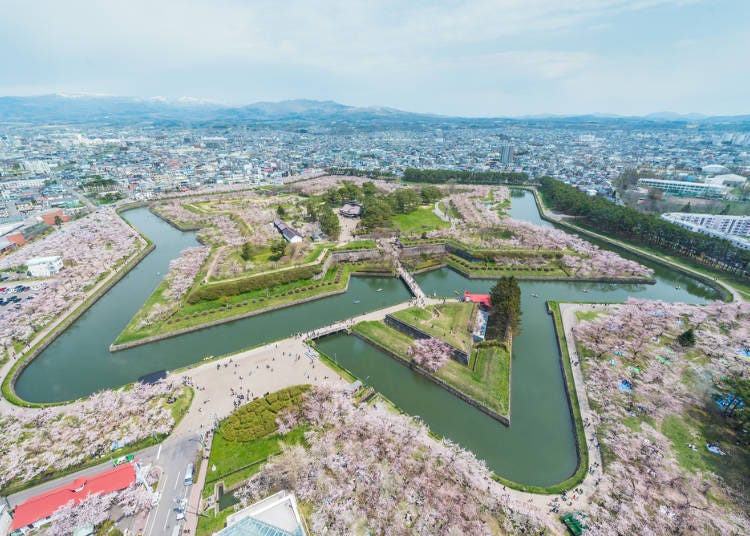 2. Goryokaku Park (Southern Hokkaido): Enjoy Hokkaido cherry blossoms from the sky

Hakodate is also an area in Hokkaido where you can enjoy cherry blossoms in late April. Goryokaku was designated as a national special historic site and is now open as a park known for its famous cherry blossoms. You can eat jinguskan while enjoying cherry blossoms in designated areas.

The 107m-high Goryokaku Tower adjacent to the park is a spot where you can marvel at a unique view of the gorgeous Hokkaido cherry blossoms from above.
3. Morimachi Oniushi Park (Southern Hokkaido): Featuring 19 kinds of cherry blossoms

Oniushi Park, a famous spot for cherry blossoms, is located in Morimachi, about an hour by car from Hakodate City to the north. "Oniushi" means "a place where there are many trees" in Ainu language.

There are 19 types and about 500 cherry blossom trees in the park, which bloom one after another from late April to mid-May. Aside from the Yoshino cherry tree and
Ōyamazakura, this park also features rare cherry blossom trees endemic to Morimachi such as the Komamizakura and Horiizakura.

In particular, Komamizakura is a valuable variety which only bears a limited number of flowers. This variety was born in the middle of cultivating Morikomachi which is a cross between Horiizakura and Yoshino cherry blossoms.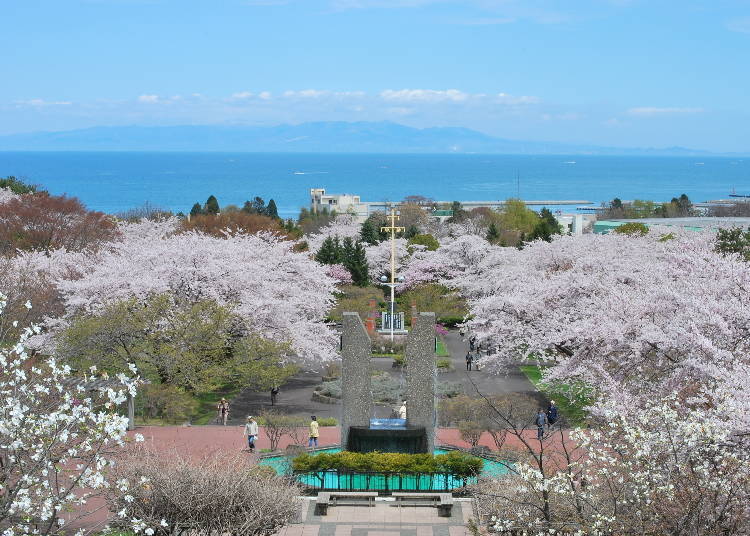 The roadside station You Yū Mori located next to the Oniushi Park is a place where you can gaze at the cherry blossoms and Morimachi from the rooftop lounge.
森町・オニウシ公園

Address

326-1, Uwadaicho, Kayabe Gun Mori Machi, Hokkaido 〒049-2311

TEL No.: 01374-2-2181 (Inquiry: Morimachi Town Hall, Commerce and Tourism Division)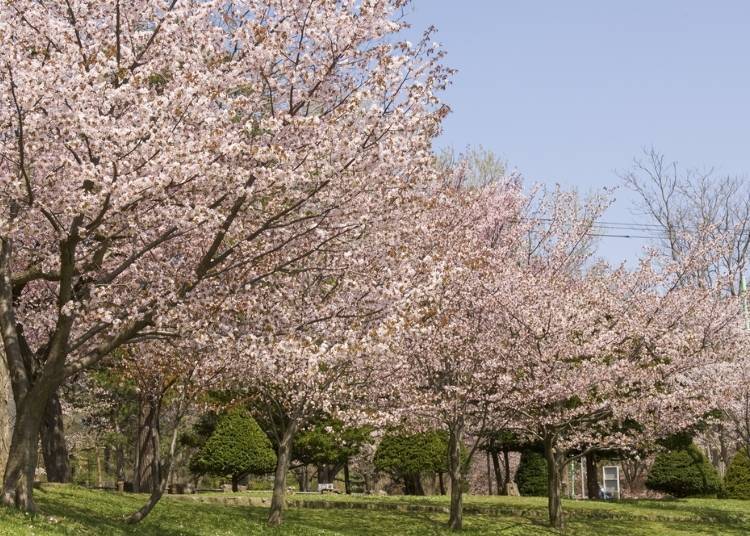 4. Maruyama Park (Central Hokkaido): A historical site filled with cherry blossoms
In May, the Cherry Blossom Front reaches Central Hokkaido, but in the early years, the front comes to Sapporo, which has a relatively higher temperature.

In Sapporo, Maruyama Park is a park that has long been a popular cherry blossom spot. About 150 cherry blossoms such as Sargent cherry tree and Yoshino cherry tree are planted in the park, and the best time to see them is from late April to mid-May.

Wild squirrels and wild birds can be seen in the park located on the north side of the Maruyama Genshirin designated as a national natural monument, where you can feel the nature of Hokkaido up close.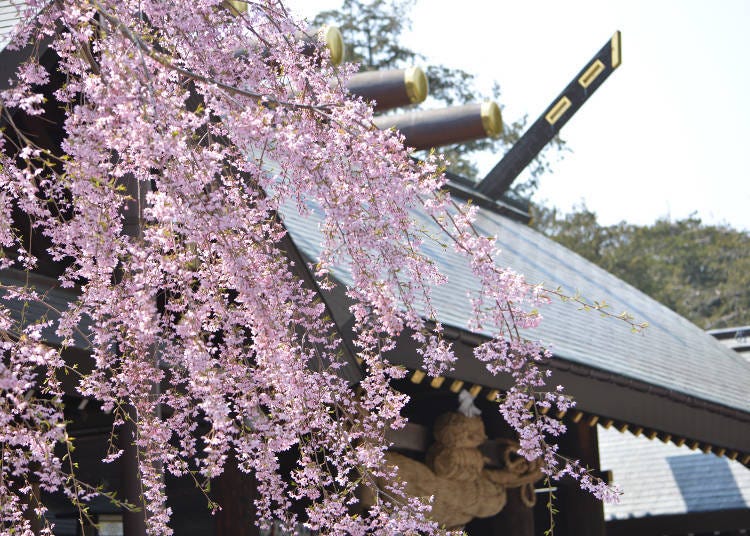 The cherry blossoms at Hokkaido Shrine next to Maruyama Park are also exceptional. In addition, you can also find a plum forest in Hokkaido Shrine. In several parts of Honshu, plum blooms from February to April while cherry trees blossom from March to April.

However, in Sapporo, plums and cherry blossoms bloom at the same time. In other words, Hokkaido Shrine is a place where you can enjoy both trees at the same time.
Address

Miyagaoka, Chuo-ku, Sapporo-shi, Hokkaido, 064-0959
View Map

Nearest Station

Maruyama koen Station (Tozai Line)
5 minutes on foot


Phone Number

011-621-0453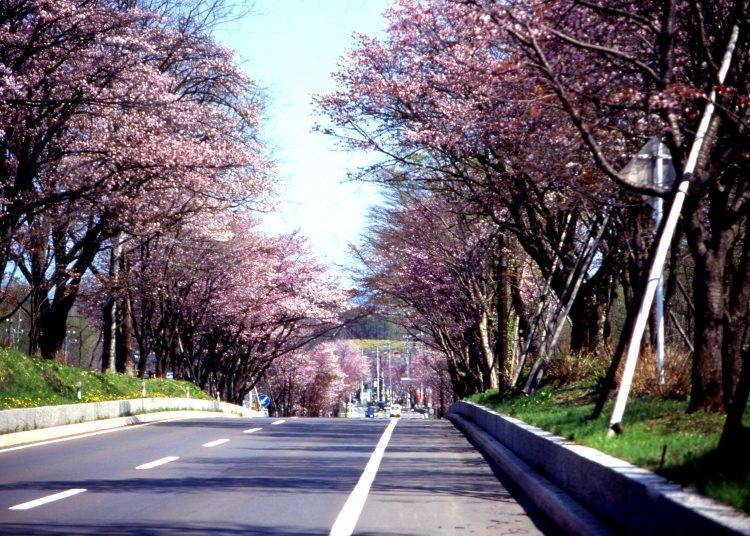 5. Noboribetsu Cherry Trees (Central Hokkaido): A place that transforms into a flower tunnel
This is a row of cherry blossom trees en route to Noboribetsu Hot Spring from the Noboribetsu Station, which about an hour's drive from the New Chitose Airport.

In commemoration of the birth of the Crown Prince (and former Emperor) at that time in 1934, Sargent cherry trees were planted by citizens, whose entire length spans across 2 kilometers. These cherries bloom from early to mid-May and are widely known among the locals as a cherry blossom tunnel.

Noboribetsu is a famous hot spring area. It also has many tourist spots such as the hot spring spa, the Noboribetsu Jigokudani, which is an old crater formed by eruptions, and the natural footbath that you can enjoy while strolling through the woods.
登別桜並木

Address

Nakanoboribetsucho, Noboribetsu Shi, Hokkaido 〒059-0463

Phone number 0143-84-3311 (Noboribetsu International Tourism and Convention Association)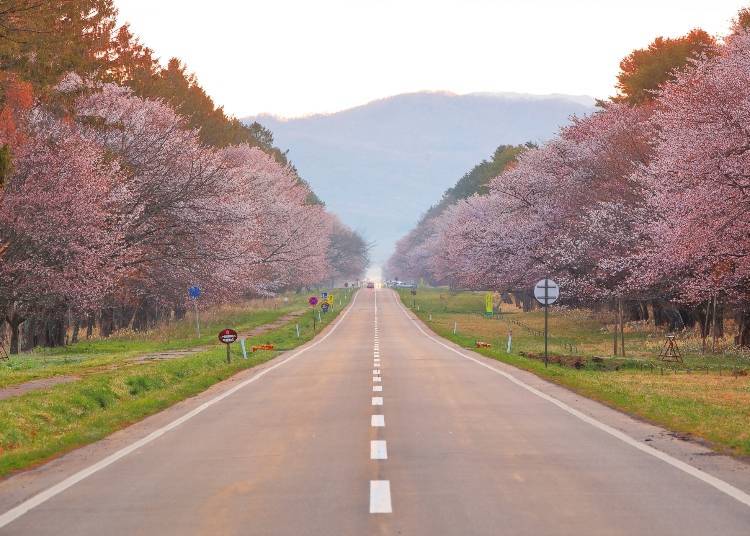 6. Nijūkken Road Cherry Blossoms (Central Hokkaido): The largest in Japan!
The Nijūkken Road Sakura Namiki is located in Shinhidaka Town, about an hour and a half drive from New Chitose Airport. This is a 7-kilometer beautiful row of approximately 2,200 cherry blossom trees.

This road was originally built as a road for the royal family to visit the Imperial Farm (currently the Imperial Household Agency) of the Imperial Household in the area. In 1916, when Sargent cherries were transplanted from neighboring mountains, the road width was about 20 ken or 36 meters. Hence the name Nijūkken Road.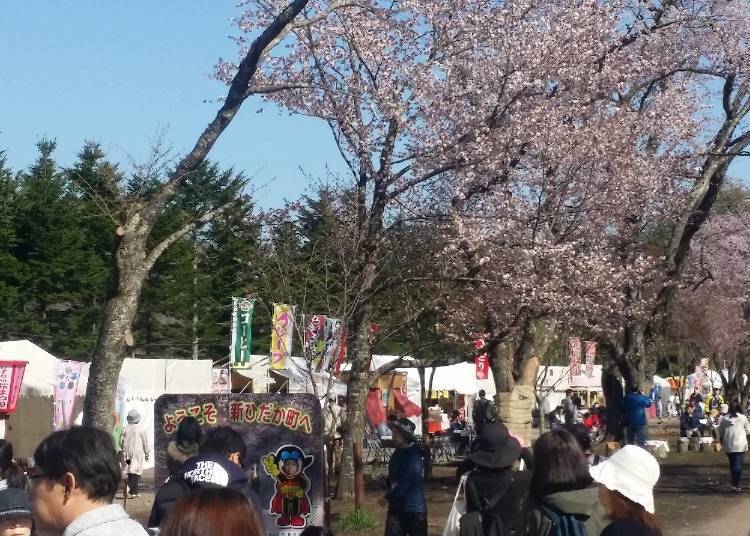 Source: Shinhidaka Tourist Information Center
Many tourists from all over the country go to famous places featured in "The 100 Best Roads in Japan", "Top 100 Cherry Blossom Viewing Sites", and "Hokkaido Heritage".

The Shizunai Cherry Blossom Festival is held from the beginning of May to the middle of the flowering season where souvenirs are sold. In addition, "Ryuunkaku" is open to the public for a limited time during the Sakura Festival, and valuable national treasures will be displayed here.
Address

Shizunaitahara, Shinhidaka-cho, Hidaka-gun, Hokkaido - Shizunaimisono, 056-0144
View Map

Nearest Station

Shizunai Station (Hidaka Main Line)


Phone Number

0146-42-1000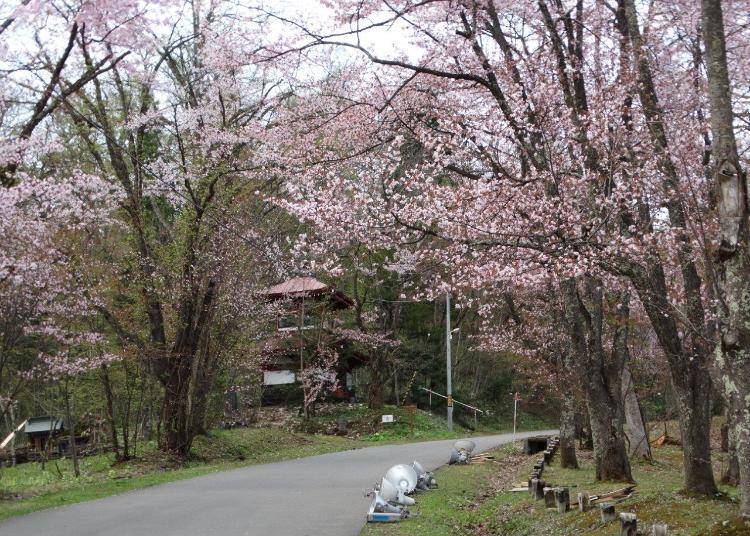 7. Asahiyama Park (Northern Hokkaido): The marvelous sight of the 3,500 Sargent cherry trees
Normally, the Cherry Blossom Front lands on Northern Hokkaido in early May. Asahiyama Park is located north of Asahiyama City and nestled at the foot of Mt. Asahiyama 295 meters above sea level.

About 3,500 Sargent cherry trees, Korean hill cherry trees, Chishima cherry trees, etc. are in full bloom from early to mid-May. During this time, stalls are set up and the park is visited by droves of people.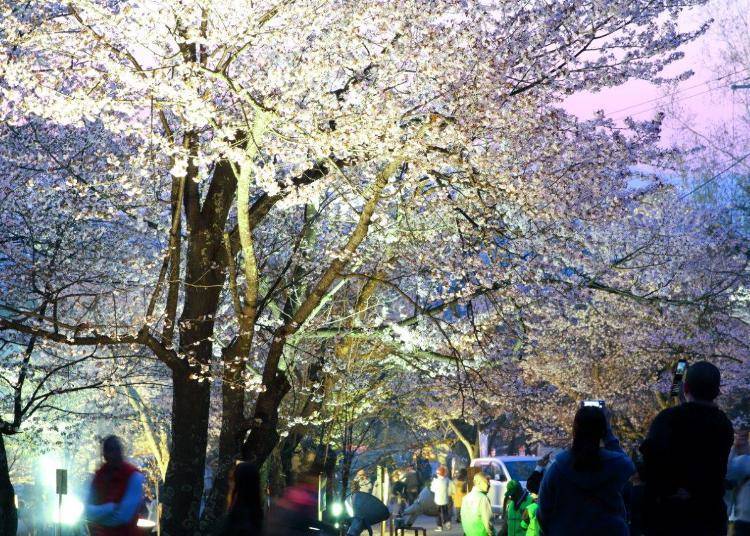 Held at the same time, the Night Cherry Blossom Festival features beautiful trees adorned with lights. This festival allows you to enjoy cherry blossoms in a different atmosphere from the daytime. This park is also recommended for families as it is adjacent to the Asahiyama Zoo.
旭山公園

Address

Higashiasahikawacho Kuranuma, Asahikawa Shi, Hokkaido 〒078-8205

TEL No.: 0166-52-1934 (Asahikawa City Kōen Ryokuchi Association)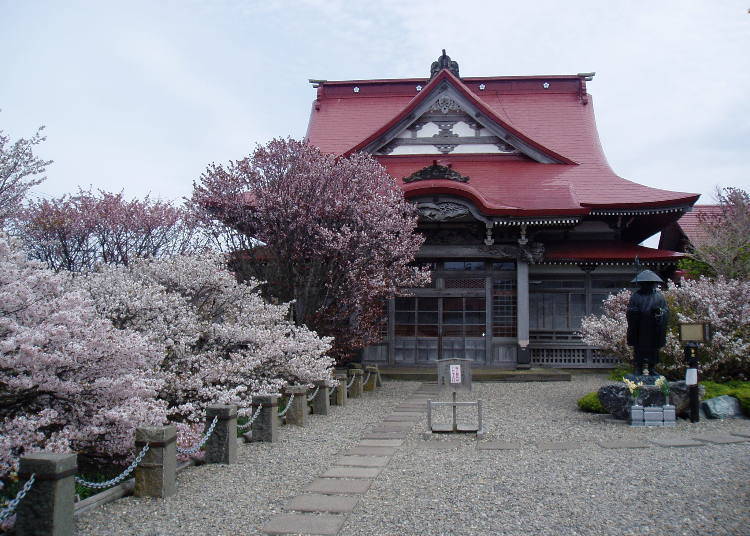 Source: Nemuro Information Center
8. Seiryuji Temple (Eastern Hokkaido): A popular spot for late-blooming cherry blossoms
Seiryuji Temple is a famous Hokkaido cherry blossoms spot on the Cherry Blossom Front. It is located in Nemuro City in eastern Hokkaido. The best time for flower-viewing here is from mid-May to early June when cherry blossoms, such as Chishima cherries and sargent cherries are in bloom.

Chishima cherry trees were transplanted to Nemuro City from Kunigo Island in 1902 (at that time, it was called Kunashiri cherry tree, and it was transplanted within the vicinity of Seiyuji Temple in 1890. It is said that many of the Chishima cherry trees in Hokkaido came from Seiryuji Temple. The Chishima cherry tree is short and has branches from its roots. You can enjoy the scent of the flowers more since these bloom at a low location.
清隆寺

Address

2-2, Matsumotocho, Nemuro Shi, Hokkaido 〒087-0044

TEL No.: 0153-24-3104 (Nemuro Information Center)
Jingisukan: A Hokkaido cherry blossom tradition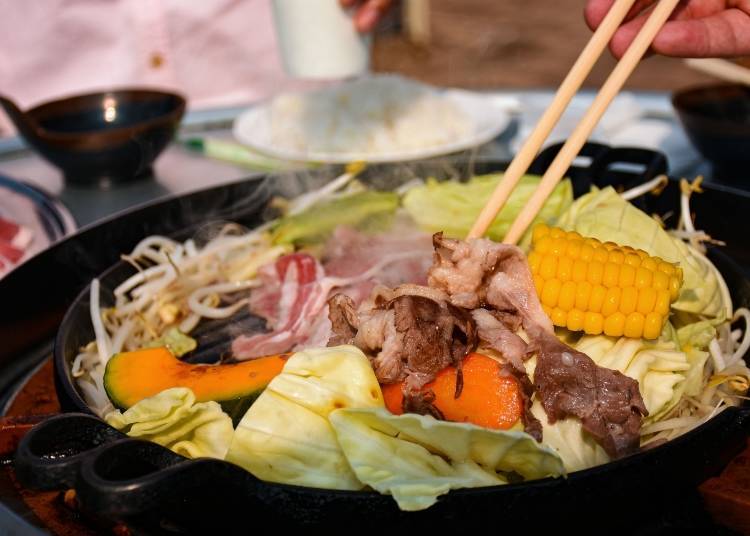 It goes without saying that people in Hokkaido love cherry blossom viewing. When these trees bloom in the locality, it has already become a tradition to prepare charcoal fire and meat instead of bento or lunch boxes and start making Jingisukan, or Mongolian barbecue.
Text by: Minanokotobasha
*This information is from the time of this article's publication.
*Prices and options mentioned are subject to change.
*Unless stated otherwise, all prices include tax.