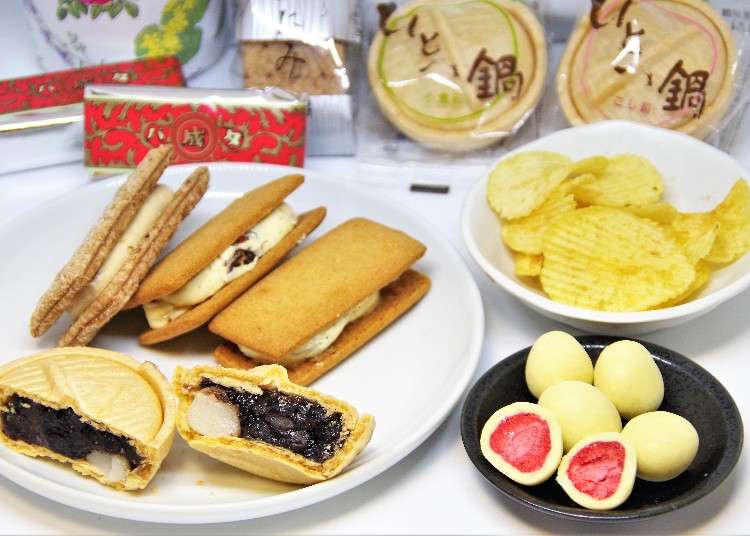 When it comes to confectionery souvenir brands from Hokkaido, Rokkatei stands out amongst the rest. With a wide variety of Western and Japanese sweets, its signature product is the Marseille Butter Sandwich, often found in souvenir shops all throughout Hokkaido.

Some shops even sell them in bulk, making them easy to buy as souvenirs or snacks. In this article, Nobuka Kawashima, a seasoned travel creator with extensive knowledge of Hokkaido travel, samples a selection of Rokkatei confections to curate a top-five list of recommendations.

From classic sweets to limited-edition rarities, these are souvenirs you won't want to overlook!
Travel Professional Nobuka Kawashima has visited every city, town, and village in Hokkaido!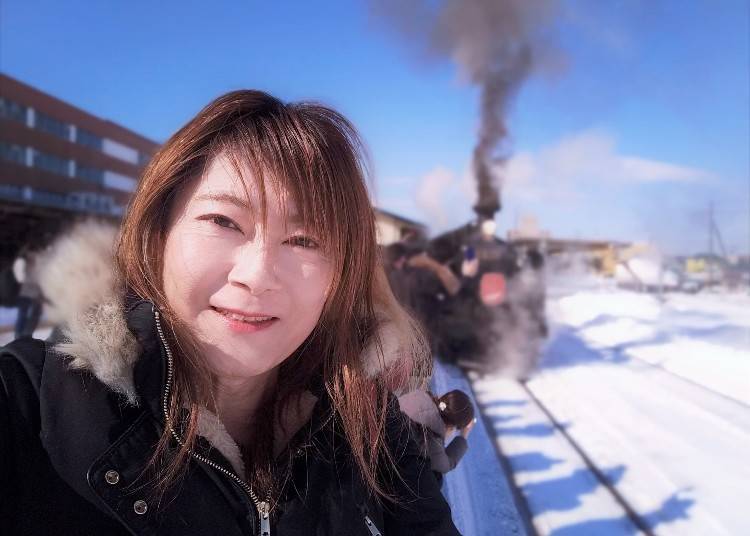 Nobuka Kawashima covers the SL Fuyu-no-Shitsugen Winter Train
Nobuka Kawashima is a travel creator based in Sapporo, Hokkaido, Japan. She has worked as a reporter, photographer, writer, and editor on Hokkaido-related travel and gourmet articles for Live Japan, as well as a number of other tourism websites and travel magazines, since 2009. She has worked on over 1,000 articles, and is a true professional in the world of travel blogging.

She also boasts the title, 'Hokkaido Tourism Master,' awarded to Hokkaido tourism experts by the Hokkaido Chamber of Commerce and Industry, as well as national qualifications as a 'Domestic Travel Service Supervisor,' allowing her to conduct tours in Japan. On top of that, she's also visited each and every one of the 179 cities, towns, and villages of Hokkaido in her own spare time, making her a true travel connoisseur of the region with her extensive first-hand knowledge.
Rokkatei: A Popular Confectionery Shop Featuring Japanese and Western Sweets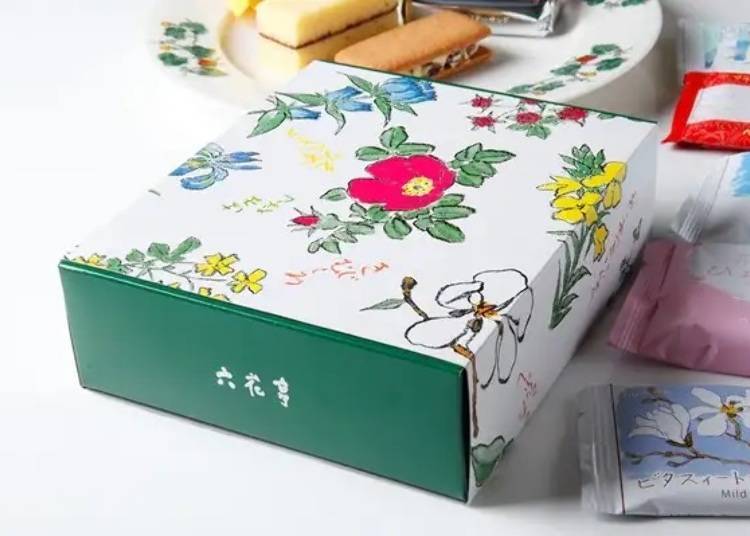 Rokkatei is famous for its flower-patterned wrapping. These wildflowers of Hokkaido were painted by famous Japanese artist, Naoyuki Sakamoto.
Rokkatei is headquartered in Obihiro City, Hokkaido. This sweets manufacturer is so renowned, if you ask anyone in Hokkaido to recommend some sweets as souvenirs, hands down, the majority will likely name Rokkatei amongst their options.

Rokkatei has many directly managed stores in the Obihiro and Sapporo area, as well as in Kushiro, Hakodate, Asahikawa, and Furano, amongst others. Its signature product, Marseille Butter Sandwich, is sold at nearly every souvenir shop in New Chitose Airport, as well as other locations in Hokkaido. Anyone visiting Hokkaido and looking for Rokkatei products is bound to have no difficulties getting their hands on them!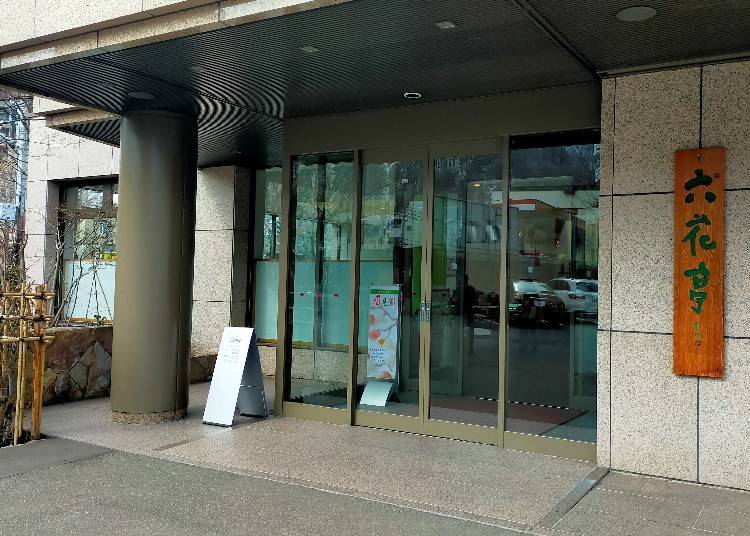 Many of the directly-operated shops are suburban, street-level stores, complete with parking lots, making it easy to stop by in the middle of a long drive!
Originally, Rokkatei was a Japanese-style confectionery shop that started in 1933 under the name of Obihiro Senshuan. The name was later changed to Rokkatei, which expanded over the years to include a lineup of western-style confections, such as the Marseille Butter Sandwich in 1977.

Today, Rokkatei produces and sells all kinds of Japanese and Western treats made with Hokkaido ingredients such as local milk and azuki beans.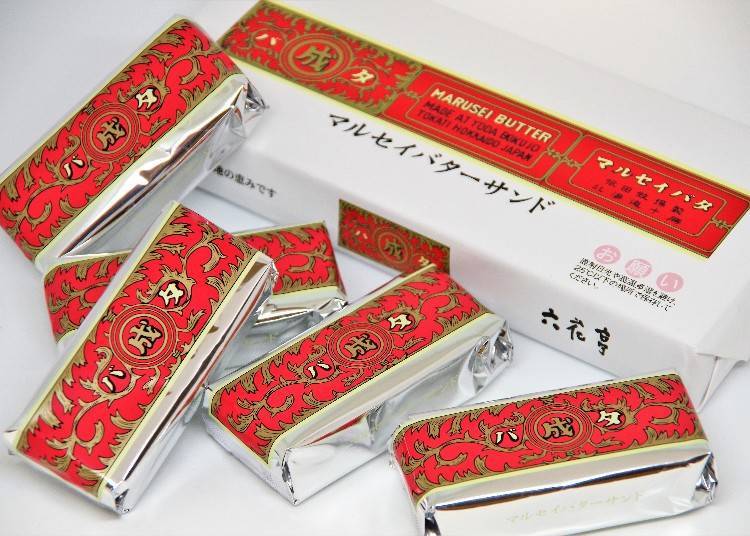 Rokkatei's signature product, Marseille Butter Sandwich. Available in boxes and in bulk.
Rokkatei's directly-managed stores and department store shops offer a full lineup of boxed products, as well as individual items sold in bulk. Pick out your favorite individually-wrapped products in-store, and have it boxed up to create an original set of your choice.

Some sweets are only available at directly-managed outlets, so if you're looking for variety in your Rokkatei sweets selection, head to any of the locations found throughout Hokkaido.
Rokkatei's Top 5 Recommended Sweets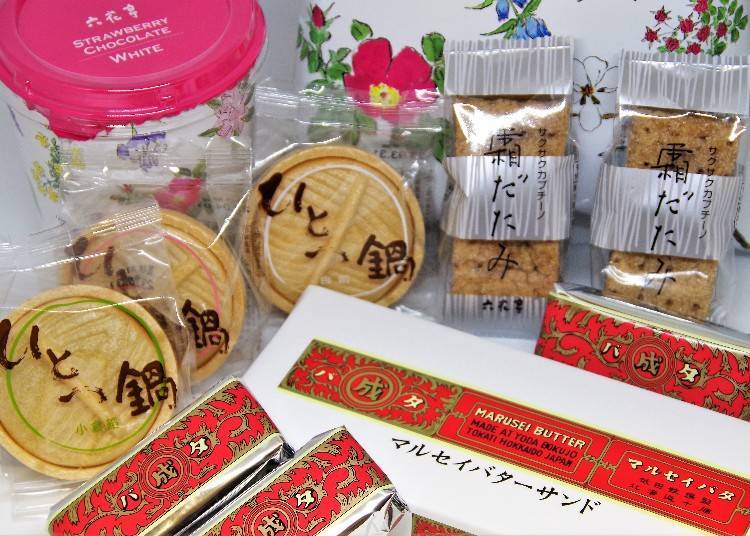 Rokkatei's Top 5 Recommended Souvenirs
Without further ado, here are five of the top recommendations among Rokkatei's many products. While the signature Marseille Butter Sandwich is already a given, the others are a mixed bag of Japanese and Western treats. From fan favorites to limited-edition delicacies, you'll be sure to find a treat to your liking!
1) Marseille Butter Sandwich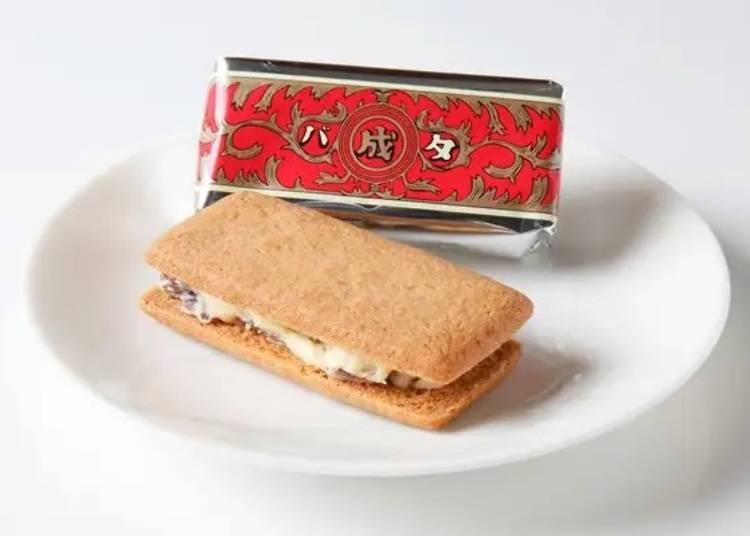 Marseille Butter Sandwich, the treat that Rokkatei is known and loved for!
Marseille Butter Sandwich is a delightful combination of white chocolate butter cream and raisins, sandwiched between two tasty cookies made with Rokkatei's exclusive brand of flour. As one of Hokkaido's most popular souvenirs over the past few years, it's no wonder that the Marseille Butter Sandwich has become a must-have souvenir for nearly every visitor to the region!

The key to its fantastic flavor is the delicious, melt-in-your-mouth cream, the mellow aroma, and the rich, buttery taste. The wine-infused raisins perfectly complement the cream, making it a wonderful accompaniment to coffee, tea, or even a glass of wine.

There's also a subtle difference in the biscuits' taste depending on when you enjoy them. Consume immediately after purchase for a satisfyingly crispy crunch, or several days later if you prefer your cookies soft. For a different experience, pop it into the fridge and enjoy it cold, for a firmer, more flavorful cream.

Crispy, moist, or firm, regardless of your preference, the Marseille Butter Sandwich is a delectable treat, no matter how you eat it! We recommend buying a few and trying them each way for yourself!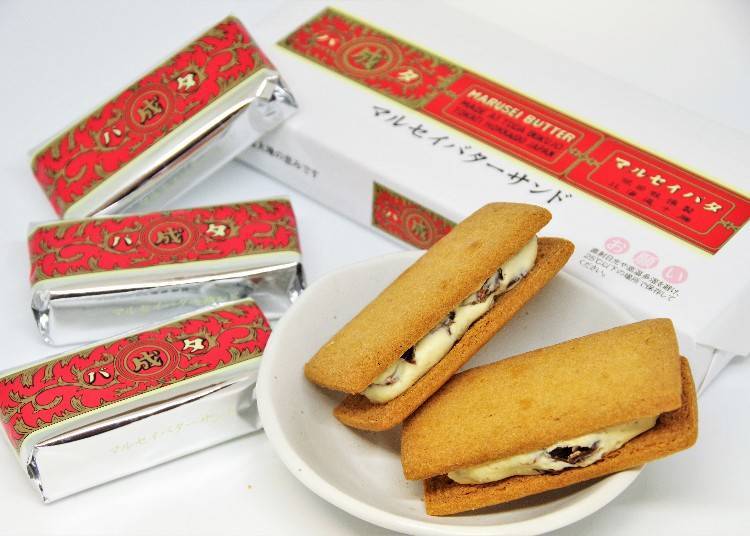 Each cookie is individually wrapped. The box in the photo contains 5 pieces.
Marseille Butter Sandwiches are available in sets of 4, 5, 10, and 16. At directly-managed stores, you can also buy them individually-wrapped, a convenient option for those wanting to snack on them during their trip. So grab a few favorites for yourself, and a 5- or 10-pack for your friends back home!

Incidentally, the product name Marseille Butter pays homage to the first butter cookie made by Banseisha, which pioneered the Tokachi region of Hokkaido. The product packaging itself is also a nod to the label design from back then. A long-selling product that embodies the history of Tokachi, it is indeed a must-buy souvenir!
2) Strawberry Chocolate White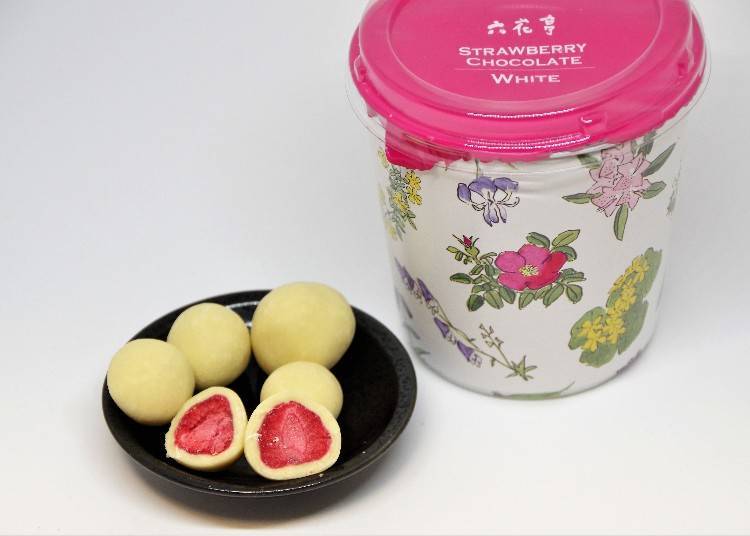 A chocolate candy featuring the taste of juicy strawberries!
Strawberry Chocolate White is another Rokkatei staple, featuring freeze-dried strawberries coated in delicious white chocolate. It's a harmonious combination of sweet white chocolate and tart dried strawberries – the perfect match! But beware: these are so addicting, after you taste one, you won't want to stop!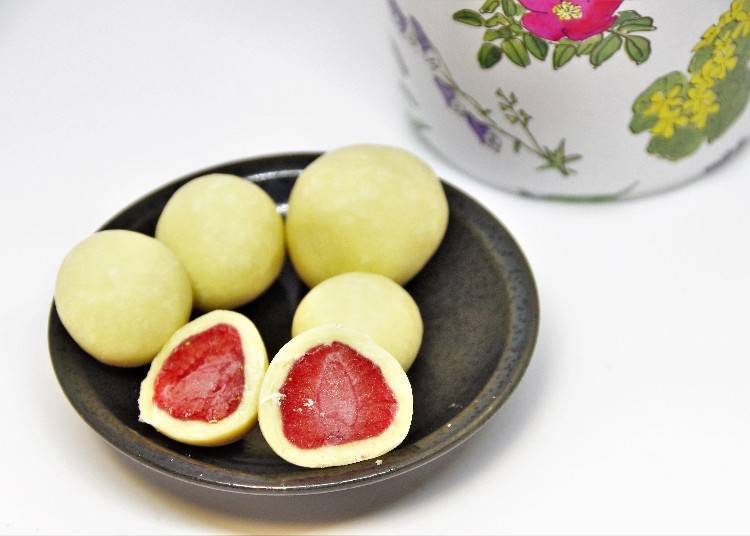 A captivating contrast between pure white chocolate and vibrant red strawberries make these quite the photogenic treat!
Shop visitors can choose from two package options: a 130g cylindrical container and a 60g bag. While individual pieces may vary in size depending on that of the strawberries, a 130g cup typically contains about 20 strawberries.

There's also Strawberry Chocolate Milk, the sister product of Strawberry Chocolate White, featuring freeze-dried strawberries enveloped in milk chocolate instead of white. Alongside Strawberry Chocolate White's pure white chocolate, the rich milk chocolate of the popular Strawberry Chocolate Milk presents an equally delectable option. Whether your preference is milk chocolate is white, the choice is yours to make!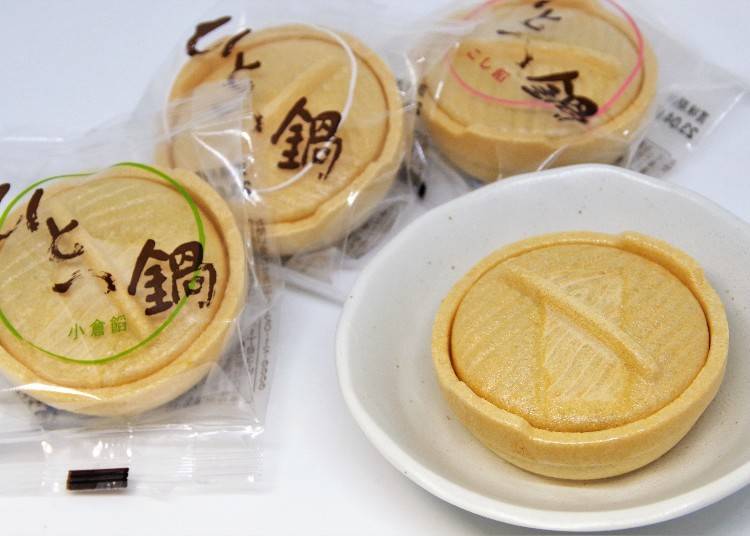 From the front left: Ogura-an, Shiro-an, and Koshi-an. The unwrapped treat in the lower right is Ogura-an.
Hitotsunabe is Rokkatei's signature wagashi, dating back to 1952. This monaka confection takes the shape of a 'nabe', or 'pot', with a delicate monaka crust tightly packed with sweet red bean paste, and two small rice cakes nestled inside.

Incidentally, monaka is a traditional Japanese treat consisting of a thin baked crust made of glutinous rice flour, and red bean filling. "An", also known as "anko," is made with simmered, mashed beans – such as azuki and kidney beans – and combined with sugar and other ingredients for that sweet, distinctive flavor of Japanese wagashi.
White mochi in red bean paste filling
Rokkatei's Hitotsunabe are available in three flavors: Ogura-an, Koshi-an, and Shiro-an. Ogura-an is characterized by the texture of the azuki beans, offering a chewier, more robust bean paste in comparison to the other two. Koshi-an, like Ogura-an, is made from azuki beans, but delivers a smooth, melt-in-your-mouth treat with a less distinct texture. The white bean paste inside the Shiro-an is made from tebo or daifuku beans (a type of kidney bean), and shares the same smooth consistency as Koshi-an.

Each bean paste carries its own satisfying sweetness, with a crispy but chewy crust that pairs exquisitely well with the moderately-sweet red bean paste. With mochi hidden inside the bean paste, despite being small enough to fit in the palm of your hand, this delicacy is nonetheless a filling treat!

The standard package is a box set of 6 or 12 individually wrapped sweets of three different varieties. Some shops and directly managed stores also sell them by the piece. Regardless of your preferred type of bean paste, there's sure to be the perfect one for you. So be sure to try them all and find your favorite one!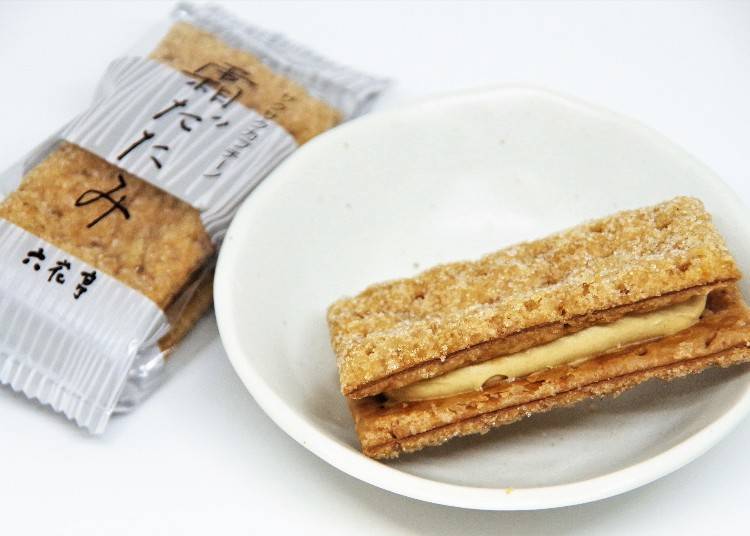 The name 'Frost Datami' comes from the first frost in early winter, which is now embodied in the form of a pastry!
Frost Datami is a baked pastry consisting of mocha white chocolate cream sandwiched between two chocolate-flavored pies. Aptly titled 'Crunchy Cappuccino', this treat is characterized by its surprisingly crispy chocolate pie, complemented by a bitter mocha cream with a subtle touch of sweetness.

The delicate pie crust is crispy, crumbling with each bite. This crumbly goodness goes well with the moderately firm filling for a pleasantly moist texture. The fusion of rich chocolate and the hint of bitter mocha create a delightful balance of flavors, making it the perfect pastry for coffee enthusiasts! Typically sold in boxes of four or five, Frost Datami can also be found in bulk at directly-managed stores. So go ahead and indulge in this crisp, mocha-inspired delight!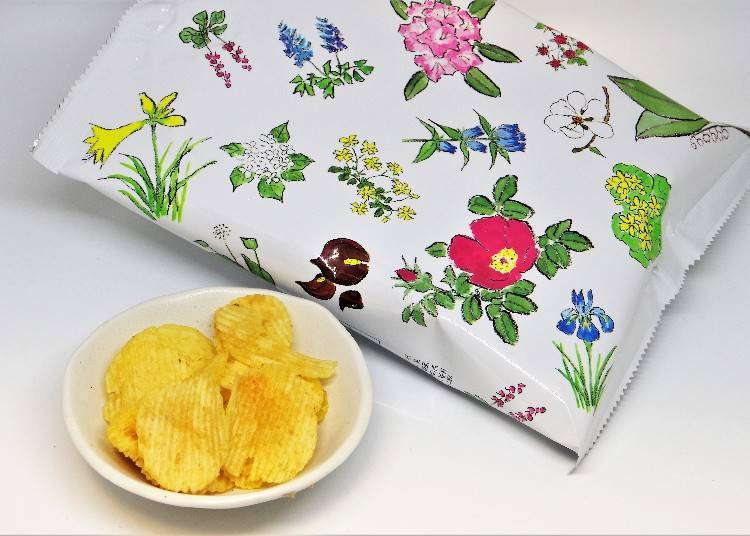 Although an exceptionally rare find, these chips have secretly captured the hearts of Rokkatei fans!
Rokkatei Potato Chips are quite the rare find, absent from most general souvenir stores in Japan and online shops. These elusive goodies can only be found at directly-managed Rokkatei stores!

Further adding to their elusiveness, not even the front of the bag itself offers any sort of clue that there are Potato Chips inside! The only clue is a discreetly placed note on the back of the bag, right beside the ingredients list and the calorie count. Unless the shop itself happens to have a sign up announcing their availability, seekers may be hard-pressed to discern them from any other treat with their adorable flower-patterned packaging. These rare Potato Chips are a hidden gem of Rokkatei, known only to a select few!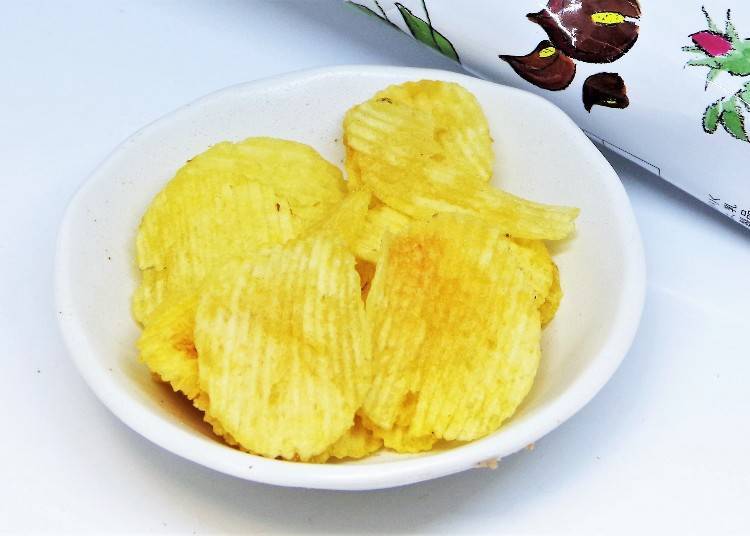 Relatively thick slices, cut into strips.
Rokkatei's potato chips are lightly salted, allowing the natural flavor of the potatoes to shine through. The only ingredients for this snack are Japanese potatoes, rice oil, and salt! The potato chips are thick and break easily, but their lightness makes them a convenient souvenir option. They're a great gift of extraordinary rarity sure to delight any receiver, so be sure to keep an eye out any time you happen to stop by a Rokkatei directly-managed store!

In addition to these five favorites featured here today, Rokkatei offers a wide variety of sweets, from classic Hokkaido souvenirs to unusual finds. Some shops even offer bulk buys, which is a great option for Rokkatei fans. Hokkaido boasts quite a diverse selection of superior souvenir sweets, so it may be challenging to choose the right ones. However, Rokkatei offers such a wonderful array of both Western and Japanese goodies, visitors are sure to find something suited to their tastes. If you're visiting Hokkaido this year and are in need of the perfect souvenir snack, then look no further than Rokkatei sweets!

Text by: Nobuka Kawashima

*Information in article as of May 2023. Please see official website for the latest updates and information.

English translation by: Krys Suzuki
*This information is from the time of this article's publication.
*Prices and options mentioned are subject to change.
*Unless stated otherwise, all prices include tax.
Limited time offer: 10% discount coupons available now!