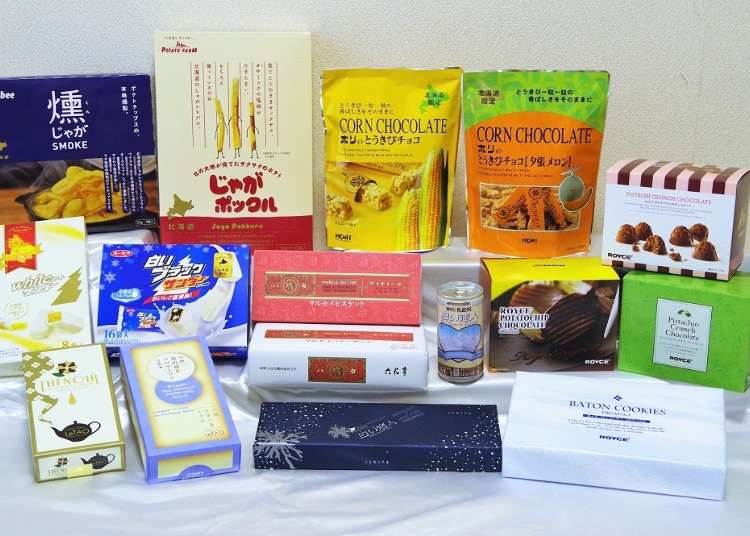 When traveling in Hokkaido, what kind of souvenirs can you get? Well, there is so much to choose from!

You'll be spoilt for choice, from the famous Shiroi Koibito sweet snacks to Jaga Pokkuru potato chips.

We visited Tanukiya, a long-established souvenir shop on Tanukikoji Shopping Street in Sapporo City, where we found out about "Classic sweets and secret snacks that have been gaining popularity!"

We'll look at eight recommended Hokkaido snack souvenirs that have been rising in popularity.
Tanukiya - with its long history - tells us all about Sapporo snacks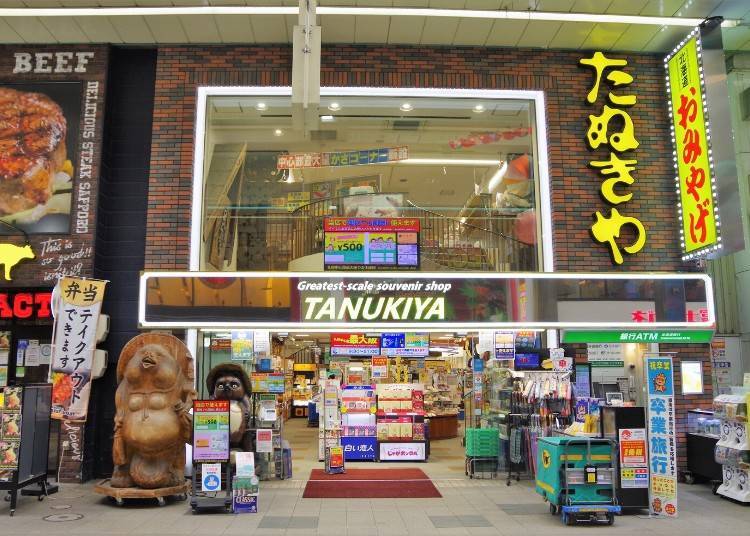 Find Tanukiya by looking for its symbolic Tanuki (raccoon dog) statue out front
We visited Tanukiya, a souvenir shop founded in 1916, to hear about their snacks.

Located in Sapporo's best shopping district, Tanukikoji Shopping Street is lined with restaurants and various shops.

It is about a 3-minute walk from Susukino, the largest shopping district in northern Japan, and a 5-minute walk from Odori and Susukino stations on the subway lines.

There's no shortage of hotels and accommodation options around, so it's a great place to explore and shop during a Hokkaido trip.

Credit cards are accepted here, and a duty-free service is available.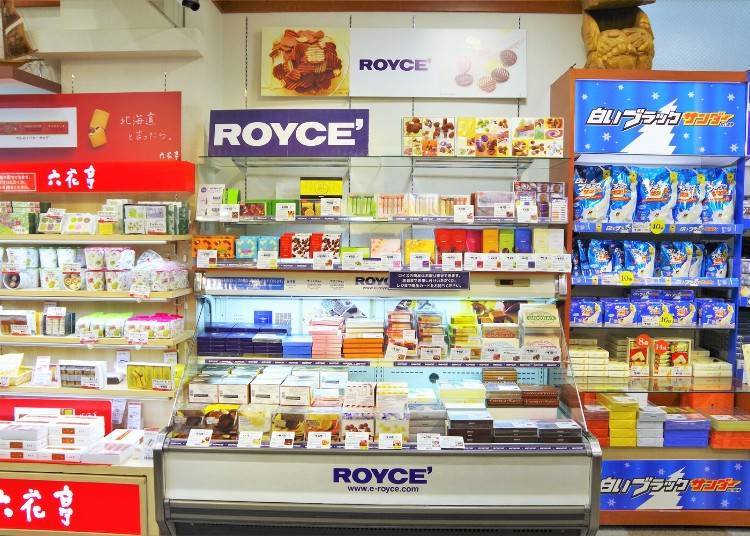 Popular confectioners (from the left) Rokkatei, Royce', and Yuraku
The great thing about souvenir hunting at a general souvenir shop like Tanukiya is that you can compare and peruse different brands.

If you go to the brands directly, of course, they won't sell their competitor's items, so you end up having to go to multiple spots to compare and see which brand you want to buy.

But with a general store like this, you can see all of the brands side by side and easily make an informed decision without running around town.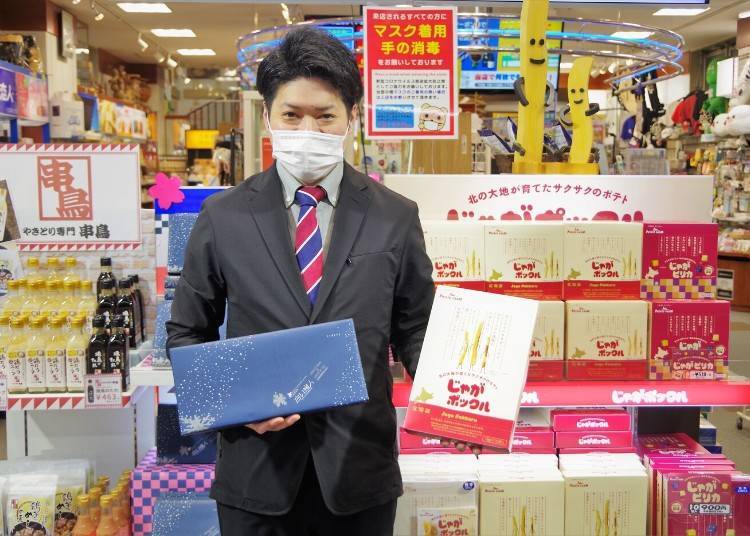 The man of the hour, Takahashi-san from Tanukiya
Takahashi was kind enough to tell us all about the delicious treats you can find at Tanukiya, from the famous classic souvenirs, right down to his recommendations for seasoned travelers.

Here we'll look at eight products across seven different brands, along with a taste test of each.
1. Shiroi Koibito Chocolate Drink - ISHIYA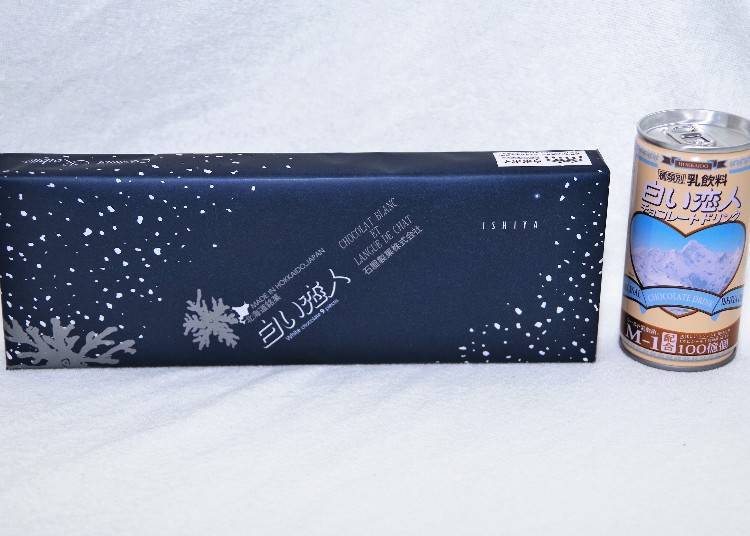 Shiroi Koibito biscuits (left, 648 yen, 9 pc.) and Shiroi Koibito Chocolate Drink (right, 237 yen, 190ml)
ISHIYA's "Shiroi Koibito" is a classic Hokkaido souvenir that most people who travel to Hokkaido end up buying. If you've already tried Shiroi Koibito's biscuits, why not try a drink with the signature Shiroi Koibito taste?

First up on our list of recommendations is the Shiroi Koibito Chocolate Drink that uses the same milk chocolate you find in the Shiroi Koibito sandwich cookies.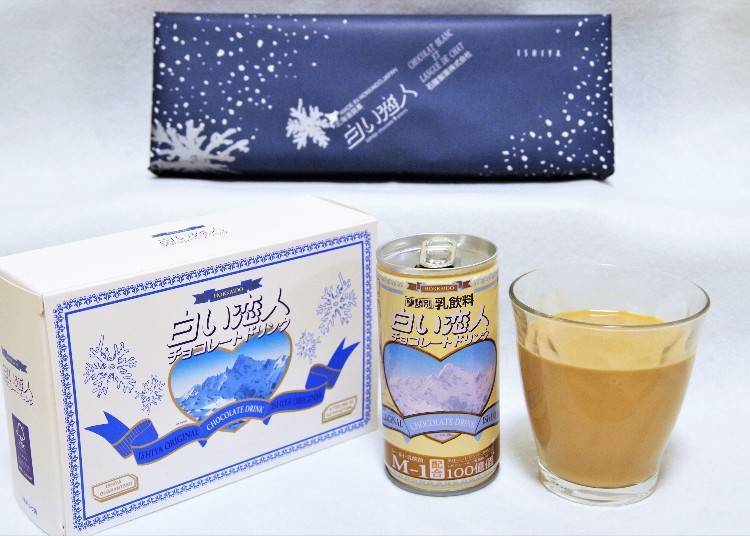 The Shiroi Koibito Chocolate Drink is also available in a box of three (bottom left, 711 yen). This is what it looks like in a glass (right)
Even though you might expect a chocolate drink to feel heavy or thick, this one is actually velvety smooth. The soft aroma of cocoa drifts up to your nose, and the drink has a well-rounded and mellow taste.

It has a rich milk flavor with just the right amount of sweetness, making it very easy to drink. As a cold drink, it has a refreshing sweetness, and warmed up, it's just like hot cocoa.
2. Kun Jaga "Smoke" - Calbee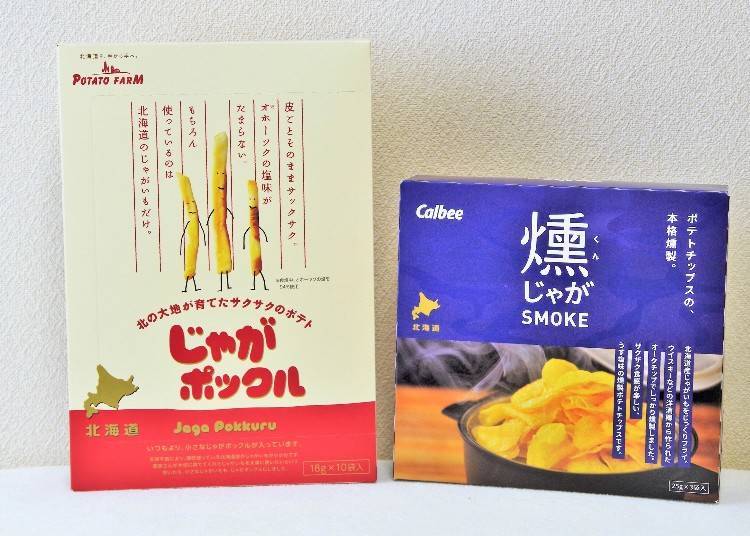 Jaga Pokkuru (left, 885 yen) and Kun Jaga "Smoke" (right, 540 yen)
When looking for Hokkaido souvenir snacks, Calbee's "Jaga Pokkuru" is a classic, but recently the "Kun Jaga Smoke" has quickly gained popularity.

"Kun Jaga" (literally "smoked potatoes") are lightly salted smoked potato chips, made of course from Hokkaido potatoes. This is a new and exciting type of potato chip, which is carefully smoked with oak chips made from whisky barrels.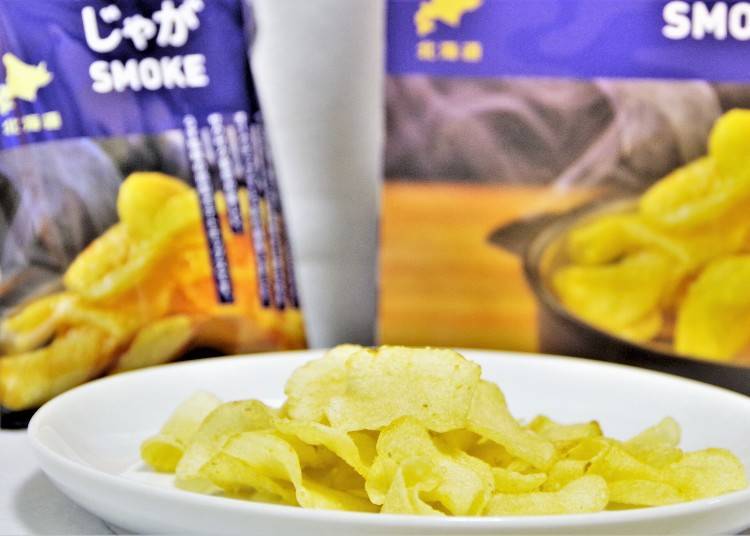 Kun Jaga "Smoke" contains three packets in a box. Packets are also sold separately for 180 yen per pack.
As soon as you open up the bag of chips, a delicious smokey aroma wafts toward you. What a mouthwatering smell!

Each one is small but a little thick, giving you that perfect bite-sized crunch. The smokey aroma fills your nose and mouth as you eat, leaving you feeling pleasantly satisfied. What a great snack! This would definitely go well with alcohol.
3. Baton Cookies (Fromage, 25 pc.) - Royce'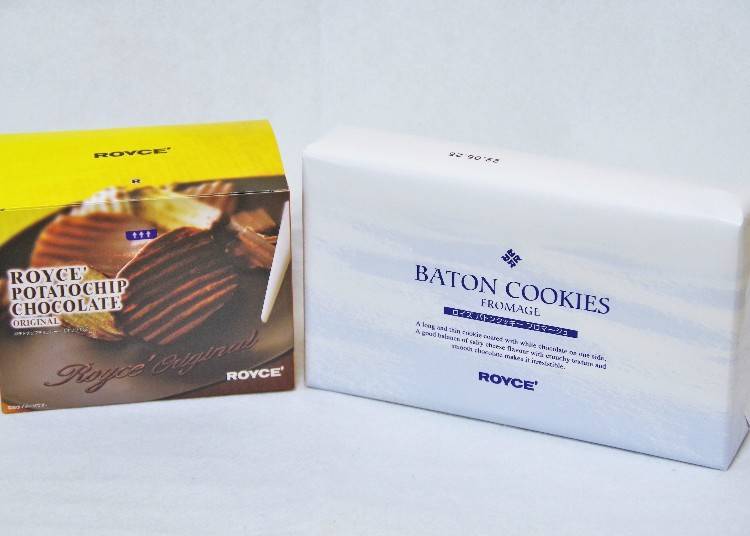 "Potato Chip Chocolate" (left, 778 yen) and "Baton Cookies" (Fromage, 25 pc.) (right, 832 yen)
Royce' is well known for its delicious treats that perfectly combine sweet and salty, like their "Potato Chip Chocolate," "Nama Chocolate," and "Potechi Crunch Chocolate."

Today, we're looking at their Baton Cookies, which are a great souvenir for the workplace when you want to hand something out to a large group. There are 25 pieces in a box!

And, of course, they're super tasty. There are a few different flavors, but Takahashi from Tanukiya highly recommends the "Fromage" flavor.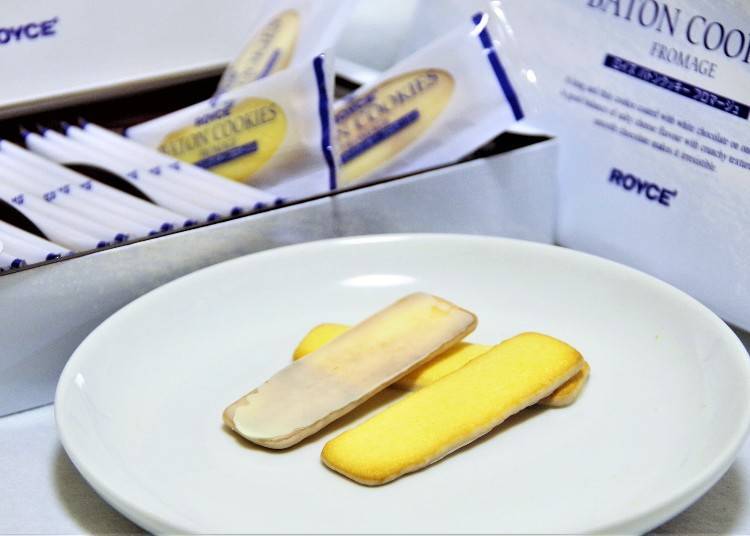 Thin, crispy cookies with white chocolate coating one side
Bask in the savory cheese flavors from these cookies made with Hokkaido Parmesan and Gouda. The pleasant saltiness and light acidity of the cheese are intertwined with the milky sweetness of the white chocolate, giving it a very mellow taste.

Your friends will surely be happy to receive this as a gift! It is a culinary masterpiece that you'll want to eat every day.
4. Pistachio Crunch Chocolate - Royce'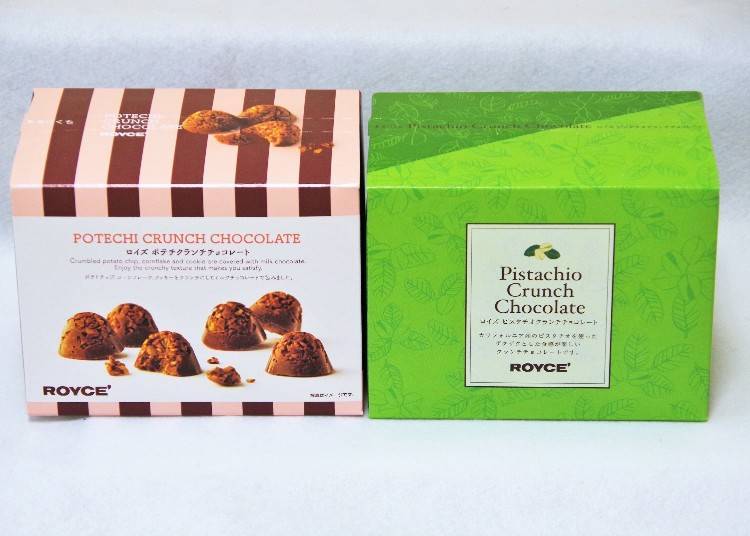 Potechi Crunch Chocolate (left, 778 yen) and Pistachio Crunch Chocolate (right, 864yen)
We have one more recommendation from Royce'. Evolved from their "Potechi Crunch Chocolate," a chocolate treat with little bits of crunchy potato chip, comes "Pistachio Crunch Chocolate."

These chocolate treats combine milk chocolate, pistachio pieces and paste, cookie, and almond puffs, making an irresistible treat for pistachio lovers.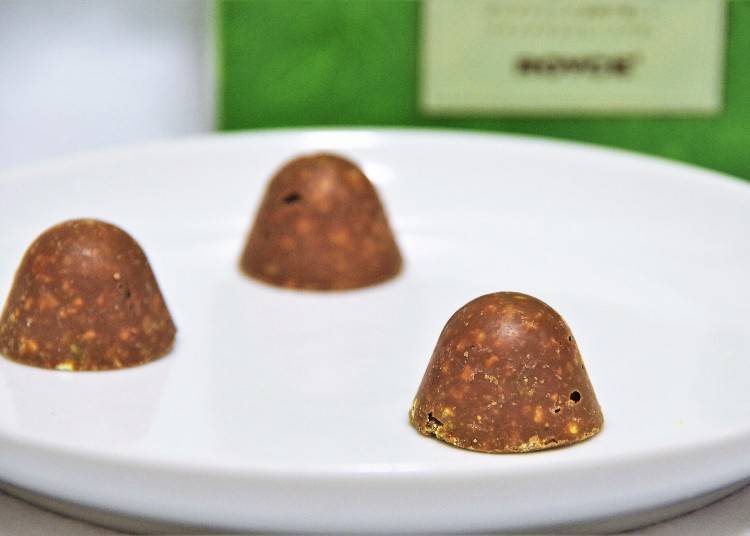 The chocolate is full of crushed California pistachio pieces
The crunchy, nutty texture makes this a memorable treat. The sweetness isn't overwhelming, and the fragrances and flavors of pistachio fill your mouth the moment you take a bite. They're bite-sized chocolates, and come packaged individually in a cute box. They're just the right size for a light coffee break.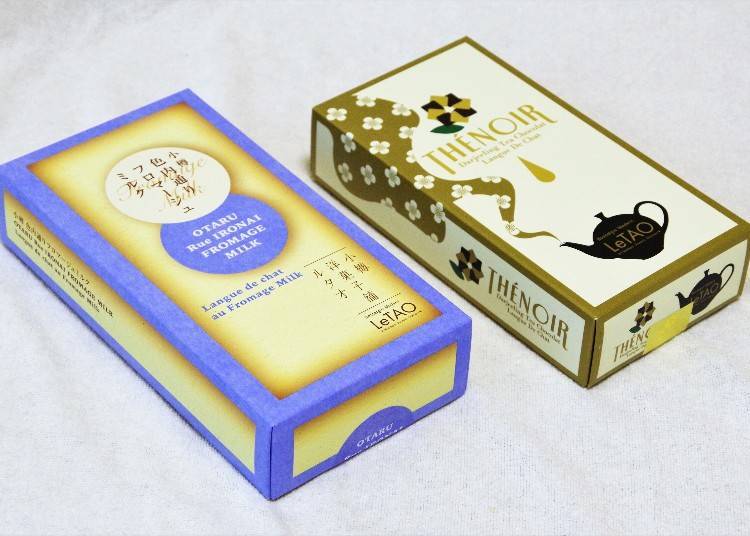 "Otaru Rue Ironai Fromage Milk" (left, 918 yen, 10 pc.) and "Thé Noir" (right, 972 yen, 9 pc.)
For something from LeTAO, Thé Noir is the top recommendation. This chocolate langue de chat cookie is flavored with the striking aromas of Darjeeling tea. LeTAO is famous for its "Fromage Double," a delicious soft cheesecake.

The mascarpone cheese used in the "Fromage Double" is used for the cookie dough in the "Otaru Rue Ironai Fromage" and the limited edition "Otaru Rue Ironai Fromage Milk," making them popular choices.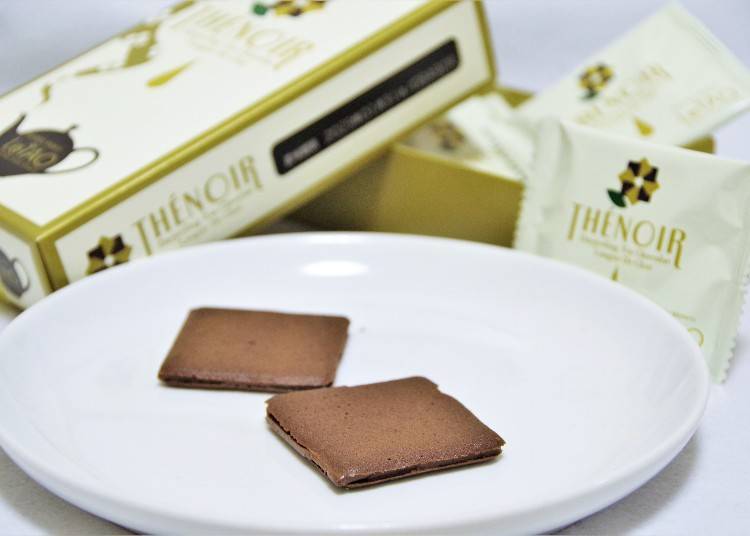 Per box you can get 9 pieces, 16 pieces, or 24 pieces. (Tanukiya only sells boxes of 9)
One bite of Thé Noir and your mouth will be filled with the delicious flavors of Darjeeling tea, with all the extravagance of a spring flower bursting into bloom.

The crisp, light texture of cocoa cookies along with the smoothness of Darjeeling-scented chocolate, is just exquisite! The pleasant and refined flavors will make you feel like this is the snack of royalty.

Of course, their "Fromage" flavored snacks are amazing too, but if this isn't your first time to Hokkaido, why not try something new?
6. Marusei Butter (Biscuit) - Rokkatei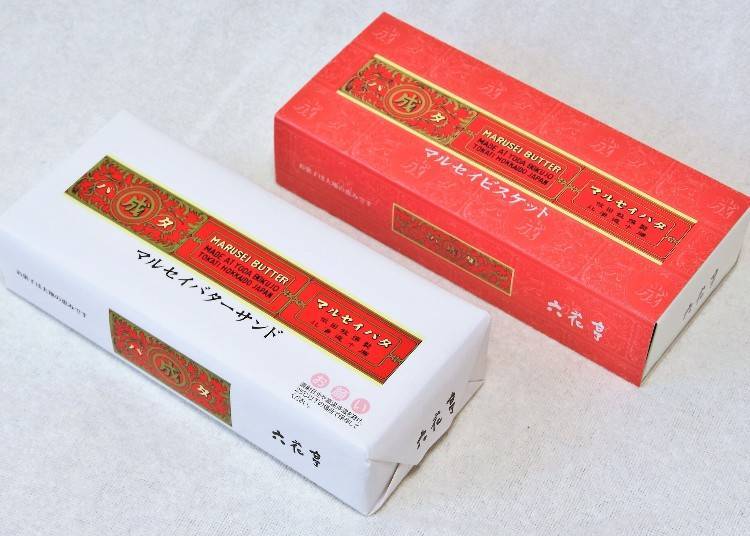 Marusei Butter Sandwich (left, 1,400 yen for 10 pc.) and Marusei Biscuit (right, 640 yen for 12 pc.)
Rokkatei is famous for its Marusei Butter Sandwich, a sandwich cookie with white chocolate, raisins, and buttercream.

But if you want a cookie without the cream filling, Marusei Biscuits might be for you. Marusei Biscuits are popular with those who don't like raisins or just want the cookie part.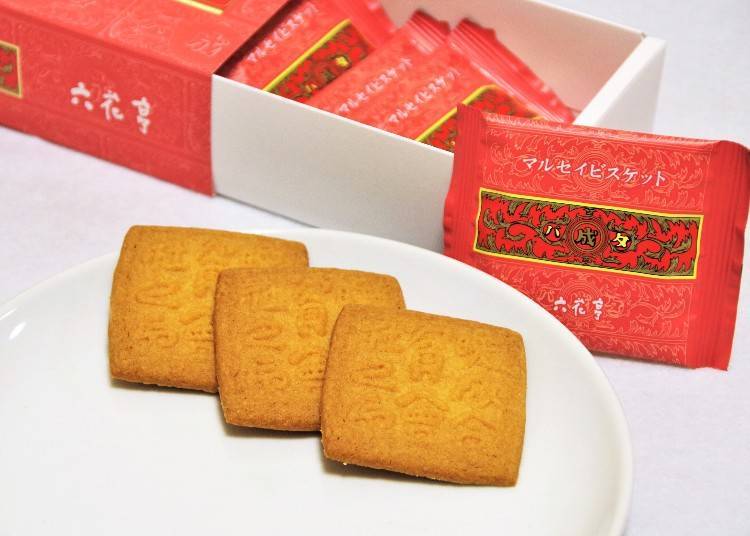 The imprint on the biscuits is the seal of the Banseisha company, where Rokkatei set up shop in the Tokachi region
As you bite into the crunchy cookie, the buttery flavors and aromas slowly fill your senses. Bask in the rich buttery flavors as they spread over your tongue.

These are great with tea or coffee, and you could even try spreading on a bit of cream or jam. Of course, try it out without anything extra first to enjoy the rich buttery flavors!
7. Corn Chocolate; Yubari Melon - HORI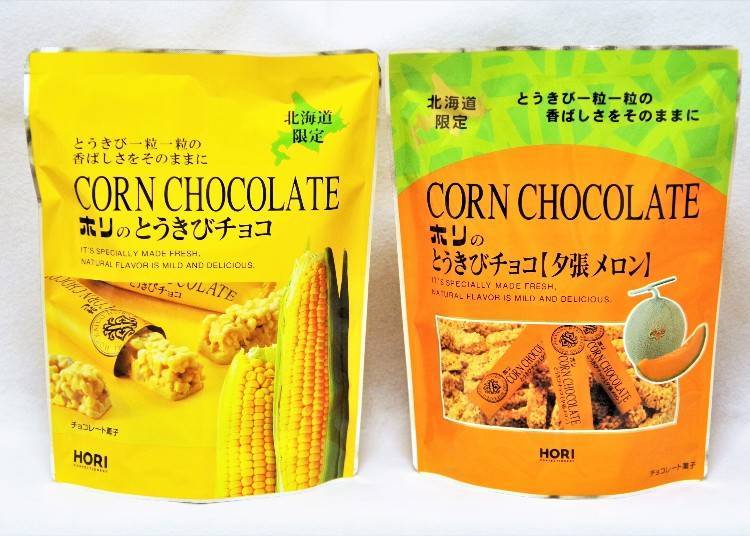 "Corn Chocolate" (left, 380 yen, 10 pc.) and "Corn Chocolate - Yubari Melon" (right, 380 yen, 10 pc.)
The "Corn Chocolate" from HORI is a crispy white chocolate and corn snack, made with "toukibi," which is the Hokkaido way of saying corn!

A few different flavors are available for the "Corn Chocolate," but a popular one among international travelers is Yubari Melon. Instead of white chocolate, the corn snack is coated in a Yubari Melon chocolate coating to make their "Corn Chocolate - Yubari Melon."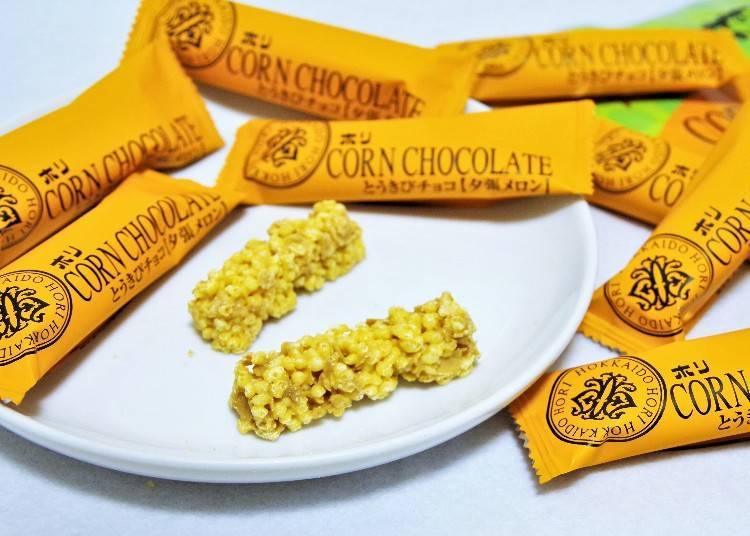 The snacks are about the size of a finger, so you can eat them in one or two bites.
When you take a bite, you'll immediately taste the distinct but mellow flavors of the Yubari Melon. As you bite further into the crunchy snack, you'll slowly start to taste the sweet flavors of the corn, too. The simple flavors of the gentle corn and juicy melon overlap to make a delightfully sweet snack. Such a beautiful pairing of flavors.
8. White Thunder - Yuraku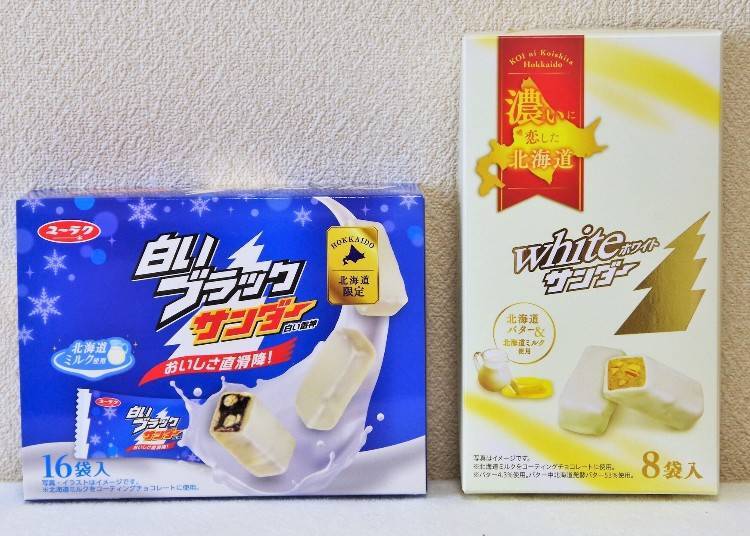 "White Black Thunder" (left, 669 yen, 16 pc.) and "White Thunder" (right, 702 yen, 8 pc.)
Yuraku's "White Black Thunder" is a Hokkaido-version of the much-loved "Black Thunder" sold all over Japan. This white chocolate-coated chocolate bar is a very popular Hokkaido souvenir for families and children.

Recently, in addition to the "White Black Thunder," the "White Thunder" sold exclusively in Hokkaido has been quickly gaining popularity! Its rich taste is causing quite a stir.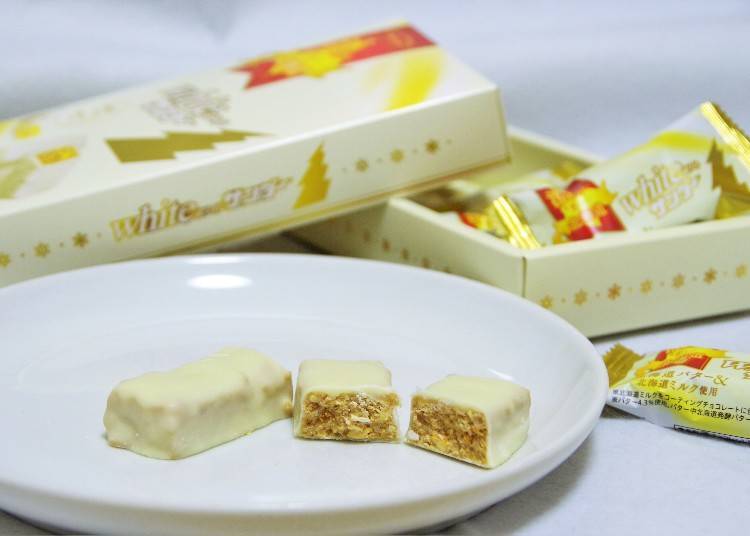 The bite-sized "White Thunder" As well as 8pc. bags, they are also sold in 14 pc. sets.
"White Thunder" is made with Hokkaido fermented butter for the biscuit base and has a white chocolate coating made with milk and cashew nuts. The rich flavors of the milk and butter are a taste sensation! The unusual texture that is somehow both light and moist is a nice touch. It has a crisp richness that seems like it would go well with coffee.
たぬきや

Address

Tanukikouji-4, Minami-3 Nishi-4, Chuo, Sapporo, Hokkaido 060-0063

Phone Number

011-221-0567

・Hours: 9:30a.m. - 9:30p.m.
・Closed: Irregularly
*Please note that opening hours and other factors are subject to change in response to COVID-19.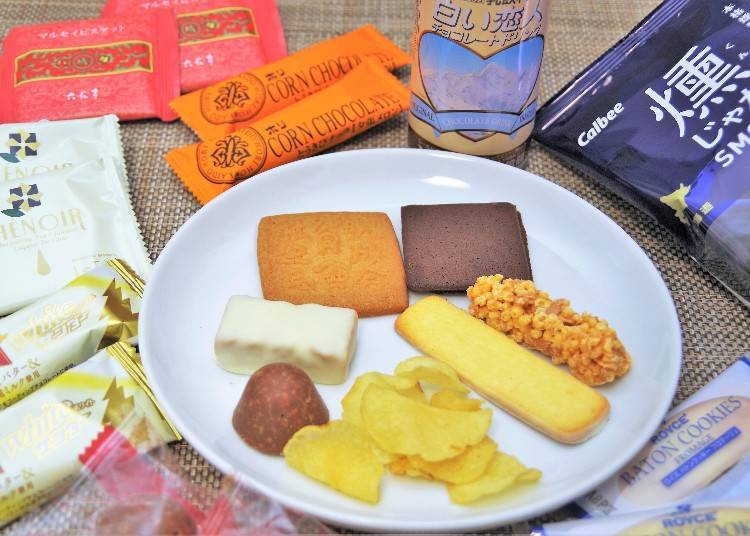 All the products we taste tested here.
There are so many tasty treats and souvenir snacks in Hokkaido that you might find yourself lost in all the options! But there are so many fun sweets and snacks that bring out the best of Hokkaido.

Here, we showed you just eight of all the fantastic snacks you might be able to find. But each and every one is too good to miss! We highly recommend you give them a go. Which one do you think you'll buy when you next visit Hokkaido?

Original text by: Kawashima Yuka
Translation by: Cassandra Lord
*The information in this article is accurate as of April 2022. Please check the official websites for the latest information.
*This information is from the time of this article's publication.
*Prices and options mentioned are subject to change.
*Unless stated otherwise, all prices include tax.
Limited time offer: 10% discount coupons available now!