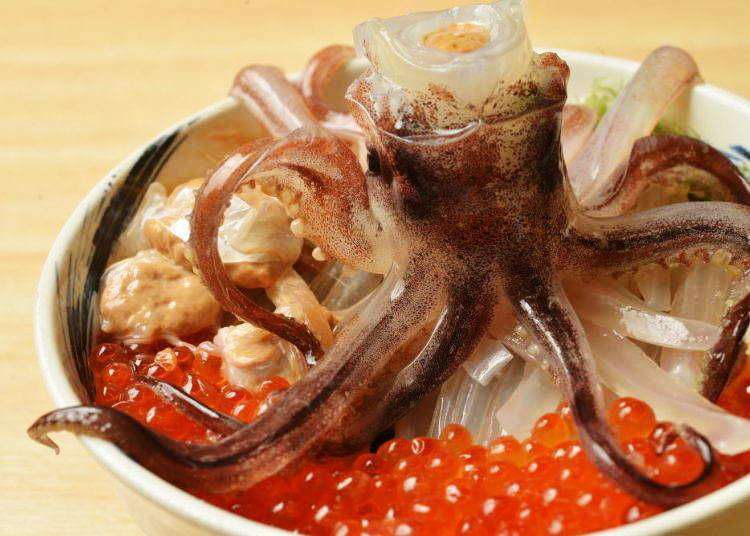 Hakodate is well-known for being a "squid town". It has long been famous for its squid which established it as a seafood city. This stems from its location fronting the Tsugaru Straits which is famous for its squid.

Hakodate is especially famous for its "morning squid", offloaded from ships in the morning shortly after they dock, and live squid swimming in tanks that are destined to be filleted alive later.

Here we'll introduce three of the area's best-known restaurants where you can enjoy the local squid foods!
Word on Hakodate Squid Dishes
Depending on the season the type of squid varies, the main types being surume ika (Pacific flying squid) caught between June and December, and yari ika (spear squid) caught between January and May.

The meat of surume ika is thicker and the goro (internal organs) large, so it is primarily used for sashimi (served raw), frying, and shiyokara (salted squid guts). Yari ika is smaller than surume ika and has a sweeter taste making it good for sashimi.
1. Ikkatei Tabiji: Amazing Squid Foods Served Up Fresh!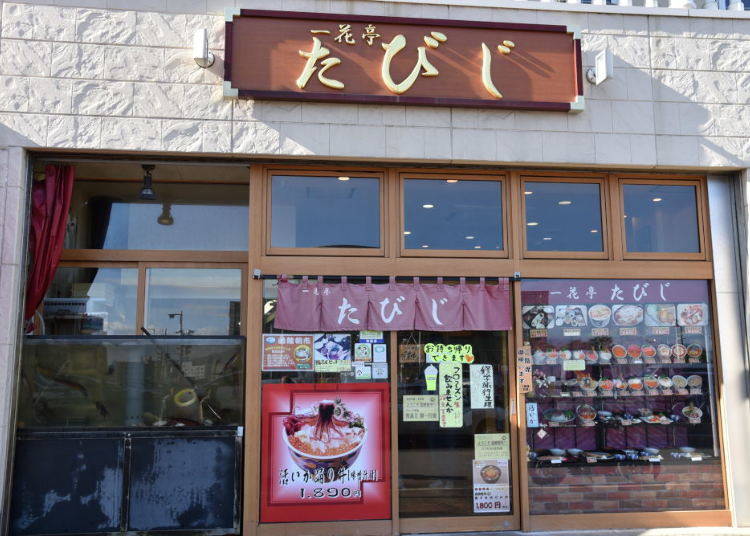 This famous Hakodate restaurant is in Domburi Yokocho located in the Hakodate morning market and is famous for its Katsu ika odori domburi (bowl of dancing fresh squid) (1,890 yen).

A live squid is fished out of a tank inside the shop when the dish is ordered and quickly filleted before being arranged in a bowl.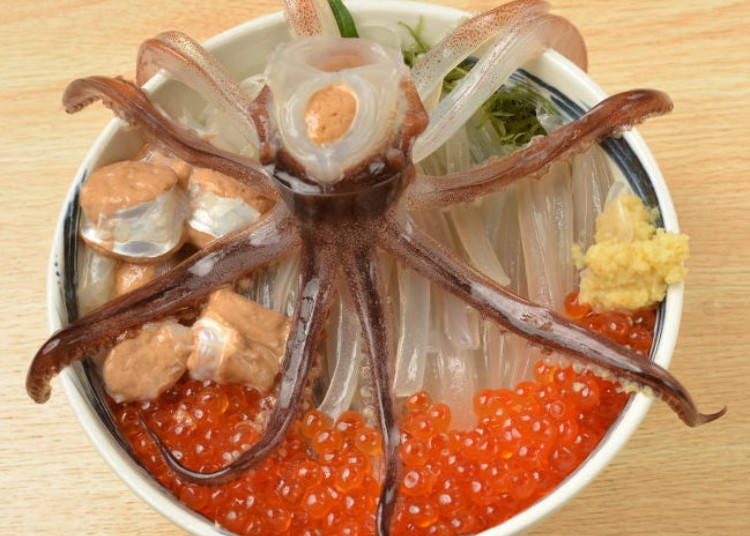 Once slices of the translucent meat have been arranged on a bed of rice, salmon roe is added and then on top of that the legs of the squid, called gesso. When served, the legs of the squid are still moving in what's described as dancing squid sashimi.

The legs are then cut into bite-sized portions and grilled. The plump slices of squid combined with the slightly salty taste of the salmon roe go well with the rice in the bowl.

There are also an uni (sea urchin) and hotate (scallop) don (bowl) (1,980 yen), an uni and ikura don (1,980 yen), and a sanshoku (three-color) don comprised of sea urchin, crab, and salmon roe (1,980 yen), as well as a variety of other fresh seafood bowls.
一花亭 たびじ

Address

〒040-0063 北海道函館市若松町9-15 / 9-15 Wakamatsu-cho, Hakodate-shi, Hokkaidō 040-0063

Phone Number

0138-27-6171

Hours: 6:00 AM ~ 3:00 PM (6:00 AM ~ 2:00 PM between November and April)
Closed: never
Access: 1-minute walk from JR Hakodate Station
2. Gyosanko: Serving Up Excellent Fresh Hokkaido Squid and Sashimi Dishes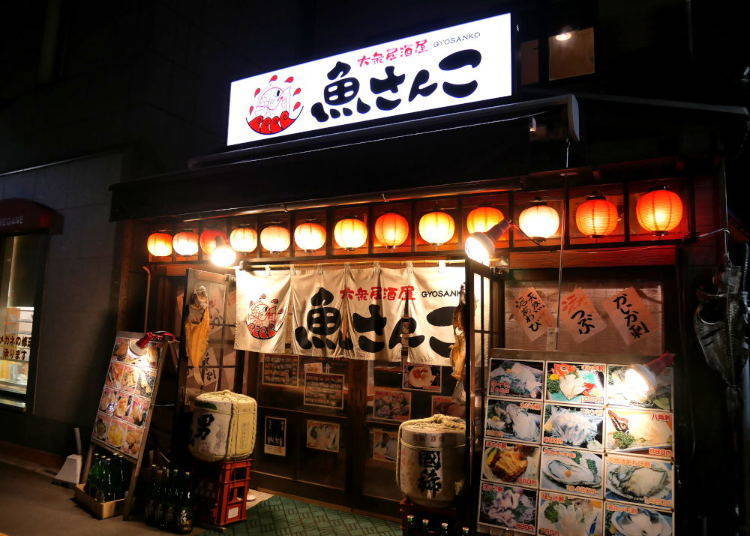 Close to Hakodate Station, this seafood izakaya (Japanese-style pub) faces the tram street.

Inside there are tanks of live squid used for making truly fresh sashimi (from 1,000 yen, depending on local prices; pictured in the lower part of the photo below). Other popular squid dishes served are ika poppo, squid grilled in aluminum foil (780 yen) and shiokarani, stewed squid guts (880 yen).
Katsu ika sashi is a live squid dish where the cephalopod has been beautifully filleted and sometimes referred to as the "emperor of sashimi". The legs and other parts of the body are tastefully arranged on the plate together with the goro (inner organs) and eyeballs.

Mix the goro in soy sauce until it dissolves and then dip the slices of meat into it before eating it; this is the way it is eaten in Hakodate.

There is also a wide variety of other Hakodate sashimi dishes offered and depending on the catch of the day, the names of the fish line the walls. The hand-written menu has recommendations worth checking.

Sashimi made from hokke (Atka mackerel) and kajika (sculpin) caught off the coast of Hakodate (shown in the upper part of the photo) are two popular types. There is also an English menu at this beloved Hakodate restaurant.
魚さんこ

Address

〒040-0063 北海道函館市若松町19-3/19-3 Wakamatsu-cho, Hakodate-shi, Hokkaidō 040-0063

Phone Number

0138-22-0008

Open: 4:00 PM ~ 1:00 AM (last order at midnight)
Closed: no set schedule
Access: 3-minute walk from JR Hakodate Station
3. Kaisendokoro Hakodateyama: Boasting a Lineup of Squid And Other Hakodate Foods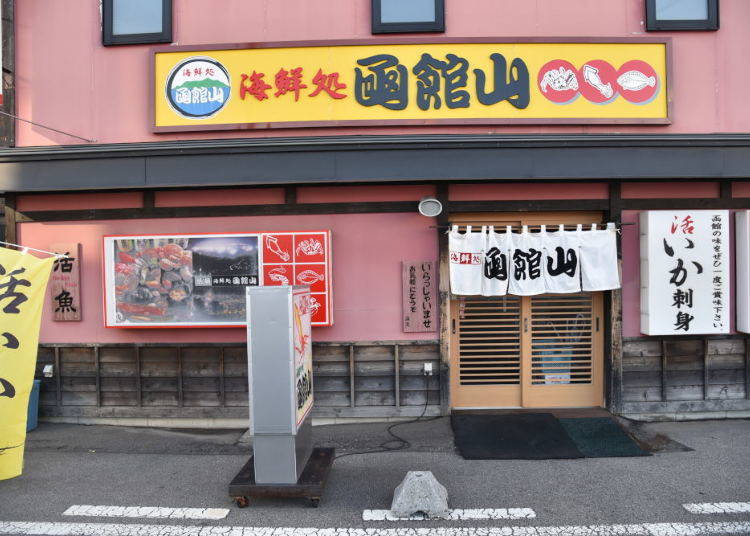 This delightful izakaya offers a rich variety of seafood caught in the sea near Hakodate. It is famous for its Katsu Maika Sashi (from 1,280 yen depending on local prices; pictured below) as well as other squid dishes available all year round.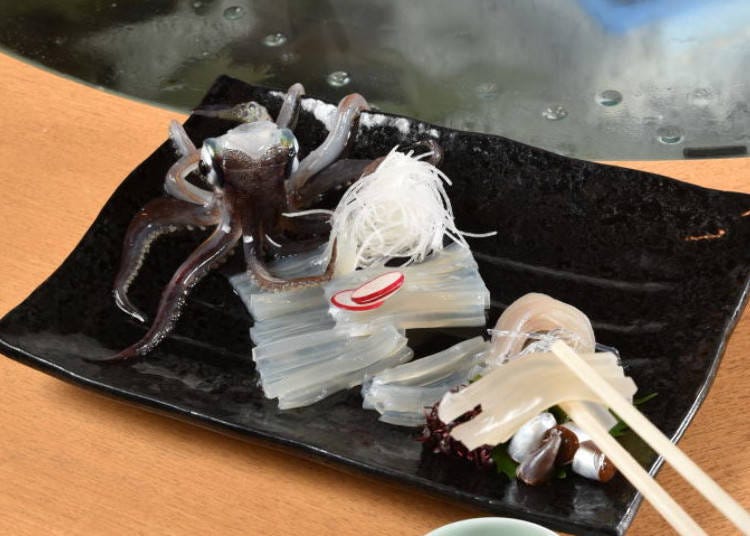 Some of the popular dishes offered are Ika menchi age (480 yen), a dish of minced squid combined with onion and Chinese yam; Ika goro yaki (500 yen), squid meat and internal organs that have been mixed and grilled; and the Asa Ichiban (580 yen; pictured below) consisting of live squid, turnips, nameko mushrooms, natto, and ground Chinese yam. Sushi and bowl dishes are also served.

To get here, walk straight down the street in front of Hakodate Station and turn left at Asakusa-dori and you will see the store's yellow signboard. Inside there is a counter, tables, and horikotatsu, a traditional low table on a mat floor with a space underneath for your legs.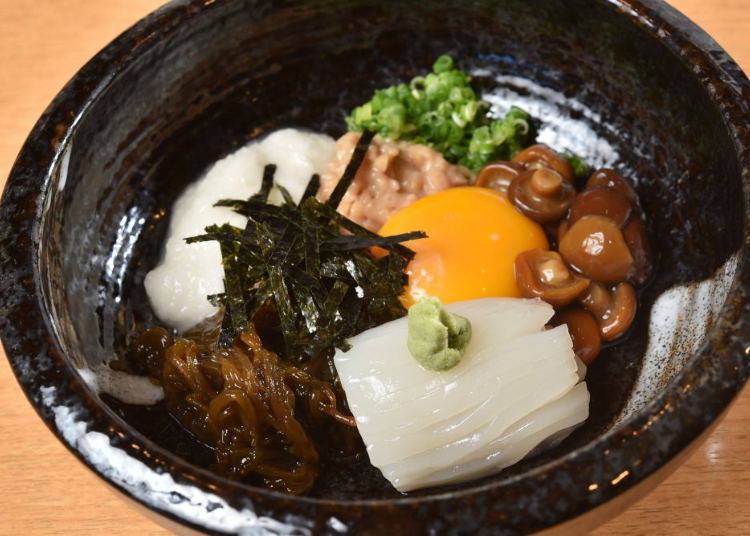 Kaisendokoro Hakodateyama

海鮮処 函館山

Address

〒040-0035 北海道函館市松風町10-15 / 10-15 Matsukaze-cho, Hakodate-shi, Hokkaidō 040-0035

Phone Number

0138-22-7747

Open: 5:00 PM ~ (12:30 AM last order)
Closed: Mondays
Access: 7-minute walk from JR Hakodate Station
*This information is from the time of this article's publication.
*Prices and options mentioned are subject to change.
*Unless stated otherwise, all prices include tax.